The Hornbill Festival is an annual, week-long cultural extravaganza held every year in the first week of December in Nagaland and 2022 is also not an exception. It is named after hornbills, the species of birds abundant in the region. Nagaland, is practically a land of festivals with each of their numerous tribes celebrating their own festivals and to promote the rich cultural heritage, the Govt. Of Nagaland organizes the festival starting on 1st Dec, the Nagaland Formation day.
Fondly called the "Festival of Festivals", the annual event was conceived as a tourism promotion activity at Kisama, (which is about 10 kms from the capital Kohima). The location is called Naga Heritage Village at Kisama, where one can enjoy the Naga lifestyle and culture, food, music and tradition of each of those 18-20 clans, all at the at the same place. Besides the usual showcasing of dance, music, art, ethnic foods, handlooms and handicrafts of various Naga clans, many other eccentric contests and activities are organized such as, King Chilly Eating Contest, Pork Fat Eating Contest, Martial Art Contest etc.
Hornbill Festival Guide
What are the dates for Hornbill Festival, 2022?
Like every year, this time also Hornbill Festival is happening from December 1-10. Winter is mildly chilly but pleasant in Nagaland in December and the Christmas markets will be glowing already.
If your dates are not matching, don't worry, there are a lot of other festivals you can attend in India. Here is a month-wise list of Indian festivals that you can attend as per your dates.
ILP for Nagaland
As you must already be knowing, tourists need to get inner line permits (ILP) for Nagaland. Interestingly, the same is not required for foreigners (in an effort to encourage tourism). You can get the permit at designated offices in Delhi, Guwahati, or at Dimapur on arrival. If you could not make it earlier, the best way is to reach Dimapur and visit the DC office as early as possible, so that you get sorted by noon. You need valid ID and photographs.
The process is not very strict for tourists and I have seen that they become lenient during the festival as nobody asked for my permit on the road.
UPDATE: The good news is that after much delay, Nagaland has finally started giving ILP online. So, there is no need to waste a day visiting any office and you can just apply it online a few days before your visit.
Also, earlier foreign tourists were exempt, but now everyone needs to do it.
This is the link for Nagaland online ILP booking.
How to reach Kohima?
The preferable way for reaching Kohima is to take the train or flight to Dimapur and then take a bus or rent a taxi to Kohima. You can take Delhi to Dibrugarh Rajdhani Express via Guwahati or many other local trains or night buses from Guwahati. The trains take around 5-6 hours to reach Dimapur. Dimapur is the border district between Assam and Nagaland and also a major commercial hub. It used to be the capital of the ancient Dimasa Kachari Kingdom. The Dimapur taxi stand is adjacent to the Railway Station. Taxis can be hired with other passengers (shared taxi) or exclusive (full taxi). One-way fare from Dimapur Station to Kohima will be about 200/- per person for a shared cab or around 100 Odd on the state transport bus. The bus is more likely to drop you at the ST bus stand.
Where to Stay at Hornbill?
During the Hornbill Festival tourists from all over the world flock to Kohima and it can get crowded. Also, Nagaland in general is a bit costly. There are many hotels and homestays in Kohima city but they will be pretty expensive. But the most popular stay option is to camp around Kisama. These are not permanent places but various camping companies set up these tents during the festival where you can spend around INR per person or more. Also, a few local guesthouses or homestays have come up in the nearby areas of late.
Do note that it can become packed and very expensive during the festival. So, it is better to book as early as possible. t
Just to summarise, here are the options…
Pre-pitched Dome and Alpine shaped tents
These tents come up near the terraces beyond the festival venue. Various tour operators pitch their tents for those ten days. They can also get expensive due to high demand and the costs can be anything from INR 1500 to 3000 depending on when and how you book.
Local homestays
There are some guesthouses and homestays on the main road that leads to Kisama.  I personally stayed in one called Vicha Paying Guest in Kigwema and had a good experience. In general, it can get expensive unless you are in a group.
Staying in Kohima
You can stay in Kohima and attend too. However, after dark, you may not get transport back to Kohima. So, this option works for those who have a vehicle. Kohima has hotels as well as backpacker hostels/dorms.
Where does Hornbill Festival Take Place (Venue)?
The designated Hornbill Festival venue is the Kisama Heritage Village. Daily performances begin by 9 a.m. each day. One can easily book a taxi (mostly Maruti Van, Alto, Maruti 800, etc. are available on sharing basis) from Kohima to get there. Buy entry tickets at the gate and pass through the security check. It is winter in the North East. One may feel a little hot on bright sunny days on the top of the hill but it is always advisable to carry the jacket/sweater along with it since the day ends very soon and by 3 pm the sun disappears behind the hill.
How to get tickets?
Usually, the tickets for the festival are sold at the entry gate. It does not cost much (it was INR 30-40 a few years ago, but may have slightly increased now). You will also have to pay a separate camera fee (around INR 50). The ticket is for one day and so, you will have to get it every day if you attend fo multiple days.
How to reach Kisama Naga Heritage Village (Hornbill Festival Venue) from Kohima?
The Dimapur bus generally drops you at the old ST bus stand. However, the shared cars to Kisama and other nearby villages are available from Network Travel AOC Bus Stand, which is a few kilometers away. Ask for "Network Stand" or "AOC Bus Stand" and any local will guide you. You can take local shared cabs or buses to reach it. You will see yellow-coloured vehicles waiting there, going towards different villages such as Kisama, Kgwema, Zakhama, Viswema etc.
Things to do at the Hornbill Festival
Food & Beverages
Basically, this colourful festival is a foodie's paradise, especially for the carnivorous ones. One can try all kinds of Naga traditional food. Tourists are welcomed warmly to the traditional huts of each tribe, where you can sit with the elderly people of the tribe and interact with them, (even though language is not a barrier, younger generations understand English and can translate for you. Due to my mother tongue, there was no issue with communicating Nagamese (Naga+Assamese). Nagamese is the common lingua franca in Nagaland among different communities who all have their own dialects. One can take part in various contests such as Naga chilli eating (bhot jolokiya), pork eating contests as well. In fact it was an Israeli national who beat the locals in chilli eating contest! You can have the best canned chili but if this is what you love, you should try a fresh Naga chili someday. Also, the local rice beer is a hot favourite while some also come up with a very eclectic wine (not sure what it is called but you will find it if you try enough).


Cultural & Ethnic Delights
Hornbill is a great place to explore and enjoy diverse culture of this region. Do note that there are several different clans of Nagas such as Angamis, Aos, Konyaks, Sangtams, Zeliangs, Sangtams, Lothas & many more, all having their own languages, culture, apparels, and more importantly headgears. The ethnic and cultural diversity here is mindblowing and while they live in different parts of Nagaland, this fetsival is where you can see them all together. A serious explorer of ethnography and culture will enjoy this, and so will an average visitor.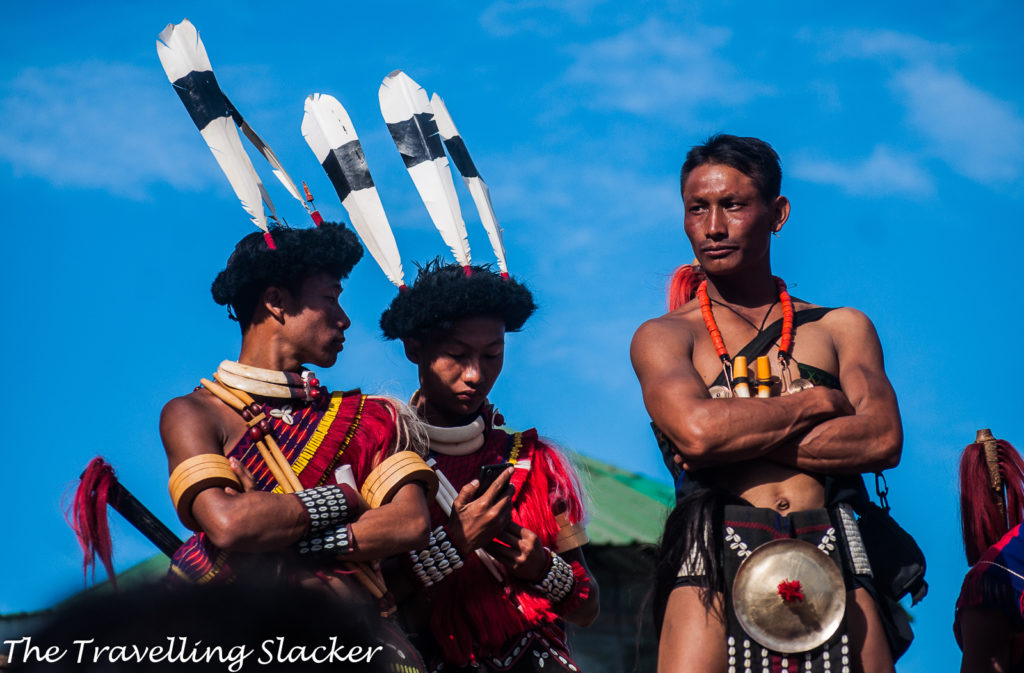 Daily performances
The contests mentioned earlier are organized on different days during the week-long celebration. Along with that different tribes performs their traditional dace and music and it is a spectacle not to be missed. Performers from other North Eastern states also participate there with gusto. showcasing the incredible ethnic diversity of the region. If you are looking for something contemporary, you have the Rock Contest where many band from across the nation fight it out for top honours.
Music
Also, music is an integral part of the festival. Western music has always been very populat in the entire Northeast in general and a Rock Concert is always expected here with a lot of bands from all over the region taking part.  A beauty contest or fashion show can also be expected as the youth in the region do like to keep up with the latest trends.
Rough Hornbill Festival Itinerary
Day 1: Dimapur/Jorhat/Kaziranga to Kohima.
Day 2: Full day at Hornbill Festival venue, Kisama.
Day 3: Khonoma village and Kohima city sightseeing, back to the festival in the afternoon.
Day 4: Leisure day or optional Dzukou trek or explore the nearby villages.
Day 5: Kohima to drop at Dimapur/Jorhat/Kaziranga and the tour ends.
Phone and Data Connectivity

Although the network exists, the area near the festival ground has connectivity issues. So, be prepared for the same. If Work from the Hills is on your mind, this may not be the place. Airtel and Jio are your best bets.
Nearest ATMs 
You may not find ATMs nearby. If you need cash, just take them out from Kohima city.
Nearest Petrol Pump

There should be a petrol pump or two on the highway between Kohima to Kisama.
Anything to Dislike?

Well, it is a commercialized festival but it does offer a good time for everyone. However, there are a few irritants that bothered me. For example, most visitors lack any interest or sensitivity to interacting with people from a different culture. Especially I saw photography groups… dozens of them lining up to click one kid in traditional dress from the same angle in the same position…. it feels a bit odd but everyone needs to do better.
Is Nagaland really a Dry State?

Technically yes. However, it excludes traditional rice beer and wine. You will find them at the stalls at the venue.
What to see around Kohima apart from the Hornbill Festival?
There are several things you can do around Kohima apart from the festival.
Dzukou Valley & Japfu Peak Trek
Dzukou is probably the best short treks in the entire Northeast and the trekking point is barely 20 KMs from Kohima city and barely 10 Kms from Kisama Hornbill venue. It has one of the most unique landscape with no parallels.
Read this post for more info about Dzukou Valley Trek.
World War II Trail
Kisama itself has a WW II Museum that stores remains of the great war. The WW II cemetery in Kohima is also pretty famous. The Battle of Kohima was one of the most epic battles in the eastern theater. There is also an interesting small house in the nearby Kigwema Village called General Sato's house. It was originally inhabited by a Japanese general during WWII.
Red this post for a List of WWII related sites in the Northeast India.
Khonoma, Touphema, Dzulkei and other villages
Various small villages around Kohima have become tourist attractions on their own right for various reasons. Villages like Khonoma, Touphema, & Dzuleke, located in the 20 Km radius of the city, are must for all travellers.
For more details, read this post about places to see and things to do around Kohima beyond Hornbill Festival.
Pfutsero Cherry Blossoms
Pfutsero was the most unexpected discovery for me last year. It is located in the neighbouring Phek district, around 60 KMs from Kohima and only 40 Kms from Kisama. It is the highest and coldest town in Nagaland and you can go for a short hike to the Glory Peak, the highest point of the town. But the highlight of my visit was the cherry blossoms that had turned the trail pink, and yet nobody had ever told me about that before!
Read my Pfutsero Travelogue for more details.
Kohima Night Bazaar/Christmas Markets
Apart from that, you can enjoy the exciting Night Bazar where you can find all kinds of stuff and during the festival they make it the Carnival Night out there. Also, as Christmas will be approaching, it will also be the most festive season in Nagaland, which is a predominantly christian state.
Also Read:
For a detailed guide about Getting Inner Line Permits to Nagaland
If you are a budget traveller or a vegan or both, read this worried about the food, Read this post about Hornbill Festival for Budget Travellers and Vegans.
if you have more days, you can take a detour to the remote Mon district to meet the Konyaks in villages like Longwa and Hongphoi.
---
I originally extracted this guest post from Kamal Jyoti Deka, who is a friend from school days. Kamal's photographs from other Travels can be seen in his flickr account. But now I have updated this post based on my own visit recently and updated the information accordingly.