According to some local stories it had 99999 shivalingas in its original form. This myth is somewhat similar to that of Unakoti in Tripura which is believed to have 9999999 statues. While Unakoti is rarely visited owing to its remote location, Sri Surya has been completely sidelined due to the ignorance of the people although it is easily accessible.
What is noteworthy is that most of the experts believe that many of the lingams worshipped by local people are actually Buddhist stupas. Certain other not very clear statues have a striking resemblance with known sculptures of Jain Tirthankaras. So, overall, Hindus, Buddhists, and Jains consider it to be an important site although nobody is exactly clear about its history. There is no doubt about its antiquity and it can be the oldest known archaeological site belonging to an era we know nothing about. Not many have heard of it even within Assam but as a matter of fact it is the single most important archaeological site in Assam that deserves volumes of research work to be written about.
Sri Surya is located in the Goalpara district on the southern bank of Brahmaputra, in western Assam closer to the Bangladesh border. In terms of socio-economic aspects, these areas are some of the least developed in Assam and practically there is no tourism scene to speak of. I visit the area once in a while because one of my maternal aunts live here along with some other distant relatives. So, I have visited the temple thrice, the third time in last February. I have always wanted to write about it but I somehow could not get the right photographs on the previous trips and so I resisted myself. But now I do and so, I must do it now. I am not really a historian or an archaeologist but I need people to know about this.
A Treasure Trove of Uncertainties
Like most other major archaeological sites of ancient Assam, Sri Surya is located above a series of hillocks not very far from the Brahmaputra which can be seen from the top of the hillock. Considering its location, it can easily be imagined to be a major city of ancient times. It was probably also a prosperous trading center near the river. I am sure that many more treasures are still buried underneath but the few excavations by the ASI has resulted in enough evidence to suggest that this was not just a solitary temple but a combination of Hindu, Buddhist, and Jain shrines, a thriving multi-religious melting pot akin to Ellora or Badami, although the artifacts are not as detailed or sophisticated.  I also noticed significant similarities between some of these structures and those in Pilak, in South Tripura.
As one might have guessed already, exact history of this site is not known. Looking at the expanse and diversity, it can be guessed that they were built over several centuries by different patrons. Some apparent references to the site can be found in 9th and 10th-century religious texts so it must be older than that. In fact, certain Buddhist remains suggest that they are close to 2000 years old (The reason will be explained in a later paragraph). Nevertheless, this makes it older than the oldest known historical reference of Assam (4th-5th Century).
Various important remains are spread around a large area and one should have at least 3 hours in hand and a willingness to climb a lot of stairs under the blazing sun for a complete survey of the hills. Apart from Hindu shrines, Buddhist stupas and even the remains of a Vihara has been found here. Certain structures cannot even be fully explained and I guess they are salivating prospects for anyone who is willing to explore more. Have a look at the photographs below for a better idea.
Buddhist Remains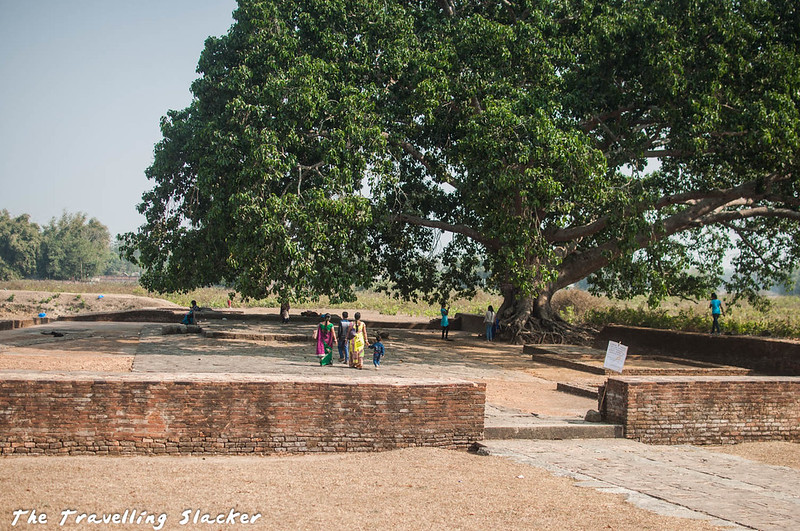 Hindu Remains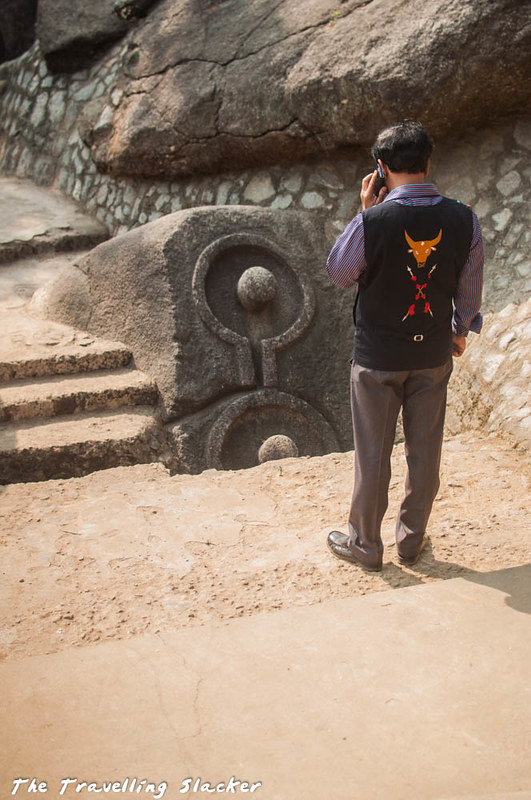 Jain Remains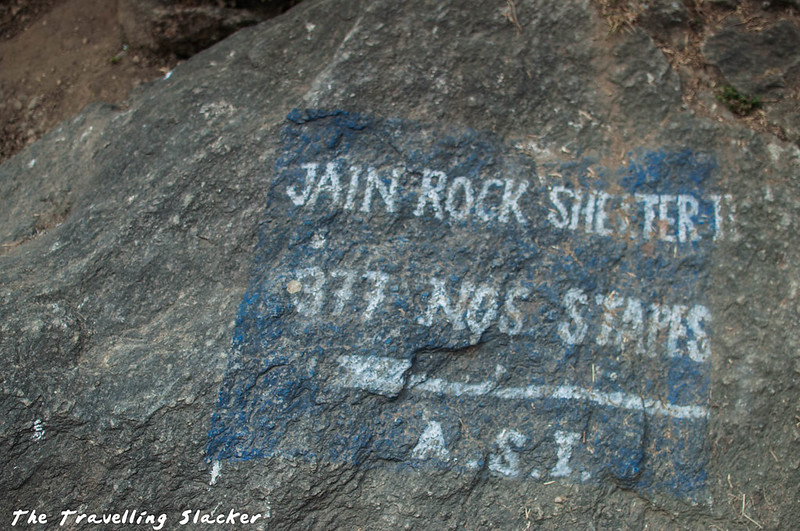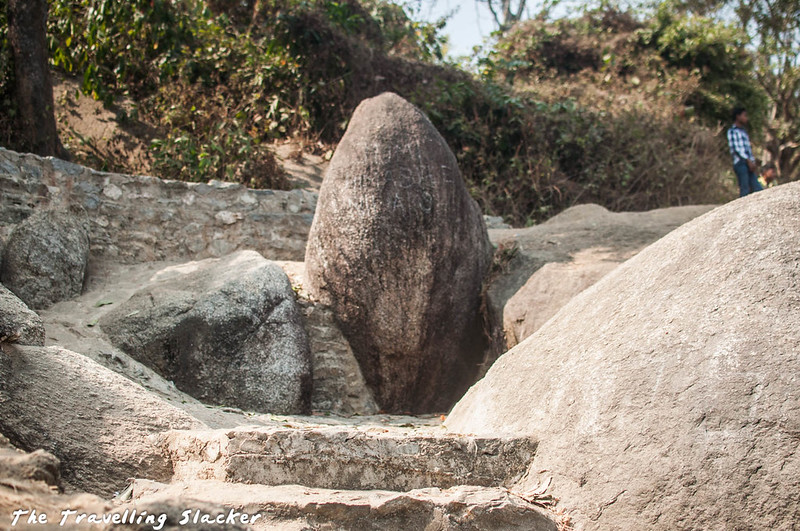 Sun Temple? Or not?
The name of the place suggests sun worship however, there is no conclusive evidence for the same. One of the excavations resulted in an artifact that somewhat looks like the sun. We were told that the original artifact has now been moved inside the museum situated nearby and a replica is placed inside a newly built temple. As faith always trumps reason in this society, visitors gleefully offer prayers in front of the replica.

Lingamization
The more interesting aspect of Sri Surya was the willingness of the devotees to believe whatever they want to believe as per convenience. For example, most of the votive stupas are now considered to be Shiv Lings by the pilgrims as they look somewhat similar in shape. Similarly, certain apparently Buddhist and Jain caves have been adorned with saffron flags and are passed off as Hindu shrines although the ASI markers clearly state otherwise.
This time, we visited it in February when a local fair was going on on the grounds in front of the hills. From what I could figure out, it started many decades ago by an ascetic who meditated here. Nowadays it attracts a huge number of local visitors and it may be a rare form of entertainment for many. While I have no problem with that in spirit, this also provides an opportunity for many commercial holy men to set up their business here for a few days. Some of them could be seen taking residence in some of the caves and ruining the views with unwanted temporary structures.
Anyway, coming back to the point, what disturbed me throughout these visits is the sheer information vacuum. We don't exactly know who built them. Some educated guesses can be made and it can be connected to other remains of the first millennium but still certain questions remain difficult to explain. The austere-looking votive stupas here are generally associated with Hinayana sects and this makes most experts believe that they were built during the early Christian era. More detailed Mahayana sculptures are not to be seen here and this probably indicates a phase in Assam that does not find mention in any history books. To make it even more poetic, there is a large tree that looks somewhat like the Bodhi tree in front of one of the excavated ruins. There is no information available about this so use your own imagination.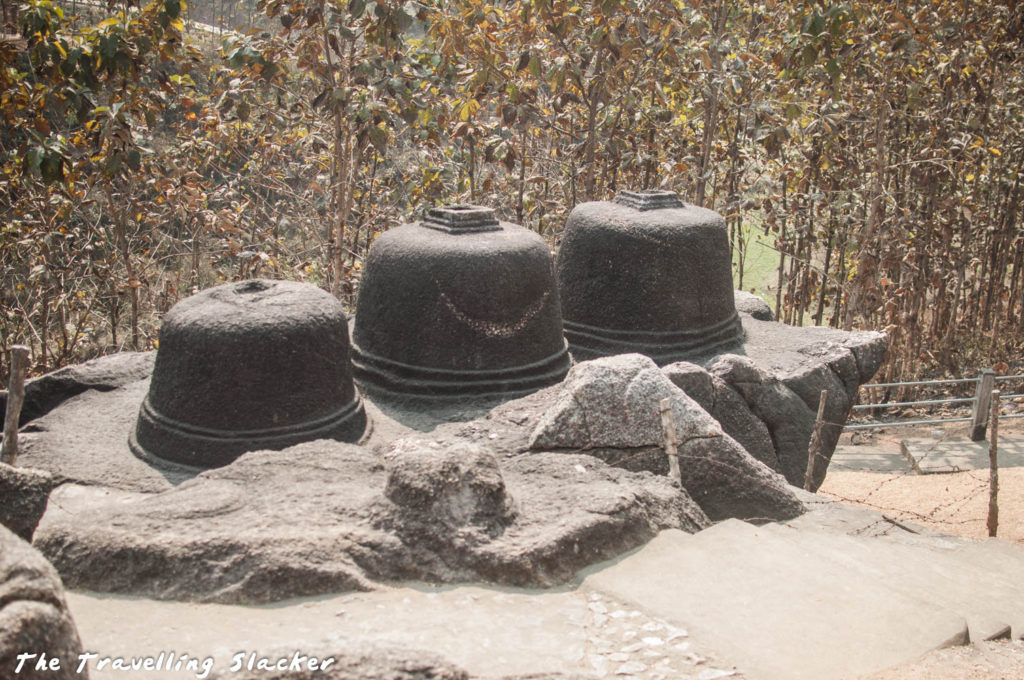 Most puzzling are the Jain remains because Assam is not really known to have any Jain connections back then and the most prominent Jain community in present-day Assam are the traders from Rajasthan who moved here in the 19th and 20th century. Anyway, some of them probably have realized the importance of this site and so some new marble statues of Jain tirthankaras have been built at an open space in front of the hills although I am not sure if this does any justice to the archaeological treasures here.
_____________________
Sri Surya Pahar Travel Guide
How to Reach Sri Surya Pahar?
It is around 120 KMs westwards from Guwahati. The nearest major towns are Goalpara (13 KMs) and Dudhnoi (20 KMs). As the spot has not yet been fully developed as a tourist destination, you are unlikely to get any direct transport from Guwahati. In fact, I think most average tour operators in Guwahati won't even know what or where it is. If you are relying on public transport, you can get buses to Goalpara from Guwahati and then look for local transport. We went on private vehicles every time. It is not far from the Brahmaputra river and the Naranarayan Setu (The bridge over the Brahmaputra).
What is the best time to visit Sri Surya?
It can be visited anytime but better to go in the winter as the rocky hillocks heat up very easily in day time. Season-wise, winters  (Nov-Feb) are always better and easier for travel in Assam while the rainy season can be good too unless it rains too heavily.
Any Festivals at Sri Surya?
A Mela (Fair) is organized on the open ground in front of the temple every January. However, it is a kitschy fair enjoyed by locals that has nothing to do with the history of the monuments. Apparently it was started by some sadhu who arrived here decades ago, which still does not justify the complete disconnect.
Where to stay in Sri Surya?
Until recently, there used to be no tourist facilities at Sri Surya. However, in 2020, a government guesthouse seems to have been opened here in case you want to spend more time. I am not sure about the facilities or booking procedures. I guess you can just walk in because it is unlikely to be houseful. Here is a news report regarding the same.
Who should visit Sri Surya?
Only if you are deeply interested in history and archaeology of the region. This is a rare site where you can see Hindu, Buddhist, and Jain relics together. Otherwise, you can give it a pass and move to Shillong.