Heritage sites, treks, wildlife, beaches… Karnataka has much to offer to the visitors. But have you ever tried white water rafting in Karnataka? Yes, this state also has many spots ideal for rafting, where you can test your own endurance and pump adrenaline into your veins. Most of these sites are only a few hours away from Bangalore and are ideal adventure activities for weekends and short holidays.
Rafting is best in the small to mid-sized rivers located at mild altitudes due to their natural currents while it is hard to raft in big, broad rivers on the plains. This is what makes Karnataka an ideal destination for rafting because it has many such small hilly rivers crisscrossing the Western Ghat Mountains.
So, this is a quick guide if you want to go for rafting in Karnataka. These images and info have been provided by Summiters Adventures. You can contact them for such activities and treks in the Western Ghats.
A Guide to Rafting in Karnataka
Which are the best water rafting spots in Karnataka?
While it can be done at various places, the following four are the most sought after rafting spots in Karnataka.
Bhadra in Chikmagalur
The Bhadra River passes through the Chikmagalur region, covered with lush green coffee and tea plantations. This is also the region famous for many interesting treks such as the Kudremukh Trek, Netravati Peak Trek, and many more. So, a few hours of rafting can easily be clubbed with a good trek in the Western Ghats. Here is a short vide that can show you what happens out there.
The main rafting point here is located near the small town of Magundi, around 30 KMs from Kudremukh National Park. The standard rafting activity generally lasts a couple of hours and you cover around 7-8 KMs during this trip. These rapids are considered Grade 3 to Grade 4 in terms of difficulty, making them moderately difficult and exciting for experienced rafters too.
Kali river in Dandeli
Dandeli is a small town near a wildlife sanctuary of the same name. It is naturally famous for its natural beauty and the sanctuary is known for black panthers, wild elephants, various types of deer and primates. It also boasts of a good number of avian species and is a hotspot for bird watching.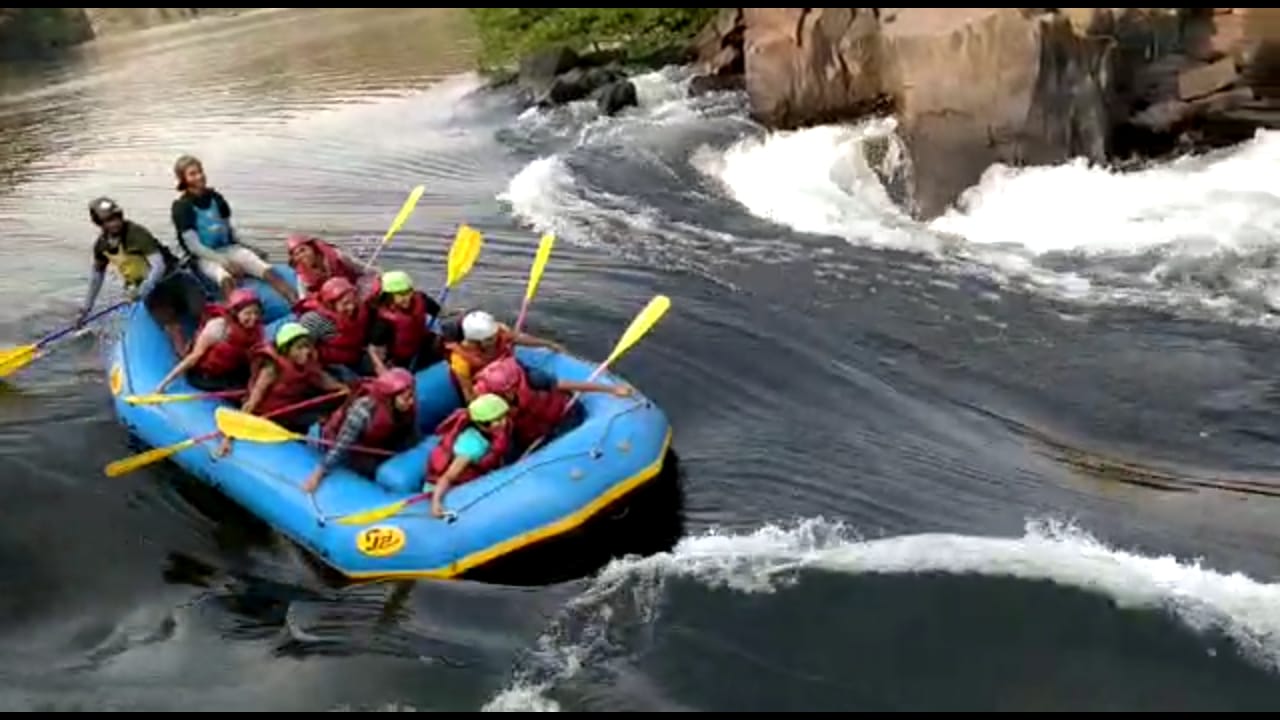 White Water Rafting in Dandeli is done on the Kali River. The starting point is located deep inside the jungle and is reached with a jeep through bumpy roads, which itself is an adventure. The rafting stretch here is around 12 KMs long and consists of grad-2 and 3 rapids, making it suitable for beginners yet exciting enough for experienced ones.
Sitanadi in Udupi
Udupi is better known for its temples but it is also one of the major white water rafting locations in Karnataka. The activity is done in the river Sita Nadi, which runs through dense rainforests of the Western Ghats. Naturally, the adventure of rafting here is combined with unadulterated nature.
The main rafting point here is the small town of Hebri, around 35 KMs from Udupi town. It is located near the Someshwara Wildlife Sanctuary, which is home to tigers, leopards, civet cats, various types of langurs, macaques, hornbills, and much more. The usual rafting stretch is around 16 KMs long and lasts around 2 hours. These rapids are considered Grade 3 to Grade 4 in terms of difficulty, making them moderately difficult and exciting for experienced rafters too.
Barapole in Coorg
Coorg (Kodagu) needs no introduction. This hill country not very far from Bangalore is known for dense forests, waterfalls, coffee & spice plantations is a perennial favourite for those seeking solace from the city life. Now, you can also add Rafting in Coorg to add to the already impressive list of activities.
Rafting in Coorg is done on Barapole River and the primary rafting point in Coorg is the KKR Junction near Tata Tea Estate near Theral Road, Westnemale Srimangala. This is a stretch of 4 kms with a duration of 1.5 hrs. This is one of the more difficult and challenging rafting spots in Karnataka that offers Class 4 rapids, which means difficult rapids with narrow passages and turbulent water that necessitates accurate maneuvering.
What are "Grades" or "Classes" in rafting?
Grades or Classes are just a way to categorize rafting spots as per their difficulty level. Grade I is the easiest, offers little challenge, and the best thing for beginners. Grade IV is pretty tough with sharp turns and precise maneuvering and so it should be tried only by experienced people.
Can inexperienced people go rafting in Karnataka?
Yes, rafting activities are conducted by trained and experienced individuals. So, even inexperienced people get the support and they are given brief training before the activity. However, it is advisable to have basic fitness levels and start with easier grades.
Can I go for rafting if I can't swim?
Generally, you can go for rafting even if you do not know swimming. Basic safety procedures are in place at such facilities and everyone gets a life-jacket. However, it is better to take up easy rafting to easier grades if you are inexperienced and can't swim and avoid tough Grade-IV rapids.
What Security Measures are usually taken during rafting?
Any certified service provider will provide inflatable life-jackets, helmets, and straps during the process. First-aid facilities should be available for any eventualities.
What is the best season for rafting?
Usually, the post-monsoon to winter season between September to February is ideal for rafting. Extreme monsoon season is generally avoided because the rivers swell up due to the rains, making it dangerous for such activities.
How many people fit in a raft?
Usually, these rafts are designed to carry 8 people at one go. So, it is better to have a like-minded group of people for such activities.
What is the best way to plan a rafting trip?
A rafting activity generally lasts an hour or two, unless you are a professional at it. Most working professionals in cities like Bangalore or Mysore generally do it on weekends. So, in such cases, the best idea is to club it with another activity, such as a day trek in the western ghats in the nearby areas, in order to make the most of the valuable weekend.