I am sure no one has to be introduced to the top attractions of Bangalore like Lal Bagh, Bangalore Palace, Cubbon Park, Bannerghatta National Park, and MG Road & Brigade Road, and I am not going to discuss them either. But here is a list of things beyond that. These includes not only the sightseeing options within the city but also various things to do in the nearby places that can be done during the weekends and holidays.
So, I have also avoided popular gateways like Coorg, Chikmagalur, Gokarna, and Hampi, but included some lesser known places and treks. I have kept the locations within Karnataka and have not included anything from other states although Bangalore serves as the hub for entire Southern Peninsula.
Bangalore is the IT Hub of India and apart from the residents of the city, there are thousands of business visitors, as well as expats that come here for short durations. Even I have worked and stayed here in Bangalore for several years and although it is not my favourite place, I know that there is much to do here. So, here is a quick guide, some offbeat travel ideas, some treks, and other interesting things to do.
Unique Places to Visit in Bangalore
*Do note that there are many treks listed here. Most of the Karnataka Treks come with some Red Tape. You need permission from Forest Department for many of them and so, it is wiser to go with a certified operator.
*Treks also deond on the season.
1. Walk into a time warp at Halasuru Someshwara Temple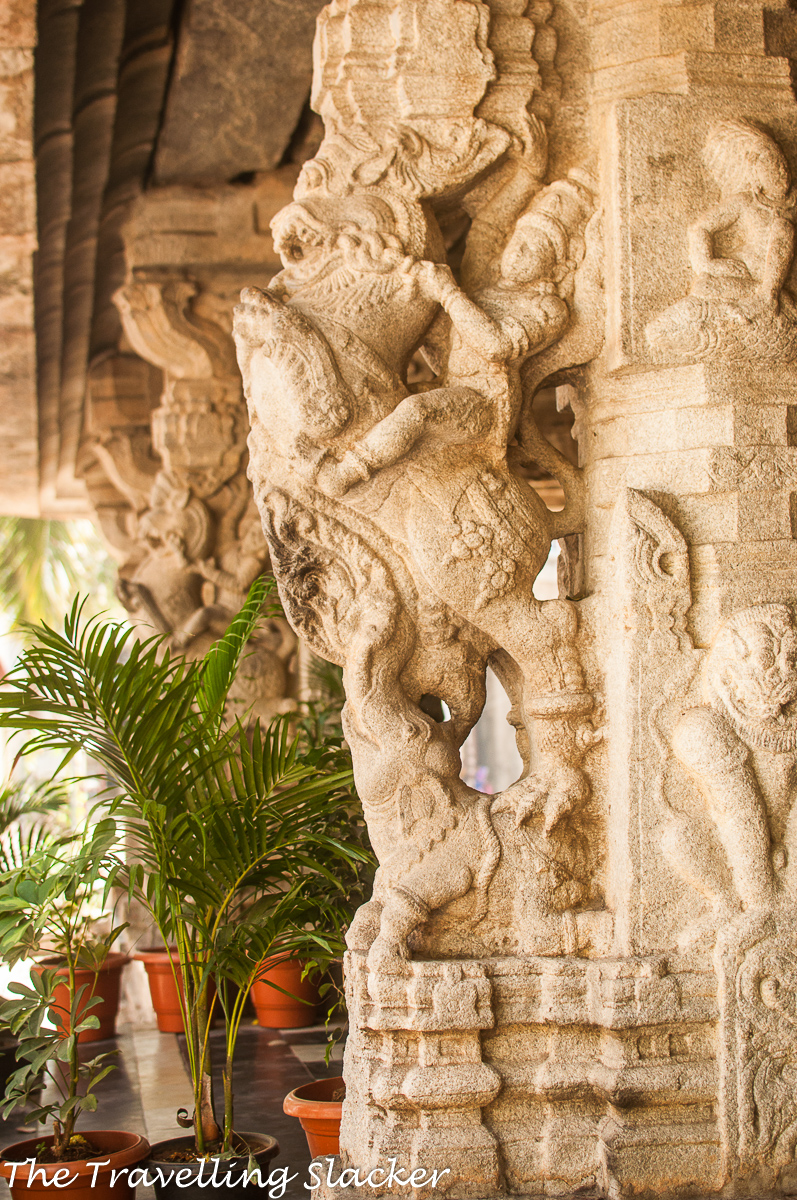 Don't have time for Hampi? Well, there is a Vijayanagara era temple in Ulsoor, right at the heart of Bangalore, although very few people know about it! It should have been among the top places to visit in Bangalore but it remains unknown. It is not far from MG Road and yet hidden in plain sight and hard imagine a temple this big and elaborate in such a congested locality. Here is a detailed post on the temple.
Ulsoor Rd, Someshwarpura, Ulsoor, Bengaluru, Karnataka 560008
2. Breathe Easy at the Disappearing Lakes of Bangalore
The number of major lakes have dropped from 51 to 17 in Bangalore due to developmental activities. So, enjoy the fresh air and open expanses of the remaining lakes before it is too late. You can start with Ulsoor Lake, one of the better-maintained ones. Other lakes include Hebbal Lake, Madiwala Lake, Lal Bagh Lake, Snake Tank, Varthur Lake, Hesara Lake etc. Nagavara Lake, Bellandur Lake, and many more. These are just pleasant places for a morning or evening hike and relaxation after a tough work week. In the winter, you are certain to spot many birds in these lakes.
Thanks to technology, booking hotels online in Bangalore is now a convenient process. So, you can easily find numerous hotels in Bangalore within close proximity to these beautiful lakes.
3. Shop your heart out at Chikpet, the oldest market in Bangalore
There is no dearth of markets in Bangalore but there is something about Chikpet, which dates back to 16th century as per some accounts. It is a hub of the Silk trade, but you can also shop for vintage books, antiques, colourful lighting, and much more, at extremely affordable rates.
Old Tharagupet, Mamulpet, Chickpet, Bengaluru, Karnataka 560053
4. Learn the Art of Winemaking at a Winery
Of late several vineyards and wineries have come up in Bangalore where you can have a greta luxury experience. They do come at a cost but the costs vary and there are affordable ones too. But if you want a good wine tour without burning a hole in your pocket, visit heritage Winery, which is a few KMs ahead of the toy town of Channapatna.
5. Go Graffiti Hunting around MG Road
The street art scene has started to pick up in India only in recent years and cities like Bangalore has seen both local and international artists teaming up to beautify mundane walls with their creativity. Walking around some of the popular localities of Bangalore like MG Road, Kormangla, Malleshwaram, & Indiranagar can be a great experience for art lovers. You can start with Brigade Road area and them move on to other areas.
Brigade Road
MG Road, Bangalore, 560001
6. Hike under the starry skies at Skandagiri
It is an easy beginner's trek, but with a difference! You don't start here in the morning as usual. You start at night, hike under the starry skies, so that you can catch the sunrise in the morning and then return before it gets too hot.
Skandagiri, Kodgibail, Karnataka 562103
7. Unleash your Inner Bookworm
Classic bookstores of Bangalore are treasure troves. Most of these bookstores are located around the Brigade-MG-Church Street area at the heart of Bangalore. Stores like Higginbotham's, Blossom's Bookhouse, Bookworm, Book Hive, and more are Mecca for bibliophiles due to the sheer variety and size of its collections. From Japanese manga to classic literature, and from the latest best sellers to eclectic graphic novels, the three floors of this store covers every genre and you can also find second-hand books at much lower prices.
8. Walk to the St. Mary's Basilica through the Commercial Street
Ever seen Mother Mary draped in a Saree? You will, if you visit the St Mary's Basilica. It is an excellent example of India's synergetic culture and this 17th century church is also an architectural delight. Start your walk along the vibrant market of Commercial Street and reach the church at the end of the road. Here is my blog on the same.
Msgr. F. Noronha Road, Shivaji Nagar, Bengaluru, Karnataka 560051
9. Return to childhood at the Toy Town of Channapatna
How often do you come across a place that has GI mark for its local products? Channapatna, only 60 KMs away from Bangalore, is one of them! Its toys made of wood, ivory, and other materials have been a rage since the days of Tipu Sultan and now they are beginning to conquer wider markets.
Channapatna
Ramanagara District, 562160
10. Explore Nrityagram: The Village of Classical Dance
Established by the late Odissi exponent Protima Bedi, this dance village has been established in the classical "Gurukul" tradition. Several dance forms as well as Indian martial arts are taught here and visitors can explore the village and catch performances any time.
Nrityagram
Hesaraghatta, Bengaluru, Karnataka 560088
11. Turn into a prehistoric caveman at Antargange
An easy trek, only 60 Kms away from Bangalore. However, those hillocks made of ancient volcanic rocks hide many secrets of their own. Generally the hike is done at night, so that you can explore the caves once you reach.
Antargange
Vibhuthipura, Karnataka 563101
12. Know how India learnt to fly at the HAL Aerospace Museum
Hindustan Aeronautics Limited (HAL) has played an important role in the development of native aviation industry in India. The HAL Aerospace Museum is a great place to chart this fascinating journey since the beginning. Old photographs, documents, models of aircrafts and much more can be found here that educates the kids and even keep the adults occupied.
Near HAL Police Station, HAL Old Airport Rd, Marathahalli, Bengaluru, Karnataka 560037
13. Netravati Trek
Netravati Peak is a peak in the Chikmagalur District. As you know, the entire Western Ghat range spread over various parts of South India is a UNESCO World Heritage Site due to its biodiversity and this area is a part of that too. It is not far from Kundremukh, a much more famous trek. However, this is a different route which is comparatively lesser known. You can read my detailed Netravathi Peak Trek post here.
14. Hail Kempe Gowda at Bull Temple & Bugle Rock Garden
The Nandi Temple (Bull Temple) is another intricately carved, 15th-century temple in Basavanagudi area of Bangalore, and the Bugle Rock Garden is located just adjacent to it. The garden has been developed around medieval watchtowers built by Kempe Gowda II.
Nandhi Temple,
Bull Temple Rd, Basavanagudi, Bengaluru 560004
15. Explore Chitrakala Parishad: The Artistic Hub of Bangalore
The corporate grind of the IT city may seem to have overshadowed its finer aspects, but you can still find them if you know where to go. Chitrakala Parishad is among the top places to visit in Bangalore for its burgeoning artist community. Museums, art galleries, installations, and performances, everything can be expected here. Every January, it also organized Chitra Santhe, the annual art fair of Bangalore.
Karnataka Chitrakala Parishath
No.1, Art Complex, Kumara Krupa Rd, Kumara Park East, Sheshadripuram, Bengaluru, Karnataka 560001
16. Explore Gabbar Singh Territory at Ramanagaram
Ramanagaram is a small town around 50 KM away from Bangalore, known for Silk trade. But what you may not realize is that the rocky hillocks around the town was the shooting spot of Sholay, the biggest Bollywood blockbuster ever!
Ramanagaram
Ramanagaram, Karnataka 562159
17. Chitradurga
Around 200 KMs from Bangalore, Chitradurga is a unique tourist hub that combines historical monuments with natural splendour. While the "stone fortress" (Kallina Kote) has many myths associated with it, you will find interesting trails along the rocky hillocks beyond the town. Nearby Chandravalli caves is located amidst three hills namely Chitradurga, Cholagudda and Kirubanakallu. These caves create a maze of steep steps that lead into passageways, rooms and ante-rooms where kings from the Kadamba, Satavahana and Hoysala dynasties resided.
18. White Water Rafting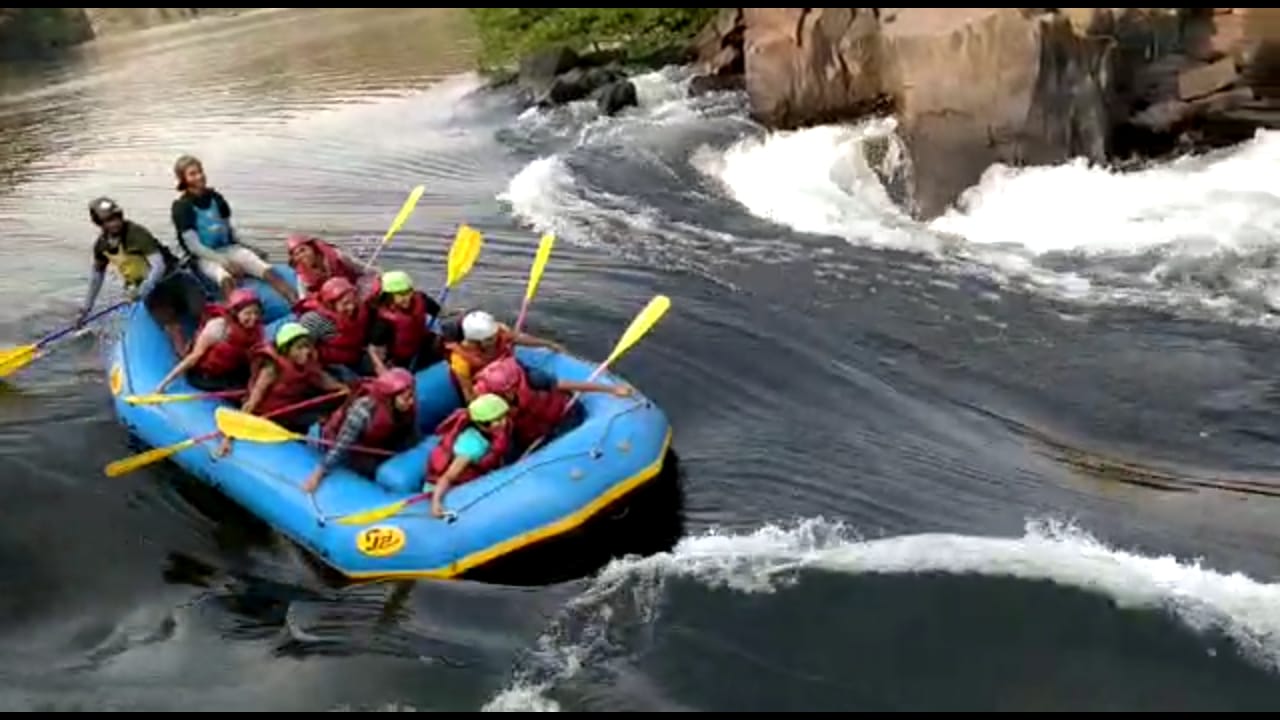 Yes, this state also has many spots ideal for rafting, where you can test your own endurance and pump adrenaline into your veins. Most of these sites are only a few hours away from Bangalore and are ideal for adventure activities for weekends and short holidays. Rafting is best in the small to mid-sized rivers located at mild altitudes due to their natural currents while it is hard to raft in big, broad rivers on the plains. This is what makes Karnataka an ideal destination for rafting because it has many such small hilly rivers crisscrossing the Western Ghat Mountains. Major Rivers for rafting include Bhadra river in Chikmagalur, Kali in Dandeli, Barapole in Coorg, and Sitanadi in Udupi. Read my post on white water rafting .
19. Belligundi Waterfall Trek
Belligundi waterfalls, literally the silver waterfalls, lie deep inside the Sharavathi valley in Karnataka. Falling from a height of at least 300 meters, the falls stand true to their name. The maximum height during the trek is almost 5000 meters and the trail mostly involves canopy walk in evergreen rainforest and grasslands.
20 Kurinjikallu Trek
Kurinjikallu peak is a lesser-known peak situated at an altitude of 3803 feet in the Kudremukh national park at Mudigere Taluk, Chikmagalur. This peak is situated in the Western Ghats and is also known as one of the highest peaks in the Western Ghats. The trek difficulty is moderate and can be done by anyone, but past trekking experiences will give you an added advantage. The place fills you with tranquility and serenity. The total trekking distance is around 14kms. This trek is perfect for a weekend trek as you can finish in just 2 days!
21. Yana Caves
Yana is a small village in Uttara Kannada district that is famous for its unique rock formations deep in the middle of the jungle. The rock clusters here are made of black limestone and there are many mythological stories associated with it.
22. Vajrapoha Waterfalls
Vajrapoha Falls in Belgaum is a remote and lesser-known waterfall. The river flowing through dense forest tumbles down from a height of 150 feet into a deep gorge, creating a picturesque waterfall. The water droplets appear like diamonds and create a rainbow as sunlight touches the veil of the water cascading down.
23. Shettihalli Rosary Church
Churches are aplenty in Karnataka but here's a unique one. The Shettihalli Church near Hassan was built in the 1860s by the French missionaries and it displays classic Gothic Architecture. However, a dam construction in the area submerged everything here including the church. However, the abandoned church can still be seen in a half-submerged state, making it an uniquely photogenic and haunting structure.
Shetti halli, Hassan, Karnataka 573201
24. Bandaje Arbi Falls Trek
This is a 200 feet plunge waterfall deep inside the forests of Kudremukh region. It is sort of a difficult trek that reaches almost 5000 feet and also covers the Hoysala era fort of Ballalrayanadurga, dating back to the 12 century.
Valambra, Kishore, Kadivithwara Village, Belthangady, Karnataka 574214
25. Lesser known temples and other archaeological sites

Initially, I planned to include some lesser-known archaeological sites in this list. Karnataka already has some really famous historical sites like Hampi, Badami, Pattadakal, Aihole, Halebidu-Belur, Gulbarga, and Sravanabelagola. However, there is much more and you will find something in every small town. In fact, there are so many of them that this list will never end if I start listing them. Maybe I will make a different list for them someday. You can just check this list in case you want to explore.