After visiting Mahakuta, we quickly started moving towards Pattadakal. It is a UNESCO World Heritage Site, and hence I expected it to be better maintained compared to the rest of them. The auto drove rushed past the pastures through the empty road and we crossed a bridge over the Malaprabha River, which is as pivotal to the Chalukyan Empire as Tungabhadra is to Vijayanagar (Hampi).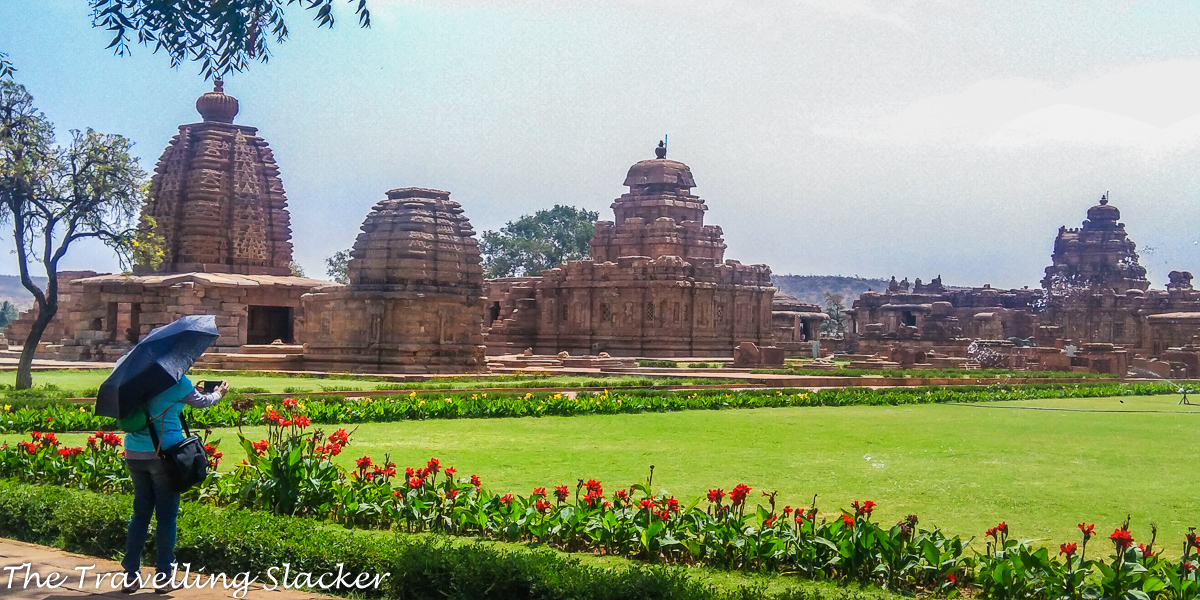 The cluster of temples became visible after a while, in the middle of an uncharacteristically green expanse. The UNESCO tag means more money and better maintenance. So, well manicured lawns have come up around these temples even in the driest month of the year in a drought-prone area.
We left the autorickshaw at the gate, got tickets and entered the complex, which looked like a microcosm of the entire heritage of South India! Although I was keen to get started with what I usually do, it was noon and in that heat, we could not help but take a break, exploiting the lawn and dozed off for an hour under the shade of the trees. As I woke up after an hour, I soon realised that I had to hurry up as we also had to cover Aihole after this and then return to Badami to catch the train.
Coming back to Pattadakal, I can only imagine what it must have looked like when it was built in the 8th century, when the Chalukyas were at their peak, and when Badami was a bustling capital rather than a nondescript frontier town it is today. Initially my plan was to separately document each and every temple but soon I realised that there are too many of them and I don't have enough time for that, apart from the fact that I had chosen a hostile summer day to explore it. Also, photographing the temples individually was near impossible. They were located so close to each other that every temple frame was photobombed by nearby temples.
So, Pattadakal represents a mature phase of Badami Chalukya Architecture. As far as I could understand, the temples at Aihole and Rock-cut Cave Temples at Badami somewhat predates this one and the styles and experimentations developed in those ones reached culmination in Pattadakal. That is why, it is the most elaborate of all the complexes built by the Chalukyas.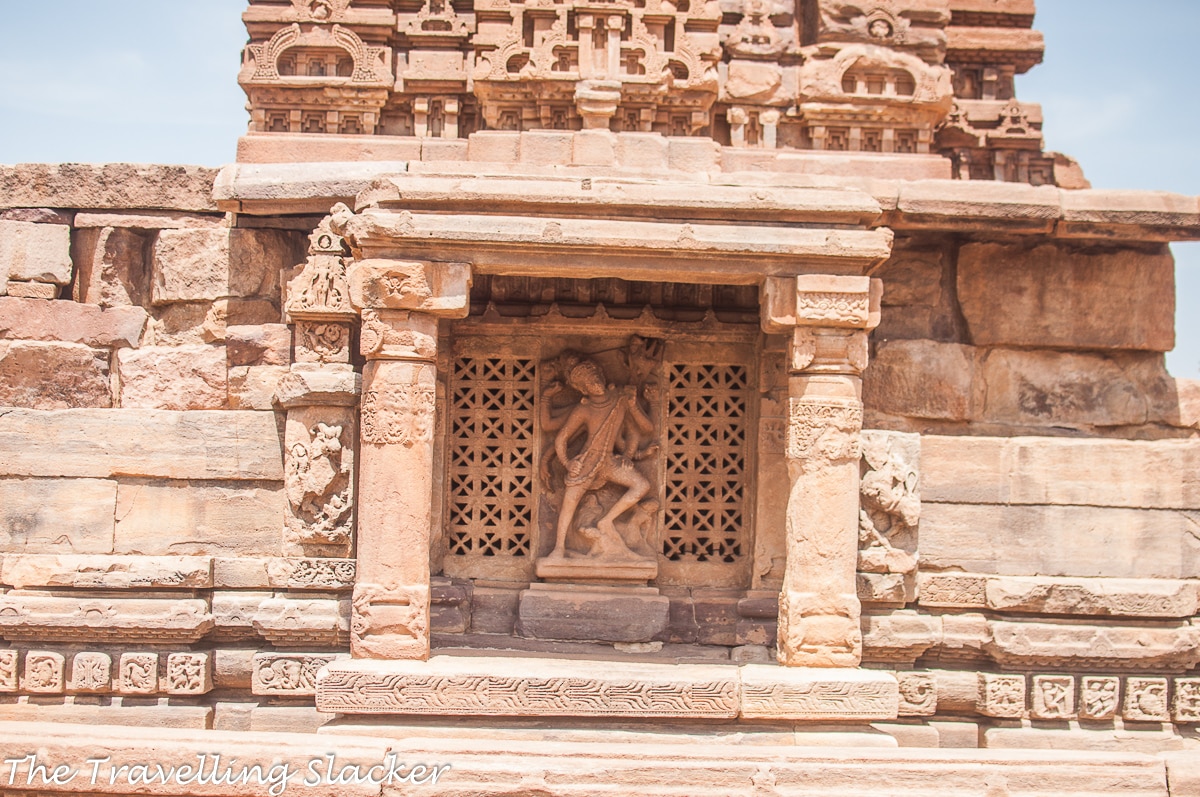 Pattadakal is also an excellent place of displaying the syncretic culture of the society. Out of 10 major temples in this complex, nine are Hindu temples and one is a Jain temple. Jainism has always had a significant presence in Karnataka, as is evident from the fact that Chandragupta Maurya converted to Jainism and spent his last days in Chandragiri near the monumental Bahubali of Shravanabelagola, which itself is a major Jain monument. So, a Jain presence here was hardly surprising. The Jain temple was naturally devoid of the intricate carvings of the Hindu ones.
The other noticeable aspect of Pattadakal is the fact that it displays a melange of diverse styles. Some of the temples are built in Dravidian style prevalent in South India while some others were built in the Nagara style of North India. This region is still in South but not too deep into it. Northern Karnataka is much closer to Central India and must have had regular contacts with them. In fact, one of the Nagara style temples distinctly reminded me of the Sun Temple in Jhalrapatan (Rajasthan). For good measures, one of the temples is actually named Kashi Vishwanatha Temple, which seems like a dedication to the one in Varanasi, the cradle of indic culture and theology. Apparently, the North-South divide is not as vast as you think.
So, the main temples here include Kashi Vishwanath, Mallikarjuna, Sangameshwara, Chandrashekhara, Kadasiddheshwara, Jambulingeshwara, Galaganatha, Virupaksha, and Papanatha, along with the Jain Narayana Temple. Out of these, four are Dravida style temples, four Nagara style temples, and Papanatha shows a composite style, while the Jain Temple has a style of its own. Apart from that, there are many smaller shrines and partially ruined elements scattered around the complex. Especially noticeable are a few pillars with inscriptions in old Kannada language, which have records of warfare, victories, and grants made by certain kings, and are major sources of information.
As expected, the walls of every temple have eclectic carvings. Dwarpalas (guards) with mace, voluptuous women & amorous couples who forced Vatsyana to write what he did, court scenes, scenes form epics Mahabharata & Ramayana, various Avatars of Vishnu, and of course Shiva in various forms are unmistakable. As a matter of fact, bulk of these temples are dedicated to Shiva and there is a live shrine near the Virupaksha Temple with a big black shiny Nandi Statue, which I think is a new construction. Locals still visit and worship in this one and there was a priest present to conduct the rites.
After exploring the temples, and after being completely exhausted, we realized that we still had to cover Aihole and we need to replenish our reserves. There were a few nondescript shacks selling food and I did not have much hope (I had found the food in Badami town disappointing). However, another pleasant surprise was waiting here. One of the guys at one of the shacks invited us in, and we ordered whatever he could offer. What he had was thin, crispy Jowar Roti, with fried whole mung (green gram) and something made of brinjal, a few pieces of cucumber & onion, along with yoghurt. It cost barely INR 30 and even the table fan he had was a great luxury in that weather. Jowar is local sorghum, one of the major crops in this region and this was a local food experience everyone should have. This was as perfect a way to end the Pattadakal visit as possible and we soon moved on towards Aihole but that will be discussed in the next post.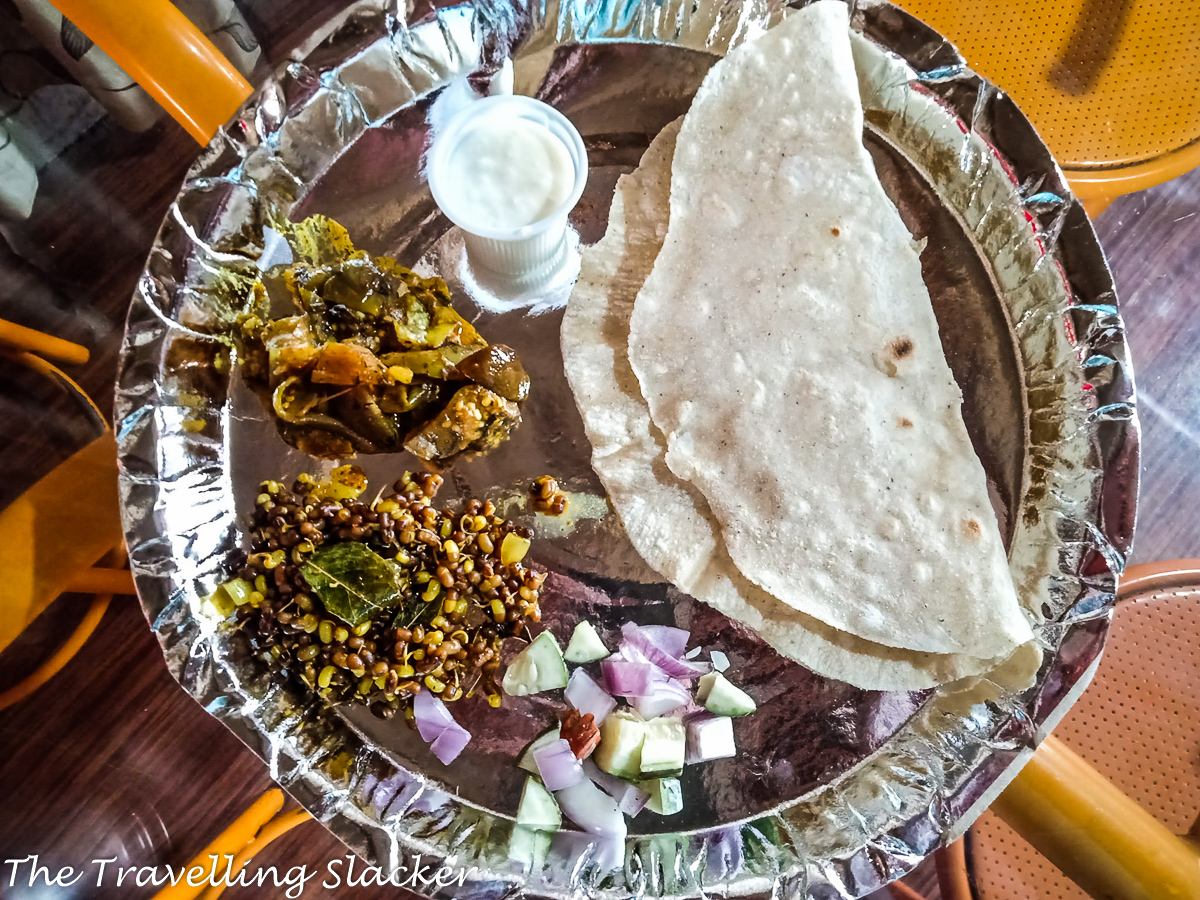 Also Read: 
Badami-Pattadakal-Aihole Travel Guide