Mahakuta Group of Temples? What are these ?
I was there in Badami and was planning to cover Aihole and Pattadakal, as is the norm. However, I had not heard of Mahakuta, which was visible in a tourist map at the KSTDC hotel. Nevertheless, it seemed that it could be covered easily, along with Banashankari Temple, another place I had not heard of, enroute to Pattadakal. The first day was spent exploring Badami (More about it in a different post) and the second day was left for covering all these 4-5 spots in the 20 KM raidus of the town. We had already talked to a local autorickshaw guy on the previous day. He decided to take us to Aihole and Pattadakal, but through a longer route covering Mahakuta.
Banashankari Temple
It took less than 15 minutes to reach our first stop, the Banashankari Temple, dedicated to goddess Shakhambhari, which is also an ancient shrine around 5 KMs away from Badami. It is a live temple, i.e. it is still in use by the locals. So, modern structures have been mixed up with ancient structures and difficult to distinguish and to explore. Nevertheless, it seemed very popular among locals.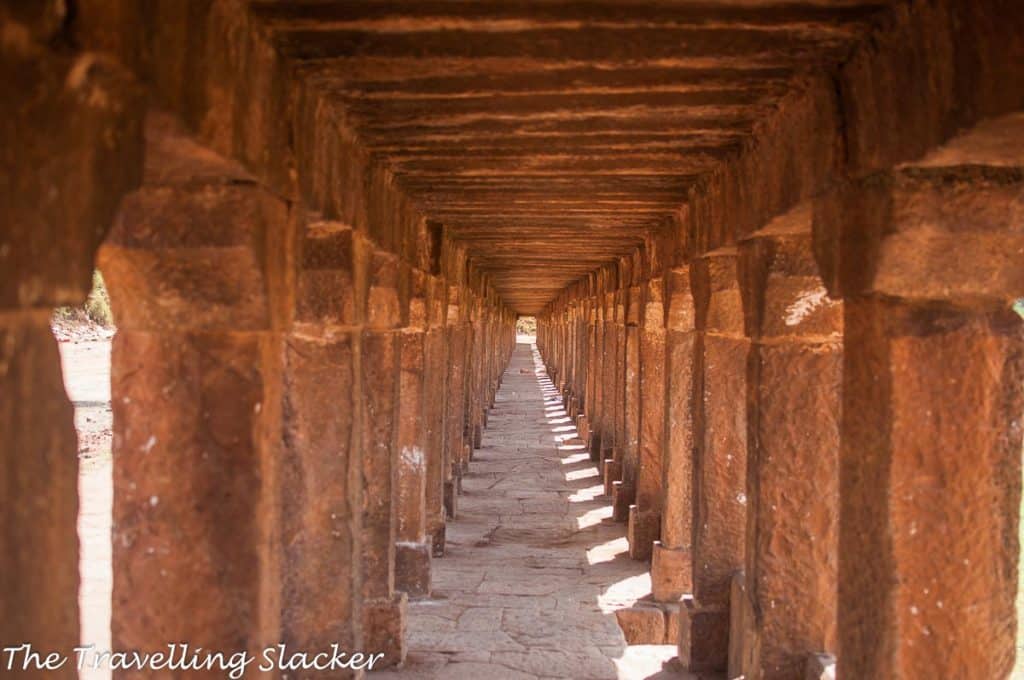 There is a big stepped tank in front, but there was practically no water here as it was the driest and hottest season. It is located in the middle of a busy market place, or may be the market exists because of the temple. It organizes a major "Rath Yatra" with a gigantic chariot for the deity every year. The primary deity here is known as Shakhambari, an incarnation of parvati. The most noticeable structure here is the so called "Guard Tower", with a strange shape. The temple dates back to the 7th century Kalyani Chalukyas but various components must have been built over the next centuries.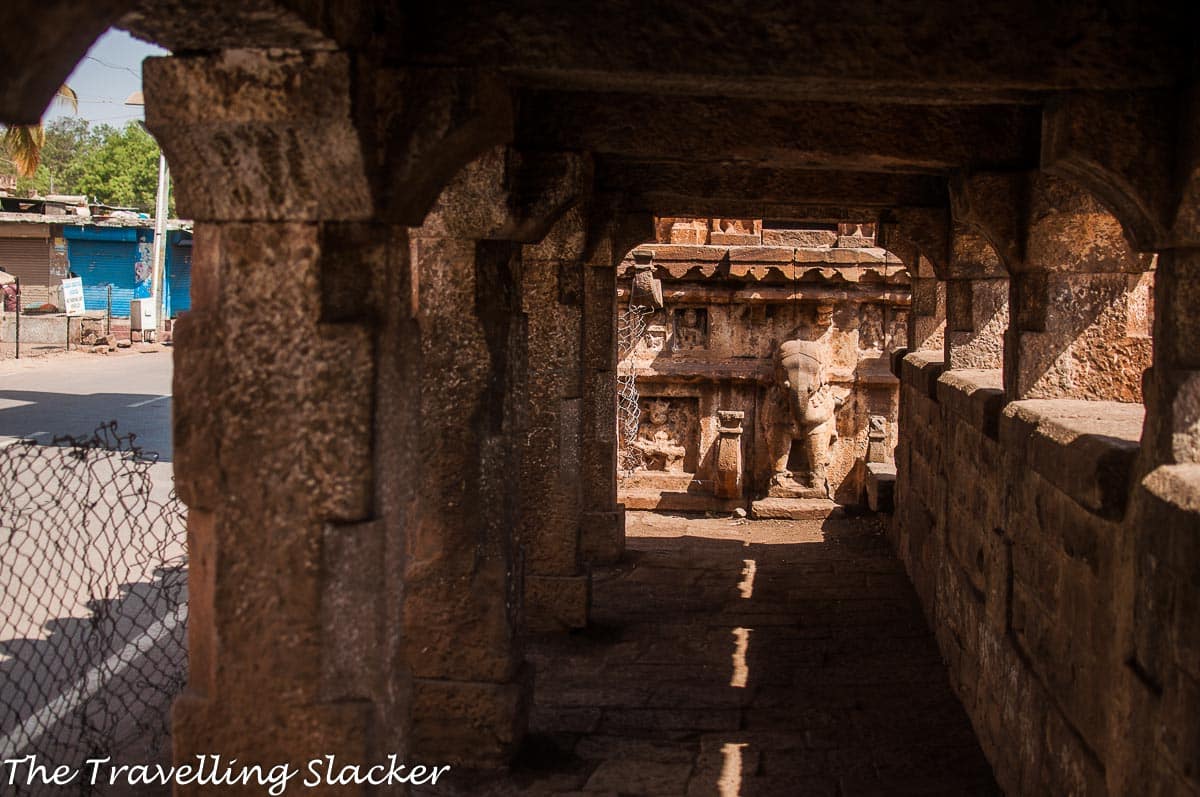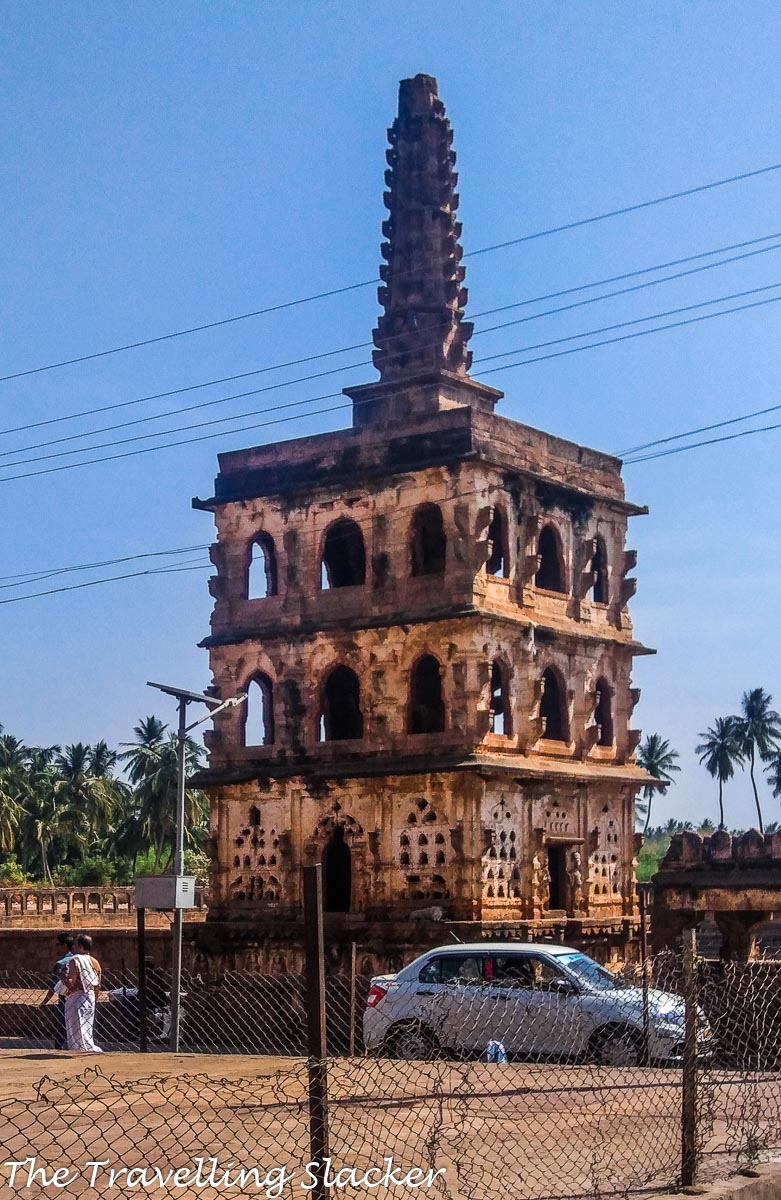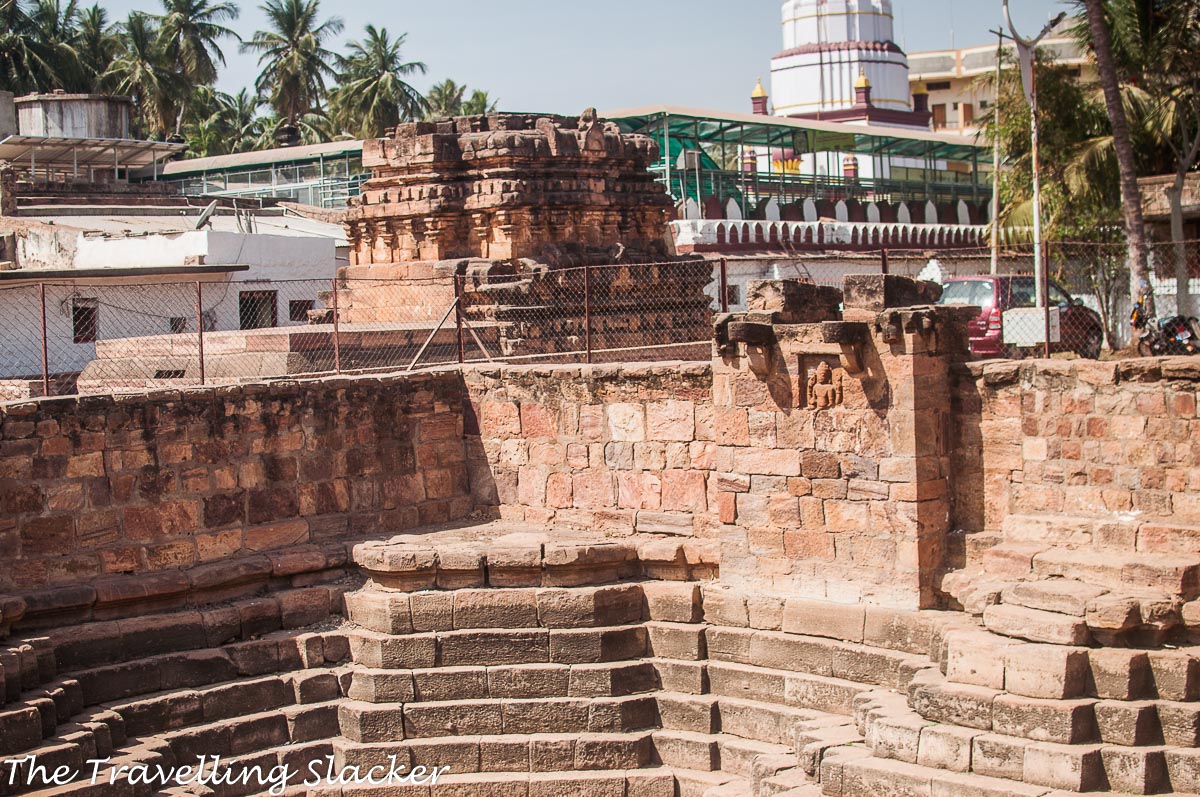 After Banashankari, Mehboob Bhai also took us to Shivayoga Temple.  It did not seem like a historical site though. It is around 7 Kms ahead of Banashankari. It was not a part of the plan but it is in the route and so he decided to stop. The primary attraction here is another one of those larger than life chariots that is used for processions once in a year. He told me that it is the second largets chariot in Karnataka at 65 feet. I don't know how accurate is that bit of information and which is the largest one. The road was pleasant and enjoyable at this stretch with open, fertile pastures. There were sunflower fields too but it was not exactly the season.
Mahakuta Group of Temples
Eventually, we reached the Mahakuta Group of Temples.  Although I had not heard of it before, it seemed like an extensive compound with some ancient, giant banyan trees. There are some small shops and eateries and all we could see was a series of stairs leading up to a medieval-looking stone structure. However, halfway through the staircase, we realized that the actual temples are on the right side of the stairs.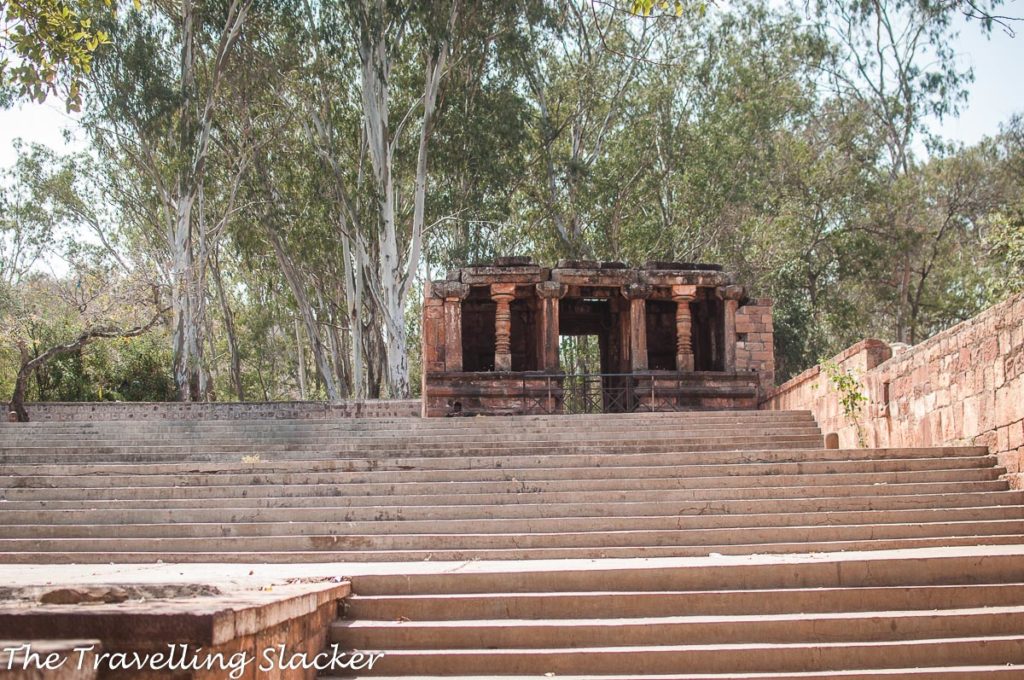 We soon entered the walled compound and a completely different world opened up. There were more than a dozen small temples, surrounding a beautiful pond. Now,  the tank called Vishnu Pushkarni, itself was a delightful proposition. This was March, the hottest and driest season in the southern peninsula. I was only travelling at this time because I had a limited window in hand. Every other water body I had seen so far in this area was dry and even the rivers were on the verge of disappearing. However, this one was thriving and locals were swimming gleefully. Apparently it is fed by a local stream which was not visible. Probably it runs underground.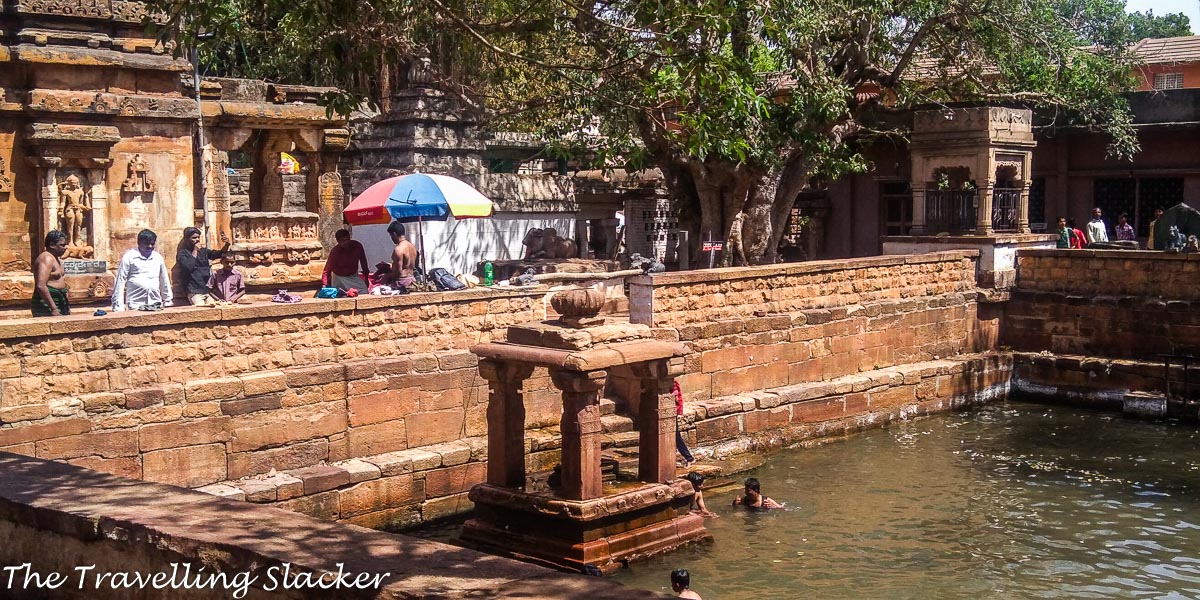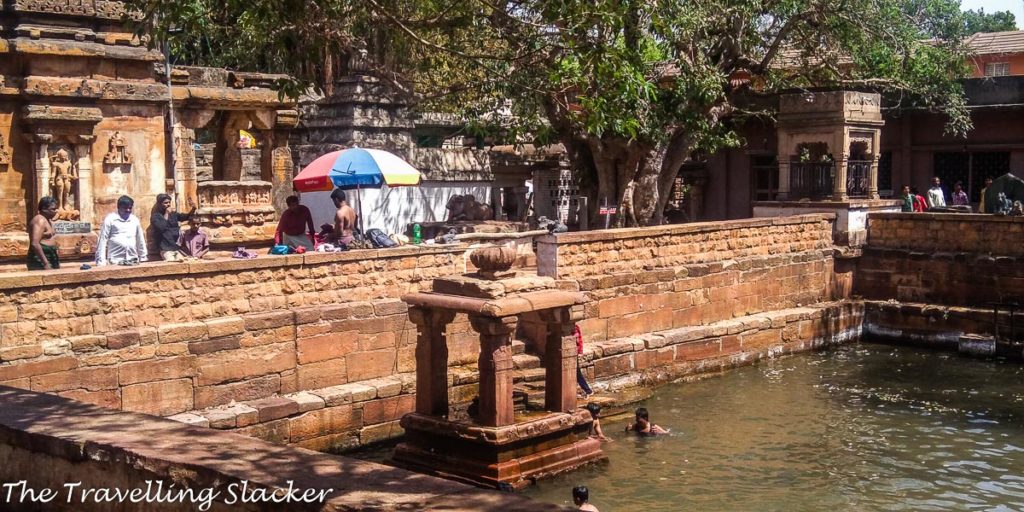 I decided to explore the temples and stumbled on a bull blocking my way. It turned out to be a Nandi statue, but it was so lifelike that for a few seconds I mistook it to be a real one. I have seen such statues at many places and even Mahakuta has a few more but the realism on this particular one was striking. It is also located under a flowering tree, so it keeps getting a flowery shower. This also indicated that this is primarily a Shiva shrine.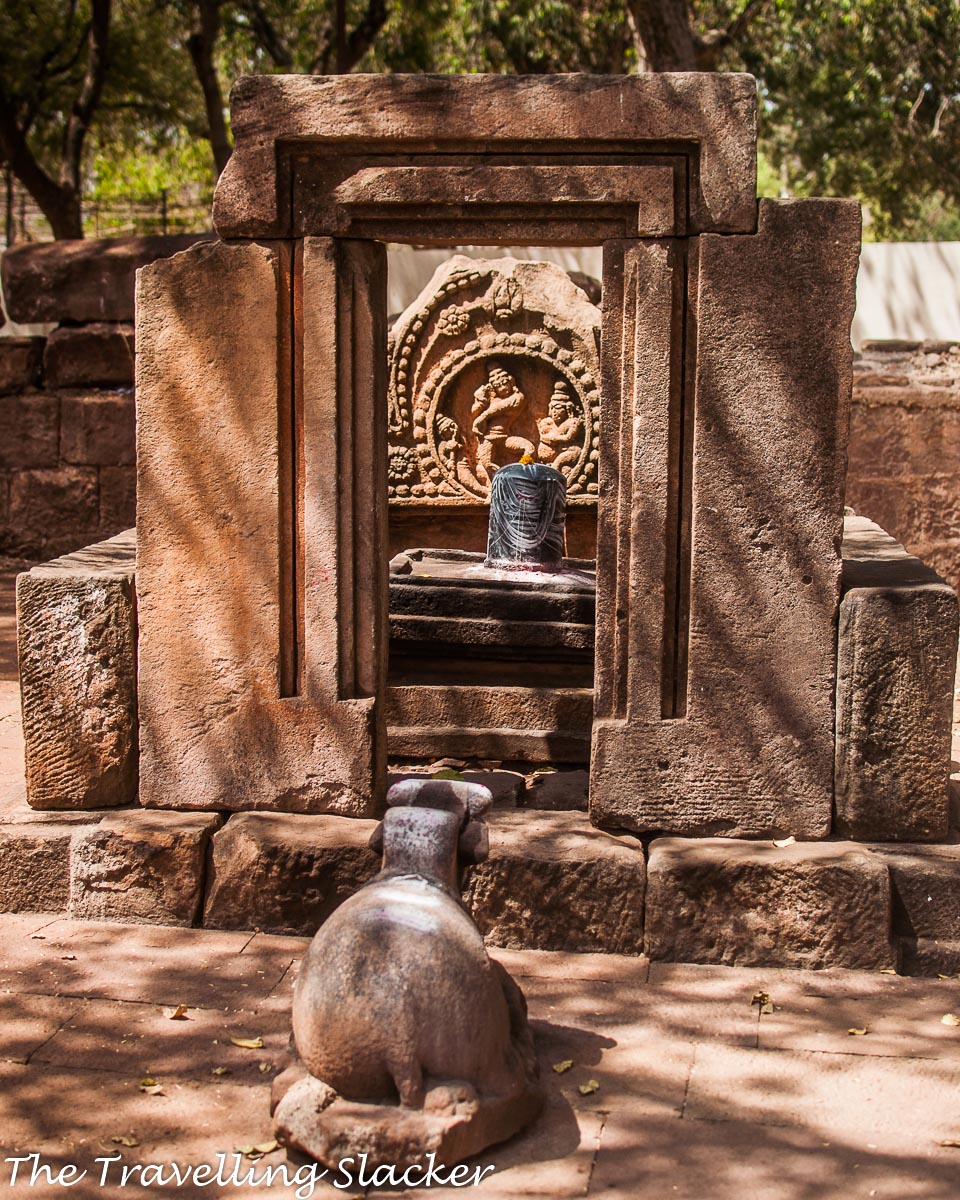 Coming back to the historical aspects, Mahakuta is another achievement of the early Chalukyas of Badami. It was built in the 6th or 7th century and some archaeologically important inscriptions have been found here describing the important events of the Chalukyas. The most important inscriptions though were on a pillar, now known as the Mahakuta Pillar, which has now been transferred to Bijapur Museum. The inscriptions were written in the Sanskrit language and Kannada script.
The name Mahakuta derives from the original name of the most important temple here, the Mahakuteshwara Temple. It displays a combination of southern and northern influences, which is normally the case in Karnataka due to its sheer geography (& this region is closer to Maharashtra rather than mainstream Karnataka). The cluster of small Nagara style temples definitely reminded me of many temple complexes I have seen in the hills of Northern India, such as the Baijnath Temple and Baleshwar Temple in Champawat, and Jageshwar.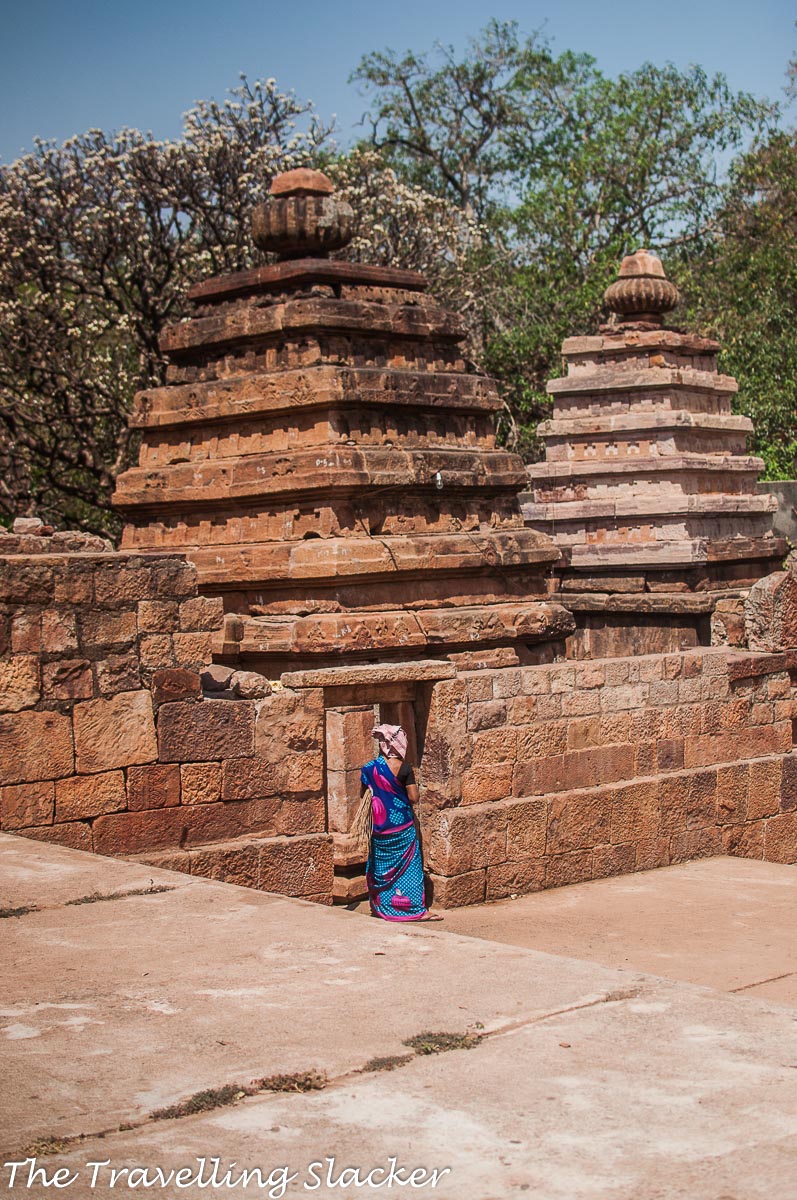 Walls of each and every temple display intricate sculptures which are not limited to Shiva and his cohorts. Vishnu and his avatars were present too, especiallynoticeable was the Varaha one, which was similar to the one I once saw in Udayagiri Caves, Vidisha. While most of the temples still look in good shape, the largest one, which is also regularly visited by devotees, has been painted with an aesthetically ill-suited green paint, I don't know why!
We spent around an hour in this complex. The day was only getting brighter and hotter and we had a lot to cover for the rest of the day. I think I would have spent more time here exploring each and every temple had I visited on a cooler season. But for this trip, this is what I could do.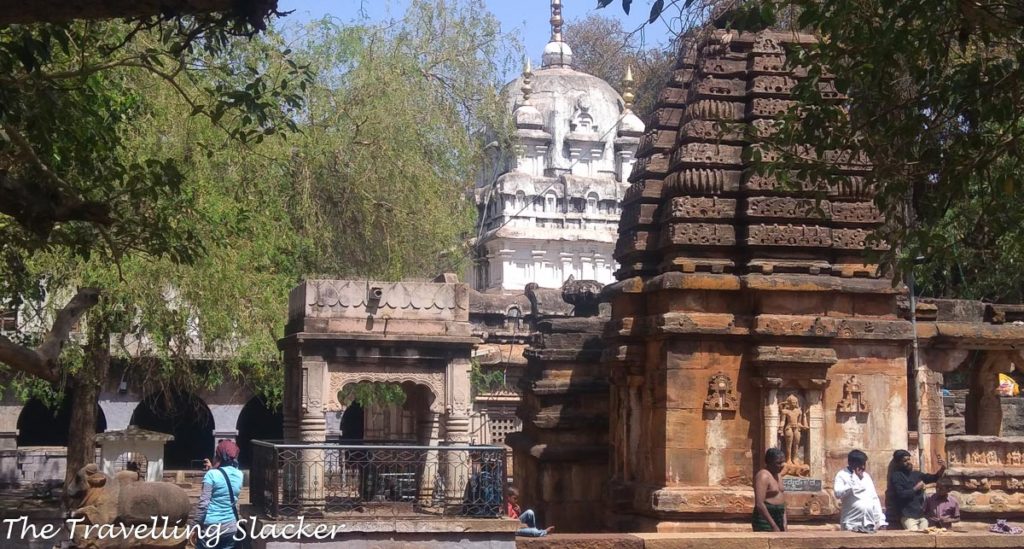 How to Reach Mahakuta?
Mahakuta is around 15 KMs from Badami Town. You will have to get local autorickshaws or tourist tempos for reaching it, unless you have a vehicle on your own.
Entry Fee at Mahakuta?
One guy asked to pay up INR 10 each but did not give any tickets. Not sure it was even official. LOL
For more details read the Badami Travel Guide.