According to one of the Jhalrapatan's origin stories the name basically means the city of temple bells. However, there are other stories too. Nevertheless, this story does not seem farfetched because according to one account the small town had 108 temples at one point of time. Most of them can still be seen as one walks around the narrow lanes of the congested and sadly squalid town.
To be honest, I had not heard of Jhalrapatan until recently. I heard it for the first time just before I was leaving for my second Hadoti trip. Yes, I'd been to that area before and nobody told me about it back then. Nevertheless, as I did my basic research, it became clear that it was not far from some other places I want as planning to visit.
I reached Jhalawar from Kota after a confusing bus ride. I first took a bus that had Jhalawar written on it but it was not going there. I realized it after half an hour, left that bus on the highway, and got lift from a helpful truck driver who dropped me back on the bus stand. Then finally I got the right bus and reached the town but most of my day had been wasted. This also meant that I only had one day left for visiting both Gagron and Jhalrapatan. I did manage it next day but I had to rush through them (The Gagron post is up already).
Nevertheless, I paid a quick visit to the Garh Palace or the City Palace built in the 19th century that evening. It is located right at the center of the walled city. Part of the palace has now been turned into a museum. It was about to close down for the day and I barely had 15 minutes to quickly rush through the collections. But it was enough to showcase the archaeological riches of the region, primarily dominated by Jhalrapatan and Baran. It also houses some rare manuscripts and Hadoti miniature paintings that deserve more time and a more erudite person than me to explore.
This area is seldom visited by tourists so unlike Bundi, I struggled to find backpacker-friendly budget hotels and finally settled for a family hotel, reluctantly paying INR 800 for a night. The next morning I took a bus to Jhalrapatan. The locals call it just "Patan" and this is what one should use when asking for directions. However, one must not confuse it with Patan in Gujarat, which is another archaeological treasure trove.
The next morning I took a local bus to Jhalrapatan, which was 7 kms and INR 10 away. It turned out to be another walled city with large gates on all sides. I was looking for the centrally located Sun Temple, its primary claim to fame. But soon I realized that this place is too densely populated to spot anything from a distance. Residential houses and markets have surrounded it from all sides. I kept walking though, following the Google Maps. I noticed some smaller temples. I also noticed that the town has a significant Muslim population and there are many Dargahs apparently although I was running out of time so I rushed past them. It also seemed to be a major hub for stone carvings and related businesses, surely something they inherited from the past masters.
After 20 minutes or so, after a quick turn, it suddenly appeared! It was a colossal structure and it deserved to exist at the centre of a vast and empty field, basking in all its glory. But here it was, right in the middle of a chaotic market so packed that I could never get the whole structure in one frame.
Present day town here is no more than 300 years old. However, there used to be an older town here and now both the past and present has merged with each other, making it impossible to separate one from the other. The oldest specimens here date back to 6th and 7th century. The Surya Temple (Sun Temple) or the Padmanava Temple was built in the 10th or 11th century but I could not find any definite information regarding the people who built it (most probably Pratiharas). The alternative names are confusing because they represent two different deities. From what I could understand, the temple has both Vishnu and Surya statues. I did not photograph the inner sanctums though, so as not to annoy the priest and the devotees.
The "shikhar" of the temple is apparently 97 feet tall. The inner sanctum has to be reached crossing a vast "Mandapa", a pillared hall was locals were seen sitting down and relaxing for a while beyond performing their spiritual duties. Each of the 52 pillars has intricate carvings of various deities and other celestial beings such as Gandharvas and Apsaras. The top of the pillars have the "bharavahaka" sculptures symbolically carrying the burden of the roof.
The outer walls of the temple are even more intricate. In fact, the large dome looks to have been made of many miniature domes, each with their own details. Not a single square inch has been wasted without a sculpture. It immediately reminded me of the Badoli temples in the same region although it is a much larger structure.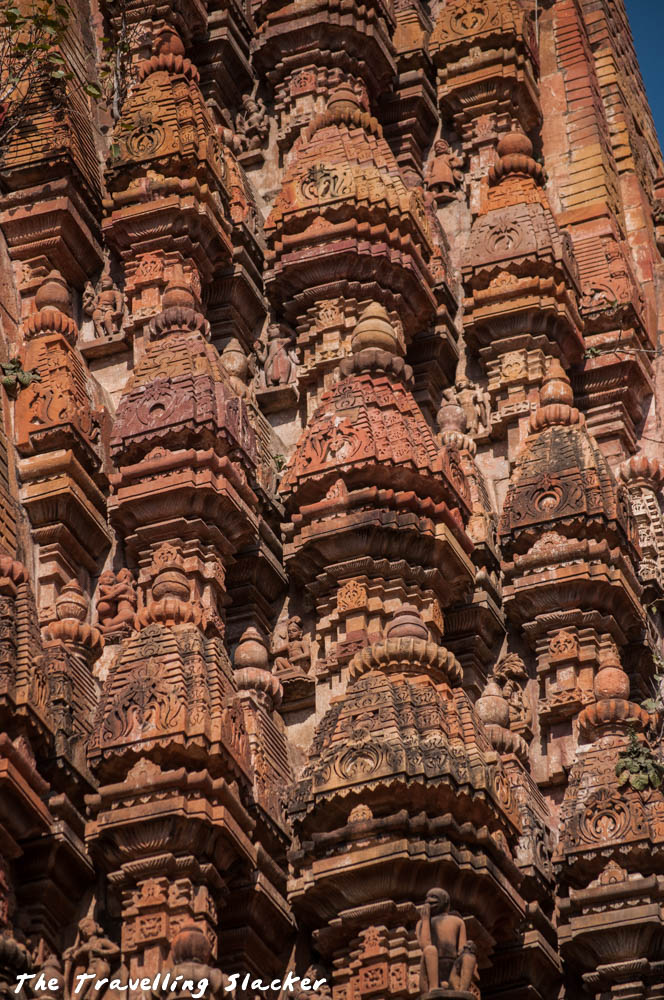 The mandapa has some large "Chatris" or cenotaph-like structures over it along with some more intriguing statues. Now, this brings me to the confusing part. These parts above the mandapa don't really seem as old as the rest of the temple. But I could not find any reliable information regarding this. The standalone statues here look more like ascetics rather than deities and none of them are sitting straight. Instead, they look like frozen in action, almost as if they were photographed while swaying feverishly during a "kirtan" session or probably after a puff or two of the chillum.
After the Sun Temple, I quickly went back to the Shantinatha Jain Temple, which I'd spotted earlier. In this case too, I came to the same conclusion. The thousand-year-old temple honoring Shantinath, the 16th Jain Tirthankara, is hidden inside and it is surely old and follows the same style as the Sun Temple. The other structures around the compound seems new and so are the two colourful elephants in front of the sanctum.
Nevertheless, I noted some interesting artwork on the walls of the outer structures. These are surely not from the Hindu mythological stories I am familiar with. Instead, these probably deal in Jain mythology, something I do not know much about.
I was also looking for the Chandravati temple, which is even older and probably the original centre of the old town and the Navlakha Fort above the hills overlooking the town. But I had no time left and also I got lost a few times in those alleys. I returned to Jhalawar and started walking towards Gagron. However, I think I will have to return again as I'd underestimated these parts and did not devote enough time.
Traveller FAQs:
How to reach Jhalrapatan?
First reach Kota which is a big city that can be reached from anywhere using any mode of transportation. Jhalawar is around 80 kms from there and you will get buses. Trains are there too but the train station is a bit far off. Jhalrapatan is only 7 kms from here and you get local minibuses for no more than INR 10.
Where to stay?
There are some hotels in Jhalawar but not very budget-friendly. I did not see any option in Jhalawar either. You will have to manage in Jhalawar somehow.
When to go?
It would be better to avoid extreme summer months. Also, I can imagine that these congested drains will overflow when it rains. Try the winters for a painless experience.