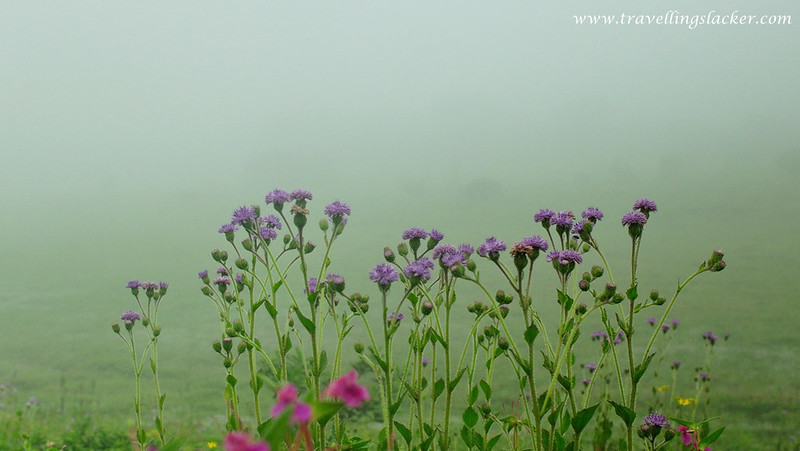 It was a good night's sleep, the kind of sleep that you get after a hard day's work (due to compulsion rather than motivation) and also the kind aided by the lullaby of raindrops falling on the rooftop. But as soon as I woke up I realized that it was the worst possible night for such serendipity. I was stuck in that austere room of that seedy lodge, ill-equipped to counter the rain, with a mind restless in the prospect of another failed trip!
_______________________
Well… I think these introductory lines came out looking a bit too desperate and pretentious. But that is exactly how I felt that morning. Anyways, let me begin from the beginning itself. After my visit to the Valley of Flowers, Uttarakhand in 2010, I was searching for similar places because such places simply cannot go wrong with photographs. That is when I stumbled upon Kas Plateau (Or Kaas Plateau), a southern valley of flowers that comes alive merely for a month or two in the late monsoons. It is located near the city of Satara, nestled in the Shayadris or the Western Ghats range.
My plan had all the elements of failure ingrained in it. Lack of time, research and habitual procrastination along with the omnipresent Murphy almost threatened to turn this trip into another turkey even before it began. But eventually I managed to salvage something out of it and so I think it was worth the trouble.
Bangalore to Satara:
The direct train to Satara was already full so I avoided that one and booked a ticket to Pune. It was a peaceful journey till Pune, I got a window seat (The Side Lower one for those who are familiar with Indian Railways) in the sleeper class. The weather seemed to be nice and as Pune approached, I could see some nice cloud formations and the blue sky. I didn't feel like shooting with the camera and lenses in the crowded train. So I took a few low-quality shots using my phone.
I finally reached Pune on Saturday afternoon and I quickly realized that surfing on roaming has drained my balance as well as its battery and hence it is not possible to call the old college friend I was planning to meet in Pune. Anyways, without wasting much time and saving my apologies for the future, I just got myself a general ticket for Satara and boarded the passenger train which had the speed of that proverbial tortoise but also liked to take frequent breaks like the hare. But the good thing was that it was almost empty and the seat was comfortable. As the train approached Satara, I realized that the monsoon wasn't over yet in those parts!
At Satara:
I reached Satara at around 10 pm and it was raining heavily. I also came to know that this station is unlike the stations in the major cities. There are no commercial establishments and hotels nearby. The city centre was some 8-10 kms away. One auto-rickshaw driver agreed to take me to the city, I asked him to find the cheapest available accommodation for the night. He took me to a dilapidated lodge that looked like a relic of pre-liberalization India. I remember such depressing structures from my childhood that was spent mostly in some nondescript towns in Assam. Nevertheless, it served my purpose because it cost only INR 350 per night and I only needed a place to sleep. Also, I was informed that I can keep the room for 24 hours and there is no need to vacate it in the morning itself. That meant I could come back the next day after the actual trip and freshen up before I leave the place.
Reaching Kas Plateau:
As I'd mentioned already, the next morning it was raining cats, dogs and frogs. I tried to go out and venture the local area and get something to eat and if possible buy an umbrella. But almost all the shops were closed due to incessant rain and the road was beginning to flood. So I returned to my room and dozed off again in frustration (One of my few distinct qualities include the ability to sleep when depressed).
When I woke up again at around 11 am, the rain had stopped and the weather seemed to be better now. I had some Misal Pav at a nearby stall and moved to the Rajwada bus stand as I was informed that buses are the only option in case you do not have a private vehicle. Autorickshaws refuse to go that far.
After waiting for more than an hour, finally a bus came that was going to Kaas. The fare was cheap (I think they charge INR 1 per KM) and Kaas was 24 kms away. Precisely at this point I noticed that Satara is actually a nice little town. It is surrounded by scenic hills on all sides. The short route to Kaas was a typical serpentine hilly road. As the bus moved up, the view from my window kept getting better. Satara looked like any other crowded Indian town when I was inside it but from the hills it looked like a sleepy Himalayan settlement.
At Kas Plateau:
As the bus moved further up, it offered some arresting views of sprawling lakes amidst lush green vegetation. Unfortunately for the first time in my life I regretted not having my own vehicle as the bus never gave me enough time to shoot the same. The bus finally stopped at a place which is 2kms from the actual spot. All other buses and private vehicles were supposed to be parked here. There was enough space for parking and there are several shops selling snacks, tea and water. From this point, forest department buses take people to the actual area which is 2 kms further from there. There are at least two assigned buses for this purpose and they keep shuttling in that 2 km stretch carrying batches of visitors.
One of those buses left me just at the entrance where one has to buy tickets worth INR 10 per head. You also have to pay INR 50 in case you have a camera. I did register online in the official Kas website because recently there has been talks of limiting tourist flow to the place for conversational concerns. But nobody really seemed to bother about that on ground. Also, there were far too many visitors for my liking.
The weather had begun to deteriorate already. Also, while it looked great, I felt that I'd missed the peak by a week or two. I'd seen photographs by other travellers who visited the place in the preceding weeks. They had a pink layer above the green but now the predominant colour seemed to be yellow, with a few purple and white sprinkled here and there. The dull, characterless sky was also not helping my cause.
From the edge of the plateau I could see the deep gorges covered with virgin forests. I spent an hour walking around and exploring the place. But after that a thick veil of mist suddenly covered the place, blurred my vision and soon it begun to rain. By the time I rushed back to entry point, I'd realized that thankfully my camera bag was water-resistant but my shoes were not. It kept raining for half an hour as I took shelter in the nearby tea shop. As the rain subsided, I moved to the other side of the road and shot the lake as I waited for my return bus.
The Way Back
The returning bus again agonizingly breezed past the best locations of the route. Finally, I couldn't take it anymore and decided to take a calculated risk. I left the bus with 7-8 kms more to go. I thought it was a risk worth taking considering that I only have to walk downhill and also the sky seemed to be clear now. I hope the following images will justify my decision.
Finally, I reached the town when it was almost dark, returned to my lodge, checked out, and took the night bus back to Bangalore.
Backpacker FAQ:
When to Visit:
Kas comes alive only during the monsoon and post-monsoon period. The best time in my understanding is the month of September. It was the first week of October for me and it already seemed to be waning.
How to Reach:
Satara is well connected with the major cities like Mumbai, Pune and Bangalore. There are trains and sleeper buses easily available. Kas is 24 kms from Satara and can be reached by local buses. Just ask someone where the local bus stand is.
What to See:
Kas is of course the prime attraction here. The surrounding areas of Satara are generally scenic, especially in the monsoon. There is a waterfall called Thoseghar, which I could not cover as a lot of time was wasted due to heavy rainfall.
Where to Stay:
All ranges of hotels and lodges are available in Satara. Reach the "Powai Naka" area and you will see enough options. There also a few resorts just outside the town en route to Kaas.
Permission and Formalities:
In recent times, there have been talks about restricting visitor inflow into Kas Plateau for conservation-related issues. There even exists an official website for Kaas Plateau. You are supposed to register beforehand, receive a mail for the same and take a printout. But the thing is, nobody asks for it in practicality. But I'd still recommend everyone to do the same because you never know when the authorities decide to implement it seriously.
Update: I think they have stopped implementing this registration business because it was obviously not working.
Precautions:
Be prepared for the rain always. Take a raincoat with you. I did not and paid the price.