Last month, after watching Ozu's Late Autumn and Bergman's Autumn Sonata I finally decided to leave my job on impulse, jeopardize my financial security and travel with no fixed plan for a couple of weeks. Of course this is what I would have liked to do for a longer duration and chart more challenging terrains but this is what my finances could sustain.
As expected, the entire trip was a festival of indecisiveness and confusion. After the failure of my Spiti plan in the previous month, I was still hoping to make it to Kinnaur in November but finally I gave up and took the easier way out to Dharamshala and then moved to Chamba and finally climbed up the majestic Sach Pass. Although I decided against crossing the pass and visiting Pangi Valley as it was already mid November and heavy snowfall and resultant blockage of the route was imminent. Also, en route to Himachal I had spent a couple days in Jodhpur and Jaipur too after a couple of pointless days in Goa.
From the lush green seduction of the Western Ghats to the sunbaked antiquity of the Aravallis and finally the overwhelming, holier than thou majesty of the Himalayas, it was a microcosmic tour of the diversity that this land has to offer. I have already covered a bit of the Western Ghats in my Kaas Plateau Travelogue and Goa was in fact disappointing. So, what I have to offer now is a bit of Jodhpur and Jaipur and then some more elaborate escapades in the Dhauladhars and Pir Panjals. I will be writing about them over the next few weeks and now I am putting up a few snapshots, the ones that have been processed so far. I will be back with detailed travelogues soon.
Jodhpur was not very kind to me. It was hot, the sky was dull and the sun was shining too brightly to ruin almost every photograph.

Jaipur was not much better either. If it had anything in abundance apart from sunshine, it was the pigeons.

I finally got the much needed respite after reaching Dharamshala. Pleasant weather and dark blue sky combined with great food options made it one of the most lavish and fattening two days of my life.

Two balance my consumption I did complete almost 15 kms of trekking near Dharamshala. More about it later.

After Dharamshala I moved to Chamba which is a less touristy and more "desi" town compared to cosmopolitan and ubercool McLeod Ganj. The museum out there had a lot of Chamba and Kangra style paintings and all of them seemed to be pleasantly ultraviolent.

After a couple of days of indecisiveness, I finally took a bus to Bairagarh, a small settlement just before the Sach Pass that leads to the secluded Pangi Valley. The friendly farmers there seemed to be living a better life than me.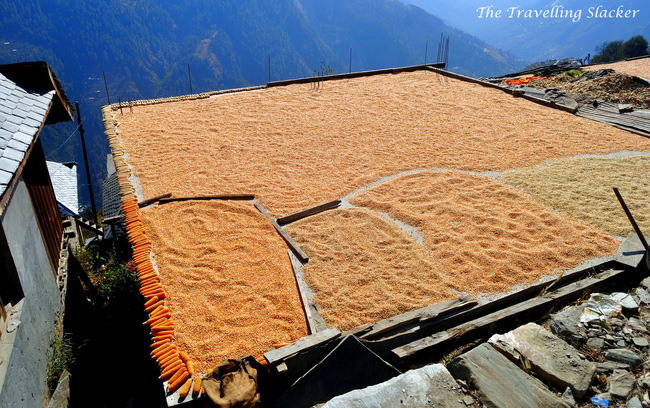 My final act of course was the visit to Sach Pass. It is lesser know compared to some otehr passes but my driver proudly told me that it is higher than Rohtang Pass.

So, This is it for the time being. Hope to start with the Jodhpur Travelogue in a couple of days.