The Halasuru Someshwara Temple is a 500-year-old Vijayanagara Era Hindu Temple located right at the heart of the city, yet hidden behind highrise apartments of Ulsoor. It may not be as epic as the ones in actual Vijayanagara i.e. Hampi, but has enough to keep you occupied for a few hours if you are interested in history and archaeology.
——-
So, how did I find this ancient temple in Ulsoor in the first place?
Well, Bangalore and weekends are a combination that never worked for me, and in general, I will never grow fond of this city. I know that a lot of people won't like what I am going to say but I have always felt so.  The idea of "enjoying the weekend" for most of the deracinated millennial IT kids in Bangalore seems to be all about finding exorbitantly priced watering holes and splurging whatever they earned during the weekdays.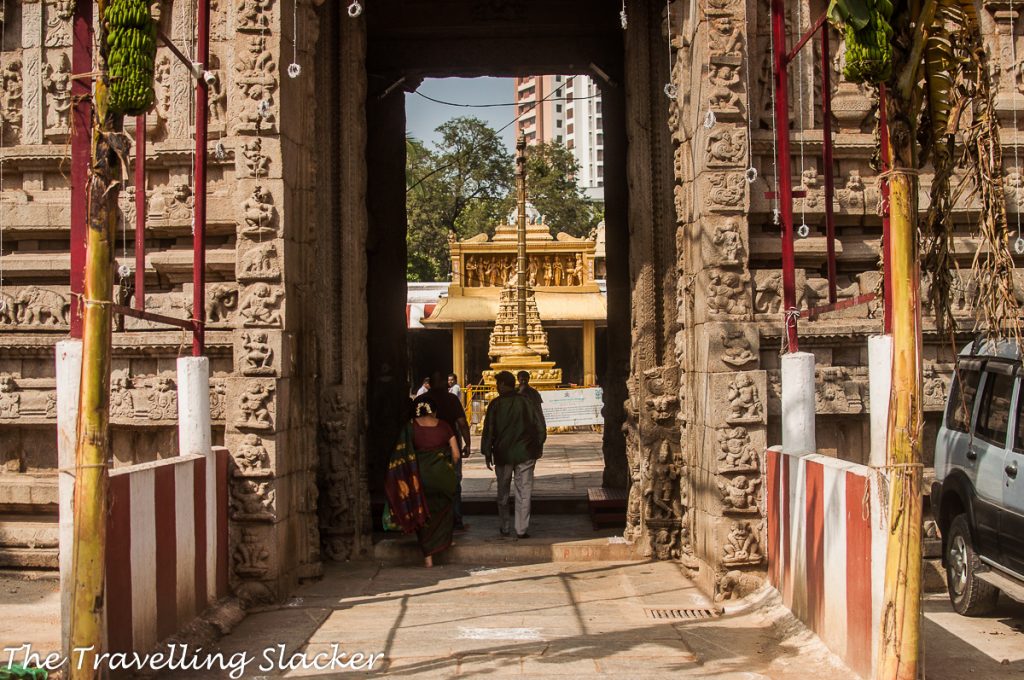 Nevertheless, even Bangalore is a reasonably ancient settlement and although not as abundant as in Delhi, there are interesting monuments here to explore on lazy weekends although no one will tell you to do so. As a matter of fact, I am not a stranger to this city. I have stayed here for long durations on multiple occasions over the years for professional reasons. Back in 2012, I was staying and working in Indiranagar and visited nearby Ulsoor to watch movies at Lido but even then, I was not aware of this temple. Nobody talked about it or probably I was simply hanging out in the wrong circle. Anyway, last year I returned to the city for some work and this time, somehow I came to know about this temple and paid a visit too.
Reaching Halasuru Someshwara Temple
Halasuru is just the original local name of Ulsoor, which is the more prevalent anglicized name of this area. So, this temple is located in Ulsoor, not far from the main road, which also has the metro line. It is located somewhere between the Ulsoor & Trinity Metro Stations, and also very near to the Lido Mall (Inox Multiplex). Naturally, this area is very close to Indiranagar as well as MG Road/Brigade Road, some of the most popular hangout spots in the city.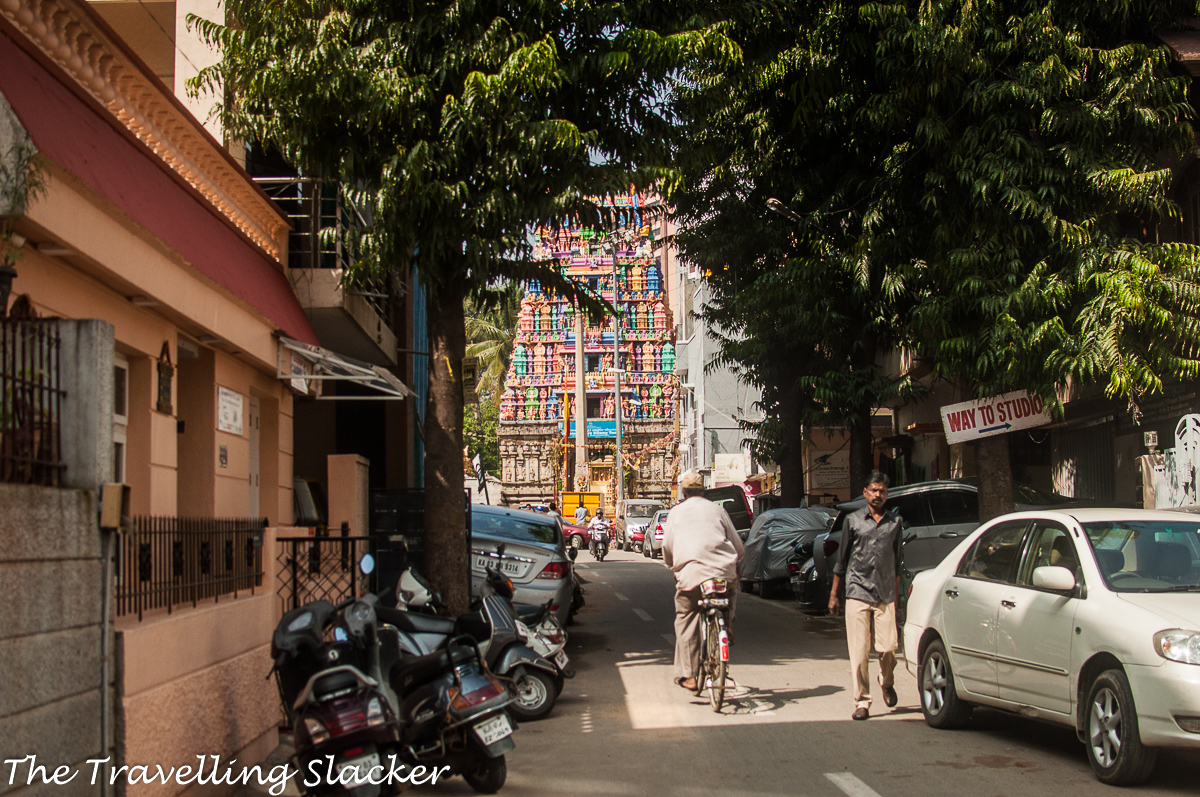 The temple complex is not massive but not that small either. This is why it surprised me as it was much bigger than what I expected in that seemingly congested locality. It is surrounded by a lot of new apartment buildings and this is why it is not visible from the main road although it is just a few hundred yeards away from the road.
History of Halasuru Someshwara Temple
So, from what I could figure out, most people attribute this temple to Kempe Gowda, one of the most famous local chieftains of Karnataka who is also believed to be the founder of the city of Bangalore in the 1537 AD.  So, I think this temple itself is one of the earliest structures built in this city. The most dominant power in the south back then was, of course, the Vijayanagara Empire & Kempe Gowda was also a vassal of the same, which is what defines the style of this temple.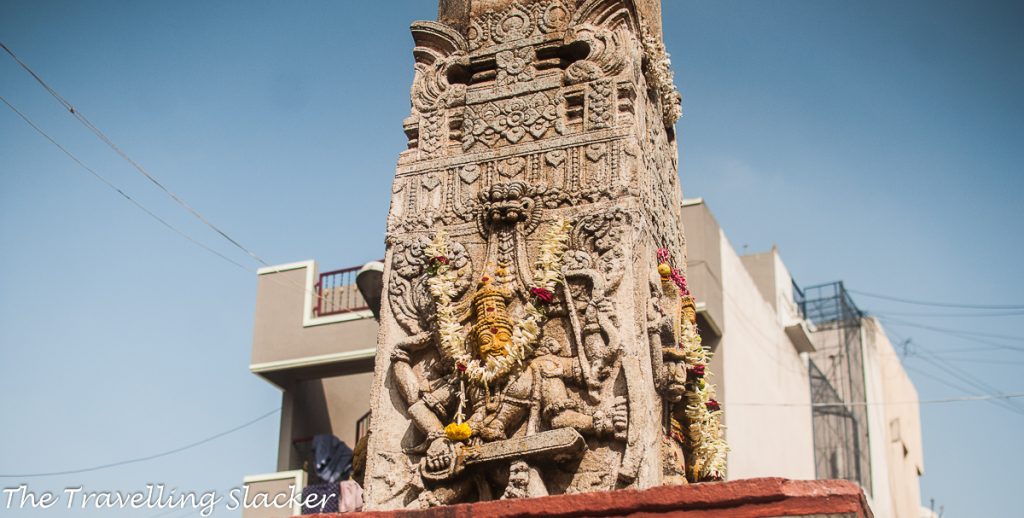 Architecture and Sculptures
As the name suggests, it is basically a Shiva Temple although sculptures and statues covering the entire pantheon can be seen.  As usual, the temple consists of a Garbhagriha (Sanctum) and a connected Mandapa (Pillared Hallway). Also noticeable is a giant Gopuram (Gateway), which is basically a tall tower with intricate sculptures. Apart from there, there are smaller structures and artefacts scattered around the complex and all the walls display excellent craftsmanship. Also, there is a solitary pillar outside the complex, which looks like a victory pillar, but I could not figure out more about it.
As is the case with many ancient temples in this country, the Halasuru Someshwara Temple is also an active temple. Locals still worship here and especially the inner sanctum is always full of devotees (and photography prohibited). People not only circumambulated the temple but there is also a dark inner alley that can be used to circumambulate the sanctum itself. There are some interesting small statues and figurines in that inner alley, but it is too dark to photograph.
Being an active temple also means that the temple must have gone through renovations and additions over the years and so each and every piece here is not necessarily 500 years old. For example, there is a big metallic Nandi statue which is definitely a new addition. Also, the sculptures of the Gupura, as you can see, are painted regularly.  The compound is also covered with a lot of trees, especially a peepal tree as expected, and some cannonball trees.
The most fascinating part of the temple is the pillars of the Mandapa. It is obvious that these people did not believe in shortcuts. They could have used the same motif in all the pillars but they did not. Each and every pillar has a different sculpture and so do the panels of the outer walls. The most noticeable pillars are the ones that looked like mounted warriors but a bit of research tells me that these are the sculptures of Yali, a mythical creature with characteristics of horse, lion, elephant, and much more.  Apart from them, there are many others, some of which I could identify, some I could not, due to my limited knowledge.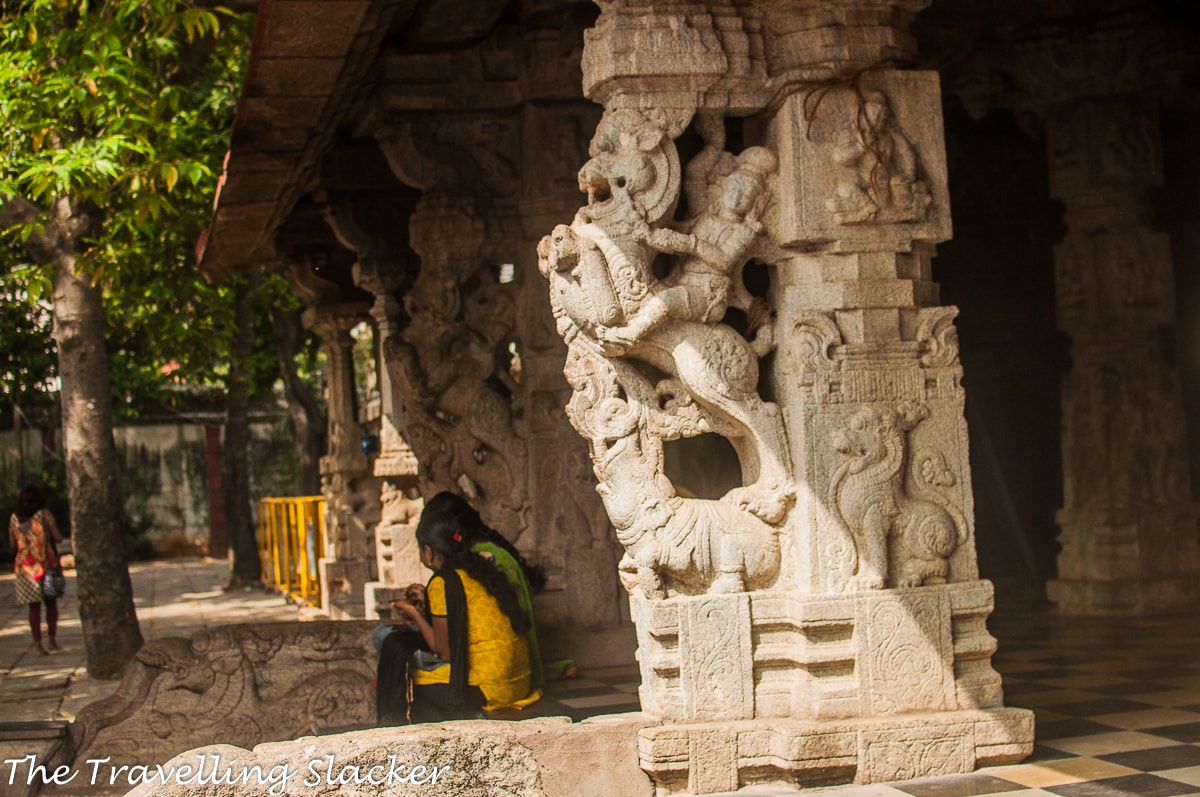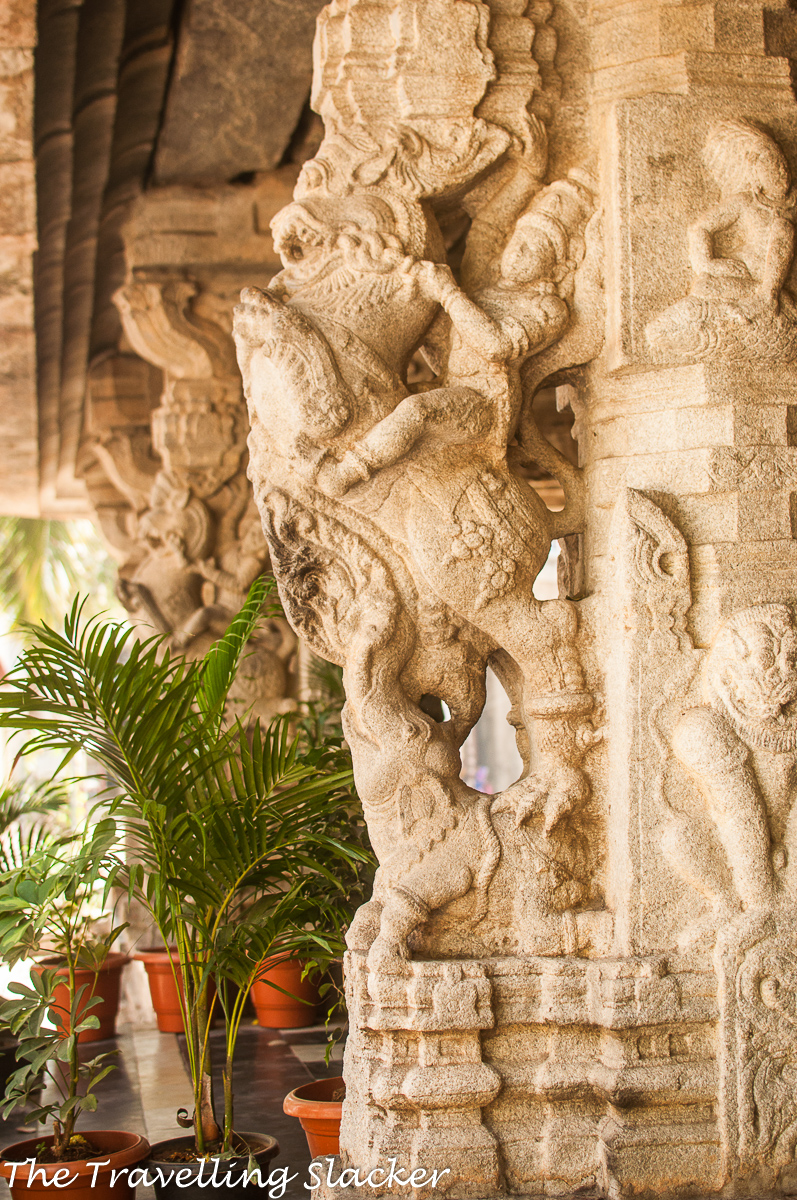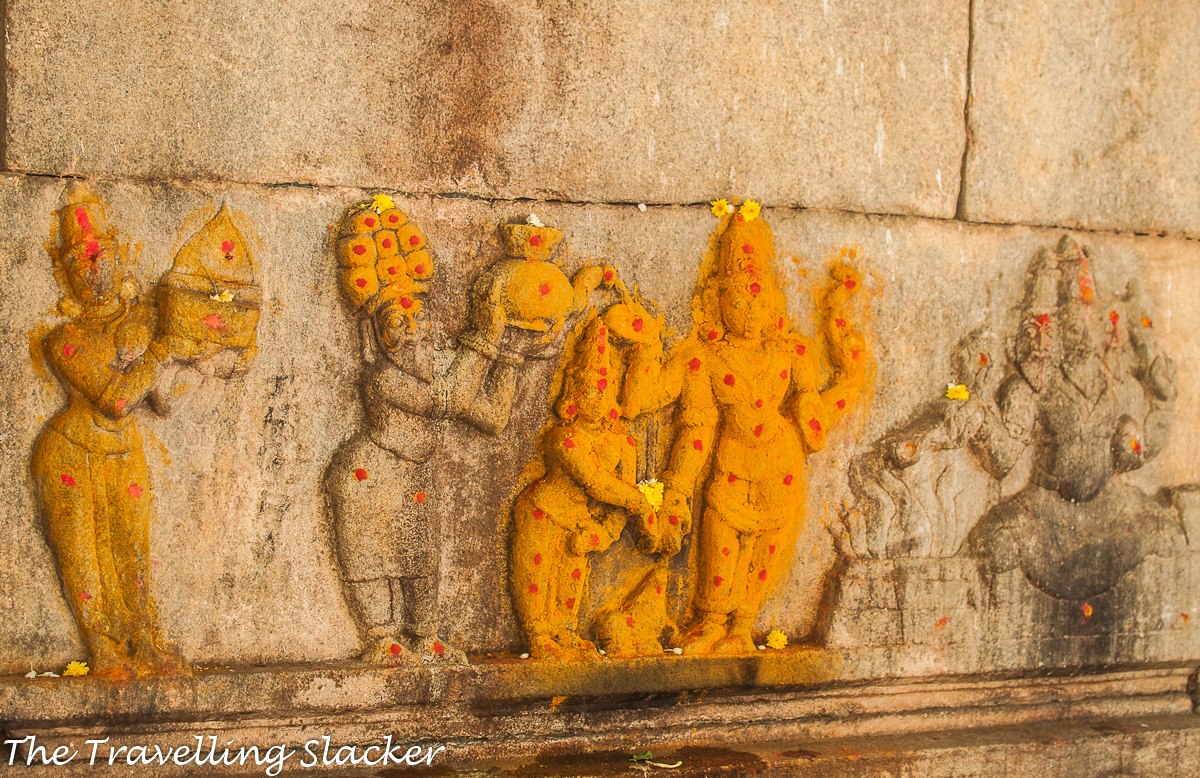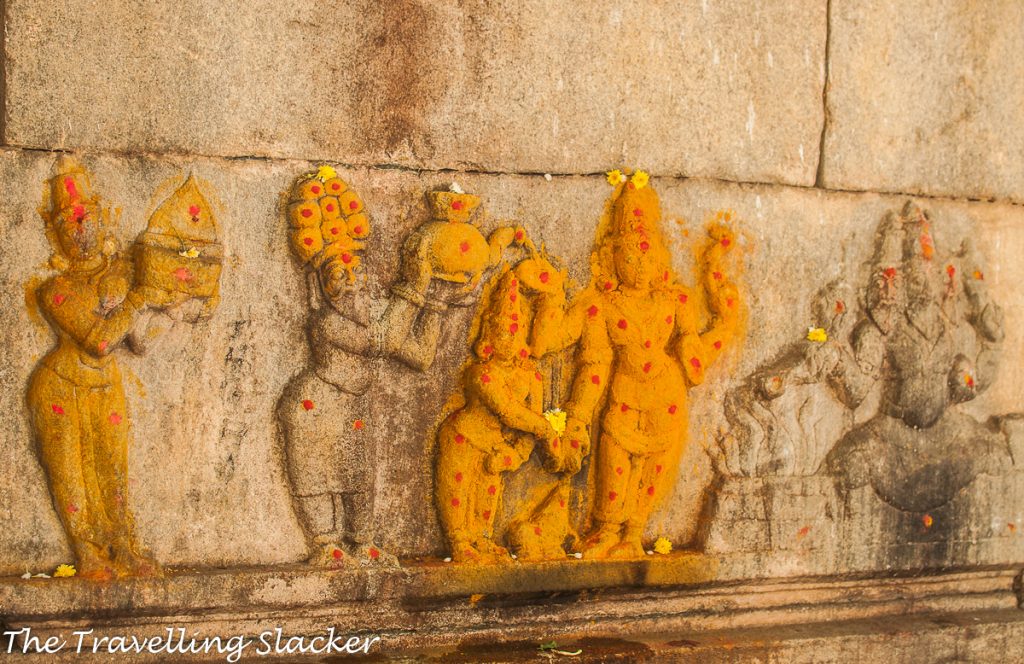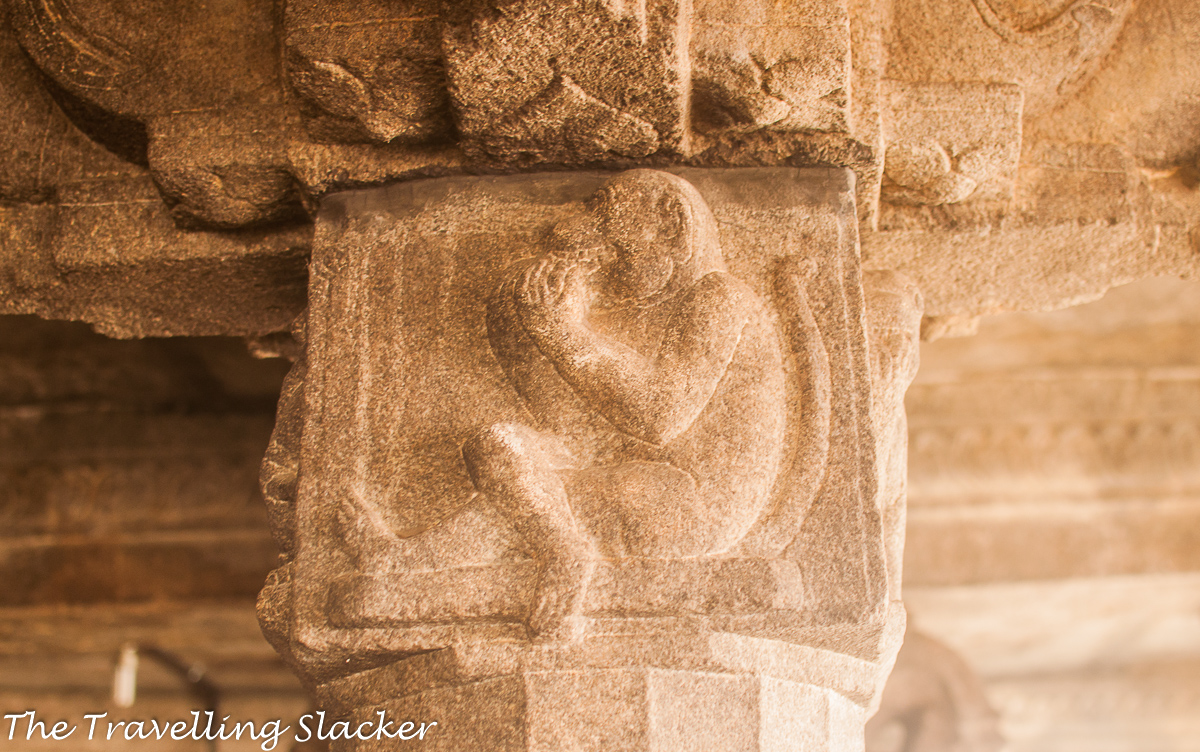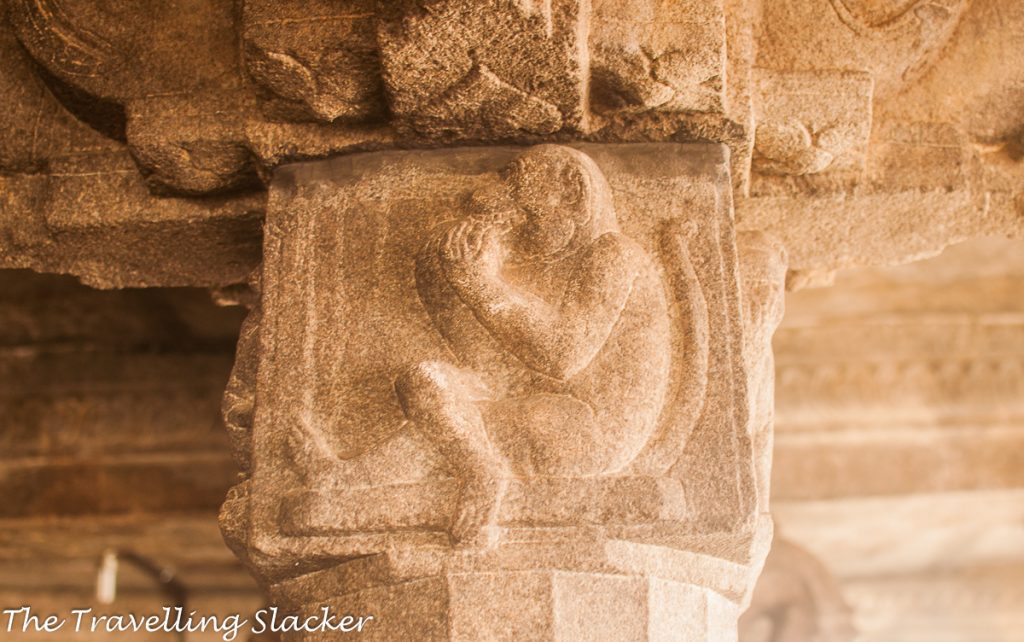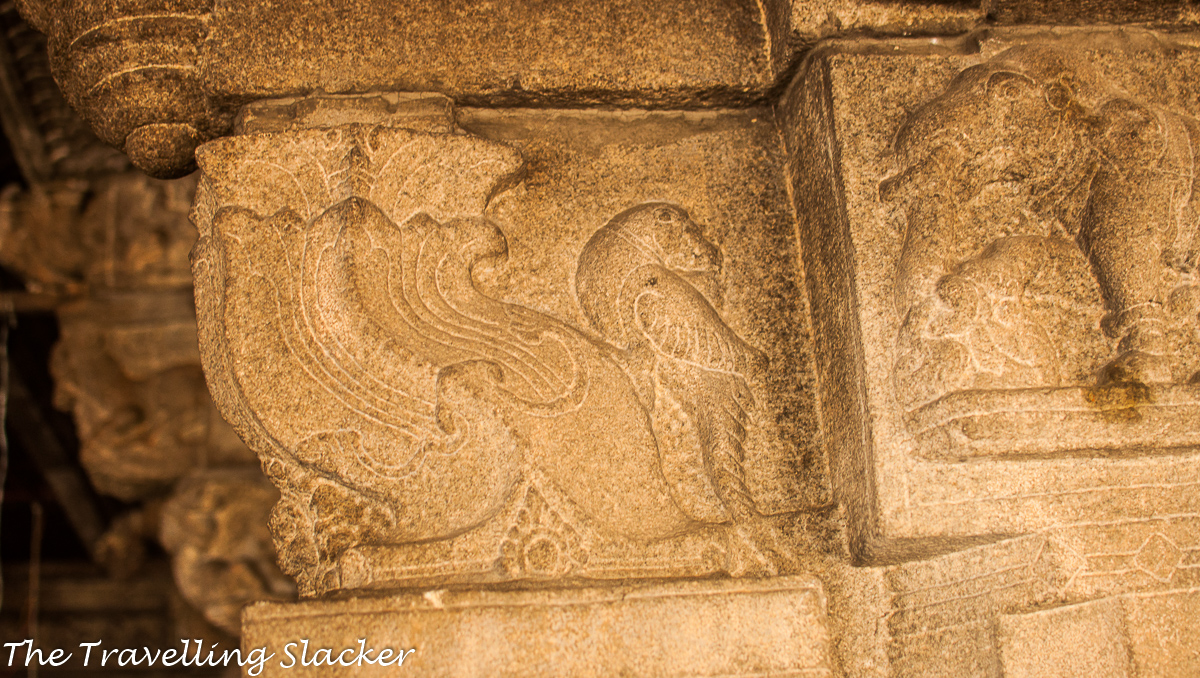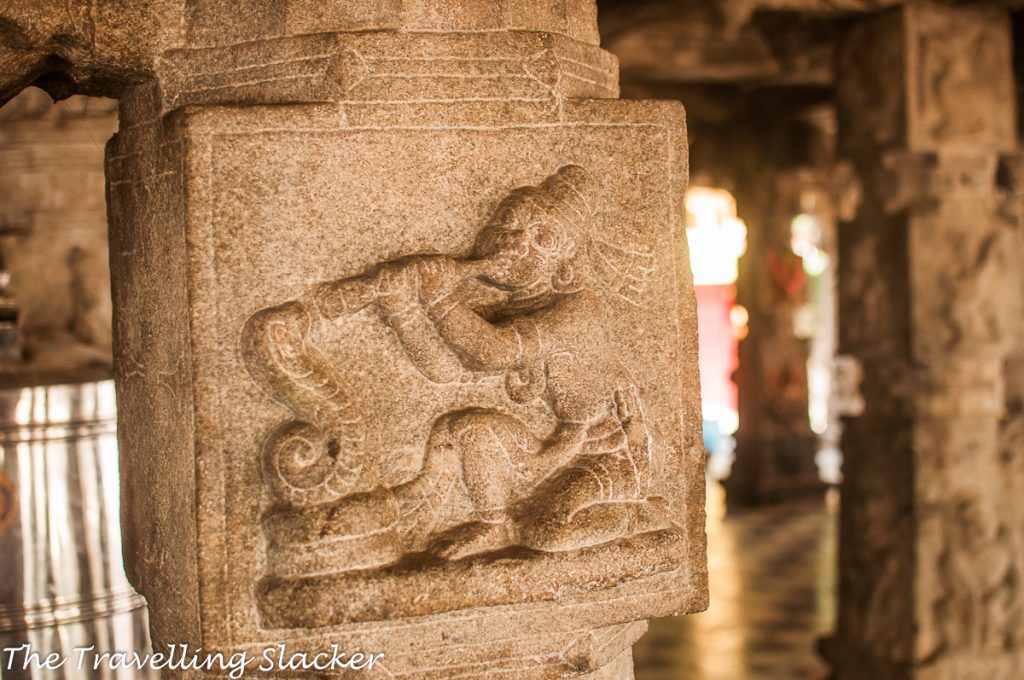 So, this is all I have from Bangalore today. I think I should make a list of offbeat stuff in Bangalore too. Meanwhile, also read the following,