Regular readers of this blog won't be surprised to find that I consider Himachal Pradesh as my favourite state in India for various reasons. It is not only the natural allure of the Himalayas but the overall tourism infrastructure and the characteristic tourist-friendliness of the locals that make it the ultimate long-term backpacking destination in India. I have done the maximum number of posts from this area and practically I have been to every district of this state. I have written detailed guides to various regions of this state over the years and I think the time has come to write a detailed guide to this state. So, here you go!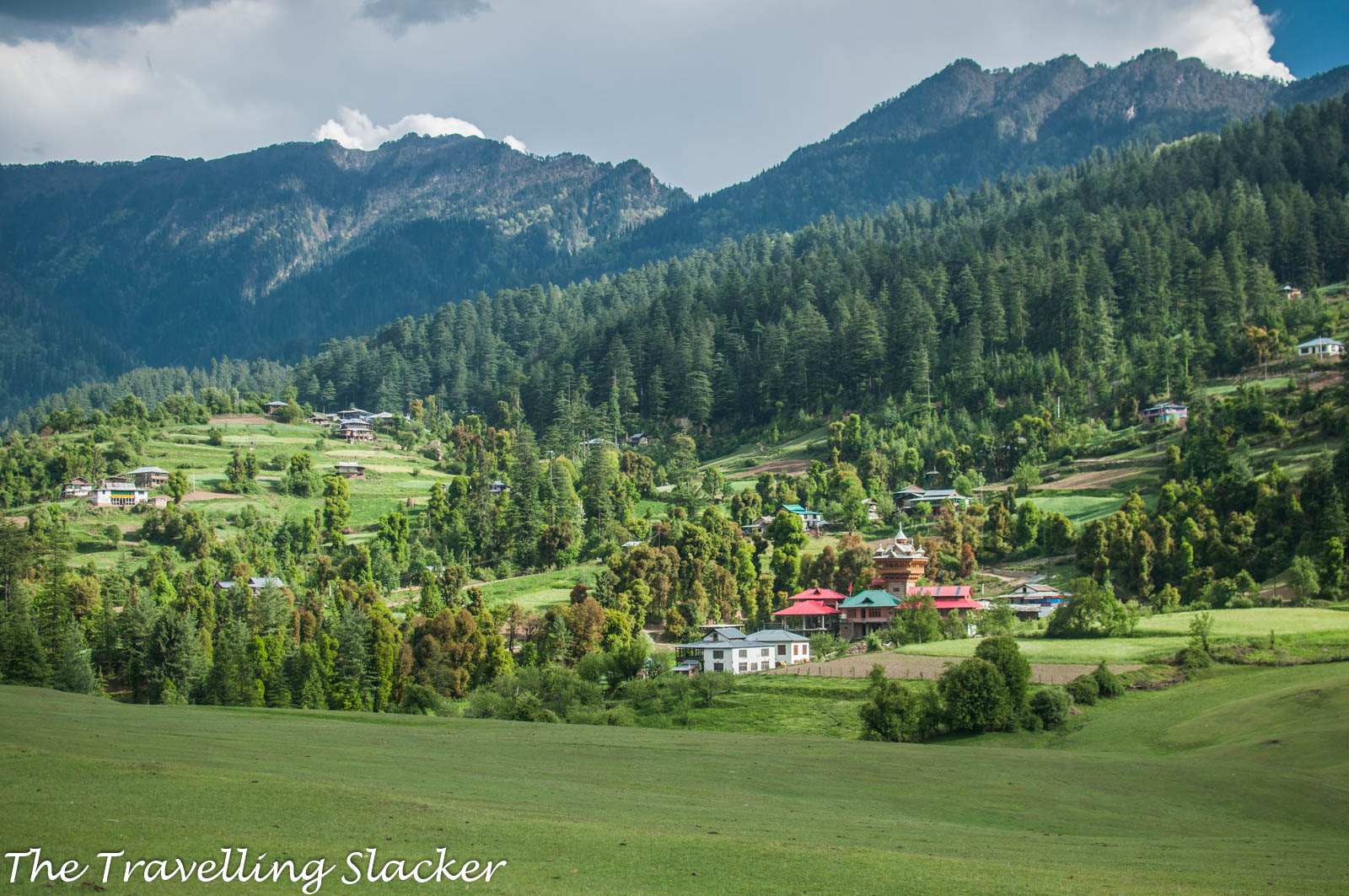 Understanding Himachal
Himachal Pradesh is a Himalayan state of India surrounded by Punjab, J&K, and Uttarakhand states on various sides and also the Tibetan region of China along its eastern border. While the state looks small on the map, do note that it encompasses an insane amount of geographical as well as cultural diversity. The lower areas of Himachal are usual hilly areas near the plains and the people and culture will also be the same. However, as you move northwards, you encounter the epic landscapes of rainshadow zones of cold deserts, where the locals have closer linkages to Tibet rather than Indian. Himachal has 10 districts but in terms of tourism, it can be divided into the following manner.
Shimla, Solan, & Pabbar Valley
Shimla is the capital of Himachal and one of the most famous traditional hill stations of the country. It has now become a big city that can get a bit too crowded and expensive in the peak season and I am not very fond of it either. Nevertheless, there are many places scattered around  From Kufri to Mashobra and from Chail to Narkanda, there is enough to see and do around Shimla, which is well connected with roads to the rest of the country and also has an airport. But the star attraction here is the Kalka to Shimla toy train built in 1903. There are some even more remote areas such as the Pabbar Valley and Chanshal Pass, that are parts of Shimla district but are only beginning to receive tourists in recent years due to their remoteness.
The Kullu Valley
The traditional attractions of the Kullu Valley include the towns of Kullu and Manali. However, the Kullu district covers a huge area and many of its valleys and regions can stand up on their own as major tourist hubs. Kullu town is the headquarter and administrative centre but the tourists generally stay in Manali, is located only 42 KMs ahead of it. The Tirthan and Sainj Valleys, which constitute the Great Himalayan National Park, Himachal's latest UNESCO World Heritage Site, are also a part of the Kullu district although located a bit far. Also, the Parvati Valley centred around Kasol, is also not far from Kullu town and is a hub for backpackers, hippies, and Rastafarians and it is a completely different world on its own.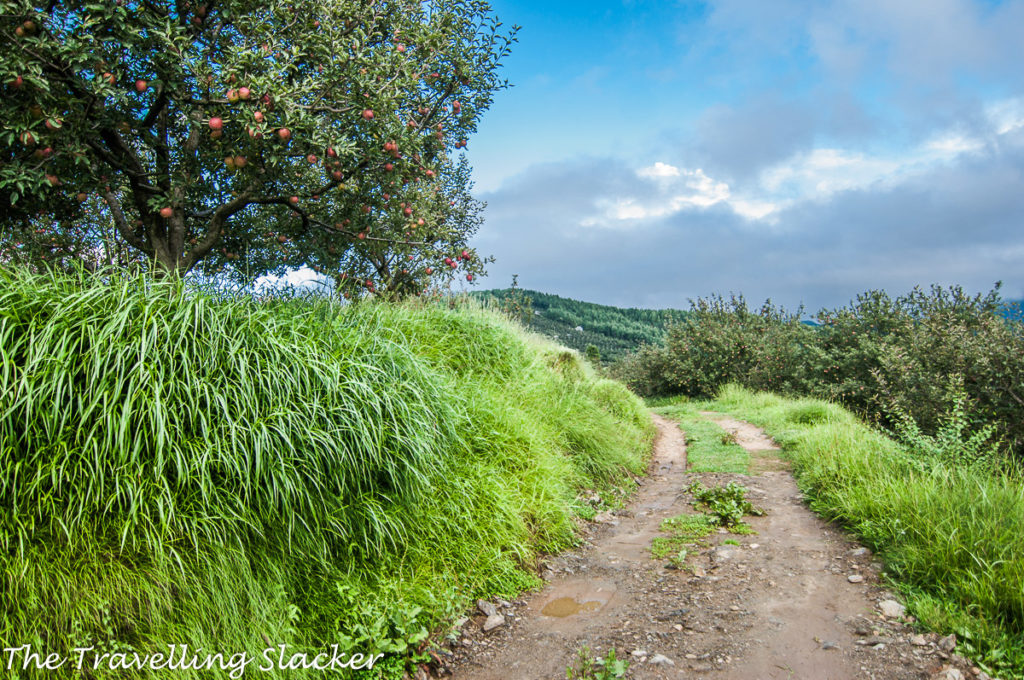 Kangra & Dharamshala
The Kangra region has become popular among tourists because of the numerous Tibetan settlements. Dharamshala (McLeodganj) and Bir-Billing, both are populated by Tibetan diaspora and favourite among backpackers. Bir-Billing has also become a paragliding and adventure sports hub of late. However, Kangra has its own history and culture that are worth visiting too. From the ancient temples to miniature paintings, and from tea plantations to high altitude treks, Kangra has something for all kinds of travellers. Some other notable areas in Kangra include Barot Valley, Pong Dam, Masoor Rock-Cut Temple, Heritage Villages of Garli-Pragpur, Andretta Pottery Village, Palampur Tea Estates etc. Kangra also has the second toy train line in the state, although it is lesser-known compared to Kalka-Shimla line.
Chamba & Pangi
Chamba has a very ancient history. Historical records date back to more than two millennia and it was an important Kingdom during the Gupta era. More accessible areas of Chamba are famous for its traditional hill stations like Dalhousie and Khajjiar along with historical places like Bharmour. However, those who are interested in more serious adventures can always opt for many serious treks or opt for hiking pilgrimages such as Manimahesh Kailash Yatra. The remote parts of Chamba include Pangi Valley and Churah, some of the hidden gems of Himachal and last remaining areas untouched by a commercial tourism boom.
Kinnaur
Kinnaur is the entry point of what they call the Tribal Circuit of Himachal. The lower areas of Kinnaur are lush green and they display a sort of composite culture, a mix of Hinduism and Buddhism in their traditions. As you move higher up towards Spiti border, the landscape dries up. The people living in these areas are mostly followers of Tibetan Buddhism. Sarahan is the first major town you come across in Kinnaur and is known for the historic Bhimakali temple. Kalpa, on the other hand, is known for the monastery and the views of the Kinner Kailash, while Baspa valley covering Sangla & Chitkul is known for its pretty and colourful valley and glistening mountaintops. The higher reaches of Kinnaur is closer to SPiti and has similar landscapes. Nako is the most popular stop here built around a lake but there are many hidden gems in this area.
Lahaul & Spiti
Spiti Valley is a cold desert while Lahaul region is comparatively greener yet has a very unique topography, different from lower parts of Himachal. Both of them were combined to form the district of Lahaul and Spiti, a perennial favourite among travellers. Practically every village in Spiti has something unique to offer and many of them also have ancient monasteries that still preserve ancient relics and artefacts. The monastery in Tabo is known for for its wall paintings and is rightly called the Ajanta of the Himalayas. The monastery in Dhankar is noticeable for its mind-boggling setting, a fragile, thousand-year-old edifice precariously hanging onto a cliff! Key Monastery, Kibber, Langza, Hikkim, Komic, Chandertal, Pin Valley, practically every place has its own attractions in Spiti. On the other hand, Lahaul is known for some of the remotest valleys in Himachal. On the other hand, Keylong, the headquarters of Lahaul, is a pretty town and there are several medieval Buddhist monasteries located around the town. You can even undertake small day-treks to the ones such as Kardang, Shashur, and Guru Ghantal monastery to learn about the unique traditions and culture of the region. Lahaul has other interesting remote areas such as Trilokinath, Udaipur, and Miyar Valley.
Mandi & Bilaspur
The Mandi region is located at a comparatively lower altitude and people generally pass through it to reach more touristy areas of Kullu. But Mandi has its own attractions. Many ancient temples and shrines can be found here and the Tibetan diaspora of Rewalsar is also a delight of its own. There are many popular short day-treks as well as offbeat escapes here such as Parashar Lake, Kamru Nag, Karsog, Janjehli, Thachi Valley and Shikari Devi. You reach Bilaspur even before Mandi on the same route. It is again a picturesque town built around a lake and there are many temples scattered around this region.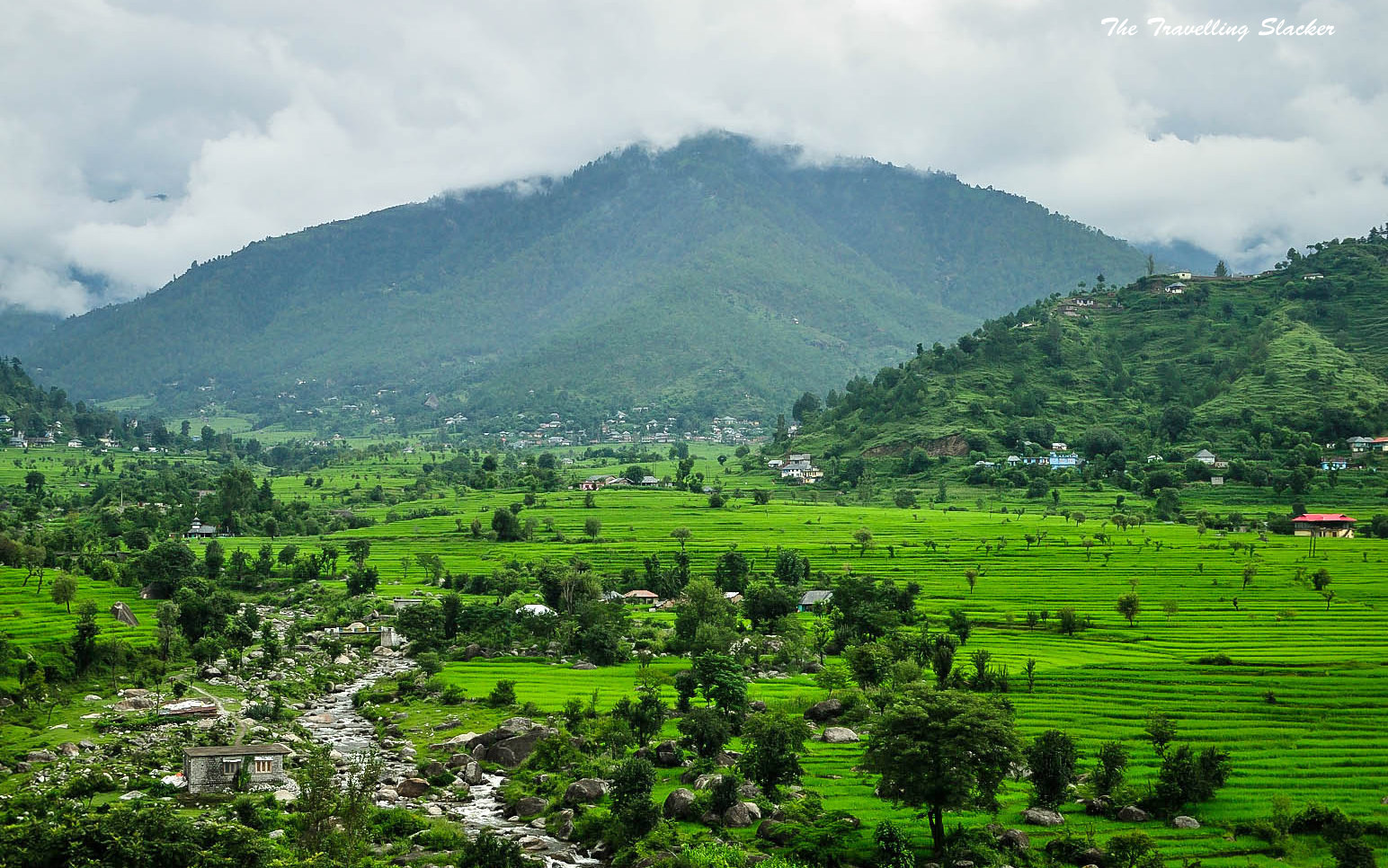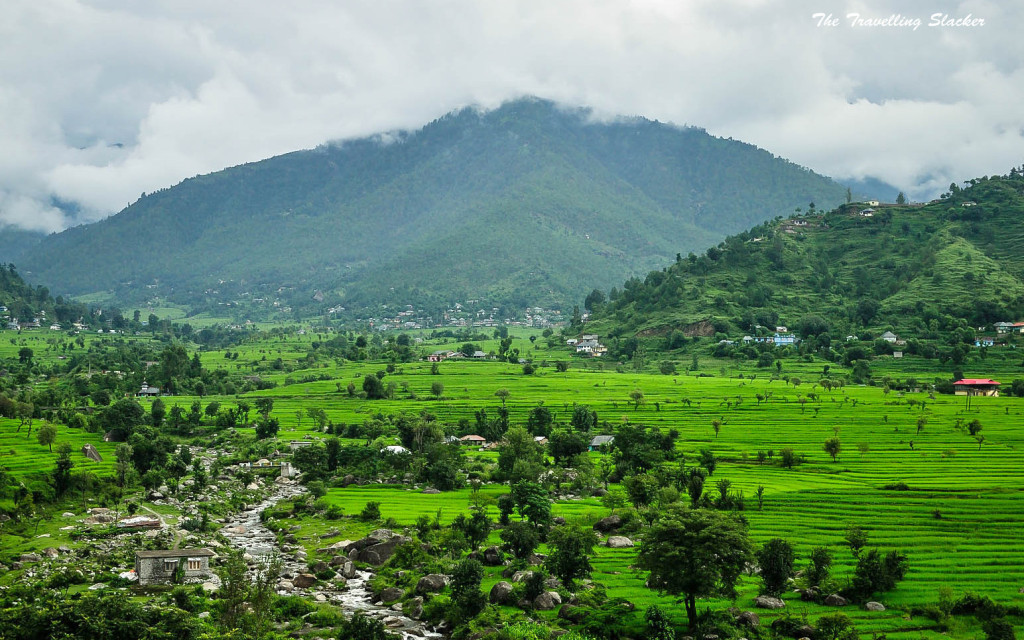 The Manali Leh Route
The popular route to Ladakh starts from Manali and passes through a long stretch along the Lahaul region of Himachal before entering Ladakh. While Ladakh is a part of J&K, the route passes through a significant portion of Himachal and the entire stretch offers an excellent array of attractions including high mountain passes, high altitude lakes, Buddhist monasteries, and surreal views of the Bhaga Valley around Keylong. It is a perennial favourite among adventure bikers too.
Other Areas
There are a few other districts in Himachal that are not visited often by tourists. Una, Hamirpur, & Bilaspur are two lower districts that are closer to the plains and are generally bypassed by travellers. However, these areas also have a rich history and there are several major Hindu shrines such as Naina Devi Temple, Chitpurni Temple, Deotsidh Temple etc which are popular among local pilgrims. Similarly, the Sirmaur District sandwiched between Solan, Shimla, and parts of Uttarakhand, is underrated and receives minimal tourism but has its potential in terms of secluded hill stations, lakes, shrines, and treks.
How to Reach Himachal?
The mode and difficulty in transportation in Himachal vary from region to region. The lower areas closer to the plains of North India are well connected with road and air networks. On the other hand, the remote regions in Himachal bordering Tibet and Ladakh have very challenging road conditions. Although a lot of effort has gone into improving these border roads, still they remain some of the most difficult terrains to drive on, a fact that also attracts a lot of adventure bikers and drivers. Being a hilly area, it does not have much of a train network, except the narrow-gauge trains in Shimla and Kangra districts, which attract people more due to their nostalgic value rather than speed.
By Road
Himachal Pradesh has a hilly terrain and it is known for its curvy, adventurous roads. But in spite of this, the roads in Himachal are very good and also one of the best that you will find in any mountainous terrain. Almost all the places can be travelled by buses and taxis. The Himachal Pradesh State Transport Corporation provides services to almost every part of the state. Bus services may range from cheap/ordinary buses to AC Buses running every day. Himachal roadways have very good connectivity with other famous destinations like Chandigarh, Delhi, Dehradun, Jammu and so on. Taxi service is also available throughout the state and in a few major places, you can also get rental cabs also.
By Train
Due to its mountainous terrain, Himachal does not really have a train network but it has two exotic narrow gauge lines, the Kalka Shimla Line and the Pathankot-Jogindernagar Line. The Shimla line is more famous and better maintained and it has also been declared as a UNESCO World Heritage property.
By Air
Himachal has three domestic airports namely, the Kullu-Manali Airport, the Kangra Airport and the Shimla Airport.
The Shimla Airport has one flight to Delhi every day, from where it is easy to find connecting flights to other major cities in India. It is also called Jubbarhatti Airport after the exact place where it is located.
The Kangra Airport, located in the north-western parts of the state has a couple of flights that operate between Delhi and the Kangra Airport. Located close to Dharamshala, the Kangra Airport is sometimes also referred to as the Dharamshala Airport or Gaggal Airport. This Airport serves as the gateway to the important north-western regions in the state like Dalhousie and Dharamshala. Another option to reach these north-western regions is to take a flight to Pathankot and Amritsar airport.
The Bhuntar Airport is another important terminal as it serves as the gateway to Kullu-Manali, Parvati Valley, as well as the remote northern regions of the state like Kaza, the Spiti Valley and so on. The airport has flights plying between here and Delhi. There are taxi services from all these airports that will take your destinations or hotels. There are also bus services that operate from nearby bus terminals and taxis can be used to reach the bus terminals. There are also car hiring services near airports. As it is located near Kullu, it can also be called Kullu Airport by some.
But flights to airports places are costlier and the frequency of flights is comparatively very low. So, another option by air, which most of the people prefer, is to take a flight to till adjacent cities/states and then take a road journey to enter Himachal. The preferable options are Delhi, Chandigarh, Amritsar, Pathankot etc. Chandigarh and Delhi are central locations and are very well connected with Himachal by road. Those who want to visit Chamba & Kangra regions, Pathankot will be the closest major city in the plains.
Seasons in Himachal & Best Time to visit
Different seasons bring different colours to the mountains and valleys of Himachal. The same place can look radically different during different seasons. This is why, any prospective travellers must know what can one see in what season and plan accordingly.
Spring (March-April)
Spring is a delightful season in the hills. The valleys wake from deep slumber as the harsh winter slowly recedes. The higher reaches still remain covered in snow but it is a great time to visit the lower valleys and take up small treks. Rhododendrons, cherries, apricots, peaches, pears, plums, apples, everything begins blooming one by one during this season. The landscape turns lush green, dotted with pink, red, white, yellow, and what not!
Summer (May-June)
The summer is also a delightful season to explore Himachal. Spring blossoms slowly dry out but only to be replaced by other ones. Also, higher areas finally become accessible as the snow melts and many major treks also start during this season. This is also the time when Himachal receives maximum traffic as people from the plains visit in droves to escape the harsh summer.
Monsoon (July-August)
Monsoon is a tricky season in the lower Himalayas. The rain and the clouds have their charm but it is hard to hang out much in the rainy season and the trails also get slippery. However, the higher areas of Spiti and Lahaul do not receive much rainfall as the clouds are blocked by high mountains. This is why, this is a good time to visit Spiti, Lahaul, and also Ladakh beyond the boundaries.
Post monsoon (September)
Post monsoon is an excellent season to visit any part of the state. The monsoon rains subside and travelling becomes easy again. This is where the apples ripen in the valleys and depending on the location, you can locate other delights. For example, in this season the fields of Kinnaur turn pink with the blossoms of Ogla, a local millet. The dry areas of Spiti also remain delightful with pleasant weather and glorious colours.
Autumn (October- Mid Nov)
This is not a traditionally popular season for tourists. The greenery disappears as the winter nears but it is also too early for snowfall. But the reddish-brown hues of autumn also has a certain charm. Some areas of Lahaul and Spiti display brilliant fall colours with all the poplars turning yellow and orange.
Winter (Late Nov – Feb)
Winter, as expected, is the season of snow. People from the plains flock Himachal in the winter to enjoy snowfall. Traditional hill stations and lower areas remain very popular during this season too. However, it becomes difficult to access certain upper regions as the snow blocks various passes connecting them. Lahaul and Pangi Valley are not accessible during this time (unless someone has a chopper). Spiti remains accessible through Shimla-Kinnaur route but the winter is harsh here and public transport mostly stops functioning.
Top Things to See and Do in Himachal
Rural Escapes & Stays
Staying in a village in Himachal, although sounds simplistic, can be a therapeutic and life-altering experience. Also, it is such a diverse state that the village experiences can significantly vary from one place to another, depending on the region you are in.
The good news here is that the tourism infrastructure is highly developed in most parts of Himachal and even in many remote villages you can find a cosy homestay, spend time with a local family, eat local food, and learn about their culture while enjoying nature's bounty throughout your stay. It may also be possible to volunteer for some community work, teach village children, or work in some sustainable tourism project that can help you have a more intimate experience.
For example, if you end up in a village in and around Kullu, you will most probably witness the procession of one of their deities, where devotees carry the images of the gods on their palanquins and move around the mountain. You will also get to eat a lot of Seedu and if you are lucky, you will also see how ecofriendly watermills have been used for centuries by these villagers to make flour. If you opt for a Spitian Village, you will learn the intricacies of Tibetan Buddhist culture, learn about the harsh lives of the people in that cold desert, and eat some of the best momos, made of local potatoes, only if you stay in a local homestay instead of a typical commercial hotel. These are only a few examples and we believe you can explore and find out much more.
Backpacking Around the Valleys in Himachal
Backpackers love Himachal because it is full of affordable accommodations and friendly folks, apart from the obvious natural beauty. It is not unusual to find people from distant countries staying in some remote corner of the state for months and years. Beyond the traditional tourist spots of Manali and Shimla, a good number of places in the state have developed as ideal backpacker hubs over the last decade or so. Most of them are actually small valleys developed around beautiful hilly rivers.
The epicentre of backpacking culture in Himachal is the Parvati Valley, centred around Kasol. For some reasons, the valley is very popular with Israeli visitors and even most of the restaurants serve Middleastern food rather than Indian ones. Many small villages in the valley have also become destinations on their own. From Malana to Tosh, and from Kalga to Grahan, there are scores of places hidden inside this tiny valley that can play host to the vagabonds looking to be close to nature. Many parts of the valley now remind one of Goa of the swinging 60s, with the sea replaced by the mountains. You can also opt for a lot of treks around the valley but you can also simply do nothing, eat falafel, and listen to Bob Marley, while staring at the turquoise Parvati flowing through it.
If Parvati seems too popular for the eclectic bunch, there are many up and coming valleys where you can head to for a few days of serenity and contemplation. Barot, Tirthan, Sainj, Banjar, and many more such valleys now have excellent facilities for tourists to add to their natural allure. On the other hand, if you are looking for some serious adventure, you can go further and enter the higher regions. The cold deserts of Spiti Valley is, of course, a perennial favourite that needs no introduction. But there are many other such as Pangi Valley, Pabbar Valley, Hangrang Valley, or Miyar Valley, that most people have not even heard of but deserve a visit on their own.
Paragliding in Bir Billing
Himachal has many spots where you can take part in adventure sports such as paragliding, river rafting, zorbing, and rock climbing etc. The most famous spot out of them is Bir-Billing, which is known as the highest paragliding site in Asia. Actually Bir is a small village near Dharamshala while Billing is the ground which is located a bit higher up from Bir on a cliff which works as a launching pad for the gliders.
As you jump off from the cliff at Billing top, the whole valley of Kangra becomes visible and you can fly all over the valley. Trained and accomplished guides are available at the spot and they jump with you to help you have a safe yet exhilarating experience.
Apart from paragliding, Bir is also a nice place to stay and explore. It has a Tibetan Buddhist diaspora with many monasteries and institutions. There are some cool cafes around and the famous tea gardens that are famous for producing Kangra Tea, can be found around Bir too. Nearby Palampur is a bigger town and the centre of the Kangra Tea industry. Andretta near Palampur is another artistic detour here, where you can learn pottery and visit the art gallery.
Cold Desert Adevnetures: Lahaul & Spiti
Recently Lahaul and Spiti district was listed by Lonely Planet as one of the top regions to visit in 2018. Himachal lovers were hardly surprised because this has been the most popular region of this state for a while now. However, it is worth noting that even if the names are always uttered together, Lahaul and Spiti are two distinct areas. Spiti is a cold desert, much like Ladakh, while Lahaul is a lush green valley, especially in the summers. Spiti has become extremely popular of late while Lahaul remains somewhat offbeat, although one passes through it while going to Ladakh.
Practically every village in Spiti has something unique to offer and many of them also have ancient monasteries that still preserve ancient relics and artefacts. The monastery in Tabo is known for its wall paintings and is rightly called the Ajanta of the Himalayas. The monastery in Dhankar is no less important but even more mindboggling is its setting, a fragile, thousand-year-old edifice precariously hanging onto a cliff! The Key monastery also has a terrific setting overlooking the whole valley while Kibber is the gateway to Kibber Wildlife Sanctuary where snow leopards are often sighted. If you thought mummies can only be found in Egypt, you should visit a small monastery called Gue near Sumdo, while million-year-old fossils can be seen at Langza. The greenish-blue water of Chandertal is a reason alone to make this long trip while visiting the highest motorable village in Asia called Komic or the world's highest post office in Hikkim are also prime attractions.
Lahaul also has a charm of its own. Keylong, its headquarter, has an exquisite setting on the banks of edge of the Bhaga River. At least half a dozen medieval monasteries are located in the neighbouring villages while you can also visit ancient temples like Trilokinath and Mrikula Devi, if you are willing to explore. The Miyar Valley is actually a secluded sub valley in Lahaul while there is also a very obscure but rewarding trek called Neelkanth, that takes you to a high altitude lake. The river Chandrabhaga is formed at Tandi, not far from Keylong, where Chandra and Bhaga rivers meet.
The Tibetan Buddhist Trail
From steamy momos to eclectic philosophy, Tibetan culture, and Buddhism has contributed a lot to the modern world and pop culture. While Tibet itself remains hard to reach, much easily accessible Dharamshala has been their de-facto capital for a while. When the Dalai Lama and his disciples were forced to flee from their homeland in 1959, they found a new home in India and McLeodganj became the seat of their government in exile. Since then, the Tibetan diaspora has spread all over India but still the best place to get acquainted with their culture is the region around Dharamshala.
McLeodganj itself needs no introduction. Apart from being the abode of Dalai Lama, it is a very popular tourist destination with scores of hotels and cafes aimed at visitors. There are many short hikes as well as big treks on the Dhauladhar mountains that start from the villages near the town. Tourists can also volunteer for various organizations working with Tibetan refugees or learn Tibetan arts and crafts in some of their institutions.
Beyond Dharamshala area, you can move on to Bir, which is otherwise known for its paragliding spot. It is around 60-70 Kms away and it practically has everything that McLeodganj has, just in a smaller scale and hence it is also less crowded and less expensive. The other major Buddhist settlement is Rewalsar in Mandi district, around 150 Kms from Dharamshala. A colossal statue of Padmasambhava looms large over the town and the lake after which the town is named. Most of the monasteries here offer very affordable accommodation and it is an excellent place to simply relax and meditate for a while.
However, if you do want to see Tibetan Buddhism in its purest and most ancient form, you can visit the frontier areas of Kinnaur, Lahaul, and Spiti Valley. The inhabitants here are not recent immigrants but indigenous people who have lived on the border of Tibet for centuries and have been influenced by its religion and culture. As a result, you can find some 1000-year-old monasteries here such as the ones at Tabo, Dhankar, Key etc. Some of them even have their own guest houses where you can stay and interact with the monks.
Kinnaur: The Perfect Melange
Kinnaur is the entry point of what they call the Tribal Circuit of Himachal (which also includes Spiti). Both the culture and landscape vary hugely as you move upwards through Kinnaur. The areas bordering Shimla and Kullu are lush green and they display a sort of composite culture, a mix of Hinduism and Buddhism in their traditions. As you move higher up towards Spiti border, the landscape dries up. The people living in these areas are mostly followers of Tibetan Buddhism.
The dominant feature all over Kinnaur is the imposing view of Kinner Kailash mountains. Sarahan is the first major town you come accross in Kinnaur, and is known for the historic Bhimakali Temple, one of the most important shrines of the state. Kalpa, on the other hand, is known for the monastery and the views of the peaks, especially during sunset, can get surreal. A visit to Kalpa is generally combined with Sangla, a smaller valley along the Baspa River. The town of Sangla itself is a pretty sight, set amidst apple orchards. If you go a bit further, you reach Chitkul, which is technically the last road-head, the last village on the border of China. Both of these locations are highly developed in terms of tourism and there is no dearth of accommodation. While every season has its delights, try to visit it in September, when the apples turn red and the slopes get covered with the bright pink of ogla blossoms.
Upper reaches of Kinnaur has many remote villages that are not yet a part of the tourist map. They have many hidden treasures but reaching them may not be easy. However, one exception here is Nako, which is a beautiful village on the border of Spiti. It is full of homestays and cafes and is very popular among visitors. It has a beautiful bluish green lake at the centre of the village, that looks surreal considering the dry landscape all around. If you still need to see more of Kinnaur, you should undertake the Kinner Kailash Parikrama, a trek that takes several days and goes through remotest villages of the region.
GHNP, the latest UNESCO World Heritage Site in HP
There are many national parks in India, there are mountains too, and then there is the Great Himalayan National Park, one of the most unique national parks in the country located at the heart of the mountains. It combines the natural joys of the jungle with the thrills of the mountain. The inhabited areas in the peripheries of the park also have their own charm and most of those villages are highly developed in terms of tourism infrastructure.
The GHNP is located in Kullu district of the state of Himachal Pradesh, India. It was declared a UNESCO World Heritage Site in 2014, thus making it the only such site in Himachal, excluding the Toy Train between Kalka and Shimla. It primarily consists of two major valleys, Tirthan, and Sainj. From trekking to bird watching, and from village stays to angling, possibilities are endless in this area. Due to the mountainous terrain, it is unlike any other national park in India. You can't expect jeep or elephant safaris here. Instead, you need to hike through the jungles.
The GHNP has an ecozone, which is an area inhabited by local people that surrounds the core jungle area of the park. There are around 160 small villages dotting the ecozone. Some of them are connected by roads now while some others still require a bit of trekking to reach. Most of them are delightful propositions in terms of views, as well as experience. They all have their unique cultures and tradition of hospitality. There are ancient temples located against the backdrop of snowy peaks and boasting their own local myths and legends. There are also many small treks around the ecozone that should be enough to fulfil your adrenaline needs. On the other hand, the core zone of GHNP has many long, strenuous multi-day treks.
Also, this national park is not far from Jalori Pass, which is a destination in itself. It is a low altitude pass that gets covered in snow in the winter and blooms with wildflowers in the summer. Especially in the summer, watch out for purple Iris blossoms on the slopes around Shoja, en route to Jalori. You can also take up a couple of short hikes from Jalori to Raghupur Garh, and Serolsar Lake.
Trekking in Himachal
The Himalayas are the holy grail for trekkers all around the world. While the high peaks of Nepal and the religious trails of Uttarakhand have their own allure, Himachal Pradesh also offers a delightfully diverse range of trekking experiences throughout the state. From easy hikes along the fertile slopes of lower Himalayas to the strenuous ascents in high altitude, cold deserts, Himachal has enough options for both rookies and professionals to test their mettle. For the sake of clarity, we can divide these treks in the following manner.
Short DIY Treks
If you are new to trekking, or if you simply don't have enough time, you can still have a great Himalayan trekking experience in Himachal Pradesh. Triund trek near Dharamshala and Kheerganga trek near Kasol are two of the most popular ones in this regard. But there are scores of other short treks such as Kamru Nag, Shikari Devi, and Parashar Lake treks, all in Mandi district and all of them lead to a local shrine with mythological connections at the top. You can also consider many other local treks to the villages around Kasol such as Malana, Grahan, and Rashol, or inside the Great Himalayan National Park (GHNP), such as Bashleo Pass, Rolla, and Lambhri Top. Many popular hill stations also have short treks near them such as Dainkund near Dalhousie, Lamba Dug near Manali, Sangla Kanda near Sangla, etc.
Religious Treks
There are certain strenuous treks that the devotees undertake as a pilgrimage. But other trekkers can also join them in because the views you get are beyond your wildest imaginations. The Manimahesh Kailash Trek is one such trek in Chamba that takes you to a high altitude lake. Similarly, Shrikhand Mahadev in the edge of Kullu district is named after Lord Shiva and it takes you to a peak of 5227 Metres, which challenges even inveterate trekkers. Another such option is the Kinner Kailash Parikrama, that takes you through the remote villages of Kinnaur bordering Tibet.
High Passes
High altitude passes connecting different regions have been used by local hillfolk for ages but for an outsider, crossing them can be an exhilarating experience. While some of them like Rohtang, Sach Pass and Kunzum have now become motorable roads, there are many others where the only option is the to trek. Pin Parvati Pass connecting Parvati and Spiti, Indrahar Pass connecting Chamba and Kangra, Pin Bhaba Pass connecting Spiti and Kinnaur, Kugti Pass connecting Chamba and Lahaul, and Hampta Pass connecting Kullu and Lahaul etc are some examples of such treks that take several days to complete and must be done with trained guies and adequate equipment.
Alpine Valleys
There are many high altitude valleys all over Himachal that one can trek through. You come across dense forests and tiny villages along the way and eventually reach complete wilderness where you can camp under the starry sky. For example in GHNP, you can trek along the Tirthan or Sainj Rivers for several days to reach the sources of the rivers. Similarly, treks like Miyar Valley or Bara Bhangal can transport you to terrains that you never thought to have existed.
Inter-state Treks
If you still need even more adrenaline, there are many long treks that can take you beyond Himachal and connect to the Himalayan regions. For example, the aforementioned Miyar Valley eventually is connected to Zanskar, while Parang La connects Spiti to Ladakh, and Rupin Pass connects Kinnaur with Uttarakhand.
Adventure Biking, Driving, and Offroading
Not everyone can handle the sheer adrenaline rush provided by a sense of risk and danger. However, for those who do, it can be addictive. Adventurous travellers with their bikes or SUVs have been traversing the remote areas of Himachal for a while now. Although the road network has improved a lot in recent years, there are still stretches that are considered among the "most dangerous roads in the world". Such a reputation can turn away many but the same can also attract certain type of travellers.
The Leh-Manali route has always been a favourite among bikers, and so does the Manali-Spiti-Kinnaur circuits. You pass through high passes that remain covered by snow even in the peak of summer, camp by the side of greenish-blue lakes, break bread with the lamas at ancient monasteries, and test your mettle as a biker at those treacherous bends, while appreciating the surreal landscapes unfurling in front of you at the same time. These are the experiences that money can't buy. You must be there and make the physical effort to experience them.
Apart from them, there are other areas where adventure biking is picking up simply because they are extremely remote and the roads are unbelievably difficult. For example, the Pangi Valley, one of the remotest regions in Himachal, can be approached from three sides, via Sach Pass, via Lahaul, and via Kishtwar in J&K. All these three routes are more difficult than the other. Similarly, the villages of Dodra and Kwar are so remote that they were connected by a motorable road along the Chanshal Pass only a few years ago. Most of these regions get cut-off with the rest of the world for several months during the snowy winters while the adventurous souls line up to make the most of the brief window during the summers.
Manali to Leh Ride
Ladakh has always been the dream of travellers and explorers. There was a time when reaching this land used to be extremely difficult. But roads have improved now and bike or car trips to Leh is no longer a distant dream. The usual route for this starts from Manali and passes through a long stretch along the Lahaul region of Himachal before entering Ladakh and even to enter Lahaul one first has to cross the 3900 metre Rohtang Pass, which often remains snow-covered and is a destination in itself.
The Lahaul region is somewhat unexplored compared to its more famous cousin Spiti. This is why it is advisable to devote a few days here before entering Ladakh. It can also help you acclimatize before entering the high altitude zones and you can enjoy the beauty of the Bhaga Valley that gets covered with beautiful summer blossoms in the season. This region remains completely cut-off with the rest of the world during winter although a tunnel is now being drilled along Rohtang to make it accessible throughout the year.
Keylong, the headquarters of Ladakh is a pretty town and there are several medieval Buddhist monasteries located around the town. You can even undertake small day-treks to the ones such as Kardang, Shashur, and Guru Ghantal monastery to learn about the unique traditions, history, and culture of the region. Beyond Keylong, you have settlements like Jispa and Darcha, that can be used as night halts and some light trekking for acclimatization before entering Ladakh.
People, Culture & Cuisine of Himachal
The people from Himachal come from different ethnic backgrounds but over the ages, they have also developed certain common characteristics. Influence of Tibetan culture is visible because some of the areas border Tibet and also because a big Tibetan diaspora including the Dalai Lama lives in the state. Majority follows Hinduism here but the remote border areas are mostly Tibetan Buddhists. Various local languages and dialects exist but everyone understands Hindi and it is used for all official purposes.
Various parts of the state are known for various types of handicrafts and artworks. Chamba and Kangra have a rich tradition of Pahari miniature painting while the Buddhist monasteries of Lahaul and Spiti will capture your attention. Shawls made in Kullu are much in demand while their expertise in wood carving and sculpture can be seen in many ancient temples and forts spread over the state. Most Himachali regions have their trademark topis (caps), that are popular souvenirs among tourists.
Food in Himachal is rich and diverse. The traditional dishes in various parts of Himachal are called "Dham"s and they can vastly differ from each other. For example, dham from Kullu can be distinct from the one in Mandi while the one from Chamba is a different delight compared to the one from Kangra. These are generally prepared on special occasions and very few outlets sell them commercially. Staying with a local family in a homestay can enhance your chances of tasting the same. In the frontier areas of Kinnaur and Spiti, you can get excellent Tibetan foods, that include but not limited to momos and thukpas. Also, you can find many local delicacies in various areas, Siddu (home made bread stuffed with poppy seeds, walnuts and served with home-made ghee) being the most popular, and easily available in the Kullu region.
Transportation in Himachal
Within Himachal, buses are the primary modes of public transportation. The Himachal Road Transport Corporation (HRTC) runs regular buses throughout the state, including some of the remotest corners such as Pangi valley, Dodra Kwar, and Miyar Valley. In certain routes, roads are so difficult and yet so exhilarating that the very act of riding a bus can be an adventure. Additionally, on certain routes one can find shared cars as a mode of transportation. As for people with their own vehicles, they should first check the requisite regulations, road and weather conditions, and also the availability of repair facilities and petrol pumps when visiting remote areas.
Accommodation in Himachal
Accommodation in Himachal comes in various hues and colours. The state has benefited in recent years by the deliberate thrust towards homestays. In many villages inside remote valleys, one can find delightful homestays at very affordable rates, run by local families. The popularity of homestays in certain areas has made other locations also to wake up and as a result, they can be found all over the state.
Apart from the homestays, most major towns have traditional hotels at various ranges. Expensive resorts and hotels can also be found around bigger towns and popular touristy areas. Also, a new trend of backpacker hostels can be seen in the areas popular among backpackers such as Manali, Kasol, Dharamshala, Spiti etc. In such hostels, one can stay and enjoy good facilities at very minimal costs although they have to share their rooms with fellow travellers.
Phone and Data Connectivity in Himachal Pradesh
In this day and age, it is hard to last a day without phone and data connectivity. However, in many remote mountainous regions, this can still be an issue. This is also one of the primary concerns for many travellers visiting from the bigger cities. While it may also be refreshing to be disconnected for a day or two, for many working professionals, this is not an option. Himachal has developed quite a lot in terms of connectivity in the last few years but there is a need to understand it according to its diverse geography.
Kinnaur
Major towns of lower Kinnaur such as Sangla, Reckong Peo and Kalpa are well connected and all major networks should work there. However, frontier areas of Sangla Valley, i.e. Chitkul has limited connectivity. Similarly, the upper part of Kinnaur beyond Reckong Peo are not well connected. Only BSNL networks may work here, that too only for calling.
Spiti
In Spiti only BSNL SIM works as of now. Data connectivity is very hard to find here. There are cyber cafes in Kaza and some hotels have Wi-Fi but the speed is generally not very fast due to the remote location and mountainous terrain.
Lahaul
Most major networks can make calls around Keylong but data networks are weak. However, many hotels and cafes around the town offer good free Wi-Fi. Rest of Lahaul again has low connectivity with BSNL being the best bet.
Long Treks
If you are going for long, multi-day treks and entering very desolated areas in the higher mountains, you will naturally have no network. Prepare adequately for that and inform everyone before leaving.
Rest of Himachal
Connectivity is now pretty good in the rest of the state. From bigger towns like Shimla and Manali to inner villages of Parvati valley, you should not have a problem, unless you are going too deep into the jungle.
Additional Himachal Resources
Over the years, I have written dozens of posts on various parts of Himachal. You can simply search my site going to the search bar at the top right corner for specific places or you can start with some of the places mentioned below…
Offbeat Places to Visit in Himachal