Lahaul is NOT Spiti
Keylong is NOT just a night halt on the Leh route
Let us just get one thing straight before I even begin. Lahaul and Spiti is officially one district but it actually includes two different areas that are culturally and geographically (They don't even have a direct bus service connecting each other). Spiti is more popular and most people who tag the location "Lahaul & Spiti", generally visits Spiti Only. So, this post is dedicated to Lahaul and NOT Spiti.
Keylong, the headquarter of Lahaul, is no stranger to the travellers who visit Leh via Manali. However, in their eagerness to reached Ladakh, most of them tend to rush through the entire Lahaul region which actually has enough to stand on its own on the tourist map. The medieval monasteries around Keylong deserve a lot of attention apart from the fecund landscapes of the Bhaga Valley. There are many other other landmarks in places like Tandi (Guru Ghantal Gompa), Sissu, and Gondhla. Epic treks like Miyar Valley and Neelkanth Mahadev are also part of Lahaul.
When I first reached Keylong a few years ago, I was determined to explore its far off villages and monasteries. However, even before I did anything, I was taken aback by the irresistibly photogenic valley, its fecund slopes, loomkng peaks, and ancient gompas. Due to its clubbing with Spiti, I expected it to be another cold desert, but it looked like the garden of eden. I was aware of a monastery or two, but as I explored, more and more of them started the unravel themselves. Over the years, I have made many posts on many of these attractions in the region but I think there is a need to do a complete guide on Keylong and Lahaul.
Also Read: 40 Hidden Gems of India
Lahaul Travel Guide
Understanding the Geography of Lahaul
So, as you can see from the map, Keylong, at an altitude of around 3100 meters, is located on the banks of Bhaga river coming from the glaciers of Ladakh. This river meets Chandra River (Coming from Spiti) at Tandi, and forms the Chandrabhaga (Chenab) river, which one of the major rivers mentioned in ancient texts. It eventually flows through Udaipur and Pangi Valley and enter Punjab and Pakistan before finally merging into the great Indus.
These sub-regions have their own fancy names that are barely used by outsiders but remmeber them as they may be useful some day,
Todh Valley: Upper Lahaul, the area betwoon Keylong to Ladakh along the Bhaga River.
Tinan Valley: Generally the area around Khoksar and Sissu along the Chandra River.
Pattan Valley: The area between Tandi and Udaipur along the Chandrabhaga River.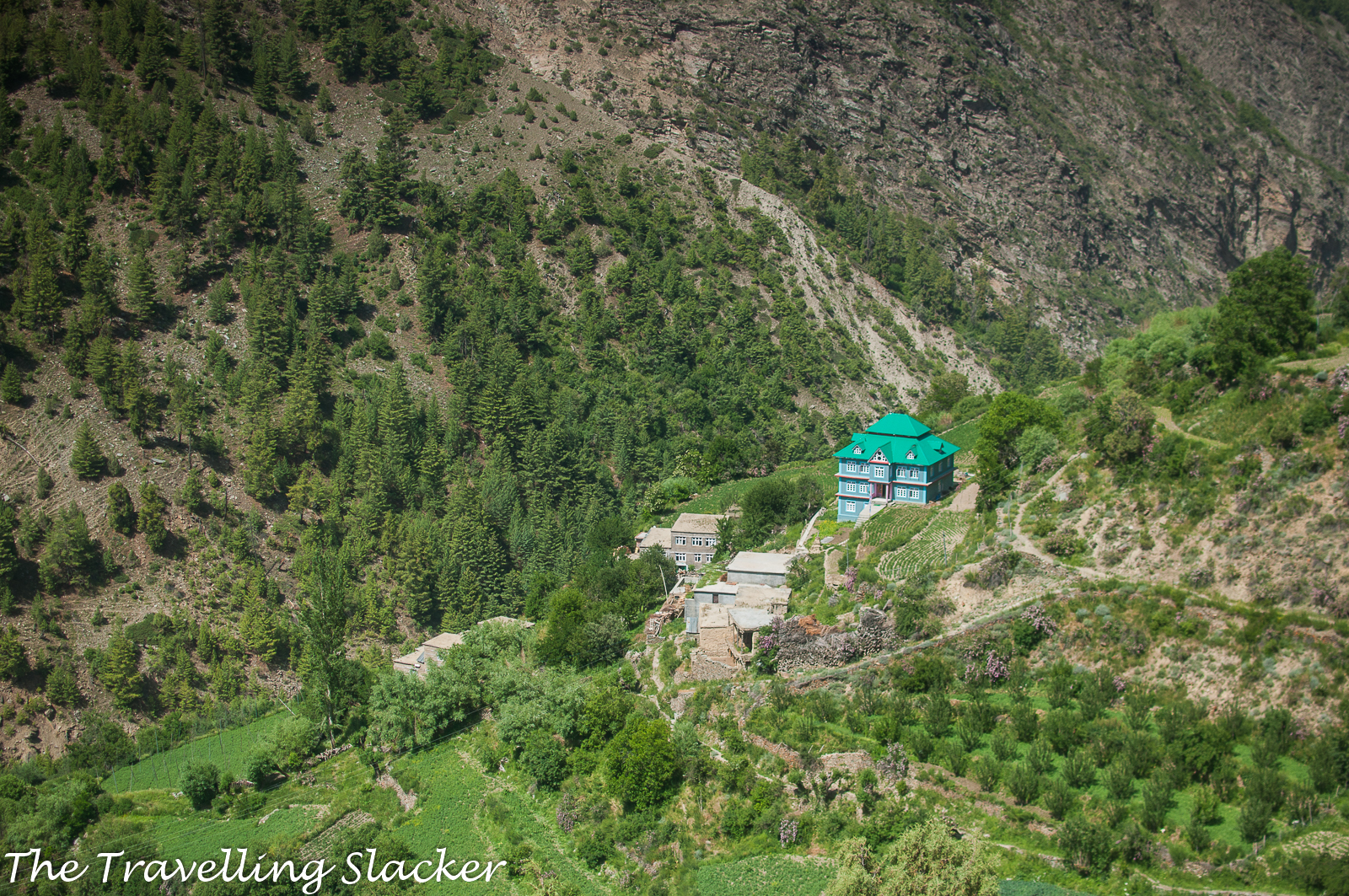 Couple of more entities you need to know here include,
Drilbu Ri: The formidable mountain that also has religious significance in Buddhism. That is why devotees circumambulate it every year. This program is called Drilbu Kora. Kora means circumambulation/parikrama. It happens around September every year.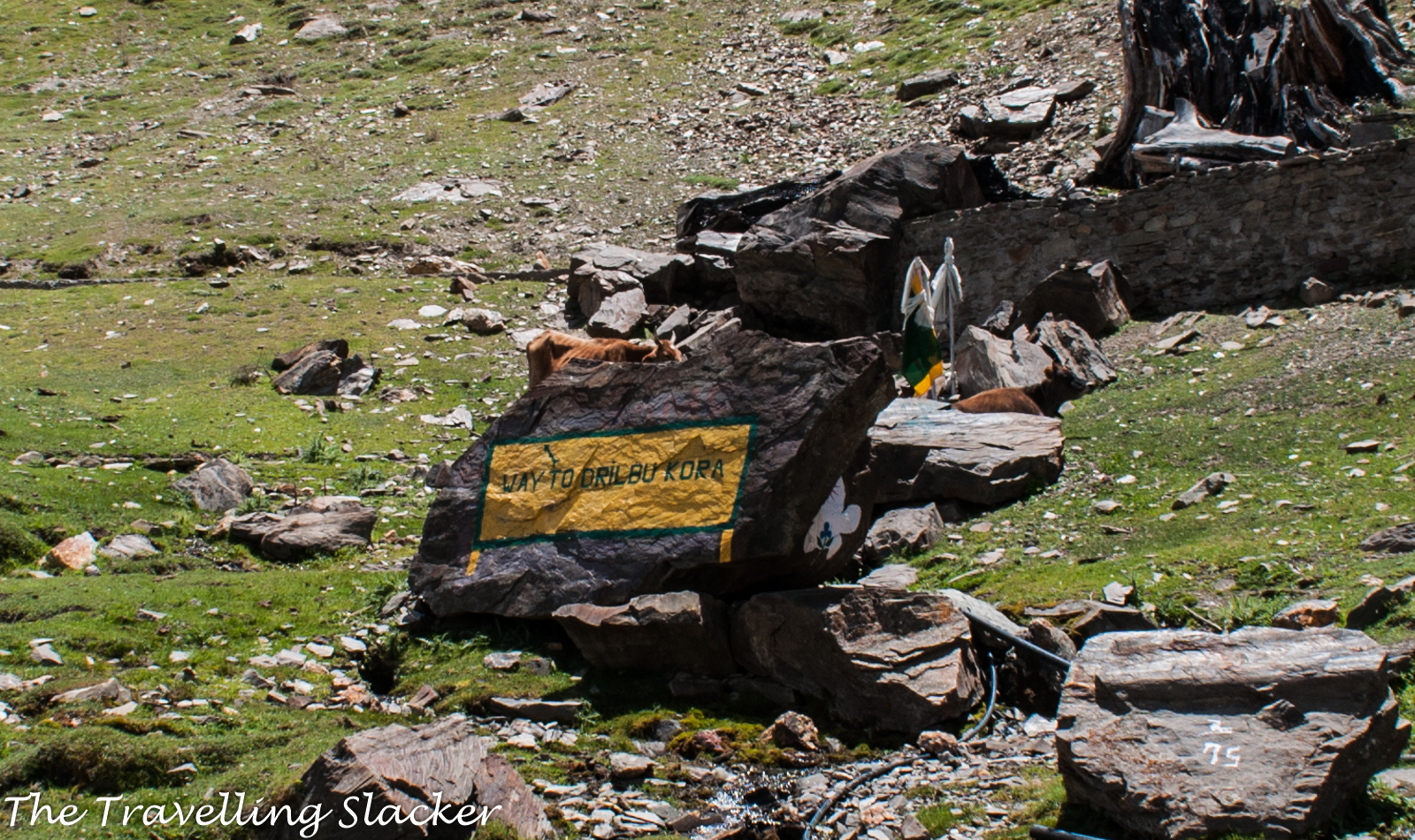 Lady of Keylong: A glacier visible from the Keylong town.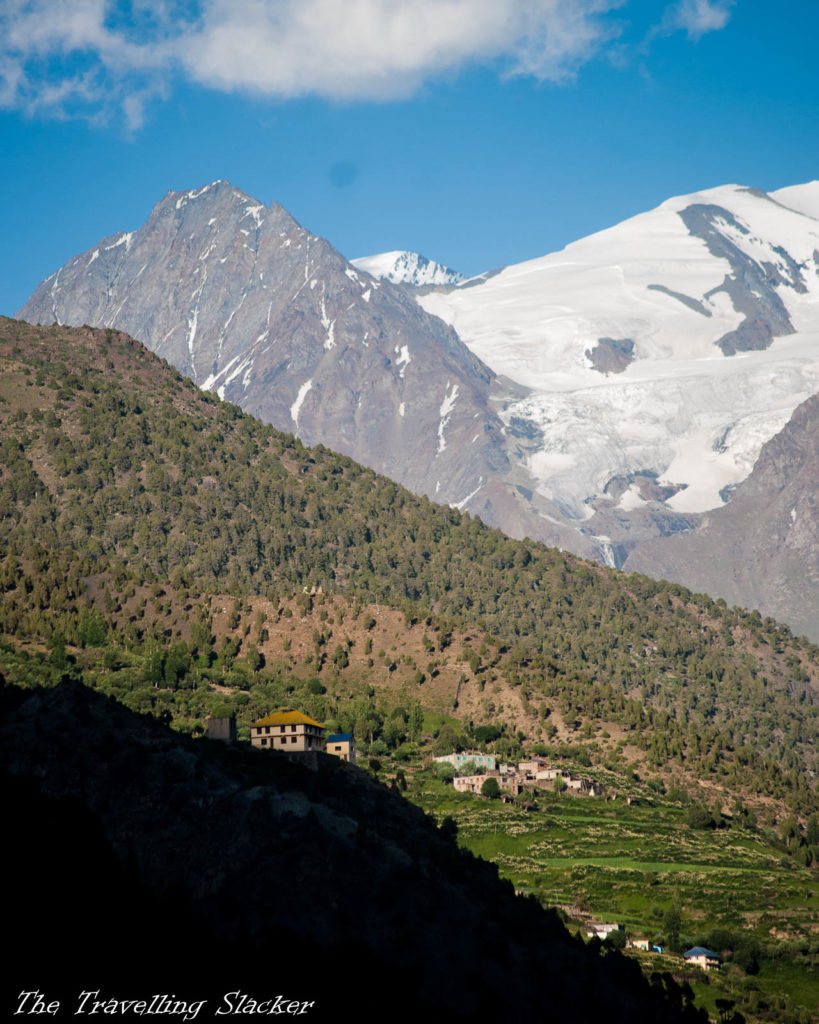 How to Reach Keylong?
Update, October 2020 : ATAL TUNNEL (Rohtang Tunnel)
Here is a new UPDATE! The Rohtang Tunnel is now open and it has been named Atal Tunnel after the ex-PM. So, this slightly changes everything mentioned below.
The 9 KM long tunnel starts a few KMS ahead of Manali and emerges somewhere near Koksar. This cuts short the journey by several kilometers as well as several hours. The peak hour traffic of Rohtang Top can now also be avoided.
This means that now there will be connectivity thrpughout the year. Easrlier, Rohtang Pass used to shut down in the winters but the tunnel means that you can reach Keylong in the winter too and this also makes a lot of other places accessible.
Reaching Keylong was not that hard anyway in the summers. Manali to Keylong is only 115 KMs over the Rohtang Pass. The road bifurcates after crossing the pass and the other route goes towards Kunzum La and then Spiti. Daily HRTC buses run from Kullu and Manali to Keylong. Considering the difficult nature of the road, it takes 5-6 hours to cover this distance for the buses (Don't trust the 3 hours 37 minutes mentioned in some content mills, I am sure they never actually took that route). Now, wit the tunnel, it will be even easier.
Bus Timings Manali to Keylong & Other Places in Lahaul
During the peak season of summer, there are at least two buses to Keylong including the Leh bound bus which obviously passes through Keylong. The Leh bus leaves very early, at around 4-5 AM (check at the bus stand for exact timings). The Manali to Keylong only bus leaves later at around 8 AM and reaches by 2 PM. Also, the semi-delux bus to Leh departs at around 10 AM, reaches in the evening for a night-halt at Keylong.  For all other places in Lahaul, you get buses from Keylong. Here are a few timings that you may need.
Keylong to Miyar Valley via Trilokinath & Udaipur (Shukto/Khanjar) 8 AM
Keylong to Pangi Valley via Udaipur (Killar) 6.30 AM
Keylong to Leh (ordinary Bus) 5 AM
Keylong to Naingahar (For Neelkanth Trek) 1.45 PM
The local buses generally start from Kullu than Manali. By the time they reach Manali, they tend to get full. So, I prefer to spend a night in Kullu (which is less touristy and also cheaper) and grab the window seat in the morning.
Keylong/Lahaul Bus Fare
It should be noted that there has been a hike in HRTC fares recently. The fare of ordinary buses has been hiked to INR 1.75 per km from INR 1.45 per km in the hills. So, find out the respective distances and do the math accordingly for any place. Needless to say that semi-delux HPTDC buses are much more expensive.
Hotels in Keylong & Lahaul
Keylong town has many hotels of various rates. Most of them are located near the bus stand and along the highway leading to it. A single person can easily find a nice room for INR 500. Most of these should also include free Wi-Fi, which is a good thing to have because your own data connection is unlikely to work there. Some of the shops near the bus stand even offer a bed to sleep at night for INR 100 but you will have to make do with the bathroom at the bus stand. On the other hand, there is a luxury government property called HPTDC Chadrabhaga too.
Apart from Keylong, places like Sissu, and Gondhla also have many homestays while Khoksar has a PWD resthouse. If you are going towards Ladakh, there are more options in Jispa and Darcha too. On the other hand, if you are going westwards towards Pattan Valley, you will find homestays in Udaipur and Trilokinath. If you are trekking in Miyar Valley, you will find a homestay at Shukto, the last roadhead in the valley where teh bus also stops.
Best season to visit Lahaul
As is the case with remote areas, Lahaul gets detached with the rest of the world during the winters (although things will change once the Rohtang tunnel becomes operational). So, the primary season is between June to September in summer. Early summers before the reaisn are better. ALso, in October, you may get niceautum colours as the poplars and willows turn golden.
Things to do in Lahaul (Keylong & Beyond)
Monasteries of Keylong
There are several medieval gompas that are located very near to Keylong. You need to complete small day-treks to reach most of them although some of them are now also connected via motorable roads. They are several centuries old, although many of the buildings have now been renovated. As they are located at a higher elevation, they offer excellent views of the Keylong town, the Bhaga valley and the mountains beyond. Check this map for the directions.
Shashur Monastery: It is a 17th century when it was established by Lama Deva Gyatso of Zanskar. Around 5 KMs from Keylong town but there is a motorable road to it. However, I managed to hike the whole distance and the views were excellent.  Read full details of Shahsur Trek here.
Kardang Monastery: It was originally built in the 12th Century but has been destroyed and rebuilt many times. You can drive via Tandi or hike directly from Keylong by crossing a small footbridge over the Bhaga. Also Read the Kardang Trek post.
Yardong Monastery: It is a small monastery of uncertain vintage. It is a few KMs before of Keylong, The short hike starts from the old bus stand outside the town. Also read the Yardong Post.
Bokar Monastery: It is believed to be one of the oldest gompas in Lahaul. It is around 2 KMs ahead of Keylong. Somehow I never managed to visit this one but I have a guest post on Bokar Gompa.
Tayul Monastery: Tayul is a Drukpa Monastery that dates back to at least 17th century or it may be even older although the present monastery building seemed renovated. It is around 5 KMs from Keylong followed by a 2 KM hike. Also Read: The unexpected picnic at Tayul Gompa.
Ghemur Monastery: Ghemur Gompa is located in Gemur village, which is around 20 Kms from Keylong, and a few Kms before Jispa. A short hike from the highway will take you to your destination. Somehow I never managed to stop here either.
Tupchiling and Guru Ghantal: Tupchiling is located near Tandi. From here, you need to take teh key for Guru Ghantal, which is a steep and difficult hike. Guru Ghantal or Gandhola has many mythical stories associated with it and it takes you closer to Drilbu Ri. I made an attempt once but the trail was so dangerous and slippery that I had to give up midway.
Tandi
Tandi is the confluence of Chandra and Bhaga, where Chadrabhaga is formed. The Tupchiling Gompa is locate dhere and the motorable road to Kardang as well as trek to Guru Ghantal starts from here. Tandi also has a petrol pump which serves Keylong too.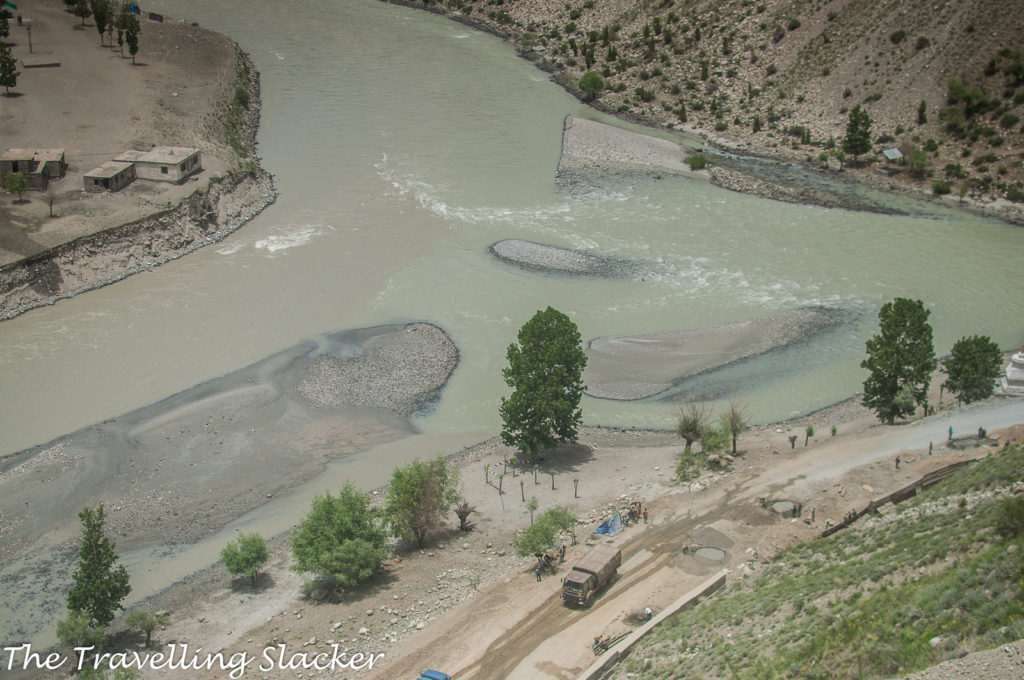 Tribal Museum, Keylong
The Lahaul and Spiti Tribal Museum, located in the middle of Keylong Town, is a good way to get acquainted with the history and culture of Lahaul. You can see their attires, instruments, crops and herbs, along with maps and old photographs to have a good idea about the place and the people and it should be a good starting point for the reason.
Trilokinath
Trilokinath Temple is a major temple in the Udaipur subdivision of Lahaul. Interestingly, it is equally revered by the Hindus as well as the Buddhists. The original stone temple is believed to be at least a thousand years old. It is around 45 Kms from Keylong and well connected with regular buses.
Udaipur
Udaipur is a small town at the western border of Lahaul. This area leading up to this is also known as Pattan Valley, and is known for disntinctive agricultural tracts on the fertile slopes on the banks of Chandrabhaga. The primary attraction in town is the Mrikula Devi Temple, another ancient shrine in the region. It is a wooden temple with a lot of intricate carvings telling stories form the epics.
Miyar Valley Trek
Miyar Valley is a short detour from Udaipur. However, it is a completely different world with its unique landscapes and geography. Due to its unique location, it offers the feeling of being both in Himachal and Ladakh. Initially, you come accross a series of villages in the valley but eventually the habitaion ends and it opens up to a barren, vast, high altitude valley, with the Zanskar range looming large in the horizon. If you keep going, you will eventually reach Zanskar. But it is a serious trek and needs to be done with experienced guides.
Also Read: Miyar Valley Trek and Guide
Neelkanth Lake Trek
Neelkanth Mahadev is a high altitude lake located in one of the remotest regions of Lahaul. Locla pilgrims trek to it in the monsoon seasons and it takes several days to reach. This should be tried only with trained guides and proper preparations. I hope I will do it next year.
Sissu
It is a small village not far from Keylong. It is a good looking spot on the banks of Chandra river, complete with waterfalls, a lake, and a nice stretch of poplar wood, that turns golden in the autumn. It is known for the temple of Raja Ghepan, the most prominent deity of Lahaul.
Gondhla
Gondhla is village around 18 Kms away from Keylong. It is primarily known for a large wooden tower, generally called Gondhla Fort. It was built by a local nobleman to protect his territory and is believed to be at least 300 years old. You can also hike to nearby Si Lha Gompa for better views of the Tinan Valley.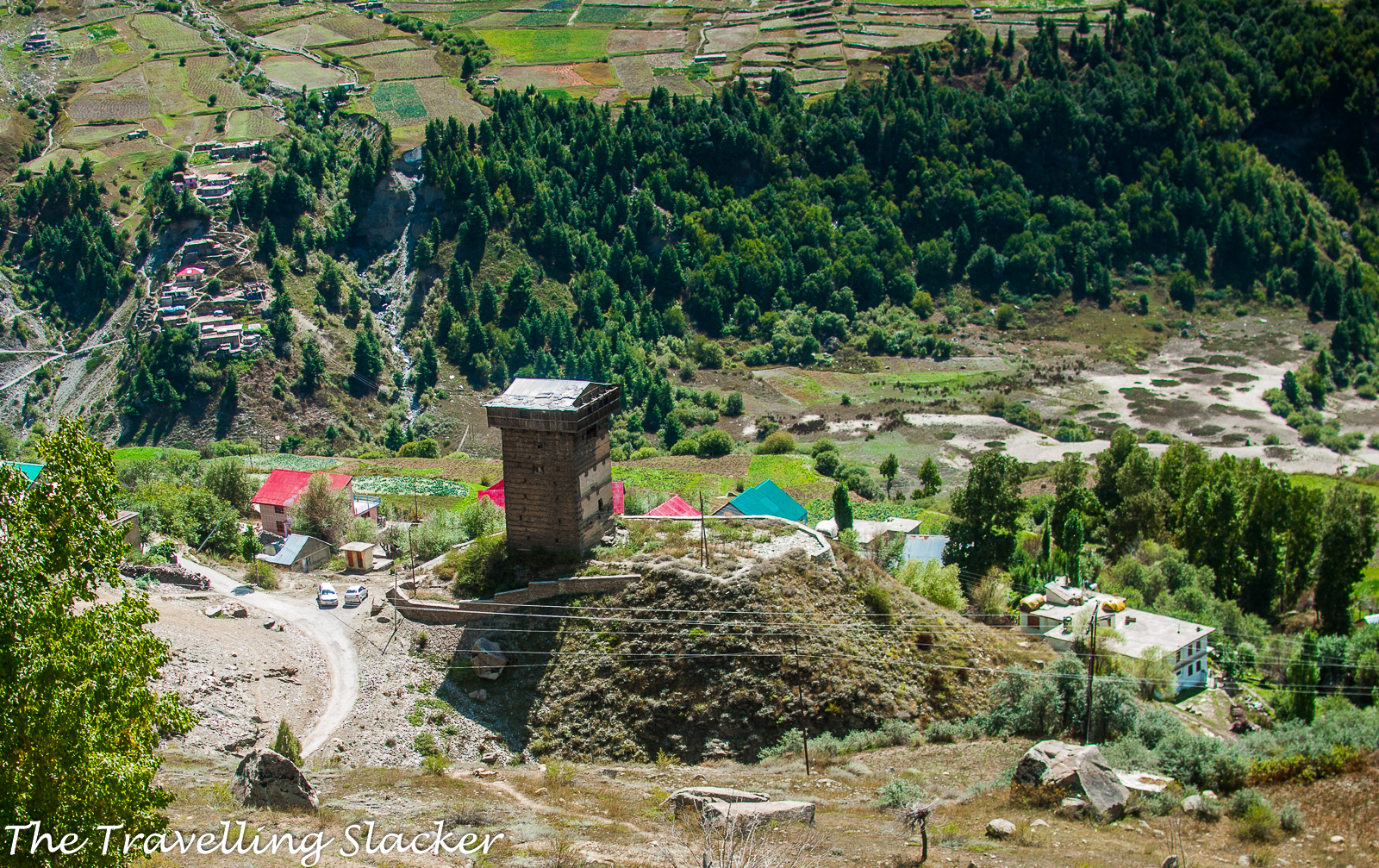 Jispa and Darcha
Jispa and Darcha are small settlements that you come across once you leave Keylong and move towards Ladakh. There are stay options in both these places and you can also explore some local hikes. There is also a trekking route from Darcha to Zanskar where a motorable road is being constructed and should open by next year.
Phone, data connectivity, and WiFi in Keylong?
Generally, most major SIM cards work in Lahaul if you want to make calls. However, data connectivity is unlikely and even if it is available, it will be extremely slow. However, the good news is that many budget hotels in Keylong town will give you decent free Wi-Fi in those INR 500 rooms.  Outside Keylong, network is even weaker although it should work at Udaipur.
Alcohol in Lahaul
Alcohol is easily available in Himachal and Lahaul is not an exception. In fact, there is an alcohol shop very near to the bus stand. However, if you want traditional liquor, you will probably have to befriend some locals.