Chikmagalur doesn't need any introduction, at least for Bangaloreans. But yet, it sometimes feels that it does, because it is a vast region with many possibilities. As you know, it is part of the historical Malnad region, which is covered by the hills of Western Ghats, dense tropical rainforests, furious rivers, lyrical waterfalls and lush green coffee estates.
What to expect in Malnad Region?
Old World Charm
Most of these homestays are either colonial-era bungalows built by the British or traditional mansions of this region built by influential families with royal connections. So, you get that undeniable nostalgia and relive a bygone era.
Malnad Cuisine
Malnad Cuisine is one of the most eclectic cuisines in India that not many are not familiar with. They heavily use ingredients grown in the rich forests of the Western Ghats and this is what makes them very unique. From Akki Roti to Kadubu, and from Pathrode to Appekkayi Saaru, the list of exotic items are endless. Also, many of these heritage homestays have their own recipes that they have evolved through generations!
Plantation Walks
The entire region is famous for coffee plantations. Apart from that, tea estates can also be found while spice plantations, especially containing pepper, cardamom, vanilla etc are abundant too. Most of these properties are located deep inside such lush green estates where you can get completely secluded from the rest of the world and soak in nature. You can also look forward to other adventure activities such as rafting and cycling in this region.
Treks & Adventure Activities
This region is part of the Western Ghat mountain range, which is a UNESCO World Heritage Site. Some of the most famous treks in South India are found in this region. Apart from famous ones like Kundremukh and Mullayangiri, many lesser-known trails can be found here.
Safety & Seclusion
These stays are located deep inside sparsely populated areas covered with forests, mountains, and plantations. So, this is exactly what post-Covid travel needs. You can enjoy your vacation while being completely away from any kind of crowd and commotion. In fact, some of these stays are deliberately remote and disconnected, so that you can enjoy that "digital detox" for a few days. Couple of these stays are also pet-friendly (specified below, wherever applicable). So, if you just can't leave your pets behind, they can be good options.
So, I am not merely talking about Chikmagalur, the town, but the larger region around it. There are many places hidden inside those tiny hamlets and coffee gardens that can offer excellent wild escapes, especially for the oppressed corporate soldiers of Bangalore. There are many good estates scattered here and we are now trying to promote them as perfect post-Covid getaways near Bangalore.
So, here are 10 excellent and unique heritage stays in Chikmagalur for a safe yet exciting vacation this season.
Best Heritage Homestays in Chikmagalur for Seclusion, Security & Serenity
1. A Heritage Mansion amidst a pioneering Coffee Estate
This is the abode of a family that is the pioneer of Coffee plantation in this region. They have been growing it since 1860 and this enabled them to build this palatial mansion in the 1930s. It is such a prominent presence in the region that many important personalities including erstwhile royalty of mysore, ex-PMs of India, and various other luminaries have stayed here. It is located on the slopes of Bababudanagiri Hills at an elevation of 4100 ft.
Do note that this mansion has opened up for general tourists only recently. So, it is a good opportunity for you to avail of this rare experience. Apart from the exquisite collection of antiques, paintings, and other artifacts, you can also look forward to the food, especially the family recipes that have passed on through generations.
Location: 10 KMs from Chikmagalur Town.
2. A 270 Years Old Classic Traditional Home at the Foothills of Mullayanagiri
Yes, you read that right. This is a traditional mansion of this region that is 270 years old and it has done well to preserve that aura of a bygone era with antique furniture and understated decor. This is your best option to experience the classic architecture as well as hospitality of the Malnad region. It is located in the foothills of Mullayanagiri, which is Karnataka's Highest Peak. So, you can combine it with a trekking expedition too, if that interests you. Even otherwise, you can simply soak in the luxurious heritage in the midst of lush green expanses.
Location 20 KMs from Chikmagalur Town.
3. A Luxury Villa in Deep Wilderness
This is an effort to blend traditional plantation stay with world-class amenities. This coffee estate was developed in the 1980s, deep inside the rainforests of the Western Ghats. This beautiful Villa is located in the middle of a coffee estate at an elevation of 3500- 4000 ft. In this pristine wilderness, you can also expect to spot animals like Indian gaur, deer, wild boar, and scores of birds. Some additional adventure activities like ATVs have now been made available and fishing is also more popular. For more serious adventurers, there is always trekking.
Location 10 KMs from Chikmagalur Town.
Additional Amenities: It also has a Swimming Pool if you are looking for it.
4. A 100-Year-Old Coffee Organic Plantation Bungalow
This is yet another traditional Coffee estate turned resort. Naturally, coffee plantations are all around it and they have spread between elevations of 3200 to 4300 ft. Naturally, at this elevation, it is much cooler than you are used to in the cities. The Chandra Drona range looms large over the state. The bungalow is more than 100 years old, with a small vintage library with invaluable books for inquisitive travellers.
Location 21 KM from Chikmagalur Town.
5. A Malnad Heritage Thottimane Stay
It is a traditional Malnad house and has seen more than 6 generations, which actually makes the home more than 300 years of existence, where much importance is given to maintain the heritage and preserve antique.The stay has one of the biggest Chouki (Thotti mane) in the vicinity. It is ideal for nature lovers and those to want to spend time at leisure. A morning session of birdwatching can be rewarding too, along with sumptuous dinners with Malnad cuisines.
Location 87 KMs from Chikmagalur Town.
6. A British Mansion Amid A Spice Plantation
This is yet another epic colonial mansion, spread over 200 acres of rugged mountain terrain, full of rare flora and fauna. A fine example of typical colonial architecture, this Bungalow was constructed in the year 1890. It has five spacious bedrooms, a lounge, and a parlor. Each room is furnished with a fireplace, original mosaic flooring, woodwork and masonry adding to the old world charm. The lush coffee plantation dotted with cardamom groves, pepper vines, and aromatic vanilla orchards turn it into a sensory experience. The 123-year old British Bungalow also offers excellent views of the surrounding peaks. You can also see the rates and book it here.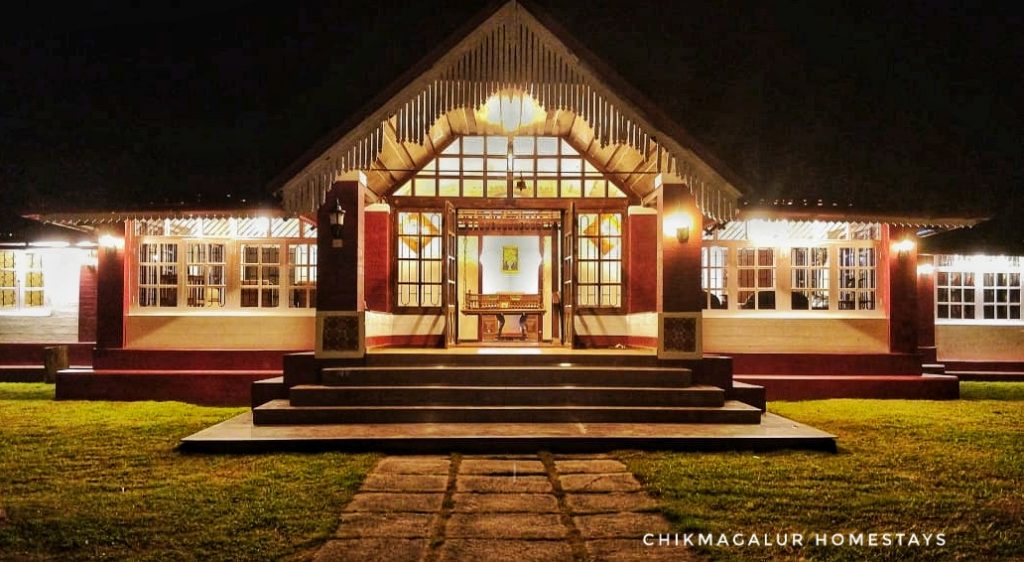 Location 53 KMs from Chikmagalur Town.
7. A British Twin Bungalow Amidst Coffee Plantation
This is another massive 153 acres estate with not but one but two bungalows. These twin bungalows were built in 1895! Natural high altitude grasslands of the Western Ghat dominates the landscape. Both Arabica and Robusta coffee plantations can be found here. Unlike most of their estates, this also offers WiFi connectivity. So, you can also consider it a good option for workation.
Location 15 KMs from Chikmagalur Town.
Additional Amenities: It has WiFi too, so it is a good option for Workation, if you just can't avoid work.
9. A British Bungalow Deep Inside the Jungle
This is another epic construction from the 1800s. One must admire the fortitude of secluded terrains and dangerous forests to cultivate coffee. Situated at 4200 ft and that too set in the middle of lush green forests of Malnad Coffee plantation, with black pepper creepers crawling all these over them. The history of this royal lineage goes back to several centuries of colonial rule. The stay is situated in the shadow of Mullayanagiri peak amidst 170 acres of Coffee Plantation.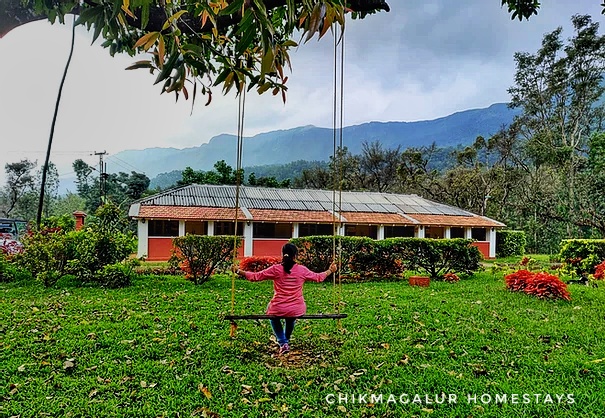 There is no dearth of adventures here. The verdant expanse of shola grassland and looming mountains offer you enough to explore. If the normal stay is not exciting enough, you can pitch a tent or stay in the machan to brave the night. A night hike in the jungle should add a bit more spice to the adventure while a lot of sports activities can also be done.
Location 30 KMs from Chikmagalur Town
Additional Amenities: It is a Pet-Friendly stay.
10. A Luxurious Riverside Homestay at the Source of Hemavathi
This is another heritage homestay located around 40 Kms from Chikmagalur. This luxurious yet affordable resort is located near Mudigere, the birthplace of the river Hemavathi. The entire area is covered with Coffee plantations but that is not all. If you explore enough, you'll also find honey, oranges, cardamom, and pepper all over the place. All the rooms are fitted with modern amenities although the place glitters with old-world charm.
Location: 40 KMs from Chikmagalur Town
How to Book?
This post is in collaboration with Chikmagalur Homestays. So, you can send them a WhatsApp message for booking and other queries at 91-9740360365.