Is Chandubi just a lake? Or can I do more than that?
While most people in Assam know about this lake, Chandubi is just the central attraction with numerous fledgling activities that will grow in the future, including birding, cycling, short day hiking, ethnic & rural tourism, tea tourism, and handicrafts. But let us start with a bit of background about the place.
As much as I mourn the demise of the Guwahati of yore with overpopulation and visionless growth, it is not that hard to escape from here into a different era. If there is one thing that Assam has in abundance, it is thick vegetation. Even beyond the big national parks, there are many neglected and continuously exploited wildernesses all over the state, which are usually called "Reserve Forests" although they are barely protected.
One of the famed escapes from Guwahati includes the region of Rani and Chandubi Lake is just another 30 mins beyond Rani. There are many small villages scattered all over but humanity never gets to overshadow the undulating wilderness and wild elephant herds are as common here as the paddy fields they seem to love. Even without any official thrust, various spots here have served as picnic spots for Guwahati folks for decades.
Chandubi itself has always attracted the same weekender crowd from Guwahati although people from other parts of the world barely know about it. So, when Homestays of India (Check below for details) invited me to restart post-Covid travel through a short visit to Chandubi, I quickly accepted it as I was planning to cover these backyard attractions anyway.
I planned an early morning start from my home in Guwahati but it was raining heavily and managed to start only after significant delays. I quickly crossed the Deepor Beel, another major wetland near Guwahati that is known for birds but is under threat from encroachments. We were driving southwards, towards the hills of Meghalaya. Chandubi is actually located at the foothills where the Khasi and Garo Hills meet.
It did not take much time for the city to disappear from the rearview mirror and the intense rustic landscapes of Assam begun to unfurl. These are normal views for me but I have seen that people coming from big cities find such views fascinating. The greenery was obstructed only twice, once when I noticed the Rani railway station and once more when the car crossed the Rani market that now resembles a town.
As per some local anecdotes, Rani itself derives the name from a local Queen (Most probably a Khasi Queen from present day Meghalaya) who used to visit this area, although I could not verify the story. After crossing Rani, a quick right turn made us leave the broader road and enter an even more desolated stretch covered with subtropical forests on both sides. Emerald green paddy fields kept reappearing, crisscrossed by muddy streams with several hillocks on the horizon, all engulfed in mist.
Soon enough, a series of tea gardens appeared. While tea gardens are to be expected in Assam, they are more prevalent in Upper Assam and near Guwahati, this is one of your best bets for seeing one. In fact, the tea estate continued for several kilometers, and just after that, we reached the village of Rajapara, which is adjacent to the lake.
Now, I was supposed to stay in a homestay which was in a village on the other side of the lake. Due to excessive rains, a lot of unwanted vegetation had flown into the usual route and the boatmen were a bit hesitant. Nevertheless, I called the guys from the homestay and they gave dome instructions to the boatmen. It took around 20 mins to reach a suitable point on the other side although usually in the winter its no more than 5 mins. Nevertheless, the timing was just right. The sun was setting behind one of the hills garlanded by a thick layer of mist. I got a lot of photographs while the boatmen toiled to get me to my homestay.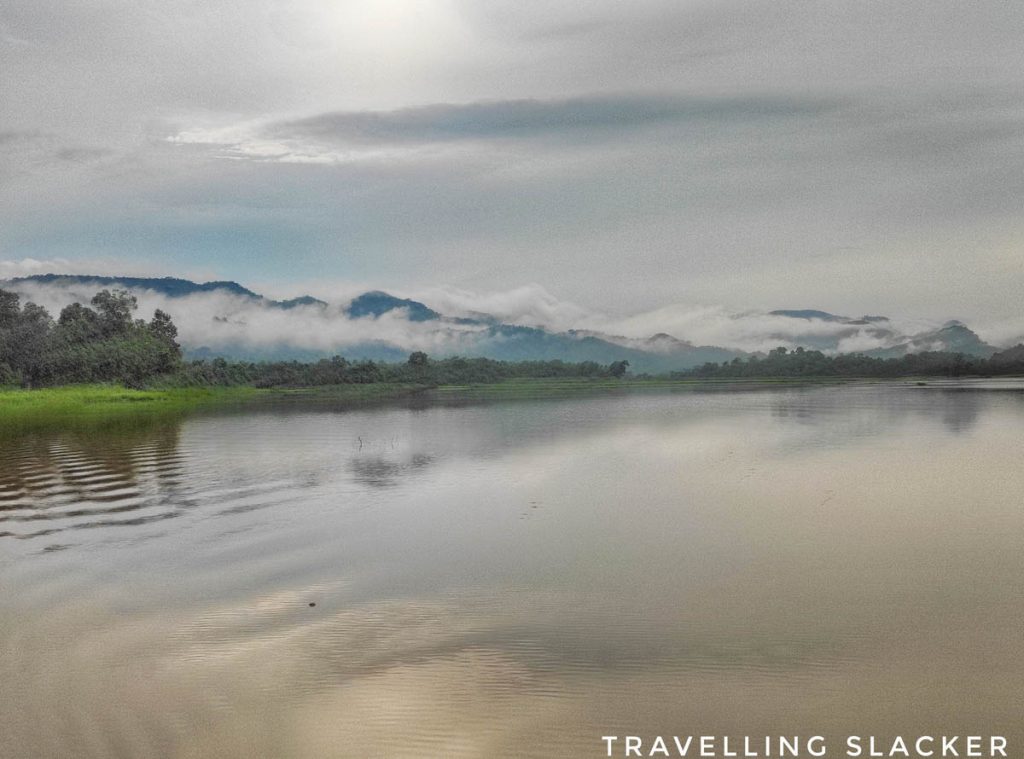 At Jaramukhuriya Homestay, Chandubi: A Sustainable Ecosystem
Now coming to the Homestay at Chandubi, let me tell you that I came here 6-7 years ago, and back then there was absolutely nothing. Weekend revelers were littering the place and there was no tourism infrastructure except probably one. Now, things have changed better. Homestays have opened involving local families who have learned the benefits of tourism. A committee has been formed by villagers of 6-7 villages around the lake. They are responsible for maintaining the ecology of the region as well as helping tourists. I talked to Aovick who has experience in tourism at other places and has helped the locals figure out this new way of livelihood. It has also meant that they have become protectors of the fragile ecology. While the region is still waiting to be declared a wildlife sanctuary, at least the locals have stopped felling of trees, hunting, and indiscriminate large scale fishing while earning more from tourism.
So, I spent a couple of days out there, walking around the village, staring at the lake, and eating homecooked food. It was actually slightly strange timing that had its pros and cons. Generally, the peak season is winter when the water level recedes, rains stop, and some migratory birds arrive. It was still raining heavily as I reached and some of the local hikes had to be skipped. However, I got the fecund monsoon views and I'll take them anyway over dull winter frames.
There are many stories about the origin of Chandubi Lake itself but as usual, it is hard to be sure about any of them. Some associate it with one of the great earthquakes in the region which formed the lake. The etymology of the lake also has many origins, one about some rituals by the aforementioned Khasi Queen, another that had something to do with a legendary merchant called Chando Xodagor, and also there is another story about the early British officers who ventured into this region.
So, this was more or less about it. Although barely 1.5 hours from my home, it was my first trip after several months of inactivity due to COVID. Also, I was planning to do more things in and around Guwahati and so you will hear more about these areas I have mentioned in this article.
Chandubi Travel Guide
Things to do in Chandubi
There are a few things I managed to do and a few required drier weather of winter. For everyone's benefit, let me just give a quick overview of things that can be done around Chandubi Lake.
Boating
Originally it was a picnic spot as mentioned before. People used to go boating for a few minutes. The same can still be done but now there is more to it. In fact, for the people of local villages, boating is a part and parcel of life and they have to do it on a daily basis.
Rural Tourism, Ethnic Experience & Handicrafts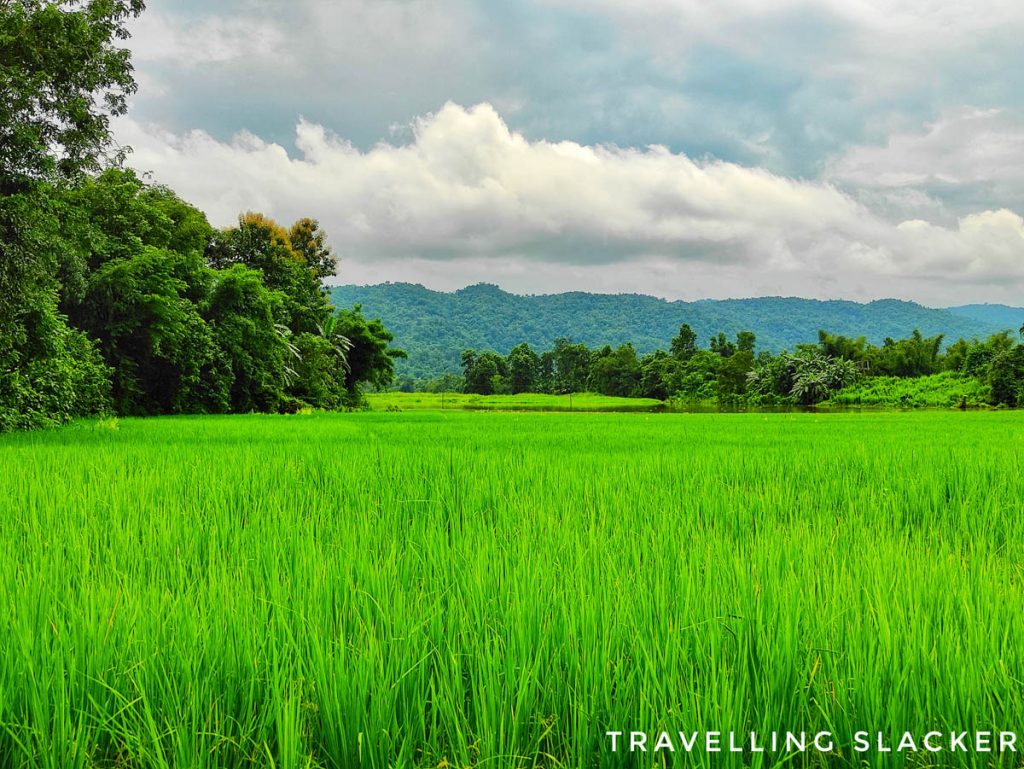 This is what is being developed now. Homestays have come up, which are run by local families. Most of these villages are dominated by Rabha community, one of the major ethnic groups in Assam. So, you can have a look at their culture, food, as well as handicrafts during your stay.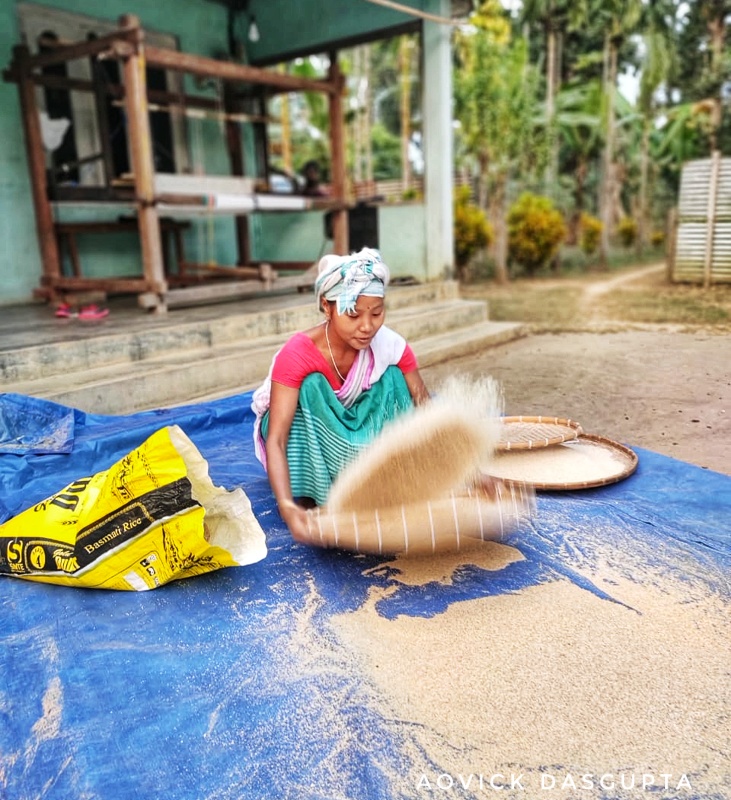 Bird Watching and Wildlife Sighting
This area has huge potential for birding as well as wildlife sighting but it requires more exploration to figure out which species are available here. The lake naturally attracts a lot of waterbirds and migratory ones arrive in the winter too. I spotted many storks and herons. Parakeets are very common too in the village. I was told that there are a few families of hoolock gibbons in the vicinity, which is big news as they are rare. Also, wild elephants keep passing through the area and it is not surprising to find your road blocked by herds of wild elephants, in which case, keeping a safe distance is the best you can do. I was hoping for such an encounter but it did not happen.
Day Hikes & Waterfalls
As I have mentioned before, this area is located at the foothills and so, you can go for hikes in the hills beyond them. There are many day hikes possible and there are multiple waterfalls too. The best season for doing it will again be the winters as the rains make it very hard to roam around. The only small waterfall I managed to see was the one in the village itself.
Cycling
Some bicycles have been arranged by the village community so you can go cycling in the countryside. I would have done it if not for the excessive rains and muddy tracks. It'll be easier in the winter.
Tea Estates
You will get the tea estates there even before you get to the lake. The main tea estate here is called Borduar. I am not sure if they have any tourist activities but you will see them anyway as you pass through that stretch with tea gardens on both sides of the road.
Doing Nothing
Above all, I think it is a great "Do Nothing" kind of a place. Even if you do not do any o fthe above activities, you can simply relax and soak in the countryside charm. Internet is also non-existent as of now, so a great place for digital detox after hectic work, and that is what I managed to do (Although I haven't been doing any hectic work either).
How to Reach?
Chandubi Lake is barely 55 to 65 kms from Guwahati depending on your location within the city. Most visitors generally use their own vehicle snd it is a good ride through vast countryside and tea gardens.
You can take the following routes,
LGBI (Guwahati Airport) – Mirza – Borduar – Chandubi
ISBT (Garchuk) – Deepor Beel – Rani- Borduar – Chandubi
Due to the COVID situation, I did not see any buses running when I went. But under normal circumstances, there should be some buses running from Guwahati but they are not very frequent. The most popular local transport is shared vans but they may not cover the whole distance. So, you can find a way to reach the nearest market Rajapara or "Bagan" (shortened form of Borduar Bagan, the tea estate). From there you will get shared vans to Mirza that should cost around INR 50 and then from Mirza you'll easily get shared vans to Guwahati for another INR 50.
Where to Stay at Chandubi?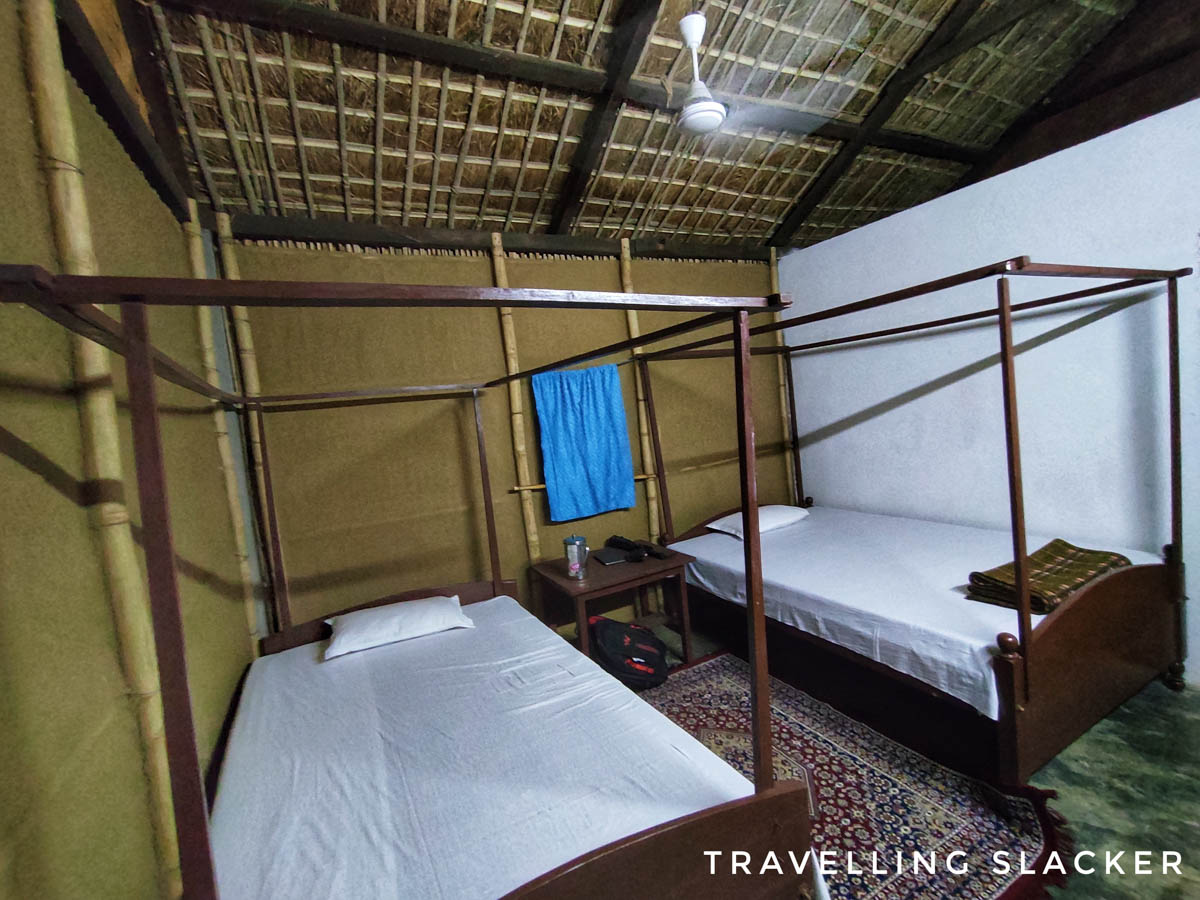 While facilities used to be limited until a few years ago, a serious effort has been made of late with the help of grassroots entrepreneurs, educating local families, and helping them with ideas and resources. I stayed in the Lakeview Homestay at Jaramukhuriya Village, run by a local family, with a nice bamboo cottage with an attached bathroom and homemade food. After months of closure due to the current season, they have restarted booking. It is located in the village of Jaramukhiya on the other side of the lake and you need a boatride to reach it.
Phone: 9999731115/ 8178335056
Mail id: [email protected]
You can find more details about the Chandubi homestay here.
Best Season of visiting Chandubi?
Generally, people visit it between October and February, when the weather is cold and dry, but other seasons are open too. Personally, I think the summers will be a bit too harsh but I think there is a certain beauty to be enjoyed in the monsoons. While some things may not be accessible at this time, rainy season views can't be matched by the dry winter.
Phone & Internet Connectivity at Chandubi?
The primary issue here is the network, which is faint and the internet doesn't work as of now. However, it is not necessarily a bad thing. I managed to write two articles including this one and finish one book in two nights I spent there.