Before getting into the details, let me provide some context for those who are not familiar with this place. Those who know already can skip to the main part.
Miyar Valley in the Lahaul region of Himachal Pradesh is a secluded area sandwiched between the Pir Panjal and Zanskar ranges. The Miyar Nala is the lifeline of the valley and it meets the Chandrabhaga near Udaipur. The sparsely populated villages here give way to a high altitude, open plain, which eventually leads to a glacier and a pass. It takes a lot of time to reach and remains cut-off during the winters. It has not yet been commercialized much for tourism and is only frequented by serious trekkers, climbers, and lovers of desolation. People here are mostly Buddhists.
Here is a rough map to make you understand the location. As usual, it is not accurate or up to the scale.
Also Note: This post also describes a meeting with a Gaddi herder. Gaddis are semi-nomadic people who practice transhumance. They have been herding sheep and goats in these high-altitude Himalayan meadows since time immemorial. They are natural mountaineers and they merely stroll over the high passes, while the modern hikers huff and puff through the same.
______________________
Last year at I left Miyar with disappointment in heart and those unfulfilled dreams kept haunting me. This year I returned to make sure that I at least visit the famed, seemingly limitless plains fed by the Miyar Nala. Of course crossing over to Zanskar by completing the complete trail remains a dream and not sure if I will ever be able to do that. Nevertheless, even this quick foray had enough to see and recount. So, let me produce a blow-by-blow detail of the same.
4 pm
Reached Shukto after a long bus ride from Keylong via Trilokinath and Udaipur. The elusive Homestay at Shukto had a more prominent board in place now. Last time I think the board wasn't there and I did not even realize it was a Homestay.
I am not alone this time for a change. In fact, the group had far more people than I expected. Now we were seven people including the guy who was originally supposed to join me, his friends, and friends of those friends. But in a way, it was a good thing because we secured one large room with several beds and mattresses. It was worth INR 700 i.e. 100 per head (I am sure the rates will be lower for a lesser number of people).
5 pm
Went out for some local sightseeing. My hope was to walk back to one of the previous villages such as Tingrit that we passed earlier. However, there were several hilly streams on the road. Earlier the bus crossed them for us. But crossing them by foot looked difficult and risked getting wet in that chilly evening. So, gave up on that plan and just walked around the river bank and the nearby hills, taking photographs of the lusty river, uniquely shaped conifers, pink wildflowers, and vast moraines.
9 pm
The food was good. Rice was accompanied by local beans and potatoes. Some local liquor was also produced quickly. Ate as much as we could because the next day was going to be a long day with no other provisions en route.
7 am
One left due to some urgencies and six of us remained for the actual trek. We planned to start as early as possible but it took some time before everyone got ready, ate some leftovers from the night, and bought some biscuits as the day's ration.
7.30 am
Reached Khanjar, the last village in the valley. It can be seen from Shukto itself but the road ends at Shukto. One has to cross a shaky hanging bridge and hike for 15 minutes to reach it. The village itself was pretty enough with fields of potatoes and peas but we were in for a very long day and so did not have much time to appreciate the rustic charms of the village.
8.30 am
We continued to trek for a while, passing through the village and trying to figure out the trail. What we soon realized was that there are many streams crisscrossing the valley, all tributaries of Miyar or tributaries of even those tributaries. The trail was not a consistent upwards climb. It was repeatedly going down to some bridge over some stream and ascending again.
Eventually, we reached a somewhat plain grassy meadow with a slim stream running through it. It seemed like a good place for a siesta but much more remained to be covered for the day. So, we continued with the same routine.
9.30 am
A chorten is visible at a distance. We were told that the first stop of the trek is called "Gompa/Gumba" although it was hard to believe that there will be a Gompa so far into the wilderness beyond the last village. So, is that the one?
10.00 am
That chorten still looks as far as it looked initially. One local villager with a cow raced ahead of us!
10.30 am
Finally reached that chorten. There is no other structure nearby and the mysterious Gompa remained a mystery. The villager with the cow lit a ceremonial fire near the chorten. He was not going beyond this point. So, we were on our own again.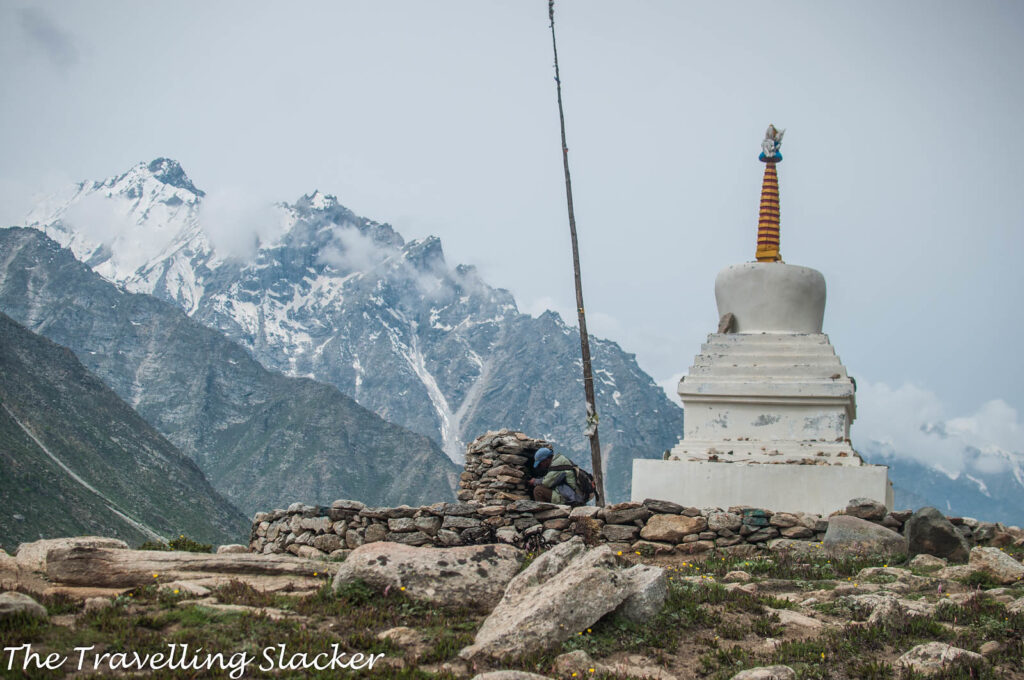 11.00 am
Crossed a few more streams. All of them seem to have at least one man-made wooden bridge but they are not easy to locate and at times you may end up walking through the water rather than looking for the bridge.
11.30 am
Finally, we have reached a plain area. There are mountains in the horizon but those are far away and in front of us we can only see a vast, endless plain. A small caravan comprising of mules and horses has joined us. They are taking supply to some point ahead so we thought it to be logical to just follow them.
12.30 pm
We have been walking for almost an hour now and there seems to be no end to these plains. The distant mountains look as distant as they looked an hour ago. Finally, the high altitude exertion at almost 4000 meters is also beginning to show its impact. It is becoming tiresome.
12.45 pm
Finally, everyone stopped. I was lagging behind a bit. Not sure who realized it first but apparently we were already at "Gompa" although there was no Gompa in sight. Later on, we figured out that the place is called so because some Lamas of yore used to meditate nearby and there is no real shrine here. Anyway, what was visible here was a den of Gaddis but we needed to regain our composure before approaching them.
1.00 pm
We are eating biscuits and drinking natural mineral water from the stream like there is no tomorrow. We soon ran out of supply. A joint was rolled to soothe the nerves. The wind in that barren expanse at that altitude was severe. It was the yearning of the cold mountains that have been lonely for millions of years. The wind made sure that we quickly ran out of the spliff too.
1.15 pm
Nevertheless, we have calmed down a bit by this time and now we decided to approach the Gaddis. One guy tried but was chased away by one of the ferocious shepherd dogs. But after a while, we managed to get close to the only Gaddi who was manning the post at that time. He noticed us and made a friendly gesture by spreading his blanket over the ground and inviting us to have a seat.
1.45 pm
The guy must have been really bored all this while, tending to his goats and roaming around the desolated mountains for months. So, he was eager to talk and we let him go on. He is here with his uncle and a hundred goats and doesn't mind some extra company without the generation (or species) gap. We did not have to try too hard as he got going all by himself. He talked about all the passes he has crossed with his goats such as Chobia and Kalicho, the ones that even hardened trekkers hesitate to try. Trekkers and mountaineers have started traversing these terrains only in the last few decades. Till then, mostly the Gaddis used to discover these trails and had the balls to cross them.
2.00 pm
He is still talking while I am shivering. The break has cooled down my system and the wind is piercing through my inadequate clothing. He is now talking about some dengue-stricken Dehlites who visited their den in Pathankot to buy goat milk. While one is tempted to imagine the Gaddis to be some esoteric hill tribe gleefully detached with the rest of the world, that is far from the truth. During the winter they return to their respective stations, which are generally located nearer to the plains. They have been doing this for generations but they also know what is going on around the world.
2.15 pm
We finally wrapped up the conversation. We had to return, which means at least four hours more of this tedious hiking. I even forgot to ask his name and I deeply regret it. But none of us were in a position to do too much thinking. However, we recorded most of the conversation on camera. I am posting the first part. Someday I hope to edit the whole conversation in a professional manner, along with better sound and subtitles.
2.30 pm
We had quickly passed through the most delightful part of the Valley earlier. Now, we decided to give it due attention. It is a bed of wildflowers, something that every other account of Miyar has effusively mentioned. Yellow and purple were the predominant hues at that point and although the weather was gloomy, we devoted enough time to take disappointing photographs. I think these were Iris and Yellow Potentilla but correct me if I am wrong. There are many stony patches in between, all covered with orange and green lichens. Another stretch was pink with Himalayan Knotweed or Himalayan Fleece. The light was deteriorating fast though. I only wish if I could photograph these delirious sights on a bright, sunny day!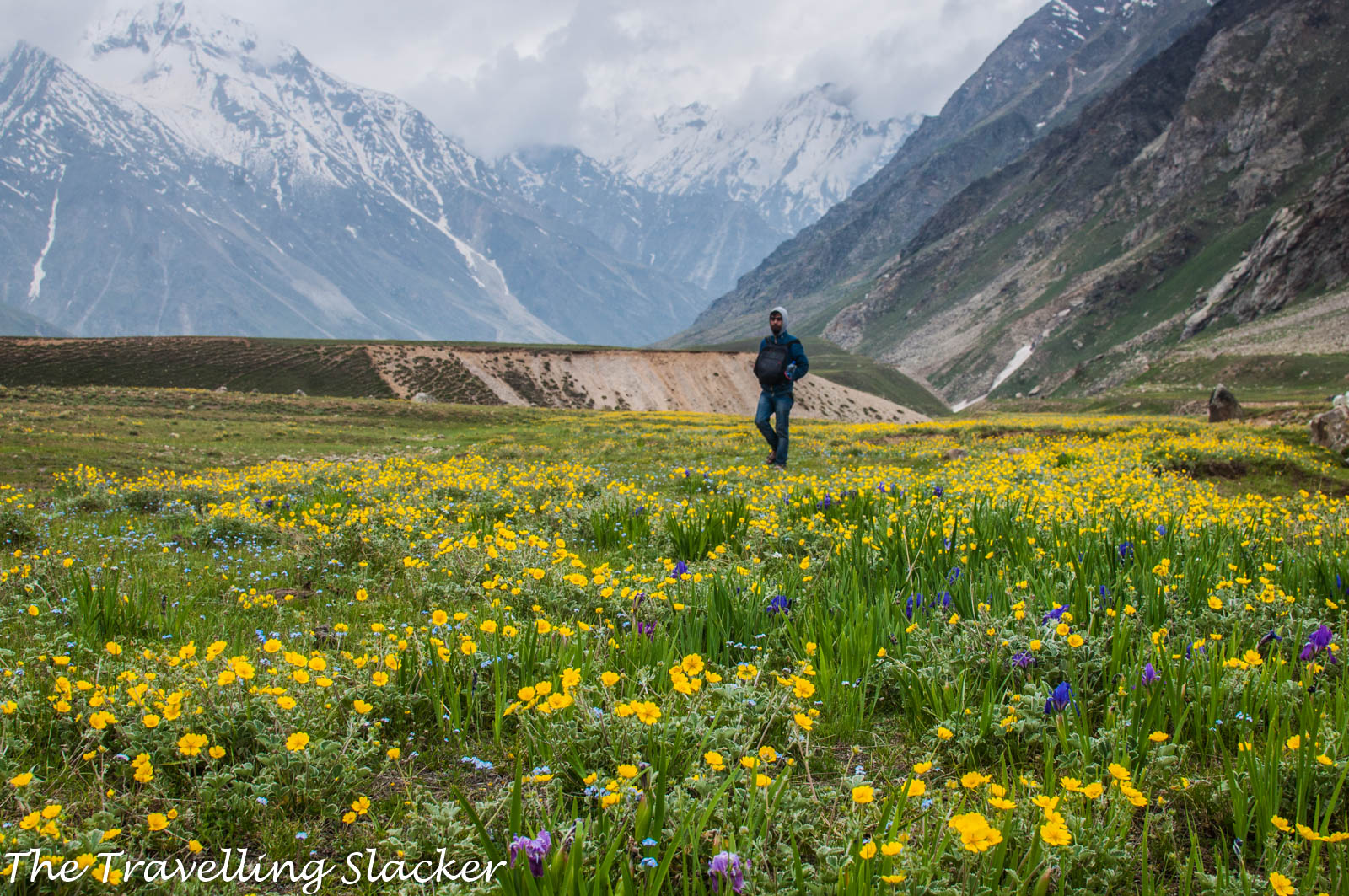 3.00 pm
We are walking fast and making rapid progress. A light drizzle has started. Saw a puddle where a lot of sheep are quenching their thirst. Nice sight, nice frame…. but… hey, we never saw it when we were coming. Have we taken a wrong turn somewhere?
3.15 pm
Now we are certain that we have lost the way! It is hard to imagine in an open plain like this. We were following the herd of sheep but they didn't have to return to the village. So, we paused to take stock of the situation.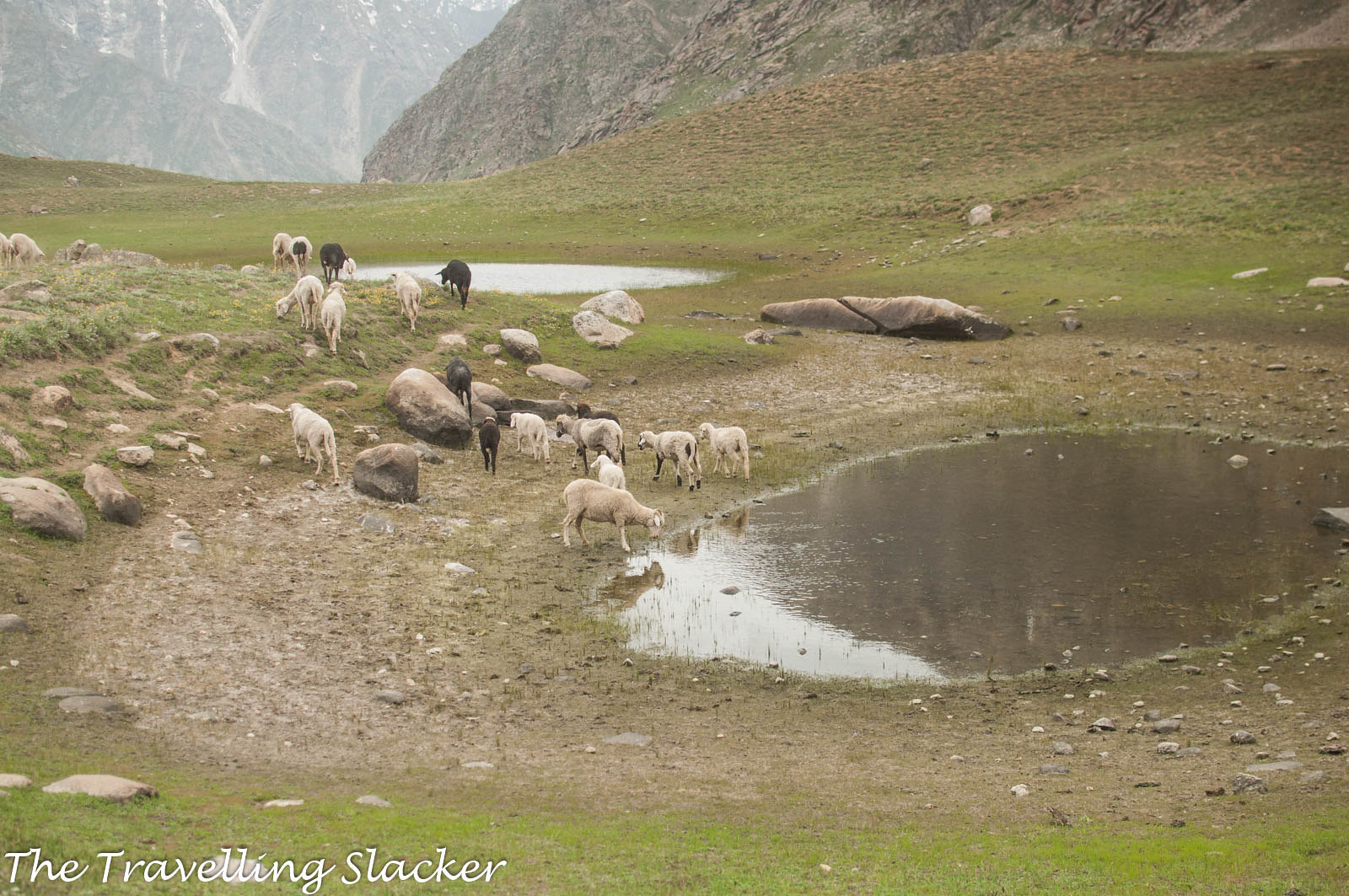 3.30 pm
We located a herd of cows with one Yak and a few Dzos mixed with them. They were crossing one stream so we figured that to be the right way. However, crossing the stream is not that easy and the bridge is nowhere in sight!
3.45 pm
A stone in the middle of the stream, a hesitant step, a slip, and a fall! Thankfully the water was not very deep. But the clothes are all wet now and I am freezing. But the worse was yet to come!
4.15 pm
That fall was just the beginning. Now I am stuck on the banks of a deeper and stronger stream. It is hard to explain how I ended up here. Others seemed to have found an easier way to the bridge. But in an effort to find a shortcut, I have got myself stuck on the steep bank with a possibility of falling into the water and drowning. Due to the earlier fall, I don't feel like taking that one step that will get me out of here. Also, in case anyone is wondering, there are no more photographs. Too exhausted for such creative pursuits now.
4.30 pm
Finally took that leap of faith and got out of the problem spot. The bridge can now be seen and the route ahead is now devoid of confusion although I have no strength left!
5.30 pm
The return feels much longer due to all the tiredness, made worse by that unfortunate detour. But we must go on as there is no other option.
6.00 pm
Finally nearing the village. Every bone is screaming in protest.
6.45 pm
Crossed the village and the Miyar Nala one last time. Almost 30 Kilometres had been covered in one day! Decided to rest by the side of the river. Another one is being rolled. That is all for today. Even writing about it has been a tiresome exercise!
———————
Miyar Valley Trek DIY Guide
How to reach Miyar Valley?
The easiest way to reach Miyar is to first reach Keylong by crossing Rohtang Pass from Kullu or Manali. Next morning get the 8 AM bus going to Khanjar, which is the last village in the valley. As a matter of fact, there is no road till Khanjar and the bus goes only till Shukto, just before Khanjar. You can stay here and then trek the next day.
Where to stay at Miyar Valley?
The best option here is Tashi Homestay at Shukto. I have been told that one can also stay in other villages like Tingrit and Urgos but Shukto makes perfect sense as it is the last road-head and the bus stops right in front of it. Per head cost here should not be more than INR 300-400 for a day. And remember that this also includes food. It gets cheaper if you have more people in the team.
How long is the trek?
The actual trek is a 5-6 day trek that takes you to the Zanskar region of Ladakh through the Miyar Valley and Kang La. However, one can also visit the valley and come back. Most people do it for 2-3 days while camping in the valley. We had to do it in one day because, as you know, I am always on budget and never have money to hire guides and supplies.
What is the average altitude of the valley?
Even the last villages are around 3500 meters. The plain valley should be close to 4000 meters. In order to reach Zanskar, you will have to cross the far higher Kang La (more than 5400 meters). There are also many peaks in the valley that attracts climbers.
What is the right season for Miyar Valley Trek?
As you might have guessed already, it mostly remains inaccessible in the winter and I doubt if the snow will clear even in May. So, you basically have a brief window between June and October.
Is it similar to Ladakh?
Well, as I have mentioned earlier, the region borders Ladakh. So, it offers the best of both Himachal and Ladakh as you gradually proceed. Of course, that does not mean I am done with Ladakh. I still haven't made a proper exploration of Ladakh and reading Ladakh travel guides nowadays, hoping to get there soon.
How long is the day trek?
After the initial climb, you get to walk on a flat plain, which is easier. However, it is also a very long stretch. Overall, our hike was around 13-14 KMs long one side. It is easy if you are camping. But we returned the same day, and also made a detour as we lost the way. So, we ended up covering around 30 KMs in one day.
Where do I find guides and supplies for long trek?
I only did the first part and returned the same day. I did it without a guide but as you can see, you will need them for longer adventures. You can ask for local guides in the villages where you stay. Someone will surely turn up. But if you need supplies, it will be better if you buy them from Udaipur, the last town en route.
Phone and data connectivity in Miyar?
Only BSNL connections work in the valley. Till Udaipur my Airtel worked (No data only calling).
Should I take my stock of Old Monk?
You can get them from Keylong or maybe from Udaipur. However, you can always score some local liquor for a change. The good people at the Homestay should be able to help.