Aihole, also mentioned as Ayyavole and Aryapura in various inscriptions, was an important center for Chalukya's between 6th to 12th century AD and most of these structures were built between 7th to 10th century AD. The history of human settlement here is much older though and this area on the banks of Malaprabha river is believed to have been inhabited even during pre-historic times. It was the last place that we planned to visit during our Badami trip. We were already tired after covering Mahakuta and Pattadakal earlier that day and the heat was not relenting. We also had to return and catch our train back to Bangalore later in the evening. So, eventually, we ended up exploring only one spot in Aihole although this is a huge area with a lot of monuments and what we saw was probably 5% of what Aihole has to offer. So, this will be a short and disappointing post but even this 5% included some of the most unique structures I had ever seen.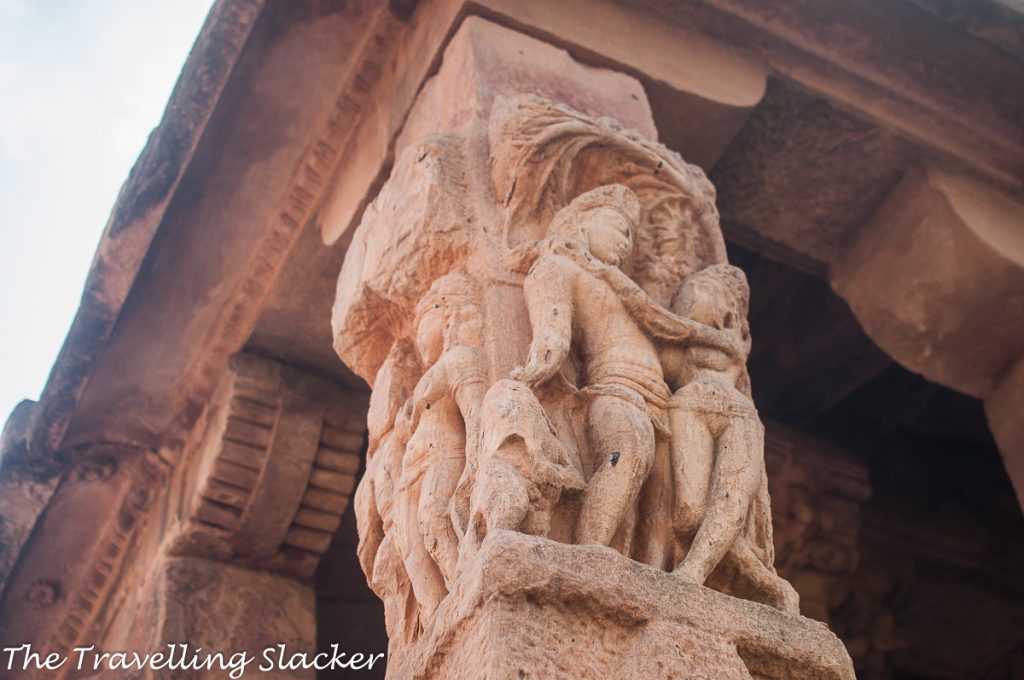 So, the archaeological treasures of Aihole are scattered all around the eponymous village with as many as 120 stone and cave temples. The majority of them are Hindu Temples but there are Jain and Buddhist complexes too. Clearly, one needs multiple days to cover all of them while we barely had an hour, that too in the oppressive heat. So, our autorickshaw driver took us to the central complex with the most iconic of Aihole monuments, i.e. the Durga Temple & more or less, that is what we managed to see along with the museum and a couple of other structures on the same compound.
Durga Temple: What is Apsidal?
So, Aihole was one of the oldest settlements of the Chalukyas, probably from a time when they were not that big a power. As they spread their empire, this area grew prosperous and these iconic structures started coming up one by one. But most importantly, they started experimenting with their architecture and their style reached maturity in the monuments of Pattadakal.
So, these experiments are the reason many of these temples have very unique shapes that are hard to describe. For example, the Durga Temple itself has a very unique shape which is apsidal and round-ended. Don't worry if it sounds confusing as even I did not know the term "apsidal" till I got there and read the information board. Just see the image below to understand what it means & rest assured that you will not see a temple-like this anywhere else. The classical name of this apsidal design is "gajapristha" (back of the elephant), as mentioned on a board inside the museum on this site (see the next section).
Coming back to the temple, the name "Durga Temple" is somewhat misleading. There is no image of Goddess Durga inside and the name may have come from "Durg" (Fort) and maybe there were fortifications here which no longer exist. The temple was forgotten and neglected for centuries before getting restored by the ASI and so we don't exactly know what used to be inside during its heyday. However, there are dashavataras all over the walls. So, it may have been a Vishnu temple. A circumambulatory path encircles the inner sanctum and a round along this path will let you savour the excellent craftsmanship on display on the walls as well as the pillars. Also, I did see Durga sculptures on the walls of one of the temples in the compound. So, we never know!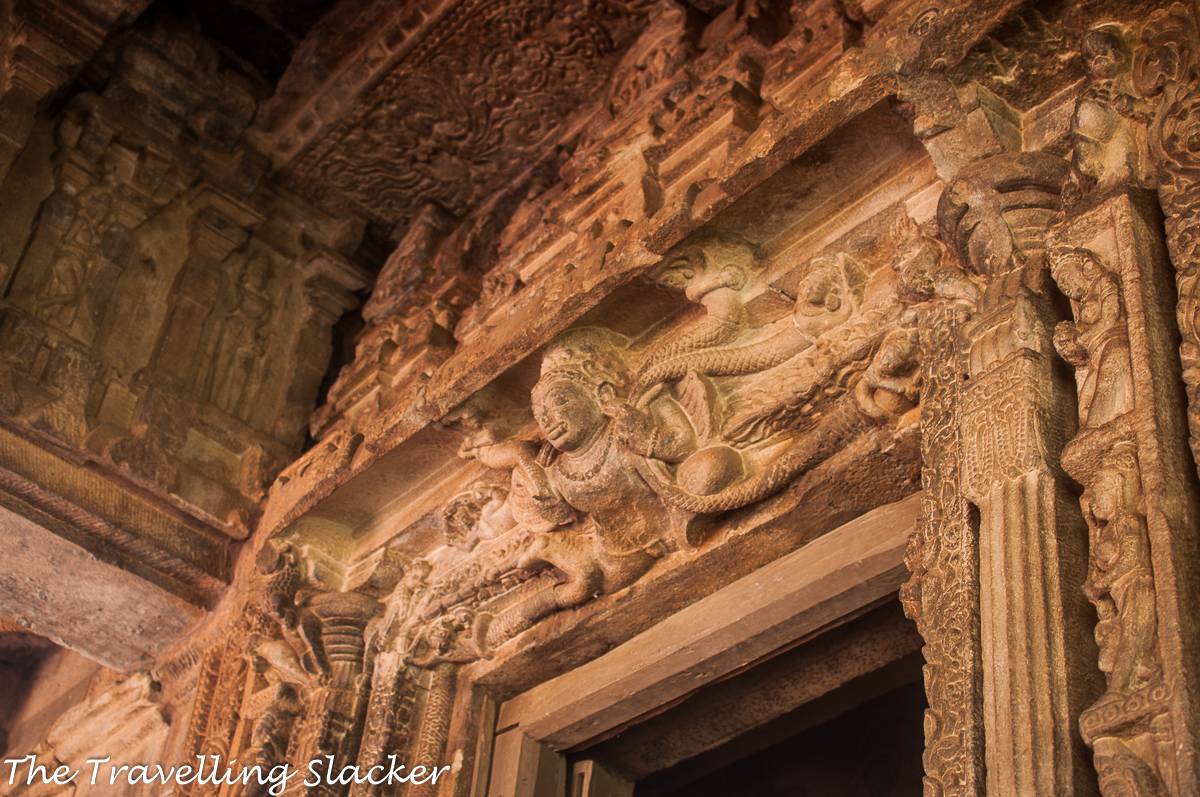 A smaller temple nearby is called Suryanarayana Gudi. Built in the 7th-8th century, it has a Rkhanagara (curvilinear) Shikhara over the Garbhagriha and has four pillared frontal Mandapa. The Rangamandapa has four pillars and 12 half pillars and also has Kakshashanas. The Garbhagriha doorframe has Garuda at the lintel holding serpents and also figures of Ganga and Yamuna. The sanctum has two feet tall Surya figure.
Aihole Museum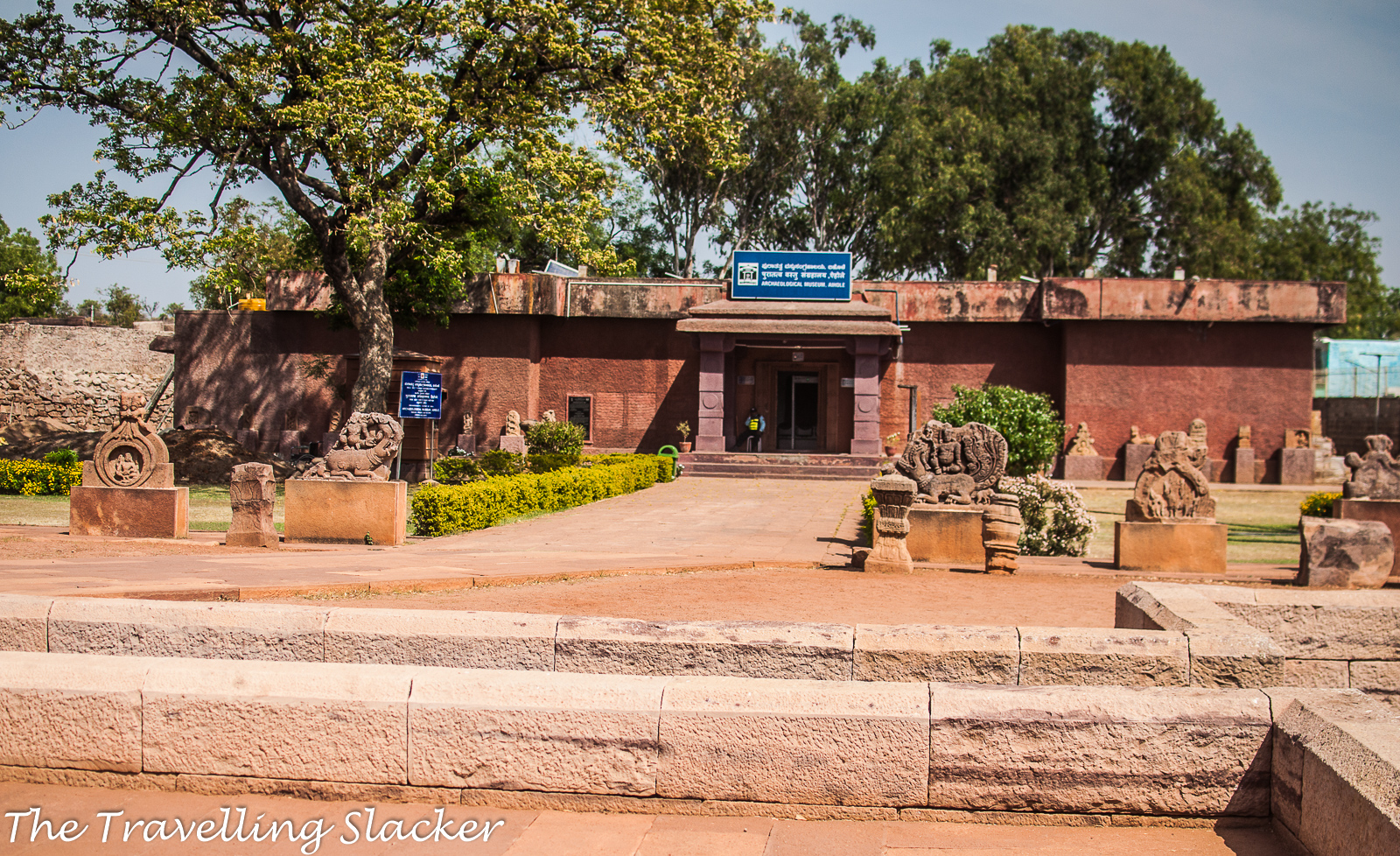 The museum was nearby. It was air-conditioned and so we went inside for a few minutes of relief. It was a lot of useful information available. APart from artifacts excavated in this area, it had a lot of illustrations and information boards explaining the technical aspects of Chalukyan architecture. It seemed like a laboratory for the 1st millennia architects. They built temples of various styles and they were used as prototypes for constructions in other places. There are some interesting items kept outside the museum, especially the makara statue is worth noting. (It goes without saying that photography was not allowed inside).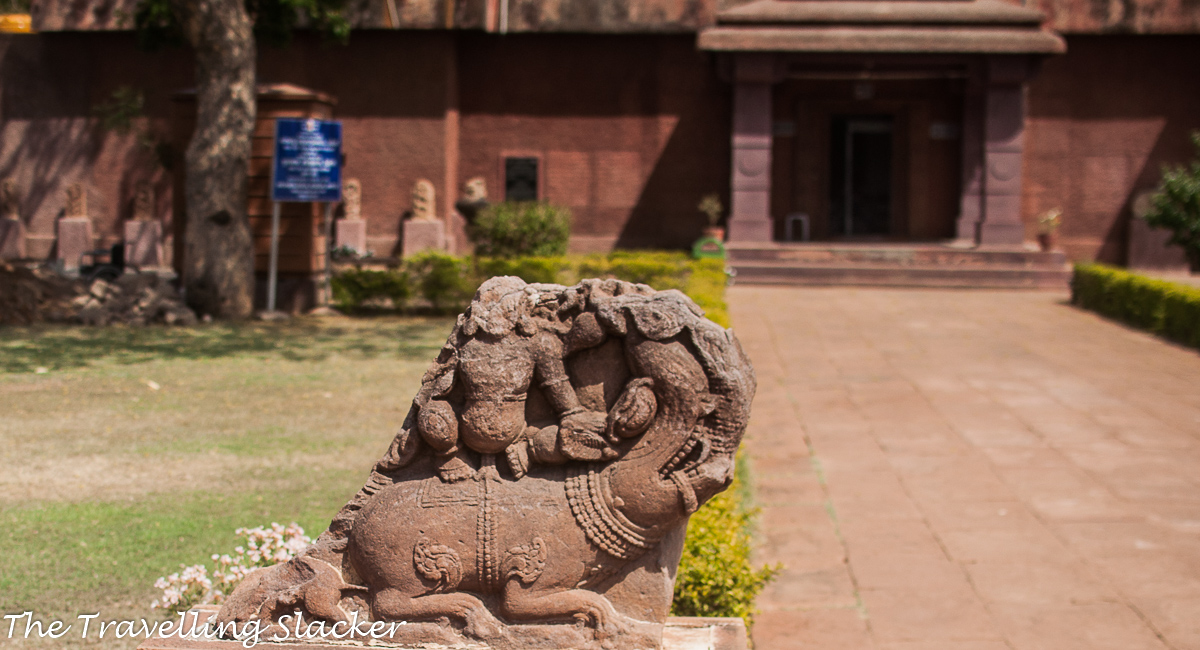 Ladkhan Temple
The other notable temple nearby is the Ladkhan Temple. Originally a hall here probably was where Pulikeshin I had performed a horse sacrifice and later used for religious functions also, it became a Surya temple and Shivalaya. At the center is an elevated Nandimandapa surrounded by four pillars reaching the roof and is surmounted by partially damaged curvilinear Shikhara with the figure of Surya on the front and the slanting ceiling radiates from the Shikhara above the Nadi at the center. The massive pillars here are engraved with amorous couples and their imageries.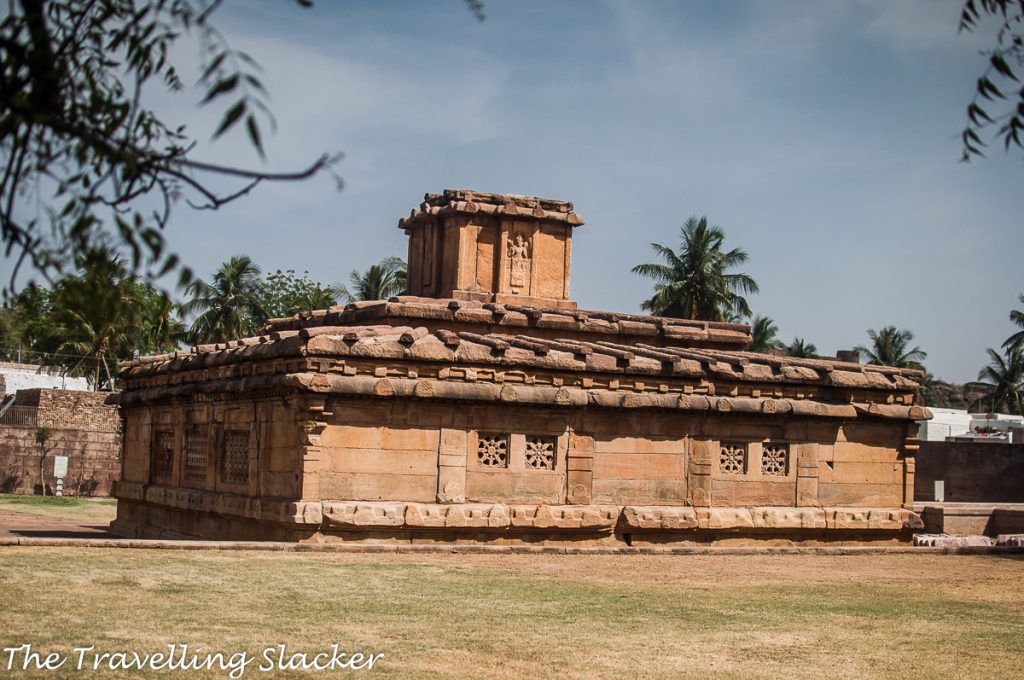 This is another temple with a very unique and irregular shape that  I can't really describe in words. Even more confusing was the name but then I was told that this name is also misleading, just like the previous one. Lad Khan was someone who stayed here in the medieval times, centuries after these temples were deserted and the Chalukya's were long gone. He was probably some Bahmani nobleman.
Gaudaragudi Temple
There were a couple of smaller structures in the compound. One of them, for which I could locate the information plate, was called Gaudaragudi, which is apparently one of the oldest temples here dating back to the fifth century. It was believed to be Mahalaxmi or Bhagavati temple that stands on an elevated platform with 16 pillars. This also has a sanctum with a circumambulatory path. There are Kakshasanas with beautiful kalasha decoration. Upper beams are highly embellished with chaitya loops housing human head. The entrance of Garbhagriha has Garuda at the lintel with Gajalakshmi with four elephants above it. The importance of Lakshmi (Goddess of wealth) probably indicates that it was an important trading center too).
Just to wind up… here are a few more images… I forgot which temple they belonged to…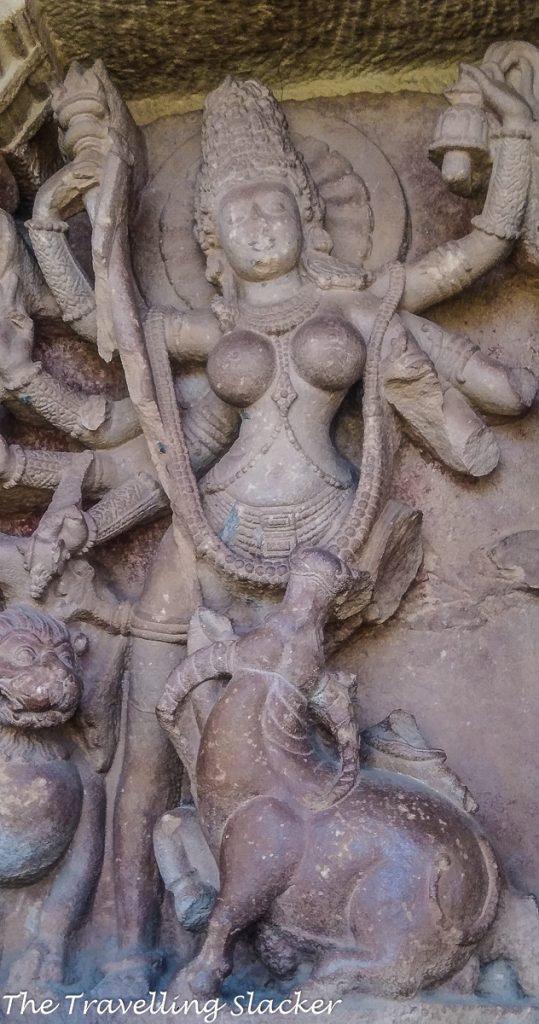 How to Reach Aihole?
Aihole is around 25 KMs from Badami and 10 KMs from Pattadakal. Badami is well-connected to Bangalore. People generally cover all three places together. However, considering what I could not cover, I think Aihole deserves a standalone trip!
Anyway, you can read the Badami Travel Guide for more details.
Also, go through my Pattadakal Blog & Mahakuta Blog