When we talk about tourist places to visit in Ladakh, there are two-three attractions that everybody will be able to tell. This includes the big lakes of Pangong and Tso Moriri, the sand dunes of Nubra, and the monasteries around Leh. However, Ladakh is a vast region and there are scores of attractions that remain under the radar. So, this is a longish list of various things to do and famous places to see in Ladakh for tourists.
I have tried to be as comprehensive as possible but I am sure there are more places. In order to keep it organized, I have divided the places to visit in Ladakh into eight major areas namely Leh and around, Lamayuru and Around, Nubra, Changtang, Aryan Valley, Kargil, Suru Valley, and Zanskar.
Top Tourist Places to Visit in Ladakh
Leh and around
Leh is the vibrant capital city of Ladakh. Apart from the attractions within the city, there are several important villages and monasteries within the 50 KM radius of the city.
Leh Bazaar/Main Market
Leh Bazaar is the heart of the city. Most shops, eateries, and all possible facilities you may ask for, is present here. The modern-day market has been built with a lot of care and is one of the finest mall roads in India. The old town is just located behind the glitzy new market.
Leh Palace
The Leh Palace looms large over the city. It is located atop a hill and is visible from all parts of the city. The Royal family no longer lives here and so, visitors can buy a ticket and explore the multi-story building. The interiors are mostly empty nowadays but it looks great from a distance, and also the city looks great from the top of the place. There are multiple important temples that are also considered a part of the palace complex, namely Chamba Lhakhang, Guru Lhakhang, Soma Gompa, and Chenrezi Lhakhang. Another major monastery called Tso Lhamo is located a bit higher up in the mountains. This palace and the museum metnioned below are part of the Old Town of Leh and you can opt for a heritage walk here. 
Tsemo Gompa
The Namgyal Tsemo Monastery is probably the most photogenic monument in Leh, located even higher up than the Leh Palace. Founded in 1430 by King Tashi Namgyal, it has a three-story high gold statue of Maitreya Buddha inside, along with ancient manuscripts and frescoes. However, I felt that it looks better from a distance, just like the palace itself.In fact, it can be seen from practically all parts of the city and it ends up in your photographs even if you don't want it to.
Central Asian Museum
The Central Asian Museum is a newly built attraction in Leh. It is located behind the State Bank in the Leh Bazaar. As the name suggests, it is another tribute to Silk Road era and a celebration of Leh's status as a trading hub of the medieval world. Sadly photography is not allowed inside so I can't reproduce much of what I saw. It is a multi storied building with a brilliant design reflecting local craftsmanship. It is located in a densely populated corner of the town and so it is hard to get a clean shot of the building. I got one from the first floor of a restaurant nearby, this only shows the upper part of the building. Every floor of the museum is dedicated to one particular culture, such as Lakadhi, Balti, Kashmiri etc.
Shanti Stupa
Shanti Stupa is a popular tourist spot in Leh. It is a stupa built with the help of some Japanese tourists in the 80s. It is located at a height and offers good view of the city, especially during the sunset.
Sankar Gompa
It is a small Gompa located somewhat away from the main city, a bit higher up with good views. You will also find lot of medieval artwork in the premises of the monastery.
Zorawar Fort:
Zorawar Fort is located on the Fort Road named after it. Zorawar Singh was a 19th century Dogra general who conquered Ladakh, Baltistan, and parts of Tibet. It was a rare conquest of an subcontinental power into the Chinese territory. Although, he overplayed his hand and eventually lost his life in the harsh and hostile terrains of Western Tibet. Anyway, the fort built by him still remains. It was restored by the Indian army in 2006.
Stok Palace & Village
Stok Palace is the current residence of the royal family of Ladakh. Part of it has also been converted into a museum. Stok village is around 12 KMs away from the city of Leh. You will aso find a monastery and a giant Buddha statue at the hilltop near the village.
Hemis Monastery
Hemis is an ancient monastery associated with the great Buddhist scholar Naropa. Nowadays a cultural festival called Naropa festival is organized here every September to commemorate him. It is a massive complex with a very scenic setting atop the hill covered with willows and poplars. It is around 40 Kms from Leh along the Leh-Manali highway.
Thiksey Monastery
Thiksey is a 500 year old monastery around 20 Kms from Manali along the Leh-Manali highway. It is a massive complex, which makes you gasp in awe at the very sight of it. Reaching the top of the monastery itself is a brief hike from the road. It also boasts of a huge Maitreya statue in Ladakh which is located inside a building but occupies two floors!   
Stakna Monastery
Stakna Gompa is a comparatively smaller monastery located somewhere between Hemis and Thiksey on the Leh-Manali Road. It is also located atop a hill and the best view from here is that of the blue Indus river cutting through the dense willow forest and that of the massive Thiksey gompa in the horizon. 
Shey
Shey Palace and monastery were built around 350 years ago by the king of Ladakh. It is known for the giant copper with gilded gold statue of a seated Shakyamuni Buddha. It is around 15 Kms from Leh.
Spituk
Spituk is an important, 1000 year old gompa located just at the outskirts of Leh atop a hill. It is associated with Rinchen Zangpo, the great translator of the Tibetan world.
Phyang: Home of the Ice Stupa
Phyang is a 500 year old monastery around 15-20 KMs from Leh. The most notable thing here is the Ice Stupa project, which is a very successful and world-famous initiative to conserve water in the region.
Alchi
Alchi is said to be the oldest monastery in Ladakh. It is around 65 KMs from Leh towards Srinagar. It is so ancient that some also associated some aspects of it with the pre-buddhist cultures and rleigion of the area. You can find some of the oldest and most eclectic artworks on the walls. Alchi is also a village and you can find homestays and restaurants here.
Likir
Likir is another 1000 year old monastery around 55 KMs from Leh towards Srinagar. It has a newly built 75 Ft Maitreya statue lording over the ancient monastery. Apart from the monastery, the views are also uniformly excellent in this area.  Visit this place for more views of Stok, Likir and Alchi.
Magnetic Hill
Magnetic Hill is located around 30 KM away from Leh, just by the side of the Leh-Srinagar Highway. It is believed that the vehicles here are pulled down by a magnetic force although some people attribute this to optical illusion. Nevertheless, it remains popular among tourists and you can also go for some quad biking here.
Sangam: The Indus-Zanskar Confluence
Sangam is the confluence of the Indus and Zanskar rivers. It is visible from the Leh-Srinagar highway itself. It is a sight as both rivers have distinctly different colours. River rafting is also very popular in this area.
Gurudwara Pathar Sahib
Gurudwara Pathar Sahib is located near the Magnetic Hill on the Leh Srinagar Highway. It has stories associated with Guru Nanak who said to have visited the place and still attracts many devotees.
Basgo
Basgo is another medieval monastery on the Leh Srinagar Highway, 40 KMs away from the city. It was built by the Namgyal rulers around 300 years ago. It is located atop a hill and the views are magnificent from the highway.
Lamayuru
Lamayuru is famous for its distinctive Landscape that looks like a different planet altogether. Lamayuru Monastery is a 1000 year old monastery that many believe to be an erstwhile center of pre-Buddhist Bon religion. It is located on the Leh-Srinagar Highway between Leh and Kargil. Lamayauru is also a village that is popular among tourists because it is easy to reach. There are many homestays and hotels in the village and tourists frequent it, especially during certain festivals, mask dances are organized. From here a trek route goes towards Zanskar Valley. You can also take a diversion towards Wan La and Photoksar. These are some of the least explored villages in Ladakh.
Wanla-Photoksar-Lingshed: The Other Zanskar Road
These places are just a diversion away from the Leh-Lamayuru Highway but I am keeping them separately because many of these are not really famous places to visit in Ladakh due to remoteness but they are becoming more and more visible now because of the new, alternative Zanskar road that is nearing completion. In fact, people are already using this road to reach Zanskar, although the road still remains very challenging. The route goes via Wanla- Sirsir La-Photoksar-Lingshed-Singge La and eventually reached Padum. One can visit and stay in villages like Wanla, Photoksar, or lingshed. The facilities here will be basic but the vistas will be pristine as this route is still comparatively new.
.
Nubra Valley
Nubra Valley needs to introduction. It is one of the most popular areas in ladakh frequented by tourists. You can also go further to reach Turtuk.
Diskit
Diskit is the largest town on the banks of Shyok. There are several homestays and guest houses in this area, along with a busy marketplace with restaurants and shops. However, the most arresting view here is that of the gigantic Maitreya statue atop the hills, against the backdrop of snowy peaks. An old gompa is also located nearby.
Hunder
Hunder Sand Dunes are located just a few KMs ahead of Diskit. This is a small village located on the sandy banks of Shyok. It became famous because of the barren sand dunes along the river, covered with seabuckthorn shrubs and of course, the Bactrian Camels. These double-humped camels are some sort of an anomaly. They are not generally found in India but somehow they reached here, may be through the ancient trading routes of Central Asia. Tourists can take a camel ride or simply photograph this unique and gentle creature.  
Turtuk & Thang
Another three hours of drive from Diskit takes you to the beautiful village of Turtuk, which is India's slice of Baltistan. It was in fact with Pakistan till 1971, when the village was reoccupied by the Indian army. Since it is very close to the international border, it was not open for tourists for a long time. However, a few years ago it was opened up and not it is a very popular destination full with local homestays where you can get a glimpse of traditional Balti culture, hospitality and food. You can go further to Thang Village, which is right on the LOC and you can see the Pakistani villages from the border.
Sumur
If you move along the Nubra River, you will reach Sumur very soon. It is a village with many stay options and shops for the tourists. The 19th century Samstangling Gompa looms over the whole village but people can also find some more interesting ancient relics, belonging to the pre-Buddhist Bon religion.  
Panamik
From Sumur, you can keep driving towards Panamik, the last point in that route for the tourists. In the olden days, it was a major stop for the trade caravans. Nowadays, the primary attraction of the village is a natural hotwater spring. In fact, the water of the spring is delivered to every house in the village with pipes. There are homestays here too, so you can just enjoy the views of the Karakoram and take a dip in the natural spring. From here you can also hike to an ancient monastery called Ensa Gompa.
Siachen Base Camp
Siachen Glacier is beyond Panamik. It is known as the highest battlefield in the world. While it was never a tourist attraction, last year there was news that the base camp will be opened for tourists. However, there are many restrictions and it is not open for international visitors for obvious reasons. Use your own discretion while trying to visit.
Changtang & Great Lakes
The Changthang Plateau is the region that eventually extends to Tibet. Tourists can only explore the areas that are inside the Indian borders but there is enough in this sparsely populated area.
Pangong Tso
Pangogng is probably the most famous places to visit in Ladakh. Especially after a few popular Bollywood films were shot near the lake, it has become a huge tourist draw and the organized Leh-Pangong road trips are the most popular draw in Ladakh. It is a high grassland lake that has also been declared a "Ramsar Site" for conservation, as the lake is frequented by a lot of water birds.  While it covers a larger area than Tso Moriri, 60% of the lake still lies on the Chinese side. It takes around 5 hours from Leh to reach Pangong via Chang La. It takes around 5 hours from Leh to reach Pangogng. It is possible to make a day trip but the best option is to camp out there for at least one night to fully appreciate the beauty of the lake.  
Tso Moriri
Tso Moriri is the other great lake in Ladakh. Unlike Pangong, this one is entirely within the Indian side of Ladakh. The lake and surrounding area are protected as the Tso Moriri Wetland Conservation Reserve. It covers a major part of the Rupshu Valley. Apart from water birds, you can also expect to spot various wild mammals in these plains around the lake including Kyang (Tibetan Wild Ass), Lynx, Bharal (Himalayan Blue Sheep), Himalayan Marmots, Tibetan Gazelle, and even the elusive Snow Leopard, if you are very lucky. Korzok is the main village near the lake, where you can find accommodation.
Hanle
Hanle is one of the remotest villages in Ladakh near to the Chinese border at 254 Kms from Leh. It is as remote, secluded, and unpolluted as you can ever imagine and a night here can be an experience of a lifetime. It has an ancient Drukpa monastery but the more famous landmark here is the Indian Astronomical Observatory. A telescope being built here will be world's highest telescope as well as the second-largest gamma ray telescope. It is remotely controlled from the ISRO center in Bangalore.
Tso Kar
Tso Kar is a comparatively smaller and lesser-known lake in the Rupshu valley, not far from Tso Moriri. It is closer to the More Plains and by extension, the Leh-Manali highway. Kiangs, Tibetan gazelles, Tibetan wolves and foxes can be easily seen in these areas along with numerous birds. As a matter of fact, there are several other smaller lakes in this area.
Chushul
Chushul is a beautiful remote village very near to the International Border. Inhabitants here are dependent on rearing yaks and goats. In the winters, when it gets almost cut-off with the world, ice hockey takes center stage at the frozen village. The nearby pass of Rezang La saw an epic battle during the 1962 Indo-China war where a small band of Indian soldiers sacrificed themselves but saved this region. So, you can also find a war memorial here.  
Puga
The valley around Puga has become famous of late due to its geothermal hotspring and the grassy, marshy landscapes. It is on the way to Tso Moriri and not far from Tso Kar.
Dah-Hanu (Aryan Valley)
This is the other route (NOT the highway) connecting Khaltse to Kargil via Batalik. This area is primarily famous due to the Borkpa people, the indigenous inhabitants here who follow their own religion and traditions. Nowadays they promote this region as Aryan Valley, exotic places to visit in Ladakh.
Domkhar Rock Art Sanctuary
Domkhar is a big village famous for the Rock Art Sanctuary with the best-preserved specimens of prehistoric petroglyphs and rock art in Ladakh. The sanctuary is located on the highway itself, on the banks of the Indus River, and is a must visit for history lovers.
Dah, Hanu & Biama
Biama is the first real Brokpa village on the main road. It has a big monastery atop the hill, which takes a bit of hiking. Dah is a few KMs ahead of Biama. It is the best-known Brokpa village with a couple of homestay where most people stay. It has many ancient ruins of providing vital clues of Brokpa history. There is another village called Baldez on the other side of the river across a hanging bridge. Hanu is also nearby but takes a diversion higher up into the mountains.
Garkone & Darchik
Beyond Dah, if you keep going, you will find two more major villages of Brokpas. Garkone has a homestay or two and so it is also a good place to stay and explore Brokpa life.
Kargil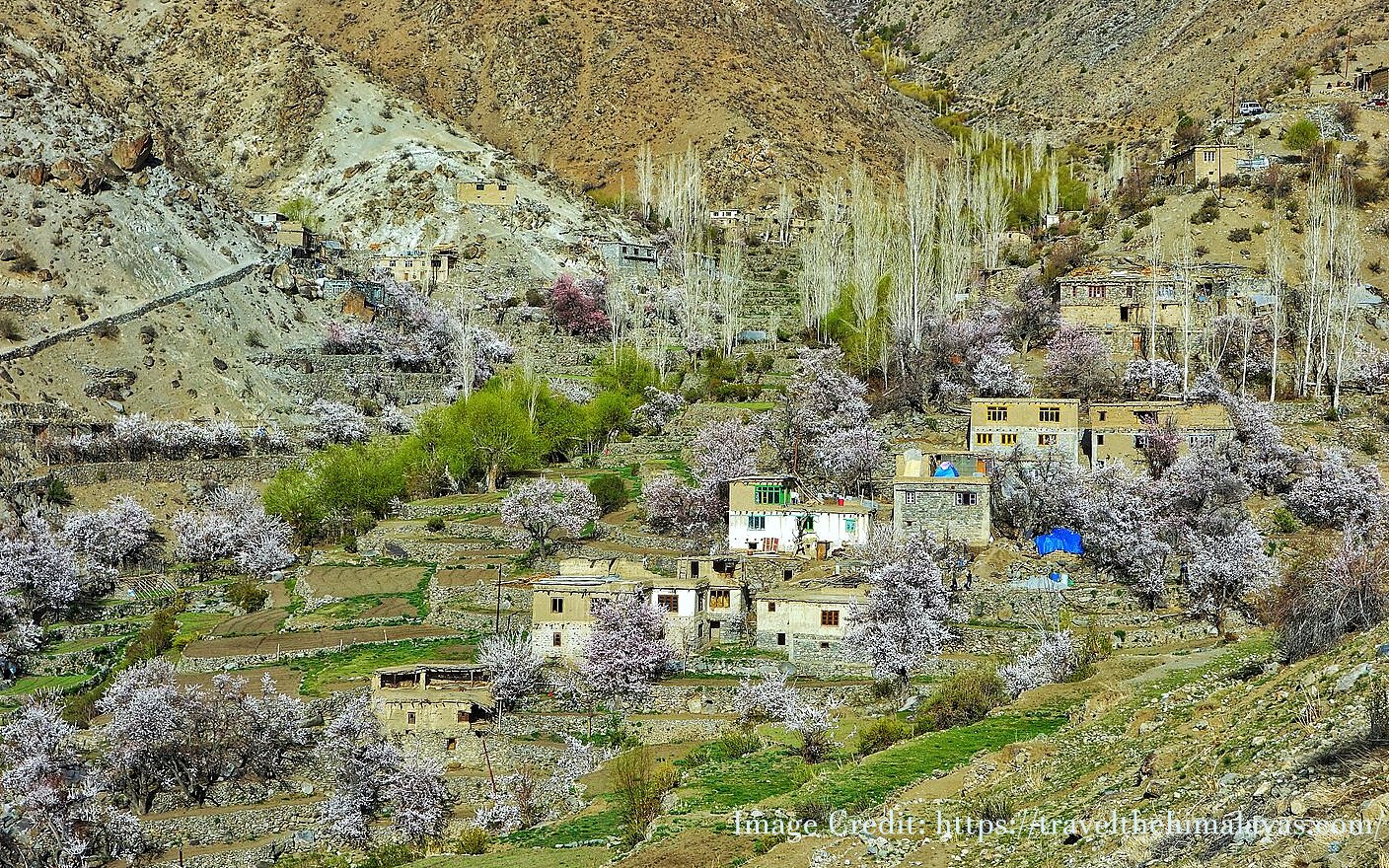 Kargil is the other major town in Ladakh apart from Leh. It is somewhere in the midpoint between Leh and Srinagar. This is again a culturally different region with an ancient history to explore. Before the alternative routes were built, Kargil to Padum road used to be the only road to Zanskar. It was once a battlefield during the 1999 Kargil War. Due to this reputation, it was not always considered among the places to visit in Ladakh. However, it is gradually changing that image.
Munshi Aziz Bhat Museum
It is a family-operated museum located in the town. It preserves many invaluable artefacts, documents, weapons and other things dating back to ancient times. It covers the history of the ancient trading routes and the connection of this region to Central Asia. 
Hunderman Village
Hunderman is a small but beautiful village, around 30 mins drive away from Kargil. It is located just on the LOC, overlooking Pakistan. Visit it for poignant humane tales of the people affected by partition. One of the houses has now been converted into a small museum to preserve memories of that era.
Mulbekh: Buddha on the Rock
Mulbekh is a small place around 40 KMs before Kargil (if you are coming from Ladakh). It has a couple of guest houses and restaurants but it is famous mainly for the giant rock-cut Maitreay Buddha on teh face of a hillock. While the exact details are not known, according to some people, it is almost 2000 years old.
Drass
If you are coming from Srinagar, you will leave Kashmir by crossing the Zoji La and Drass will be the first town you come across. So, technically it is the gateway to Ladakh. It also saw major action during the Kargil war and a war memorial is also located here.  However, there is more to Dras. There are many enchanting trekking routes in this area and many ancient relics can also be found scattered in the region. The area around Drass is called Mushkoh Valley.
Apati Buddha
Apati village is around 16 KMs from Kargil town and it is famous for yet another rock-cut statue, that of Maitreya Buddha. After the village, it is known as the Apati Buddha.
Suru Valley
Suru Valley is a surprisingly lesser-known area. It is located just between Kargil and Zanskar. This sparsely populated area has many scattered villages, all blessed with unadulterated beauty and majestic views of Nun Kun peaks. Villages like Sankoo, Panikhar, Kartse Khar, Parkachik, and Rangdum don't easily ring a bell but they have a lot of hidden treasures. For example, the rock-cut Buddha of Kartse Khar will almost remind you of the tragic Bamiyan Buddhas of Afghanistan. Although not frequented by too many tourists, most major villages have accommodation facility by the tourism department.  
Zanskar
Zanskar is practically the Holy Grail of Indian Himalayas. It is so remote that it takes several days to reach it, no matter which way you approach it. The road to Zanskar starts from Kargil, passes through Suru Valley, and eventually enters the valley which almost sounds near-mythical due to its remoteness. Padum is the only major town in Zanskar, surrounded by numerous small villages. It is a Buddhist area and as expected, many ancient monasteries can be found here such as Phugtal, Karsha, Stongde, Sani, Bardan ect. There are many trekking routes connecting it to the main parts of Ladakh. A new road connecting Padum to Darcha in Himachal Pradesh is almost complete and when it opens, it will provide an easier secondary route to this elusive region.
Karsha Monastery
Karsha monastery was founded in the 11th century and is the largest monastery in Zanskar housing 150 monks. Walls of the monastery are adorned by mythological paintings which are 100s of years old. It also has a huge collection of Thangkas (paintings on clothes). It is around 10 KMs from Padum.
Stongde Monastery 
Stongde is a the second largest monastery in Zanskar at around 18 KMs from Padum. Founded in 1052 AD, it boasts of many ancient murals, scriptures, and paintings.
Phugtal Monastery 
Phugtal Monastery is an ancient and iconic monastery built in a natural cave. You need to trek for a couple of days from Padum to reach it and it takes another day to come back. However, this is the kind of experience you can't find anywhere else.