I was counting my days in Leh. It was already October. The winter seemed to be too quick to arrive that season, unlike that TV Show which made people wait for 7 seasons for the winter. All the streets looked deserted and there were rumours of various highways closing down. The Manali-Leh bus stopped 20 days ago and I'd arrived on the last bus of the season without figuring out the return strategy. The few remaining tourists were flying in and out, without depending on the road network. It was occasionally drizzling, making it bitterly cold. I had no hope left for any other action and managed to book a seat in a shared car leaving for Manali on the next day, although I was highly doubtful about the feasibility. This is when Srinivas, who had been staying in the same hostel for the previous few days and had a return flight next day, suggested that we opt for one last adventure for the season.
He rented a bike, and asked me to join in and suggest places to visit, which he assumed I knew, considering my earlier sermons about Why one should visit Turtuk. I decided to use this opportunity to visit the places that I missed during my previous ride. So, I picked Stok Palace as the first stop of the day. For those who don't know, Stok Palace is the residence of the royal family of Ladakh. They moved here from Leh Palace around 1820 AD after repeated invasions made Leh vulnerable. It is only 12 KMs from Leh, but one needs to take a diversion from the Leh Manali Highway at Choglamsar, cross a small bridge over the Indus, and go a bit further. The weather was deteriorating as we moved. In fact, I did not have enough layers for this situation and my bones were feeling the coming winter. Although the sky looked lusty and scandalous, I could not fantasize much about it as I was already shivering.
At Stok Village
Anyway, we reached the palace after a while. It is set a bit higher up from the ground covered with golden poplars of autumn.We hiked a bit to reach the courtyard but soon learnt that the museum had already closed down for the season. In any case, we were in no mood for an educational museum visit. So we just roamed around the clicked photographs. It is a magnificent building, and unlike the abandoned Leh Palace, even the interiors of the Stok Palace were well maintained. In fact, part of the palace has also been turned into a heritage hotel. However, I think that also works during the peak season and we could not see anyone at that point except one caretaker who was brooming the open courtyard.
From the palace, we could see a giant Buddha statue that no one had told us about. Actually these giant statues have become fashionable and are being built all over the places of Tibatan sphere of influence (except probably real Tibet, where they are struggling to continue their traditions). So,we figured out that it is stop a hill near the monastery, higher up from the palace. The area is actually called Stok Village and so, the palace, the gompa, and everything else here is named after the same. It was an uphill ride and by that time it had started snowing. It was not heavy snowfall but light flakes were hitting my face. We spent some time admiring the views of the newly buildt giant Gautama Buddha statue as well as the 15th century Stok Gompa but had to retreat soon considering the hostile weather.
This village is also the starting point for Stok Kangri Trek, which is the highest trekable summit in India at 6153 meters.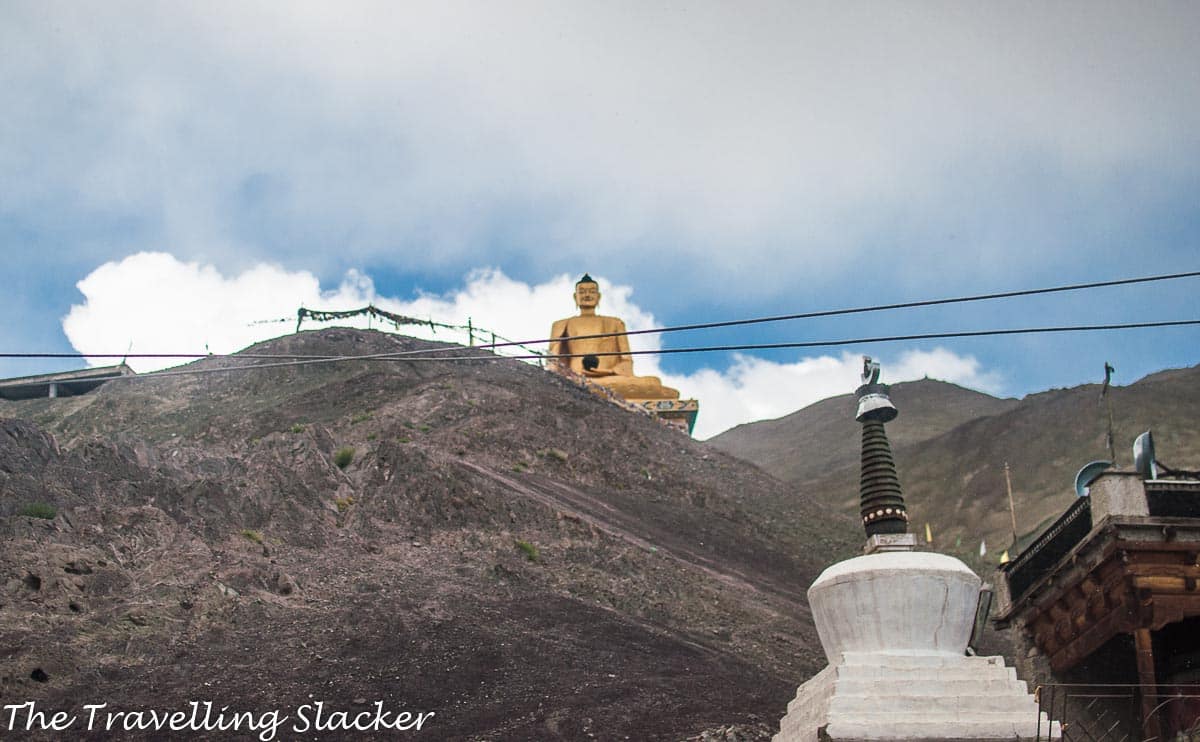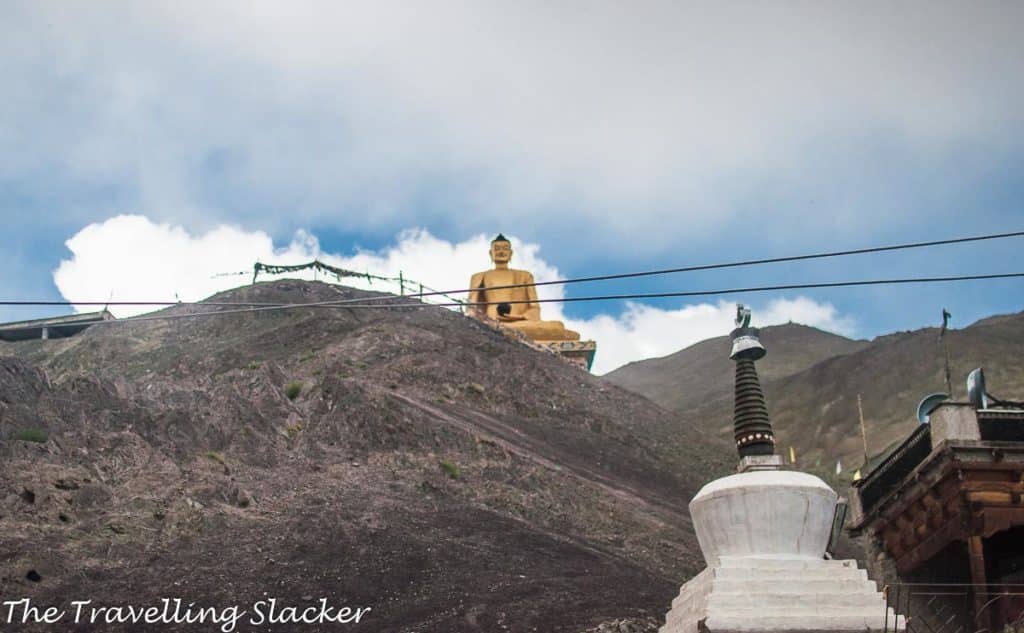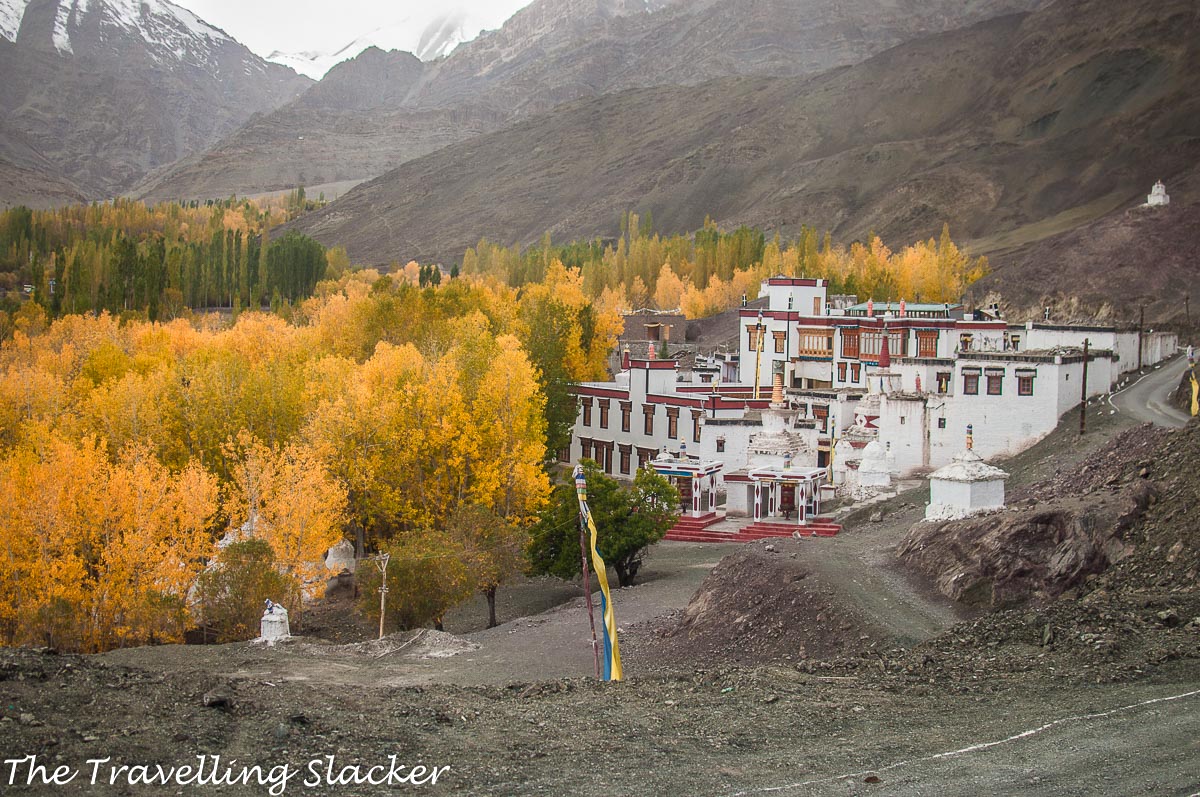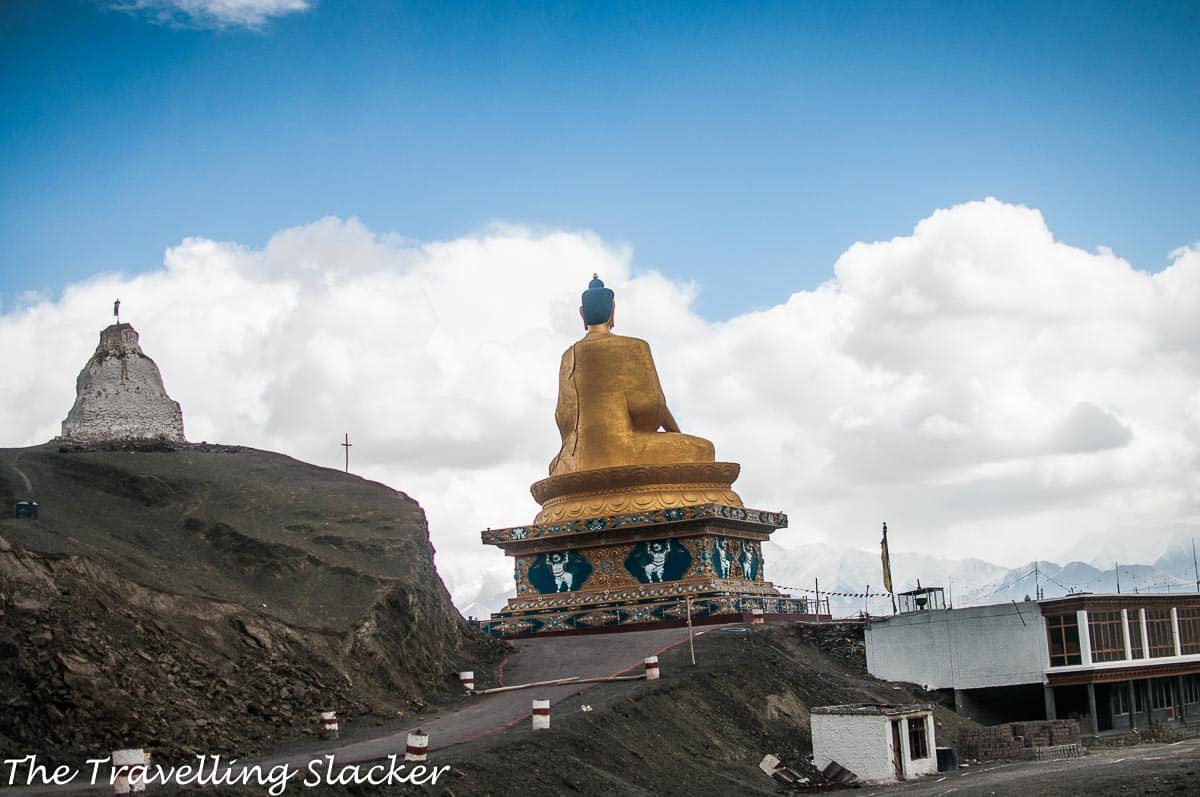 At Likir Gompa
After that we needed to decide what to do next, but more importantly, we needed to leave the freezing Stok village. The horizon was in fact sunny towards the city although Stok was freezing. So, we decided to ride back towards Leh and then take the Kargil highway, in an effort to reach Alchi and Likir. It was noon by that time and this part was mostly sunny, at least for the time being. We crossed the usual touristy suspects such as the Magnetic Hill, Gurudwara Pathar Saheb and the confluence of Indus and Zanskar. The way to Likir was a slimmer and fainter detour from the highway, which is easy to miss, if not for the typical gateway standing there amidst all the barrenness.
It took another 10 minutes to finally get a glimpse of Likir, which is not just a gompa but a village perched atop the hill, amidst the golden harvests of autumn and with the snowcapped peaks in the backdrop. We reached the monastery at we another 10 minutes and found that it also has a gigantic Maitreya Statue. It can be seen from a distance and was captured by teh camera too but I had not noticed it myself from the bike and was shooting blindly). By that time I had seen so many monasteries that it looked a bit repetitive to me. I rather focused on making the most of the autumn as I did not seems to get tired of that. It ws also the best time of the day, the sun was shini g brightly, I was finally recoverjng from the freezing experie Stok.
Likir (Lu-Khyil=Water Spirit Circled) owes its name to the Nagas (Seprpent Spirits) who book lived here. Lachen Gyalpo, the fifth king of Ladakh offered land to build this monastery in 1065 AD to Lama Duwang Chosje A great master of meditation. So, this makes LIkir one of the older monasteries in the region and a very important one. I think one needs to devote more time to fully appreciate what it has to offer. For a quick ride like this, I could jsut clock a few more photographs and move on.
At Alchi Gompa
Alchi is a bit further from Likir, and needed a significant detour from the highway. It is also on the other side of Indus, so we also had to find a bridge to cross the river. We were doubtful about it as it was getting darker and colder very rapidly. Nevertheless, we decided to go for it too. It took a while to reach and Alchi seemed to be a much larger village, complete with homestays and restaurants for tourists.
Now, Alchi is one of the oldest gompas in Ladakh, even older than Likir. Interestingly it has not been revamed too much unlike the otehr ones and nor does it have a giant Buddha statue. The austere houses and ancient wood-carvings here finally gave me the sense of anquity debied by other monasteries. This thousand year old monastery was apparently founded by Rinchen Zangpo, the great translator who translated the Buddhist texts from Sanskrit to Tibetan, and also founded many monasteries in the Himalayas.
It is hard to describe Alchi. Dozens of chortens of various size and vintage are scattered all over the place, spread up to the banks of Indus. The ancient frescoes here are famed, and I did visit them. However, the rooms were too dark inside for photography. This is another place that deserved more time. I think next summer I will spend a few days in the village. For that day, it was already too late, and we somehow managed to return by 7 PM, after giving up on a few other plans.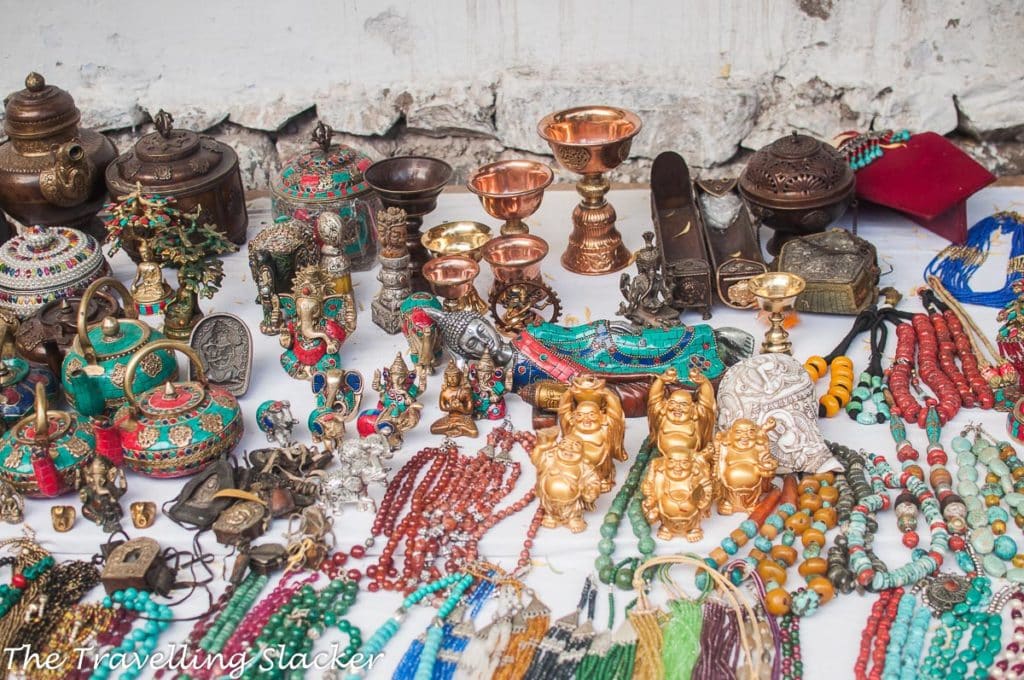 Escape from Leh
The eascape from Leh next day looked even more unlikely. The Leh-Manali highway had closed down due to sudden snowfall but it was cleared again by the authorities although it was obvious that it won't last long. The driver said he will get me to Manali on the same day but it sounded nearly impossible. We started at around 6 AM, along with a local family with kids, who were also trying to move to some place in the lower hills for the winter. Most of the road was covered in snow, and even Keylong was not only under snow but was also drowning in darkness when we reached in the evening. The driver was hoping to cross the "yet to be officially opened" Rohtang Tunnel to reach Manali quickly, but as it turned out, it was only used for some emergency cases and general cars were not being allowed. So, he had to cross obver Rohtang at night when it was pitch dark. He left me near Manali bus stand at around 11 PM. He was planning to drive back the next morning. I was so exhausted that the next day I just kept sleeping in my hotel room. Anyway, just let me leave you with a few images of Tanglang La from that day.