Recently there was a news report that Rhododendron cures "that" virus that has been haunting us for two years. This was probably another clickbait item and the news died down soon. Nevertheless, what was amusing is to see people lapping up the news cluelessly. Even some Assamese newspapers reported about the "magic plant" that grows in Himachal and Uttarakhand, without realizing that they can get it in parts of Arunachal, barely 5-6 hours from Guwahati. This has to do with our formative years spent in rote-learning that deracinated syllabus (Even I had no clue about them till I started trekking).
Anyway, it's that time of the year again. I've talked so much about them over the years that my regular readers may get irritated seeing this post. However, I think it is a good time to make this list.
Do note that it can be found all over the Himalayas and adjacent ranges. So, there can be literally hundreds of treks out there. I have only picked treks or regions that are better-known and easy to reach. Most of these, except a couple of them, can be done solo, and on a budget.
Do note that prime Rhododendron season is March and April. It may start blooming from the end of February and last till early May.
Top Rhododendron Treks in India
Chopta and Around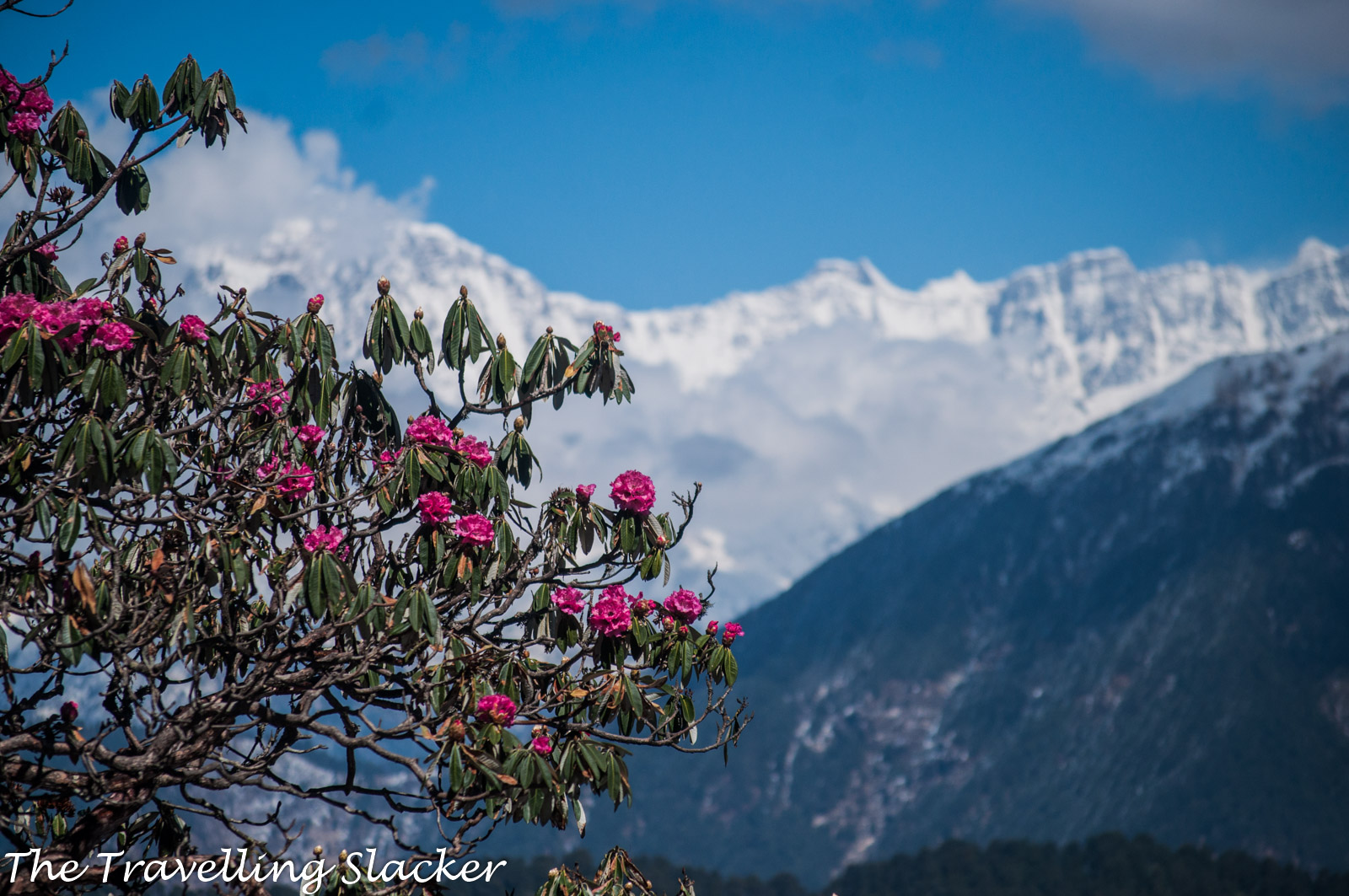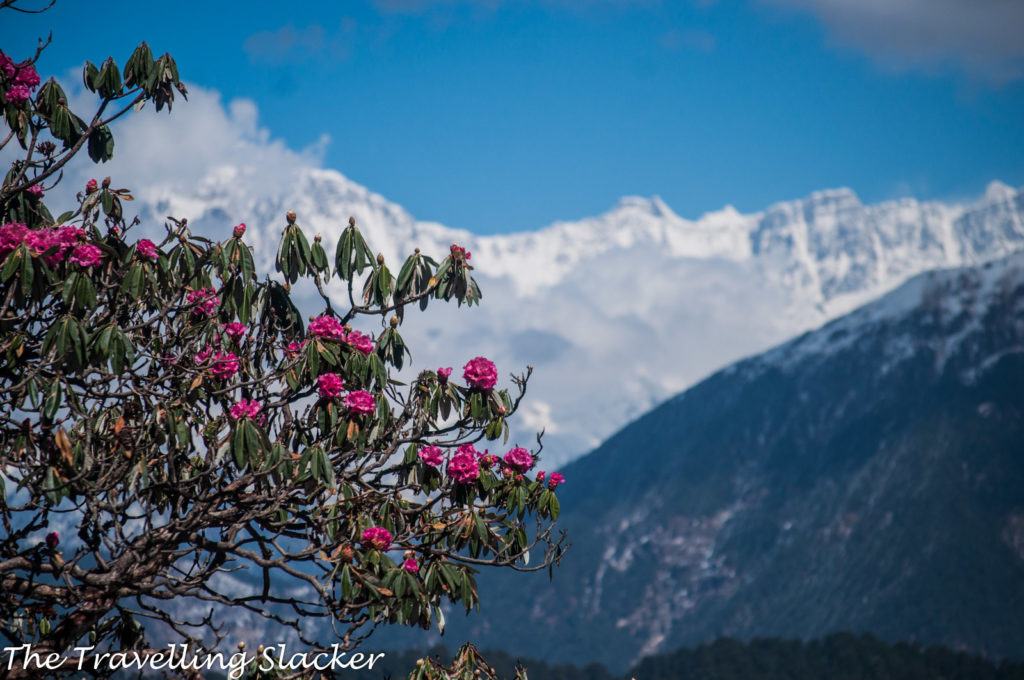 There's no doubt that Chopra-Tungnath is the best rhododendron trek in North India. In spite of a sudden spurt in fame and resultant tourist inflow, Chopra has retained it's charm. There are many shorter hikes in the region such as Deoria Tal, Kartik Swami, Anusuya Devi-Atri Muni and all these routes are lined with blazing rhododendrons. I have written more than enough about this area already. You can start with this Comprehensive Guide on the Chopta Region.
Rashol Trek
There's no dearth of Rhododendron Treks in Himachal but the shortest and sweetest one is probably Rashol. It's not that far, it starts from Kasol but the rhododendrons become visible only after you leave Chalal. You can also stay in Rashol Village at the end of the trek, instead of coming back. You can read my Rashol Trek post.
Triund & Rest of Kangra
Unfortunately I have done this trek during autumn only. So, I never got to see the rhododendrons in its full glory here. But again, Triund Trek is one of the most famous short treks in the Himalayas suitable for everyone and it was the earliest trek I ever did in Himachal. It's been a while since I even visited Mcleodganj! You can read my old Triund account here. You can have a good experience in other parts of Kangra region too, like you can see in the image above
Great Himalayan National Park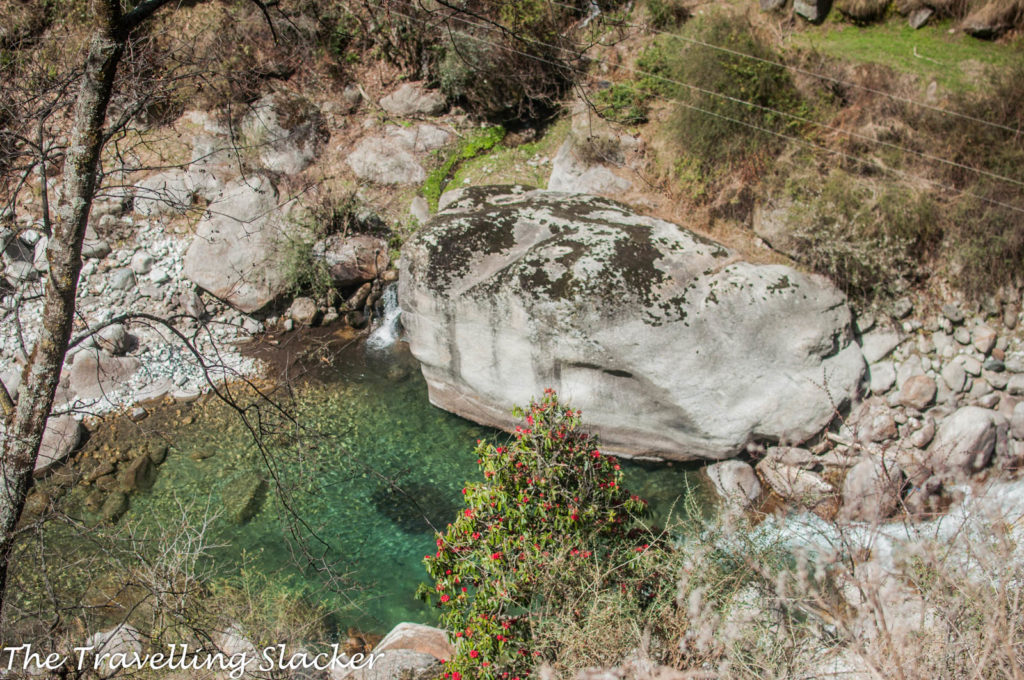 .The Great Himalayan National Park and its ecozone villages are a great place to spot rhododendrons. These include the likes of Tirthan Valley, Sainj Valley, and adjacent areas with scores of small villages and trails. I have many posts about this region. I saw good blossoms even in the basic GHNP Gate trek from Gushaini to Rolla. You can start with my GHNP Guide, Tirthan Guide, or Sainj Valley Guide.
Munsiyari & Around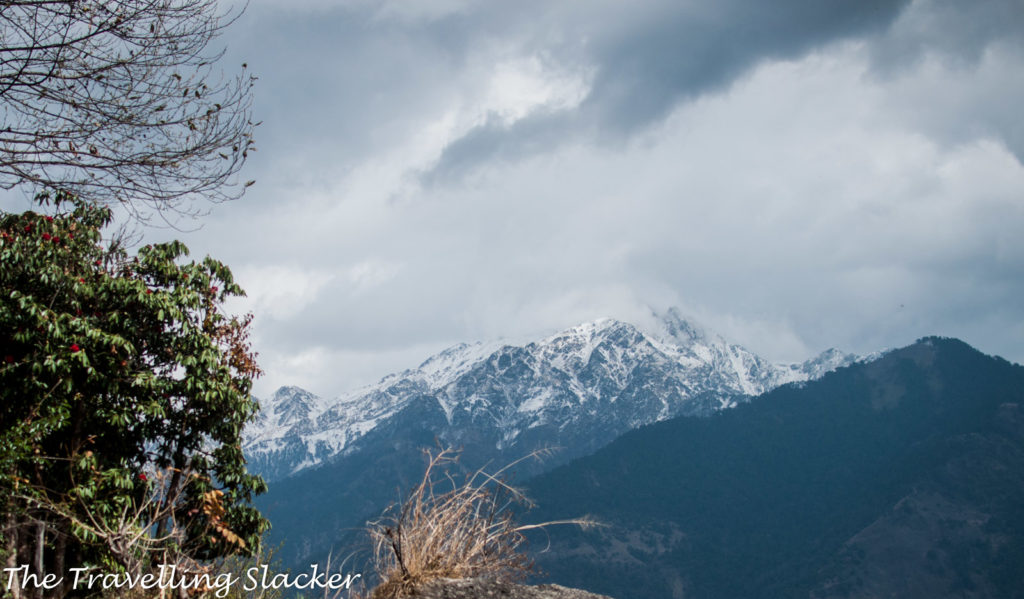 Kumaon is again a great region for rhododendrons. For a better experience, skip the lower hill stations and go a bit higher to Munsiyari. You can try the short hikes in this area such as Khaliya Top. I visited Musniyari once in spring. However, difficult weather denied me good views. You can start with my Munsiari Travelogue.
Binsar Mahadev Trek
I am deliberately including this lesser-known trek. Do note that this Binsar is not the same as the Binsar near Kasar Devi. This is a different one that goes from a place called Thalisain. You can take a train to Kotdwar and find a bus from there. I once made a failed attempt here in 2014 and never talked about it again.
Barsey Rhododendron Trek & Goecha La
West Sikkim has many good areas where you can spot rhododendrons. Barsey Rhododendron Sanctuary Trek, the name itself makes it clear what I'm trying to say. I intend to do it soon. Also, if you want to go further, you can cross Pelling and reach Yuksom and go for Goechala or Dzongri trek. Here's my Yuksom post.
Singalila Ridge
This area in Darjeeling bordering Nepal is an excellent place for Rhododendron hikes. The famous Sandakphu Phalut trek lies on the edge of Singalila National Park and this can be a great way to enjoy the rhododendron blooming season for anyone.
North Sikkim: Yumthang Valley
Yumthang Valley and Singba Rhododendron Sanctuary, as the name suggests, is a Rhododendrons goldmine. Unfortunately, I visited it in winter when it was buried in snow. I did notice it. The other problem with Yumthang is that it has a motorable road rather than a trek. So, it tends to get too crowded. However, it's possible to hike around the area if you can find the right guides. Additionally, Dzongu may also be a good option for such hikes and it is nearer from Gangtok too. Start with my Yumthang Post. 
Shergaon & Around
As the regular readers of this blog will know, the Shergaon Rupa circuit is an underrated Rhododendron goldmine. Go for a short hike to the Choskorong waterfall is lined with rhodos. I did it last year along with the Rhododendron Festival of all things. Go ahead and read my Shergaon Guide as well the account of visiting the Shergaon Rhododendron Festival. 
Dirang & Tawang
While most average visitors fail to recognize them, the entire Dirang-Sela- Tawang route is full of rhododendrons and so are various detours emerging from that route such as Geshela and Mandala Naga GG. The tragedy of this route is that Autumn and Winters are considered peak season here when most of the trees simply get denuded and covered in snow. For this area, and for anything else in Arunachal, buy my book.
Upper Dibang Valley Treks
Upper Dibang Valley in the north-eastern frontier of Arunachal Pradesh has some of the toughest treks in India including the famed Anini Seven Lakes Trek and many other up and coming treks. Although I did it last year that was after the blooming season. Nevertheless, I can vouch for the fact that this is a sense rhododendron forest and you'll get more than you can imagine here.
Nagaland & Manipur
The Patkais hills do have a lot of rhododendron forests that are yet to be fully explored. I haven't seen Rhododendrons in Dzukou itself but nearby Japfu Peak apparently has them. Also, the more remote and higher Saramati Trek will offer you great rhododendron forests. Similarly, the hill areas of Manipur such as Ukhrul have rhododendron forests although they are yet to be documented in that manner.
Additional Tips
Rhododendron flowers are edible and are used to make juices. However, not people from every area use it as such. I have found processed juices easily available in Uttarakhand while I even noticed a guy making and selling juice on pushcart like they sell sugarcane juice in Himachal. But such signs are not always visible elsewhere.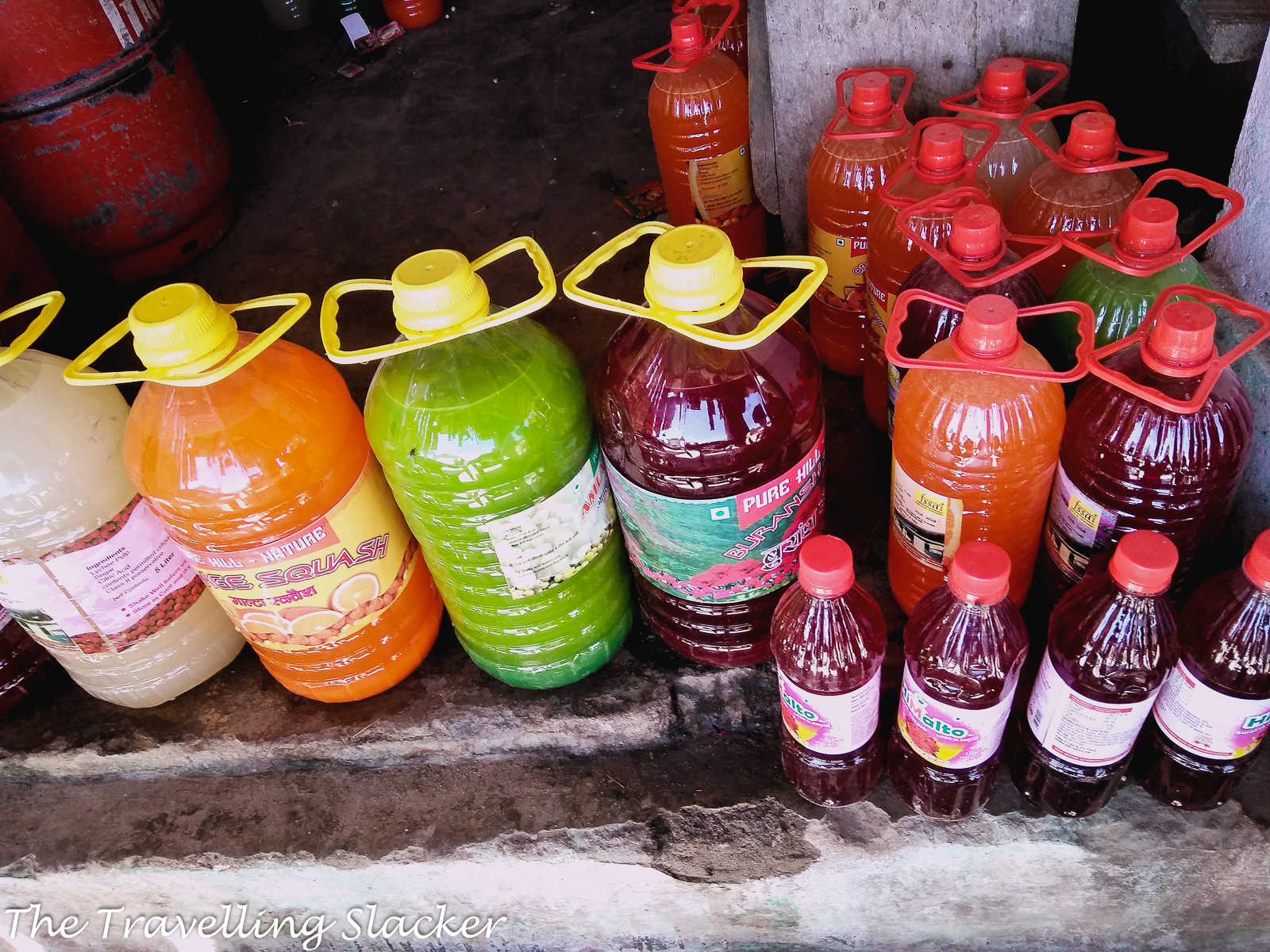 *I'll keep adding more treks as I keep discovering and exploring them.