Chopta-Tungnath-Chandrashila-Deoria Tal-Kartik Swami-Trekking Guide
*I made this post originally in 2014. But I just passed through the region again and noticed certain developments and changes. I also did a couple of additional treks, especially the Kartik Swamy Trek nearby. So, I am updating the information, complete with a detailed map of the region.
I am trying to put together a comprehensive Do It Yourself guide for visiting Chopta, Uttarakhand. It is one of the easier and shorter yet most rewarding treks in Garhwal that can be done without any guide or assistance. I am trying to spoon-feed everything for the extreme novice. Advanced travellers can skip the basics and locate whatever they are looking for.
Chopta-Tungnath-Chandrashila-Deoria Tal-Kartik Swamy-Trekking Map
Before going any further, take some time to understand the routes. These are not exactly according to scale but should give you enough idea about the directions you need to take. As you can see, there are several treks (shown by dotted lines) in that region between Rudraprayag and Chamoli/Gopeshwar. They are not far from each other and can be wrapped up in one trip. A long weekend of 4-5 days from Delhi should be ideal.
Approximate Distance Chart around Chopta and Deoriatal
Rishikesh to Rudraprayag 140 kms
Rudraprayag to Ukimath 42 kms
Ukimath to Sari 12 km
Sari to Chopta 16 km
Ukimath to Chopta 29 km
Rishikesh to Gopeshwar 214
Gopeshwar to Mandal 14 KM
Gopeshwar to Chopta 41 KM
Rudraprayag to Kanakchauri 40 KM
Banswara to Kanakchauri 37 KM
Where and what exactly is Chopta?
Actually Chopta is just a small settlement on the road with a few restaurants. It is not even a village but a collection of restaurants and small hotels. When one says that he has trekked to Chopta, it basically means he has trekked upwards from that point to the Tungnath Temple and further up to the Chandrashila. Tungnath is one of the Panch Kedars (5 major temples dedicated to various forms of Shiva) of Garhwal and so it is an important pilgrim destination. Chandrashila is the peak of that particular mountain beyond the temple.
But the Google Map shows a Chopta very near to Rudraprayag!
Yes, there are two Choptas in that region. Check the map, I have marked the other Chopta in Red while the Chopta that leads to Tungnath is marked in orange. If you are going to Kartik Swamy from Rudraprayag, you will come across the 2nd Chopta. Actually, this is a bigger village and hence it is shown more prominently by google, thus confusing newbie trekkers.
Also, there is a different place called Chopta Valley in Sikkim. Do not confuse this with that one although someday I will make it to that one too.
How to reach Chopta?
There are multiple routes. But you will have to reach Haridwar-Rishikesh first and move up along the NH 58. After that,
• Break your journey at Rudraprayag, go to Ukimath and then Chopta.
• Break your journey at Rudraprayag, go to Ukimath and then to Sari. Visit Deoria Tal and go to Chopta the next day.
• Break your journey at Rudraprayag, go to Ukimath and then to Sari. Visit Deoria Tal and trek to Chopta the next day via Rohini Bugyal.
• Break your journey at Gopeshwar (which is ahead of Rudraprayag), and then Chopta.
Buses and shared cars should be available on these routes.
Now, I personally chose the 2nd one. The 4th route is longer but the road is supposed to be better. On the other hand the 3rd option is interesting but will take one day extra to accommodate more trekking, something we should have planned beforehand.
What on earth is Rohini Bugyal?
Rohini Bugyal is an alpine meadow that connects Chopta to Sari Village (Deoria Tal). Instead of taking the road, one can trek through the Bugyal and negotiate the thick forests to reach from one place to another. However, this will take one extra day and will be risky without a local guide. I have not tried this route.
What exactly is to be done at Chopta?
Your car or bus will take you to Chopta. From there you will trek upwards. It is not a very long or hectic trek. The road is well built and there is no need for guides or assistance. Once you reach Tungnath, you can visit the temple and explore the hills. You will easily locate Himalayan Monals, an endemic species of pheasant. However prospects of locating other animals are thin.
The next day if the time permits you can trek upwards and summit Chandrashila which is around 4000 metres. I personally had to abandon this part for various reasons but it is not very difficult either.
What are the accommodation options at Chopta?
There are several basic accommodations around Chopta as well as Tungnath Temple. Generally the lodge owners also cook food in Tungnath. During my latest trip, I noticed that several new hotels have cropped up along the main road approaching Chopta. I guess was inevitable consideirng the increasing popularity of the trek. However, this has also increased the prices. Some amount of bargaining may be necessary.
If budget is not an issue, fancier options have also come up. This time we were hosted by PeaceTrips, a traditional mudhouse turned into a homestay.  It is a couple of KMs ahead of Chopta, towards Gopeshwar.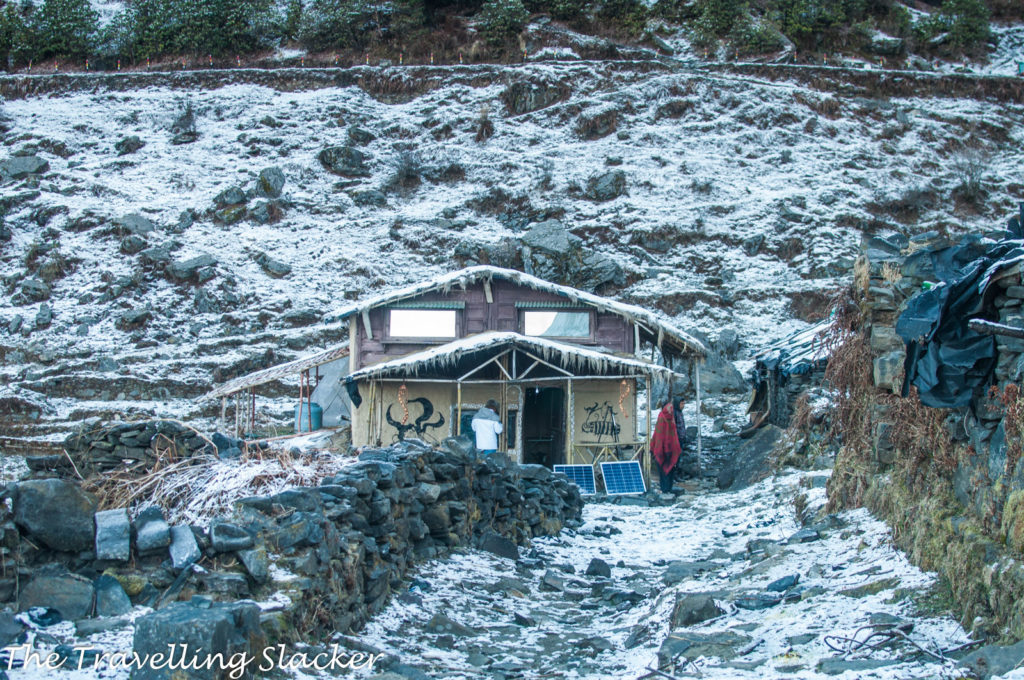 The Best Season to Visit Chopta-Tunganth
It is technically accessible throughout the year although a lot depends on weather and landslides. The winter trek is more difficult as the route is completely covered in snow. But the best season is spring and early summer when the Rhododendrons are in full bloom. Between mid March to early May should be your preferred time.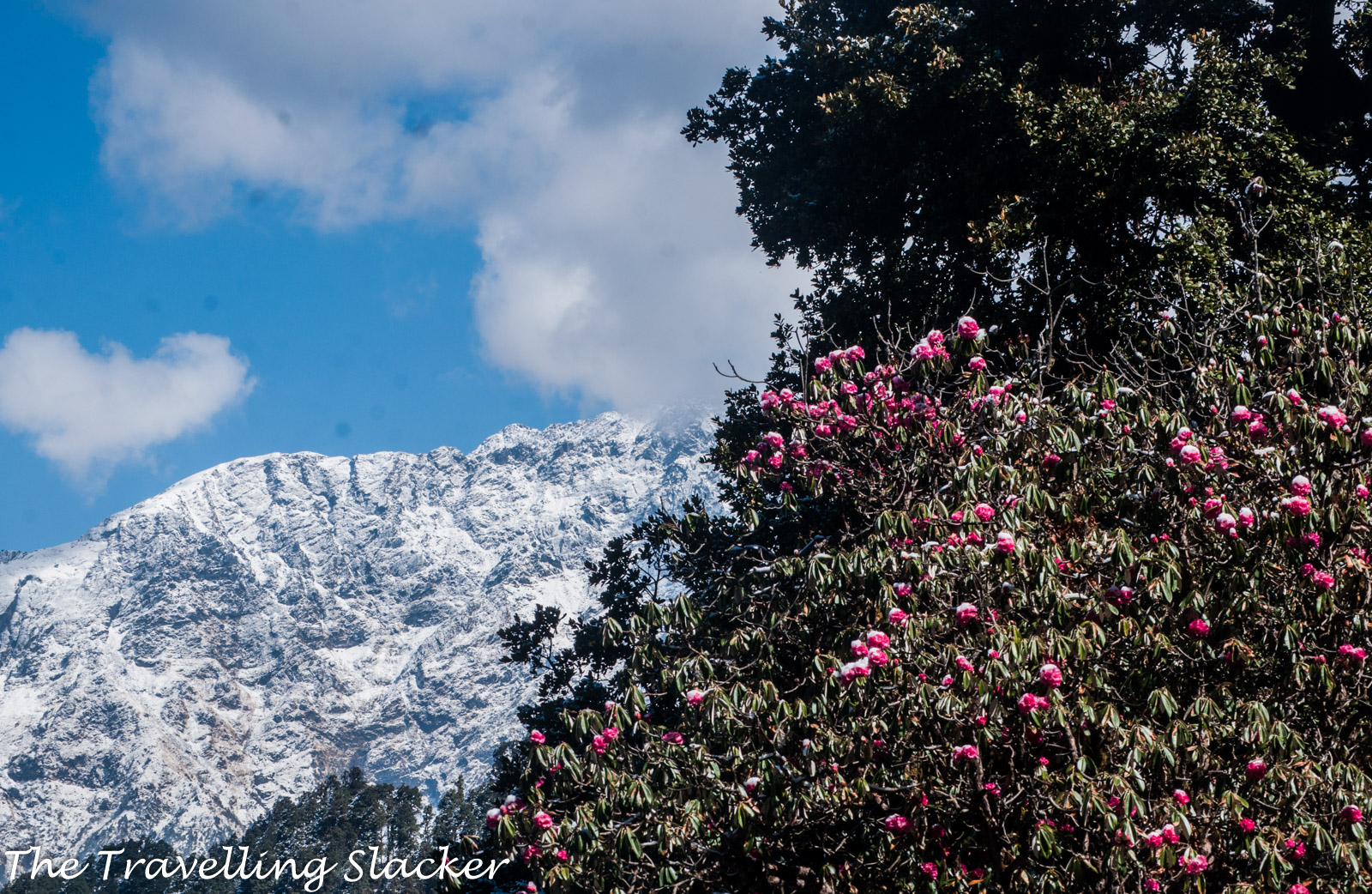 Can I get snowfall in Chopta?
It obviously snows in the winter. But you can get it even in the spring or early summer. But it depends on your luck. A sudden storm or rain can dramatically reduce the temperature and cause a snowfall. This time, we did get lucky and witnessed both snowfall and rhododendrons in March.
How long is the Chopta Tungnath Trek?
The actual trek is around 4-5 KMs from the starting point on the road to the temple of Tungnath and should not take more than 2.5 hours for an average trekker.
Can we enter the Temple?
The Tungnath Temple gets closed in the winter and remains so in spring too. During this time, the deity is moved down to Ukhimath. It reopens sometime in the summer. However, you can still visit the temple, although the main door of the sanctum sanctorum will remain shut.
How Long is the Chandrashila Trek?
Chandrashila is a further couple of kilometers from Tungnath. It should take another hour of trekking from the temple.
What to buy at Chopta?
The squash made of Rhododendron, called Buransh by the locals is supposed to be good for health. You will get to buy bottles at the restaurants in Chopta.
Where and what is Deoria Tal?
Most people also cover the lake called Deoria Tal in this trip, which is in a slightly different direction but not very far from Chopta. You approach the lake from Sari Village, which is around 15 kms away from Chopta. On a clear day, you can see reflections of Chaukhamba and other peaks on the water although I have never been lucky in that sense.
How to Reach Sari Village and Deoria Tal?
You will find shared cars at Ukhimath going towards Sari. They should not cost much per head although I don't remmeber the exact amount now. Also, while there is a motorable road, there is also a steep trek to Sari Village from the main road, that starts from a village called Mastura (see map). This is a beautiful stretch of terrace cultivations that reminded me of another hike in GHNP.
What to do at Deoria Tal?
Deoria Tal is in a comparatively lower region at around 2300 metres and you need to trek for around 2.5 kms from Sari Village to reach it. You can camp by the side of the lake. The tour operators at Sari can help you with that.
Where to stay at Sari or Deoria Tal?
Accomodation in Sari used to be cheap and basic when I visited in 2014. But this time I noticed that several new constructions have come up and the prices have also shot up. People were quoting prices like INR 1500-2000 although I think they can be brought down with negotiation. Most of the people in the village are involved in tourism and trekking. The same people can also organize trekking.
Where and what is Kartik Swami?
As you can see from the map, Kartik Swami is located on a slightly different route, but again, not too far away. It is basically a temple on a hill top, dedicated to Kartik, the son of Shiva. A short 3 KM hike starts from a place called Kanakchauri, 40 KMs from Rudraprayag.
Why visit Kartik Swami?
Apart from the temple, you can get excellent view of many peaks from here on a clear day. You can 360 degree unobstructed views from the top and even at the starting point, the peaks are visible. The whole stretch is covered with rhododendrons.
How to Reach Kartik Swami?
From Rudraprayag, just look for buses going to Pokhari. Kanakachauri is on the way and you will reach easily in an hour and a half.
However, if you are coming from Chopta side, there will be no direct connectivity. In that case the suggested route is Chopta-Ukhimath-Banswara-Mohankhal-Kanakchauri. You may have to change your vehicle (mostly shared cars) at each of the points.
Where to stay in Kartik Swami?
We just did the trek and came out to Rudraprayag and did not stay ourselves.There is an expensive-ish accomodation at Kanakchauri as per my knowledge. But the best option is to stay near the temple itself. You need to talk to the priest for this.
Read the complete Kartik Swami Travelogue here.
Are there any other treks in the region?
Yes, there can be scores of trails in the region. The trail to Rudranath, another of the Panch Kedars along with Tungnath, is nearby. We did one part of this trail during my recent visit, to the shrine of Devi Anusuya and Atri Muni, which was an experience beyond my wildest imaginations.
Check this post for the Anusuya and Atri Muni Trek.
What is the right season for Rhododendrons?
All over the Himalayas, the rhododendrons bloom in the spring season. The exact timing can fluctuate according to weather conditions. But March and April should be safe bets. You should see both red and pink rhododendrons.
Can you connect us to a guide?
While I trekked without a guide, you can surely hire one from Sari Village. They can also help you arrange for camping equipments such as tents and good quality sleeping bags to withstand the cold and take you to more remote areas that you cannot do alone.
I can suggest Umendra Singh Negi of Chaukhamba Himalayan Adventure for this purpose.
Phone 8958647802/9456534062
Email [email protected]