Sikkim has suspended all tourism-related activities as of now due to the Covid-19 situation t least till September 2019. They will reopen for tourists only in October 2019, that too if the situation improves. Will update in case of any new development.
————————————
When I reached Sikkim this January, my intentions were clear and I had a bucket-list in my mind. I was going to cover all major attractions of the state except those cut-off by the winter snowfall. However, as the trip progressed, although I managed to visit many places, I started growing impatient because I was not really getting that feeling of seclusion and serenity that I usually take for granted in the Himalayas. Gangtok was too big a city for me, Yumthang too was swarming with visitors even in the off-season, and Pelling just seemed like a cluster of hotels.
Finally, my search for that intangible "my kind of" place in Sikkim ended with Yuksom, that too on the last day of the trip. Due to my ignorance, I'd just planned it as a day trip from Pelling, something that I regret now. Looking back, I think this would have been the best place to stay for a few days, simply soaking in the country air and walking through cardamom fields. I actually asked around and found that the homestays here also are a bit cheaper than other places of Sikkim.
Pelling to Yuksom
The drive to Yuksom started from Pelling in the morning, along with Jacomjin & Abhinav. It took slightly more than an hour but not before we took a small detour to Rimbi. This was not a part of the plan but the driver suddenly pointed towards the orange plantations on the right side of the road and informed us that these are the orange gardens of Rimbi. So, we decided to take a look. First we just noticed a bunch of roadside shops selling tea and fast food, but soon realized that the path to the garden goes down from here towards the river. They were also selling them produces on the shop and one girl was selling entry tickets for INR 10. We bought tickets and quickly descended down to the orange kingdom. First I saw one tree, fully loaded with fruits, followed by another, and then the whole grove appeared till as far as I could see. The good part was that although it was unplanned, we were there at the peak of the orange harvesting season. It was a quick stop, but a good example Sikkim's organic move.
After the orange garden, we quickly moved on towards Yuksom, passing a waterfall or two en-route, but without making a stop. Coming to Yuksom, in case you have never heard of it before, was the first capital of the medieval Kingdom of Sikkim. Later on, the capital moved to Rabdentse near Pelling, and finally to Gangtok, which is also the current capital of modern Sikkim. Present day Yuksom is a small but pleasant town, skipped generally by most tourists and visited by trekkers because it also works as a hub for many major treks such as Goechala and Dzongri as it lies on the edge of Khangchendzonga National Park, one of the newest UNESCO World Heritage Sites in India. What sets it apart is the fact that the commercial establishments such as hotels and homestays here are well spread out and not thickly concentrated like other tourist spots. They are interspersed with medieval gompas, and plots of fragrant cardamom plantations.
Also Read: Rimbi Orange Garden
Norbugang: The Coronation Throne
We left the vehicle at the entrance of the town and started walking towards Norbugang as there were a lot of signage in the town pointing towards the same. We crossed cardamom patches and many single-storied, wooden houses for the next few minutes, only to spot a gigantic statue at the top of a tall concrete structure. It looked too new to be the Norbugang (But to be honest, I had no idea how Norbugang looked like). After a bit of investigation, I figured out that this is a fairly new construction, sort of a monastery with a larger than life statue of Yangthang Rinpoche at the top. Now, Yangthang Rinpoche is supposed to be the latest incarnation of Lhatsun Chempo, who was a monk present at the original coronation 500 years ago!
I don't blame you if all these sound confusing. The statue also is strikingly brown in colour and has a beard, making him look like an old Indian sage rather than a Tibetan Buddhist monk. Nevertheless, from the top of this shrine, I could finally see Norbugang, which was on the other side. There was a big contingent of elderly lady monks making round of the statue. I think irrespective my confusion, it is an important Buddhist site in Sikkim. I tried to strike a conversation with one or two of them but we did not seem to share any common language. So, I left them there and started walking towards Norbugang.
The Norbugang is basically a chorten (stupa), which was the site of the coronation of Phuntsog Namgyal as the first Chogyal of Sikkim in 1642 AD. That dynasty ruled Sikkim for several centuries, till the point Sikkim merged with India in the 1970s. A park has been built surrounding the chorten and a few other shrines around it. There was a small shop run by a local woman in front of the park, who was also collecting entry fees of INR 10. We quickly paid the same and entered the park, which can also be called a mini botanical garden as there we many trees and all of them had boards identifying respective species. We soon realized that trees have always played a major part in the whole setup as the Chorten itself was located under a giant pine tree which, looking at the girth, can be assumed to be as old as the history of the town.
So, Phuntsong Namgyal was a descendant of a royal from Eastern Tibet. As per local legends, his ascent was foretold by Guru Rinpoche (Padmasambhava) himself in the 9th century. When the time came, a group of three Lamas went for a tour of Sikkim and eventually found and handpicked him for this role. He is believed to have established the first centralized administrative system in Sikkim and expanded the kingdom to parts of present day Darjeeling and Nepal. There is also a set of preserved footprints belonging to one of those three lamas from Norbugang, which is now a small structure where the white has turned greenish yellow. Nevertheless, symbolic importance of it in Sikkim and in the entire Tibetan sphere is unmistakeable.
Kathok: The Monastery by the Lake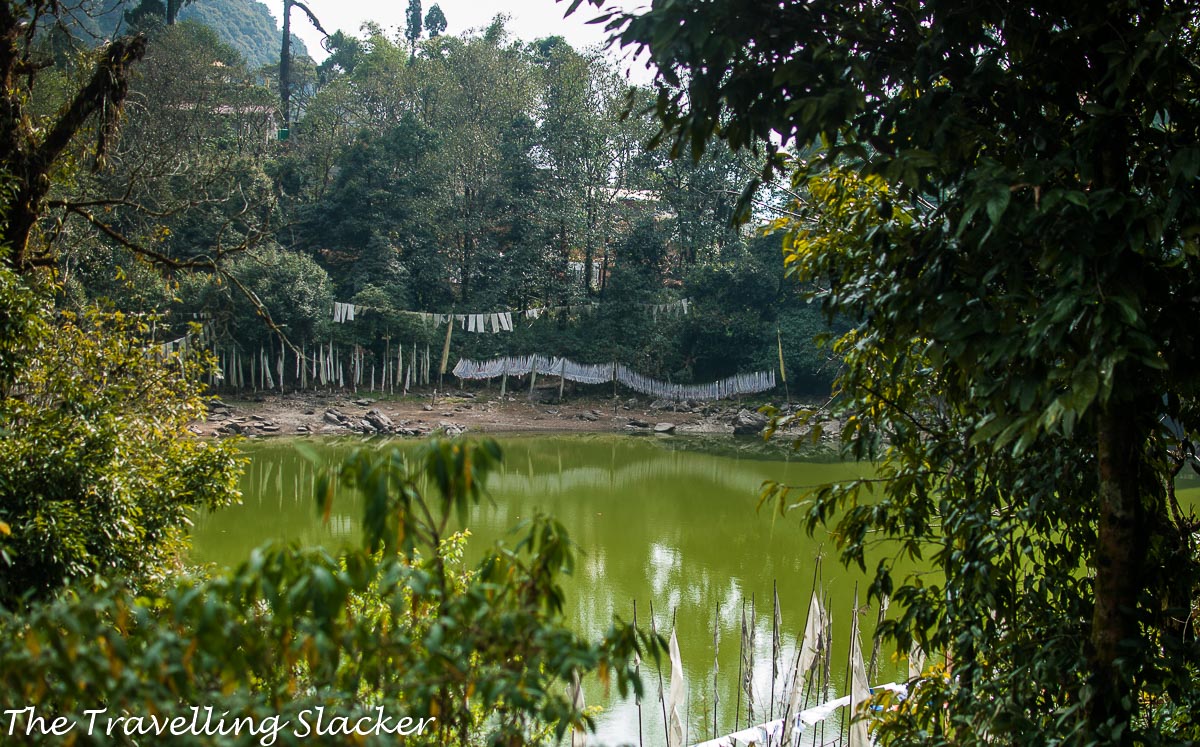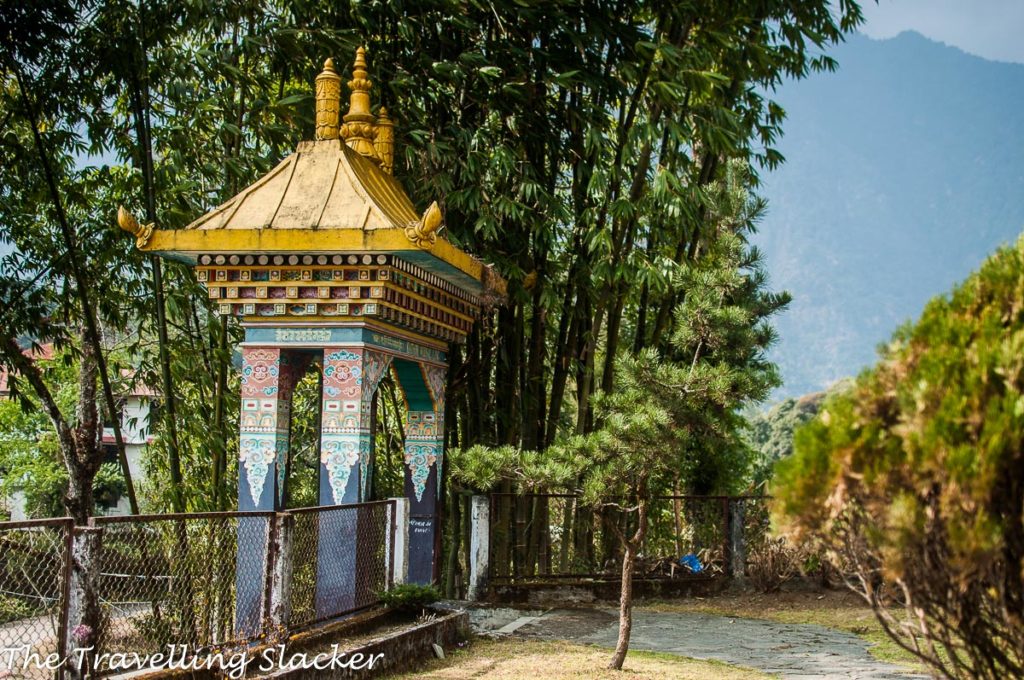 After Norbugang, we quickly moved on to explore other places of Yuksom and soon found ourselves at Kathok Lake, which is a sacred lake as per the locals. This green lake is surrounded by dense vegetation and lined with white prayer flags. As per the legends, the water from this lake was used to wash the throne at the time of coronation. Later on, a monastery was built slightly higher up, apparently in the honour of another of the monks who conducted the coronation. In that sense, I think almost everything in this town is a tribute to that historic event and the people involved in the same. It was a small monastery, but with very distinctive red walls surrounded by beautiful bamboo groves. However, it was closed when we arrived and so we could not really have a look inside. It is a small monastery and is located at an elevation overlooking the whole town. Even as you approach Yuksom, it is generally the first thing that appears in the horizon.
Dubdi: Trek to The Hermit's Cell
We had a hasty lunch at one of the roadside restaurants. We still had at least 2 hours remaining in that short winter day and we wanted to make the most of it. The last major attraction remaining in this place was Dubdi monastery that required a short hike, which seemed perfect for the time we had. We figured out the route after asking around a few people and finally found the route to the monastery, which was a small trail behind a government dispensary as well as a popular homestay. The trail initially passes through a patch of cardamom plantations. In that season, I think the harvesting was already over and the leaves had gradually turned reddish yellow from green, not that it bothered me. How often do you get to walk through a cardamom patch anyway?
Small hilly streams were flowing down from the top and they were powering what I call, for the lake of a better word, watermill chakras. These are usual Buddhist Dharma chakras that you get to see at any Buddhist site but at Yuksom they were designed as watermills and placed above the streams, so that the force of flowing water make them move automatically. After 15 minutes, we passed that stretch and the trail met a mud road. The cardamom trail ended and now we were in the forest covered by oaks, rhododendrons, and chestnuts. However, the hike did not last long and we reached the monastery in another 10 minutes.
Dubdi Monastery was established in 1701 AD by Chogyar Namgyal and is dedicated to Lhatsun Namkha Jigme, another of those three Lamas from Norbugang, as you might have guessed already. It is also called "The Hermit's Cell", referring to the ascetic nature of the Lama. It is located reasonably higher up from the town, at around 2,100 metres and is a much larger monastery built of stone, covering a reasonably vast area for a small town. Images of various lamas, other Buddhist symbols and collection of manuscripts and texts have been preserved in the monastery, along with the statues of those three lamas. The courtyard of the monastery was well-manicured and as we were relaxing out there soaking some sun, a Polish traveller conjured from the back of the monastey and advised us to check the areas beyond the monastery.
So, we left the monastery behind in order to explore the backyard and found a couple of trails going further. One of them was pointing towards Hongri Monastery, which is on the way to Tashiding, which is 25 KM's from Yuksom by road. So, there was the shortcut route here taking you to Tashiding although there was no time left for us for such an adventure. As far as I could see, one will have to trek for at least 15 KMs to reach Hoingri and then Tashiding, which will take the whole day. I'm sure Yuksom had more hidden gems to offering this was the most we could accommodate on the last day of the trip. Still satisfied, we returned to our vehicle and moved back towards Pelling but not before we spotted a magnificent orchid bloom at one of the houses. I don't know what species it was and that was not even the blooming season. But Yuksom is nothing if not surprising.
Yuksom Travel Guide
How to Reach Yuksom?
Yuksom is around 40 KMs from Pelling, which is a major tourist hub in West Sikkim, which is well connected with Gangtok as well as Siliguri (NJP/Bagdogra). From Pelling, you should find shared cars to Yuksom unless you have your own vehicle.
Are there homestays in Yuksom?
Yes, Yuksom has many local budget homestays in the town and they seemed to be affordable. I asked one of them and he said INR 400 for one night. However, this may be because it was off-season.
What to see in Yuksom?
Yuksom is a historical place, where the kingdom of Sikkim began. Visit the Norbugang Coronation Throne, Kathok MOnastery & Lake, & Dubdi Monastery. You can even go for a long hike to Hongri Monastery, the route eventually leads to Tashiding, another picturesque hill station.
What are the major treks from Yuksom?
As mentioned before, Yuksom is the hub for many major treks such as Goechala and Dzongri as it lies on the edge of Khangchendzonga National Park. Many smaller local trails are also possible if you are willing to explore.