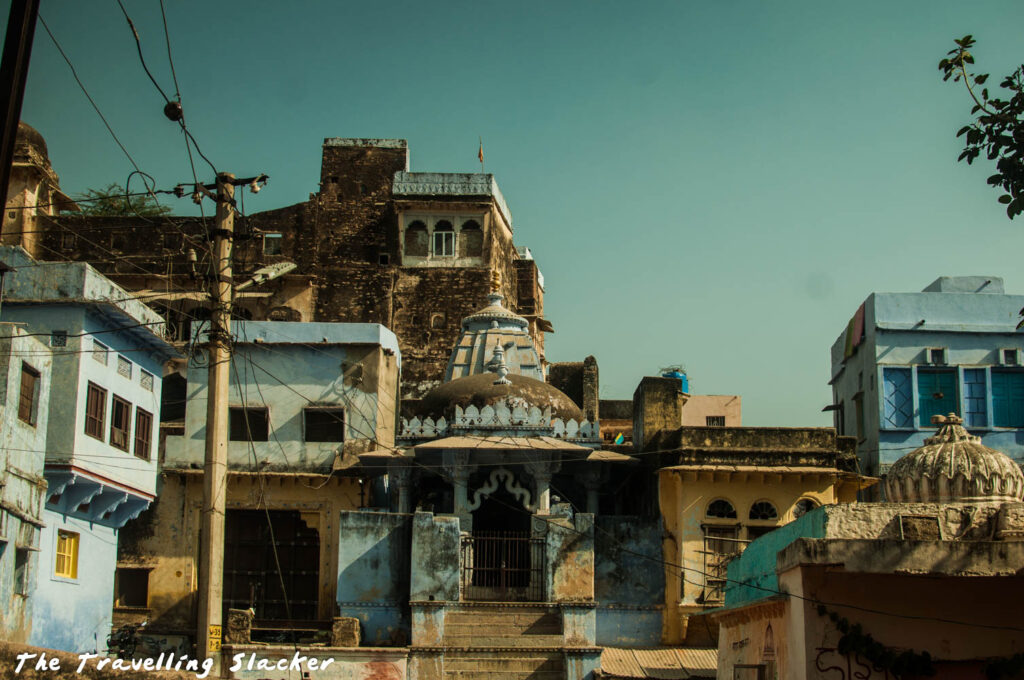 I left the bus and started walking towards the Taragarh Fort. However, soon I was distracted by a very colorful tea shop. I ordered one spicy kulhad and started talking to Krishnaji who is of course the owner of Krishna Tea Shop. He has been there for more than two decades and is easily the most popular joint among the tourists. The inner sanctum of the shop is full of psychedelic graffiti made by visiting tourists over the years. He also told me that tourists are less this season due to demonetization but also expressed hope that this will be good in the long run.
I was in a hurry but I ended up spending almost an hour here. This also reminded me yet again why I decided to come back again. Last January I'd made another quick trip here but I felt could not do justice to it. I saw the magnificent frescoes of Chitrashala and Sukh Mahal but as I was returning, I noted the local houses, walls, and public facilities in the old town, all painted in vivid colours. The royalty had initiated and patronized the Bundi school of paintings but unlike some other places, the art here has not remained a sanctuary of the ruling classes and the elite but has spilled over to the streets. That is why this trip was dedicated as much to the plebs of Bundi as much it is to the royalty and as much to the present, as much it is to its celebrated yore.
So, I suppressed my heritage fetish for a while and started walking around the town. While Bundi has now grown to be a big city, the outer areas are just like any other place. However, the old walled city around the Fort, just like Old Delhi, is a different world altogether full of valiant knights, shapely women, burly elephants, gods, goddesses, and much more… all in two dimensions
.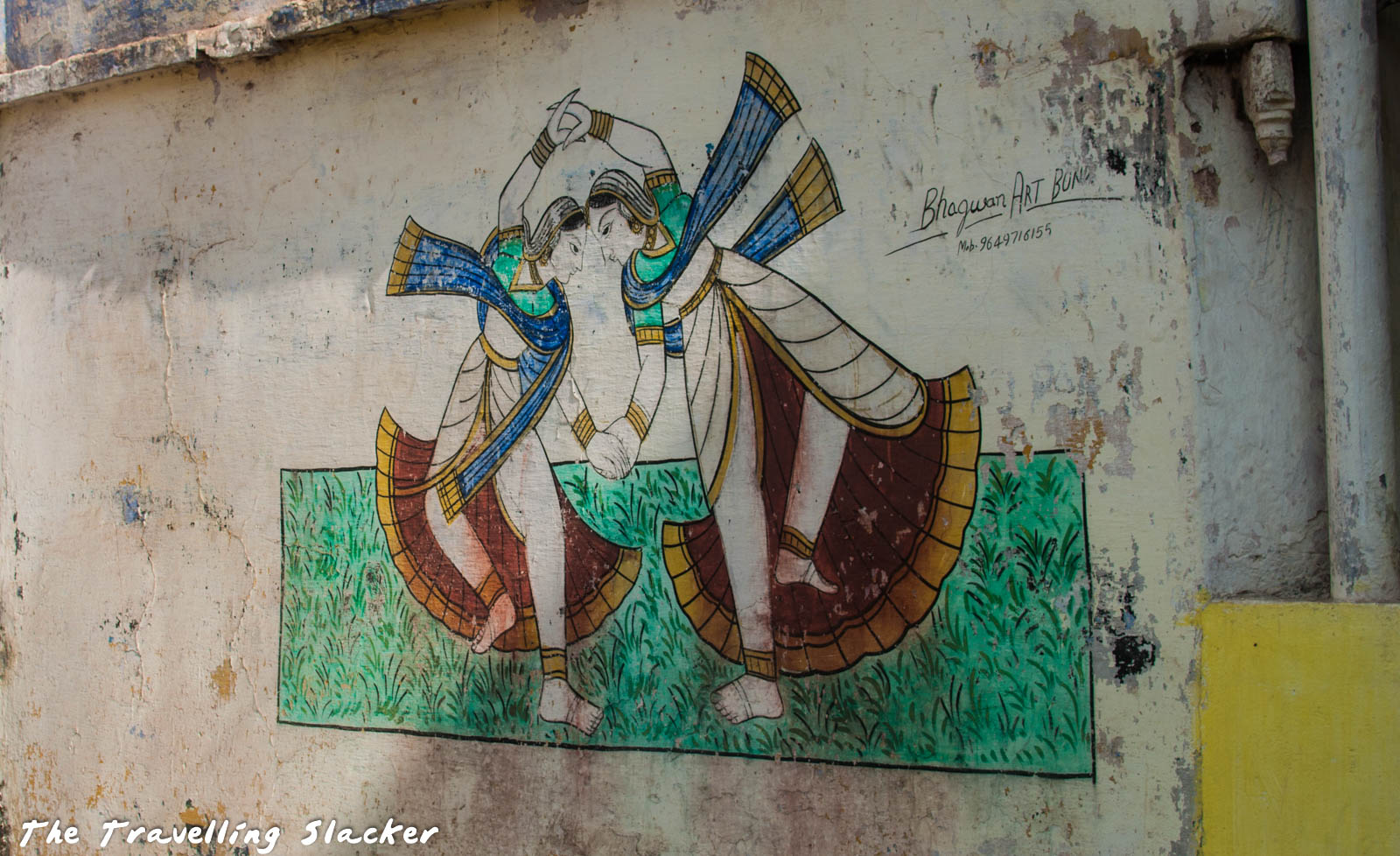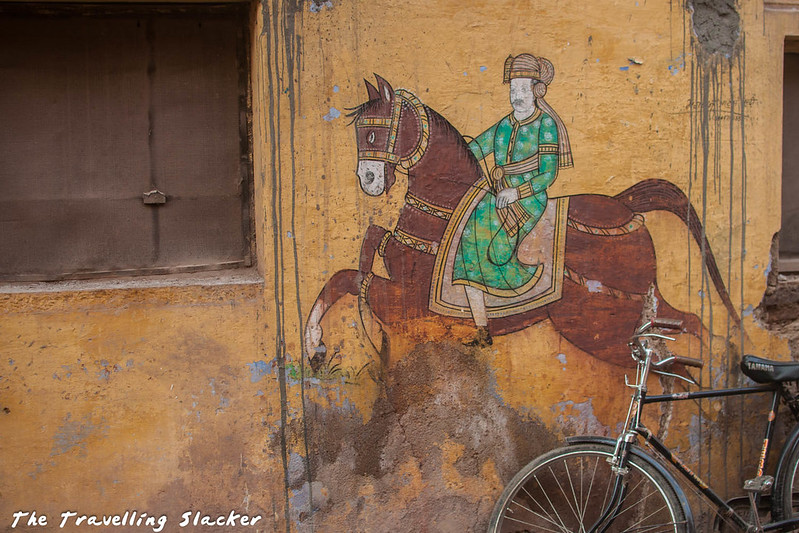 Surely the town can do with better drainage system and some other housekeeping but that is a common issue all over the country and I cannot really single out this one for the same. What sets it apart is the fact that it is like a living, breathing, art gallery. The walls are filled with joyous and colourful figures. However, unlike the big metropolises, they are not based on western anesthetics but proudly replicates the indigenous school of art.
It is also noteworthy that Bundi is as much a Blue City as Jodhpur is although not many are aware of this. There are parts where this Blueness is distinctly visible in various shades. Of course the real view is from the top of the hills but that is a different story (I did visit the fort later and will do a separate post on it).
I spent a considerable amount of time walking around the city and finally started walking towards the Nawal Sagar Lake, one of Bundi's many lakes. It is located just at the right place to offer great reflections of the Garh Palace and Taragarh Fort. Apart from the obvious visual delight, it also has a partially submerged Varuna temple. Since it is inside the water, it was not possible to have a closer look at the temple but from what I could see, it follows the same design as some other bigger temples in the Hadoti region such as Badoli and Jhalrapatan.
In short, Bundi is a smaller but more intimate artistic experience, compared to the more opulent palaces and forts of Jaipur, The Pink City but tourism is increasing here too. It is also a place where every time I learn about some other attraction. This trip was also no exception as I learnt about certain sites with newly discovered prehistoric paintings (Like Bhimbetka). These are apparently scattered around a 30 km radius around Bundi. So, like a clever movie franchise, Bundi is dangling another carrot in front of me. Another trip will have to be planned soon.
What else? My other ambition in Rajasthan is to visit Shekhawati, another area where art has become a way of life. You can read this road trip by Sushmita Sarkar that covers Shekhawati.
Bundi Travel Guide: Exploring the Hadoti Region
Understanding Bundi and Hadoti Region
Bundi and nearby areas were sites of ancient civilizations. Prehistoric, stone-age tools have been excavated here and there. In the middle ages, the Hada Rajput clan captured the area and that is why this region is known as Hadoti Region, covering Bundi, Kota, Jhalawar, and Baran districts. During the colonial times, these small kingdoms became princely states. Out of all these places, Kota has blossomed into a big city, while Bundi has become a touristy town. All other areas have many attractions to offer but they are rarely visited and can be positively called "offbeat", although I have managed to visit many of them.
How to reach Bundi?
Kota is the major city that connects to Bundi.
By Air
Technically Kota has an airport. However, it is not that useful. Your best bet will be Jaipur or Udaipur if you must need an airport.
By Rail
Kota is a major train station and you can find trains from all major cities of India and then you can get a bus to Bundi. From Delhi the train goes via Sawai Madhopur (Ranthambore).
By Road
Kota to Bundi is around 40 KMs and regular buses are available from the bus stand.
Local Transport
Buses are available for most places from Kota Bus Stand. For some places, you may not get direct buses. Gagron Fort is best reached from Jhalawar. Bhainsrorgarh, reach Rawatbhata first.
Inside all these towns mentioned below, you can walk around or get auto-rickshaws. Kota is a big city, so you'll need the autos always.
Where to stay in Bundi?
Bundi has many hotels as a touristy town. You will find budget hotels in the INR 400-1000 range. There are also a few luxury hotels, palatial mansions turned into hotels. Otherwise, you can also stay in Kota, which is a big city with many options. Kota can work as a central point in case you want to explore other areas apart from Bundi.
*Also, don't forget to have tea at Krishna's as mentioned above.
What to see and do in Bundi?
Taragarh Fort
Bundi is built around a hillock with a massive fortress called Taragarh overlooking it. It actually takes a bit of effort to reach the top.of the fort, which is more like trekking, that too under the unforgiving sun of Rajasthan. Walls of the fort can be seen covering all parts of the hillock. I guess originally the bulk of the town was built around this only. Interestingly, the homes in Bundi also are coloured in Blue and so you can see the same view as Jodhpur from the top.
Read this post for the upper parts of Taragarh & Baolis.
Garh Palace and Chitrashala
The main palace is located at a slightly lower level on the same hills and are connected with each other. The most iconic part of the palace is the Chitrashala, the room full of frescoes. The artistry here reached such heights than Bundi has its own school of art and this contains the best examples of the same.
Read this post for Chitrashala.
Nawal Sagar
Nawal Sagar is a manmade lake right at the middle of the Bundi town. There is a half-submerged temple in the lake that is easily visible in the winters. Try to capture the reflections of the fort in the lake.
Raniji ki Baori, Dabhoi Kund and other Stepwells
Bundi is full of baoris (baolis/stepwells). The most famous one is the Raniji ki Baori located near the fort. Another major stepwell is Dhabhoi, which is a bit far from Taragarh but is a large construction, more like a pond with steps. There are many smaller stepwells in and around Bundi that you can locate if you try.
Sukhmahal and Jaitsagar
Sukh Mahal #BundiThe yellowish cream coloured palace is not that big but has got the perfect location with the hills on one side and the lake on the other. It is adorned with some exquisite statues and classic Bundi art. It is located on the bank of Jaitsagar, which is another major lake a bit far from the centre of Bundi.
84 Pillared Cenotaph (Chaurasi Khambon ki Chhatri)
As the name suggests, it is a massive cenotaph, supported by as many as 84 pillars. Interesting artwork can be seen on the walls, pillars, and ceilings inside.
Read this post for the Chhatri & Sukh Mahal.
Streets of Bundi
Apart from specific monuments, artistic traditions have spilled over the town of Bundi. So, mere walks around the old town is a delightful experience. You can see most of it in this post itself.
Prehistoric Paintings of Bundi
This is an ancient region and of late, some prehistoric rock arts have been found around this region. It'll be hard to find them if you just roam around yourself and you should find locals who can help you.
I have not explored them but I found this post on Bundi Rock Paintings that may be useful.
Other Major places & attractions in Hadoti Region around Bundi
Kota
Kota is a big city on the banks of the lovely Chambal River. You can reach all the other places from here. This used to be a princely state too. So, it has enough palaces, ancient temples, and lakes to explore. The Garh Palace or the city palace is the main attraction with a museum too. Also notable is the Jagmandir Palace in the middle of a lake (Not to confuse with the one in Udaipur).
Garadia Mahadev
It wasn't very famous until recently but a Rajasthan Tourism ad made it famous. Its an ancient temple hidden inside the hills from where you get to see epic views of a very unusual horseshoe bend of the Chambal River. Its a bit far from Kota and you will need to ask around and get a vehicle from Kota. Watch the video below.
Baroli Temples at Rawatbhata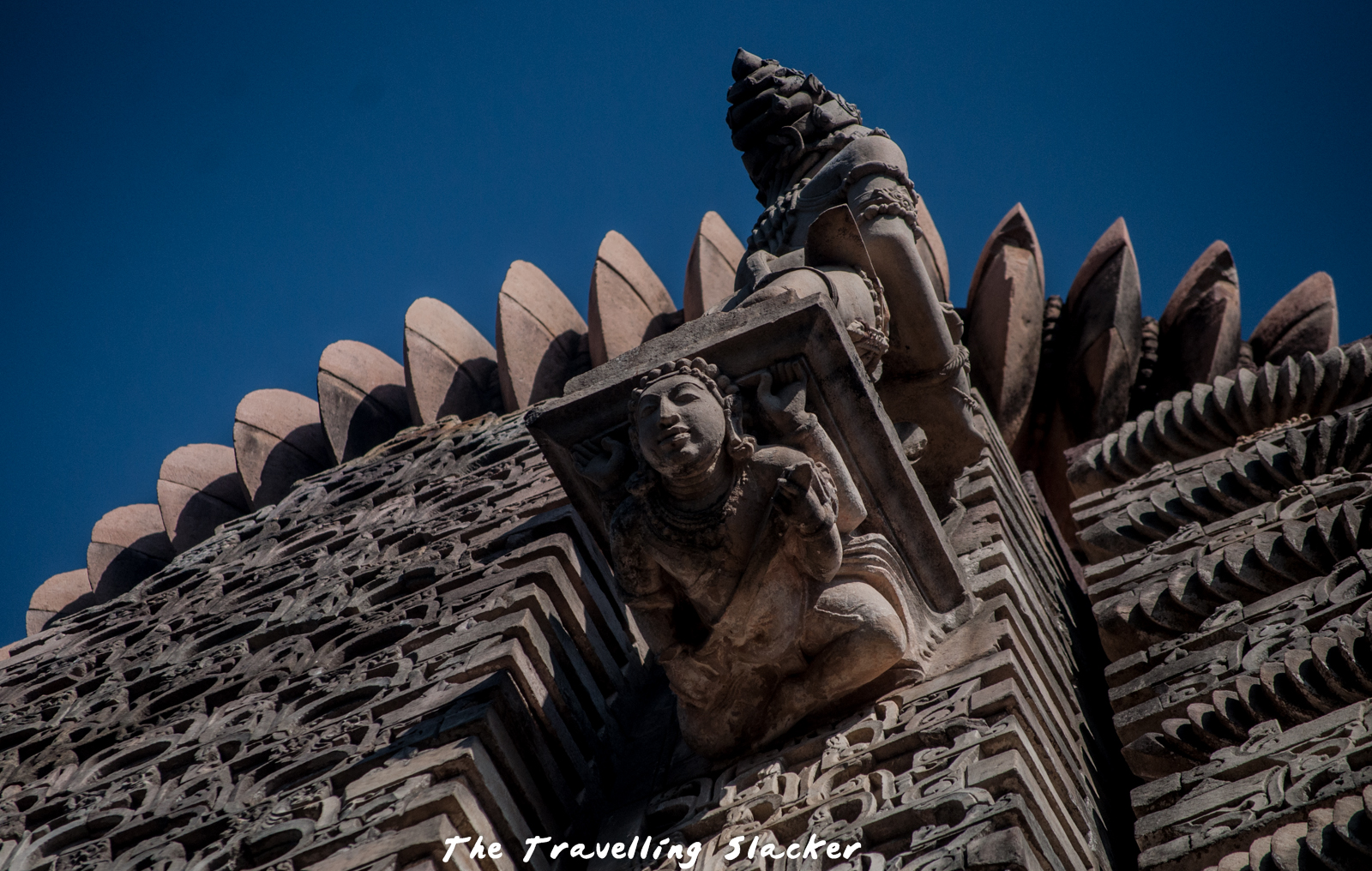 Rawatbhata is a major industrial town with a nuclear plant and a dam over the Chambal. Just before you enter the town while travelling from Kota, you will come across the Baroli Temple Complex, which is at least 1000 years old. It is not a very massive complex but it has been sculpted with such intricate detail that one feels an urge to photograph every square inch of these walls.
Read this post for Baroli Temples 
Bhainsrorgarh
Then one day I came across a photograph of Bhainsrorgarh Fort atop a little hillock on the banks of Chambal. There was the reflection of the same on the crystal clear water of Chambal, a reflection so immaculate that no one could figure out even if you turn the photograph upside down.
Read this post for Bhainsrorgarh.
Jhalawar
Jhalawar used to be a different princely state and so the center of the town is the Garh Palace, a part of which is a museum with many interesting artifacts found in the entire region. This town is a bit too crowded and lacks the touristy vibe of Bundi. I did not enjoy the town much but the museum is worth visiting and is the gateway to Jhalrapatan and Gagron.
Jhalrapatan
It is a short distance from Jhalawar (Look for local shared autos). The oldest relics in Jhalrapatan date back to 6th and 7th centuries. The Surya Temple (Sun Temple) or the Padmanava Temple was built in the 10th or 11th century but I could not find any definite information regarding the people who built it. The alternative names are confusing because they represent two different deities.
Read this post for Jhalrapatan.
Gagron Fort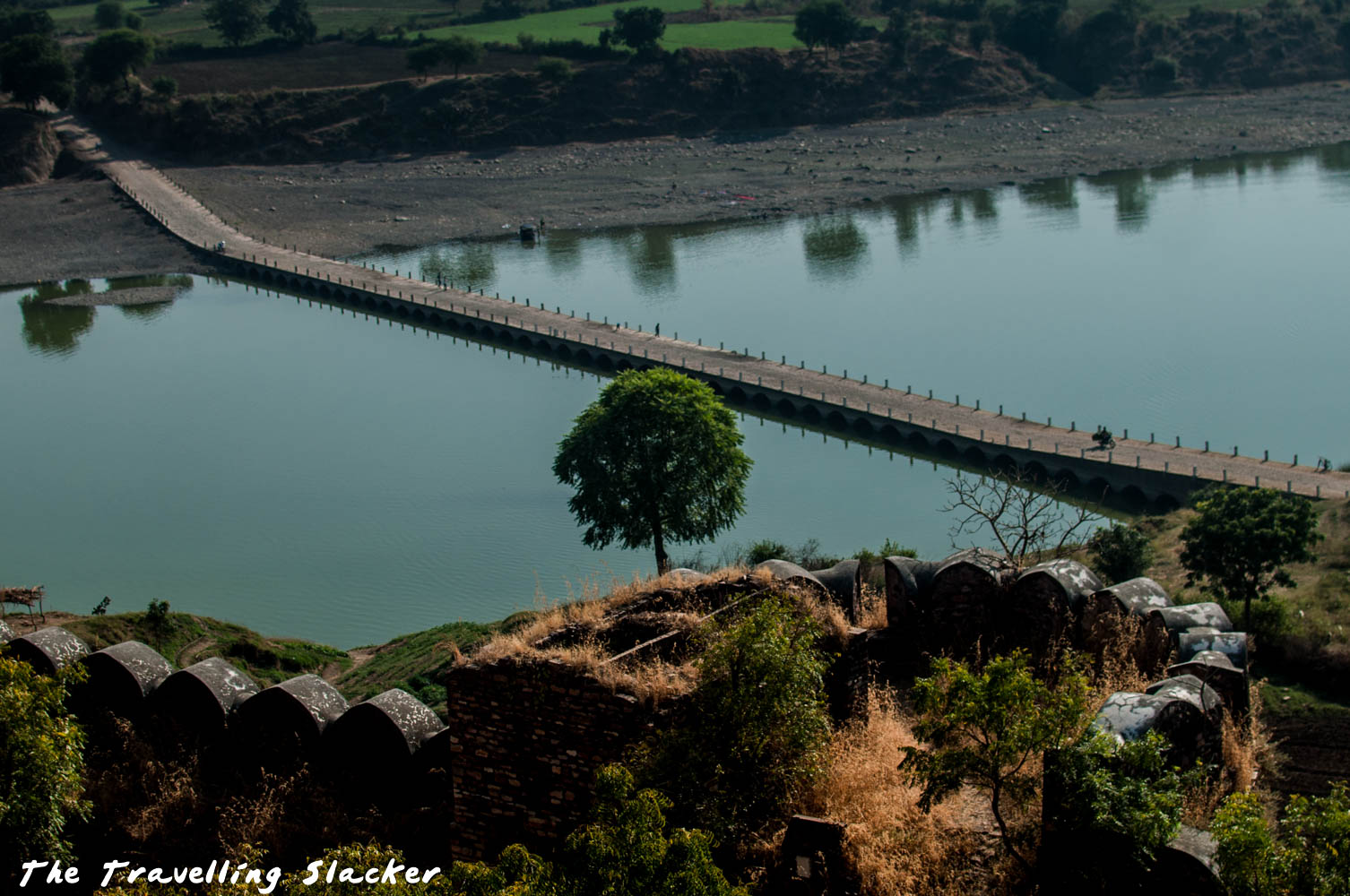 Gagron Fort is listed as one of the "Hill Forts of Rajasthan", a cluster of heritage sites by UNESCO but unlike the rest in the list, it is barely known and rarely visited. It nevertheless stands alone and stands tall on the banks of Kali Sindh.
Read this post for Gagron.
Baran
This is somewhat far off, and the least explored area of this region. It has a fort and some other attractions but I have never been there.