The major rivers in Northern India are long, vast, and deep. They remain navigable throughout the year. That's why they have huge potential in terms of transportation and trade and only a fraction of that has been realized so far. So, I'm glad to see the announcement of MV Ganga Vilas river cruise connecting Ganga to Brahmaputra through Bangladesh. It's a great addition to the tourism scene and it covers many major places along the route. Although I haven't done it yet, here's a quick guide on it based on what I could understand.
What exactly is MV Ganga Vilas?
Ganga Vilas is a luxury cruise ship that operates between Varanasi (Kashi/ Banaras) in Uttar Pradesh to Dibrugarh in the eastern edge.
The luxury cruise MV Ganga Vilas has three decks, 18 suites on board with a capacity for carrying 36 tourists at one go, with all the amenities like gym, swimming pool, onboard entertainment, live performances, and local food of the regions that the ship touches throughout its journey.
What is the duration of the complete cruise?
The cruise takes a total of 51 days to complete the whole course.
What is the general route?
The route as per official statement is as follows…
Varanasi-Ghazipur-Buxar-Patna-Munger-Sultanganj-Bateshwarsthan-Samtaghat-Farakka-Jangipur-Murshidabad-Matiari-Kalna-Kolkata-Namkhana-Bhagabatpur-Sajnekhali-Hemnagar-Antihara-Mongla-Bagerhat-Kotka-Harberia-Morrelganj-Barisal-Meghnaghat-Sonargaon-Dhaka-Aricha-Tangail-Sirajganj-Chilmari-Dhubri-Goalpara-Sualkuchi-Guwahati-Tezpur-Biswanath-Silghat-Kaziranga-Majuli-Dibrugarh
It'll definitely stop at some of these spots to cover some major attractions but I'm not fully sure how long the halts will be. At least some of these places have significant attractions in the 100 KM radius but I'm not sure if all of them will be covered. Nevertheless, I'll try to list them out and update if I get more information.
Which Rivers will be covered by the MV Ganga Vilas Cruise?
While named after the river Ganges, it is going to cover many other rivers. The cruise will start at Varanasi as it travels along the Ganga through Uttar Pradesh, Bihar, and Jharkhand to enter West Bengal where it meets the river systems of Bhagirathi, Hooghly, Bidyavati, Malata, and Sundarbans. It will then flow through Bangladesh's Meghna, Padma, and Jamuna rivers before re-entering India through the Brahmaputra in Assam. The journey will eventually end in Dibrugarh, on the eastern edge of Assam bordering Arunachal Pradesh. While the journey ends here, this actually acts as a gateway to some of the most exciting and least explored areas of India such as the Dibang Valley, Lohit Valley, Namdapha, and Dibru Saikhowa. This region is also the hub of the tea trade in Assam.
Top Features of MV Ganga Vilas Cruise
The MV Ganga Vilas vessel is around 62 metres in length and 12 metres in width. It has a draught of 1.4 metres. The ship has three decks with 18 suites on board that can accommodate a maximum of 36 tourists at one go. It is equipped with amenities like a gym, spa, and salon.
What's the Cost of Ganga Vilas Cruise?
The total per-person cost is about INR 20 lakh (Around $25000), ranging from INR 25,000 to INR 50,000 per day. I'm not yet sure if you have to go for the whole trip which is too long and expensive, or can opt for parts of it.
Top Attractions Covered by Ganga Vilas
The itinerary of the MV Ganga Vilas has been designed to highlight India's historical as well as natural heritage, with halts at archaeologically, culturally, and religiously important sites.
Varanasi
The trip starts from Varanasi. It is one of the most ancient continuously inhabited cities in the world. A major cultural and religious center, Varanasi has enough to keep you occupied for several days. In the morning, you can go for a boat ride on the Ganges. It is a mystical and spiritual experience as you watch people offering water to the Sun God and devotees taking holy dip in the Ganges. We will visit all the famous Ghats of Varanasi via boat. Latter visit the most religious Kashi Vishwanath temple, Annapurna Temple, the Bharat Mata temple, Sankat Mochan(Hanuman temple), Manas Mandir, BHU. Latter in noon, you can go for an excursion to Sarnath, where Buddha delivered his first sermon to his disciples. The attractions at Sarnath are the Buddha temples, the Dhamekha stupa, Chaukhandi stupa and the archaeological museum.
In the evening you can witness Ganga Arti for a spiritual experience in one of the major Ghats of Varanasi. You can also take an evening time boat ride for a clearer view of the newly renovated Kashi Vishwanath corridor. There is much more to explore here in terms of street food and shopping. I don't know how much time they will dedicate to Varanasi but if yu have time, there are many other attractions in a fe hours radius such as Chunar Fort and prehistoric ruins and waterfalls that are not included in usual itineraries. 
Buxar
After UP, the ship enters Bihar. Initially it passes through areas like Buxar, which was the site of a major battle between the East India Company and the local rulers back in 1764 AD.  The tourists will visit different tourist places of Buxar including War memorial and Sita Ram Upadhya Museum on Sunday.
Bihar School of Yoga
Yoga is synonymous with India and visiting a school of Yoga is definitely worthwhile if you are new to India. Sri Swami Satyananda Saraswati, established Bihar School of Yoga in Munger in 1963, followed by the Ganga Darshan complex. Swami Niranjanananda Saraswati, with the blessings of his predecessors, founded Bihar Yoga Bharati in 1994, to preserve and regenerate the total scope of yogic science by fusing scientific methodology with a spiritual vision.
Vikramshila University
Vikramshila was one of the foremost centers of learning in ancient India. It was razed to the ground by Bakhtiyar Khilji, one of the early Islamic invaders, along with Nalanda. The archaeological ruins of the site have been renovated and attempts are on to turn it into a tourist attraction. Another major University of Nalanda also met the same fate and is not far but I am not sure if it will be included 
Patna
Patna is the capital of Bihar but once it was called Patliputra in the ancient times and most of the major empires of classical antiquity had this as the capital. You can still visit many historical sites, temples, gurudwaras, mosques, as well as museums that are worth visiting to get a slice of India's history.
Sahibganj
Sahibganj is a scenic port town in Jharkhand. It is situated on the southern bank of the Ganges in the north-eastern region of Rajmahal subdivision. Sahibganj is the sub-divisional headquarters since 1944 and presently it is the district headquarter as well. It has a municipality, which was constituted in 1883. The town has a well, constructed in 1915 known locally as "Bhagwa Kuan" which was constructed in memory of Edward VII. There's much to see in this area including the Rajmahal hills, Moti Waterfall and the Fossil Park at Mandro.
Murshidabad
Murshidabad is an important heritage area in West Bengal. It was a prosperous town during the late Mughal era and there are still many palaces, mosques, temples, and other medieval buildings that can be explored. 
Kolkata
Kolkata, the city of joy, is one of the most important cities in India. There are scores of historical monuments, cultural destinations, and food experiences that are waiting for you here. It definitely can't be covered in one day. From Victoria Memorial to Daakshineshwar, and from Indian Museum to Kalighat, and from Chinatown to the French and Dutch Heritage, there's much to see and do here.
Sunderbans
Sunderbans needs no introduction. It's a delta that is spread equally across India and Bangladesh and the deep jungles here are known for their royal bengal tigers. Apart from the tigers, many other flora and fauna can be seen and it will be delightful to explore the life and culture of the people living in close proximity of the dangerous forests.
Dhaka
As the cruise leaves India and enter Bangladesh, you invariably send up in Dhaka. The Old Town of Dhaka has many historical It used to be a major economic center during the medieval times. So, you'll find many important Mughal era buildings as well as some colonial structures too. The likes of Ahsan Manzil and the Lalbagh Fort display it's past glory while visiting the National Museum and the Liberation War Museum is a good way to learn more about the land.
Dhubri
After re-entering India, the first major town you'll come across is Dhubri in western Assam. It's a small, underdeveloped town that has an interesting Sikh Gurudwara built by Guru Tegh Bahadur in the 17th century during the Mughal invasion of Assam. He was later beheaded by Aurangzeb in Delhi.
Goalpara
The next major stop is Goalpara, another historic but sleepy town. There's a major archaeological site or Sri Surya Pahar nearby but I don't know if it is included in the itinerary.
Guwahati
Guwahati is the largest city in the entire Northeast and practically the gateway to most other parts of the state as it is also the most important airport and railway station in the region. Dispur, the official capital of Assam, is actually a small locality within the metropolitan area of Guwahati. This city itself is not cited as a tourist attraction but there are enough attractions in and around the city if you know where to look for. Also, you can easily find transport from Guwahati to other major attractions such as Shillong and Kaziranga.
While the origin of the name Guwahati is not clear, this region actually has an ancient history, which is evident from all the ancient temples scattered within the city and also in the neighbouring areas. In the middle ages, Guwahati used to be a frontier town for the Ahom Kingdom. Due to its natural location on the banks of the Brahmaputra, it was always a port-city and a trading hub. The advent of the British and resultant geopolitical realignments made Guwahati the centre of Assam, located somewhere in the middle, from both its eastern and western borders, and it grew quickly to become a populous city.
As the capital city, Guwahati also has other attractions such as a zoo, a museum, and a planetarium, that attract a lot of tourists, especially family tourists with children. Especially a visit to the state museum may be a good way to gain an understanding of history and culture of the state at the start of the trip. You can also visit the Srimanta Sankardev Kalakshetra, a cultural complex where you can catch cultural performances, events, and gain an understanding of Assam's cultural diversity. Guwahati is also known for its temples, with the Kamakhya Temple being the most famous one. There are many other ancient temples in Guwahati, such as Navagraha Temple, Umananda Temple, Ashwaklanta Temple, etc.
There's a lot to do here so it'll be better if you read my full Guwahati Guide.
Kaziranga
The Indian one-horned rhino is one of the most endangered large mammals in the world and the Kaziranga National Park in Assam is its best known habitat. A UNESCO World Heritage Site, Kaziranga is a treasure trove of exotic flora and fauna. The gigantic but benevolent rhinos are the biggest crowd-pullers here but there are many other rare animals and birds that can be found here including tigers, elephants, leopards, hoolock gibbons, swamp deer, hog deer, pelicans, greater adjutant storks, white-winged wood ducks, and many more.
Kaziranga is one of the most developed tourist areas in the Northeast with scores of resorts, lodges, restaurants and other facilities. Jeep safaris, as well as elephant safaris, are the primary modes of exploring the national park. Jeeps are more convenient but the elephants can get closer to wild animals. The park gets flooded and closed down during the monsoon season and it is best experienced in the winter, between November to March.
Majuli River Island
Majuli is a river island on the River Brahmaputra in Assam. It is one of the largest in the world as per the records. However, you don't have to visit Majuli just because it is mentioned in the record books. There are many other delights offered by this island. In fact, Reaching Majuli itself is an adventure. You need to cross the river on a boat and due to its location, it has seen very limited urbanization. This makes it a secluded, rustic, and peaceful entity far away from other towns and cities in the state. It is also a good spot for nature lovers, especially bird watchers. Many local water birds and some migratory birds are easily visible in the open fields and water bodies all over Majuli.
Majuli is also the cultural centre of Assam, one of the primary centres of the neo-Vaishnavite culture that have been dominating the sociocultural life of most parts of Assam over the last 500 years. There are many "Satras" in Majuli, which are the institutional centres of the aforementioned religious sect. They not only work as religious sites but also as cultural centres that have a huge influence on the social lives of the local people. Classical dance forms, drama, and music have also been developed through these institutions over five centuries.
Read my guide to Majuli here.
Sivasagar: A Walk Through 600 Years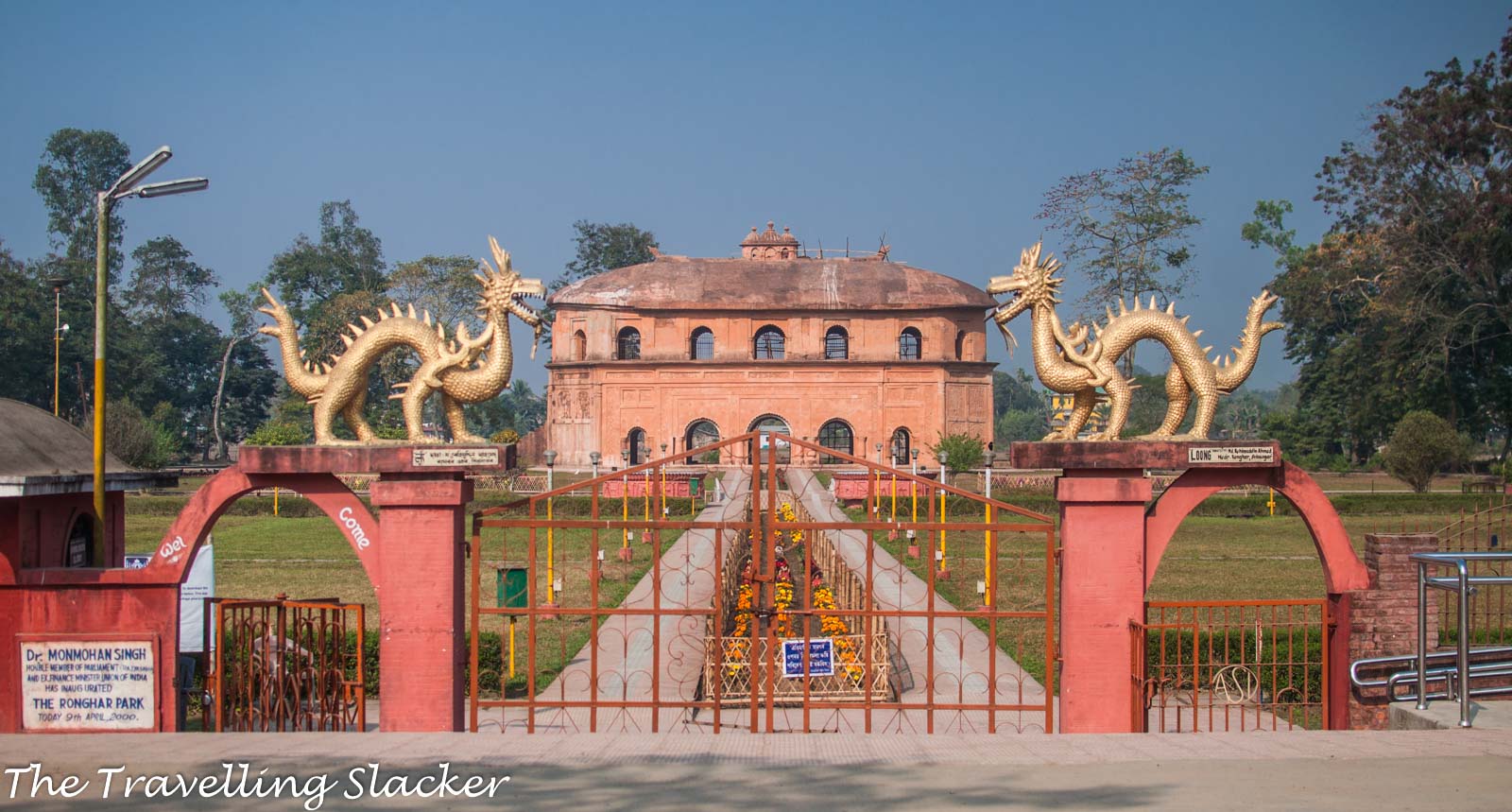 Chao-lung Sukapha was a local prince somewhere in present day Yunan province of China. He was tired of conflicts at his home and wanted a new place to carve out his own empire. He took up this epic journey to Upper Assam via Myanmar and Patkai Hills. On his arrival, he was so delighted by the sight of the golden rice fields of the fecund plains from the hills that he ended up calling this land the "Golden Casket" and established the Ahom Kingdom in 1228 AD that lasted for 600 years till the arrival of the British.
The present day Sivasagar is a reasonably big city, headquarter of a district of the same name. But still there are scores of monuments scattered all over the city and the nearby areas. It is ideal for a nice heritage walk through 600 years of history, especially on pleasant winter days when the temperature remains moderate. Some of the monuments you need to visit include Rang Ghar, Kareng Ghar, Talatal Ghar, Sivadol, Joydol, Charaideu Maidams, etc.
Read more about the Sivasagar Heritage City here.
Dibru Saikhowa National Park
The trip ends on Dibrugarh but if you want, you can travel a bit more and visit this one. The Dibru Saikhowa National Park is located on the easternmost corner of Assam bordering Arunachal Pradesh. Technically it is divided between both Tinsukia and Dibrugarh districts. It is one of the largest swamp areas in the region as it is mainly surrounded by Lohit and Dibru rivers that eventually merge to form the Brahmaputra. So, the combination of floodplains as well as the water bodies combine to create its unique landscape.
It is bound by rivers and has to be explored on boats. Nowadays you even have houseboats where you can get you own cabin and take a multi day tour. You can not only see the usual mammals and birds but there are some really unique attractions such as the Gangetic river dolphins, and feral horses, descendants of military horses left behind by the allied forces after the World War II, who wandered into the jungles and developed into an untamed breed on its own.
Finally, do note that while the trip ends in Dibrugarh, it's the gateway to many important circuits of Arunachal Pradesh. If you don't know anything about Arunachal…. Well you can just buy my book on Arunachal and then prepare for some hardcore adventures. It is available globally both as paperback and ebook.