An edited version of this article on Sivasagar was published in the July-August issue of Discover India's NE Magazine.
__________________
The prince was not happy. Internal politics and incessant conflicts were weighing him down and he was losing interest in ruling the land of his birth. Eventually, he decided to leave that land with a powerful army and move southwards to build his own destiny and his own free kingdom. Thus began the epic journey of Chao-lung Sukapha, from Yunnan to Upper Assam via Myanmar and Patkai Hills. On his arrival, he was so delighted by the sight of the fecund plains from the hills that he ended up calling this land the "Golden Casket" and established the Ahom Kingdom in 1228 AD that lasted for 600 years till the arrival of the British.
This is the basic history that everyone in Assam learns in school. This is also why the city of Sivasagar occupies an important position in the history of Assam as most of the major Ahom settlements were located in and around Sivasagar. After my Majuli trip, I decided to quickly cover this town also because it was not really far. My original idea was to return to Jorhat and look for a bus but locals told me to wait on the highway, somewhere between Nimatighat and Jorhat, instead of entering Jorhat again. They were actually right and I soon got a bus and reached Sivasagar in an hour or so. As my bus entered the town, I started noticing one monument after another that reminded me of numerous "Heritage Walks" in Delhi. If there was one place in Assam that has enough preserved heritage to facilitate a heritage walk, it is Sivasagar although I don't think anybody conducts that right now. So, I decided to go for a heritage tour around Sivasagar on my own.
Charaideo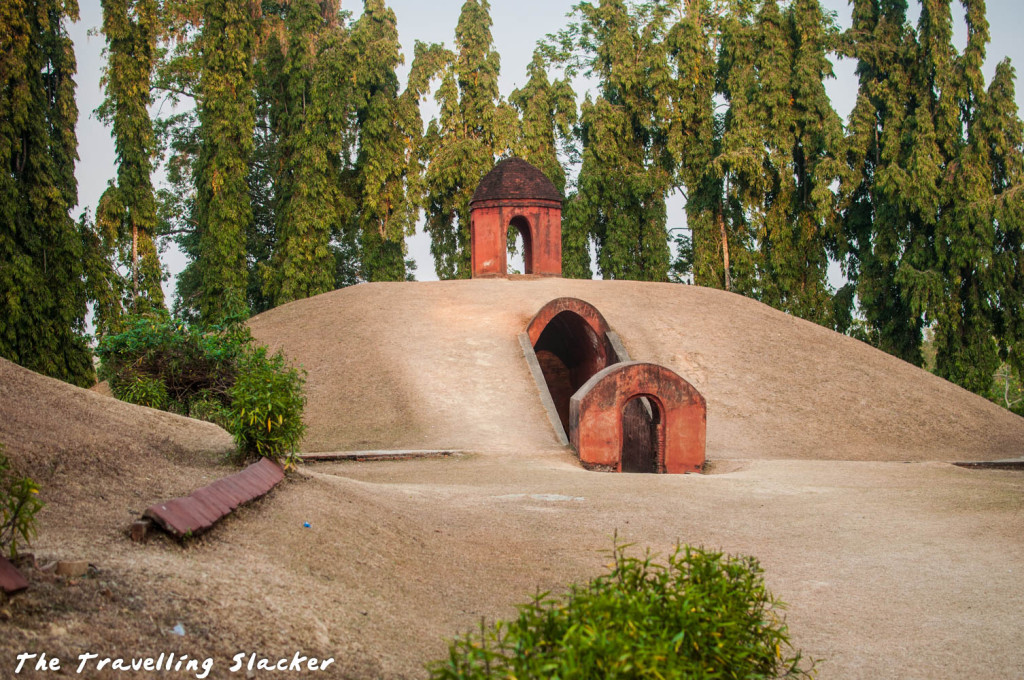 The earliest important settlement of the Ahoms was that of Charaideo (Che-Rai-Doi), which roughly means a "town on the foothill of the mountains" in Tai language. This was Sukapha's first capital and my first destination of this tour. Charaideo is around 30 KMs from Sivasagar and I underestimated the distance. The bus took forever to reach and the road wasn't particularly smooth either. It was beginning to get dark already but on a positive note, the site seemed to have been repaired and beautified recently. So, it was good to find an archaeological site in Assam in a decent shape. The only things left here nowadays are the "maidams" or tombs of the kings. Originally there were around 150 of them spread around a vast area but now 30 of them have been protected by the ASI while the rest of them have been vandalized or looted already.
These protected maidams are located atop a small hillock furnished with a newly built staircase and a couple of cannons. As I reached the top, a series of hemispherical mounds appeared. These were basically earthen mounds with no opening but finally I reached a larger one that did have a stone gateway. It actually looked like the homes of the Hobbits from the world of Tolkien but in practice, they were closer to the pyramids as many valuable items and even living beings were believed to have been buried with the dead king to help him in his afterlife. For those who would like to know more about Sukapha, a shiny new museum has been built nearby and evocatively named as "Yunnan to Patkai to Che-Rai-Doi", describing his epic journey.
Read my detailed Charaideo Post here.
Shivadol and Borpukhuri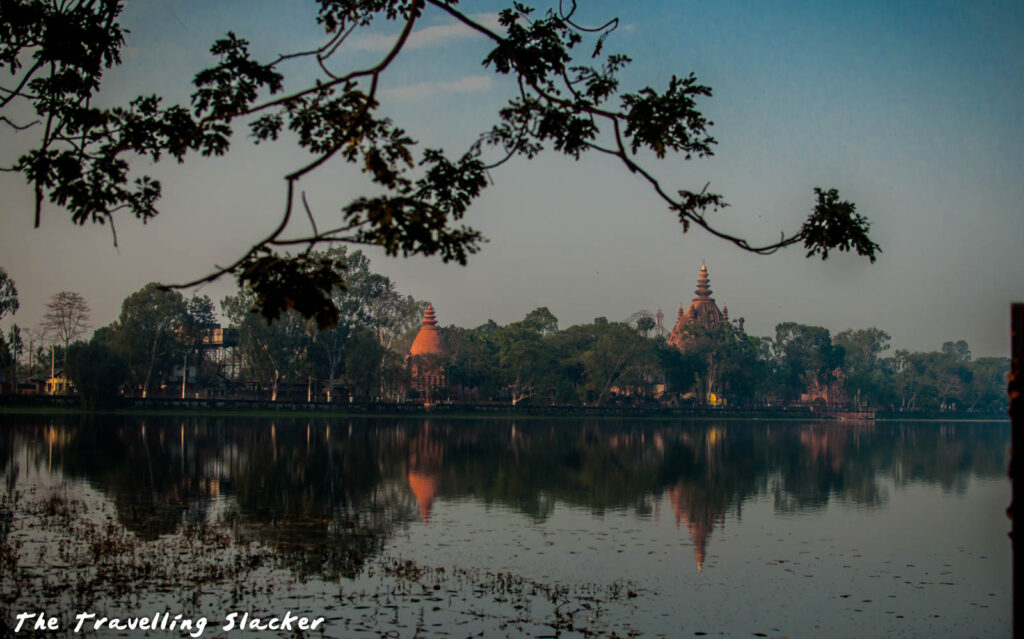 So, my first day was spent on Charaideu and I barely had another day to cover the rest of the attractions but thankfully most of them were within the city itself. So, the next morning I decided to wake up early to make the most of the short winter day. The first stop was Shivadol or Sivadol (pronounced more like "Xibo Doul" in Assamese but I don't think you will get it right if you were not born here), the central point of the city located on the banks of the eponymous Sivasagar tank (Also called Borpukhuri meaning the Big Tank), a large man-made lake that also attracts a lot of birds. It was only 7 AM but since it is a live temple, it was already up and running, full of morning devotees as well as agnostic morning walkers.
The Shivadol was constructed in 1734 AD by Ambika, the Queen of Siba Singha. It is basically a 104 feet tall dome with a mandapa (outdoor hall) leading to the sanctum sanctorum. Another interesting aspect of the temple is the golden "Kalasi" or vase at the top. Apparently, the original one was made of pure gold but it was too valuable for its own good and attracted a lot of unwanted attention. Eventually the British managed to bring it down for the gold. The current one is a gold-plated replica.
The complex has a couple of smaller temples too, called Vishnudol and Devidol, both following the same structure. All three of them have some intricate sculptures on the walls. What is interesting is that Vishnudol was dedicated to the neo-vaishnavite sects while the Devidol catered to the traditional Sakta sects worshipping the goddess. That was actually a period of schism between these two sects and I had only read about endless conflicts between them. But this seemed to be an effort at reaching a compromise and building a more syncretic society that survives till this date.
Read my detailed Sivadol Post here.
Rang Ghar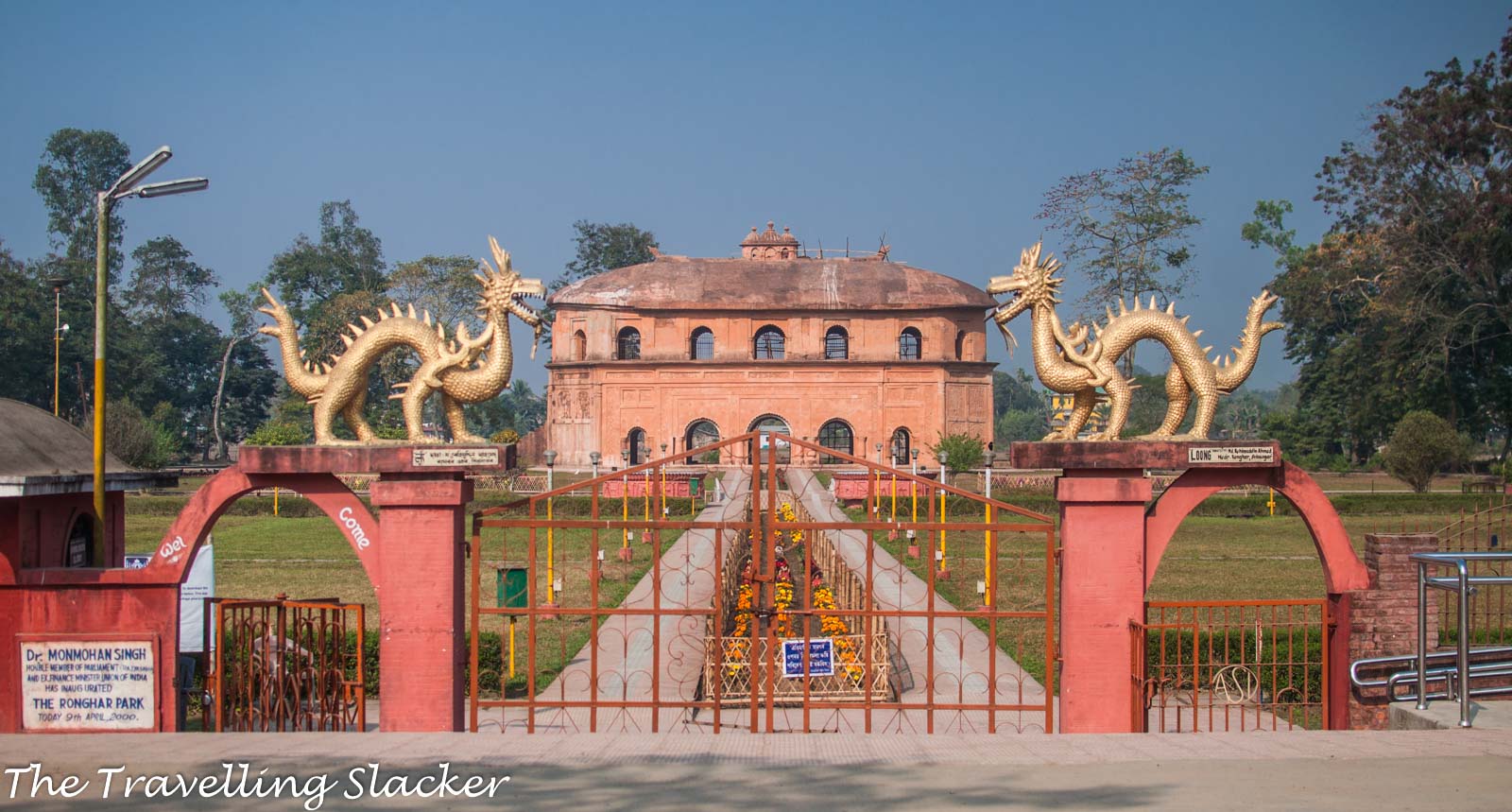 After Shivadol, I quickly walked towards Rang Ghar. If there is one iconic, instantly recognizable monument in Assam apart from the Kamakhya Temple in Guwahati, that is the Rang Ghar. Locals take immense pride in it as the oldest Amphitheater in Asia. I could not exactly verify this claim but there is no doubt about its grandeur. There is a replica of it in Guwahati and one more in Surajkund near Delhi. It is hard to imagine any other monument in Assam inspiring so much imitation.
Built in 1744 by Pramatta Singha, it is basically a two-storied building with a recently renovated and beautified compound. The unique shape of the building is believed to have been inspired by the shape of the Ahom longboats, something that must have served them well in the numerous battles with the Mughals. There are a couple of newly minted dragons atop the entry gate. They used to be the emblem of Ahom dynasty, and a testimony of its oriental origins. From a distance, the walls with multiple arches looked plain except for the top but as I inched closer, some really interesting sculptures appeared, including apes, crocodiles, and some other animals beyond my wildest imagination.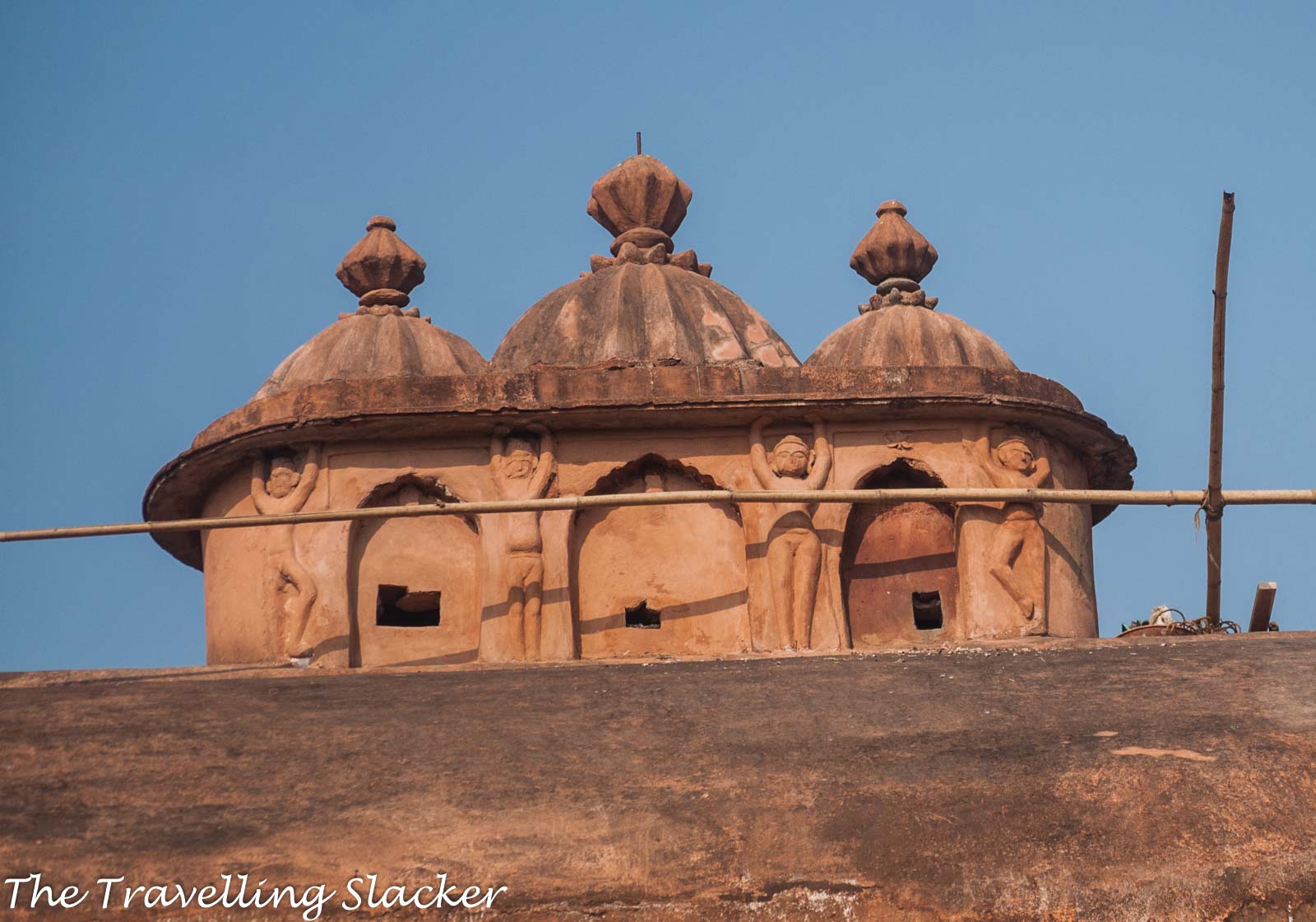 It was built as a pavilion from where the King celebrated various festivals and watched games such as bullfight, elephant fight, cockfight etc. None of these games will be politically correct in this day and age but nevertheless, I climbed up to the upper floor and tried to imagine the same for a while. The view of the vast garden on the compound from the top reminded me of numerous Mughal monuments. In spite of the bitter wars, the Mughals must have given new ideas to the Ahom builders too.
Talatal Ghar
My next stop was Talatal Ghar, which was a short walk from Rang Ghar. I also passed by a smaller building called Gola Ghar or Khar Ghar (Ammunition Depot) that was looking pretty amidst the paddy fields.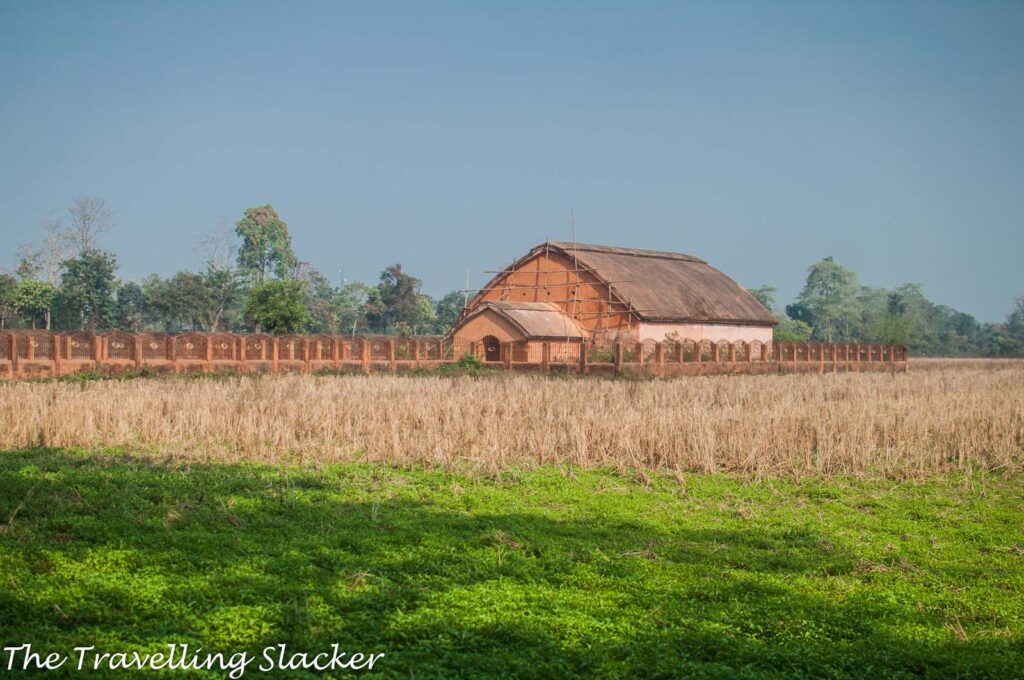 Now, the Talatal Ghar, built over decades by many kings and completed in 1769, is something that I have always had a deep fascination for. In its original form, it was a majestic, seven storied building with four floors above ground and three below the ground. It was built like a maze so that the enemy got lost in those alleys in case they managed to sneak in. There were a couple of secret tunnels to be used as escape routes in case of any eventuality. Sadly, most of these things can no longer be experienced now. All that remains is basically one floor with a very irregular geometry that is hard to describe. The upper floors were apparently made of wood and so they did not withstand the test of time. One can see the stairs leading to the underground compartments but it is longer safe to go that way and you can't do much apart from using your imagination.
Joydol and Joysagar
Five minutes of walk from Talatal Ghar brought me to Joydol on the bank of Joysagar Tank, another beautiful manmade lake. Both of these were constructed by Rudra Singha (1696-1714) in memory of his mother Joymoti, who sacrificed her life to save her husband and his father. For those who care about unrelated trivia, Joymati was also the subject of the first-ever Assamese feature film Joymoti (1935).
The temple again follows the same structure of Sivadol although it is dedicated to Lord Vishnu. The most interesting part of the temple are the sculptures on the walls. It surely had the Devi sculptures and floral motifs that I saw in the other monuments too. But it also had scenes, most probably depicting warfare. One slab even had people riding on camels, the last animal I expected to see anywhere in Assam. Probably these are a depiction of the invading armies from the west.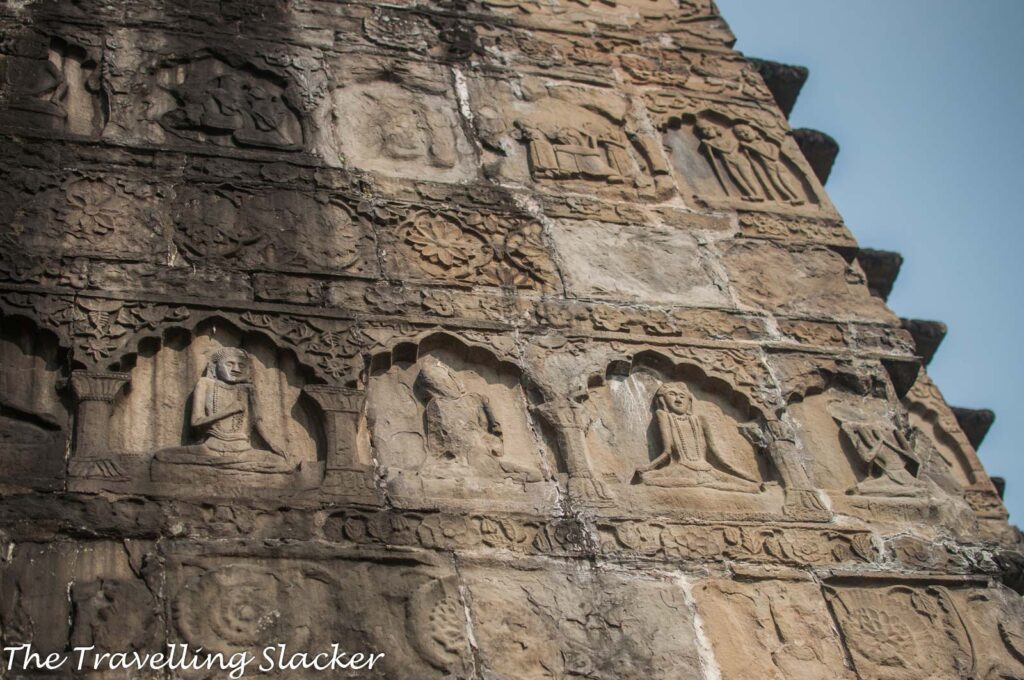 Kareng Ghar, Garhgaon
My last remaining monument for the day was Kareng Ghar in Garhgaon. It was 14 KMs away from the town on the same route as that of Charaideo. But the previous day I could not visit it as it got dark very quickly. So, I found a shared van going that way and reached Garhgaon, which also used to be the capital of the Kingdom for several centuries. What is now left of the original city is a multi-storied palace called Kareng Ghar built in 1752 by Rajeshwar Singha. However, even before that, there used to be a wooden palace at the center of a lively walled city surrounded by a moat that even finds mention in Mughal accounts.
This building, somewhat reminiscent of Mesoamerican pyramids, is still in good shape and it is possible to reach the top of the building climbing up the stairs, something I promptly did. From the top, I could see remnants of pillars on the lower floors. I think this pyramidal shape might have been a result of decay rather than design.
So, my quick Sivasagar trip ended here in Garhgaon. What was interesting in all these monuments is that they all seem to have been constructed around the same period. Older Ahom structures were mostly made of wood and they did not survive. By the start of the 18th century, having comprehensively routed the Mughals after several decades of conflict, the kingdom was enjoying a period of dominance and prosperity. They must have also become aware of the structures elsewhere in India and also they had developed the technology to build lasting structures that could withstand the humid weather of the Brahmaputra Valley. According to some old accounts, they used a very ingenious concoction of sticky rice, eggs, certain types of fish, and other local ingredients as mortar to hold the massive stone slabs together.
It is also noteworthy that these construction activities reached their peak during the final stages of the Kingdom. At that time it might have looked like the pinnacle of civilization but the Ahom Kingdom collapsed within 50 years. This is not too different from the Mughals, who built some of the greatest monuments in India but their peak too did not last long. Ahoms fought many bitter wars with the Mughals and the Assamese regionalist movements have always been driven by the fact that they defeated back the formidable Mughals many times unlike most other parts of India. However, there were cultural exchanges too, as is evident in some of these constructions.
There were still a few smaller monuments that I could not visit, mostly temples scattered in and around the city but I had no time left. Still, it was a very satisfactory experience for me because I have always rued the lack of massive archaeological complexes in Assam and the poor preservations efforts of the ones that exist. The heritage of Sivasagar seemed better maintained compared to any other heritage site in Assam and I can only hope that the same is done for other sites too.
__________
Reaching Sivasagar: It is easily accessible from Guwahati through bus and train, nearest Airport is Jorhat
Stay: Many Hotels of various budgets around the bus stand. The train station is also not far.
Tickets: 15 Rs for Indians and 200 Rs for foreigners in most monuments