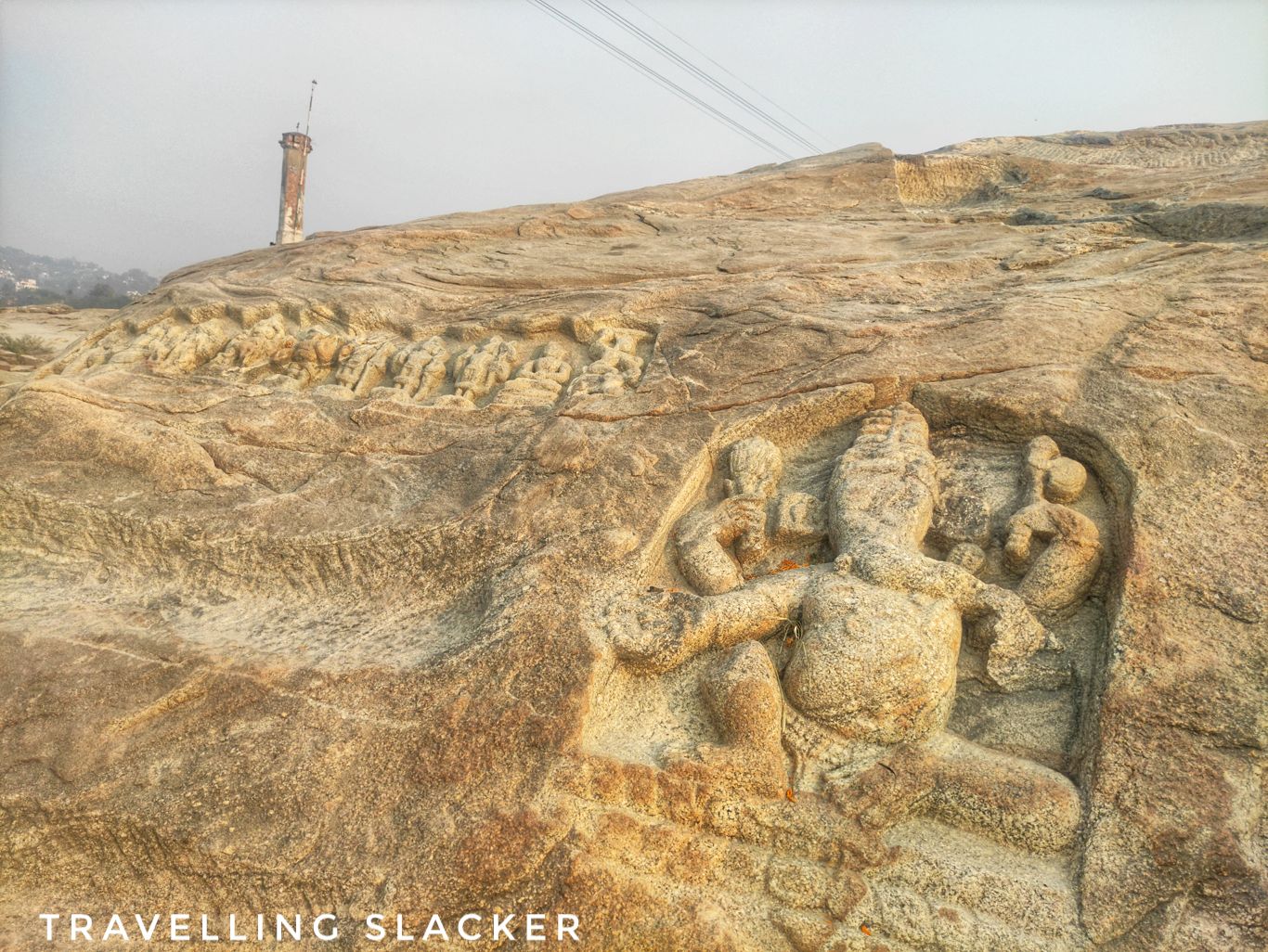 Guwahati is my hometown, at least technically. Just like most people, I moved out to bigger metropolises of India in order to study, and then to work (I also did it to find more freedom in obscurity, that's a different story though). Since then I've periodically returned to the city, and every time I have seen it change and grow, although not always in a manner I like. To be honest, it has never been my favourite place for various reasons but I can't ignore it either.
One thing I've observed over the years is that the information available online on the city is scarce, and scattered. I know there are good books about the city and its history but present-day Guwahati requires compact documentation for tourists and travellers who would like to know more beyond those 2-3 cliched things everyone suggests. 
In fact, whenever anyone asks for recommendations about the city, they are given very limited options. In spite of its vast potential, the city was never developed as a tourist destination. However, the fact is that it works as a gateway to the entire Northeast India. So, whether you like it or not, most people reach Guwahati before moving to other parts. Even most of the locals seem disinterested and most of them have no clue what to suggest when someone asks them. So, this post is sort of a travel guide for Guwahati. 
If you have time, you can easily spend a few days exploring various spots in a 100 KM radius of the city.  So, let's start.
Guwahati City Travel & Sightseeing Guide
A Brief History of Guwahati
While the present city was developed later, this area has been inhabited for a long time and the ancient temples and archaeological ruins are a testimony to that. In fact, some excavations right at the heart of the city have unearthed artifacts that are 2000 years or older (some of them can be seen in the Guwahati Museum which is located not far from one of the major excavation sites called Ambari, which was earlier a school).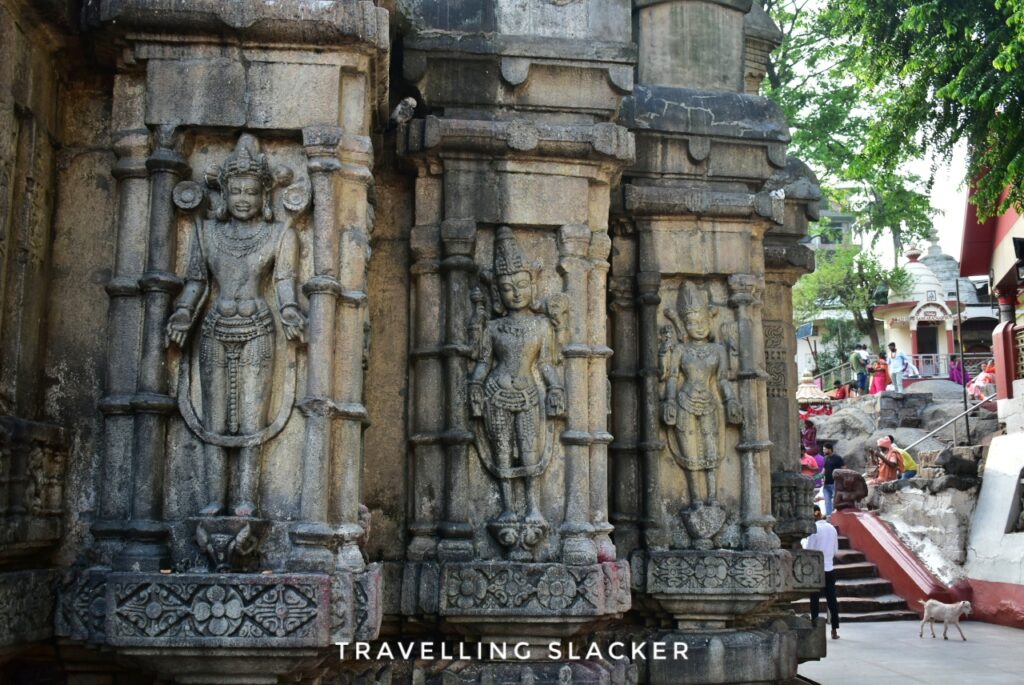 As these ancient temples suggest, it used to be a major city even during the undocumented antiquity. It was the center of Kamrup Kingdom (even now the district around the city is called Kamrup District). One of the ancient names of the city is Pragjyotishpura. "Jyotisha" usually means astrology, so this may indicate the practices prevalent here in this region. Although historical documentation is scarce, Kamarupa is even mentioned in the ancient epic of Mahabharata. 
The earliest-known and verifiable mention comes from the 4th-century Allahabad inscription of Samudragupta. The kingdom achieved greater fame in the 7th century when Bhaskarvarman allied with Harsha of Kannauj to invade Gaur (Bengal). Details are limited from this period but a lot of archaeological remains can be seen in the form of still-existing temples and various excavated remains.
Two major trends started during the 13th century Assam. From the west, the Islamic conquerors started venturing into the Brahmaputra Valley while from the East, the Ahoms entered Assam. The former were beaten back but the latter assimilated quickly by establishing their own kingdom and became an inseparable part of Assam. The Ahoms always had their capital in upper Assam (Eastern Assam) and around that time, another indigenous kingdom called Koch Kingdom also came up covering lower Assam and North Bengal. Modern-day Coochbehar was the center of this kingdom and so, Guwahati became sort of a border town sandwiched between both kingdoms. However, it still remained a major site for pilgrimage and a major river port. 
The Sultans of Delhi and later on Mughal emperors kept venturing into this area without much success and the famed Battle of Saraighat was fought on the outskirts of the city. During those times Guwahati changed hands many times.
The arrival of the British gave a new lease of life to the city and it became an important trading center. Since then, the city has grown rapidly, especially in the last few decades. Now it is a city with most of the modern amenities and international outlets, however, it also suffers from unplanned and vision-less growth, and a rapidly increasing migrant population.
Geography of Guwahati
Guwahati is inseparable from the river Brahmaputra. As you can see from the map, the main city of Guwahati is located on the southern bank of the river. However, North Guwahati was also a thriving city in ancient times. 
The southern border of the city touches the hills of Meghalaya and so there are a lot of natural escapes, small hikes, and waterfalls in this area. This area was sparsely populated and they were basically small villages in the edge of the city but now the growth has started reaching them.
Vintage Guwahati is the area scattered around the southern bank of the river, covering areas like Uzan Bazar, Panbazar, Fancy Bazar, and Paltan Bazar. The rest of the areas have gradually grown in the last fifty years.
However, the good news for a tourist is that most of the attractions are still centred around the old Guwahati. So, you can cover a good number of things in one day by focusing on this area.
Have a look at the map below and understand the areas and roads that you may come across. Do note that it is a very basic map and I have just depicted the major roads.
Borjhar: This is the area of the airport. It is a few KMs outside the city and you'll need cabs or buses to reach the city from here.
Vintage Guwahati: The center of Guwahati on the banks of the river as mentioned before covering areas like Uzan Bazar and Panbazar. The Guwahati Rail Station also is located nearby.
GS Road: The main highway that runs through the heart of the city. Most major markets, shopping malls, and other commercial establishments are located along the road.
Zoo Road (RG Baruah Road): A parallel road to GS road and they eventually converge at Ganeshguri. As the name suggests, the Guwahati Zoo is located on this route.
Highway: What people on the street usually refers to as "Highway" is the National Highway 27. It was built to reduce congestion of the main roads inside the city. Now this area is also growing with the development of the highway but it still is a work in progress. The ISBT is located on this road.
Kamakhya: It is still on the river bank but located towards the western edge of the river. There's also a major train station here.
Six Mile- Khanapara: Eastern Edge of the Guwahati. The road to Shillong and Upper Assam goes out from here
Basistha and Garbhanga: Southern Edge of Guwahati closer to the forested hills of Meghalaya.
North Guwahati: It is the other side of the river. It looks like a small town compared to Guwahati. But there are many ancient temples here.
Understand the Different Names
We all know that Guwahati is a city in Assam. But there are some other names that you may come across some other names that create confusion. So, before going further, let's make these things clear.
Guwahati
The name Guwahati probably came up in the early middle ages. The exact origin is hard to verify but the consensus is that the name derives from "Guwa", areca nuts in the local dialect, which still grows here aplenty. 
Kamrup
Kamrup is the name of the whole region of middle and lower Assam which used to be a kingdom too during ancient times. Most historical temples and archaeological sites here belong to that era before the 12th century. The most famous origin of the name Kamrup is that Kamdeva regained his shape through tough penance after getting burnt by Lord Shiva due to a minor offense. At present, Kamrup is the district that is centered around Guwahati City
Kamrup Metropolitan & Kamrup Rural
Due to Administrative reasons, Guwahati was declared a separate district a few years ago. So, this district is called Kamrup Metropolitan District covering Guwahati and its suburbs. The rest of Kamrup is now known as Kamrup Rural district.
Pragjyotishpur
Pragjyotishpur was the ancient city on this area, something that is probably still buried under the present city. In ancient times it was probably spread both around Northern and Southern banks of the city, which is why we have these surviving temples on both sites. The name is derived from jyotish (astrology), as it was believed to be a major center for the same. One surviving vintage from that era is probably the Navagraha Temple, where one can worship nine celestial bodies for better luck.
Dispur
You may have come across that Dispur is the capital of Assam in various schoolbooks. Don't get confused by it. Dispur is basically a small locality within Guwahati that houses the state assembly and other administrative offices that run the whole state, like a less affluent version of Lutyen's Delhi.
North Guwahati/Uttar Guwahati
The area across the Brahmaputra on the other side. It's somewhat detached from the main city but it has many ancient temples.
Top Attractions in Guwahati: Things to See and Do
Guwahati Temple Trail
Guwahati, in a way, can be called the city of temples. While the locals know about them, visitors are usually told of one or two of them while the rest of them remain hidden. Do note that here we are talking about historical temples with archaeological significance. I am deliberately avoiding newly built temples and shrines that do not interest me.
The Kamakhya Temple, which is a Shaktipeeth, is the most famous landmark here. However, many people don't know that there are several other temples on the same hill. If you are visiting as a tourist, you can visit anytime, by finding a cab or bus. However, if you are a serious devotee and want to offer puja, remember that you will have to go early in the morning and endure a long queue.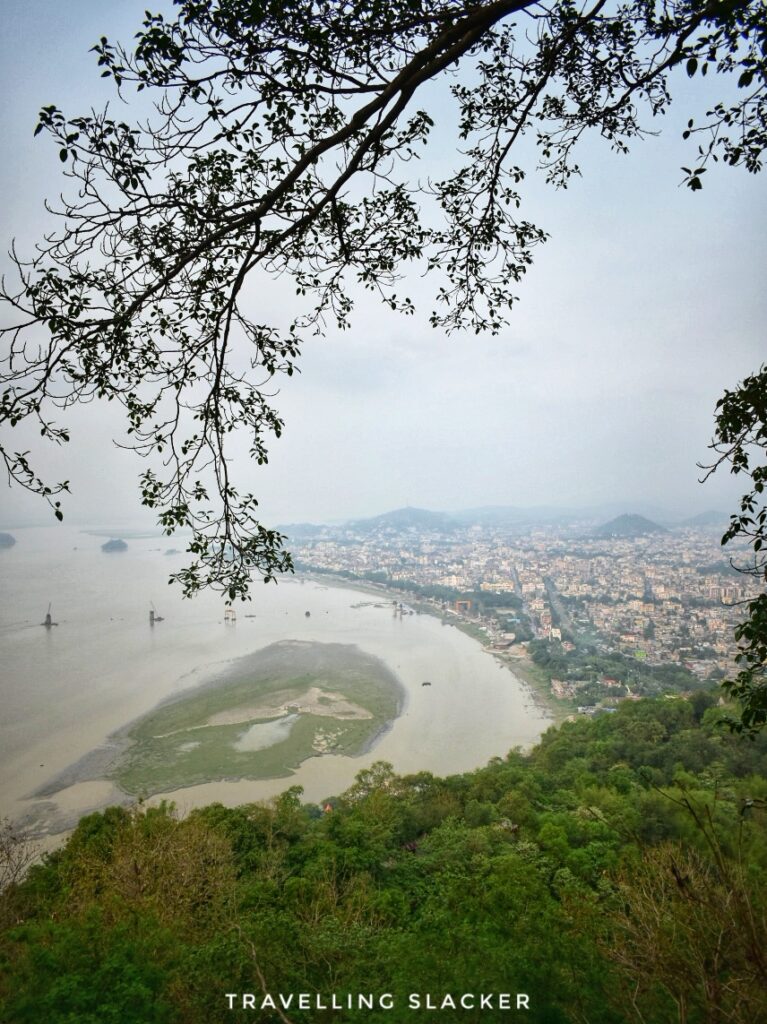 But there are many other unique temples with interesting stories related to them such as Navagraha, Ugratara, Basistha, Umananda (Island), etc. Also, there are more temples in North Guwahati. Writing about temples will make this post very long. So, I have made a separate List of Guwahati Temples on my other site.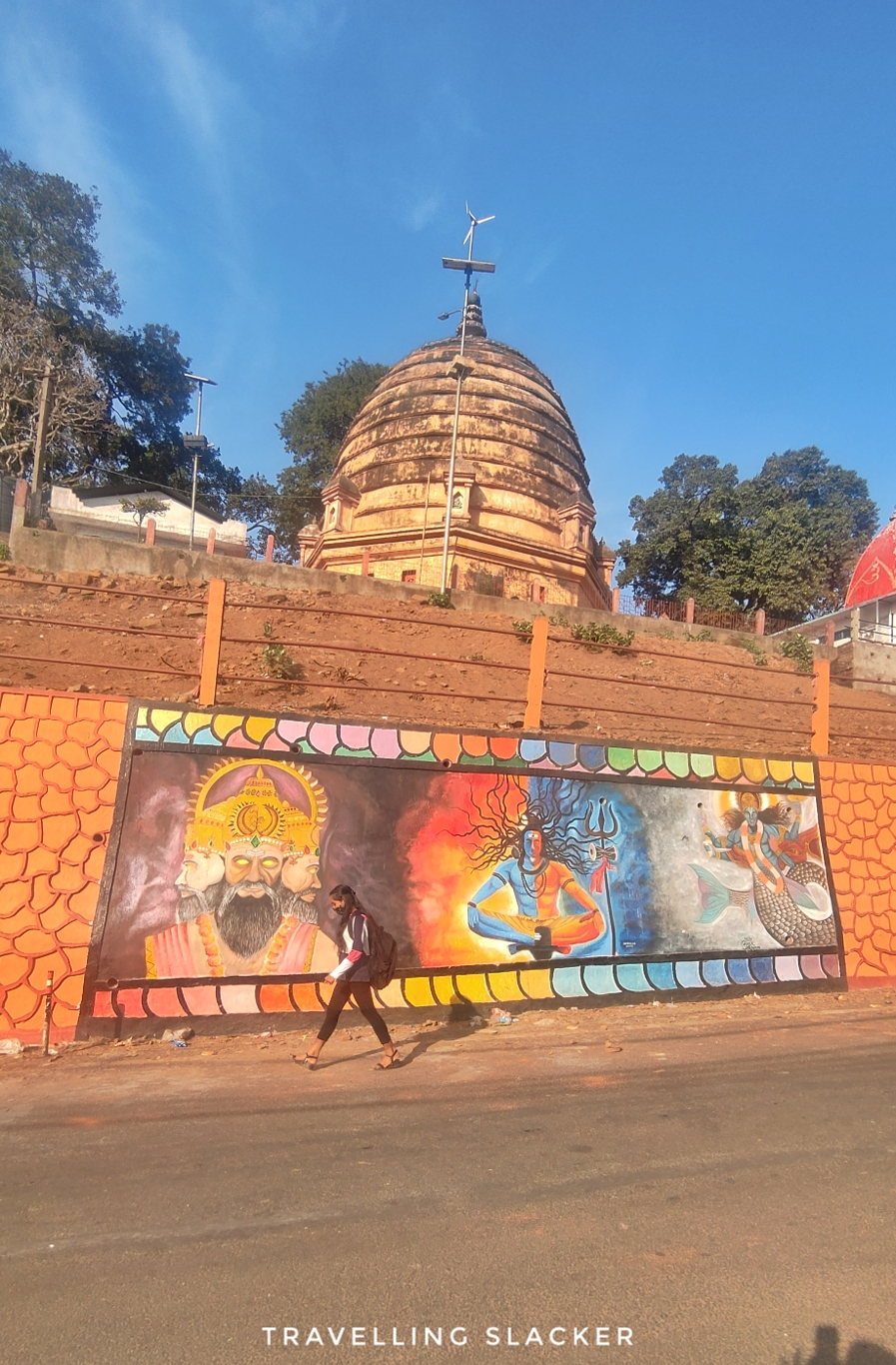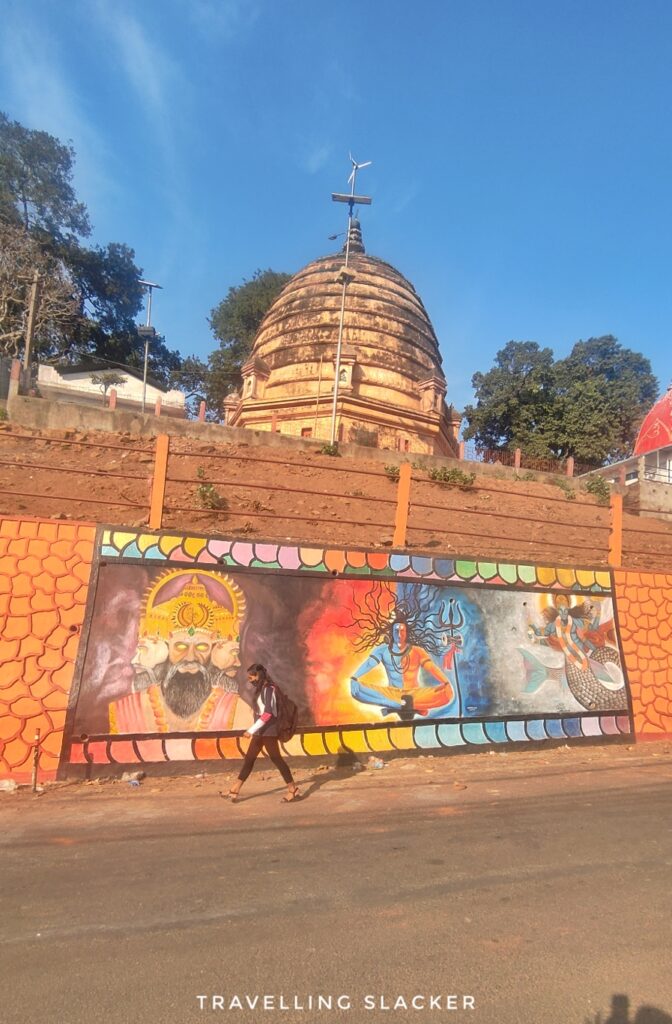 Do note that these temples are scattered all over the city in all directions and so one day may not be enough. Primarily the temples between Kamakhya to Umannada stretch along the Brahmaputra can be done at one go. Similarly, you can devote a day for the entire group of North Guwahati temples.
Uzanbazar & Panbazar: The Best of Vintage Guwahati
If you simply walk from Uzanbazar to Bharalumukh along the bank of the river Brahmaputra, you will not only come across several major attractions of Guwahati but will also get some of the best riverine landscapes if you are into photography. This area is full of colonial-era Assam Type houses and several major landmarks. The Assam State Museum is nearby, and so is the planetarium. The boats leave from here to the other side and also to Umananda, the temple island in the middle of the river. Many major education and administrative institutions are located in this area too such as the iconic Cotton College (the oldest college in the region), Dighali Pukhuru (man-made lake with boating facilities, which was once a naval dockyard connected to Brahmaputra), and the Guwahati Highcourt. It will be better if you can find someone to take you around and tell obscure stories about the forgotten history of the city. I recently added a morning event by Guwahati Walks and got some interesting nuggets about Guwahati's history that even I did not know. You can also get in touch with them and figure out if they have an event during your visit.
In the winter, an additional attraction comes up here. As the water recedes, the submerged rock of Urvashi with the remains of an ancient temple becomes visible for a few months. I have written in detail about this unique phenomenon of Urvashi Island here.
The newly inaugurated Brahmaputra Ropeway is also located nearby. It takes you to the other end of the river, i.e North Guwahati, in a matter of minutes. You get a nice aerial view of the city and the river from the ropeway and can also explore the northern bank and return later through the same. Read this post for more details on the ropeway.
A lot of new-age cafes and eateries have now come up in this area nowadays, fusing heritage with modernity. Some other interesting attractions here include the WWII Cemetery near Silpukhuri (maintained by the Commonwealth War Graves Commission), Northbrook Gate near Bharalumukh (built to commemorate the arrival of a British Viceroy), Navagraha Temple near Uzanbazar atop a hill, and Sukreswar Devalaya on the river bank, and Ugratara Temple near Jorpukhui. The Mahabahu Brahmaputra River Heritage Centre is another new attraction in this stretch, which is developed on a heritage Bungalow from the colonial era. Don't get confused by the location names. You can easily check Google Maps and cover these with a few hours of walk (except Navagraha, which requires a bit of an upward hike and you'll be better off hiring a cab).
If you want a bit more of the Brahmaputra, you can even opt for a river cruise, and watch the sunset in the river while enjoying your dinner. Such "floating restaurants" are also found near the river bank in the same area.
Major Viewpoints in Guwahati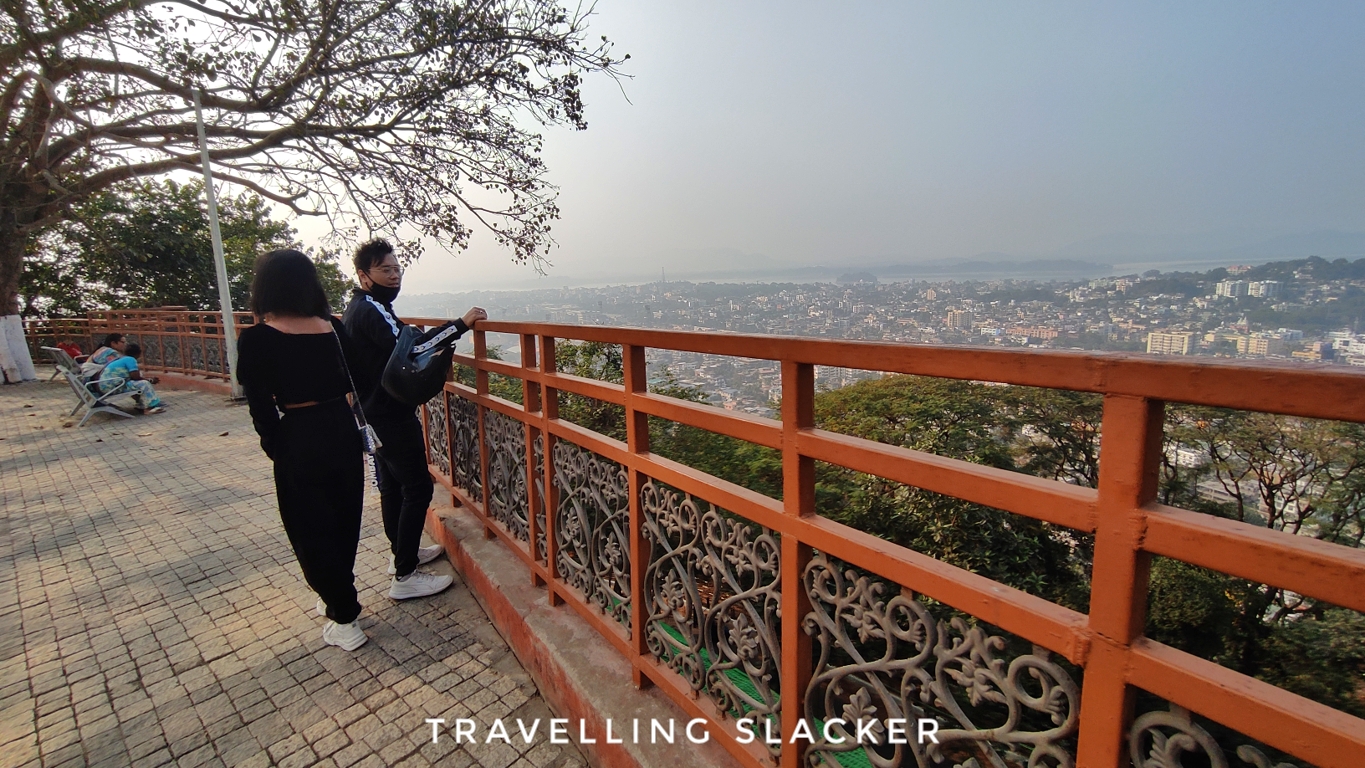 Guwahati has a unique topography. It is not a hill station, it is a congested city on a riverbank. Yet, there are small hillocks dotting the city that add another dimension to it. These hillocks offer several great viewpoints of the city where you can get a great aerial view of the sprawling city as well as the Brahmaputra and also catch good sunsets. The main viewpoints here are Gandhi Mandap (Sarania Hill), Bhuvaneswari Temple (Near Kamakhya, Nilachal Hill), Narakasur Hill also called GMCH Hill and the aforementioned Navagraha Temple.
Museums and Cultural Spaces
There are many spaces in Guwahati where you can learn about local history and culture. The best way to start any Assam Trip will be to visit the Guwahati museum in the morning to get a glimpse of the archaeological riches of the region. You can follow it up with a visit to the aforementioned River Heritage Center.
You should also visit the Srimanta Sankardev Kalakshetra but it's located on the other side of the city off Six Mile.  It is a cultural institution named after the medieval saint, polymath, poet, playwright, artist, and social-religious reformer Srimanta Sankardev. It includes a cultural museum, library and various facilities for preserving, demonstrating and performing cultural items, besides a children's park. It is a good place to get a primer on the culture of Assam. 
There are many other options such as the Tea Auction Center to understand the tea trade of Assam (which is the latest tea-growing region in the world), Bhupen Hazarika Memorial at Jalukbari (celebrating the life of master balladeer), the Science Museum at Khanapara and Planetarium at Uzanbazar are good for Kids while the War Museum at Dighali Pukhuri and the Assam State Zoo at Zoo Road is an option too although I personally don't like caged animals. 
If you are willing to venture out a bit, you can enjoy a nice drive out of the city and then visit Treasure Wheels, a vintage car museum, in case such things interest you. You can combine it with some nature escapes mentioned below.
Natural and Wildlife Detours
There are many nature escapes in the peripheries of Guwahati including lakes, reserve forests, and small hills.
The Garbhanga Wildlife Sanctuary is located on the southern edge of the city. Some local operators organize nature walks/hikes here, especially on weekends. It's also a good bird-watching spot.
Deepor Beel is a lake a few KMs away from Guwahati. It's known for it's bird population but increasing encroachments has somewhat ruined its charm. But you can go a bit further to
Chandubi Lake, which is a far better nature escape to enjoy unadulterated nature, small hikes, boat rides, and rural life. Nowadays there are good campsites and homestays here. Read my detailed Chandubi post here.
There are various areas within 20-30 KM range of Guwahati such as Sonapur, Chandrapur, Hahim, Rani etc with many small riverside spots or waterfalls that locals use for quick escape and picnics. You can enjoy them too if you have time but you'll need local people who know the area.
If you want to go a bit further, visit Pobitora National Park (50 KMs), known for its thick population of rhinos. It's a great way to spot rhinos in the wild if you don't have time to go all the way to the more famous Kaziranga National Park.
Historical and Cultural Detours
There are many major archaeological sites and important spots in the 50-100 KMs radius of Guwahati that you can visit depending on your interest. These include the Madan Kamdev Temple near Baihata, the Hayagriva Madhav Temple and Poa Mecca at Hajo, the mysterious Sri Surya Hill near Goalpara, and the weaver's village of Sualkuchi known as the center of Assam's traditional Silk Trade.
Local Hangouts, Eateries, Nightlife
Just like any modern city, Guwahati also has an array of big shopping malls, pubs, cafes, lounges, and nightclubs. Most of them are located along the aforementioned GS Road and Zoo Road (check the map again).
While eating out, you can always look for restaurants that offer local food as well as cuisine from neighboring NE states.
In case you are more comfortable with familiarity and want to play it safe, you'll also find outlets of major chains such as Starbucks, KFC, Pizza Hut, McD and Domino's etc. I'll try to make a list of useful eateries and hangouts soon. 
How to Reach?
By Air
Guwahati is served by Lokapriya Gopinath Bordoloi Airport located in Borjhar. It is around 10-15 KMs away from the major points in the city and you'll find cabs and buses outside the airport to reach the actual city.
By Rail
Guwahati is well connected with trains from almost all major cities of India. Rails from here also leave to interior parts of Assam as well as to other Northeastern states (most of the hill states have limited rail networks). 
By Road
Buses run to and from Guwahati to various neighborhood states including West Bengal and even Bihar. It is of course connected to other Northeastern states.
Where to Stay in Guwahati?
Guwahati has all sorts of options to stay nowadays found all over the city. However, find the right location.
Hotels
There's no dearth of hotels in Guwahati. A simple search will give you enough names. Hotels of all budgets and facilities are available. Do check the location before booking.
Homestays
There are some new Homestays too in Guwahati. They are not too many but you can still find them. However, don't expect hardcore homestay experiences like remote areas.
Resorts
There are many resorts, especially in the outskirts of Guwahati. Also, there are resorts in the areas that are used as locals as weekend getaways, such as Rani, Chabdubi, Chadrapur, Sonapur etc.
Backpacker Hostels
The concept of a backpacker hostel is still new in the whole NE but there are still a few of them in Guwahati that have come up of late where you can secure a dorm bed for ~INR 500
Internal Transport in Guwahati
There are many ways to roam around Guwahati, but always be ready for a bit of traffic as roads are narrow. The cheapest option is usually the city buses. But they are also excruciatingly slow and will stop at every 100 meters.
You will also find shared vehicles like vans, autorickshaws and electric rickshaws depending on the locality.
Be careful about auto-rickshaws. They are known to demand exorbitant fairs.
You have to option of booking a cab using apps like Uber and Ola.
To save expenses you can also go for two-wheeler hire through Rapido or the Uber app. Do note that many riders try to negotiate before you leave for a higher price than the app is showing (two-wheelers earn much less than the cabs). Use your judgment in such cases and negotiate.
Going out of Guwahati
Guwahati is the gateway to the rest of Northeast India. So, you will find flights, trains, cabs and buses from here. Apart from the international airport, Guwahati has two major train stations at Paltan Bazar and Kamakhya. The old bus stand is at Paltan Bazar, just adjacent to the railway station. However, nowadays many buses leave from ISBT Guwahati, the outskirts of the city.
So, this is more or less it for the time being. I will keep adding more information to this post as we go on.