A trek or even a nature trail in Guwahati is not something people usually talk about. However, the fact is that Guwahati has many scattered hillocks and reserve forests. Even I was not very familiar with Garbhanga Reserve Forest, although I spent my school years in Guwahati.
I did visit Basistha Ashram back then and noticed the forested hills beyond it but that was about it. Maybe certain hobbyists have always known about them but still, if you ask a random person on the streets of Guwahati, I'm sure 90 % won't be able to name them.
Anyway, I've been meaning to visit this area for the last few years. I've spent the last decade or so obsessing over distant hinterlands. However, the pandemic made us look for quick local getaways for relief and rejuvenation. So, when I suddenly got the information about a quick day hike in Garbhhanga being organized, I decided to join in. I considered doing it alone earlier before but I wasn't sure if there were any formalities involved or if the trail was well marked.
So, we gathered early in the morning around 7 AM in front of the temple to meet the organizers of LASA Foundation, a local organization. There were around 25 people, mostly people who are either researchers or students of zoology, along with a few others like me. After the initial formalities, the hike started without any delay.
We crossed over one of the streams that flow into Basistha Temple and then started walking along a road going upstream. We were slowly gaining altitude but it was a very slight gradient and there are no steep climbs in case anyone is wondering. Initial stretches seemed inhabited and the views were pretty familiar. In fact, it's a motorable road with several plying along the road. Nevertheless, after a few minutes, we crossed a small stream and took a diversion and the larger vehicles disappeared.
However, this route also seemed to be popular among cyclists and so they kept appearing. The next hour or so was somewhat familiar territory. We were walking along the periphery of the forest and could see thicker jungles beyond the horizon. Elephants are known to frequent these jungles. Other small animals and reptiles can be spotted easily. However, the primary attractions for most photographers here are the colourful birds and butterflies.
Sadly, my 11-year-old camera stopped functioning a few months ago and since them I have been operating at a very limited capacity using my phone camera only. So, I won't be able to produce any birds shots but let me assure you that I saw many. minivets, shrikes, flycatchers, laughing thrushes, drongoes, kites, sunbirds, honey-buzzard, bulbuls etc.
Finally, after around two hours of hiking, we reached the small waterfall. The route goes further but our plan for the day was only here. It's a small but nice spot where everyone decided to dip their tired feet in cold water and have a packed breakfast. This was also the point where I finally managed to shoot a living being except monkeys, a yellow blue day flying moth, that was sitting idle and didn't move even when people shot closeups.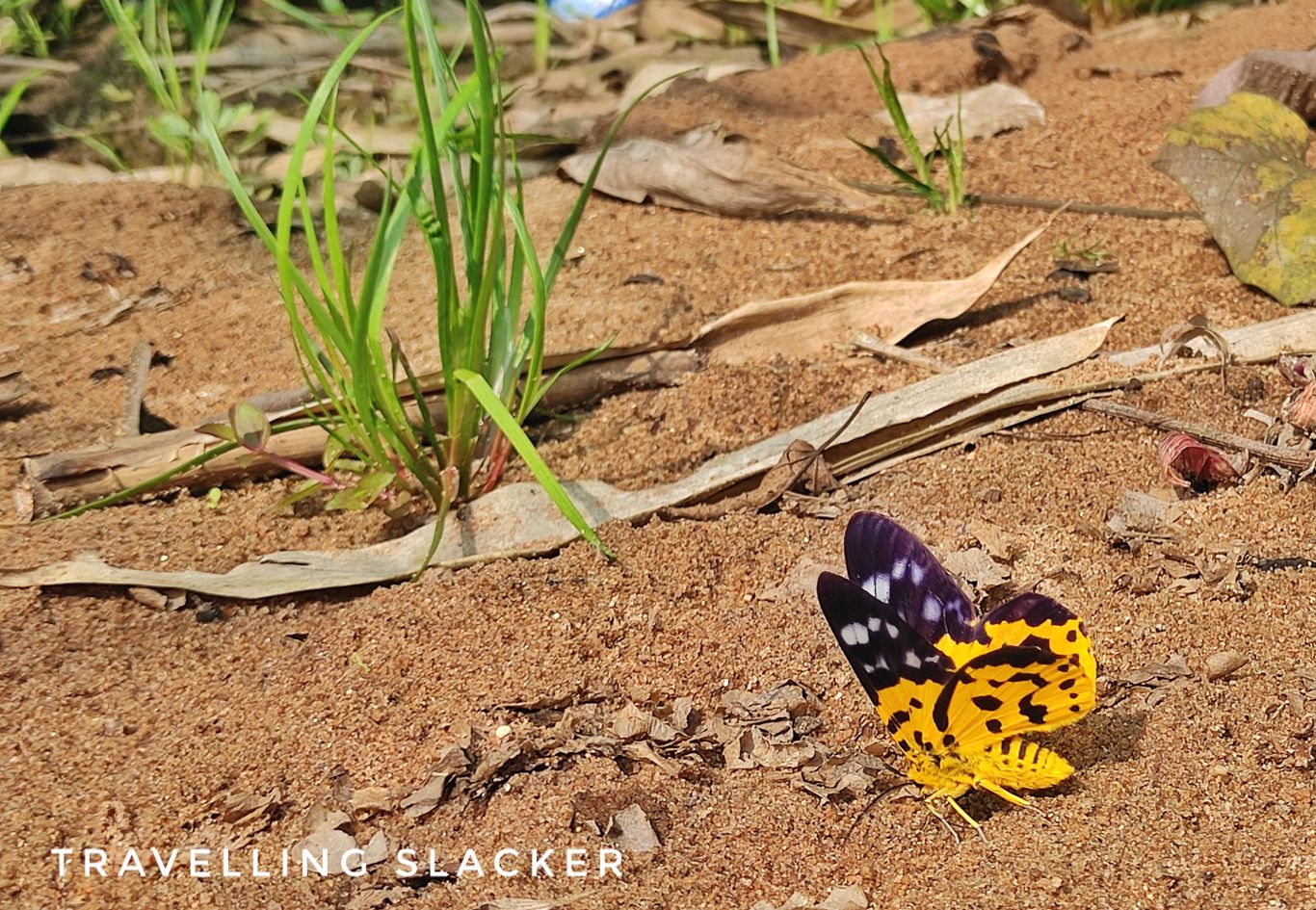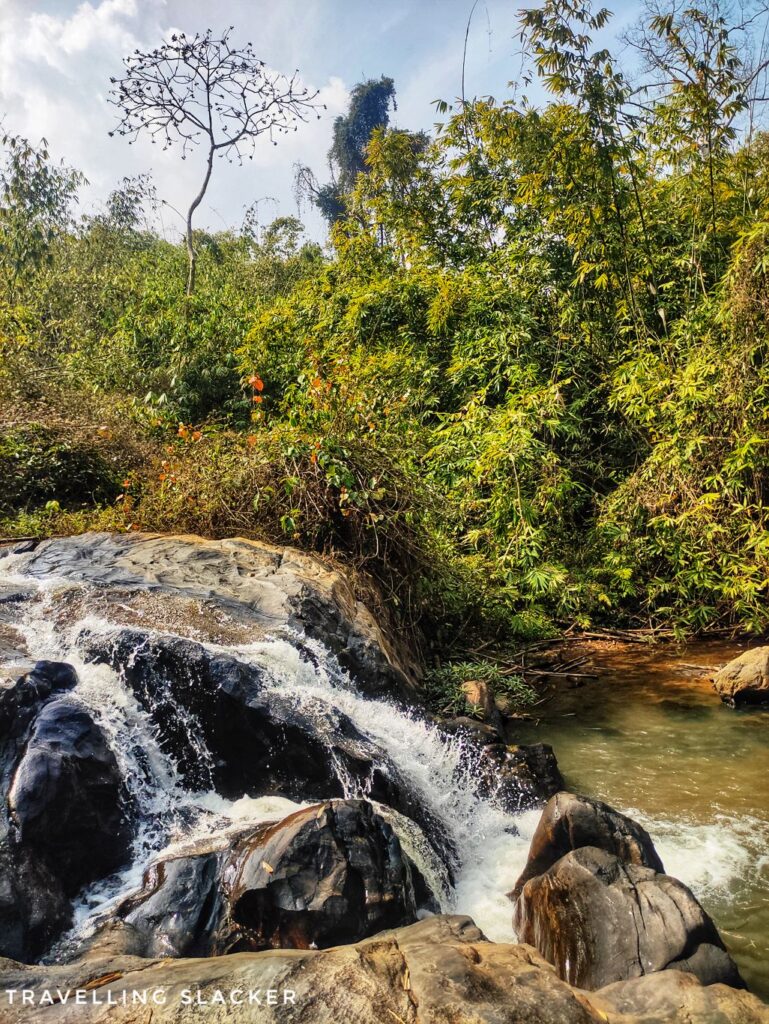 Even as we were living, we saw another group of youngsters arrive, tied ropes, and started ziplining over the waterfall. Such activities are gradually growing here. The trail has remained reasonably clean so far (compared to the prevalent situation in touristy areas of the state). Hopefully, it can be maintained as the tourist flow increases.
Understanding Garbhanga Reserve Forest

So, this was more or less it for the day. However, let us just pause for a while here and understand the area. If you are not too familiar with Guwahati and are surprised by the very existence of this forest, let me just paste the following paragraph that I originally wrote for my Chandubi Lake post.
As much as I mourn the demise of the Guwahati of yore with overpopulation and visionless growth, it is not that hard to escape from here into a different era. If there is one thing that Assam has in abundance, it is thick vegetation. Even beyond the big national parks, there are many neglected and continuously exploited wildernesses all over the state, which are usually called "Reserve Forests" although they are barely protected.
So, I wrote these lines inspired by the reserves of Rani area, which is actually adjacent to Garbhanga range. In fact, this whole stretch on the borders of Meghalaya is basically a jungle stretch with scattered villages dominated by various communities.
Although technically they are a part of Guwahati, these areas remained detached from the main city and only in the last few years, the area has seen rapid construction boom. Connectivity has improved but that also means a larger threat of encroachment and deforestation in these areas.
Quick Guide to Garbhanga Reserve Forest
Where exactly is Garbhanga Located?
Garbhanga Reserve Forest is located on the southern periphery of Guwahati, touching the border of Meghalaya. There are many entry points.
How to reach Garbhanga?
The entry point of Basisthashram is a popular destination in Guwahati. You'll easily find buses and shared electric cars going there from Basistha Chariali.
There's another entry point from Lokhra side although I haven't taken that one.  Apparently, a road is being developed from Lokhra to Garbhanga village.
Don't rely too much on Google Maps. I think it doesn't fully capture all the routes as of now. (I thought of making a map but feel too lazy as of now)
How long is the trek?
We did a short 4-5 KM hike to the waterfall point. If you want, you can go further or enter from the other side as mentioned above. In the future I'll explore these options.
How steep is the trail?
The part we did was mostly a walk rather than a trek. Nevertheless, you can find more such options.
Who conducts these tours?
I've seen various local groups including commercial operators, NGOs and interest groups doing it. We joined one by LASA Foundation, a local organization in Guwahati. You can try going yourself if you are familiar with the area. I also noticed cyclists on the route.
How much time does it take for the trek?
We were done within four and a half hours including the time we spent around the waterfall.