Hajo is a place people in Assam invariably learn about in school, especially if they study in the state board rather than the more utilitarian, bland and deracinated CBSE. The existence of Hindu, Islam, and Buddhist shrines here have always been pointed out as a great example of secular and peaceful coexistence. It is not even very far from Guwahati but I'd never been to this place during my school days.
This time me when I was on a family trip to ancestral village, I managed to make my people take a small diversion and spare an hour for Hajo. They agreed but as usual, it was a hurried affair and we just managed to see the Hayagriva temple and skipped the rest. Yes, another unsatisfactory trip this was! But let's cut the whining and move on to what matters.
Hayagriva Madhab, as the name suggests, is a temple named after Hayagriva, the horse-headed avatar of Lord Vishnu. As is the case with most Archaeological sites in Assam, this place survives more as a living religious site. Local devotees visit here to offer prayers, hoping for good fortune, and nobody cares much about history. I could not see any signage describing the history of the place. In fact, there seems to be some confusion regarding its antiquity.
One must climb a pretty steep series of stairs before reaching the main temples. But before that, one has to feed the giant turtles in the pond in front of it. I tried hard to get a cleaer shot of them but they did not come out of the water.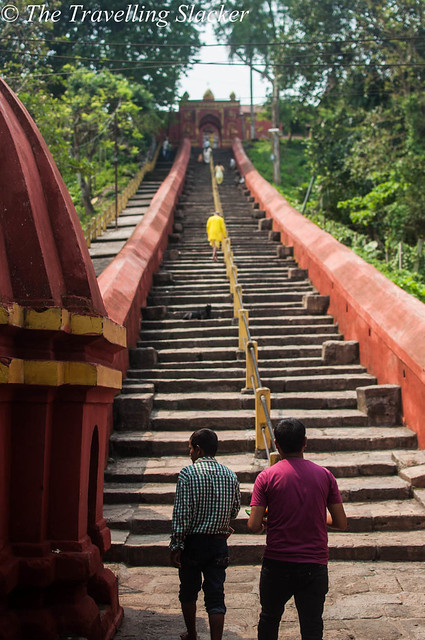 From whatever I could gather from online resources, the original temple dates back at least to 6th century AD, to the reign of Pala dynasty (not to be confused with the Palas of Bengal). But the most prominent and still standing structure, a typical "doul" structure found in Assam with rich sculptures on the surface, was built by the King Raghudeva Narayan in 1583 AD. For the uninitiated, he was the King of Koch Hajo. The greater Koch Kingdom gained prominence in the present day lower Assam and Northern Bengal region during the time of his forefathers and was in direct conflict with the Ahoms in the upper Assam. Later it was divided between successor as Kochbihar (Present day Cooch Behar district in Bengal) and Koch Hajo. From the name of the kingdom itself, one can guess the importance of Hajo in those times.
The primary deity however is the Narasimha but photography was not allowed in the inner sanctum. Also, Buddhists also worship here for some reasons but I could not be sure about that their perspective. So, I focused my attention on the artwork on the walls. There was the Hayagriva it is named after, there were usual mythological imagery, and there was also someone who looked like an Assyrian depiction of Poseidon. Not sure what to make out of it but it was surely fascinating.
The compound is smaller than that of nearby Madan Kamdev but the views here are better. The hill overlooks nearby settlements dotted with glittering water bodies. The view from the top actually reminded me of Shravanabelagola.
Anyways, the detours ended almost as soon as it began and we moved on towards our destination. I could not make it to PoaMecca, which was built with a low of soil from Mecca. Some other time perhaps.
Traveller FAQs
How to Reach Hajo?
It is around 35 KMs from Guwahati. There are regular buses and shared transport in this route. You have to cross the Brahmaputra and then turn left.
What to Expect at Hajo?
There are multiple Hindu temples and a major Muslim shrine. If you are a devotee, or interested in archaeology, you should visit this place. If you are interested in sociology and want to study the syncretic nature of the culture here, you can still visit it.
Can one stay near Hajo?
There is a government owned lodge here but I guess it is better to stay in Guwahati and visit it on a day trip.