Odisha is not a state that comes to your mind when someone talks about coffee plantations and I am sure most people have not even heard of Koraput District. Nevertheless, Koraput Coffee is a thing and now they are putting more effort into branding and trying to come out of obscurity. But before that, let's see how I ended up here in the first place?
Well, I was going home and the CAB/CAA situation began to unravel in Assam even when I was on the train. Most people are unlikely to get the nuances of this issue and I may discuss it on a different post. Anyway, this basically meant mass protests and internet blockade in the state and so I decided to stop in Bhubaneswar, where I had some friends, and wait for a few days for the situation to calm down. This is when I decided to explore a bit of Odisha, which was on my list anyway.
I picked Koraput district to begin with, as it was one of the "Tribal Districts", the remote districts inhabited by numerous aboriginal communities. If you are looking for a point of reference, do note that it borders the Bastar region of Chattisgarh that I visited a couple of months ago, and so, you can expect a similar ethnocultural experience. The other option was Kandhamal District, but I picked Koraput because here I got the option of a comfortable overnight train instead of a sleepless night on an overnight bus to Kandhamal.
However, as I reached Koraput, I realized that it was not going to be that easy. These areas have started focusing on tourism only recently and it is a bit difficult for a solo backpacker. In fact, the lady at the INR 200 guest house was not sure why I was there when I said I was a tourist. Most of the major attractions were a bit far from the town, I was not sure about public transport, and hiring vehicles would have been too expensive. On top of that, the whole town was going through a day-long power cut as I reached! I spent the day visiting the Tribal Museum and Jagannath Temple (Yes, they have one here too), located in the middle of the town.
So, eventually, I decided to visit the Coffee Garden the next morning as it seemed to be at a walkable distance although I was not sure if that is even open for tourists. I started at around 7.30 after a cup of tea (it costs INR 5). There seemed to be several roadside restaurants along the road but all of them seemed to be closed. Maybe I was too early or maybe this area just does not receive enough visitors. Anyway, I reached the entrance of the Coffee Board Office, which is located there along with the coffee garden, after a brisk walk of around 45 mins.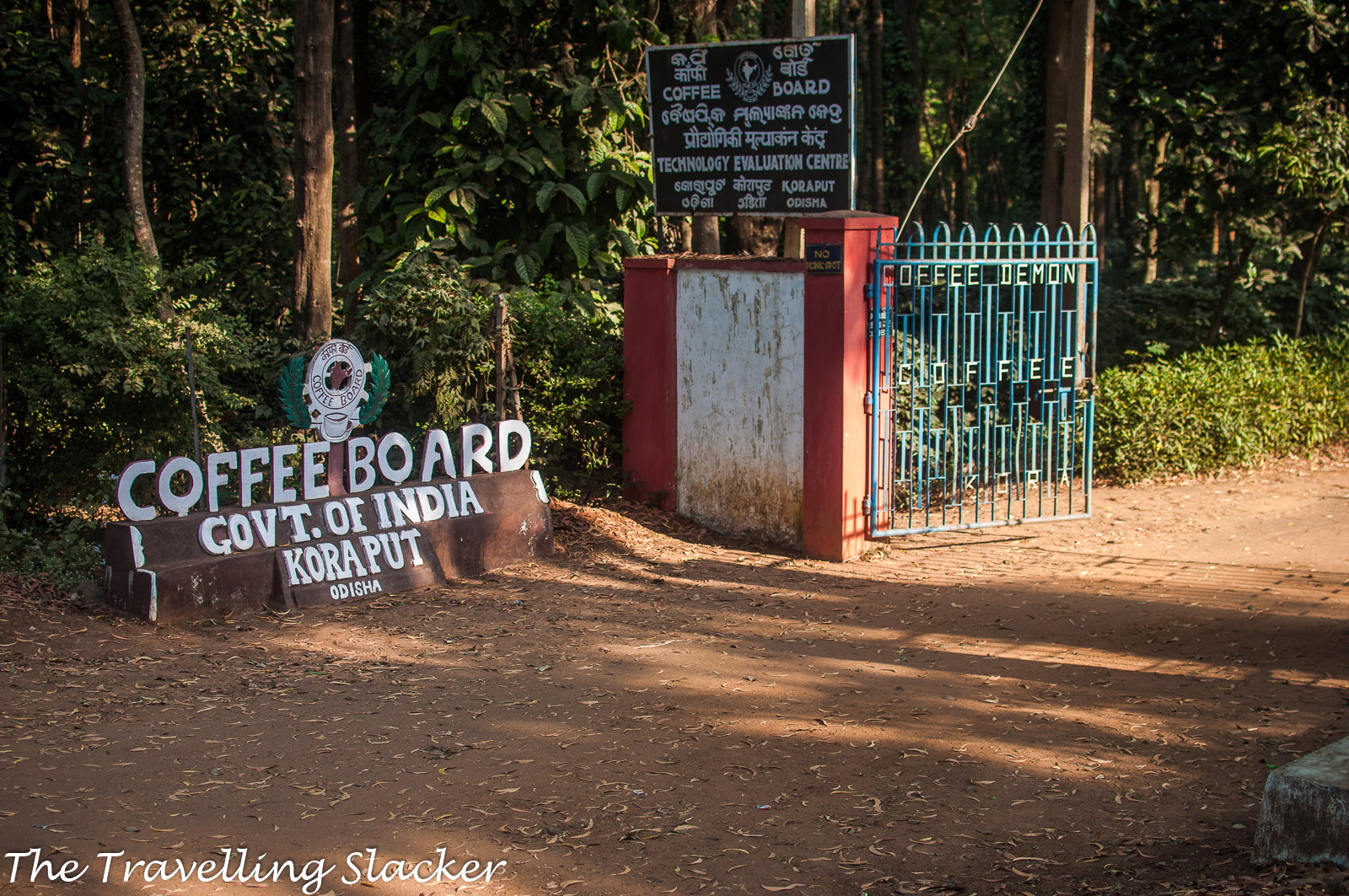 I went into the office first in order to seek permission to explore the garden. It was a bit too early but thankfully there was one official present already. I had a brief interaction with him about Koraput Coffee and he even asked about the situation in Assam. I also asked him if could buy some coffee. He said that they don't sell it there but he gave me the address of the shop where I could buy it in Koraput town. I thanked him and proceeded to take a round of the coffee garden.
So, as I entered the garden, I realized that it is much larger than what it seemed from the road. Additionally, they also had black pepper vines creeping all over the tall trees meant to provide shade to the plantation. A local guy working there joined me and provided some insights, apart from requesting me to take photographs. He told me that several different varieties of coffee are grown here and while the peak harvesting season has not yet arrived, some of them are being plucked already. The beans are sent to some other place for final processing after drying them up.
After roaming around for half an hour, finally, we reached a point where three aboriginal women were busy harvesting coffee beans. They were also eager to pose and so I clicked a few and then finally bad adieu to them.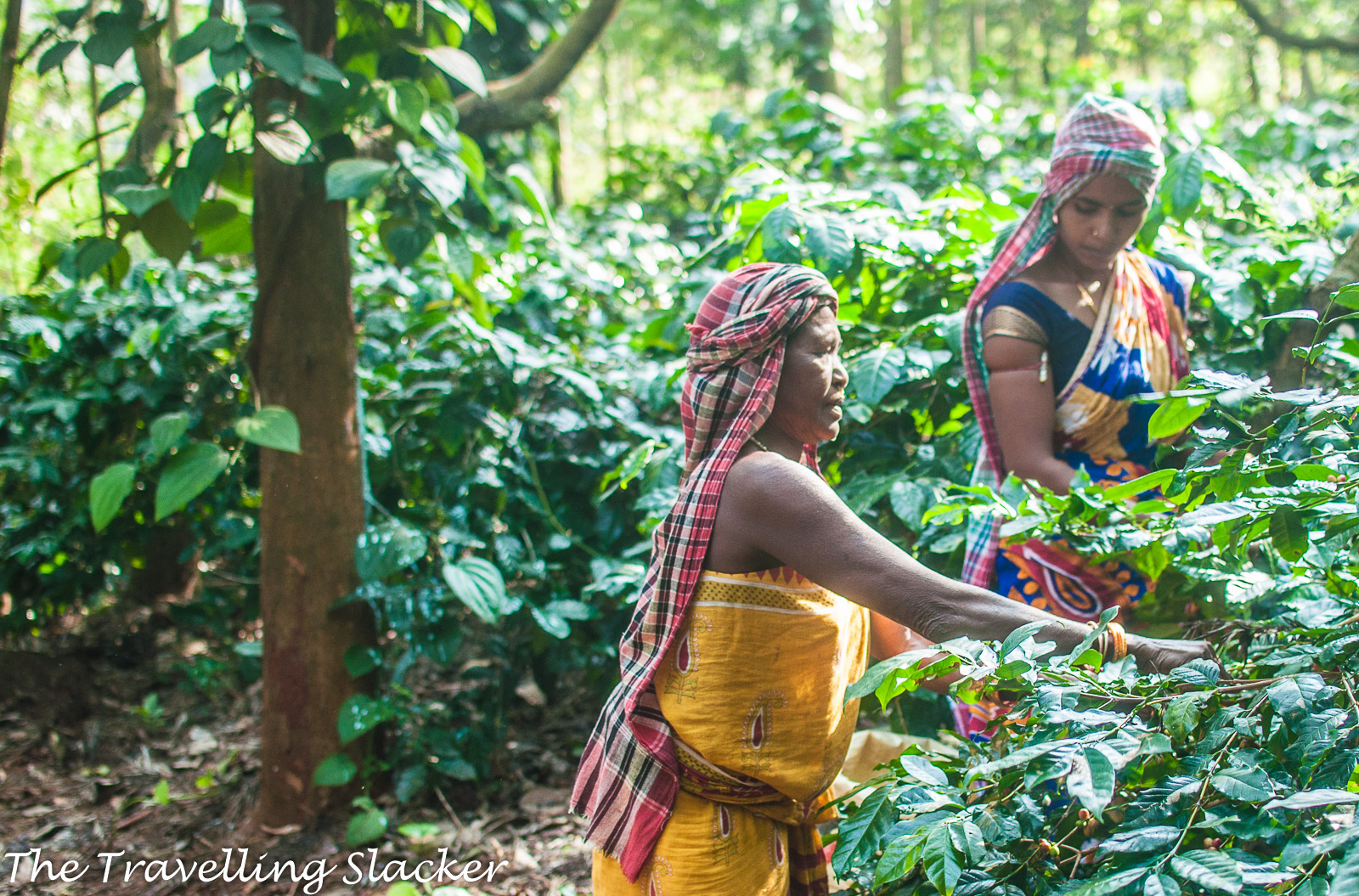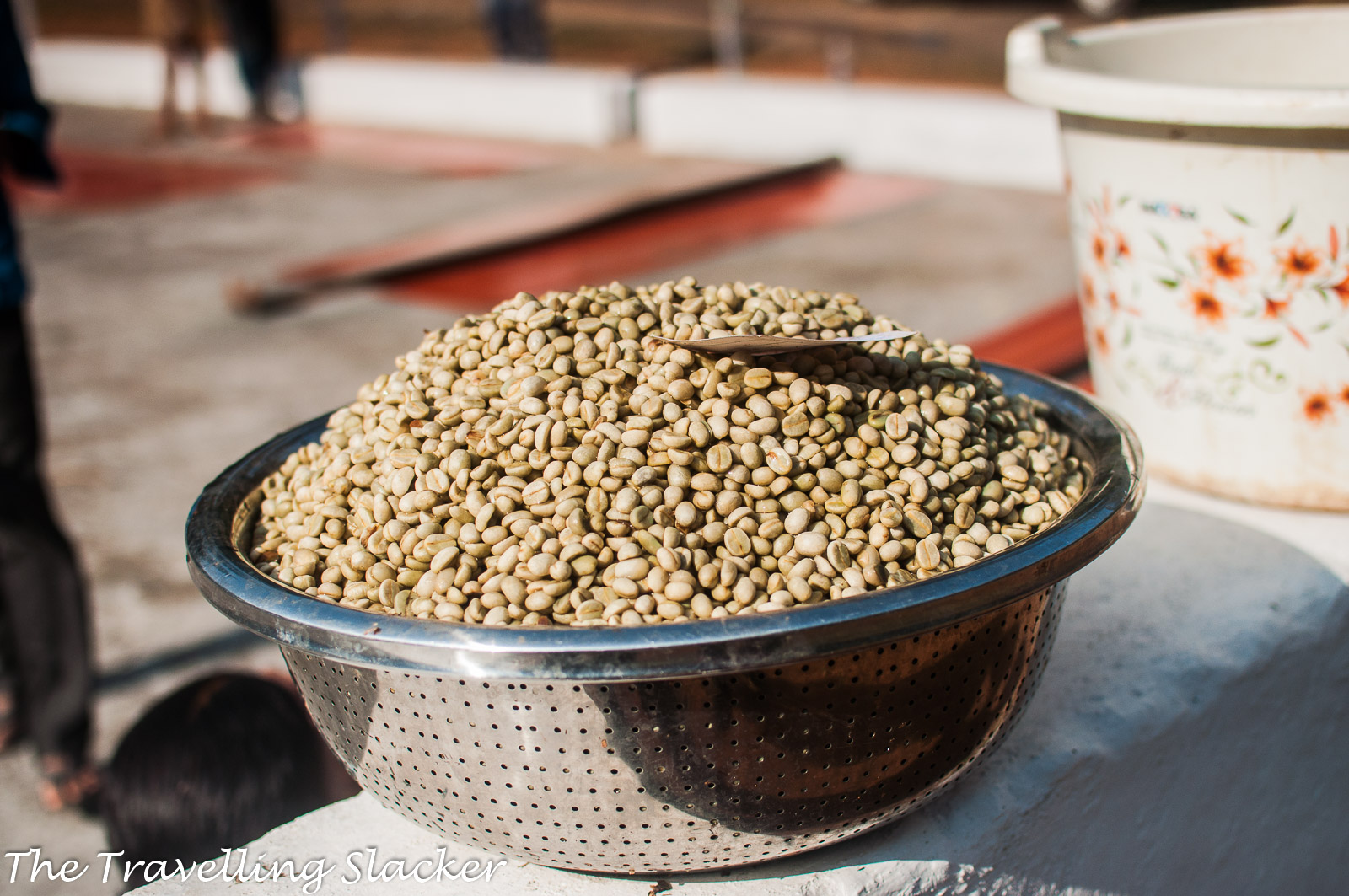 While returning, I found a shared autorickshaw, which charged only INR 10 to drop me back to the town and soon, I also located the shop and finally bought two packets of Koraput Cofee. This shop is named Tribal World and it also sells local artifacts, as well as other, produces including some essential oils.
Koraput Cofee: All You Need to Know
How to Reach Koraput Cofee Garden?
While I am sure it is being done at many places, the one I visited is located along with the office of the Coffee Board, around 3 KMs from Koraput Town, on the road to Jeypore. I walked to the place but you can look for shared autorickshaws carrying locals. That should not cost you more than INR 10.
A Brief History of Koraput Cofee
The coffee plantation started here by the King of Koraput Rajbahadur Rama Chandra Deo in the 1930s although it did not become commercially viable. Since the 1960s the Odisha government has stepped up efforts for the same but only in recent years they have got the branding right and it is now described as "100% Arabica premium roasted filter coffee". Currently, it is a joint venture between the Coffee Board of India and the Tribal Development Cooperative Corporation of Odisha Limited (TDCCOL).
Where can I buy Koraput Coffee?
If you are in Koraput already, visit the shop called Tribal World near Chandana Pokhori, a small pond in the town. Apart from that, there seems to be a lounge in Bhubaneswar although I have not been there. Apart from that, it is also available online.
Is there an entry fee to the Garden?
No… not as of now… but I suggest you try to visit on a working day as teh office may be closed otherwise and you are supposed to ask them before getting deeper into teh garden.