When I first posted about Jajpur on my SM accounts, some people asked me what I was doing in Rajasthan while the autocorrect repeatedly tried to change it to Jaipur. It's unfortunate that such an ancient land remains unknown but familiarizing it was the purpose of our visit anyway. We were here enjoying the hospitality of Consultants for Heritage, Arts, Culture and Tourism (HACT) and Jajpur District Administration to explore the Jajpur district, which is adjacent to Bhubaneswar but still remains underrated.
For the uninitiated, Jajpur district is located in the state of Odisha. It is a rich and diverse region with a long and fascinating history. The region has been shaped by a range of cultures and civilizations, including the Kalinga Kingdom and the reign of the Eastern Ganga Dynasty as well as Somvanshi Kesari Dynasty. Today, Jajpur is known for its vibrant culture and art, which is reflected in its temples, traditional festivals, dance and music, and it is hoping to gain the status of a UCCN City. 
Day 0 Bhubaneswar To Jajpur
I reached Bhubaneswar from Guwahati and drove to Jajpur with my hosts. Delegates from other parts of India also arriving throughout the day.
The hotel was actually closer than I thought. It was at Byasanagar or Vyasanagar, a town and a municipality in Jajpur district colloquially known as Jajpur Road, around 20 kms before the main Jajpur town. 
Day 1 Jajpur Temple Trail: Biraja Devi, Saptamatrika, Varahanath & Jagannath Temples
This day was reserved for a temple trail around Jajpur. But before getting into the temples, we need to understand the antiquity of the region and clarify various proper nouns that we are going to encounter throughout this post. The modern name Jajpur is a somewhat morphed version of classical Yagnapur. So, it is associated with yagnas (ritualistic sacrifices). A place of religious and spiritual significance, Jajpur also has an intriguing prehistory as various paleolithic sites have been found here although we couldn't visit them this time. 
The river Baitarani flows through Jajpur. I'd heard of this river before and I've always found it fascinating. Vaitarani is also a mythical river in Indic lores that one has to cross to reach the netherworld from earth, just like Styx in Greek mythology.
Nevertheless, all these connections indicate the importance of this region in the ancient times and for a couple of centuries during the early middle ages, Jajpur also was the capital of the kingdom. Gradually the likes of Cuttack and Bhubaneswar became bigger cities and the present day Jajpur is a comparatively smaller settlement but is still the center of this mineral rich region. The minerals of the region have been harnessed for decades unlike its tourism potential that remains underutilized.
So, we first reached Biraja Temple in the outskirts of Jajpur. It's a major Shaktipeeth, one of the 51 such sites all over India. This is where the navel of sati is believed to have fallen after her mortal remains were dismembered by Lord Vishnu. The Devi here is also called goddess Biraja and the whole area is sometimes called Biraja Kshetra. Yet another name for this region is "Gada Kshetra" (Gada=Mace) because sometimes these regions were named after four weapons of Lord Vishnu, the other three being Shanka Kshetra (Puri), Chakra Kshetra (Bhubaneswar), Padma Kshetra (Konark).
The temple is known for its exquisite architecture and intricate carvings, which are a testament to the skill of the artisans of ancient Odisha. The main sanctum of the temple houses a large idol of the goddess Biraja but there are several other smaller temples and sculptures including a room called Koti Linga with scores of miniature shivlings, and also a tank with steps called Bharmakund, just opposite the temple complex.
However, I was fascinated more by various sculptures on the gates and the walls of the temple. Particularly intriguing was the leitmotif of a lion dominating an elephant. I've seen it before in places like Majuli etc. I asked the local guides and figured out that it primarily depicts the dominance of Hinduism over Buddhism which was on decline when this temple was built. This itself tells us a lot about the era and in fact, it's a fascinating topic that requires a seperate article.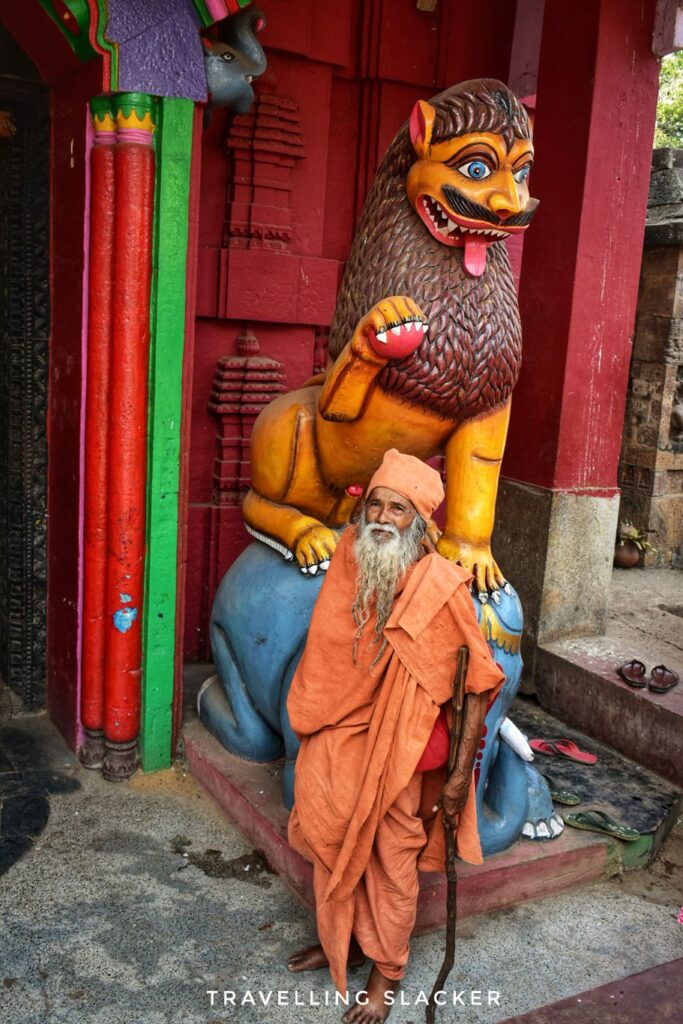 Our heritage trail continued as we drove to the Dasaswamedh Ghat (yet another name that has a more famous counterpart in Varanasi). The most important temple here is the Saptamatrika, (Seven Mothers) one. It's dedicated to a group of seven mother-goddesses, including Brahmani (wife of Brahma), Maheshvari (wife of Shiva), Kaumari (wife of Kumara), Vaishnavi (wife of Vishnu), Varahi (wife of Varaha), Indrani (wife of Indra), and Chamunda, or Yami (wife of Yama). At least one text, the Varaha-purana, mentions a number eight, called Yogeshvari, created out of the flame from Shiva's mouth. Sadly, photography isn't allowed here, so I can't show you but I can assure you that it was a fascinating experience with a goldmine of information that provides a missing link to the an era when a more matriarchal culture thrived.
The final cluster of temples included the Varaha Temple and the Jagannath Temple. Now, do note the importance of Lord Jagannath in Odisha. Apart from the main Jagannath temple in Puri, many other areas have their own Jagannath Temples. I came across a Jagannath Temple during my failed trip to  Koraput a few years ago. This temple is painted in pristine white but it's a comparatively new one as the original temple was destroyed during invasions but was rebuilt later during the period of Hindu revival during the Maratha Rule in the 18th century.
The other impressive temple here is the Varahanatha Temple. The most notable aspect here is the colourful ceiling with intriguing carvings on it. Spend a moment here to simply appreciate the artistry.
A larger than life Mahadev statue is being built here which is still incomplete but we could see it accross the river. I'm sure many other historical temples exist here but this is what we could manage in a busy day. 
Day 2 Jajpur Craft Trail: Tussar, Terracotta, Golden Grass
The second day was dedicated to the crafts of Jajpur region. We first drove to the village of Gopalpur, which is regarded as a craft village. There's another naming confusion here as there's also a beach called Gopalpur in Odisha but this is a different place.
Almost everyone in Gopalpur and it's surrounding villages are good at at least one artform. It's primarily famous as a center for Tussar Silk weaving but even before that, we were treated with a performance by local performing artists. I'm sure there are more artforms to explore but we had time to savour two of them. First was a performance of the Kendara Gita by Sri Alekh Das, one of the last remaining exponents of the same. The primordial tunes of this song reminded me of certain type of music in Assam but it was elevated by the use of the musical instrument which is made using the skin of monitor lizard and played with a bamboo stick.
It was followed by a performance using small drums called Khanjanis. They mostly sung the songs written by piet Balarama Das, one of the five great Odia poets from 15th century.
The issue with these artforms are that newer generations are barely learning them, making them go extinct. So, there's an effort going on to preserve these traditions with the help of UNESCO and Google Art and Culture.
Anyway, we moved on after the performances to meet the weavers. Tussar Silk is one of the many traditional silk varieties in India. The interesting thing about Gopalpur is that it has an end to end ecosystem for the same. The silk is produced in a nearby village while the weaving process is carried out in Gopalpur.
They are being helped by Odisha Rural Development and Marketing Society (ORMAS) and Mission Shakti with local SHGs. It helps the promotion of various livelihood initiatives and marketing support through both backward & forward linkages, an array of activities relating to marketing at the state level for identified rural products in different clusters of Odisha, identification of activity clusters for production, value addition, packaging, certification, and branding. We went through the whole process, explained by Sri Chaturbhuja Das, the village head and an award winning weaver himself.
After Gopalpur, we moved on to Antia, another success story of rural community-level entrepreneurship. It's famous for handicrafts made of Golden Grass, a local wild grass that grows in the region. It's called Kaincha Grass by locals and it grows naturally. While it's available in other areas also, scientific studies has shown that Jajpur is the place where it originated. The locals here started making small handicraft items more than a century ago, pioneered by Prana Krishna Mohanty. ORMAS has helped them streamline the process and market more effectively. We could see them make useful artifacts using the grass and even bought a few as souvenirs.
There was another village called Prathama Kandi, which is famous for terracotta art. We had to give up on that due to lack of time.
Day 3 Jajpur Heritage Trail: Udayagiri and Ratnagiri
This was the day of hardcore relic-hunting. Among the most important archaeological sites in Odisha are Udayagiri, Lalitgiri, and Ratnagiri, which are collectively known as the Diamond Triangle of Odisha. These sites represent the golden age of Buddhism in Odisha, and are revered by scholars, historians, and tourists alike. Lalitgiri is actually a part of different district, and so, our trip was limited to Udayagiri and Ratnagiri. Although they are massive sites, they were completely forgotten for centuries and rediscovered only in the 20th century after some serious excavations.
Udayagiri, the largest of the three sites, is known for its beautiful sculptures and carvings that date back to the 7th and 8th centuries. The site is home to several rock-cut caves and stupas, which were used by Buddhist monks as dwelling places and places of worship. It consists of two eighth century monastic complexes, statues of Buddha, Tara, Manjusri, Avalokiteśvara, Jatamukuta Lokesvara etc.
Do remember that this is another potent area for naming confusions. There's another Udayagiri in Odisha, the Udayagir and Khandagiri caves in Bhubaneswar. On top of that there's yet another Udayagiri Caves in Madhya Pradesh! But don't worry, I visited those in 2013. Read my post on Udayagiri Caves near Vidisha here.
Ratnagiri, the smallest of the three sites, is known for its beautiful sculptures and artifacts, which date back to the 6th and 7th centuries. The site is home to several monasteries, temples, and stupas, which were used by Buddhist monks as places of worship and study. The most famous of these structures is the Mahavihara, or the Great Monastery, which is believed to have been one of the largest monasteries in ancient India. Especially notable is the bluish green entry gate made of blue chlorite stones, where everybody loves to get photographed. The large collection of votive stupas here somewhat reminded me of Sri Surya in Assam but that's another story.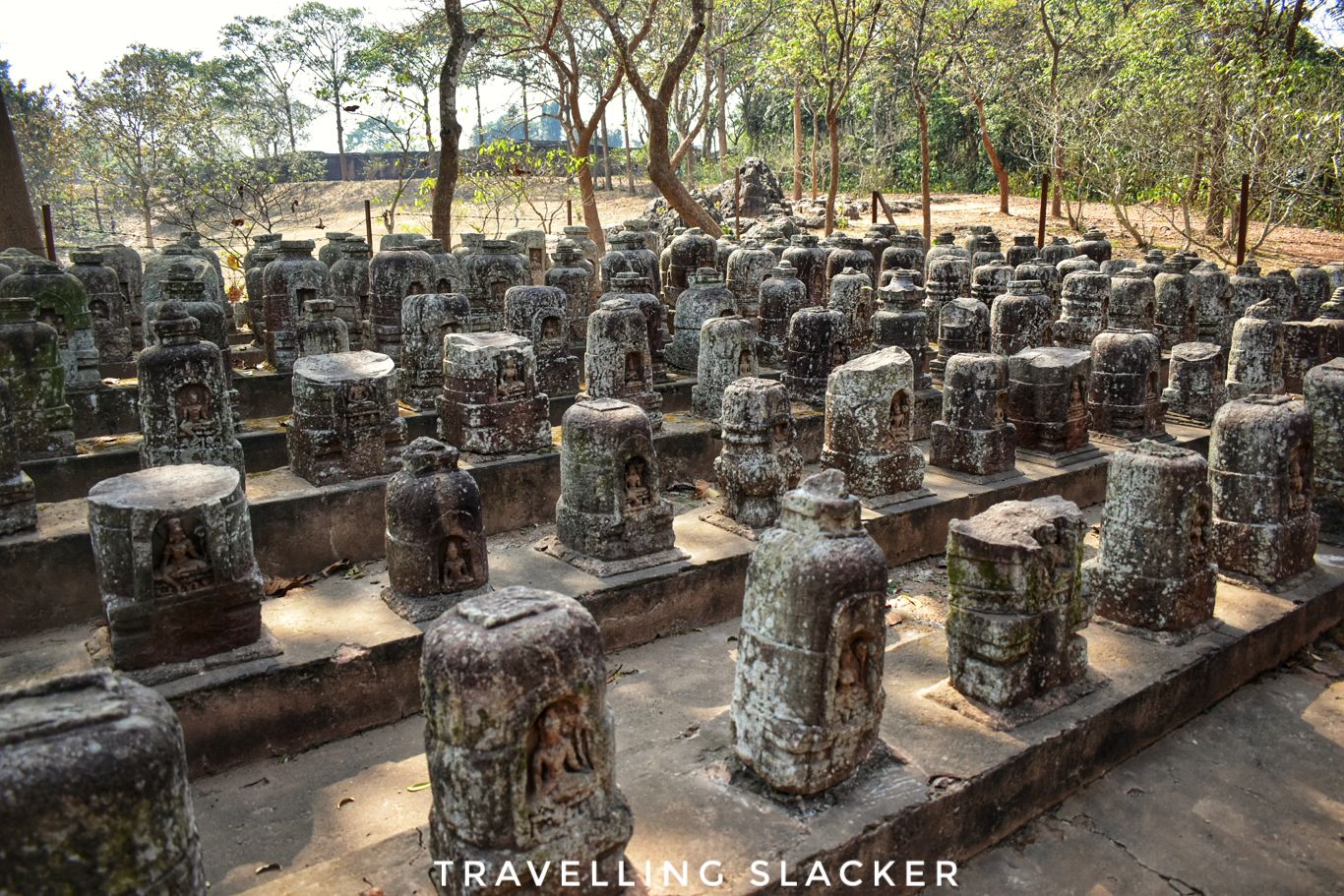 These are such massive treasure trove that I'll have to write seperate posts on them. As of now, I'm just providing a teaser.
Jajpur Mahotsav 2023
Our entire trip was happening against the backdrop of Jajpur Mahotsav 2023, an extravagant event for the locals as well as tourists. We managed to catch the performances by Amit Trivedi, Sona Mohapatra and Sunidhi Chauhan. Several other big names were about to perform for the next couple of days but I had to move on as I had some pre decided engagements in Delhi.
So, this was more or less it from Jajpur. Let me just wind up with this image of sumptuous Odiya Thali we had at Nirvana Hotel & Banquets, Chandikhol. It's an underrated cuisine just Meitei Thali or various Dhams of HP.
Jajpur Travel Guide
How to reach Jajpur?
Jajpur is easily reachable from Bhubaneswar, around 100 KMs from it. You'll find buses, trains and cabs. Nearest airport is Bhubaneswar while the nearest railway station is Jajpur Keonjhar Road (JJKR).
Where to stay in Jajpur?
Our stay was organized at Jajati Courtyard in Jajpur Road. It's a newly opened property. There are a few more hotels in an around Byasanagar. 
What's the right season to visit Jajpur?
The brief winter season is ideal while you can try your luck during the lush but wet monsoon months too. The summers will be scorching. Even in February I found it to be pretty hot.
Data connectivity in Jajpur?
Phone and Data Connectivity isn't an issue in Jajpur. I found no issues in any of the places I visited.