When I first visited Sural Bhatori a few years ago, it was sort of incomplete in nature although the weather was perfect and I got satisfactory photographs that I keep posting endlessly. Back then it did not have any places to stay, nor was I prepared for camping. So, I had to take the bus from Killar and return the same day after a quick visit. I didn't even go beyond the first few houses of the village. On top of that, the monastery was going through some renovation and was closed too.
Nevertheless, I finally returned to Pangi Valley after more than four years and went directly to Sural. This itself sounds disappointing because when I visited it last time, I was planning to return the next year. The next couple of years were missed due to various personal miscalculations and we all know about the last two cursed summers.
It was not easy this time too. I'd been stuck at Assam for almost two years due to repeated lockdowns. I made some local trips in NE but the second wave struck even as I was raring to return to the north. Two summers were lost in a row (those who've never been to the hills won't understand the magnitude of this loss of two peak seasons), the situation affected my finances and even my fitness levels. Even as I was packing to finally catch my train, I also realised that my 11 year old DSLR had finally breathed its last during the inactive six months of the second wave. So, this entire trip is now dependent on phone images!
By the time I reached Delhi from Guwahati, I'd developed a leg strain, probably because I was taking a long train ride after such a big gap. The discomfort continued over the next few days as I continued moving and reached Lahaul. Ideally, I'd have taken a few lazy days in Old Manali to get back the momentum but I was supposed to rendezvous with another traveller and move to Pangi from Lahaul. So, I had no choice but to move on.
I met Anjali in Gondhla and joined her in the cab she'd hired, avoiding my preferred HRTC buses for the time being. Even as we reached Killar one evening, I was finding it hard to climb the stairs of my hotel. Thankfully, after the night's sleep, it felt less strained and we quickly drove to Sural Bhatori, retracing the deep gorges of Chandrabhaga and narrow pastures along Sural Nala.
Here I must point out that a lot has changed in Pangi since the last time. The opening of the Atal Tunnel through Rohtang Pass has made the approach easier, at least to some extent. There's a genuine attempt to promote tourism by locals, and Homestays are being constructed in every village, just like in other regions of Himachal. So, we'd also planned to stay in Sural too for a night.
We drove from Killar early in the morning. In spite of all the new developments, this stretch of road seemed to provide the same orgasmic thrill. I hope it never changes (but I know it will… a lot of infrastructural work is going on here).
We reached Sural Bhatori around noon and asked around for our homestay (which did not have a signboard yet). Someone advised us to go to the Gompa as there's a meeting going on among the locals and that's where we were supposed to find Karmajji, the homestay owner. We walked through the sacred grove of Himalayan birch (bhojpatra) and reached the Gompa, which is now complete with a new shiny hall with a large Buddha statue inside and even a chandelier for decoration.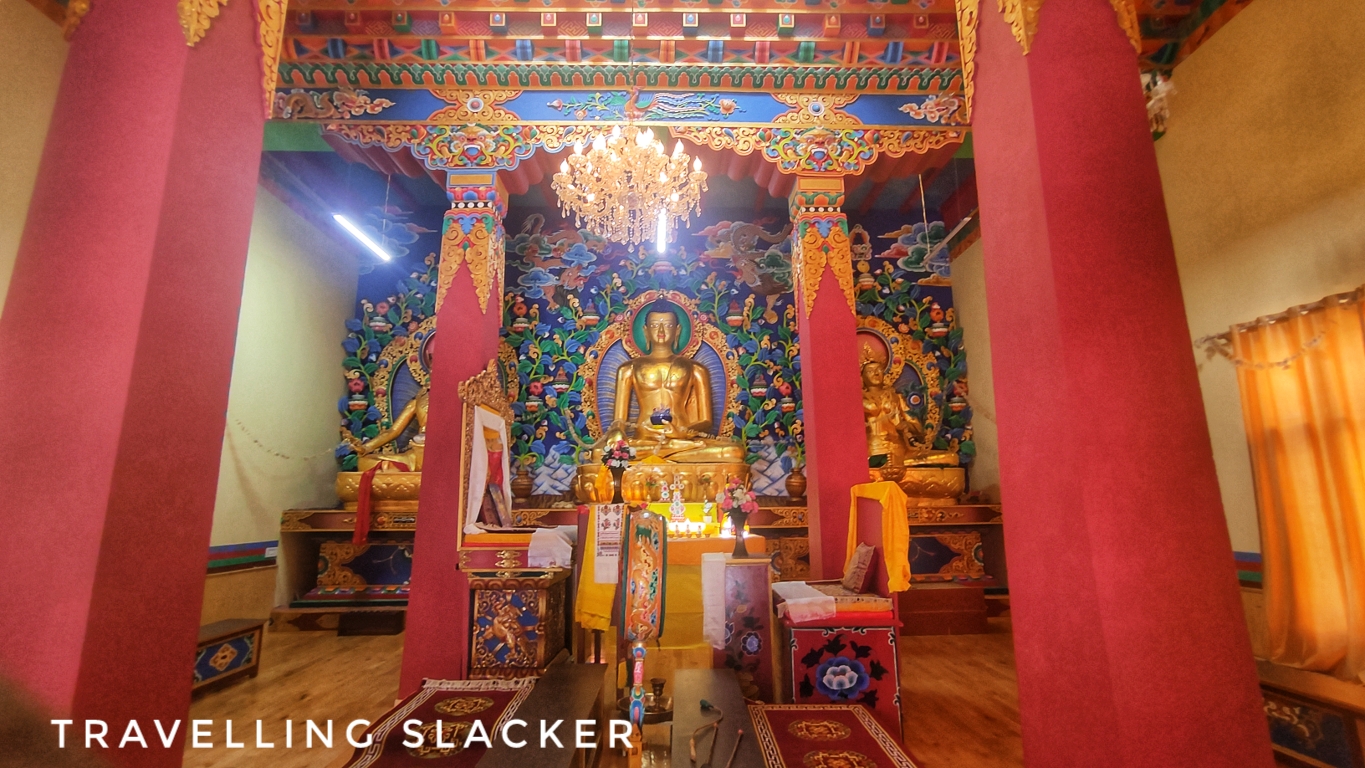 We duly found Karma Funcho, along with a few others who were excited to see tourists in the village. We soon figured out that most of them have worked as trekking guides and tour operators in other places but this is the first time they are seeing a possibility of a tourism boom in their own village.
The view of the orange-yellow vegetation on the hills from the Gompa was delightful. This was officially autumn. The wildflowers of the summer were gone and nothing could be done about it but at least the fall colours of willows, poplers, and birches were here to save the day.
We reached the homestay, which was somewhat downhill from the Gompa, overlooking the hills and settled down. It's just a traditional house with room for tourists built on the upper floor. A simple Indian bathroom is located separately but I was told that he's building a new one too. We tested for a while by sipping some herbal tea and then decided to visit the waterfall, my primary reason for this visit.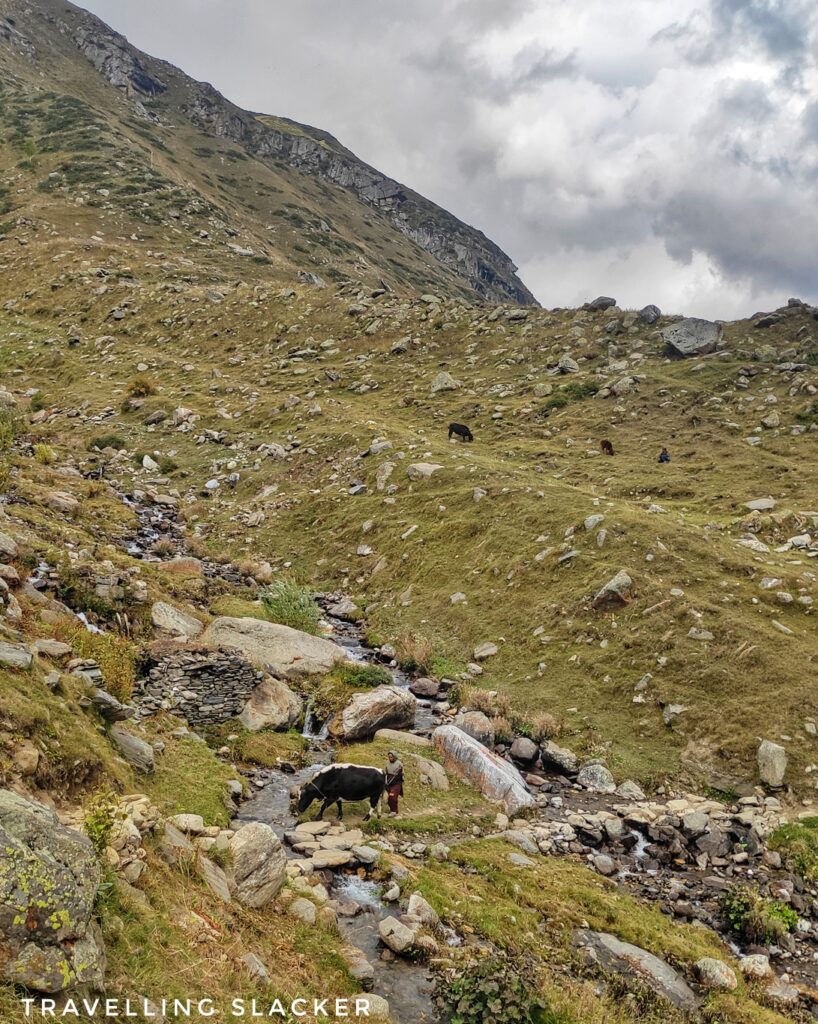 So, the Sural Waterfall is a plunge waterfall which is around 1.5 KMs ahead of the village. It is not really a hike but mostly a straight walk through the open pastures where cows, goats, yaks, and dzomos roam around in gay abandon. It is a narrow valley along the Sural Nala and with steep coniferous hills on the other side and looming peaks on the horizon.
The landscape here is strikingly similar to that of Miyar Valley Trek (which takes much more effort to reach). I can imagine that this entire stretch will be delicious in the summer and monsoon months with wild blossoms. We were a bit late for that but still, it was not bad with the autumn colour of the horizon and like and orange lichens on the rocks.
We took many photography breaks and finally after half an hour, the waterfall appeared on the horizon. It somewhat reminded me of the Phe Phe Falls, without the surreal colours of that one. However, a different type of colour palette was waiting for us.
The base of the waterfall is not visible from afar. There is a slight elevation that we had to overcome. Just as I did so, I noticed a rainbow forming at the bottom as it was a sunny day and we had unintentionally arrived at the right time. This may be a trivial detail for many but it was important for me because I never saw the rainbow even at the Nongriat Rainbow Fall due to cloudy weather!
Anyway, we spent the next hour or so at the waterfall. Some local guys were more adventurous as they climbed up the rocks and went behind the waterfall. I was happy clicking the waterfall on one side at the autumnal hills on the other side.
During the return, we decided to get closer to the river and we even found a footbridge to cross over to the other side and climb the hills. However, we had no energy left by that time for such activities.
We were back at the village by 5 pm. The only qualm I had was that a bit of cloud had formed on the horizon and the glistening peaks were not visible (I am posting a pic from 2017 to show what I am talking about).
Nevertheless, these clouds were not without their rewards. It soon led to a light drizzle and then we got another rainbow, this time a big one, over the entire village!
The night was spent discussing the life and times of our hosts. Finally, there was a chance to try Pangwali cuisine and we were rewarded with a few pegs of local arak followed by Laal Roti (Chukri ki Roti), mixed beans, leafy greens, yak ghee, and a fiery chutney. This roti in particular is the most unique thing we had. It is made by mixing a certain wild leaf that they collect from the higher meadows. It is red in colour and so, when it is mixed with the dough, the roti also becomes somewhat red in colour. It is a very thick and hard roti and an average city dweller will struggle to eat one. Apparently, the nutritional values of that particular red leaf have been the subject of many research papers.  The next morning we also got to taste sort of a pancake which was strikingly similar to somewhat I had in Turtuk.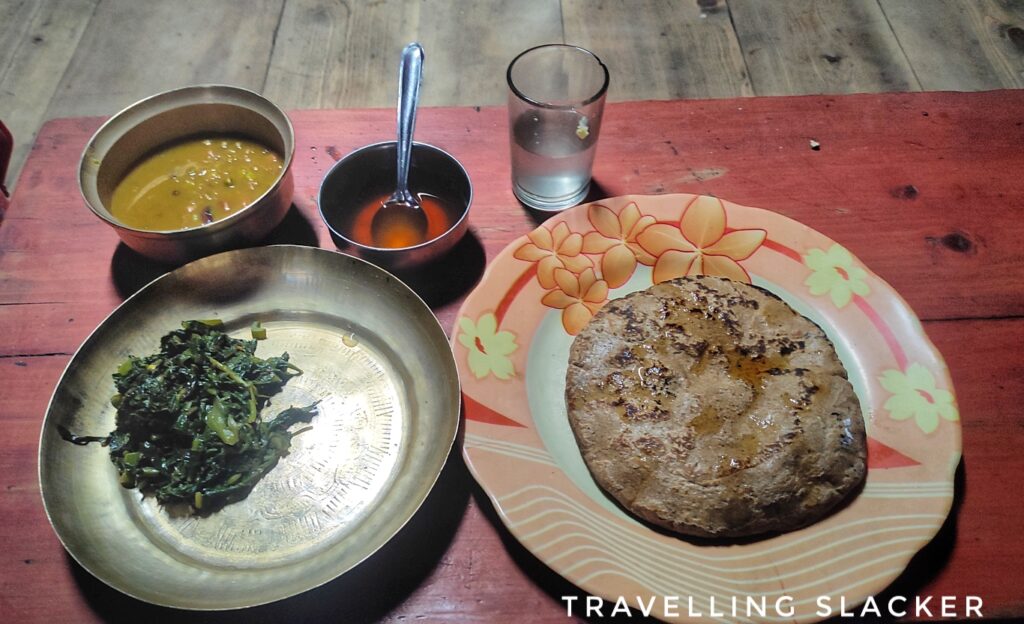 So, this is more or less it for today. It may just be a coincidence but I feel somewhat rejuvenated after this visit. I have a long way to go to reach the pre-pandemic levels of fitness but at least the nagging muscle strains have disappeared. I have already written a lot about this region. So, I am not going into too much detail here and presenting the new things that I experienced this time. For more information, do read my Pangi Valley Travel Guide.  I also took some pathetic video clips that you can watch below, although I doubt if anyone would bother to watch and subscribe.