After the repeat trip to Hudan Valley, it was the time to complete one of my unfulfilled dreams from the last year, i.e. Sural Bhatori, the home of Himalayan Birches (Bhojpatra). Last year, due to some misunderstanding, I had left the bus even before reaching my destination and since bus services are limited here, I could not find another one that day. I could have walked too but there were a couple of powerful streams dissecting the road and I did not feel like crossing them on my own.
This time we were three people but again we made the mistake of having a nice, slow, breakfast in Killar, and missed the morning bus. The next bus was in the afternoon, but the bigger problem was that the bus comes back next morning only. So, that meant a long walk of 22 KMs from Sural to Killar and not enough time to spend in the village. Anyway, this was our last day in the valley so we had to go and figure out the return strategy later on.
Sural Bhatori is the last village in the Sural Valley, at an altitude slightly more than 3000 metres and 22 KMs from Killar town. As the name suggests, it is inhabited by Bhotia People (Buddhists of Tibetan descent). It also has the most important monastery in Pangi Valley, located amidst a grove of Himalayan Birch (Bhojpatra) trees.
We arrived at around 2 PM, along with a handful of villagers. The village still does not have any private accommodation facilities. There is supposed to be a PWD or Forest Rest House but that needs to be booked from Chamba or Killar beforehand. One local guy on the bus offered to host us in case it is needed although we had no option but to return. He also told that some foreign trekkers were camping nearby. We barely had an hour in hand so we decided to quickly visit the monastery.
Initially, we got slightly confused and took a different route, gaining a reasonable amount of altitude. It did not serve our purpose, but the views got better. It was a bright, sunny, day and the nearly vertical mountains in front of us, with all those glacial scars, offered a delightful frame. A local woman entered my field of vision at the same time, and I waited for her to reach the preferred point. Yes, I am acutely aware of the alarming levels of narcissism in my utterance, but it was a frame as perfect as it could be.
After a while, we realized our mistake, asked a few locals, and finally took the right direction to the monastery. As expected, this corner is basically a birch grove. Bhojpatra (Himalayan Birch, Betula utilis) is a tree as sacred as it can be. The thin, white barks of this tree was used to write ancient texts, so it is basically the Indian papyrus. It grows mostly in the high Himalayas of India and Nepal. Even now it is extracted and used for such purposes and so it is fitting that the monastery is surrounded by them.
The monastery however was closed. The head Lama was not present, and so we could not really see the statues inside, although I am sure I have seen similar once in other Tibetan-Buddhist locations in the region. The monastery also seemed to have received some funding recently as some construction was going on and the compound was scattered with pieces of bricks and wood. So, I gave up on the quasi-spiritual discussion I was planning to have with the lama and did what I usually do in such locations, that is to click of the flags, chortens, and the hills.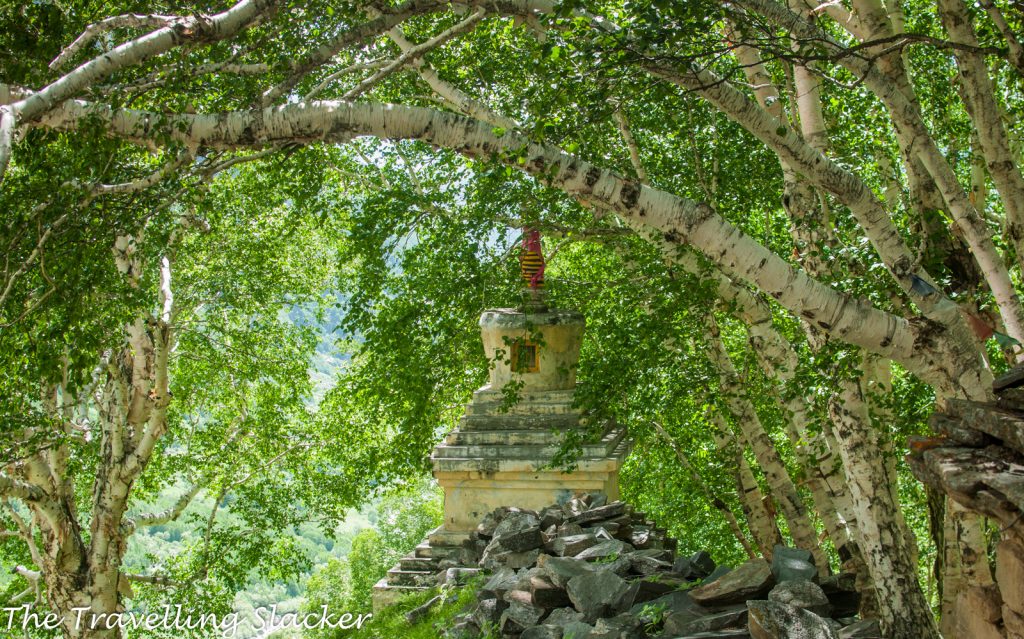 As mentioned earlier, we did not have much time as there were no more buses scheduled for the day. So, after spending some time we started to return walk. We were hoping to get a lift at some point so that we don't have to walk the whole 22 Kms and get eaten by bears after dark. However, the good thing is that in Pangi Valley, every walk is a photowalk and it is better to show it rather than tell.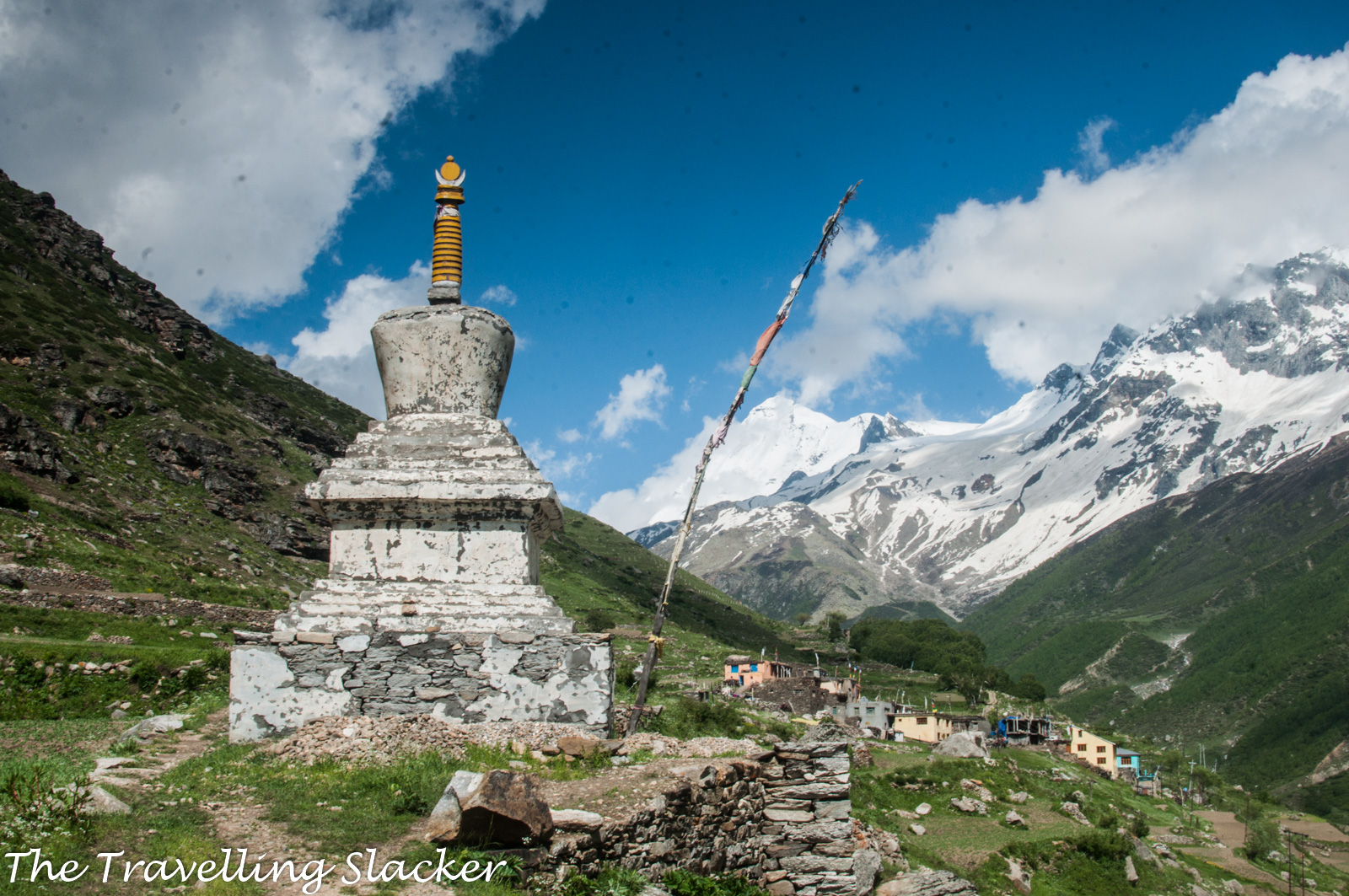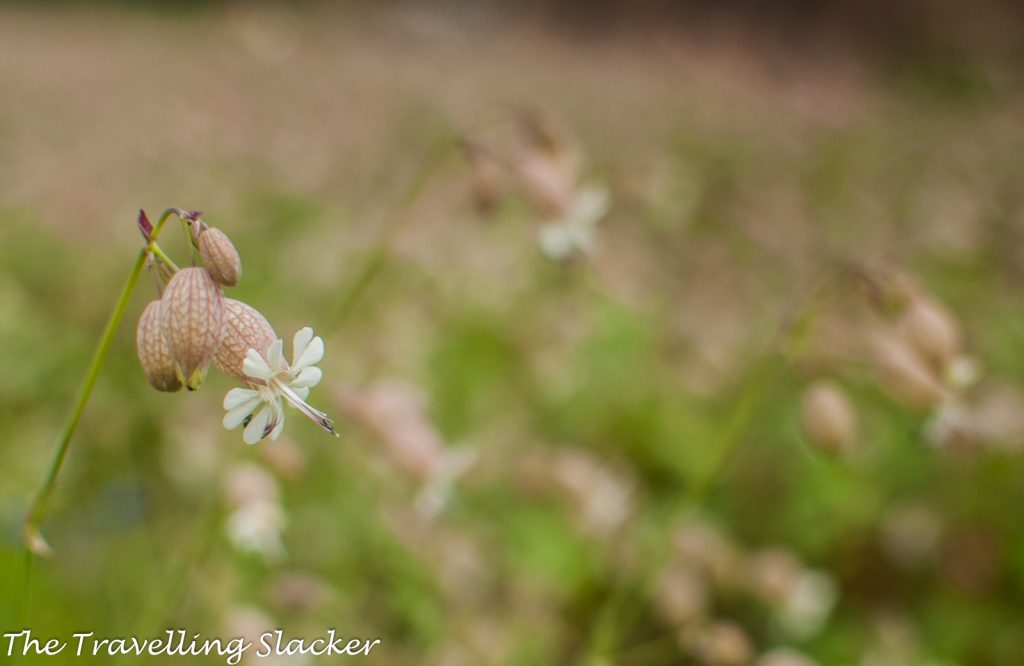 We did not see a single vehicle for the next hour or so as we came down to the next village which is also called Sural (which led to the confusion last year). We found an alternate route leaving the main road and climbing higher up to the village. We started walking through those mud and stone structures, while having great views of emerald fields. We crossed 2-3 villages in quick succession, most of them were pretty small ones. We tried some shortcuts, but most of them turned out to be long-cuts. One of the detours took us down to the river, where we had to cross a shaky bridge and also help an elderly local couple cross it.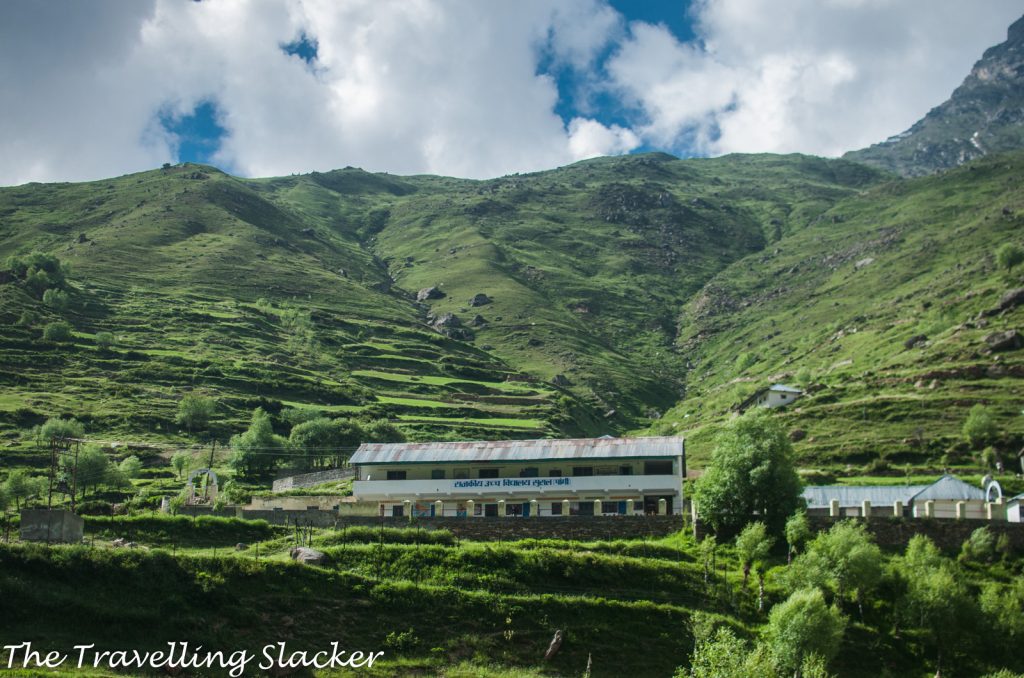 Finally, after this point, we saw a pickup van coming our way. The guy was in a hurry but he was going to Kishtware-side and not Killar. But he offered to leave us at Dharwas, the point where the Sural route meets the main road. We gladly accepted his help and reached Dharwas. Here, I must mention that while nobody considers Dharwas to be a destination, this juncture is a good place to catch a glimpse of the Chandrabhaga (Chenab). From here, one can clearly see the river cutting through the stones, forming near perpendicular walls on both sides.
We paused for a while, hoping to catch a lift to Killar. It was around 10 Kms away from that point and although a walk was not impossible, we'd had enough walking for the summer. Finally, one car stopped, and that turned out to be hour host from Chandrabhaga Homestay in Killar. So, it ended without much hassle although it did not look like so in the morning.
So, this was the end of my second Pangi visit. Next year, I intend to shake things up a bit. I will visit other villages, and I will also try out some trekking routes, such as Tingloti Pass connecting Hudan and Sural. There are also passes connecting these valleys to Kashmir side. I wonder how many people have done it but they need to be tried.
Sural Travel Guide
What and where exactly is Sural?
Sural Nala is a tributary of Chadrabhaga. So, Sural is a sub-valley of Pangi Valley. There are multiple villages along the valley such as Dharwas, Sural, and Sural Bhatori. The last village is a Buddhist Village, which is why it is called a Bhatori.
How to reach Sural?
You will first have to reach Killar. From there, daily buses run to Sural Bhatori. Read my Pangi Valley Guide for more details.
Where to stay in Sural?
For a long time, there was bo stay option but things have changed now. There are a few homestays in Sural where you can stay and more are likely to come up.
What to see and do in Sural?
The primary delight of Sural is the views, as you can see in the photographs. Apart from that, the most important attractions include the Gompa at Sural Bhatori and the waterfall, which is around 20 mins hike from the village. You should also check how they use barks of Himalayan birch to write sacred texts and also try the local cuisine of Sural. Do check my new post for such explorations including the Sural Waterfall.
Trekking in Sural
Trek routes connect it to Zanskar, Kishtwar (Gandhari Valley), and also to Hudan Valley in Pangi itself. You can also hike to the base of a local peak. You will find guides in the village if you ask around.