After a disappointing 2019, I wanted to start the new year in a good way, primarily covering a few places in the Jaintia Hills of Meghalaya that I should have covered ages ago. However, on the same route, there was one more place that almost no one was aware of until a few months ago, until the photographs started flooding my social media feed. Yes, Phe Phe Falls or Phea Phea Falls as spelled by some, has had a meteoric rise in the NE tourism circuits and I am sure even those who haven't heard of it yet will hear of it soon. In short, it is the next Nongriat!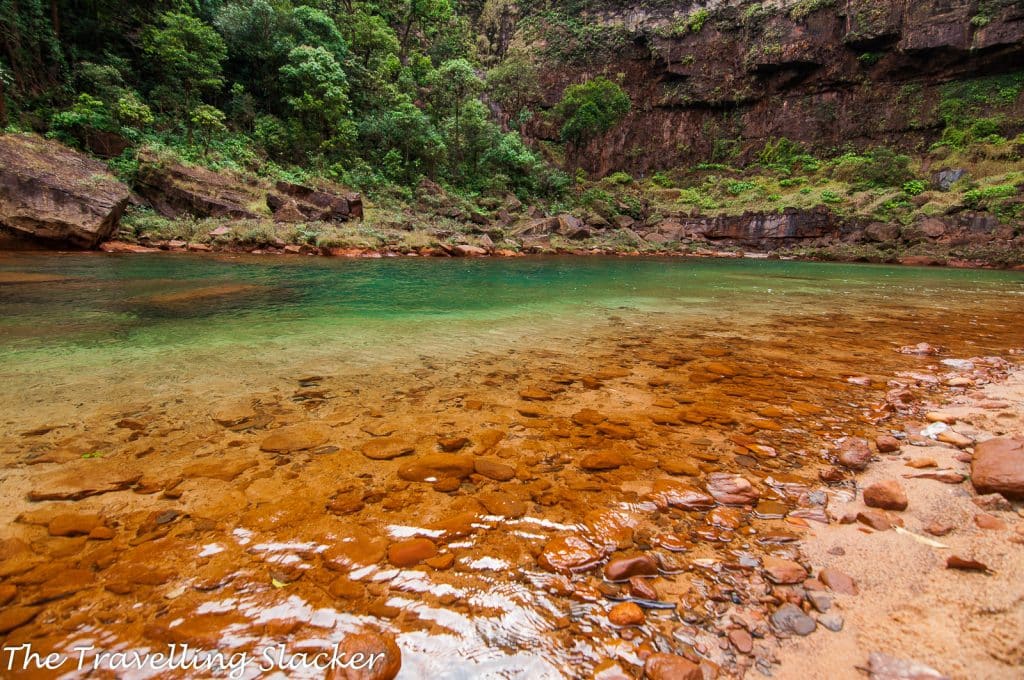 So, unlike some other places that keep teasing and eluding for years, I managed to be done with Phe Phe pretty easily. I had doubts about the accommodation and the route and the online reviews were confusing. This is not surprising because it has received limelight only in the last 12 months or so and the campsite here has come up last year only. Nevertheless, we decided to go ahead with it. We were at Shillong by the afternoon of the 1st January. Everyone seemed to be on holiday mood and most shared vehicles were not running. Our plan was to first reach Dawki and try Phe Phe the next day but we found nothing going that way. Just when we were planning to stay back in Shillong for the night, we got one going to Jowai. Now, I know that Jowai is the main town in Jaintia Hills but I wasn't sure about the stay options. I'm aware of a couple of good Homestays which are a few KMs away from the town and probably beyond our budget too. The internet did not show anything inside the town.
Nevertheless, we hoped something will be there and the driver said so too. As it turned out, there were indeed a couple of old school hotels in the middle of the town. None of them were particularly delightful but it was dark and cold and we got into one hotel. Interestingly, we were expecting to be welcomed by the cold and deafening silence that is usually the case in small towns. However, that was not the case. The New Year festivities were going on in the town and here it seemed more of a community affair. The entire town was on the streets, the churches were glowing, but everything was organized and orderly. There were a few female cops in charge of the law and order but eventually, even they gave up and started dancing. The night turned out to be more eventful than I'd expected.
View this post on Instagram

Wasn't sure about this because accommodation options in Jowai were not clear. Could have just waitedout the night in Shillong but took the risk and reached anyway… It was already dark… I was expecting to be welcomed by cold silence… However, the whole town seems to be out on the streets… It's a carnival… #happynewyear #jowai #2020 #fireworks? #meghalaya
We started from Jowai early morning after breakfast. We found a shared car going towards Jarain and the campsite was located just before Jarain asper our information. In fact, it was just located on the road itself, around 20 KMs from Jowai, and we got there soon. After some negotiations, we settled our stay for the night at one of their tents, kept our stuff, and started the actual hike towards Phe Phe Falls with a guide from the campsite showing us the way.
The campsite is located by the side of a sensuous, teal coloured river. The water is actually transparent if you look at it from a close range. Nw, there is a stone bridge a few yards away however the custom at the campsite is to cross it with kayaks. Only one person can fit in here with the local guide. So, if there are more people in the group, it will take multiple crossings. Nevertheless, it does not take much time and this 10-second river crossing itself is a highlight of this trail.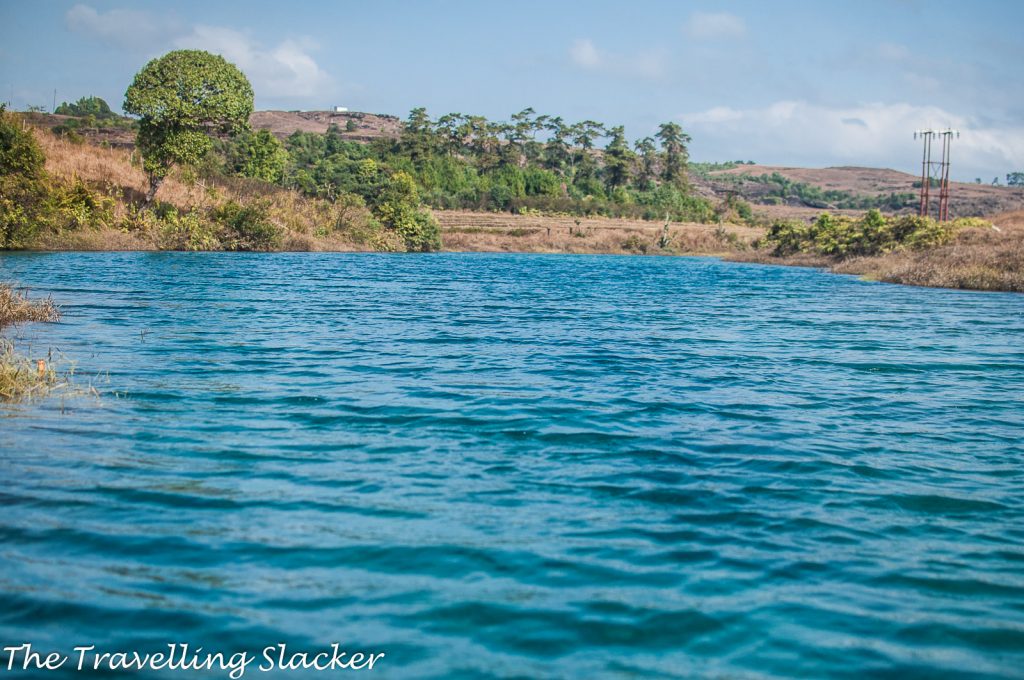 After crossing the river, we started walking along an open plateau that seemed to be made of igneous rocks, reminding me of a few spots in Bastar. The walked continued for around 15 minutes and we also noticed some dumps of coal scattered along the surface. Apparently open coal mining is a thing here although I am not sure it is fully legal. I found a report about rathole coal mining in Jaintia Hills after some research. I also noticed certain interesting plants that seemed like pitcher plants. This is not a surprise because there is something called a Pitcher Plant Lake in the nearby Jarain although we could not visit that one.
Anyway, our guide soon led us beyond that patch to an area where there was more vegetation. We suddenly started walking down the stairs and a faint sound of the fall hit our ears. So, just like most other falls in Meghalaya, one has to hike down to reach Phe Phe & hike up while coming back. Anyway,we continued & after barely another turn or so we got the first glimpse of the fall.
We continued for another 10 minutes downhill to finally reach the base of the fall and it was exactly as I had seen in the pictures. I felt it was a bit taller than Rainbow Falls but somewhat similar in shape and the bluish green colour of the water was even deeper here. It was a bit cold and windy down there and even the falls is swaying occasionally, as you can see in some of the photographs.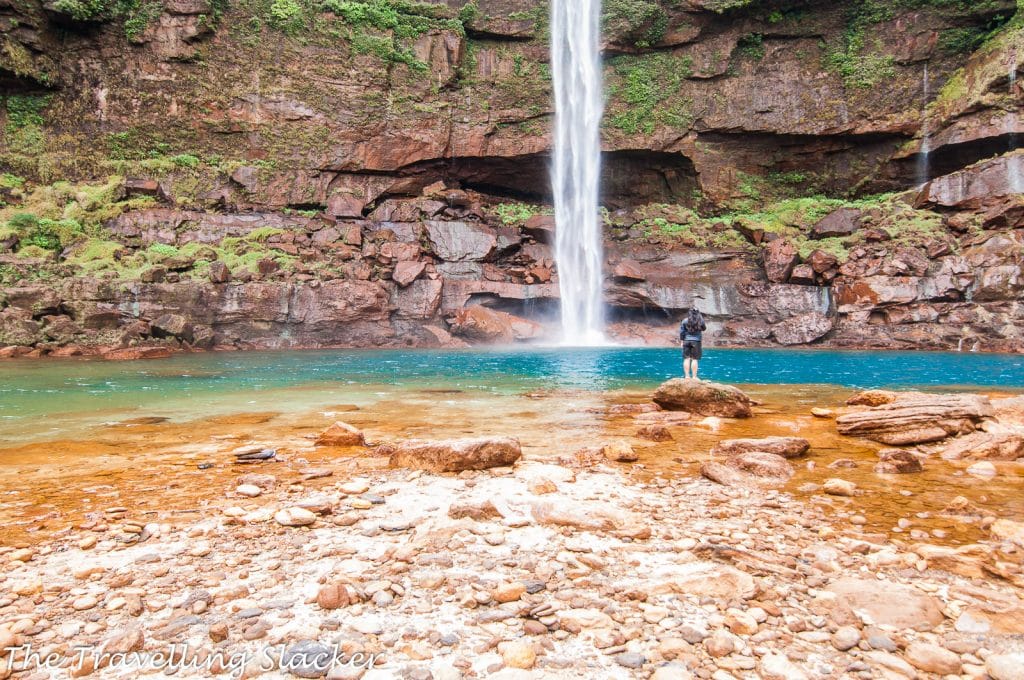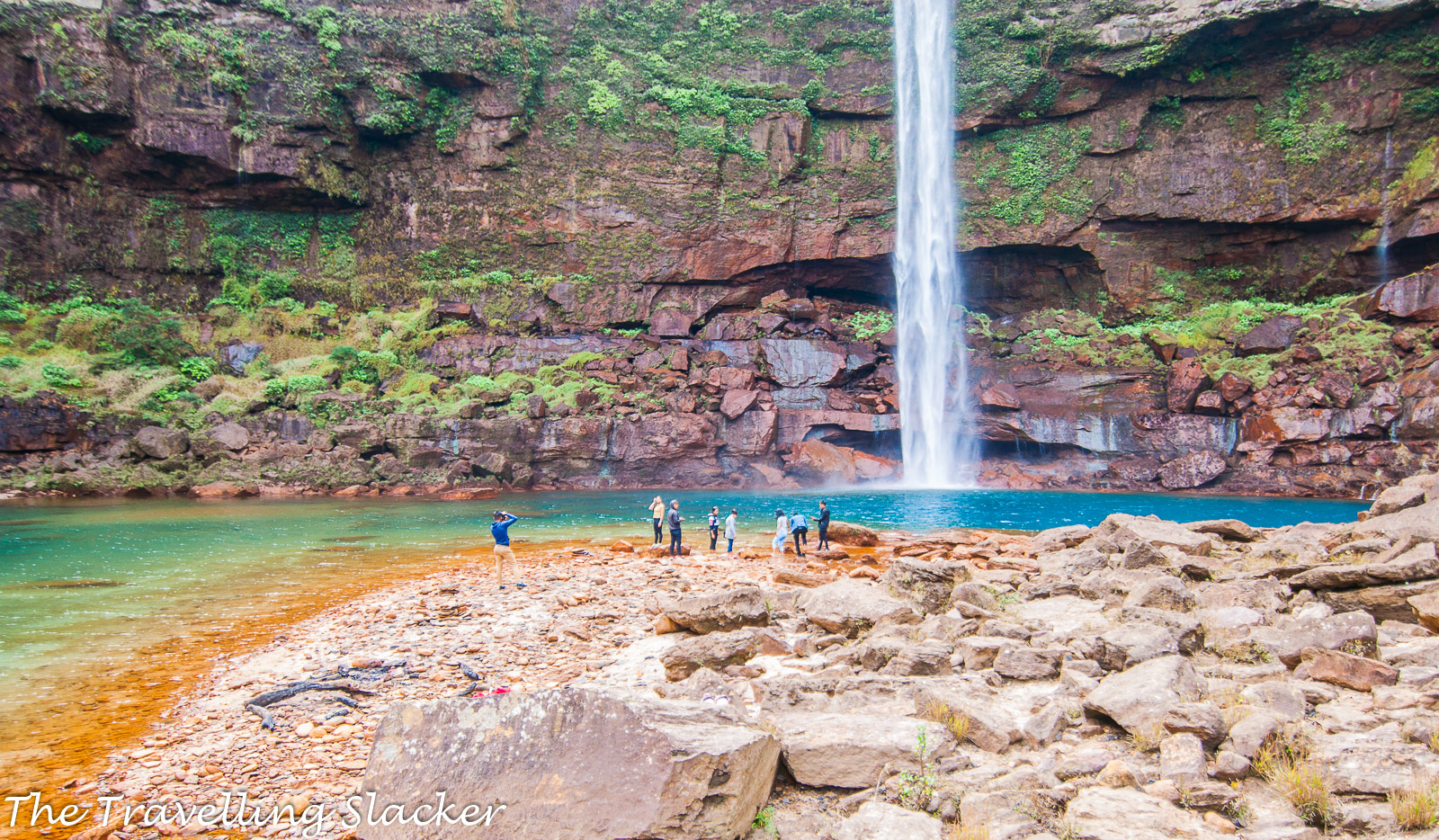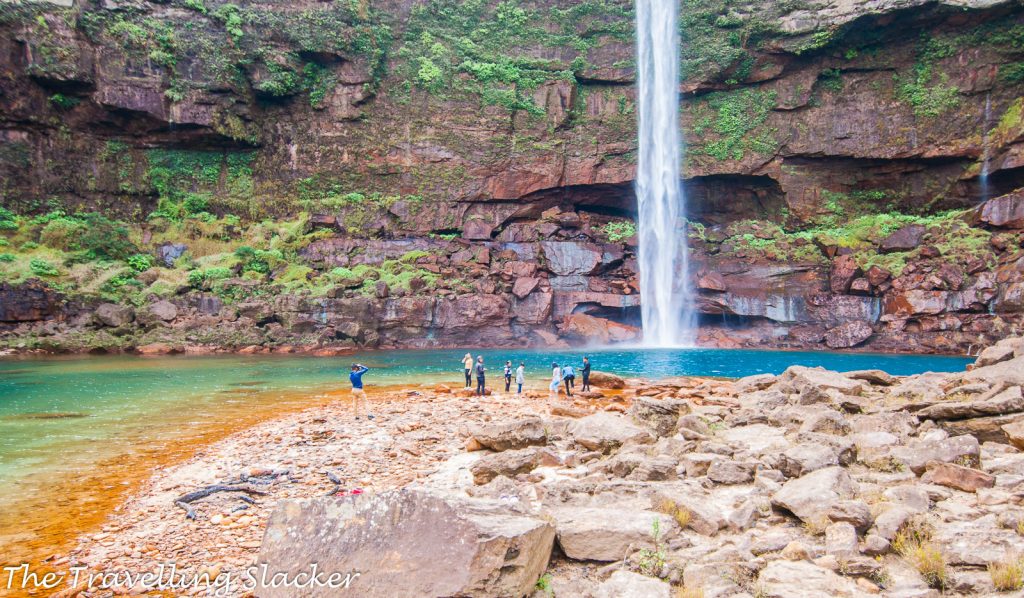 We spent an hour ogling at the fall. It reminded me somewhat of Tamda Ghumar and Mendri Ghumar in Bastar but the colours were even better. Some local visitors had arrived there by then. So, we decided to walk towards the other end of the fall. In fact, it plunges further on the other side, and probably forms another fall. However, the area beyond that point is not accessible. Also, this area was pretty slippery and so I could not muster the courage to get too close to the edge. However, the best part here was the view of the fall from a distance.
This was more or less, about it… or so I thought! We hike back to the top and were ready to return to the camp. But the guide said that now we will go to the "other fall"! It took some time for me to understand but finally it became clear. Phe Phe Fall actually consists of two steps, but they are so big that they are almost like standalone falls. The one we had seen first is the one most photographed but it actually is the 2nd step. It is so tall that the first step is not seen from the bottom. So, now, after five minutes of walk, we reached the edge of the 1st step. As you can see, the first step actually seem like two parallel falls. The edge at the end of the first step is the beginning of the 2nd step!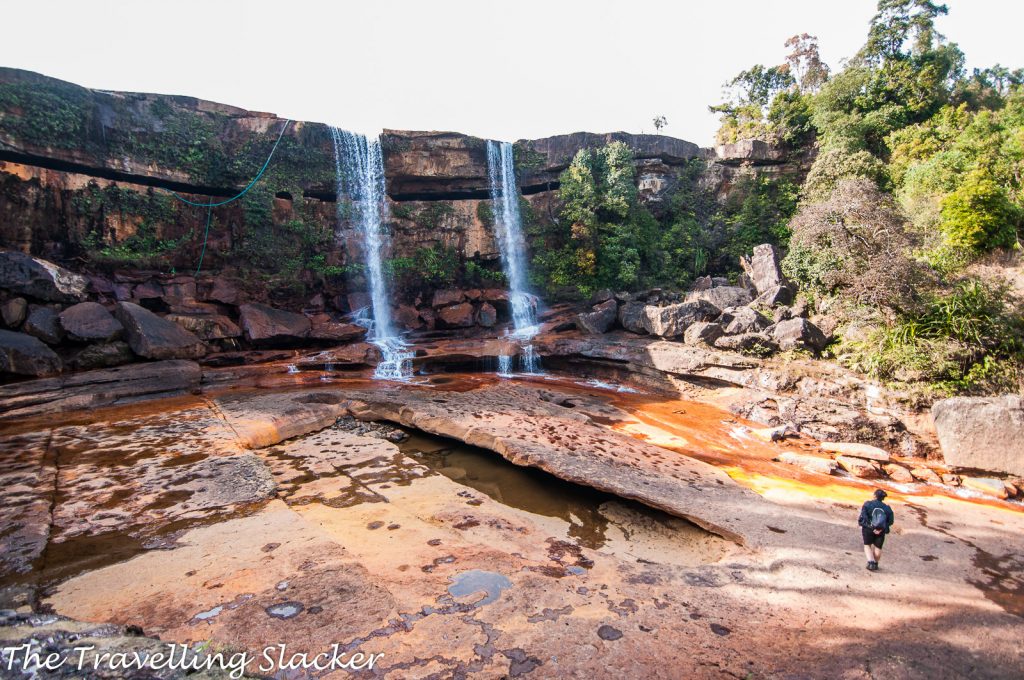 It is also possible to hike down to the base of this step and reach the starting point of the step 2. Again, it looks a bit too risky but the guide was too eager to get as close as possible, enabling me to click a few literally edgy shots.
Paradise Camp & Thlu Awmi Fall
We returned to the campsite by 3 PM. Now, let me make another point here. I don't want to sound promotional but this campsite has an excellent location, so much so that this itself could have been a destination even without the falls. This is a vast open plateau with minimal habitation, crisscrossed by lean streams with crystal clear water. There is an ancient megalithic bridge over the river too (If you are familiar with the history and culture of Meghalaya, you will know that it is all about Megaliths and Monoliths).
Also, there is another small waterfall visible from the road itself. It is on the opposite side of the camp. As per the maps, it is called Thlu Awmi Falls. Unfortunately, it was too dark by the time we got there and the next morning it rained like hell. SO, I never got a good picture of it!
Phe Phe Falls Travel Guide
Where Exactly is Phe Phe falls Located?
Phe Phe Falls is located in the West Jaintia Hills District in Meghalaya. It is around 20 KMs away from Jowai, close to a small town called Jarain. You need a short walk and then a downhill hike to reach the falls.
How to Reach Phe Phe Falls?
If you are relying on public transport, first reach Jowai, it is around 60 KMs for Shillong and you will get shared cars from Anjali Taxi Stand in Shillong. Now, the location of the fall is actually on the road that connects Jowai and Dawki but Jowai is closer. So, reach Jowai and then find some shared car going towards Jarain (Which is a small town on the road to Dawki). The campsite is located by the side of the road and you will see it anyway. The actually fall is a short walk+ downward hike from there.
How is the Road Condition?
Road conditions are excellent throughout and you should have no problem even if you are driving yourself.
Are there two different falls at Phe Phe?
Actually the falls is in two steps and both are big enough to stand on their own. You should visit both parts. Ask the locals if you find it confusing.
Is there any campsite or stay options near Phe Phe?
Yes, that is where we stayed. It is called Paradise Adventure Camp located on the left side of the road, just before the petrol pump at Jarain.
Do we get food at the Phe Phe campsite?
Yes, they serve basic, rice-based meal for dinner & maggi and tea for all other occasions.
How much do you stay and food cost?
They have three types of accommodation options (Including Dinner & Breakfast)
Cottage (Wooden House with Attached Bathroom) INR 2500 (Fits 2)
Cabin (Small Wooden House without attached bathroom) INR 1500 (Fits 2)
Tents INR 1000 per head
One tent is meant for two but TBH I found them too small for two although th).
You can always bargain a bit on the spot unless you pre-book. 
Food costs are like these…
Chicken Meal for dinner INR 180
Veg Meal for dinner  INR 150
Maggi INR 40
Tea INR 10
Do I need to trek to reach the Phe Phe Fall?
Yes, it is a small downhill trek that will last no more than 10 minutes. However, you will have to hike up on return.
Do I need a Guide and where can I find them?
You can do it without a guide but it is better to take one the first time because the trail is not well-marked and also, as I have mentioned, there are two falls. Also, at some points it is slippery and there may be some stream crossings where you may need help.
How is phone and internet connectivity in this area?
Connectivity is excellent at the campsite. It weakens a bit near the fall but still works.
Can I do it as a day trip?
Yes it is possible, especially if you have a vehicle. But staying there should be a good experience too.
What else to see near Phe Phe?
As mentioned before, it is between Jowai and Dawki and there is much more to see in this region. Near Jpway you can visit Nartiang, Durga Mandir, Tyrshi Falls, etc while if you go ahead of Jarain you will find more waterfalls like SUa Ludong and of course the iconic Krang Suri. Eventually, of course, you can go ahead to reach Dawki-Shnopdeng, which is one of the major attractions of Meghalaya. Also, there is something called Pitcher Plant Lake near Jarain.