So, one thing I learned during the Bastar trip was that this region is full of waterfalls. There are more than a hundred waterfalls according to some account and only 2-3 of them are somewhat famous and are frequented by tourists. Some of them are not even named and are known only to locals. Now I think that Bastar is the second most important waterfall destination in India after Meghalaya. During this trip, I managed to visit 5 of them. I am not sure if I have enough material to write separate posts about all of them. So, let me make a short post on them.
Teerathgarh Falls
Teerathgarh is a big, touristy waterfall around 35 KMs from Jagdalpur, on the Kanger River. It is located in the middle of the Kanger Ghati National Park. It is 91 meters high and looks massive from the close range, especially once you climb down the stairs and reach the bottom of the fall, as it is a pretty broad one. The space leading to the fall is full of local shops selling food and souvenirs and this area is always full of tourists.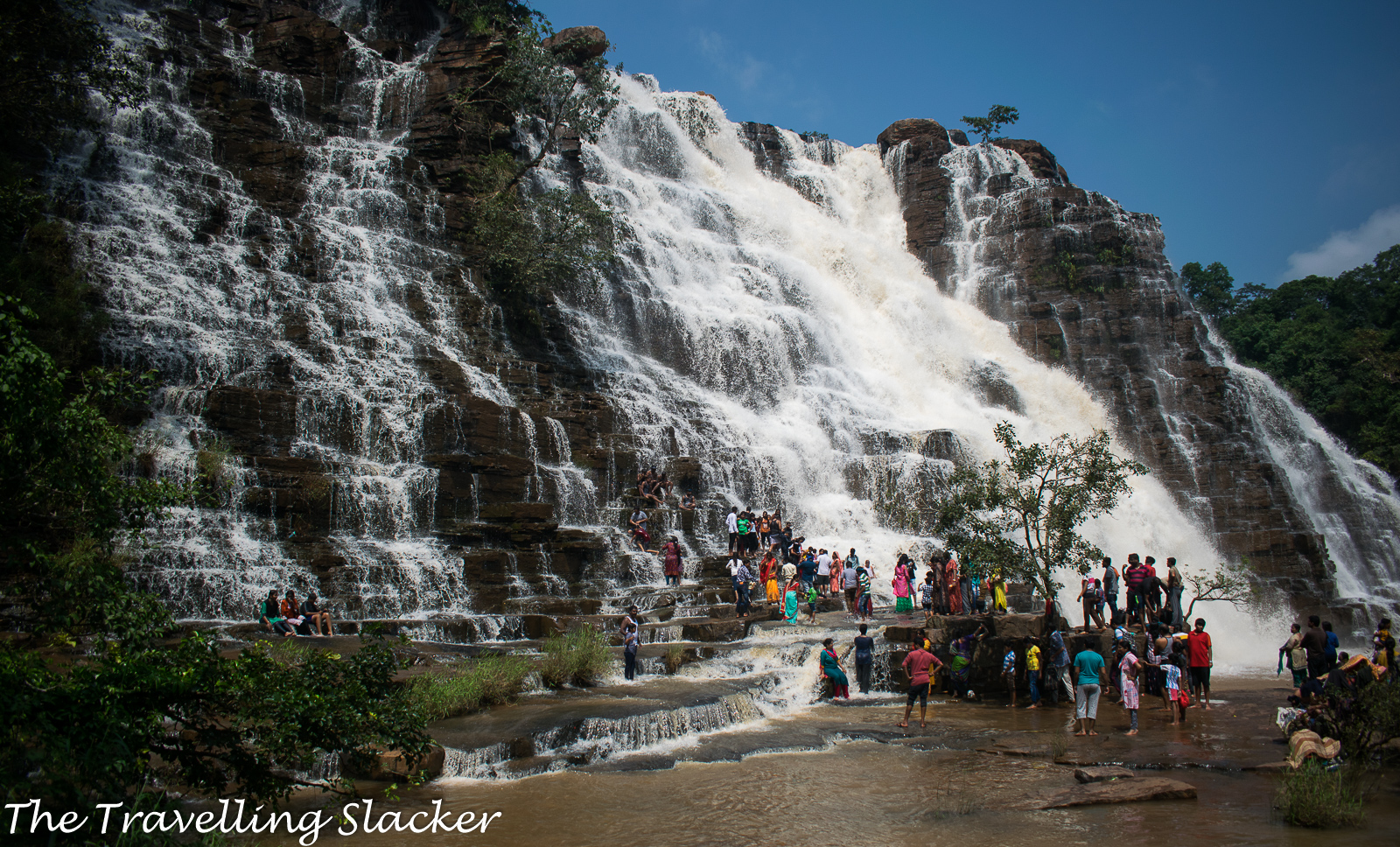 The fall is so broad that there are several access points that one can reach through some connected flights of stairs. From one angle, I could even see a perennial rainbow. The cliff in front of the fall houses some ancient shrines. This area also has some major limestone caves but they generally close down for tourists during the rainy season for safety reasons and so we could not visit them.
Towards the base, Tirarthgarh gets divided into many streams and at one end, there is a spot where one can walk through the slippery rocks to reach the back of the fall. It reminded me of Atri Muni Fall near Gopeshwar but this one was far bigger and stronger and we got completely soaked and so I could not click anything from that angle.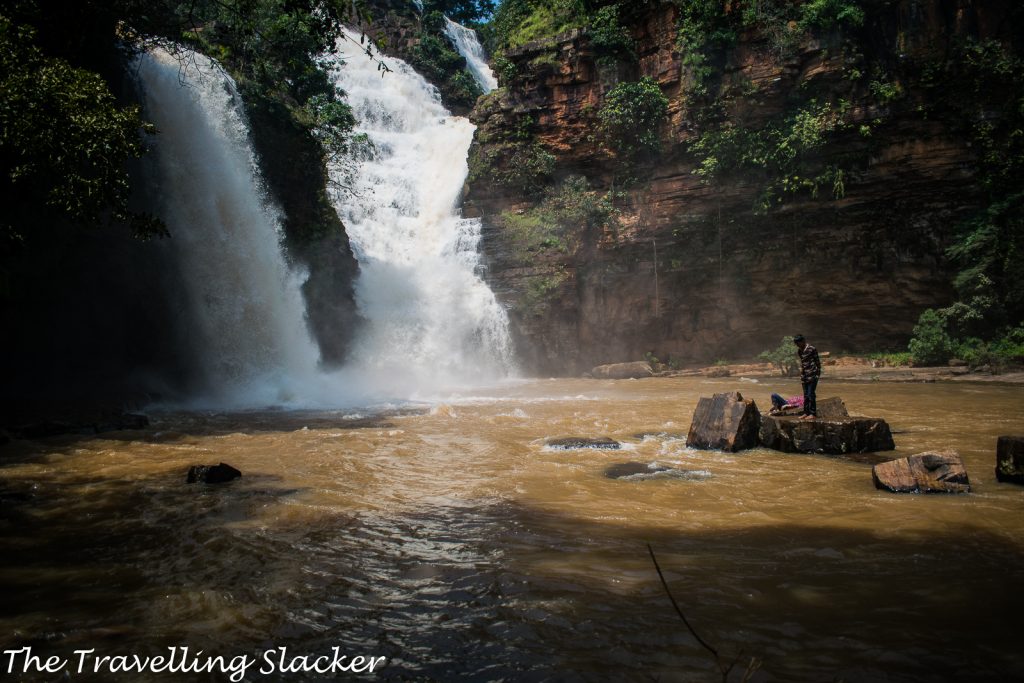 Chitrakote Falls
Chitrakote is the other major fall in Bastar, around 40 kms from Jagdalpur, on the Indravati River. The shape and width make a lot of people call it the "Niagara of India" although I personally hate such wannabe sobriquets desperate for western approval. Chitrakote does not need to be compared with anything else and it can stand on its own. It somewhat reminded me of Dhuandhar Falls in Jabalpur though.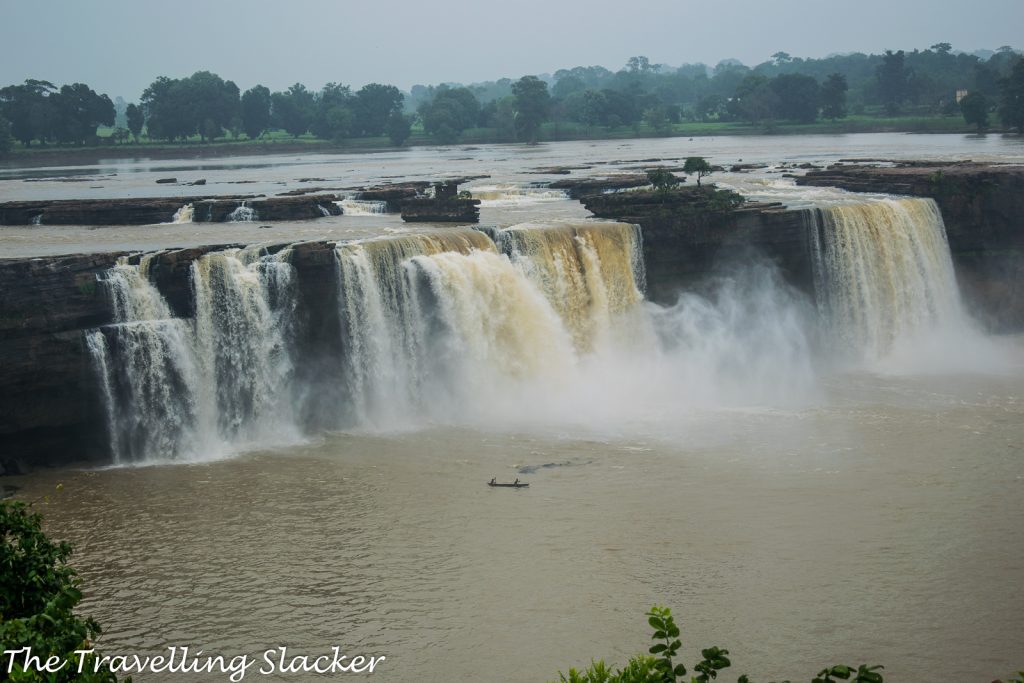 Chitrakore can be accessed from both sides and as far as I could understand, one side is as touristy as Teerathgarh. However, we were taken to the other side via a different route. A small campsite has been developed here and this side is devoid of tourists except those who come for this campsite.
We reached at midnight and soon fell asleep. We could hear the Chitaroke but could not see. The next morning was sadly a gloomy one. I was hoping to see rainbows forming over the fall but it was not possible on a day like that. Nevertheless, I think you don't always get to capture your campsite on the backdrop of a massive waterfall. So, it is fine.
Tamda Ghumar
Tamda Ghumar or Tamra Ghumar is a minor waterfall, which is mostly seasonal i.e. it comes alive only during the rains. It is located somewhere between Chitrakote to Barsur, where we stopped for a while. This area is completely desolated and locals generally use it as a picnic spot. Do note that the word Ghumar or Ghoomar literally means a waterfall in the local language.
Mendri Ghumar
Mendri Ghumar is another similar seasonal fall on the same route, slightly ahead of Tamda Ghumar. I found it a bit more scenic as a rainbow was forming and we could see it from the top of the cliff. There are a lot of beehives on these cliffs there are some birds who eat the bees and the falls is named after that bird (Or something like that… I don't exactly remember the whole story). The whole plateau is formed by volcanic rocks and I am sure more interesting things can be found here if one can devote enough time.
Mandawa Falls
Mandawa Fall is a is a minor one that we saw on the first day itself, on our way to Dantewada from Jagdalpur. The best part here was the setting. The fall is located in the middle of lush green paddy fields. We also met a local man, who was willing to pose for photographs, only if someone lent him the sunglasses for the photoshoot.