"After the final stretch of ascent, we found ourselves in front of a small but photogenic, avocado green waterfall. But this is the not the main Atri Muni fall, we were informed. We pushed harder and reached the much taller and formidable waterfall after 5 minutes. "Now we must circumambulate this one", we were told again, as we kept ogling at the fall in disbelief."
—————————
I generally write about a place as soon as I visit it, especially if the place is exciting enough. But this is one travelogue that had been pending for a long time. I met certain interesting people en route who wanted me not to write about them too much because they did not want too much attention that could affect their peaceful lives. So, I kept wondering if I should write about the place at all. However, I can see that this trek is not that obscure after all. There are other posts on it available online. Also, I think some of the archaeological items here need to be known by the rest of the world. So, I have decided to write about it, but I will be withholding certain details about the place and there be no mention of those people. Those who really seek can find the same anyway and those who pretend to seek can go to Kasol again.
Coming back to the point, I was at Gopeshwar the previous night. I met the Chopta- bound team of Travelshoebum, Pushpendra and a couple of other travellers from Europe. I have described the rest of the trip in my earlier post on Chopta Rhododendrons. But even before that, it was decided that we do another trek, something I had not heard of before, the trek to Anusuya Devi Temple and then the trek to Atri Muni.
Mandal Village
After a short drive, we reached Mandal, a small village on the road going towards Chopta from Gopeshwar. It is small Garhwali village with a couple of roadside restaurants where we had breakfast. The car cut the distance by a kilometre or so and left us at the starting point of the trek, where there was a bridge over a hilly stream. The temple of Anusuya Devi was 4-5 Kms away from here. So, we started trekking slowly.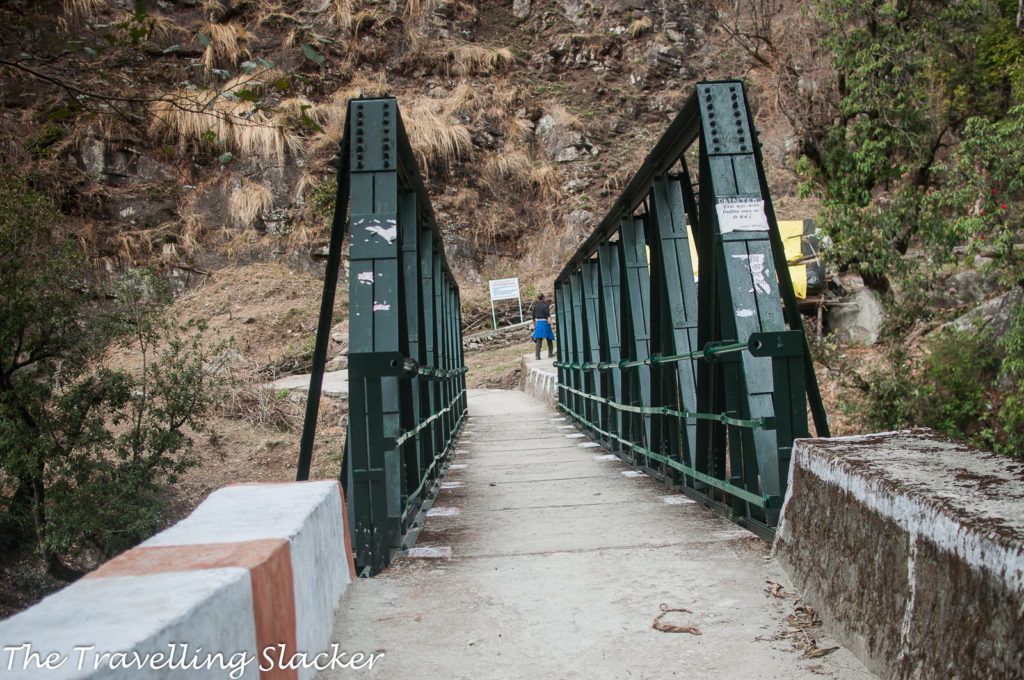 Mandal Rock Inscriptions (6th century)
Interestingly, at this point, Pushpendra told us about another important attraction here, the Mandal Rock inscriptions dating back to 6th century. It was found on the weather-beaten rock on the left side of the trek, around 500 metres before the Anasuya Temple. It lied unattended and unsung for centuries but recently a shed has been built over it along with an informational plaque by the ASI.
We reached the Rock Inscriptions after slightly more than an hour or so. It is not in a very good shape. Apparently it is written in Sanskrit using Northern Brahmi script. As per the details mentioned on the ASI plaque, The inscription mentions one Kshatriya Naravarman under the aegis of King Saravarman constructed a temple and a water-reservoir for the merit of himself and his parents. Other details are not mentioned, including the exact dynasty of the king but on the basis of palaeography it has been dated back to mid-6th century AD. So, the king mentioned is believed to be Maukhari King Sarvavarman who ruled sometime around 570-580 AD.
Now, the Maukhari's are not a very well-known dynasty. But I remember from school days that they originally ruled Kannauj and had a marital alliance with Thanesar. After the death of their last king, it became a part of Thanesar under Harshavardhan, a much better known name in Indian history.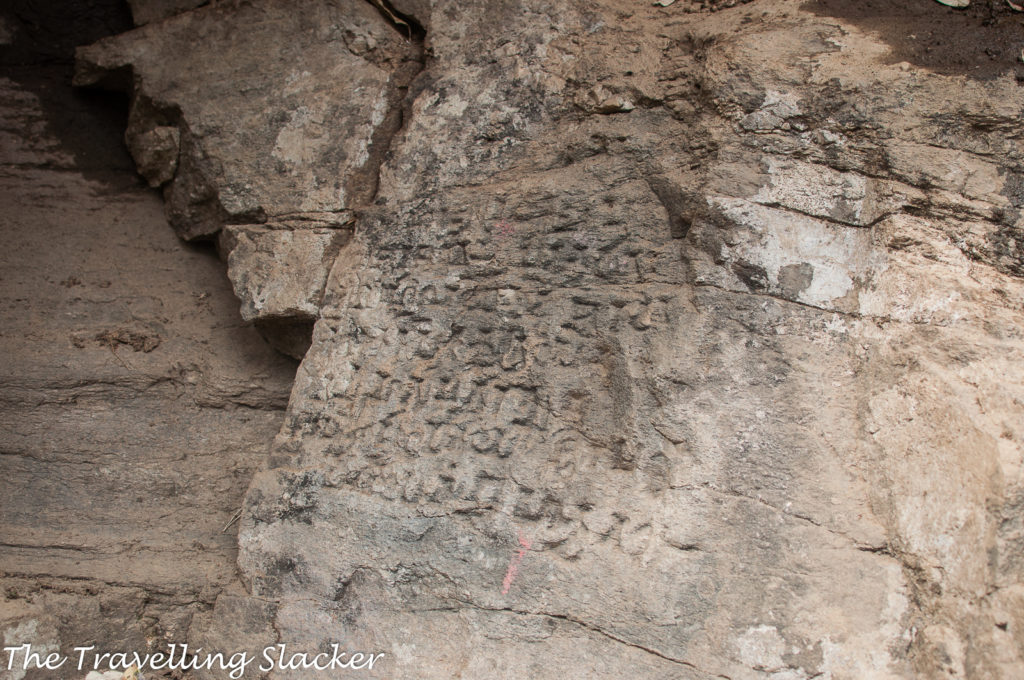 Anusuya Devi Temple
Coming back to the trek, we continued moving upwards and around 15-20 minutes after the rock inscription, reached an open meadow in the middle of the mountains and the temple of Anusuya Devi also became visible. It was basically a small village built around the temple. As usual, the temple has the traditional structure of these hill temples but many of the parts seemed to have been renovated recently. But there were many ancient relics scattered around the compound. Some of them must be from the days of those people mentioned in that rock inscription.
At this point, I also need to talk about the myths associated with the ones after whom these shrines were named. Anusuya worshipped in this temple was the wife of Atri Muni, one of the seven great Vedic sages known as the "Saptarshis". The Big Dipper, a part of the constellation Ursa Major is known as the Saptarshi Mandal in India named after those seven sages. Anyone with basic knowledge of astronomy can spot this group of seven starts in a clear sky. Anusuya herself was famous on her own and you will find the stories with a bit of googling. Anyway, the temple is dedicated to her while Sage Atri believed to have meditated higher up near the waterfall and that is why that area is named after him.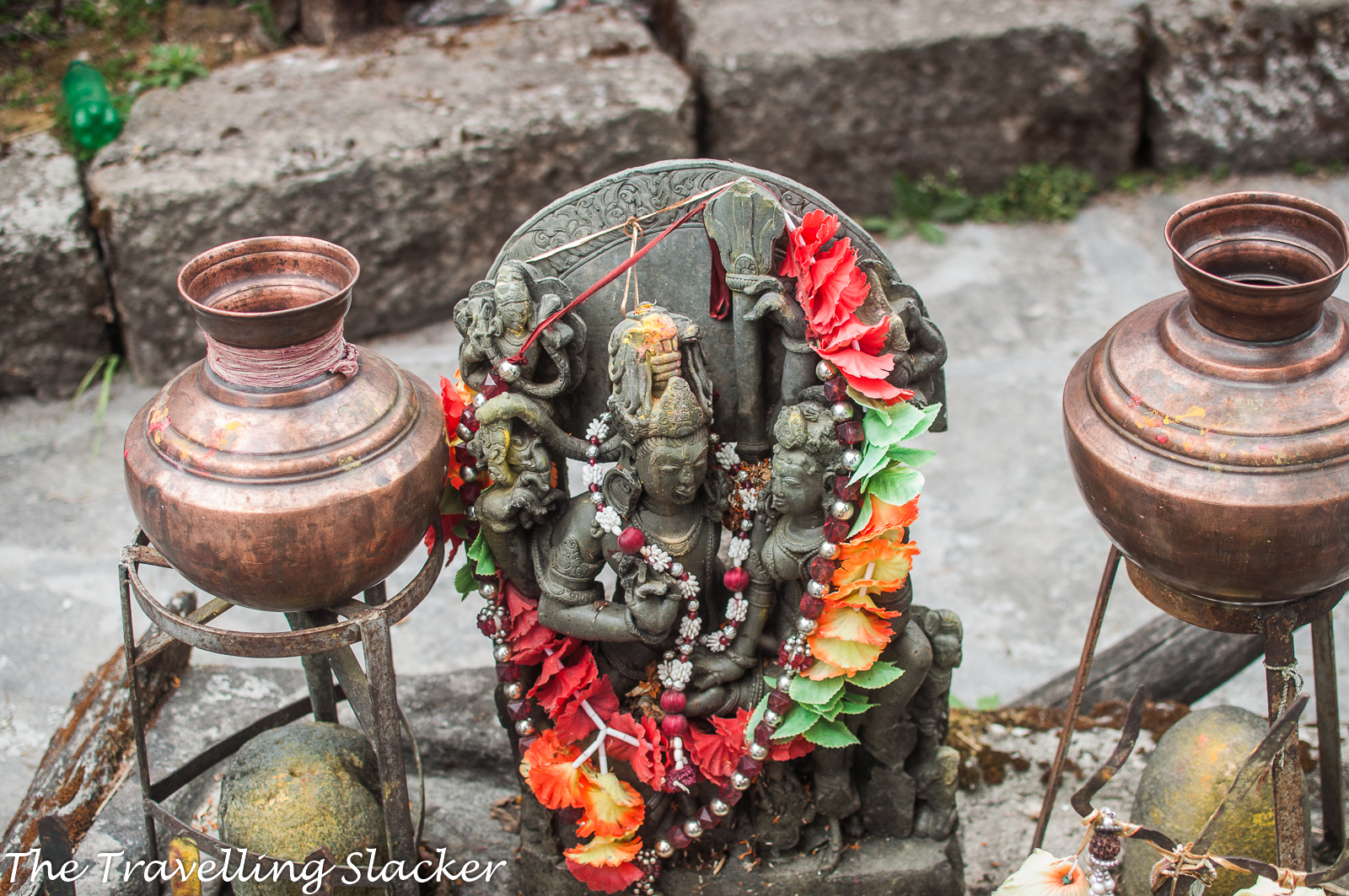 Atri Muni Waterfalls and Shrine
After some time at Anasuya Devi, we started moving up again. This trail is less frequented by people and covered with dense foliage. It took around an hour to cover this part and finally wea reached the waterfalls mentioned at the beginning of this post. The first fall was beautiful but it was a faux finale. We were told to move on and after crossing the stream created by the waterfall, and hiking for five more minutes, we finally got a glimpse of the actual Atri Muni fall.
It was a thin but pretty steep fall creating a bright green pool at the bottom. We first thought that our job was done but then we got a minor shock when we were told that the real adventure begins now! The actual shrine of Atri Muni is located behind the fall and real devotees must take a round of the fall! If that is not enough, the route to the back of the fall goes through a narrow 10 inch opening on the edge of the gorge. Everyone must crawl through it. I am not trying to body-shame anyone but anyone with an ample stomach will find it really hard.
Anyway, after moments of hesitation, we climbed a few rocks (an iron chain has been installed here to provide support) and then crawled through that rock along with some local devotees. Sorry for the blurry image but that is the only one I could click with my phone in that life and death situation.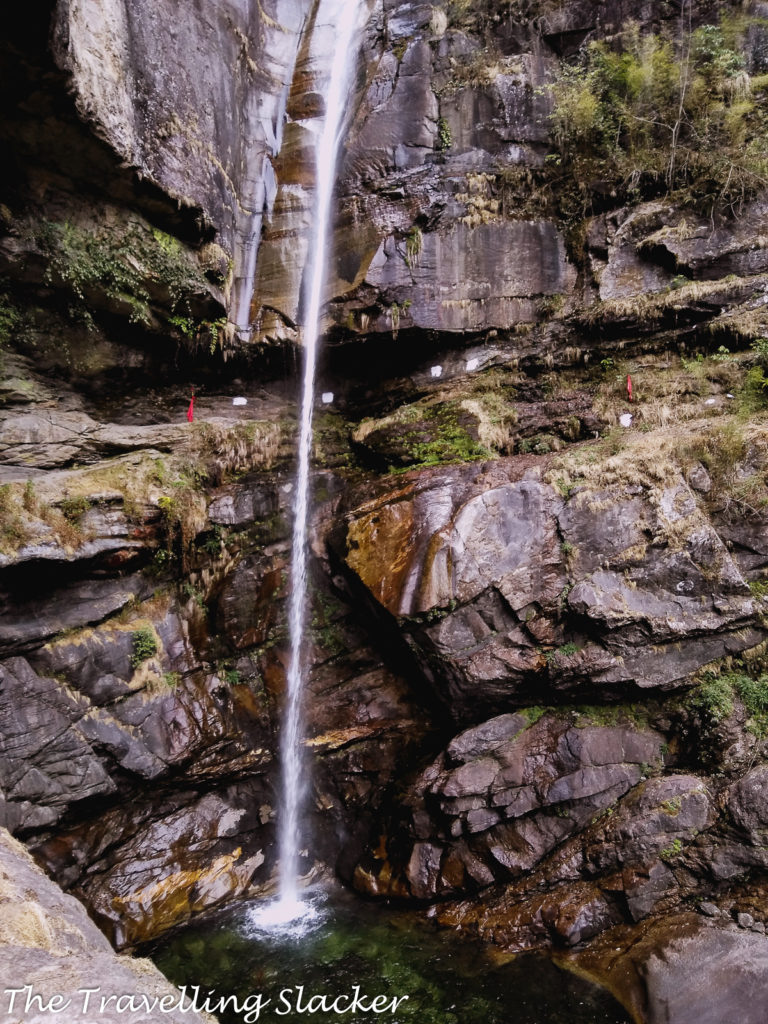 It was not that hard after the crawl. The small shrine is located just after that and then we walked right behind the waterfall and then climb down to the starting point through a longer route. This last part was slightly difficult because we had removed the shoes before the crawl and were walking over the stones. Anyway, we were done in quick time after that and started returning.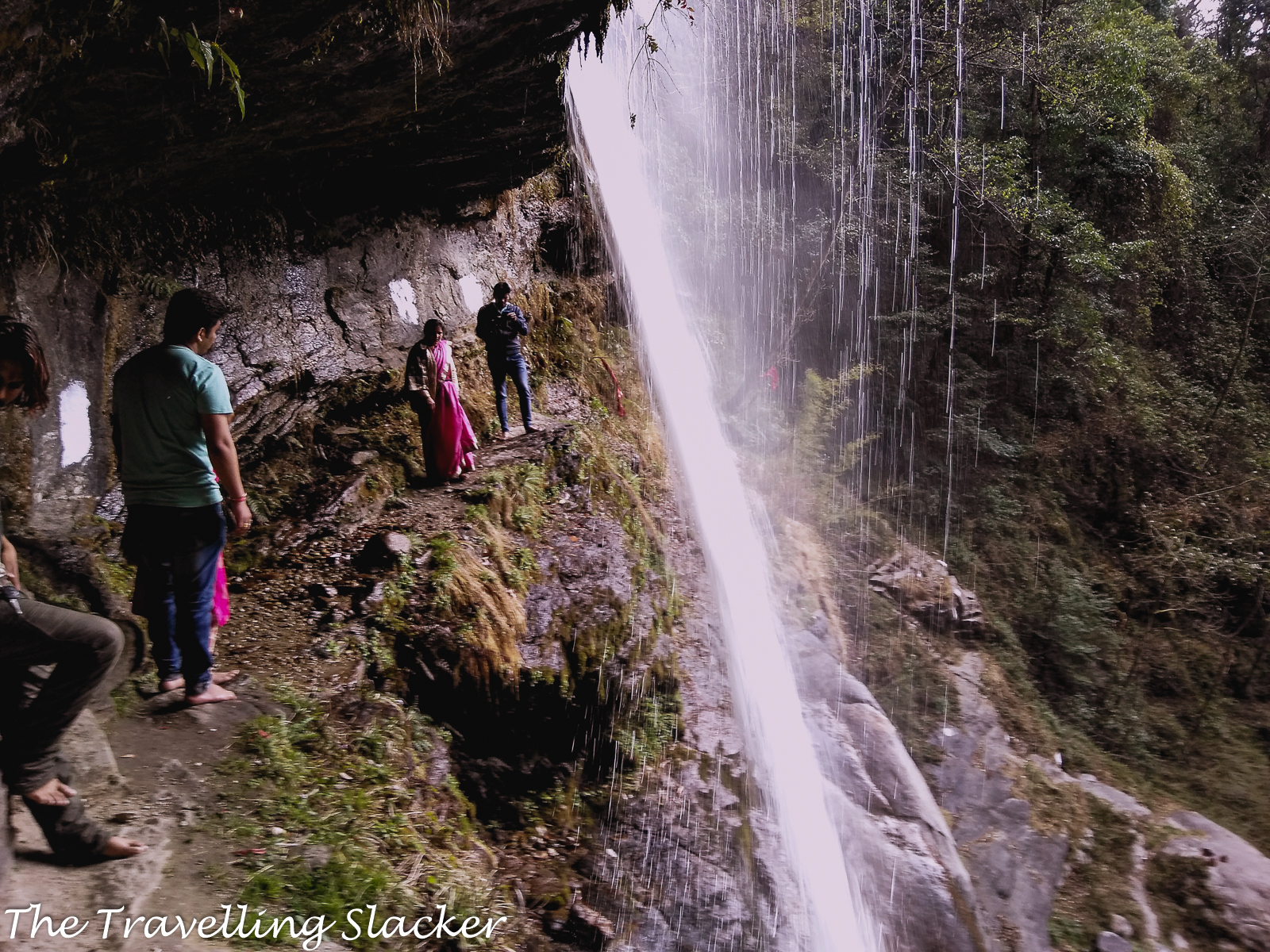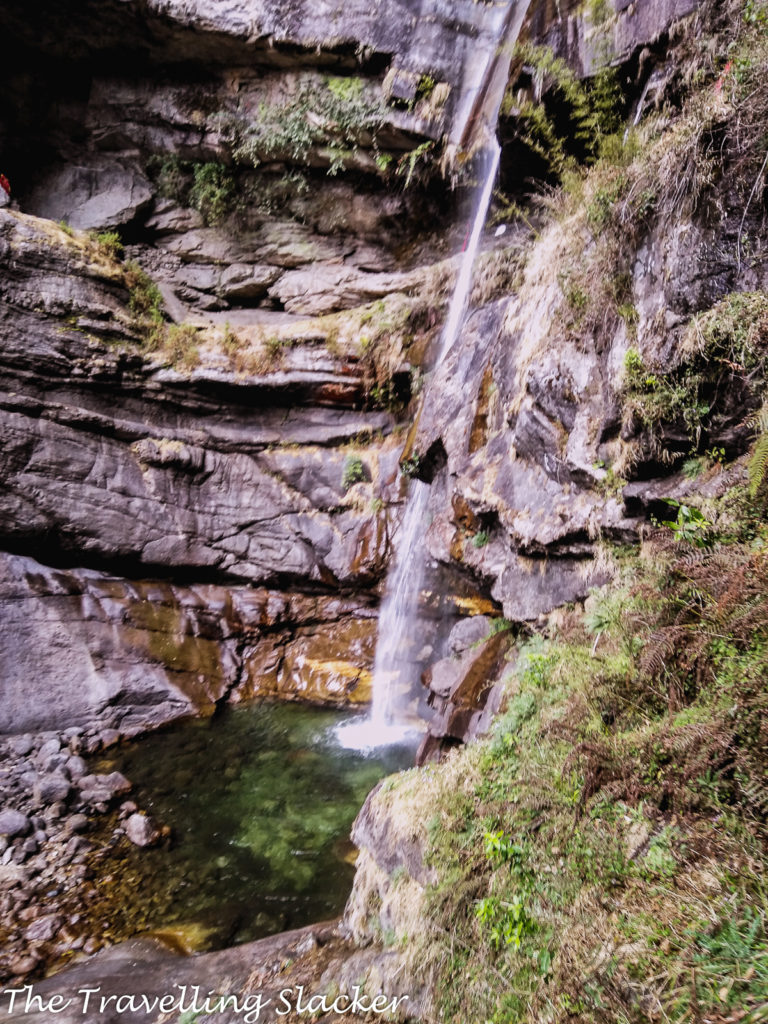 We had a good lunch at a small shack near the temple while returning, with rice, local beans, and leafy greens. The weather was deteriorating at that point and we were going to see a snowfall on the same day towards the evening at Chopta, which is located slightly higher up. But at that point in time, we were just trying to understand what we just went through. We reached Mandal in quick time and then drove to Chopta. Rest of the story from Chopta has been written already in this post.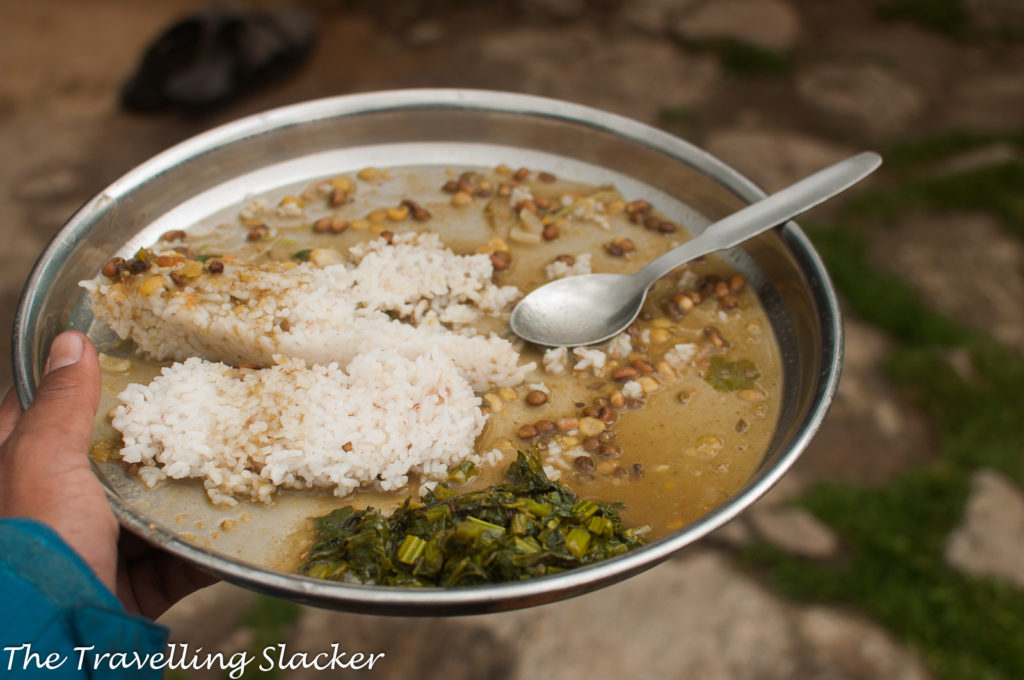 Anusuya Devi and Atri Muni Travel Guide
How to reach Anusya Devi Temple and Atri Muni Falls?
The trek starts from Mandal Village, which is around 13 KMs from Gopeshwar, on the road going towards Chopta-Tungnath. Gopeshwar is 211 KMs from Rishikesh via Rudraprayag, Karnaprayag, and Chamoli. You get regular buses to Gopeshwar. I am not sure about the buses to Mandal from Gopeshwar but there must be some on this route too. For a change, I joined other people who had a car. So my problem was sorted.
Where to stay for this trek?
It is a short day trek that can be done from places like Gopeshwar or Chopta that have enough accommodations. Gopeshwar is a big town with all necessary facilities. I did see a lodge or two at Mandal also and I actually found some eccentric travellers living in the village near ANusuya Temple too.
How much time does it take?
The trek to Anusuya Temple should take around 2-3 hours. You will reach the rock inscription slightly before that. The trek to Atri Muni is an hour and a half from that point. The return should be much faster. Basically, you can see everything and return by afternoon if you start the trek by 9 AM.
What other attractions are there near Anusuya and Atri Muni?
Actually, this is part of a larger trail that eventually leads to Rudranath, one of the Panch Cedars of Garhwal. Also, more popular treks in this are located in the Chopta-Tungnath-Deoria Tal circuit.