The living root bridges of Meghalaya are probably the most unique feats of primitive bio-engineering in the world. Also, I think that the waterfalls of Meghalaya are the most beautiful in India, and I say this after visiting many others in the higher Himalayas. Nongriat is the place that has a combination of both of these primary attractions of Meghalaya. The double-decker living root bridge is the biggest of all root bridges, while the Rainbow Falls, I think is one of the most beautiful waterfall in the state. So, a trip to Nongriat was pending for a long time!
This is why, I had been planning for more Meghalaya trips of late. As I was planning the trip, I happened to had an interaction with Vaibhav of Greener Pastures, a new age tour agency focusing on the Northeastern parts of India. So, Greener Pastures offered to arrange my stays for a Meghalaya trip. The original plan was to cover a lot more places but due to some external factors, the trip was cut short. Nevertheless, I managed to complete the Trek to Nongriat and the Rainbow Falls beyond it.
Cherrapunjee to Tyrna
Trek from Tyrna to Nongriat Double-Decker Living Root Bridge
The car dropped me at the starting point. There were few small shops selling basic food items, few young boys selling bamboo canes to be used as trekking poles, and a few other guys trying to offer their services as guides. I bought a pole for 20, ignored the rest and started the trek. Unlike most other treks, this trek starts in the reverse fashion, i.e. it is a significant descent right at the beginning and coming is when you do most of the upward hiking, thus making the return much more difficult.
I wanted to get done with the descent as soon as possible. So I started fast, negotiating those 3000 (or whatever… There are different numbers available online) stairs quickly. The first thing I noticed was that the stairs were quite steep, which made me even more worried about the return. The trail was simple and I was following two local girls ahead of me, so I thought there will be no confusion. However, after a while, they stopped, looked behind, and asked me for directions. That is when I realized that they were clueless Malaysian tourists and not locals!
Anyway, we the route was still fairly simple and after half an hour, we were effectively at the midpoint of the trail. There is a small village here too, along with a couple of small shops selling lemon juice, Maggi, biscuits, etc. This village has another living root bridge, which is a few metres walk from the stairs. However I was eager to reach Nongriat, so I quickly gave up on that one and continued moving.
After another five minutes, the river appeared along one of those famous suspension bridges. The bridge was shaky but the blue of the river was exactly like the ones I had seen in the pictures online (but thought them to be zealously edited). So, enjoy these colours. I can assure you that I have not enhanced the colours.
After another five minutes of that bridge, I reached another suspension bridge. This one was longer and but sturdier than the previous one. The other side of the bridge is practically Nongriat but you need to climb a few stairs to reach the main village. I quickly climbed them up and reached the  village, located amidst a thick grove of betel but (areca) trees. Soon, I also came across a living root bridge but this is not a famous one, this was a smaller one that you need to cross to enter the village. Apparently there are scores of root bridges in this region.
At Nongriat Village and root bridge
The first thing I noticed was the Serene Homestay, which is very famous among travellers. However, my stay was booked at The Village Resthouse (or Village Guesthouse), which was nowhere to be seen. I called up the guy and he asked me to cross the double-decker. After a few minutes of meandering in the village, I reached the double-decker root bridge, crossed it, and finally located my homestay, on the other edge of the village. It had very basic facilities but a ceiling fan attracted my attention. You rarely see fans in Shillong or Cherrapunjee but this area is hot and humid as it is a significant descent from the plateau where Cherrapunjee is located.
After keeping my stuff in the room, I came out to have a closer look at the bridge. It was not much different from the one I saw at Riwai-Mawlynnong but it simply had two layers. I am sure any self respecting traveller already know what slicing root bridge is so I am not going to Edwin it again. But I would just like to say that these ones are far more stable than the suspension bridges made of iron. At least they don't shake when you pass through them. However, I am now somewhat worried about their future because they are receiving increasing number of tourists. Even when I reached, it was teeming with visitors. The stream over which the bridge is built is now a place for tourists to bath and pose for selfies. I wonder how much load it can take!
Return Hike from Nongriat
Anyway, I reached Tyrna in good time and thankfully also got a lift on a car carrying some foreign tourists. Otherwise transport between Tyrna to Cherrapunjee, although a short stretch, can be problematic.
Nongriat Travel Guide
How to Reach Nongriat Double-Decker Root Bridge and Rainbow Falls?
In order to reach Nongriat, first you need to reach Cherrapunjee, which is around 50 odd KMs from Shillong, and then find a local transport to Tyrna Village, which is around 20 KMs away from Cherrapunjee. Nongriat is around 3.5 Kms from there, through a series of steep and descending stairs. You will cross a couple of suspension bridges too. The living root bridge is located in the Nongriat village itself while the Rainbow Falls is a further 3-4 KMs hike from Nongriat.
Public Transport from Shillong to Cherrapunjee to Tyrna for Nongriat Trek
Cherrapunjee is a major tourist center in Meghalaya and you will get enough buses and shared cars from Shillong that will take you there in two hours. From Cherrapunjee, you may find some shared cars going to Tyrna (INR 70-80) or I have also heard of a bus but that probably goes only once in a day. In case you don't find any of it, you will have to hire a car for yourself from the taxi stand in the Cherrapunjee market. Some of them may quote exorbitant rates like INR 500 for a drop at Tyrna but ideally you can manage it for INR 200-250 after some bargaining like I did. During my return though I got a lift on  tourist vehicle for free.
Google map shows the distance between Cherrapunjee and Tyrna to be only 12 KMs but I highly doubt it. It took around 45 minutes for me to reach Tyrna so I think it is more like 18-20 KMs.
How long is the Nongriat and Ranbow Falls trek? How much time did it take?
Time taken depends on your speed and stamina. Here is what it was like for me.
Tyrna to first root bridge = 2 KMs, 30 mins (Steep descent). This is approximately the mid-point, there is village, couple of shops selling lime juice and maggi, and another small root bridge that you can visit.
First root bridge to Nongriat Village double-decker root bridge = 1.5 KMs, 45 Mins (some descent followed by some ascent).
Nongriat Village to Rainbow Falls = 3 KMs (1 Hr 20 Mins) (Mostly upwards ascent)
Rainbow Falls to Nongriat Village (return) = 1 Hr
Nongriat Village to Tyrna (Next day Return) = 2 Hrs 10 Mins (steep ascent)
Can you connect me to any agency to plan and organize the Nongriat Trek?
If need help, you can contact Greener Pastures who can help you with Nongriat trip or for that matter, many other trips in the North East.
Is there any entry fees at Nongriat?
Yes, you need to pay a fee of INR 20 per head just before crossing the double-decker root bridge. They have camera fees too and I was glad to see that they are charging more for GoPro as I never had one. LOL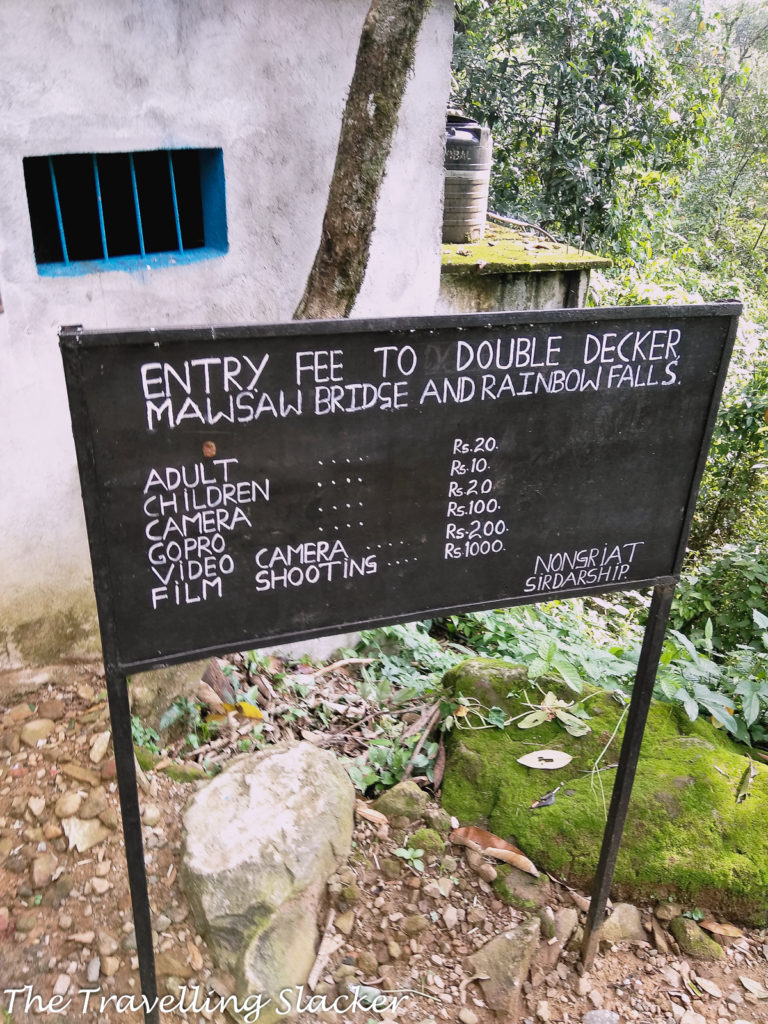 Are there any other routes to Nongriat?
Yes, there is a longer route from the famous Nohkalikai Falls of Cherrapunjee but it is much longer and not frequented by too many people. You should keep an extra day if you want to try it. In any case, Nohkalikai  is also viisble from Tyrna.
Homestays in Nongriat
I saw 4-5 homestays in Nongriat, the most famous ones being the Serene Homestay (in the middle of the village) and Village Rest House (after crossing the double decker bridge). They are generally very affordable, with rates between INR 200-400.
Food in Nongriat
At Village Rest House the guy charged only INR 50 for basic meal which was cooked pretty well. You can order additional stuff. Apart from that you will find many shops and shacks along the entire route selling small items like maggi, biscuits, tea, pineapple, etc.
Local guides for Nongriat Trek
Local guides wait at the start of the trek at Tyrna. That is where you can get one although I did not opt for one. It is actually a pretty straightforward trek where coming back is the more challenging part. But you should by the babmoo sticks at the starting point for INR 20. They should be useful during the ascent.
Phone and data connectivity in Nongriat
Data connectivity is unlikely at Nongriat. Howevere, you should be able to make and receive calls.