As I have mentioned in the previous post, the target of the Sri Lanka visit was in the Central Highlands of Sri Lanka. This area is cumulatively considered to be a UNESCO World Heritage Site. It is not one place but the whole area (Somewhat like the Western Ghats in India). It comprises the Peak Wilderness Protected Area, the Horton Plains National Park, and the Knuckles Conservation Forest.
Trekking at Horton's was one of the major activities during this trip and I was eagerly waiting for it. So, we got up early and drive from Nuwara Eliya to Horton's Plains National Park. It was a pleasant drive through vast farmlands and tea estates spread over the rolling hills and we reached the national park after one and a half hours.
Sri Lankan Sambar Deer Sightings
I'd enquired about wildlife in the national park before going and I learned that while there are leopards and other mammals, the one that is most easily sighted is the Sri Lankan Sambhar Deer. It is a large deer that is also found all over India and can be easily spotted due to its big size.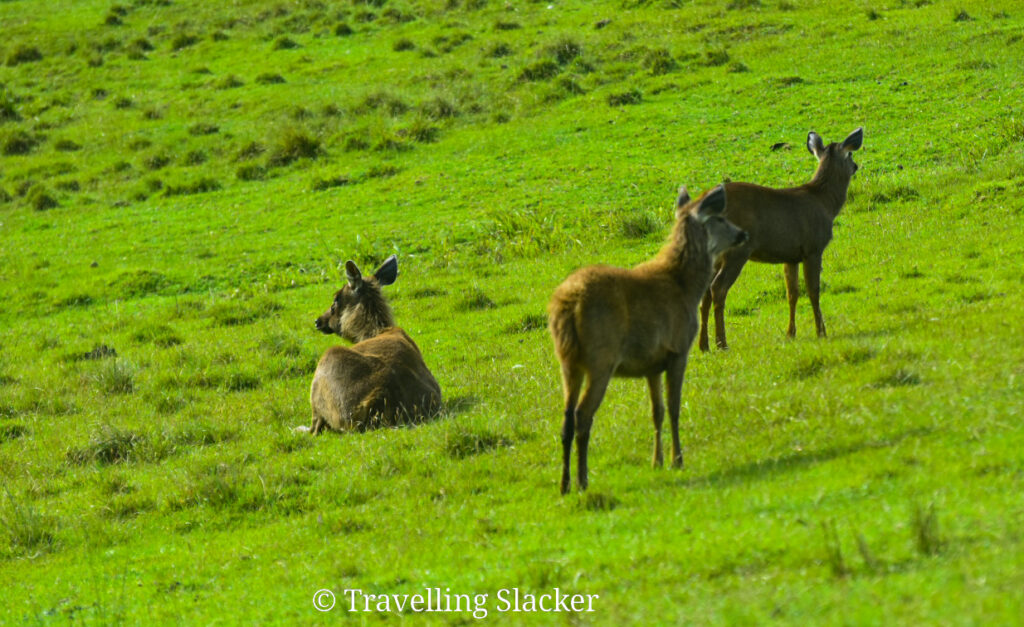 My wish was fulfilled soon and even before reaching the main gate of the national park, we spotted a few of them grazing on a piece of open land on the edge of the forest. Several other tourist vehicles had stopped at that point already. There was a pack of deer barely 10 meters away. Yet, they were not bothered by our presence, and all of them were looking in only one direction into the jungle from where an ominous call was emanating.
This was the alarm call probably by the leader of the group, which means the presence of a leopard nearby. We waited there for a while, and clicked the deer but the leopard probably moved away seeing too many humans.
We moved on and quickly reached the gate for entry formalities. What I liked here is that they were very serious about keeping the trail clean. So, every bag was checked for single use plastic and we were asked to remember wrappers from water bottles because these may come out and litter the place accidentally.
Rhododendrons of Horton's
Now, here comes the favourite part of this trek. I wake up every spring and try to find some Himalayan trek for my yearly dose of Rhododendron blossoms. I'd heard of rhododendrons in Nilgiris but have never seen one and I never saw any region beyond the Himalayas as a rhododendron destination. However, my ignorance was cured the moment we reached the gates of Horton's. There were some other flowering trees there but there was also a rhododendron tree, that too with a blooming flower!
In the Himalayas, you are unlikely to see a single rhododendron blossom after May-early June. The seasons work differently in Sri Lanka. While the main flowering season is still summer, some trees were still having flowers. I kept seeing them throughout the trek. However, I'd still like to return in the summer to catch the entire plains in full bloom.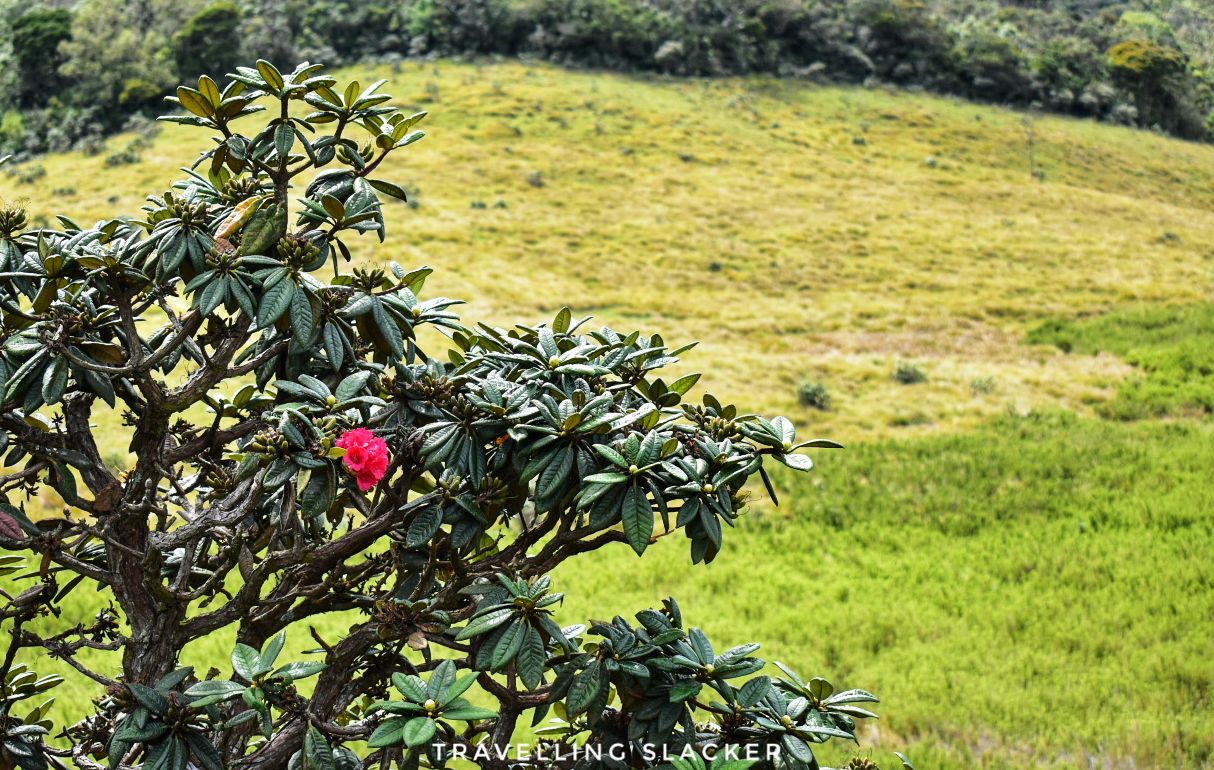 So, the most popular trek route through Horton's Plains is a circular route (see the map below) with some attractions spread throughout the route. After a short walk of 15-20 minutes from the entry point, you find the bifurcation point. You can take right, or take left, doesn't matter. You'll come out from the other side. We took right.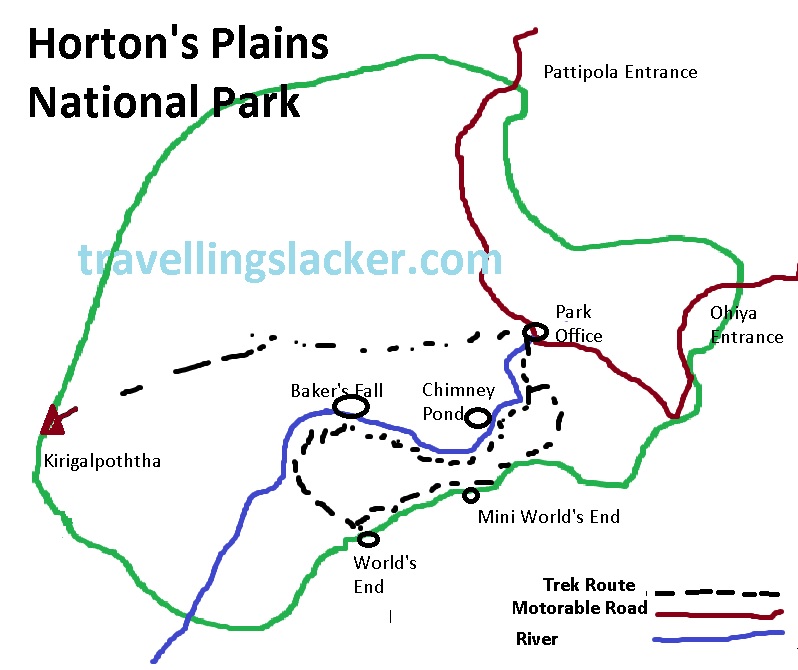 I'm used to national parks in India where we have to take a Jeep Safari and are usually not allowed to venture on our own because of the presence of large mammals. In comparison, walking through these plains is a delight. Even if there are some leopards here, this trekking trail is popular and I think even they maintain a safe distance.
Coming to the difficulty level… it's an easy hike through Horton's Plains National Park. It is around 8-9 KMs in total but the gradient is very easy and in most parts you'll just walk on a straight line with a few stretches of mild ascent. Coming back from the backbreaking Anini Trek where I lost most of my toenails a month earlier, this felt like a languid meander through elysian fields.
Chimney Pond
We quickly hiked through the well-marked trail through the grasslands which felt somewhat like the upper parts of Dzukou Valley (however you need a steep hike to reach this part of Dzukou). There were many flowering shrubs scattered all over the plains. I couldn't identify all of them but here are some images.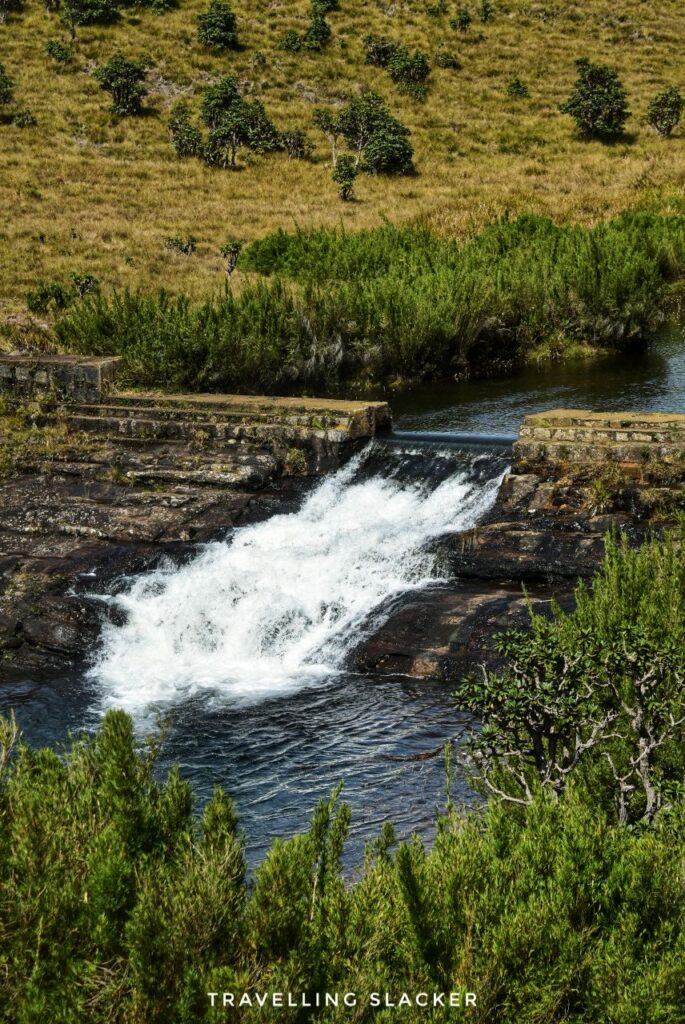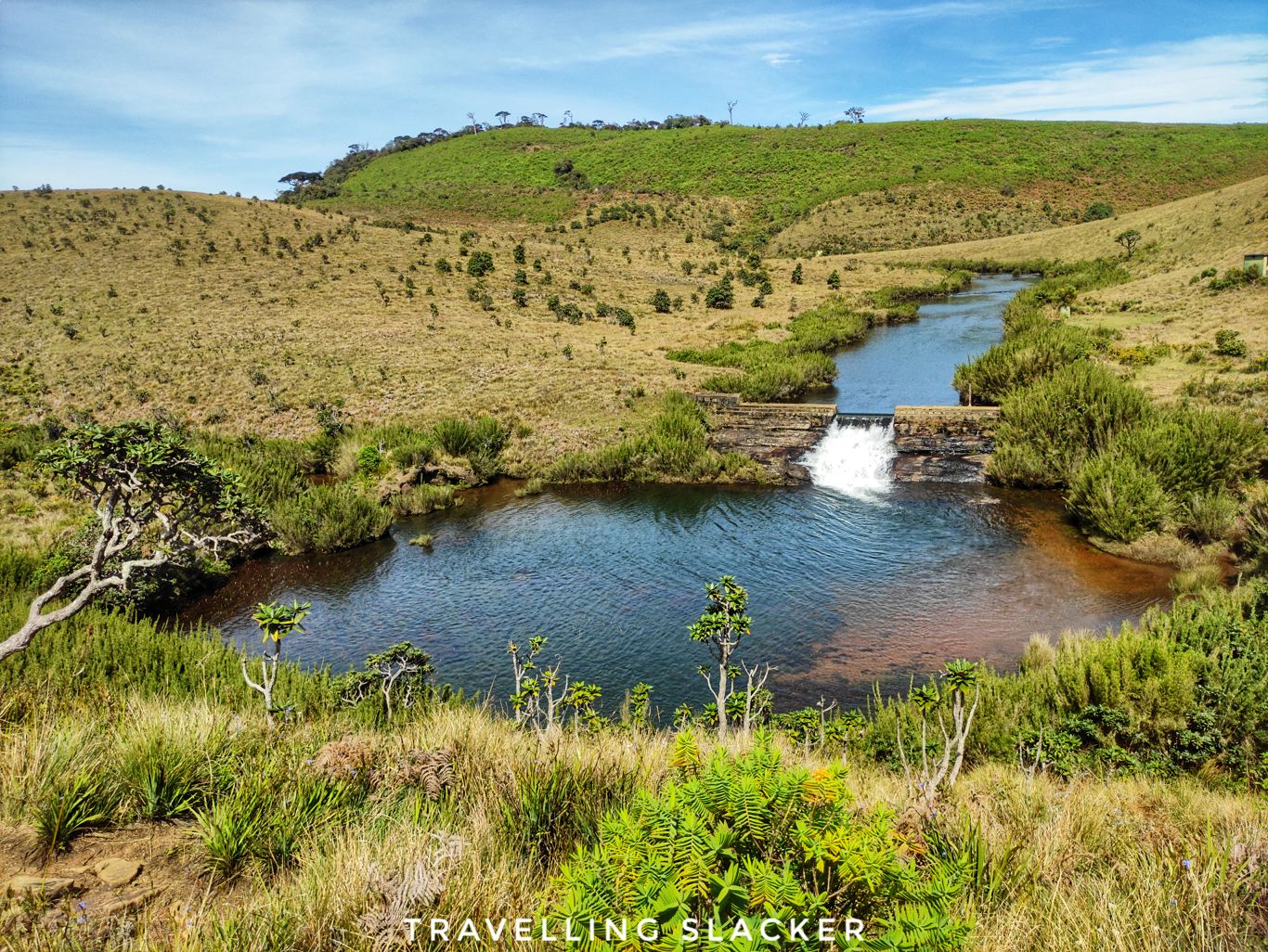 After a while we reached a place where a small pond is formed by a small stream. This was probably the most picturesque point of the trail. In some websites this has been mentioned as Baker's Fall but that's wrong. This point is called Chimney Pond. The fall comes later. This stream is the Belihul Oya that runs through the national park.
Baker's Fall
We continued our march and suddenly the vast open grassland gave way to a thickly wooded stretch. We could not see much through the trees but the sound of the water was growing louder with every step. I knew that the waterfall was nearby and after a few minutes we indeed reached a signboard pointing towards a flight of stairs going down from the trail. I took a few steps and the waterfall finally revealed itself!
It is named after Sir Samuel White Baker English explorer, hunter, naturalist, and writer who lived a colourful life. Read more about how he found his wife! This waterfall is 20 meters high and for something that's hidden in a remote corner of the jungle, it's pretty wide and powerful. There were already a lot of visitors here. So, we had to wait for our turn to take photographs here. When the light is right, you should see a rainbow forming in front of the rainbow.
World's End
After the waterfall, there was some discussion about the feasibility of the whole trek as we had started late but I decided to go ahead and backed myself to finish it quickly.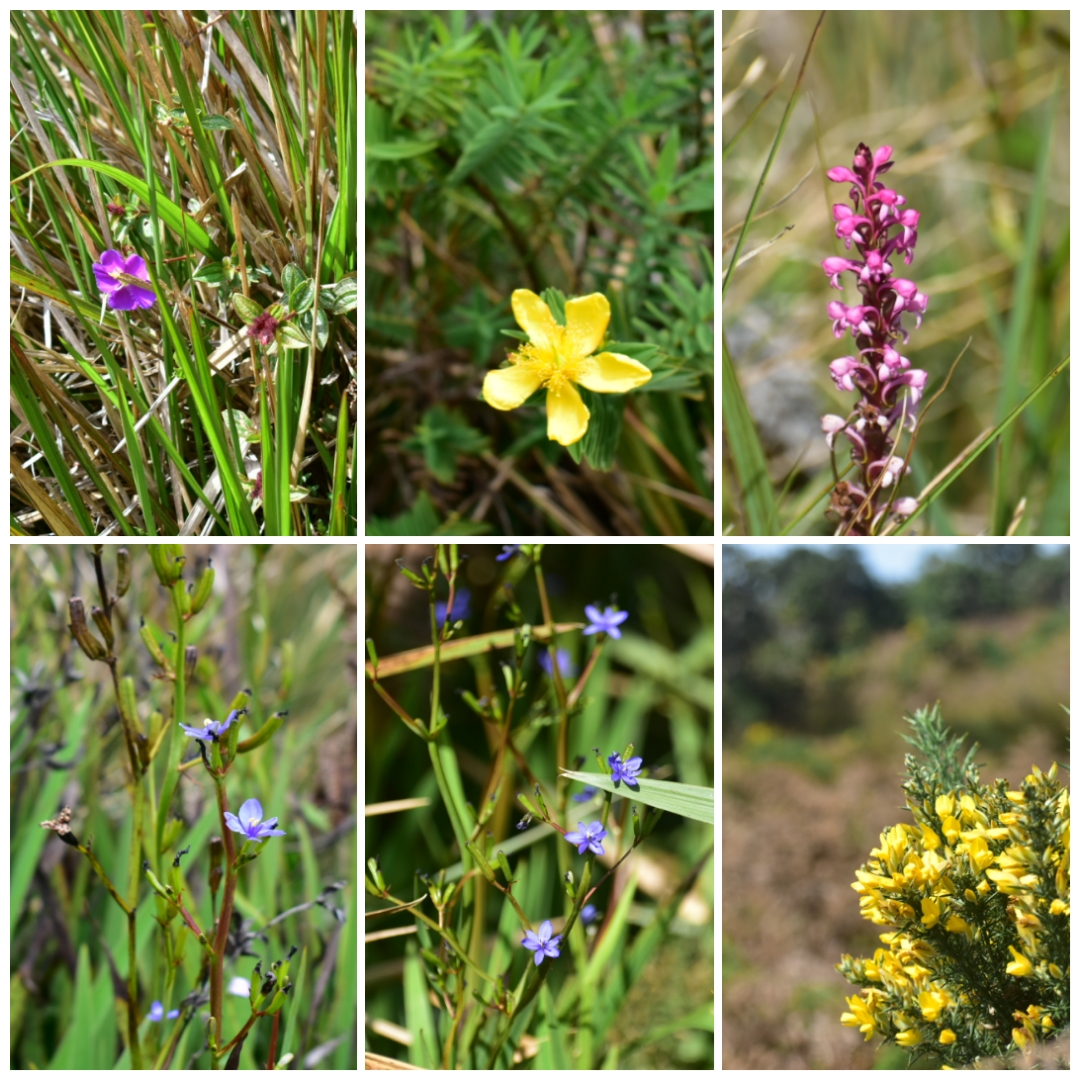 After another 15-20 minutes, the forest again gave way to open plains. We even saw a big swarm of bees hovering over the plains and we had to lie down for a few seconds. Thankfully a gust of wind took them away and we resumed the trek. The stream ran along with us for a while and I also felt that we are gradually gaining a bit of altitude. Eventually, the route turned left, leaving the stream and we reached what they call the World's End.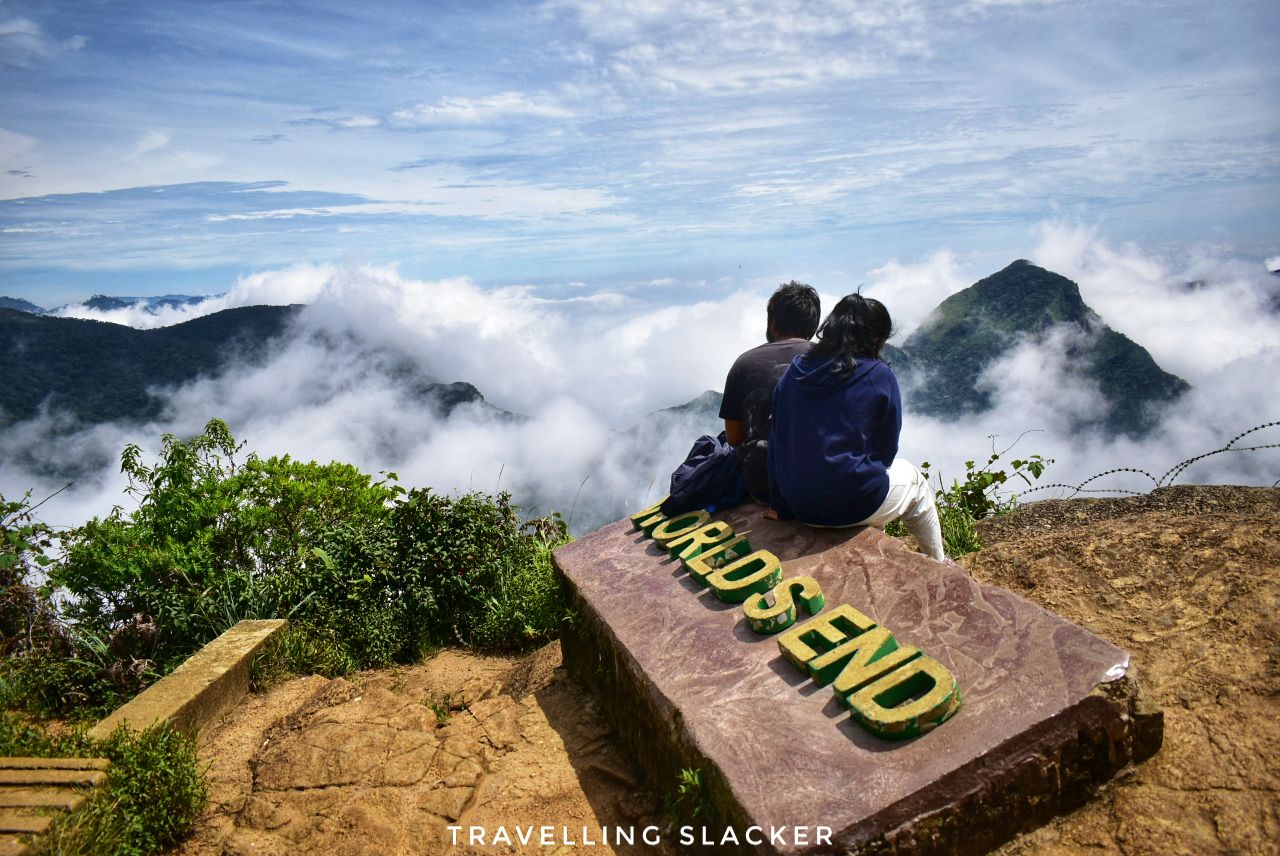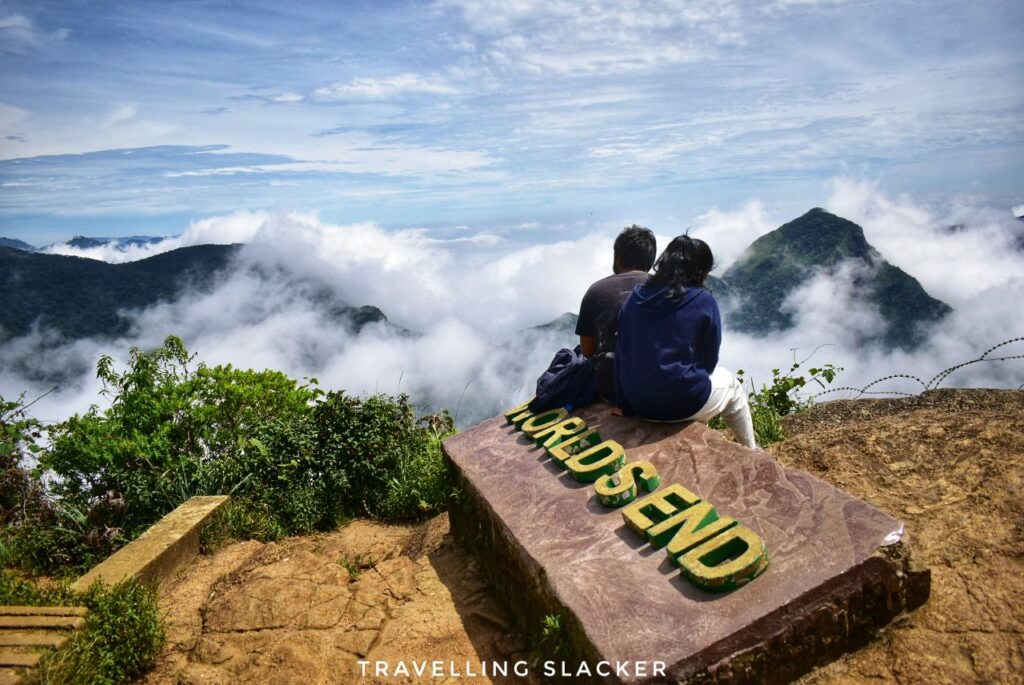 I'm sure this is another name cooked up by the British. They do it everywhere. For example, in Mussoorie you'll find a point called Clouds End. Anyway, this is a higher point, a sheer cliff with a 1200-meter drop. For various reasons, the gorge below usually remains misty, giving the viewer an illusion of standing above the clouds.
The problem here is that sometimes the mist gets too thick to even see clearly. So, we had to wait half an hour for decent images. The route turns ninety degrees from here again and starts moving toward the starting point.
Mini World's End
We quickly moved the rest of the area, crossed another forested stretch and also reached the Mini World's End. It is a similar point a bit ahead. But it is located at a lower area and has only 300 meter drop.
After this point, the return was quick but not before we spotted a nice green lizard, probably a calotes nigrilabris, which disappeared before I got the zoom out, and a small bird, probably some sort of bushchat, which sat patiently for me to change my lenses.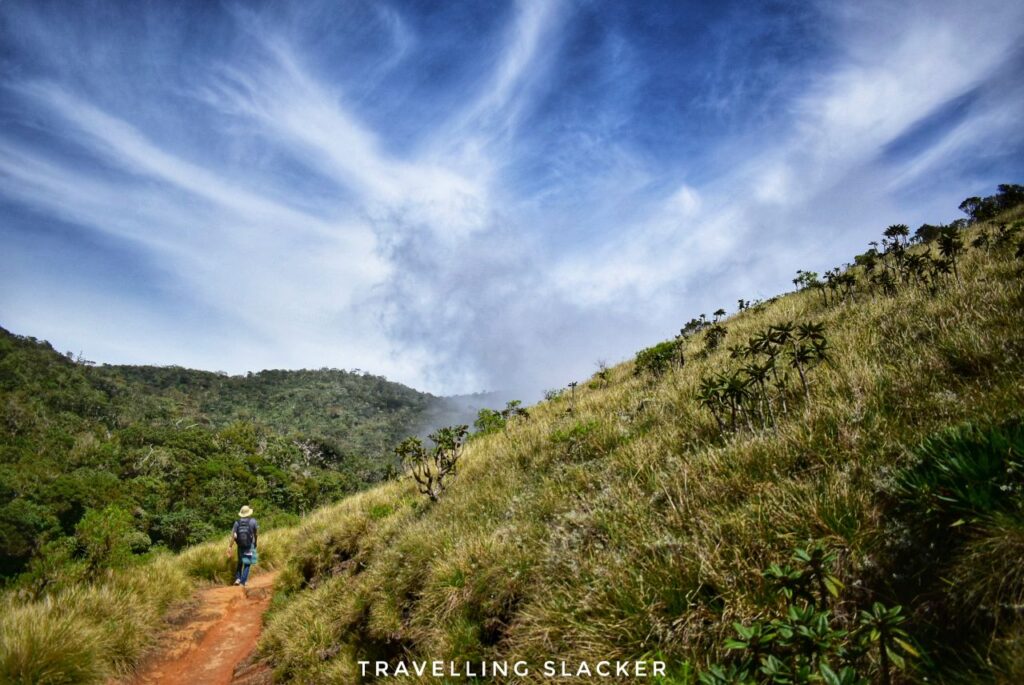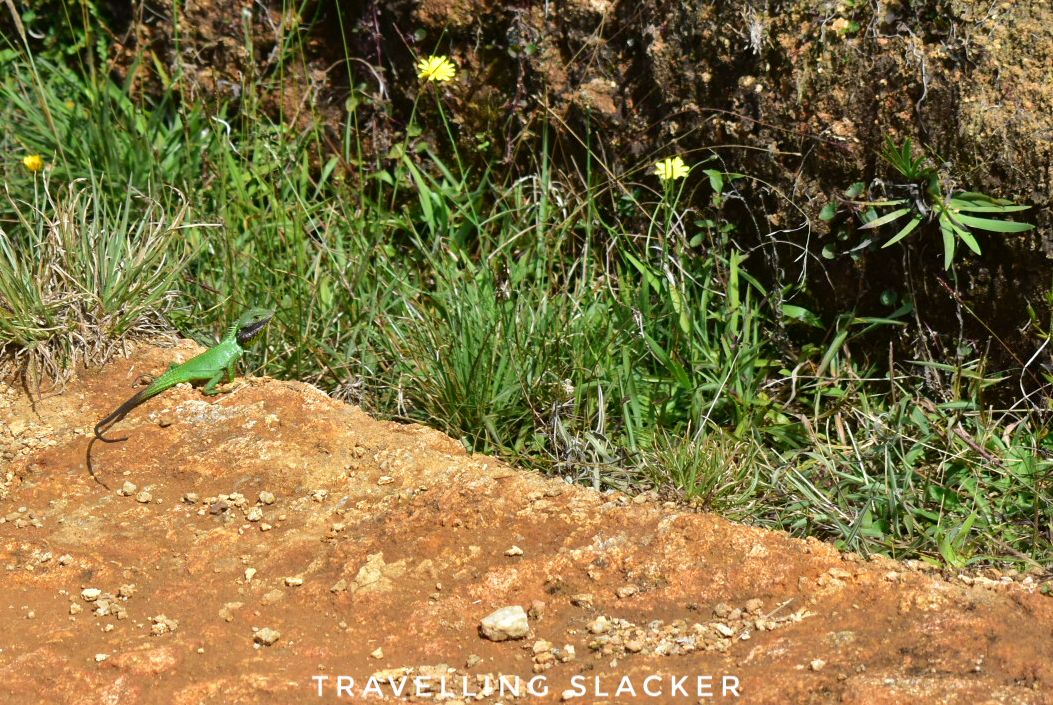 So, that was more or less it. We had completed the trail quickly enough in spite of a late start. However, it is advisable to start as early as possible because the thick veil of mist we encountered at the World's End usually arrives after 10 am and if you go earlier, you'll get a clearer view. Here are some failed footages to wind up the post.
Horton's Plains Travel Guide
It is a major component of the Central Highlands of Sri Lanka, which is a UNESCO World Heritage Site. It's named after a British Governor but this area has been important for the country from ancient times and it's called Maha Eliya in Simhala.
How to reach Horton's Plains?
There are two main entrances to the park via Pattipola and Ohiya. If you are coming from Nuwara Eliya, Pattipola will be your entrance. After getting the ticket at the entrance, you can drive further for few KMs to reach the visitor information center where your bags will be checked for single-use plastic. After this point you'll have to hike.
Is there public transport to Horton's Plains?
Not exactly. There's no public transport to the main park entrance although you can reach the nearest towns. The nearest towns will be Pattipola or Ohiya railway stations that you can reach by train and find some Titktuk etc drop you.
Reaching Horton's through cab/tuktuk?
From a major town like Nuwara Eliya, you can ask around and fix a cab or tuktuk ride to reach the park entrance, which will be around 35 KMs from town. It can cost anything between LKR 3000-5000.
What's the entry fee for Horton Plains?
The charges, as it happens in most places, are different for locals and foreigners.
The entry for Foreign Adult is 15 USD or equivalent in LKR + VAT 15 %
There'll be additional small fees for your vehicle's etc if any.
Opening Hours for Horton's Plains?
06:00 AM to 06:00 PM
No admission after 03:00 PM as there won't be enough time before dark for the trek.
How long is Horton's Plains Trek?
Officially it's around 9 KM but I sensed the main circuit is only around 8 KM. SHould be covered in two hours but you can of course take your time and enjoy the vistas.
Are there any other trek routes in Horton's?
Yes, apart from the main circuit, there are some additional possibilities that we did not try. Especially the trek to the peak of Kirgalpoththa can be tried, as shown on the map above.
How steep and difficult is Horton's Plains Trek?
It's pretty easy. It's more of a walking trail with some small ascents and descents here and there.
What is the best season for Horton's Plains Trek?
While accessible throughout the year, December to April is the favourite season for this region. I'd personally prefer April when the wild blossoms will be at their peak, but that'll also be a more crowded time.
What kind of flora and fauna can be expected at Horton's Plains National Park?
There are some leopards but they are not easily visible. You are more likely to see sambar deer, wild boards, mongooses, and various types of macaques and langurs. It's a nice area for birds, reptiles, and insects too. It has 22 endemic bird species and many other migratory birds depending on the season. As far as trees are concerned, the entire plains are dominated by rhododendron arboreum while there are many other trees and shrubs to be spotted.
Are there washrooms inside Horton's Plains?
Yes, the authorities have built facilities not only at the entrance but also inside the park along the major points of the trails like Baker's Fall and World's End.
Are there food and water available at the park?
There's a small eatery near the information center, just before the start of the park, where you can find basic refreshments and water.