According to reports Delhi has seen 64% less rainfall than normal this year. I had been really idle of late but the heat and drought finally forced me out of hibernation for another trip to the hills. As I am planning a longer and much more ambitious trip next month, I did not aim too much for this one but still had to cut it short. I was planning to do both Kamru Nag and Shikari Devi treks at one go but had to abandon the later due to wrong timing and doubts over the route as well as my own endurance.
[googlemaps width=600 height=400]
So where is the Route?
I reached Rohanda from Sundernagar at around 11 am and had some rice and local lentils to pile up calories for the day. Now, the original idea was to go to Kamru Nag and then to Shikari Devi in the same day as there is no place to stay in Kamru Nag. But that takes at least 10-12 hours and one must start early in the morning. As I was already late, I considered fooling around in Rohanda for day and start the next morning. But I soon got bored of the options there as the small settlement did not have much to offer and it exists solely as an entry point to Kamru Nag. Its dependence on the shrine is visible from the fact that I saw multiple shops, at least 3 eateries, a utensil store and a computer coaching centre, all named Kamru.
I saw a narrow but very steep flight of stairs going upwards leading up to a school. But it was also mentioned that it is the road to Kamru Nag. I ventured into the school by mistake but the kids pointed out that I should go the other way. The initial few yards were problematic with multiple paths going in different directions and not a single soul to ask for directions. But I kept moving and eventually reached a point after which the route seemed clearer and straightforward.
Just how far is it?
My mental image of Kamru Nag was that of a small shrine at the end of a short and less hectic trek. I do not exactly know how this false memory formed in my mind but somehow I thought it is not more than 2-3 kms, something like Deoria Tal. But after almost an hour of trekking I reached an abandoned house or probably a shop with "9 kms to Kamru Nag" mentioned on the walls. I felt devastated. Assuming that I'd already covered a couple of kilometres, it was more than three times the distance I was mentally prepared to trek. I still kept going for one and a half hours and reached a large stone saying 6 kms more!
I was tired but more importantly, the weather seemed threatening. The region had seen flash floods a week earlier but it was pretty sunny and clean when I started. But suddenly it was cloudy and more importantly, a thick veil of mist developed, obscuring my path. I kept groping in the dark for a while and finally after sometime it subsided a bit and I suddenly found myself in a delightful little stretch of lush green dotted with colourful monsoon blossoms and butterflies.
Relief!!!
I kept clicking photographs and proceeding and finally I reached some sort of a Gateway that mentioned 1 km! I had covered 5 kms in 45 minutes. Either I suddenly acquired superhuman strength and speed or the signs were wrong to begin with. I would like to believe it was the former.
Anyways, after this point the path is well paved while it was unevenly bouldered in the previous stretch. So it is easier once you reach this point and the dense forest on both sides was primal yet delightful.
At the Temple:
Eventually the Kamru Nag temple and the lake conjured out of thin air. But it was again covered with mist and very difficult to get any decent shot. Basically the shrine is very small and so is the lake. There are some extra buildings, probably to support the priests and a small eatery selling tea and food, much like those in the Parashar Lake in the same region. More importantly, there was not a single person inside the temple, not even the priest. I'd timed it perfectly!
I had a glass of tea and inquired about the path to Shikari Devi. I was told that it will take at least 5-6 hours from there and besides the road is confusing and not well marked. It was already 3.30 pm and so I decided to give up and come back to Rohanda.
The Return:
By the time I was returning, the weather had mostly cleared and the dying light of the evening had woken up the pristine and primitive spirits of the jungle. Invisible chorus of the crickets was deafening but the soft light had illuminated the forest, almost reminding me of Mononoke-hime.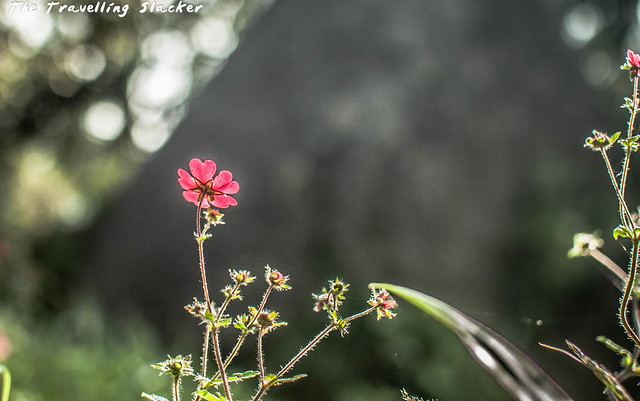 I also came across a herd of mountain goats.

But just at the last leg I somehow took a different turn. I realized it after a while, but I could hear sounds of human beings from a distance and so I kept moving and finally reached Rohanda, but through a different route on the other end. I spent the night there at a nameless yet spacious and comfortable lodge and came back the next morning.
Traveller FAQs: Kamru Naag Trek
What exactly is Kamru Nag Trek?
It is a shrine of a local deity in the Mandi region at the end of a steep but delightful trek through the jungle.
How to reach Kamrunag?
You need to reach a small place called Rohanda. It is only 40 kms from Sundernagar. You will get buses from Sundernagar, Mandi, Ner Chowk or other nearby towns easily. The trek route starts from there. You can also reach it from the other side, i.e. from Shimla via Karsog, in case you are also visiting that side.
How long is the trek and how much time it takes?
The trek is around 12 kms long if the official signage are to be believed. But actually they have goofed up a bit. It is around 6-7 kms and parts of it are reasonably steep. It can take anything between 2-4 hours to climb up from Rohanda depending on your fitness level.
Where to stay in Rohanda?
Not too many options but I stayed in a guest house without any name on the first floor, the ground floor being a restaurant plus a shop. It was clean and comfortable and charged only INR 300 for the night.
Best time to trek:
Since it is lower Himalayas, it is accessible throughout the year. View is the best during monsoon however you can also consider a winter trek when it gets covered in snow.
Does it require guides?
Not at all. Sometimes it may be a bit confusing but whenever you have a doubt, I suggest you keep left.