Phobjikha Valley was something that I was really looking forward to since the moment Bhutan was planned. Compared to the bigger towns and touristy stopovers, it promised vast open expanses and plenty of wildflowers. These elements are usual staples of my travels but somehow this year I have been denied such opportunities by circumstances. I made a brief trip to Tirthan for Fagli, but that was February, before the flowering season. I planned for a rhododendron trek in Spring but had to cancel due to an invitation for Tirap by Arunachal Tourism. While that was a good trip, it was a comparatively low altitude area devoid of Himalayan blossoms.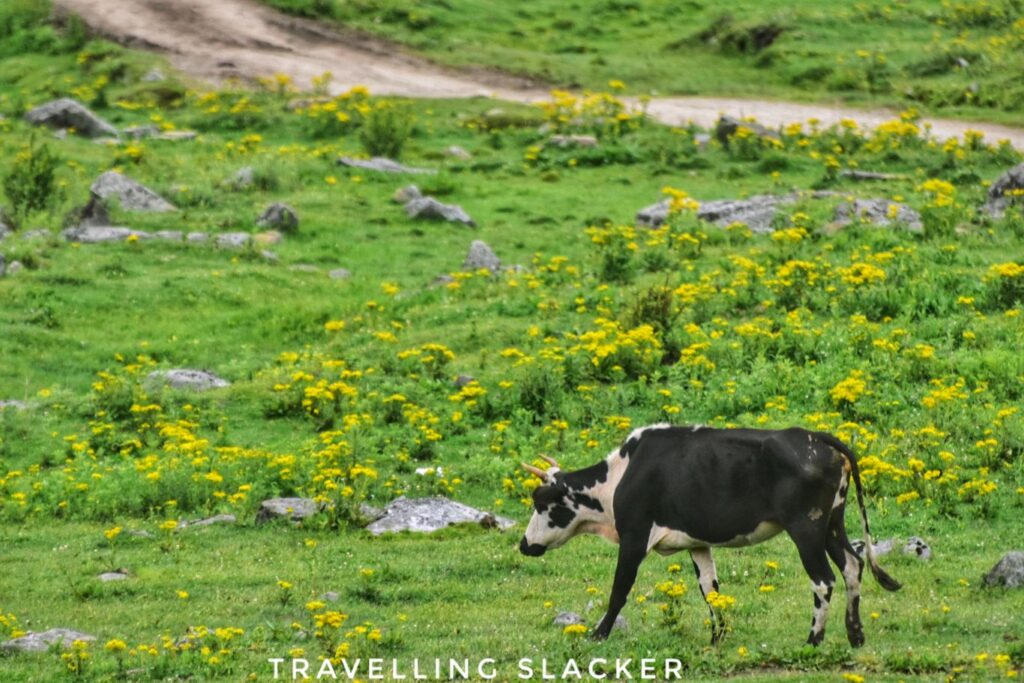 After that, I was down and out for a while due to some viral fever and extreme heat seemed to have affected my health. This delayed my traditional summer trip and when I finally made it to Nepal, I could only explore the main towns of Kathmandu Valley before returning home due to some emergencies. In short, I needed Phobjikha more than it needed me (no one needs sedentary flaneurs anyway).
Coming to the point, I was running behind schedule due to some silly mistakes. Rest of the group was already exploring Thimphu when I entered Bhutan. I completed the formalities at the border, met my guide who arranged a vehicle, and we drove to Thimphu. It was afternoon by the time we got there and met the rest of the folks.
Towards Phobjikha
We had no time to spare, so we drove fast, crossed Dochu La, bypassed Punakha, crossed another pass called Lawa La and reached Phobjikha  around 8 PM. It was already dark before we got anywhere near to the valley and so, that day we couldn't really get any views. The only worthwhile frame was that of a large group of tarai gray langurs en route. We stopped for a while to click them and they seemed not to be bothered by us.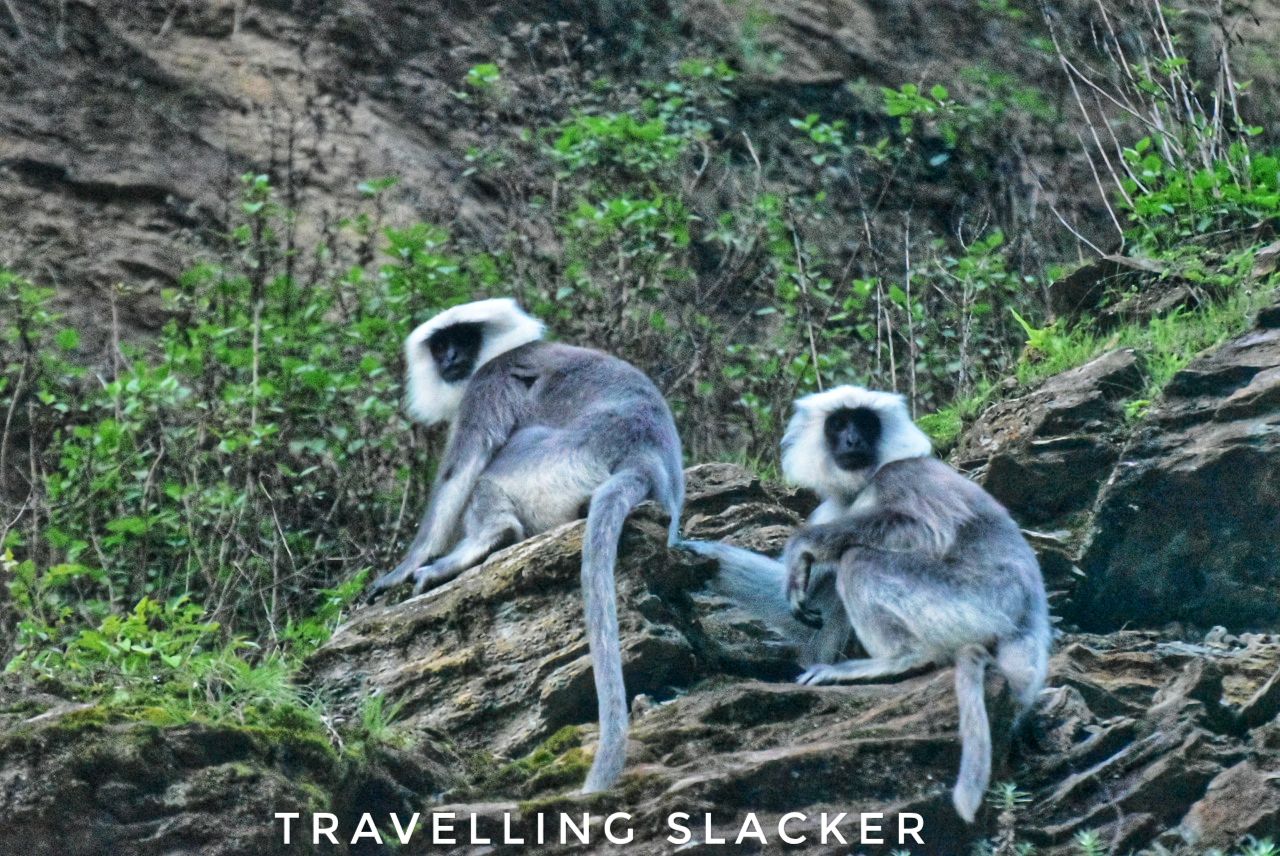 At Phobjikha
Our stay was at a sprawling resort. It is located at around 3000 meters and tends to get cold at night, making bonfires feasible unless it rains. We didn't realize it at night but the next morning we realised that our room is located on the edge of the famous meadows of Phobjikha. As I got up pretty early, I took some time to walk around the meadow and click a few photographs. A few cows and horses were roaming around while most of the houses seemed scattered all over and I could not see one point where there were more than 2-3 houses together. These are the delights of a low population we can't imagine in India!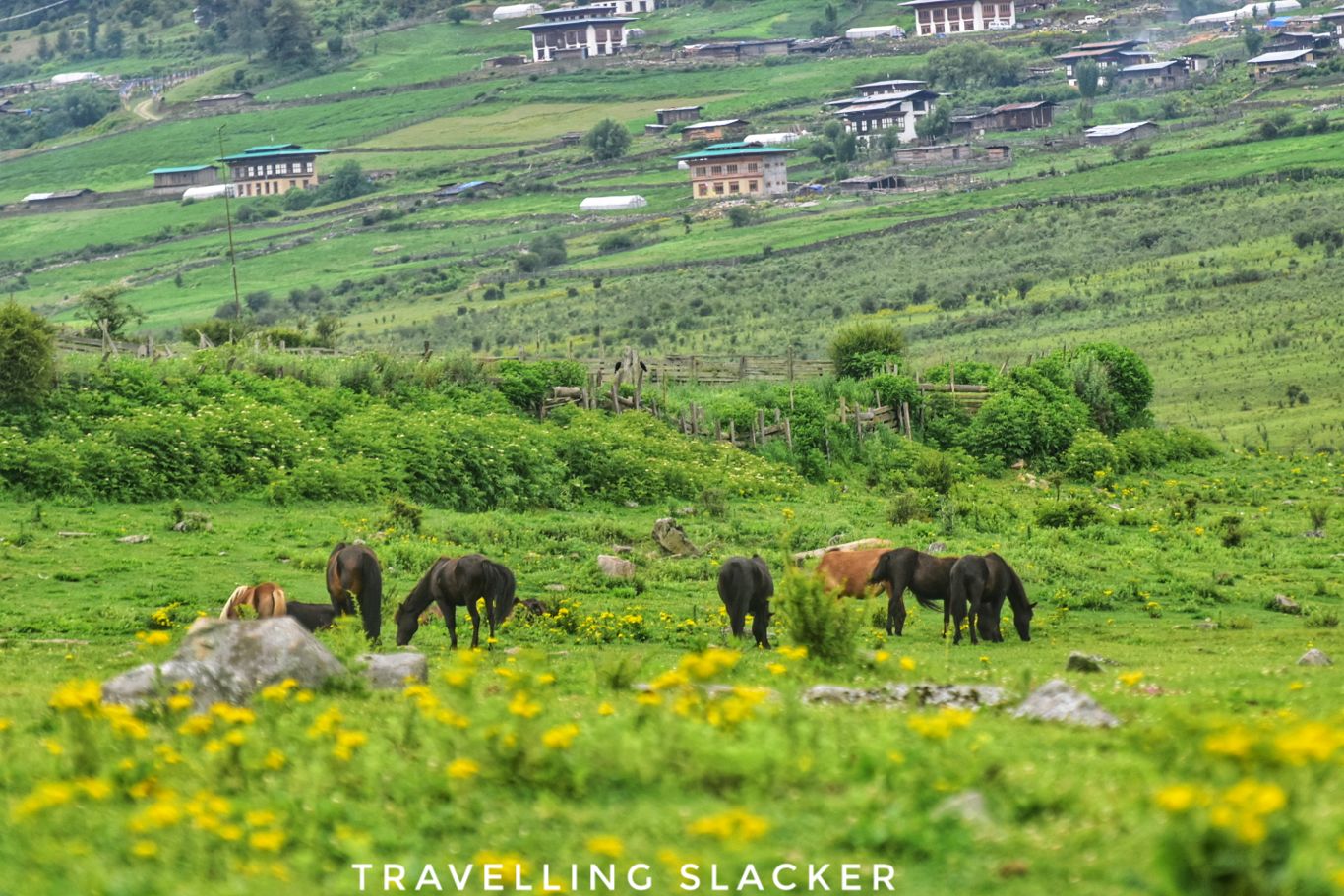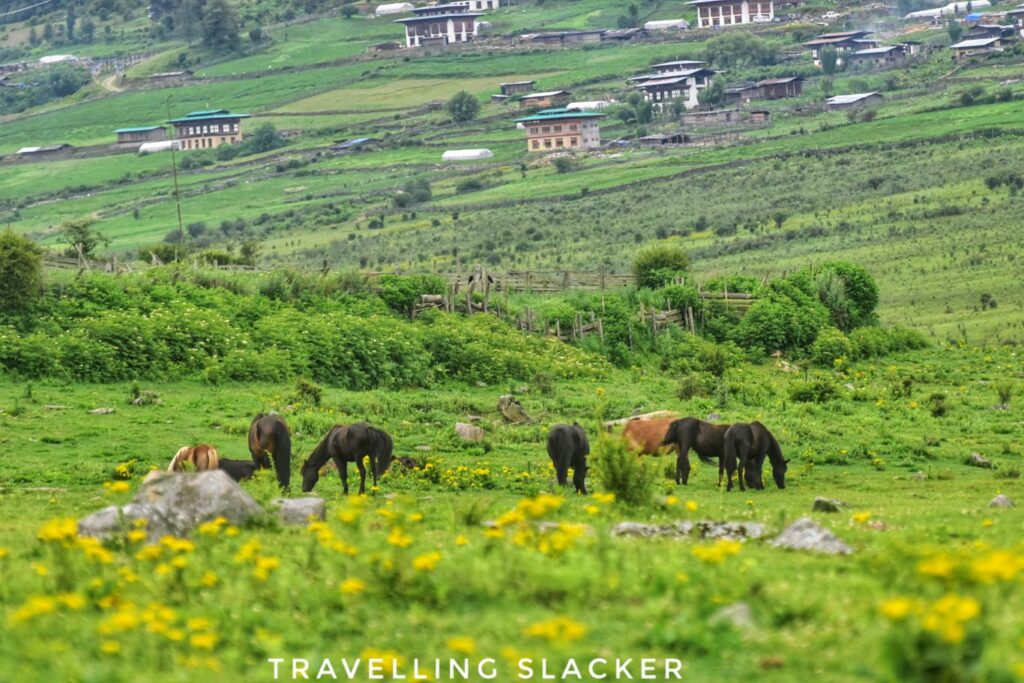 From various angles, Phobjikha looked like a larger version of Shangarh, or even Sangti Valley. In fact, it is culturally and geographically pretty close to Sangti anyway. There was an uniform layer of some yellow wildflowers. There were several birds and butterflies too but I only managed to capture some sort of a wagtail.
We had a quick breakfast and checked out of our resorts because the agenda for the day was pretty long. In case you have read my previous post, you'd know that Bhutan is expensive and so, we were rushing to do our things  within 3-4 days. So, our stay for the night was at Paro, which was almost 170 KMs away. Before that we had to complete the nature hike in Phobjikha, and visit a few place sin Punakha enroute.
Black-Necked Crane Information Centre
Before the start of the hike, we drove to the information center for the black-necked cranes.    Now, these are migratory birds but their route is not that long. They spend the summer in the Tibetan plateau while they move southwards for warmer weather by autumn. Phobjikha Valley is one of the famous areas where these cranes land, as is Sangti Valley in neighbouring Arunachal Pradesh. 
This was not the season for them but we were told that we could see two rescued cranes at the center. This information center has been set up with the help of Japanese grants and it can also facilitate more research. Apart from visiting the cranes, we also watched a documentary on the cranes shot all over Phobjikha at the center.
Nature Walk Through Phobjikha Valley
After visiting the cranes, we drove to a point where the walk/hike starts. The plan was to hike through the valley for a couple of hours and reach the monastery. Our vehicle will drive to the same point through the motorable road and meet us there.
It was basically like the Horton's Plains hike in Sri Lanka where it was mostly a brisk straight walk with some ascents here and there. We crossed a small stream, circumambulated a chorten, and clicked various wildflowers including various types of foxglove, snowells, ragworts, wild roses, and fleabanes.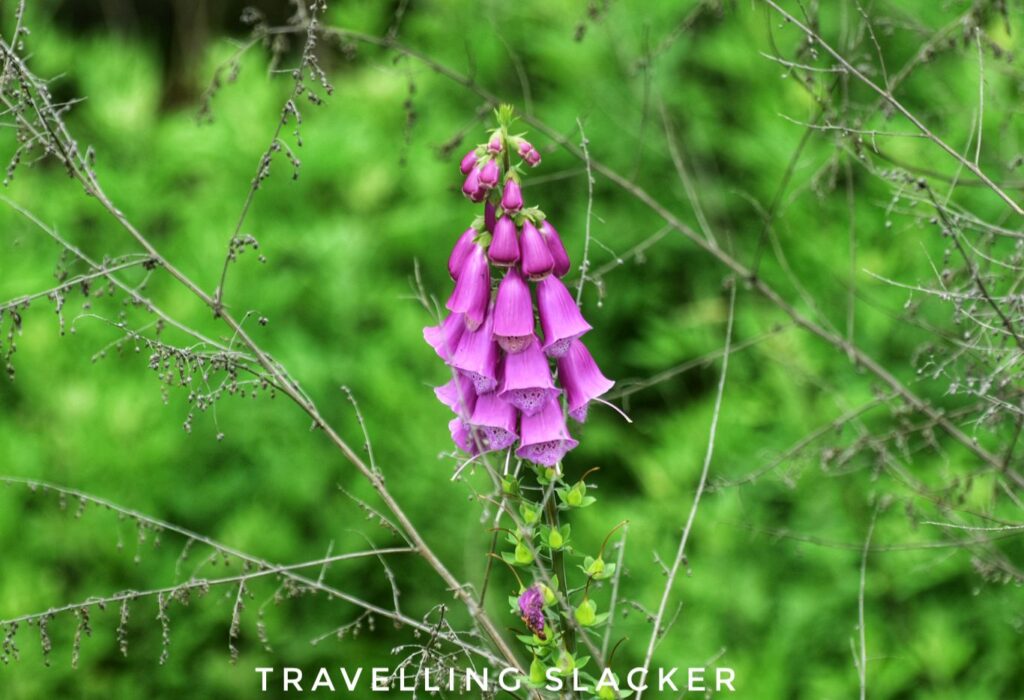 After a while, we reached a slightly higher area with dense pine and cedars. Most local visitors also stop here and probably use it as a mini picnic spot, which is why the dustbin seemed to be overflowing with plastic. However, we were told that it is cleared regularly.
We moved on and eventually we crossed the open meadows and entered a section that had a narrow path with farmlands on both sides. I was surprised to see pink buckwheat blossoms here, just like Kinnaur!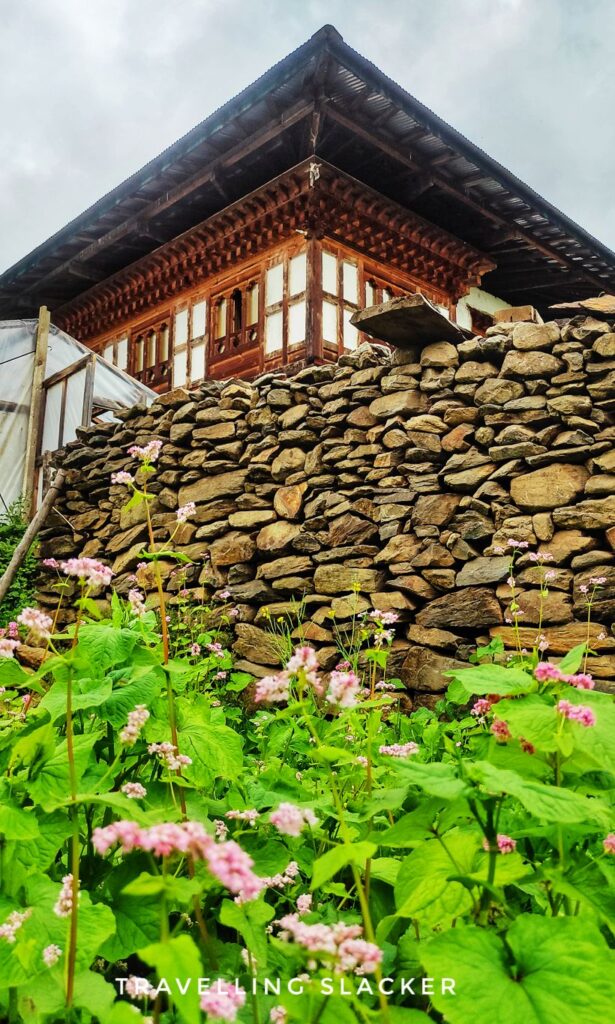 At this point, we crossed the stream again and spotted many birds including different types of wagtails and a big gang of hoopoes. Other birds were there too but they escaped my lens. Nevertheless, this area can be a good bird watching hub too. 
After a point, we reached another ascent, as we hiked up a grassy slope, and suddenly reached the motorable road that led to the monastery. Our car was already waiting but we decided to enter the monastery.
Gangtey Monastery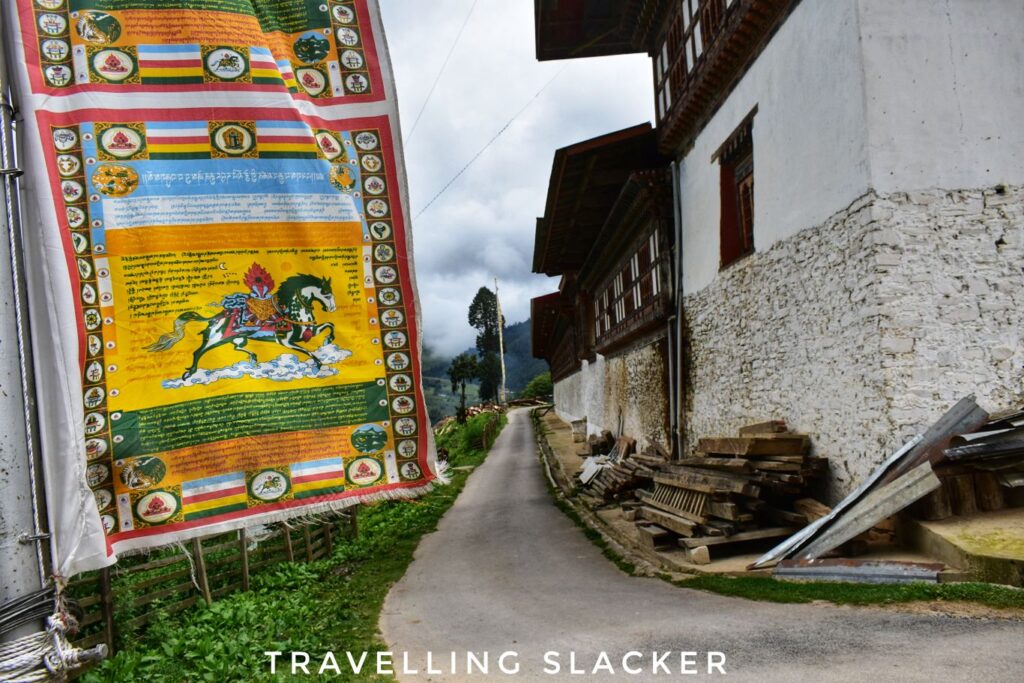 Gangtey Goemba is the seat for the 9th reincarnation of Terton (which means Treasure Revealer) Pema Lingpa. It was established in 1613 by Pema Lingpa's grandson as per the records. However, we were told that the site may be even older. There are many interesting legends associated with it, including the one that the black-necked cranes take a round of the monastery before landing on the ground after arriving from Tibet. The cranes are really important here and a black-necked crane festival is also organized every year.
We took a round of the monastery. While it is not too dissimilar to other major monasteries in neighbouring areas like Tawang and Sikkim, there were some unique aspects of Bhutanese iconography that could be seen in the sculptures and frescoes. 
As a matter of fact, this small area in front of the monastery is the only area that resembles a town in the entire valley. There is a series of shops and houses just outside the monastery. We were done with the hike and the monastery within two hours. Attending a festival here will be better, if one can time it well. Anyway, that was it for me from Phobjikha. We still had a lot more distance to cover for the day. So, we moved on, but not before stopping at a spot that offered the best view of the Monastery.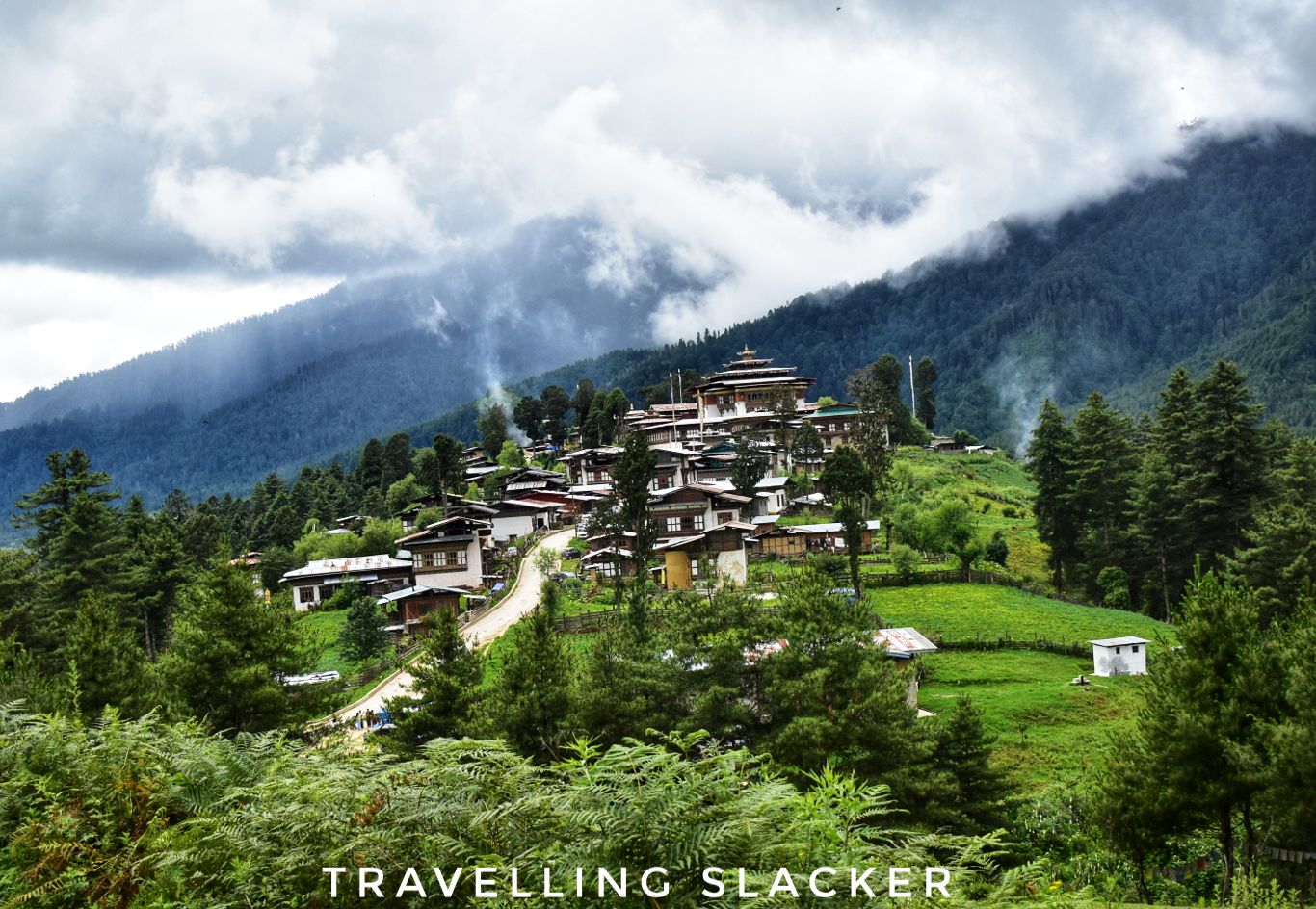 Here are some laconic footages from Phobjikha if you want to see how it looks like in motion.
Phobjikha Valley Travel Guide
How to reach Phobjikha Valley?
It is around 130 KMs from Thimphu but you'll have to cross two mountain passes, Dochu La and Lawa La. However, these are not very high passes, just around 3000 meters. Roads are mostly good in this region. Read my Bhutan Travel Guide for general information about visiting the country.
Where to stay in Phobjikha Valley?
There are many hotels and Homestays scattered around the valley.
Best Season for Phobjikha
Different seasons have different delights. Usually avoid peak winters as some roads may be closed due to snowfall. Similarly, some people may advice against monsoons but we actually had good views during monsoon. Another key season is autumn and early winter (October/November), when the cranes start arriving and a festival is celebrated too.
Phone and Data Connectivity in Phobjikha Valley?
Although our resort had WiFi, I found the network to be slow. This area is a bit far off and the network can be problematic.