It was not really my plan to visit Dainkund. I knew the name but I wasn't even sure if it was just a peak or a lake. I was hesitant as it seemed that there's no public transport to the area and I didn't want to hire an expensive cab. However, I met some friends and got a lift unexpectedly and so, I managed to quickly strike it off my list.
Before getting to the mini-trek, let's talk a bit about Dalhousie. I reached Dalhousie from Kullu, primarily because I wanted to explore a few obscure places in Chamba. I have stayed in Chamba town several times but skilled Dalhousie because it represents that old school hill stations that were popular before Millenial and postmillenial Indians started exploring the Himalayas (and discovered Rastafari).
Nevertheless, I decided to spend a day or two here just because I'd never done so in spite of spending so much time in this state and visiting its remotest corners. However, my apprehensions were proven right the moment I reached. It was a smallish town thickly concentrated with traditional hotels (rather than Homestays). It brought back not so pleasant memories of some other much hyped places like Kausani or Kasauli. On top of that, the Mall Road was a very small alley barely comparable to its namesake in some other hill towns. The entire vibe of the place took me back to 90s, not in a way I would have preferred.
Anyway, I got into an overpriced hotel and then after keeping my luggage, I reached the Mall Road which is much higher up from the bus stand. Till then, I was disappointed and planning a escape next day. Nevertheless, it was just 3 pm and summer days are pretty long. So, I happened to stumble on some friends and got a lift with them to Dainkund unexpectedly.
Dalhousie was foggy and rainy. The weather cleared as we left the town and after around an hour of driving through a deeply forested stretch, we reached the starting point of the Dainkund Trek. There's also a facility for the airforce nearby and so there are some restrictions here for civilians. The road goes further but tourist vehicles are not allowed. The phone network also doesn't work here, probably due to defense requirements. Nevertheless, the short hiking route is popular among visitors. This area is a bit higher up with nice rolling meadows. After five minutes of hike we rose even higher up and got a clearer view of the whole area.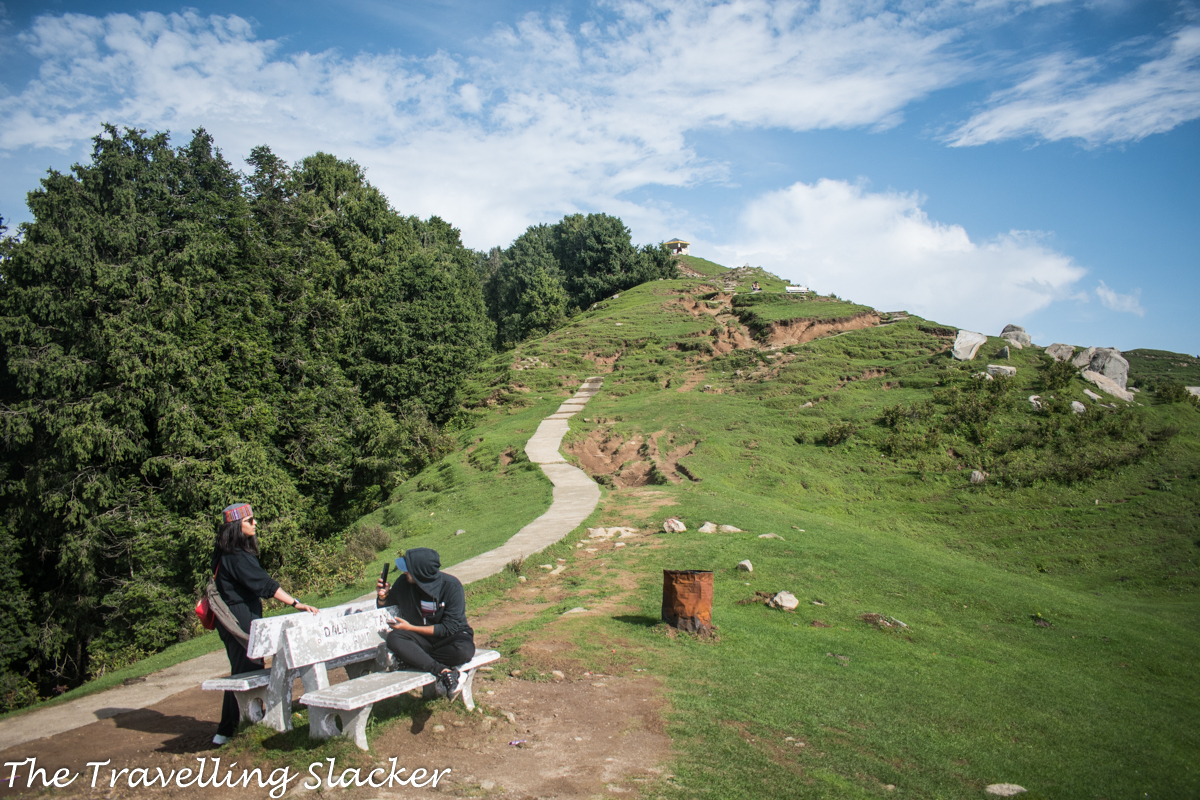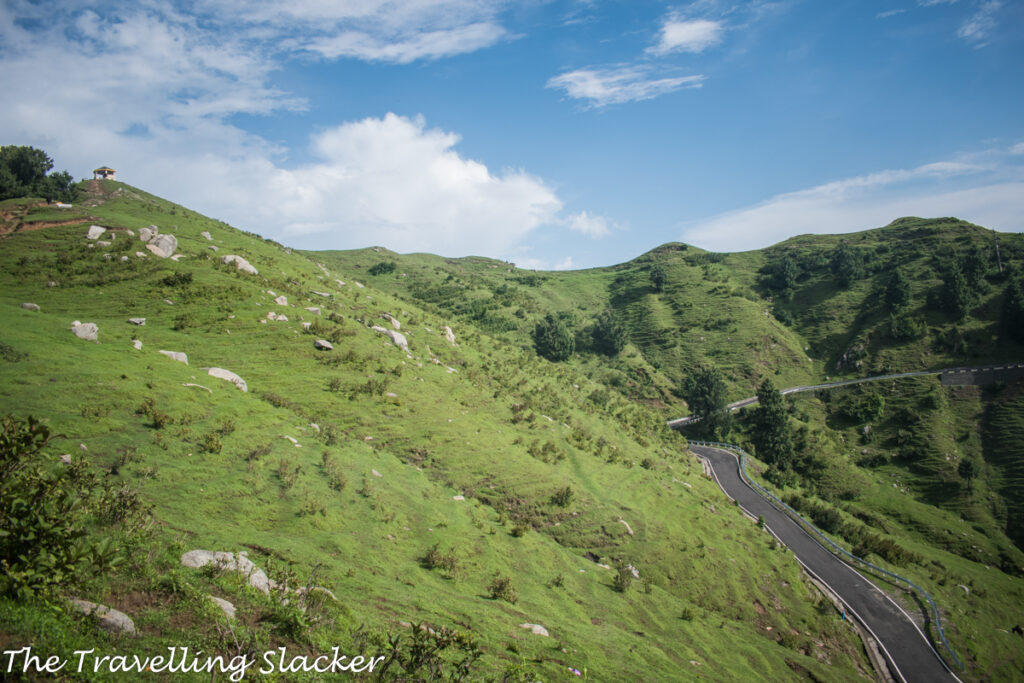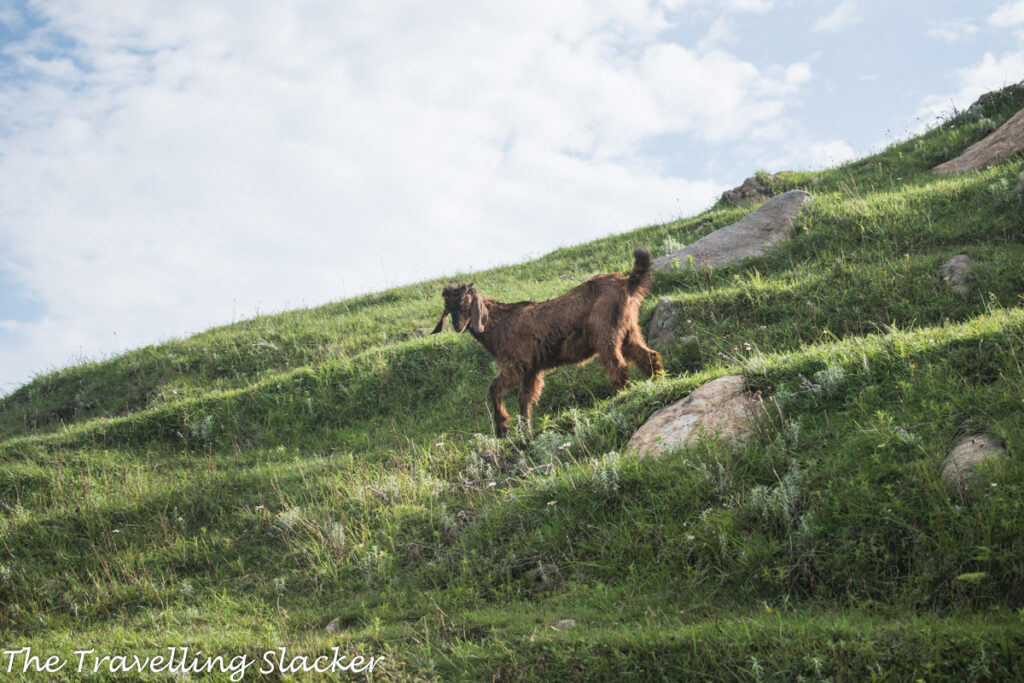 The early part of route is full of local vendors selling tea, roasted corn, and some strange essential oils. It's an easy ascent designed for all types of visitors including those who never hike. Resting shades and culverts line at least the first half of the route. I could see a structure at the horizon and thought it to be a temple. But soon I realised that it's another resting shade that we reached after 20 minutes and found another tea seller.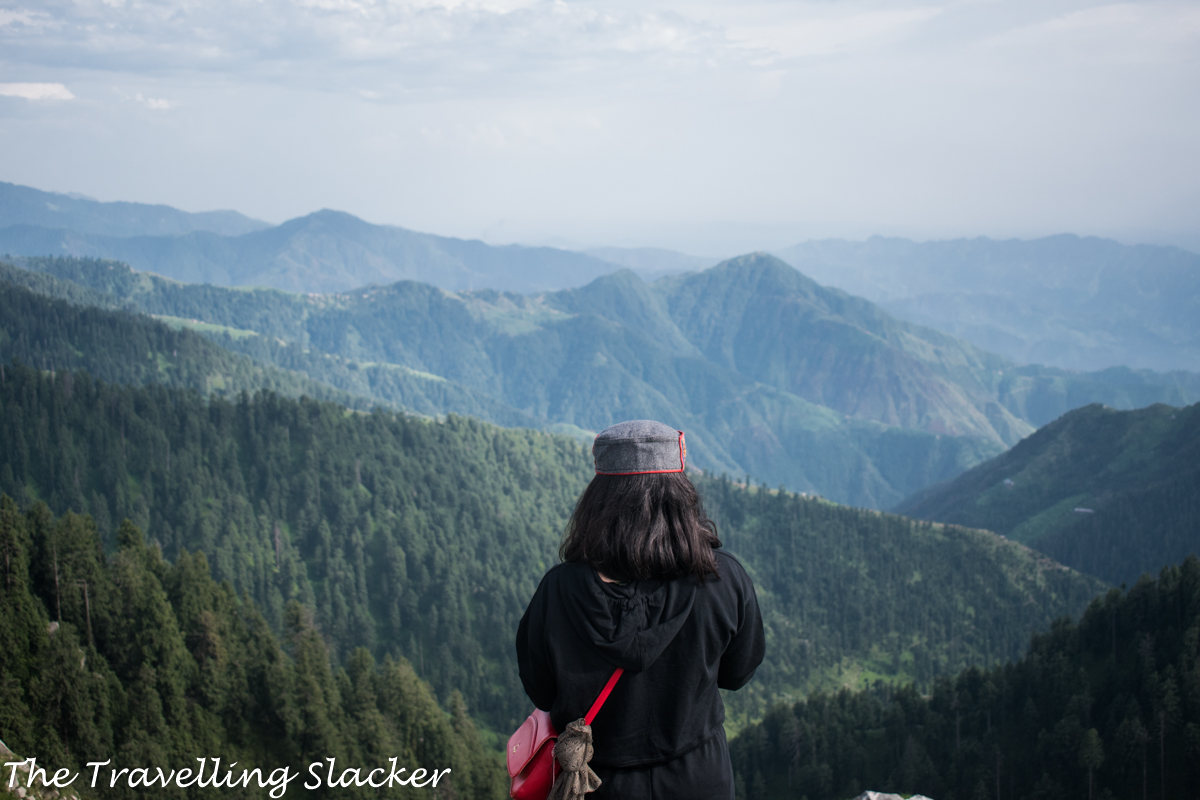 Nevertheless, this turned out to be the last one on this route. It's a good point offering 270 degree views and many visitors decided to relax here and enjoy the views. However, the route was going further and I learnt that it eventually leads to the main point which has the temple as well as 360 degree views. We started very late in the day and so, we didn't have much time remaining before sunset.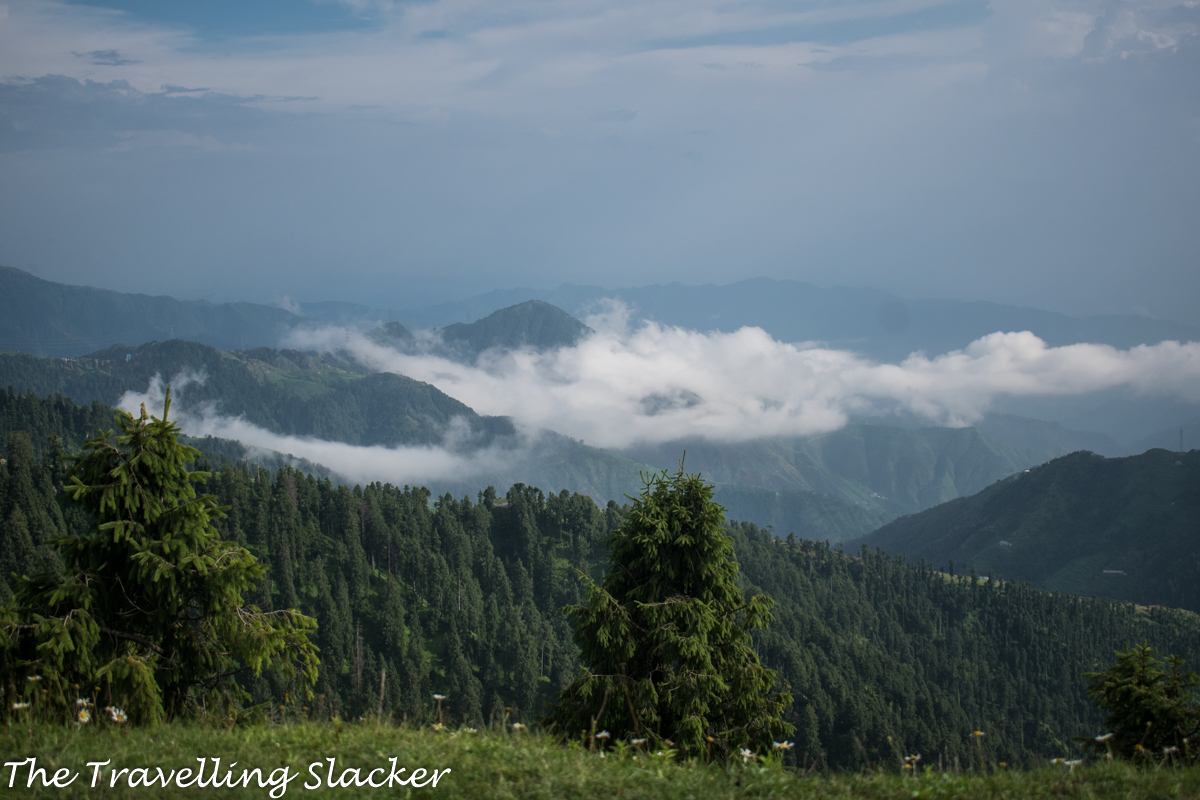 So, my friends decided to relax there soaking in the views while I decided to hike fast and visit the temple. To my relief, it turned out that the rest of the trail is also pretty easy with no serious ascent. I walked briskly and crossed a stretch of cedar wood. At a distance I saw part of a bright meadow through the woods. It looked like Khajjiar but I am not sure if that is the one.
Anyway, I kept walking and soon the red temple became visible at a distance while the trees disappeared and a nice open meadow opened up. The sun had reappeared just at the right moment and just at the right time (although it was not going to last long). It was the peak of monsoon and the meadows were dotted fith flowers. Some cows and a few local women lazily chatting after a hard day's work competed the frames.
After a quick photo break, I walked fast and reached the temple, which already had several visitors. The temple interestingly was sort of an open temple without a roof, reminding me distinctly of the Shikari Devi Temple. Apparently the name Dainkund comes from "Dayans" (withces). Also, the suffix "kund" suggests sort of a waterbody and I was expecting to see a small hilly lake like Serolsar Lake. However, there was no such thing here and only the temple was present. Maybe the waterbody dried up for various reasons but the name persisted.
Coming to the temple, it's called Pohlani Mata temple. From what I could gather, it's an incarnation of Kaali, who appeared here as the demons and withces were harassing the local people, and slayed them. The temple was built to honour her. Nevertheless, most of the real history in these areas have never been comprehensively documented and so we'll never know for sure.
This is also the point from where you get to see the snowy peaks of Chamba. Those who are poor in geography have to be careful here because they have mentioned the point as "Kailash Darshan". However, this is not the real Kailash but Manimahesh Kailash. I got a glimpse of it for few seconds.
I managed to click a couple of photographs and then a thick veil of mist appeared out of nowhere. I saw it coming from one side and in no time covered the whole temple compound and obliterated the view. In fact, it got so thick that I had to walk through it in zero visibility after a lot of effort to finally reached friends who were waiting below.
So, this quick hike had it's highs but they were short lived. Nevertheless, it was still worth the effort and the weather was clearer here compared to the Dalhousie town. Let me sign off with these files footages.
Where is Dainkund located?
The trek to Dainkund Peak starting point is located close to Rakhed, around 13-14 KMs from Dalhousie town. It's at an altitude of around 2200 meters.
How to reach Dainkund?
Dalhousie is somewhat old school hill station designed for family visitors and NOT for new age backpackers. So, most people were travelling in groups and hiring cabs from Dalhousie town but this can be expensive. Thankfully I met some friends and got lift. I didn't see any buses either. This maybe because there is a defense facility nearby and movement is restricted.
How long is the Dainkund Trek?
It's a short trek less than two KMs and most of it is plain walk. So, it shouldn't take much effort.Any other trek near Dainkund?You can go further from Dainkund to Kalatop and Khajjiar. But you'll need some local guidance to find the route.