Thailand is one of the most popular travel destinations in the entire world. This South Asian land has long been on the bucket lists of millions around the world. This fame is not unfounded as Thailand is one of the most diverse lands that one can travel to. This makes Thailand travel packages extremely popular. If you are planning to travel to Thailand then we suggest you look at Pickyourtrail. Pickyourtrail offers you an exhaustive variety of packages that tend to all sorts of tastes, so hop online and choose an option of your liking. 
From beaches to temples, spicy street food to upmarket five star dishes, Thailand is simply too diverse to put into words. Needless to say, when a destination offers you so much, time crunch can prove to be a real worry. Henceforth, it becomes important, nay, a necessity to know where to invest your time judiciously. After all, no one wants to come back home only to realize that they could have enjoyed their precious holiday more. So, to help you keep regret at bay, here is a list of the 10 best things to do on your Thailand packages from India:-
Visit the Grand Palace: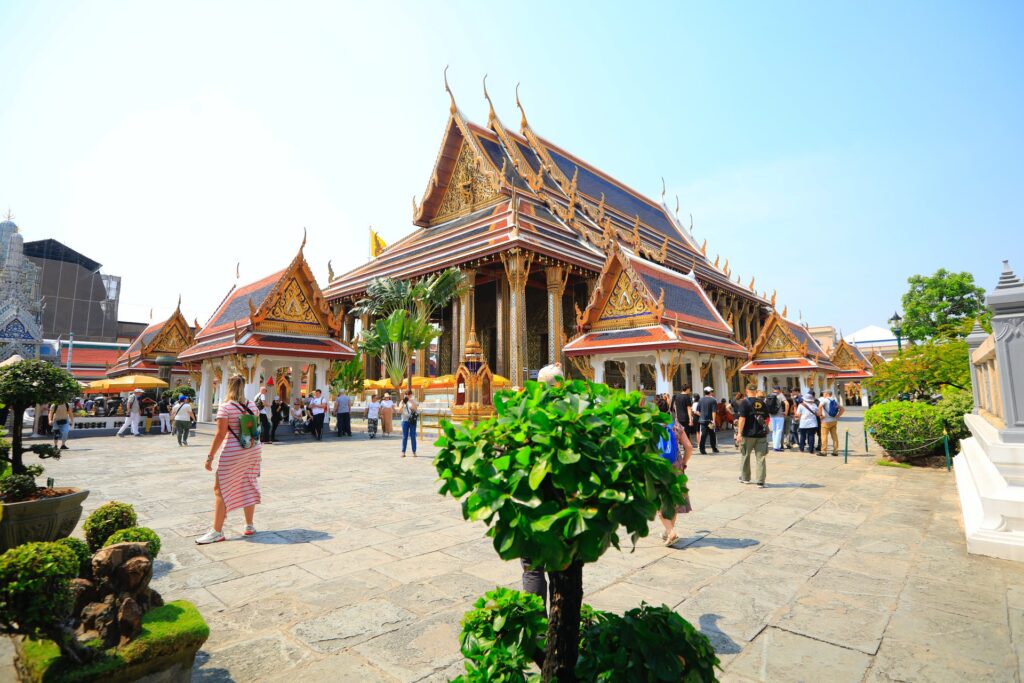 The Grand Palace is the most famous attraction located in the heart of Bangkok. This palace has functioned as the residence of the royalty, the government as well the Royal Mint. Spread over an area of 218,400 square metres, it offers plenty to see and do. Visitors will definitely not be disappointed with this one. However, keep in mind that strict adherence to the dress code may restrict entry.
Have a Thai massage:
Thai massages are famous all over the world. This style of massage is special as it focuses on certain key pressure points and also stretches out the entire body. One is left invigorated and refreshed at the end of a session. Many towns and cities feature these relaxation offerings at a fraction of the price compared to anywhere else in the world. Thai massages make for one of the best things to do in Thailand.
Visit the Damnoen Saduak Floating Market:
Thailand has a number of floating markets, but the Damnoen Saduak Floating Market takes the cake for being the most famous. Not to mention, it is also the biggest market of the lot. The market comprises of boats selling all kinds of products from foods to fruits and much more. These markets give you an insight into how things functioned back in the days and also make for a fantastic photo op. It is worth noting that these markets are located 100 KM outside Bangkok.
Climb the Santhorn Unique Tower:
The Santhorn Unique Tower is located in Bangkok. Its construction was started in the late nineties, but the global financial crisis caused its construction to come to a halt. As a result, this large skyscraper now remains abandoned. This is not an official tourist attraction but a small payment to guards at ground level can get you access. Climb to the top for the best views of Bangkok. It is worth noting that several people consider the tower to be haunted, so go ahead and figure this mystery out for yourself!
Take a trip to Koh Phi Phi:
This beautiful island has featured in the works of Leonardo DiCaprio and in the James Bond franchise as well. Koh Phi Phi is a stunning island located in the Krabi province. It is a must-visit place in Thailand that is included in most packages. Tourists should make note that travel can prove to be a task here as there are no roads. However, one is never far from the action as all of the interesting activities take place between the two beaches here. This is definitely one of the best things to do in Thailand.
Drive like a local:
If you want to blend in with the local crowd, then we recommend you travel via scooters. Exploring on two-wheelers is extremely popular among locals as well as travellers. It can prove to be a bit tricky as traffic rules aren't enforced as strictly here. But weaving in and out of traffic and exploring on two wheels can prove to be a lot of fun. It is advisable to be prepared as this can prove to be a wild ride with unexpected elements just around the corner ( pun intended ).
Eat street food: 
Thailand is home to lip-smacking street food. Nearly every town has streets in it lined with street food vendors selling their tasty treats, One can choose among options like – Pad Tha, Som Tam, and much more. The indigenous population rarely eat at home as eating out surprisingly proves to be cost-effective. So, choose the local way and eat some delicious street food. You never know when you might stumble onto your next favourite dish. Street food makes for one of the best experiences and henceforth one of the best things to do in Thailand.
Have a water fight during Songkran:
Songkran marks the traditional Thai NEW year. It is celebrated in the month of April and the celebrations take place from 13th to 15th. The celebrations usually mark a lot of play with water as it is believed that the water washes away bad luck and sins. Over time the festival has changed and now water fights are the new norm. It is worth noting that no matter where you are in the country, the local's spirit will definitely get to you. Locals will leave you drenched, so be prepared. Join in the festivities as it is one of the best things to do in Thailand.
Visit the Chiang Mai night market:
During the day, the Chang Klan Road is just like any other bust road in Chiang Mai. Post sundown, however, a transformation takes place. Stallholders set up their businesses from dusk till dawn and turn this 1 KM stretch of road into a shopper's paradise. In typical bazaar fashion, bargaining goes a long way. This market is always open year-round no matter what the weather.
Go diving off the coast of Koh Lanta: 
Koh Lanta is a rather beautiful island located in the Andaman sea. While this small island, only 20 KM long in length may not come off as much at first, it is full of attractions. Prime among these attractions are the dive spots surrounding the island which make for the most beautiful diving experiences. We recommend you try Hin Daeng and Hin Muang as there are considered to be the best in the area.
We hope our list of the 10 best things to do in Thailand helps you plan and travel better. Pickyourtrail offers you fully customisable all-inclusive travel packages. Pickyourtrail also offers you leading customer support to assist you on your journey. We wish you happy travels.