Regular readers of this blog know that I try hard to accommodate at least one rhododendron experience every spring. This time, after considering various options, and also considering limited time and budget, I zeroed in on a quick trek to Barsey Rhododendron Sanctuary.
It was also a deliberate return to Sikkim after a gap. My last visit in Sikkim was in the winter, which left me whining about the bleak landscapes and fantasizing how they'd look in the spring. So, finally the time had come to sort out that issue.
I booked a sleeper class ticket from Guwahati to NJP, reached Siliguri, and quickly found a shared car to Jorethang, which is a small border town but like most towns in Sikkim, it is a neat one and that too with a new "Mall Road". I had to wait there for a couple of hours till I finally found a shared car to Okhrey, where I'd booked a homestay. It is only 42 KMs from Jorethang but located at a significant elevation. As the car gained altitude, the visibility deteriorated.
The last few months, at least in Eastern India, have been a great demonstration of climate change. We had one of the coldest Februaries in living memory, followed by an insanely hot and dry March. Usually, rains appear towards mid-April but this time it started on the last day of March and then it refused to go away (it's still gloomy even as I am writing this on 15th April).
Hostile weather meant that one of the two attractions in this region, i.e. view of the snowy peaks of the Singalila range was out of question and I was only left with the other attraction, i.e. the rhododendrons (called guras in Nepali, which seems to have the same origin as Buransh in Hindi).
I reached the Sherpa village of Okhrey soon after a short tea break at Sombaria, which is a biggish marketplace for the local villages. The name suggests that it was once a weekly Monday market (Sombar=Monday). However, it has grown into a permanent market town with many shops. This place is better connected than Okhrey and the real ascent starts after it. I also noticed the first rhododendron after leaving Sombaria.
My homestay was located by the side of the road, I spotted it and asked the car to stop. By that time we'd gained significant elevation and I had to quickly open my bag and take out the jacket. The Homestay owner Sangey Sherpa was waiting already and so I quickly checked into my room. The lunch was also ready but the weather was showing no signs of improvement and a thick veil of mist covered the whole village finishing any possibility of exploration. So, I just decided to dip tea and wait for the next morning.
The next morning was also gloomy but nevertheless, I decided to go as soon as possible. The car (also owned by the homestay) was ready too and we started before 7 AM. It was foggy all the way by the rhododendrons started revealing themselves soon and I also managed to spot several white rhododendron trees in full bloom. After around 45 minutes we reached the entry gate at Hilley where the car dropped me (with a plan to pick me up after a few hours). I got my tickets and started the trek.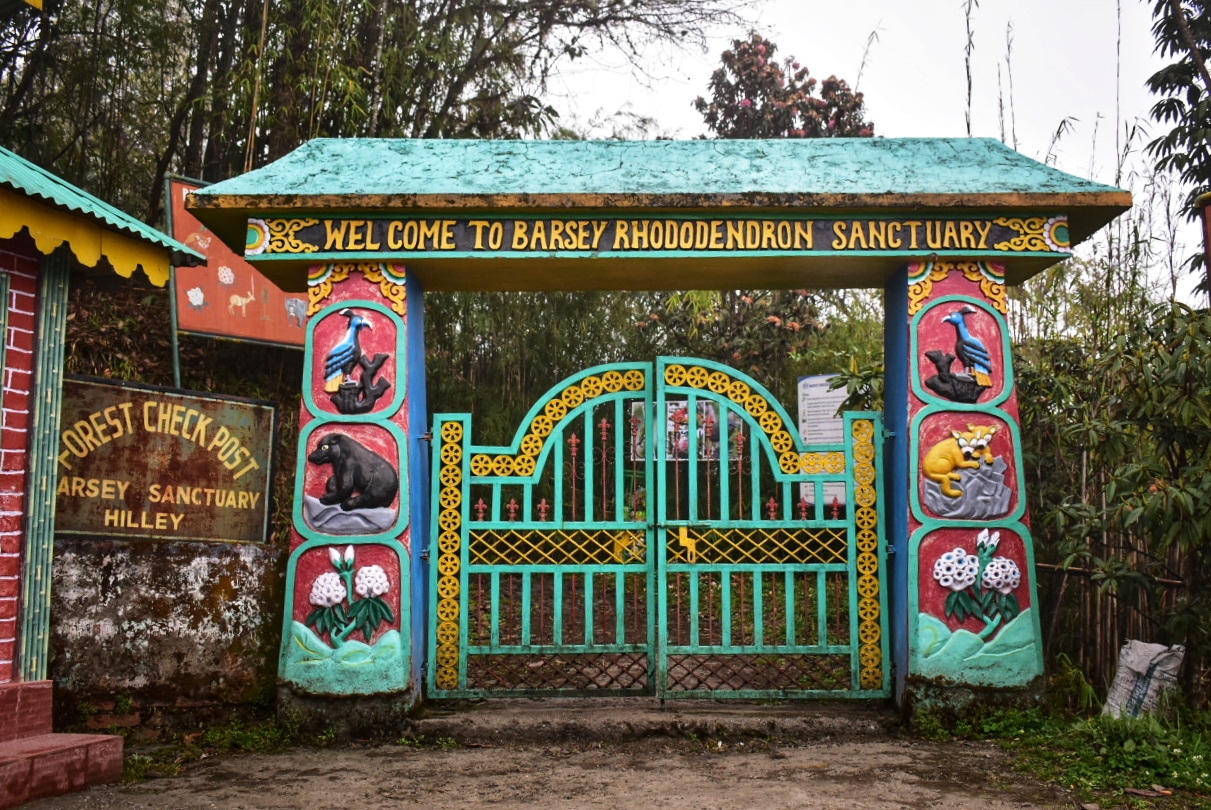 These two pandemic years have really affected my fitness levels. So, I was relieved to learn that the trek was actually pretty simple. It's more of a straight walk. Usually, I let nature do the talking during hikes but the recent struggles forced me to seek motivation. So, I played Exupery's Land of Men on audible, put on my headphones, and started walking briskly.
The first 15 minutes were eventless. I kept walking, and I Could only see the boards put up by the forest department to photographs and scientific names of various types of Rhododendrons as well as animals available here. They kept me amused because I only knew the most generic red one, Rhododendron Arboreum and R Barbatum (Both red in colour). Many others like Rhododendron Falconeri, R Dalhousie (Both white), R Campanulatum (Pink), R Niveum (Lilac colour) etc. were mentioned in the boards too and eventually, I think I spotted most of them except Niveum, although my knowledge is limited. Finally, after around 20 minutes, I spotted the first set of pink rhododendrons, blooming higher up, at a distance, visible through some moss-covered branches embracing the frame like a primordial giant ape.
That was the tipping point! After that, the rhododendrons started appearing thick and fast. Red and pink ones were dominant but there were white ones too and after around 45 minutes, after one final push, I reached the main grove of Rhododendrons! This is the heart of Barsey Rhododendron Sanctuary. There's a bit of open space for everyone to sit and enjoy the views. This space is surrounded by a thick concentration of rhododendron trees that extend higher up to the top of the hills till the horizon. Almost all the trees were blooming and this is probably also the point that offers a good view of the snowy peaks of the aforementioned Singalila Range but that was not my day!
Anyway, I was more than satisfied and I spent an hour ogling over the trees and flowers. Many other visitors, especially school troops from Gangtok and Darjeeling had arrived by then. Beyond this point the rhododendron jungle continued in all directions. I wanted to see the rest House and someone told me that it is located another 500 meters away, after crossing the water reservoir.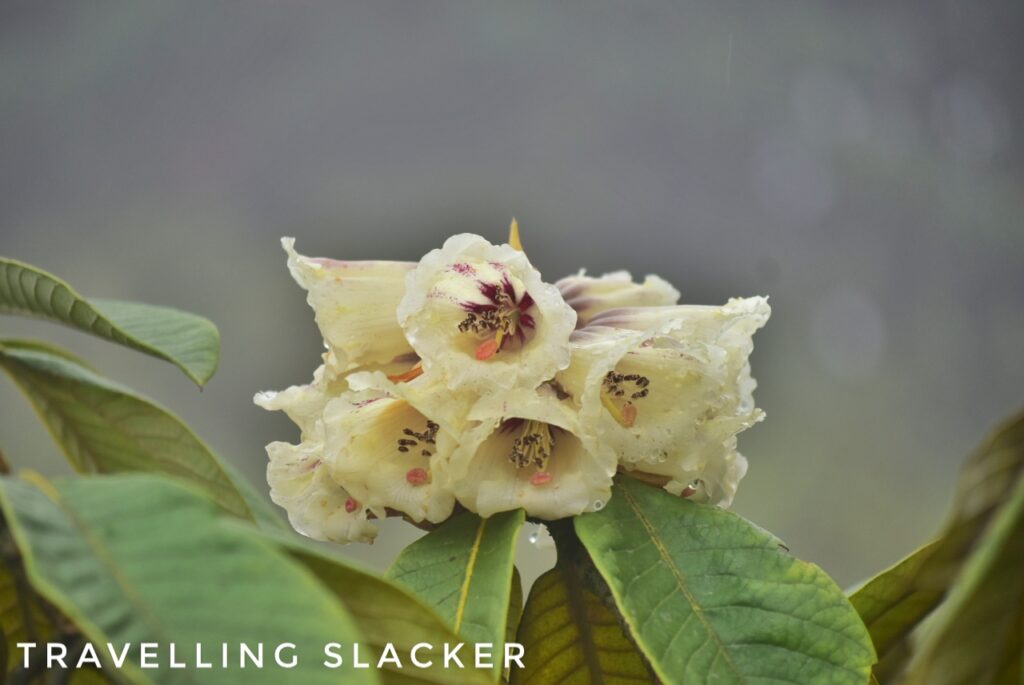 I proceeded accordingly and soon an even taller tree with even brighter pink blossoms became visible. After five minutes I reached the Rest House, which seemed pretty well maintained and newly refurbished. I was expecting some austere accommodation like the one in Dzukou Valley but it was far too well-equipped compared to that one. There were a few Swiss tents and canines too for good measure.
There's a small shrine in front of the Rest House. It's a typical Buddhist installation with a few rocks and Tibetan flags and a small Buddha statue. However, it also has a small Lakshmi statue and a trident. Not sure at what point they were installed.
I ventured inside the lodge and bought a cup of black tea. This is actually just the tip of the iceberg. Most people do it as a quick weekend adventure and if rhododendrons are your primary target, this will give you enough. However, many other routes go beyond this point and you can try if you have more days and a good local guide. Especially, the trek to Gorkhey from Varsey is popular.
I spent around an hour at Barsey and returned back to Hilley. Although I've been complaining about the weather, I got the comparatively less hostile weather in the morning. It started getting worse even as I started returning. I saw many other visitors coming even as I was leaving. It rained soon so I guess they had a tough time.
So, my trek was over by 1 PM and I was back at the homestay within an hour. But before we wind up, here's something for everyone. A local lady at Hilley selling rhododendron wine. That's what you need to bring back from here.
Barsey Rhododendron Sanctuary Trek Travel Guide
Where exactly is Barsey?
Barsey Rhododendron Sanctuary is located on the edge of Singalila Range in West Sikkim, but it is located on the border of West Bengal and is also close to Darjeeling.
How to reach Barsey?
The route is Siliguri-Jorethang-Okhrey-Hilley-Barsey
Nearest major Rail Station: New Jalpaiguri Nearest Airport: Bagdogra
You'll get rickshaws, buses etc at reasonable rates from the rail station or airport to Siliguri Bus Stand.
You will find buses or shared cars from Siliguri to Jorethang (Naya Bazar), which is a busy border town in West Sikkim.
From Jorethang Taxi Stand (they call it Plaza), you'll find shared cars to Okhrey and many other places in Sikkim and North Bengal. Do note that there are three floors to the Plaza and there are specific spots for cars to every destination (usually written clearly on the pillars).
Do note that you have major points like Darjeeling and Kalimpong in this area but Jorethang bound cars usually bypass them to save time.
Similarly, if you are already in Sikkim, you can find Jorethang cars from major towns like Gangtok, Pelling, or Namchi.
It cost me INR 300 from Siliguri to Jorethang on a shared car. Buses will be cheaper but you'll have to wait for one.
Where to stay for Barsey Trek?
There are multiple options for the stay. Here are their respective pros and cons.
Okhrey
Okhrey is the major village on this route and is full of Homestays and lodges. It's easy to reach with public transport (shared cars) from Jorethang and many stay options are there.
Hilley
Hilley is where the trek starts and here are some stay options too. You can directly start the trek from here the next morning and give more time to your explorations. However, it is around 15-20 KM from Homestays of Okhrey and shared cars may not always go there. So, you'll have to arrange for them to drop you there by paying extra. Also, while coming back also you may face the same issue.
Barsey
There is a government accommodation right in the middle of rhododendron grove at Barsey at the end of the trek. It is as exotic as you can imagine and it is a pretty good facility with rooms as well as tents. On the flip side, you'll have to carry your luggage through the whole trek and also bring it back to Hilley when you return.
How long is the Barsey Trek?
The basic trek is around 4-5 KMs from the entry gate. Of course, you can get a local guide and venture further and find routes to other villages if you have the time and budget.
Is it a difficult and steep trek?
Not at all. It is as easy. As it gets. It's mostly a straight walk with no seriously steep portions. It's somewhat like Serolsar Lake trek in terms of difficulty, if you have done that one.
How much time does it take?
It takes around 1.5 hrs to reach the Guras Kunj from the entry gate at Hilley.
Which is the best season for Varsey trek?
As the name suggests, this trek is famous for rhododendrons that bloom in spring. So, the idea time is March, April and early May. However, there maybe rains and bad weather, especially in April. Gloomy skies may prevent you from a good view of the peaks in the horizon.
Additionally, you'll get good views of the snowy peaks from here in the monsoon season, i.e. October and November. However, the flowers won't be there.
I wouldn't recommend other seasons.
Barsey Video