To be honest, Mussoorie has never featured on my bucket list. It is not that these traditional, old-school, family-friendly, hill-stations don't have their charms but they don't really stimulate me enough. Apart from the cliches and the crowd, another issue for a budget traveller is the cost, which is always higher in such places. But last January I had an assignment in Mussoorie, and all my expenses were also being taken care of. I also reached on a day when it was snowing heavily. As the winter is back again, I think the time is ripe to utilize those photographs although none of them was satisfactory.
So I reached Dehradun from Delhi very early in a bitterly cold January morning. It was still dark and it seemed to be raining. I was offered a pickup from the train station but I rejected it in an effort to do my usual thing. I got hold of a bus while groping in the dark and it got even colder as I started gaining altitude and move towards Mussoorie. It was a bit brighter by the time I reached but it was snowing very heavily and I finally realized that the "rain" in Dehradun was just a result of the snowfall higher up.
I was shivering but I decided to walk to my resort so that I could feel like a White Walker. It was at least a couple of kilometres away from the Library Bus Stand and very soon I realized that the snowfall is more severe than I thought and it was accompanied by . It was around 7 AM by then but nobody was there on the streets and everything was getting buried under snow. I wish I'd clicked those moments but I really was in no condition to do so. By the time I reached, there was a thick layer of snow on my jacket and my backpack too. The sun refused to show up for the rest of the day, and it remained cold and windy. I could not do much that day.
Hike to Lal Tibba
The next morning was completely different. It was a bright, sunny, and significantly warmer. Sadly, this also meant that the white layer from the previous day had completely disappeared. Anyway, I decided to walk the whole day and hoped to see something towards Landour, which is slightly higher up. I reached the Mall Road and walked past it. It was full of people, mostly tourists, unlike the previous day. As I walked past this stretch, I noticed a hint of white icing on the conifers in the horizon beyond the concrete jungle. I knew I was on the right track.
However, the hike towards Landour was not as pleasant as I expected it to be. I found snow, but I also ran into a traffic jam, mostly caused by tourist vehicles. Everybody wanted to see snow, but nobody wanted to walk. I walked past dozens of vehicles along the clogged street and finally reached the iconic Saint Paul Church (Built in 1839), and the small bazaar around it. The Church courtyard was covered in snow as well and visitors were all over the place. On a summer day, I would have run away from here but the snow made it tolerable. I clicked some pictures and then went to a restaurant called Cafe Ivy for breakfast. The balcony here had decent views.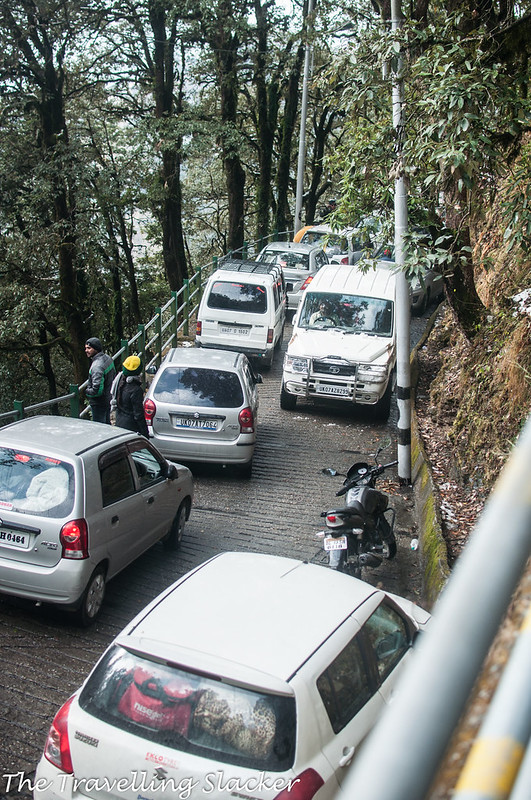 Most of the vehicles don't go further at this point. So, thankfully, the remainder of the stretch was free of automobiles. Lal Tibba is basically the highest point of Mussoorie but nowadays the viewpoint, which is situated slightly below the peak, is also called the same. I walked up to the viewpoint, trying to get decent photographs of the snowy landscapes.
Mall Road and Gun Hill
I came back the same way I walked up, crossing the traffic jam, to reach the lower areas again. I spotted a certain bookstore, which has been made famous by a certain author, although it was the wrong day to meet him. Yes, I am talking about Rukin Bond and he normally appears on Saturdays. I also made a quick hike of the Gun Hill, the second highest point in town right next to the Mall Road. This hilltop was full of archaic rides and shops that reminded me of the mofussil fairs that I'd attended in the 90s.
I had seen whatever I had to see that day but as a part of my assignment I also needed to go for some extra sightseeing near the town and a vehicle was provided to me the next day. As expected, all these locations were experiencing a high rush of tourists. The news of snowfall had attracted a lot of people from the plains. The driver tried to take me to Dhanaulti but the road was blocked after a point, partly due to snow and partly due to too much traffic. After that, we made a quick round of Kempty Falls, Santura Devi Temple, and a few other attractions.
Sir George Everest's House
I wanted to end the trip on a less cliched note so I finally pushed the driver to visit the George Everest's House before it gets dark. The Great Trigonometrical Survey of India is a project that is hard to even imagine even now and so I have deep admiration for people who conceived and executed it with the technology of 19th century. It took several decades for this project to map and measure the entire subcontinent and it is the basis of all the maps and geographic details we have today. George Everest, who was one of the superintendents of the project, identified this location as ideal for some of those surveys and I could see why it is considered important, as the little hillock offered a clean view of the land. The Mount Everest was also finally measured and declared to be the tallest peak in the world as a result of this survey. George Everest had retired before that and so it was then named after him in recognition of his service. The house itself is not in a good shape now but there are talks about restoring it. My trip ended here as it was getting dark, but not before I got a few surreal moonscapes.
In case anyone wants to read more about the survey, I'd suggest John Keay's The Great Arc for a comprehensive account of both William Lambton (1823–1843) and George Everest (1823–1843) years of the survey.