I'd almost forgotten about this part from my #60daysofsummer trip. It was just an eventless crossing compared to what I faced at Sach Pass a couple of weeks later. However, yesterday I just stumbled in the photographs and so I think I should share them anyway.
I was leaving Spiti after a middling trip with some good experiences but also after a bout of AMS. This also made me wonder if I would be able to comfortably cross the 4600 meter high pass or not. I planned to reach Kullu and then go back to Lahaul the next day. It is interesting to note that while the Lahaul and Spiti regions form one district, there is no direct public transport between them. The buses run from Kullu or Manali. So from Spiti I had to cross both Kunzum and Rohtang, come back to Kullu, and then the next day go to Lahaul crossing Rohtang again. As far as Rohtang is concerned, it was full of tourist vehicles and although there were good views, I did not feel like doing anything out there. So, I am limiting myself to Kunzum which still has maintained its aura due to the nature of the road or the lack of it.
I left my hotel in Kaza early morning and rushed to the bus stand. I'd already had some problems with the buses in Spiti and this morning was no different. It was already full and I did not want to stand throughout the long journey through nonexistent roads. However, there was a small private van waiting outside. The driver noticed my hesitation and invited me and told me that he charges the same as the bus. So, the minivan left soon, packed with one American and many locals apart from me.
We crossed Losar village and then started the steep ascent. The midsummer freezing was not very comfortable but the gorges by the side of the road were getting deeper and it kept my spirits high. We reached the top only to find it covered in a thick veil of mist. But the driver stopped anyway for a short break and I got a chance to take out my camera. The chortens (stupas), Tibetan prayer flags, and Mani stones rule the top, as expected. There is also a shrine called Kunzum Mata temple, a personification of the pass. Such objects of faith are needed to keep going on such roads, especially for those who drive.
The descent on the other side was quick after the pass and soon we entered that famed area, which is a reasonably plain stretch but with non-existent roads. It is the valley of the Chandra river and the road also runs along the river bed and often both merge with one another and are interrupted by small hilly streams. The landscape was barren but occasionally herds of goats and sheep appeared, causing the kind of traffic jam that I din't mind and nor did the driver as he got a smoke break.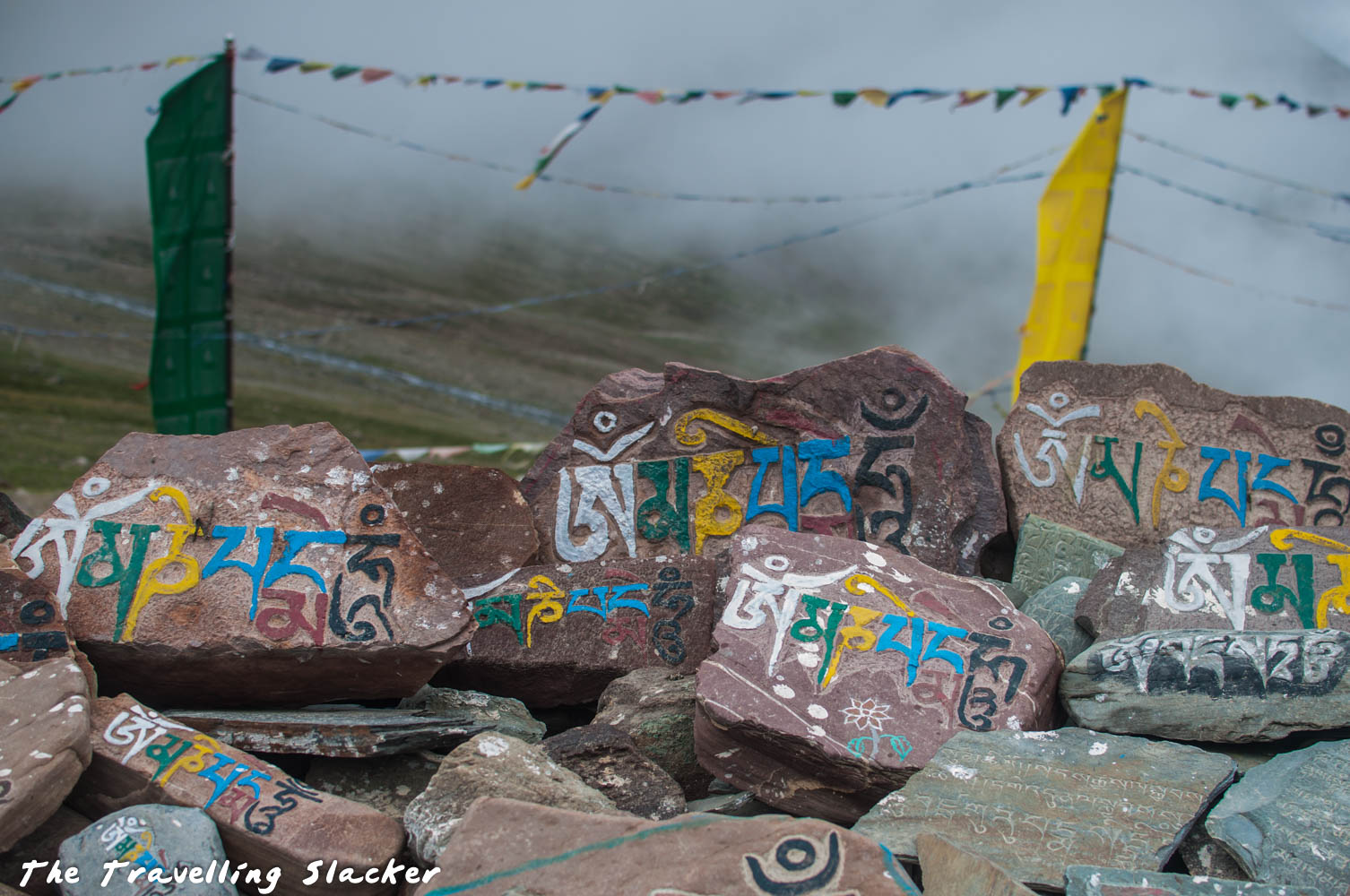 In between, we crossed the bridge at Batal and stopped for a quick lunch at one of the dhabas that are very popular among travellers. The journey continued but it lost the desolate charm as we neared Rohtang and the tourist vehicles from Manal gradually appeared. So, I should stop here today. The summer is coming again, there will be newer stuff soon.