No one really thinks for trekking when someone mentions Assam. The Brahmaputra valley dominates the conversation and even I had never really done serious trekking in Assam. So, finally I decided to set the records straight by doing the Sielkal Peak trek.
So, we reached Haflong the previous night after a diversion to visit Panimur Falls (more about it later). The plan was to start quickly the next morning.
Haflong has grown over time and there are many hotels and homestays nowadays. While we didn't have much time at hand the next morning, we did take some time to stop at a viewpoint and savour the view of the morning mist engulfing the town.
We were hurrying up because we wanted to complete a trek, and then to return to Guwahati by night. The Sielkal Peak was mostly unknown until recently but became famous during the pandemic years when suddenly people started visiting it to beat lockdown fatigue!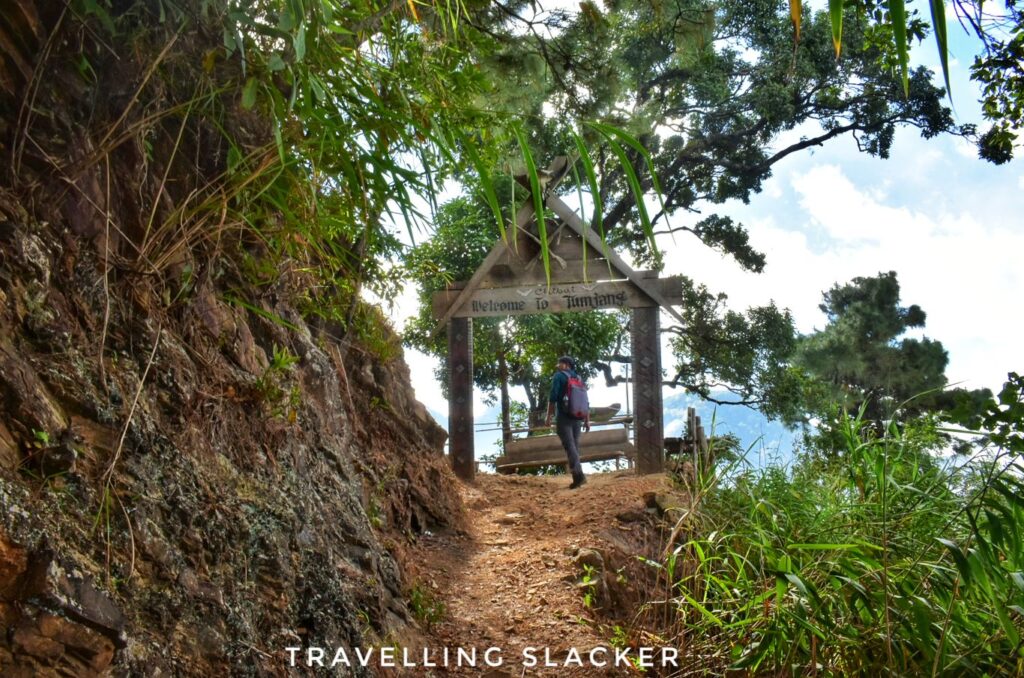 Anyway, the trek starts from a village called P Leikul, and passes through another village called Tumjang after an hour of trekking. So, some people use the term "Tumjang Trek" casually. However, the peak we were visiting is actually called Sielkal Peak, which is around 1500 meters high. There is another peak beyond it, which is apparently called the Tumjang Peak and is the highest peak in Assam at 1860 meters. We were only going up to Sielkal and you'll have to have more time if you want to go to the other peak.
So, we parked the car at P Leikul, which is a spacious village with a motorable road. It's around 64 KMs from Haflong, and 30 KMs from Mahur, which is the nearest railhead. Another point to be noted is that Dima Hasao has many other ethnic groups apart from Dimasas. This area around the trek is dominated by Kukis and both P Leikul and Tumjang are Kuki villages.
Anyway, we started the hike though P Leikul and initially gained some altitude gradually through a jungle trail. This stretch continued for 40-50 minutes till we reached a resting point with a gate mentioning "Welcome to Tumjang". This is actually the point where the route bifurcates. One has to go straight to reach the village but we took left, which was steep but short, towards the peak.
In another ten minutes, we reached a nice, flat surface dominated by pine trees. From here, the Sielkal Peak was already visible but the last bit of ascent seemed a bit steep. We had already gained some reasonable altitude and the clouds were moving both above and under us! Apart from the pines, the surface is dominated by thick grasses somewhat reminiscent of Western Ghat peaks. I could spot some flowers too although it was November and way past the blooming season.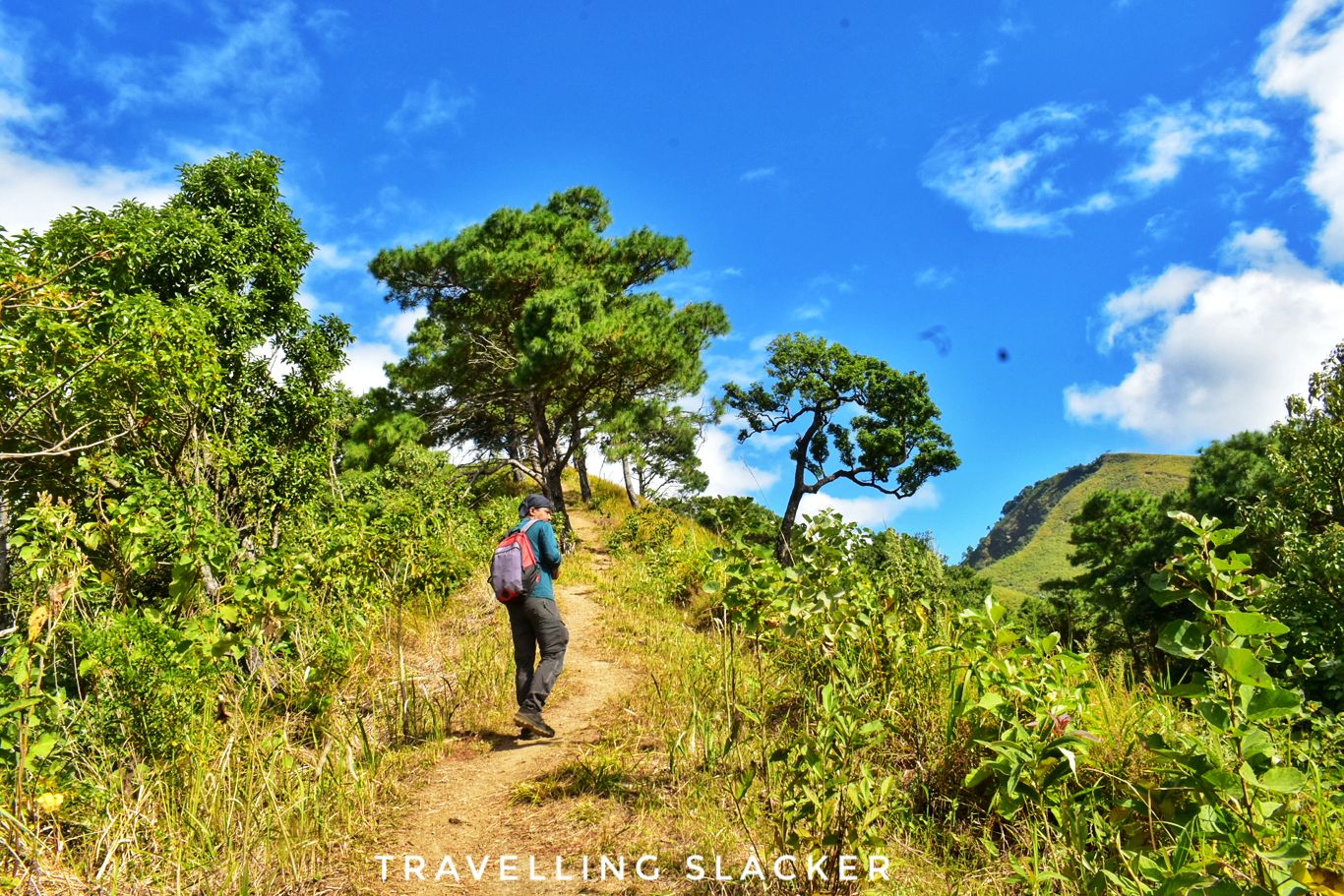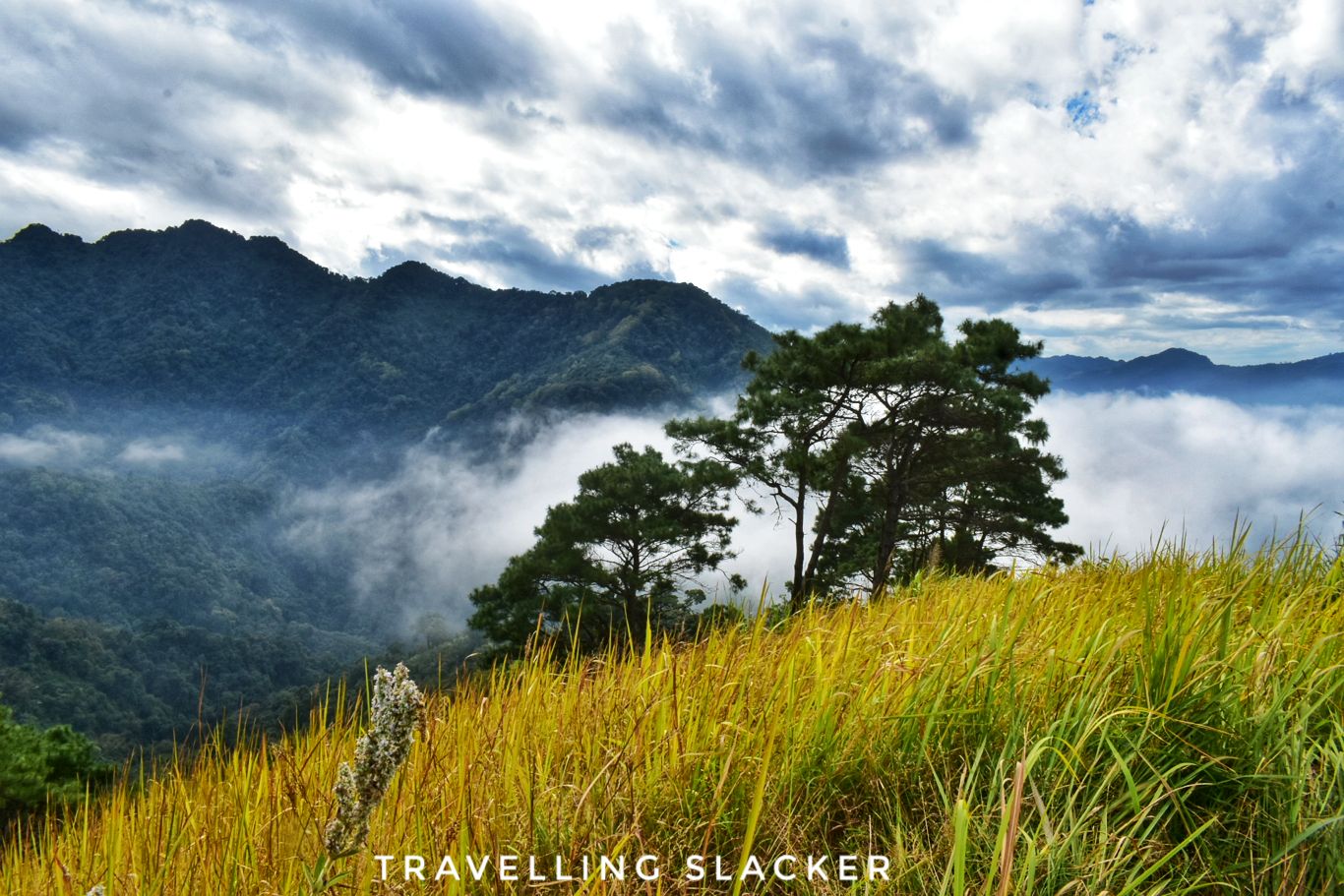 After spending some time clicking photographs, we started making the final push towards the peak. This part was barely 500 meters but very steep, and the steps where not very well defined. It was still fine in this season but it can be a nightmare during the rainy season.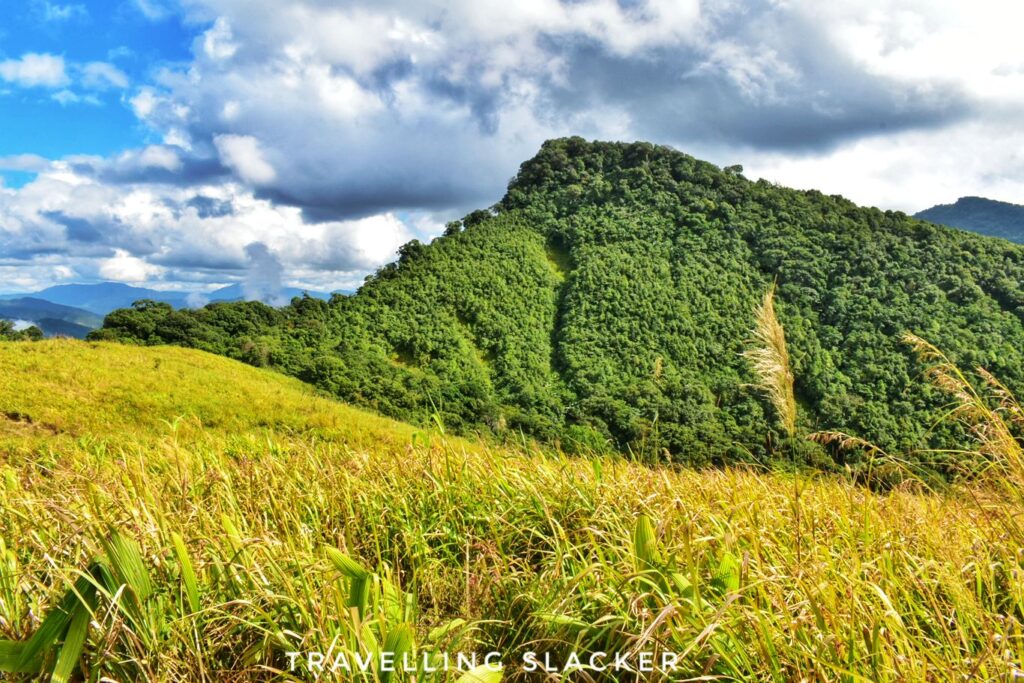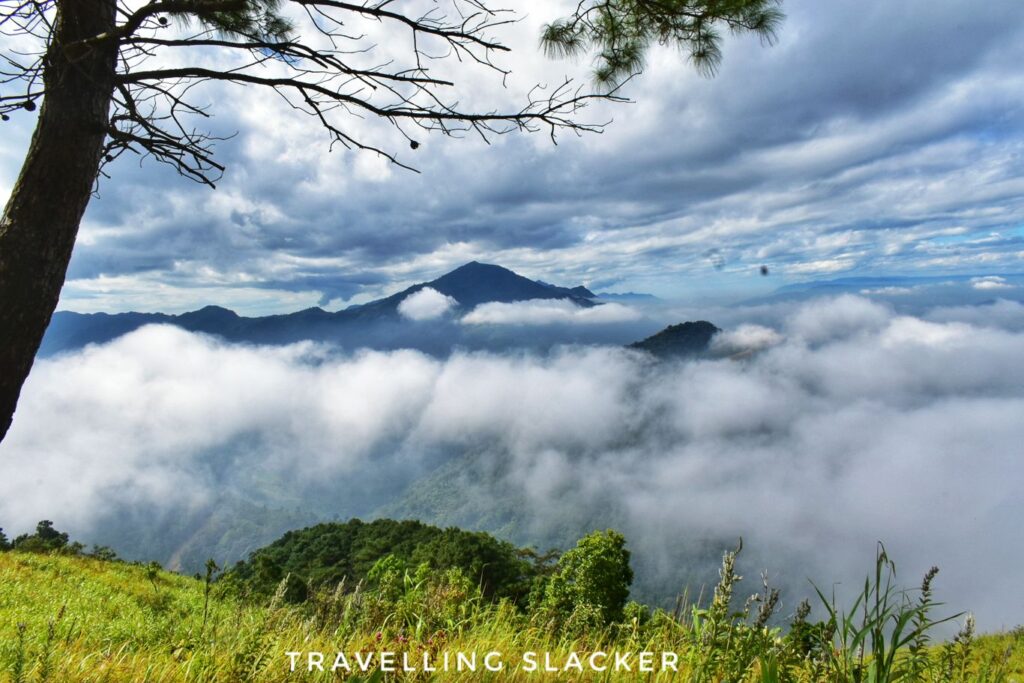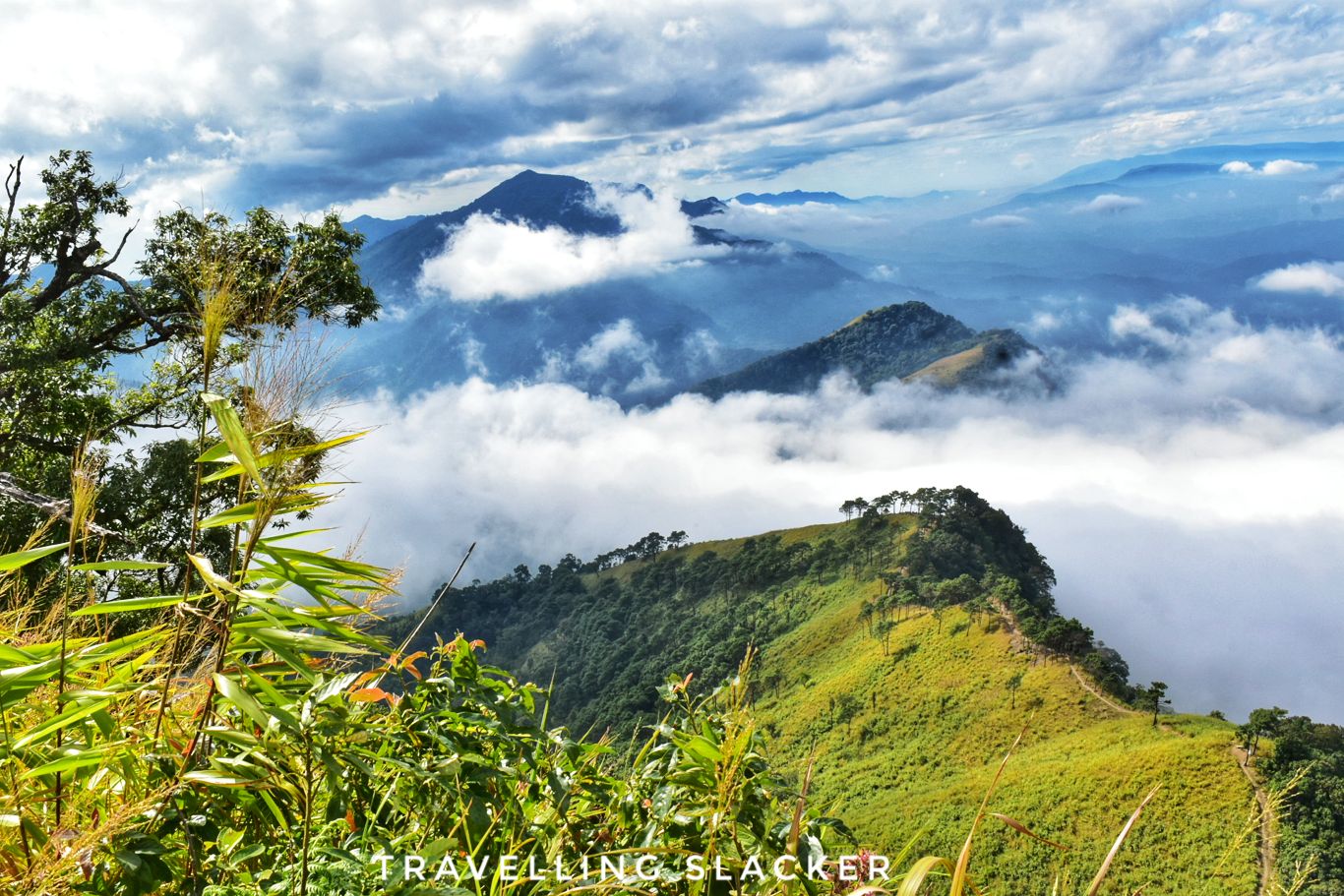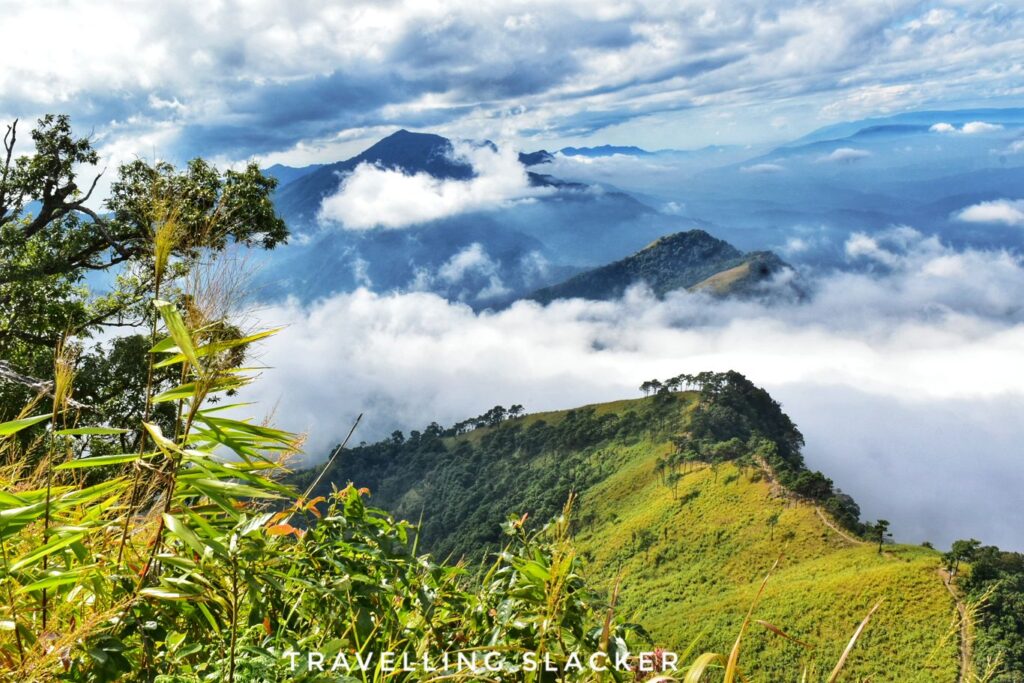 Anyway, after another 15-20 minutes we reached the peak. It had taken less than two hours in total, that too after lengthy photography breaks. It was one of the easier treks of my life. We enjoyed the views and clicked more photographs. A thick veil of mist kept obscuring the views under the peak but a sudden breeze cleared it for a while and even the village of P Leikul, from where we started the trek, became visible. We could also see the muddy Mahur river at a distance. The town of Mahur is named after this river. In fact, I could even hear the sounds of trains coming and going. Apparently they can be seen too on a clearer day but this was not the day for it!
We spent around an hour at the top and started returning. The descent turned out to be more challenging. As I have mentioned already, this final portion was steep and the steps were not well marked. It was somewhat slippery and so I had to do it very slowly. Nevertheless, it was the shortest part. After that we met a group of Dimasa youngsters coming towards the peak. They were dressed in traditional attire, playing songs of King (from Dilli, not Elvis) on Spotify and in the mood for a picnic. They shared sticky rice and maggi that they had bought for themselves. We enjoyed this brief respite after the hardwork, and then quickly descended back to P Laikhul by 2 PM.
So, it was a quick affair but I could see that the region is gradually improving. The roads are better now compared to a few years ago. I saw a few fancy restaurants along the road and I think a homestay in P Leikul will make this a perfect place for an active weekend. Should I try the other peaks in the region? Let me know.
I am also suddenly realising that I don't have a photograph of the small watchtower at the top. Similarly, there's no clear image of the view of the muddy Mahur river from the top. However, they do show up in the video. Please feel free to watch it.
Tumjang Sielkal Peak Trek Guide
What is Sielkal Peak Trek? Where is Tumjang?
Mt. Sielkal Peak (Sielkal Bung) is Assam's 3rd Highest Peak and it is a part of the Borail Range. Sielkal is a 1500 meter high peak in the Dima Hasao district of Assam. Tumjang is a village enroute so sometimes people use the term Tumjang Trek. Don't get confused by the name.
What is the nearest roadhead?
The main village here is called P Leikul, till where you can drive and then you can start the trek. Tumjang Village is located higher up and can only be reached with trekking.
How to reach Sielkal Peak Trekking point?
As mentioned before P Leikul is the main village here which is around 64 KMs from Haflong, and 30 KMs from Mahur. If you are driving from Guwahati, you don't even have to reach Haflong. You can get to Mahur and then take a diversion to P Leikul.
Can I take a train for Tumjang Trek?
Mahur is also a rail station in the Haflong route. So, you can take train from Guwahati and reach Mahur and then look for some local shared car to reach P Leikul.
How long is the trek? How much time does it trek?
It's a short trek of 2-3 kms. Depending on your speed, it can take anything between 1.5-2.5 hrs.
Difficulty level of this trek?
It's mostly an easy day trek. Only the last 500 meters is steep and can also be slippery. So make sure you have good shoes and a stick can be helpful too.
What's the best season for this trek?
While you can do it throughout the year, it looks more vibrant during the summer and rainy season (but carry protection for rains). I did it in November, it was dry but pleasantly warm. I'd personally suggest avoiding the dry and dusty days of late winter – early spring.
What are the other peaks in this region?
The highest peak of Assam is the 1860 metre (ting-tu-bung) commonly known as Mt.Tumjang peak, which can be reached by trekking beyond Sielkal. Also, there is the Mt. Hempupet, the second highest peak in Assam at 1748 Metres which is also in the same region.
Do I need a guide?
It's an easy trek that can be done on you own but reaching the village can be a bigger challenge. If you are unsure, you can contact a local operator (let me know if you need contacts).
Food and water en-route?
It'll be better to carry some water and light bites. You are unlikely to get anything up there
Phone network in the area?
Network was mostly working on most parts en route except a few points here and there.