While Kheerganga is a popular trek, it has become a bit too popular for its own good. My experience out there was not very satisfactory due to the crowd and squalor up there and I have already recounted my Kheerganga experience here. However, Bunbuni (Boonbooni or Bun Buni) Pass and Glacier is a small detour in the same area that remains minimally touched by the tourism boom, probably because the trek is a bit harder. So, here is a guest post on the same by Nishant Gill.
———————————
I reached Kalga around 4 pm. It felt like it was gonna get dark soon so I decided to save my strength for a trek the next day and relax at the café in the Guest House I was staying in. The guest house was a two storied building with the cafe and kitchen on the ground floor and rooms on the first and second floor. The guest house was being run by two hotel management graduates who had gotten fed up of working regular jobs and decided to lease the building to run their operations in kalga. Its fairly priced and my stay there was very comfortable.
Although I said that my stay at the guest house was comfortable, it wasn't the case on the first night. There were some tourists from the neigboring state (clue: 83% of India's hiphop stars come from here), staying at the guest house, drinking and playing loud music. The floors of the guest house were wooden and my room was right above the cafe area where they were partying and so I could hardly sleep. So, I had thought I'd change the guest house as soon as I wake up. But the next morning I woke up and saw the noisy group packing their bags and leaving. Guess the weekend was over so was their stay. I didn't have to change my guest house and everything was pleasant thereafter.
I met a Hungarian man (Peter), who is somewhere in his mid 40's. Peter and I got to talking and since we both were trekking enthusiasts we decided to trek together to this place called Boonbooni (Bun Buni Glacier) the next morning. It lies at about 3800-4000m height. There isn't much information about this trek route on the internet. It can be done either from Kalga or from Kheer Ganga. One could also trek from kalga to reach boon booni glacier and then trek down to kheer ganga which is a small trek. We didn't know how far it was or how long it would take for us to reach the glacier. So, we decided we'd trek until 3:30pm and then start heading back.
We woke up at 9 am, had breakfast and prepped ourselves to start our trek. It was sunny and a beautiful morning to do to an intense trek. We left the guest house, and while we were crossing one of those tiny streams which flow through the villages in these hills, I twisted my ankle by tripping on a wood which was meant to assist people to cross the stream. I took a few seconds to come to terms with what had happened and further assess the situation. The situation was that I had just three more nights in kalga and I really wanted my lungs to open up a little (Things Delhi people want when the pollution is at its peak and you can escape it for a few days only). So, I got up and painfully made my way to the back of the village and up a trail leading straight up the hill.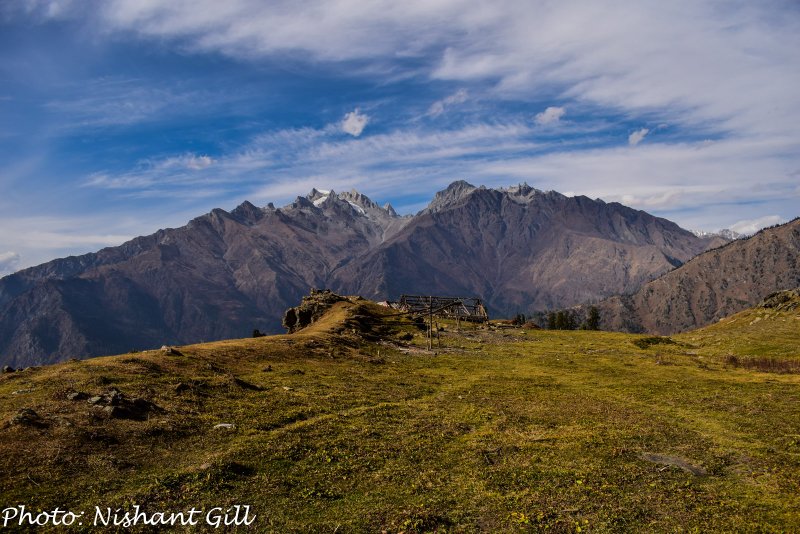 In the beginning of the trek, I asked Peter to go a little slow as I was hurting and could go on only very slow. But his slow also was very fast with my injured ankle. I kept running out of breath for the first half an hour. We were following a verbal guidance to the glacier. We had been told that when we will reach the first small lake (a dirty green big puddle of water) followed by a  meadowy ground, to go towards the left of the hill. By this point my network had stopped working. Peter's still worked. We could see boonbooni on google maps and kept checking if we were headed in the right direction. We reached the meadowy ground in about 45 mins and rested there for about 20 mins or so while we had fruits and nuts and listened to a few songs on my phone. After we started again, I kept on a slow but steady pace thus not losing breath at all and not taking any pauses in between. I asked Peter to go on at his own pace and that I'd keep following him. I found a sturdy peace of waist length wooden stick to aid me. Its hard to find those in the higher mountains and there are mostly bushes and pine trees only.
We kept encountering shepherd huts in a group of 2-3 on the way which the shepherds use in summers and monsoon when they go to the high meadowy areas to graze their stock. The huts were also a way to keep an eye on the trail as correct trail always led to more huts and small lakes around them. So I kept following the trail and I'd see Peter not very far in the distance whenever I'd hit the open grounds. Wherever there was no direct sunlight for long, the streams were half frozen already.
This was the last of when I saw Peter before he went past the trees and I could not see him any longer. This was around 2:30-2:45 pm. I must have lost the trail at some point because the trail I was on had started to go around the hill through a thick forest and I knew I saw some more huts up the hill towards my right. So I made my way back to the hills. It was about 3:30 pm. My ankle was paining a lot at this point and I had no energy to go any further and I knew I had a long way back. From where I stopped it was about an hour and a half more to reach the snowline. I could not see Peter anywhere. I figured he had gone further. So, I waited. I tried giving him a few shouts around 3:45 but didn't hear anything back. I started to head down at 4 pm. I soon reached that tricky part of the trail where I had first lost it. I tried to follow a trail but then there were too many trails and I knew I had again lost the way. So, I decided to go back to that tricky point again and try to find the right trail. Luckily, I stumbled upon Peter, who also had lost the trail. I was so relieved to see him.
At this point it was 4:30 and the sun had already gone down behind the hill and we had started to lose the light already. I have a shitty phone with no flash, I had no torch or matches or a decent jacket even and it had already started to get chippy. Peter had a headlamp and a flash in his phone. Peter started to head directly down a hill and I followed him with a doubt in my mind. In my experience, going off a trail and heading directly down any hill is always a bad idea. This we realised after continuing to go down for about 15 mins and the way down kept getting steeper. So we stopped, looked at each other and decided this isn't the way to go. We started to head back to the same spot we stumbled upon each other again. It took a huge effort from me to reach back to the same point as it was really steep and I was in immense pain by this point. But the pain wasn't what was on my mind. It had become 5 pm and we had lost most of the light and we had to get down somehow before night.
We went around the hill in search of the trail. We finally found it after about 15 mins. At this point there was no stopping. Even for me with the injury. It got pitch dark as soon as we entered the forest. It was about 5:30. Peter put on his headlamp. I didn't use anything yet as I could still make out the trail very little and I wanted to keep an eye on the surroundings also. With the flash or the headlamp one could only see the spot where the light fell. But after being in the dark for a while theses adjust a little and I tried to keep an eye around to see if at any point a brown bear gave us sudden company. We had been going on for more than an hour at a very fast pace down the hills in complete darkness. We started to get signal and we saw Kalga on the maps and knew we were headed in the right direction, but there was still a long way left. After a while we saw some distant lights and were relieved that we were close to civilisation. It us about another hour before we finally made it down to the village by 7:15-7:30. Extremely exhausted. Feeling lucky to have made it alive. I had developed a few boils in my palms because of holding the stick too tightly to take support for my right ankle. By the time we reached the guest house I was barely being able to stand on my feet. Because of the twisted right ankle I put too much pressure on my left leg and by this point the left legs muscles pained equally.
We had a some tea and a warm dinner and some whisky to celebrate making it back alive!
Bunbuni Trek Guide
What and where exactly is Bunbuni (Boonbooni)?

Bunbuni is a small glacier and pass on way to Kheerganga. As you can see from the map, there are multiple ways to reach Kheerganga. People usually take the other routes that are shorter and easier. However, you can take the route through Bunbuni if you want some serious adventure. It is located at a higher altitude than Kheerganga.
How to reach Bunbuni?
From Kalga, you can climb up to Bunbuni, and then go down to Kheerganga. You can also do it the other way round. In this post, the author just went to Bunbuni from Kalga and came back the same day because he had done Kheerganga before, using the smaller route.
How long is the trek?
From Kalga to Bunbuni is around 8-9 KMs steep trek and takes 5-6 hours depending on fitness levels. From Bunbuni to Kheerganga is another 4-5 KMs and takes 2-3 Hours going down. If you are coming from Kheerganga side, it will take 3-4 hours to reach the top and 4-5 hours to come down to Kalga. If you plan to do the whole distance, keep these numbers in mind and start very early in the morning.
Can one camp in the area?
There are spots where you can camp. Look for the shepherd huts. However, do note that no additional facilities are available in this route.
What is a good season for Bunbuni Trek?
These pictures from an early November trek. There should be no issues during summer months. But be careful during extreme winters of Dec, Jan, and Feb.
Additional Resources