It was not on our list. We didn't even know about it when we first made the plan for Garo Hills. But as we entered Garo Hills, we started coming accross various Fish Sanctuaries. My mental image of a fish sanctuary was some boring, artificial ponds with stagnant water, maintained by some status quoist government employees of fishery department. However, Jadesil (Jadisil) Fish Sanctuary is none of it.
It was the day after Wari Chora. We had a good sleep after a major adventure. We had to reach a different place for the night but we had the first half for some additional adventures. So, we proceeded towards Jadesil.
We actually took the same route as Wari Chora for a while form out homestay at Emangre till that bridge where one has to take the left turn. Instead of taking that turn, we went a bit ahead and stopped the car as our guides told that we'll have to walk from here.
So far, it wasn't looking very exciting till that point. We left behind what probably looked like an school and reached the river bank. Actually expectations were so low that a couple of guys form out group decided to simply relax and take a bath in the cold water while enjoying the November sun (they regretted it later).
I was was thinking of I should join them as we left the shoes there and started walking barefoot along the rocky bank of the smaller stream that joins the larger river at that point. It was a difficult walk for five minutes and then a difficult river crossing as the river was reasonably strong and almost waist hight at the middle portion. Anyway, we did that one by one and reached the other side of the stream, where I could see manmade stairs going upwards.
Within a few minutes I climbed up the stairs and finally saw the sign board and learnt the formal name of the place, Jadesil Fish Sanctuary (we had been only told "Fish Sanctuary" by the locals till then).
Still, there was nothing visible but the guides asked us to keep going. After another few steps, finally I could see the path going down again, this time towards a turquoise water body! So, the hardwork was not for nothing!
These fish sanctuaries are a result of some conservation attempts by the department of fisheries. Overexploitation has started to depopulate these rivers and that is why this novel initiative was conceived. Instead of building stagnant tanks, it just uses the naturally hilly streams and strategic locations here are used for breeding fish. Such points have flowing but comparatively still water. Fishing is banned in and around these areas and there is a heavy fine in case someone breaks the rules. As a result, it now works both as a sanctuary as well as a tourist attraction.
So, we crossed the water at one point to reach the bigger rocks. We could already see small fishes all around but the bigger fishes were in the deeper and greener area. The streams comes here from higher up, forming a small waterfall, followed by a deep pool where one can see and even swim with the fishes, provided you don't harm them. In fact, I have seen people shooting underwater videos here rivalling those scuba divers as the water is crystal clear here.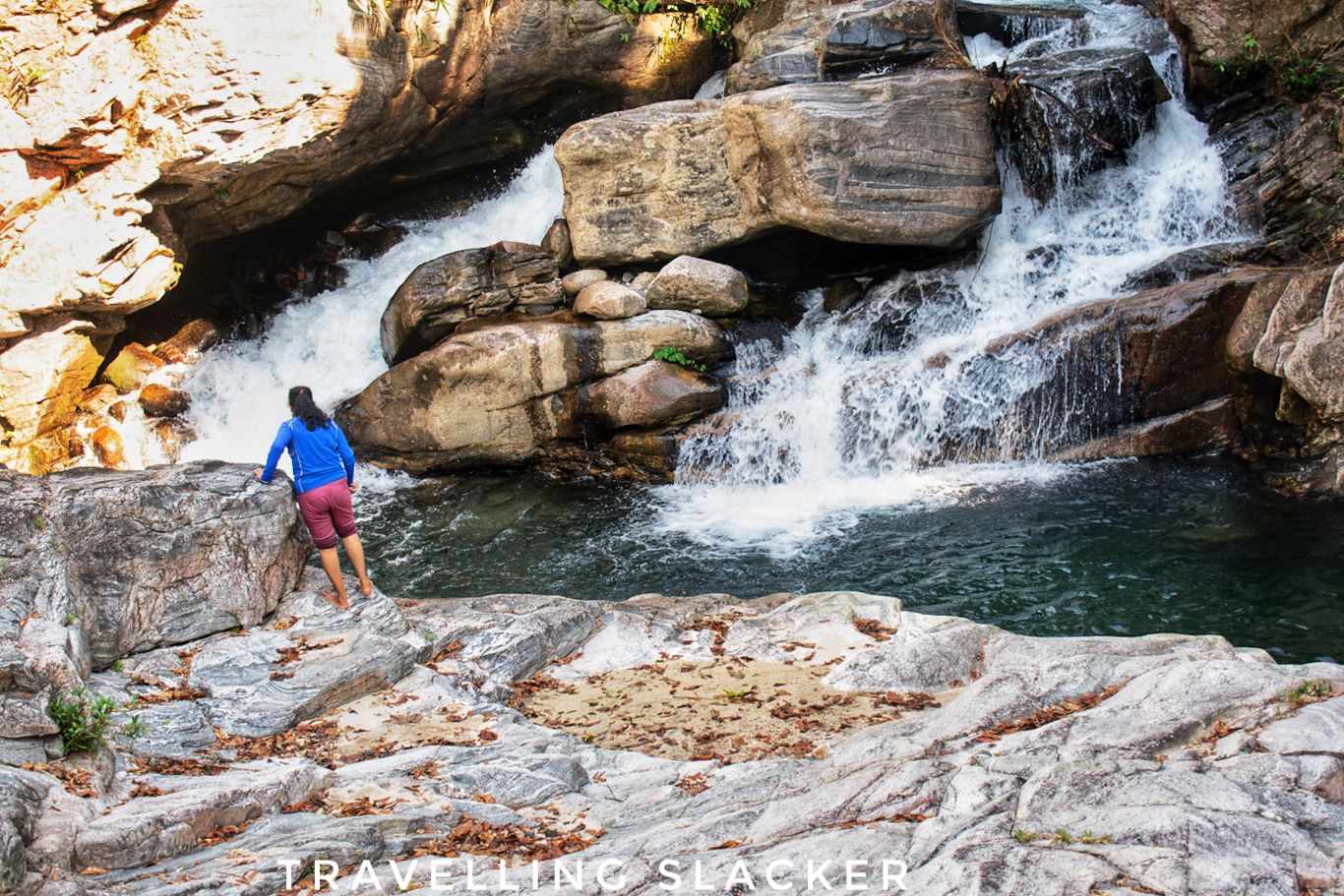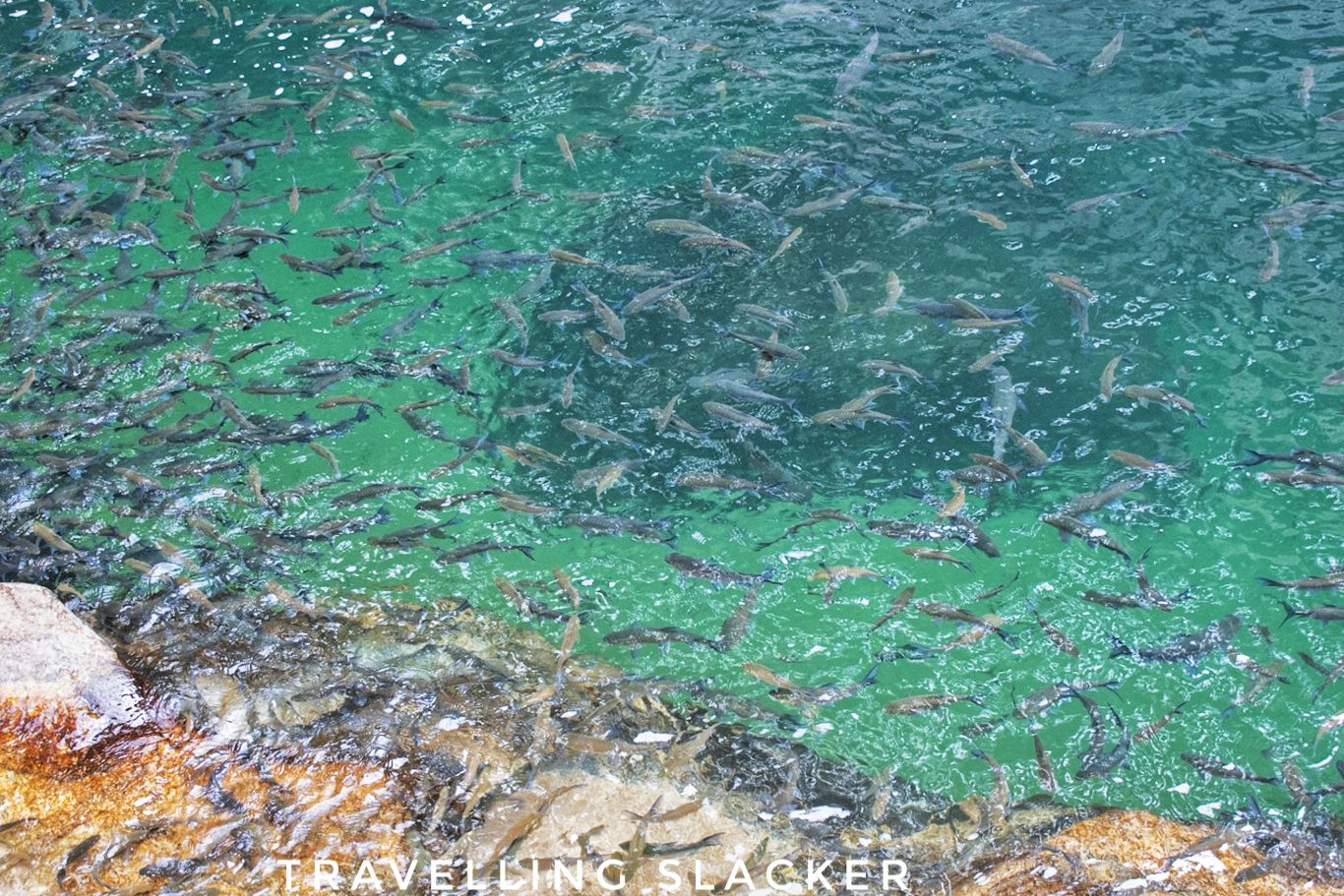 So, we spent next couple of houses enjoying the views. It'll be better for me to just post some more images.
Before winding up, I just want to add a few words of caution for the locals. I visited this area a few months ago and had a great experience. But now I can already see it becoming like Kheerganga!
I don't want to sound too preachy. I am also part of the crowd. Tourists will come when they get to know about it. So, in order to protect such pristine areas the local administration should be a bit careful. Maybe having a cap of for number of visitors will be a good idea apart from strict anti-littering rules.
Video Footage for Jadisil
How to reach Jadisil Fish Sanctuary?

It's near Emangre and Tolegre villages, a small diversion from the road to Wari Chora. It's better to go with local guide.
Further Reading: Garo Hills Travel Guide