It was already 3 pm by the time we reached Sari Village. It had taken more than eleven hours to cover less than 200 kms. Although it was only expected in Uttrakhand, we were tired and exhausted. The next day was already earmarked for Chopta. So, we fixed accommodation for the night and started moving towards Deoriya Tal, hoping to reach there before dark and come back on time for dinner.
Sari is a fertile village. The slopes, as well as the plains, have been used well for the cultivation of various crops and the view of the village from a distance reminded me somewhat of the Karsog Valley.
The Climb from Sari to Deoria:
It was supposed to be a quick 2 Km trek, more of a warm-up for a bigger trek at Chopta. But after a sleepless night and almost 15 hours of journey, even that began to look tiresome right from the beginning. We crossed a small temple that was playing religious music imitating popular Bollywood numbers. It somewhat diluted the aura of the place but the sound soon disappeared and even Sari was nowhere to be seen after half an hour.
Parts of the vegetation were not yet in full bloom. It was the start of May but in those parts, winter was only getting over. I noticed rhododendrons about to blossom. They are of course the hallmark of Chopta, our next destination. But they are visible in this trek too although in lesser numbers.
After a desperate yet spirited surge, we finally saw the horizon over the hills and thought the trek to be over. But just at that moment, we saw another trekker coming down. He said there that it is a still a Kilometer away although we found it hard to believe. We'd been trekking for an hour already. Had our pathetic urban lifestyle left us incapable of having a sense of distance too?
Anyways, we pushed on and finally came across a couple of small eateries marking the entry point. The lake is still a few yards from there and a signboard mentions the amount of money to be paid for entry as well as for the camera. But the good news was that there was no one to collect those fees. I am not sure if it was by design or we were lucky to reach there after office hours. For once, there was no need to complain over bureaucratic confusion.
The Deoria Tal in itself is a very small lake. It is more of a pond. But the spacious lawns surrounded by dense vegetation around it make it an excellent spot for camping, sighting distant mountains and star gazing. Local legends associate it with certain events of Mahabharata. We did not spend much time out there but there was a certain serenity that comes with a combination of desolation and mythology. We felt it and were invigorated after a tiresome day.
Deoria Tal Travel Guide
How to Reach Deoria Tal?
To reach Deoria Tal, first you have to reach Sari Village which is 12-14 kms away from Ukimath, which in turn is around 40 kms from Rudraprayag, which in turn is 140 KMs from Rishikesh. You will find shared cars at Ukhimath going towards Sari. They should not cost much per head although I don't remember the exact amount now. From Sari, it is 3 KMs (1.5 hrs) to Deoria Tal.
Trek to Sari Village from Mastura
Alternately, there is also a trekking route to Sari Village. It is a steep trek to Sari Village from the main road, that starts from a village called Mastura (see the map above). This is a beautiful stretch of terrace cultivation. I never climbed up through this route but this year I climbed down to Mastura through this route and then hitched a ride on the main road.
Where to Stay at Sari?
Back in 2014, there were only some basic accommodation options at Sari. Most of the locals were already involved in tourism as trek guides and they also offered rooms and food at nominal rates. We stayed in a room of INR 400 for two. But this year (2018), as I visited again, I noticed that things have drastically changed (Did my posts play a role in it?). There were more homestays and restaurants and they were also charging much more than usual. I even noticed a new fancy cottage slightly above the village that charges INR 4-5K per night! I am happy at the economic development of the locals but sad for the budget traveller community!
Nevertheless, do try local Garhwali food in the village. Just ask at the local eateries.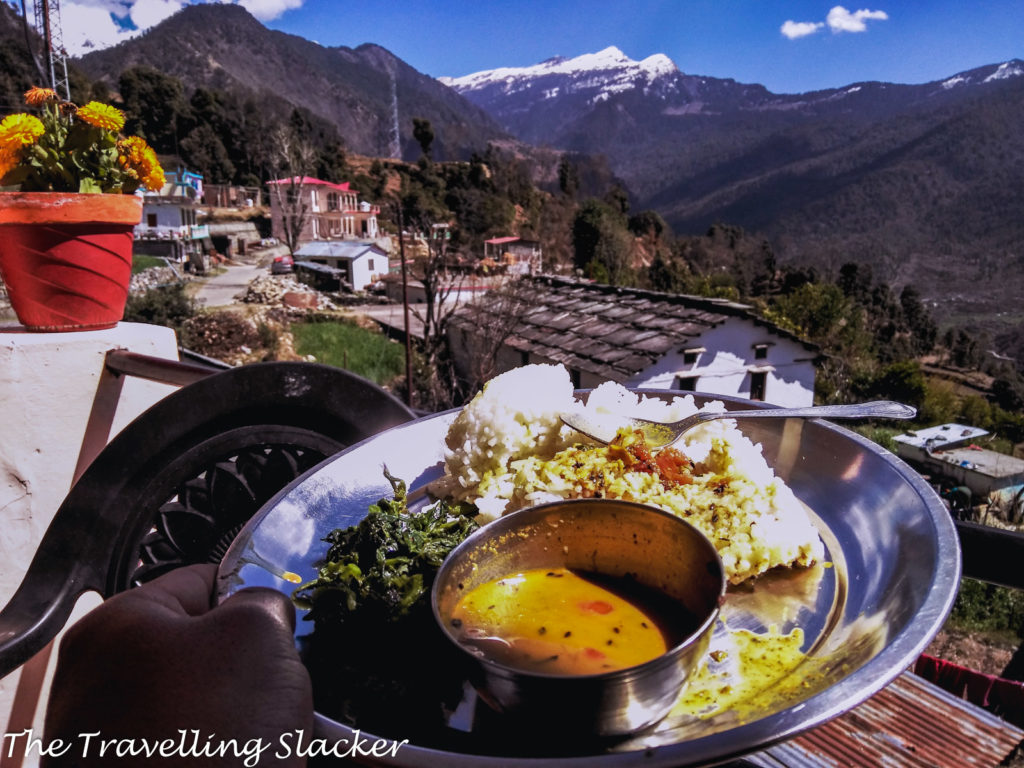 Camping at Deoria Tal
This can also be arranged by the same people at Sari. You can get tents set up near the lake and spend the night. It is useful because generally, you get the best reflections of the Chaukhamba on the lake early in the morning. Since I never camped out there, I have always missed this view.
Transportation from Sari to Chopta
Transportation is a bit problematic here. Up to Rudraprayag it is easy to get buses or shared vehicles. After that you will mostly have to rely on shared vehicles to Ukimath as buses are infrequent and the roads are also not in good shape. You will have to hire another local car to reach Sari.
Rohini Bugyal: Sari to Chopta Trekking Route
This is something I have not been able to do due to time constraints but it is possible to trek further up from Deoria Tal, reach a meadow called Rohini Bugyal and descend from another side to Chopta, instead of coming back to Sari and going to Chopta by road. If you have time, explore this option.
Can I trek to Deoria Tal in the winter?
Yes, in the winter in becomes a nice snow trek although I have not done it in the winter so far. Imagine the same landscape covered in white in the winter.
Where to go after Deoria Tal?
Deoria Tal is just the appetizer for the Chopta Tungnath region. After this you can do the Chopta-Tungnath-Chnadrashila Trek, Kartik Swami Trek, and Anusuya Devi Trek among others. You can check my complete Chopta Tungnath Area Guide for details about all the treks.
Can you connect us to a guide?
While I trekked without a guide, you can surely hire one from Sari Village. They can also help you arrange for camping equipment such as tents and sleeping bags and take you to more remote areas that you cannot do alone.
I can suggest Umendra Singh Negi for this purpose.
Phone 8958647802/9456534062
Email [email protected]