Beatles Ashram (Maharishi Mahesh Yogi Ashram) in Rishikesh is the place where the Beatles spent several months, composed many songs, and explored spirituality. It was later abandoned and forgotten for three decades. However, Beatlemaniac artists kept sneaking in and painting the walls. So, now it has been reopened for public and the main draw is a series of surrealistic graffitis created by artists all over the world. This monsoon, on a rainless, hot, and humid evening, we paid a visit to it. However, my first trip in Uttarakhand after more than two years din't begin in a very enticing manner. I'd chosen the wrong moment, and did so hurriedly. Nevertheless, I realized soon that it was that time of the year when the "kanwariyas" visit the town to carry back sacred water of Ganges to their native places. So, the streets were overcrowded and the hotels were full too. As a member of the urban middleclass bourgeoisie, we were probably closer to the cold westerner of Twain rather than the true blue spiritual Indian. So, ths carnval tired us off soon.
It was evening but the roads were still packed like local trains of Mumbai. We wrestled though the crowd and left the town to enter a stretch covered with dense vegetation. This stretch would have been enticing otherwise, but during that period, even the jungles trails were full of people. We missed the entranced at first, as there was no real signage. Also, Google maps was somewhat misleading. The road it was showing never existed. Anyway, after some cofusions, we took a small trail through the jungle and finally arrived at the entrance with forest department signage and no mention of our favourite Band.
Actually these jungles are a part of Rajaji National Park. Not sure how the Guru managed such huge tracts of land inside the jungle but anyway now it is back with the forest department which is trying to turn the site into a tourist attraction. There is a ticket counter at the entrance and the prices seemed to be a bit higher than expected at INR 150 per head (even higher for foreigners).
Inside, the first thing we saw were a bunch of dilapidated, cave like, but man-made structures that looked more sutable for hobbits. These were places for meditation, now in a decaying state. But the view of the Ganga is great and one can imagne that the setting was good for meditation. There was a dlapidated house too, probably used for residental purposes.
But so far there were no sign of graffits that we'd heard of. We let those meditation caves and started walking towards the other side. There were more dilapdated houses but finally we started noticing the graffities here and there. Although the place has been reopened, no real renovation has taken place here. Also, there were no other visitors at that time and so that eerie feeling was enjoyable but guess it will disappear soon as the renovation plans are executed.
Finally we reached what is now called the Beatle's Cathedral. It must have originally served as a prayer hall or auditorium. As of now, this is the primary venue for the graffities. There were the faces of Beatles themselves, faces of the various spiiritual gurus (not sure about ther identity), and varous other surreal patterns painted all over the walls, ceiling, and floor.
We spent an hour soaking in all the art. It was not completely dark yet. We thought there was nothing more to see but we notced a multistoreyed building in a comparatively better shape. Ths had more of them on every floor.
Finally we reached the rooftop and were greeted with another magnificent piece of art against the excellent backdrop of Garhwal Himalayas and the pregnant sky. A couple of hornbills appeared from nowhere and rested on a nearby tree for a few seconds. However, they flew away before I could click pictures. But I was't disappointed. We'd already seen enough for a day that din't start too well.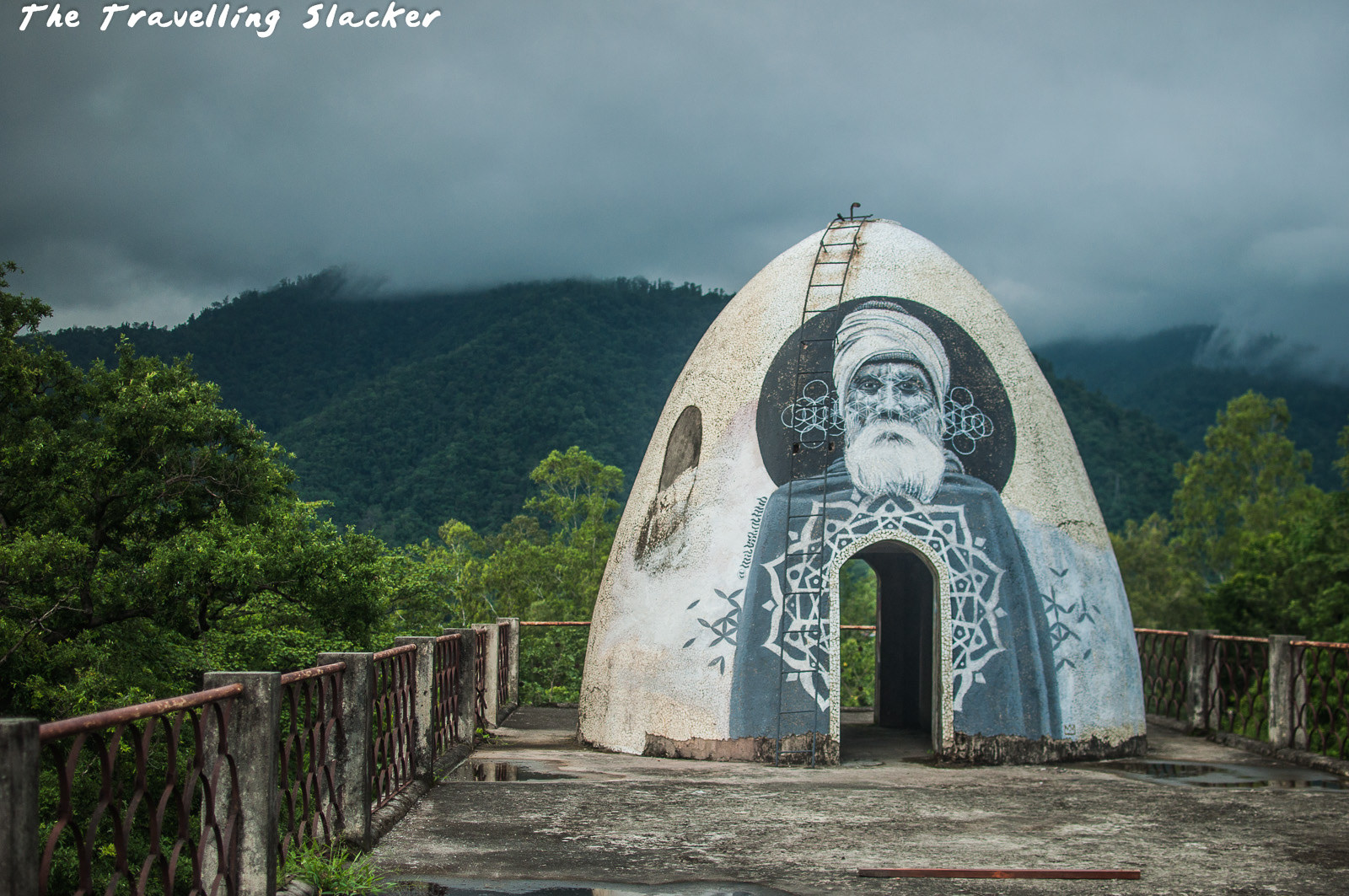 Traveller FAQs
How to reach Beatles Ashram?
It is on the right side of the river. The best way is to cross the Ram Jhoola and walk away along the river bank (Away from Laxman Jhula not towards it). Eventually the road will take a left turn. Keep gong and finally you wll reach a jungle area beyond the town. Take a right turn and you basically enter the Rajaji Natonal Park. However, do not get alarmed, it is a busy road and not a jungle trail. After awhile you should see an entrance with signage of the national park (NO menton of the Ashram) and a small trail going inside the forest leaving the main road. Take it and you will arrive at the entrance.
What is the entry fee?
INR 150 per head for Indians (yeah, a bit too much!). Student discounts are available in case you are one and carrying I Cards. Fees are higher for foreigners.