As I have mentioned already in my Garo Hills Primer… I planned to visit this area a decade ago and it never worked out. Balpakram National Park was my primary attraction back then, not because I knew exactly what is there but simply because it was so remote that it sounded exotic.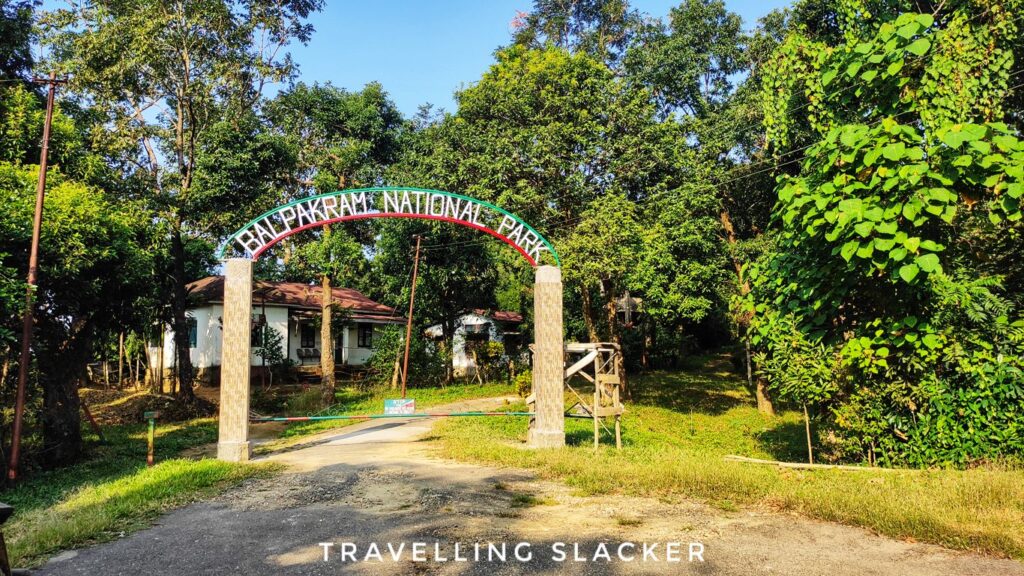 Even now, of all the main destinations in Garo Hills, Balpakram is the remotest and you'll have to set aside three days extra if you want to go there. We also ended up devoting more days here than we had expected, which eventually made sure that we had to give up on another attraction or two.
We had actually spent the night at Nongkhnum River Island in Khasi Hills. From there, we started early in the morning and met our guides at a point somewhere in the middle. They'd also brought two vehicles and the one that brought us from Guwahati left form there. Anyway, we had lunch and started again, only to face disappointment again!
The car broke down and it took several hours to sort it out and it was already dark before it could start again! So, we made a slight adjustment in the plan. Our overnight stay was organized at the IB in Baghmara town and then we decided to push at around 3 am instead of driving tired through the night, risking encounters with herds of wild elephants.
The stay at Baghmara was a relief after a long and problematic day but we got up at that ungodly hour as planned. The first hour or two were difficult as it was dark and cold and I was, along with a few others, were on the sideways seat at the back of an open Jeep.
Anyway, things got better by 5 am and we even stopped at a small village that I could never locate on the map. I was surprised that they were even cooking so early but do note that the sun rises in Northeast India much earlier and 5 am is almost the same as 7 am in Western India.
The road was not in a very good shape after this point. On the left side of the road was the impregnable jungle while on the right side there was the gorge that eventually met the plains of Bangladesh. There were lot of constructions going on too, making it very dusty. However, this made us hopeful that the road will get better someday.
Anyway, finally we reached the gate of Balpakram National Park at around 9 am and after some basic formalities, kept our stuff at the FRH. The car again drove us for another 4-5 KMs to finally reach a place form where only trek was possible.
It was a sunny and warm November morning. I saw a few birds but they mostly disappeared before I could click them. Large mammals were also not very likely to be visible around touristy trails.
So, I decided to shift my attention to plants and insects instead as we gradually moved along. Although it was not the real flowering season, I could still see various wild flowers while butterflies were aplenty too, along with some pitcher plants to consume them and maintain ecological balance!
We spotted many butterflies throughout the trek including the likes of Common Jezebel, Orange-tip, Albatross, Common Archduke, orange oakleaf and many others.
The trek itself was initially straight but after around and hour it became somewhat steep. James, our local guide, also showed is a small cave and encouraged us to go inside but it was a bit too narrow for such adventures.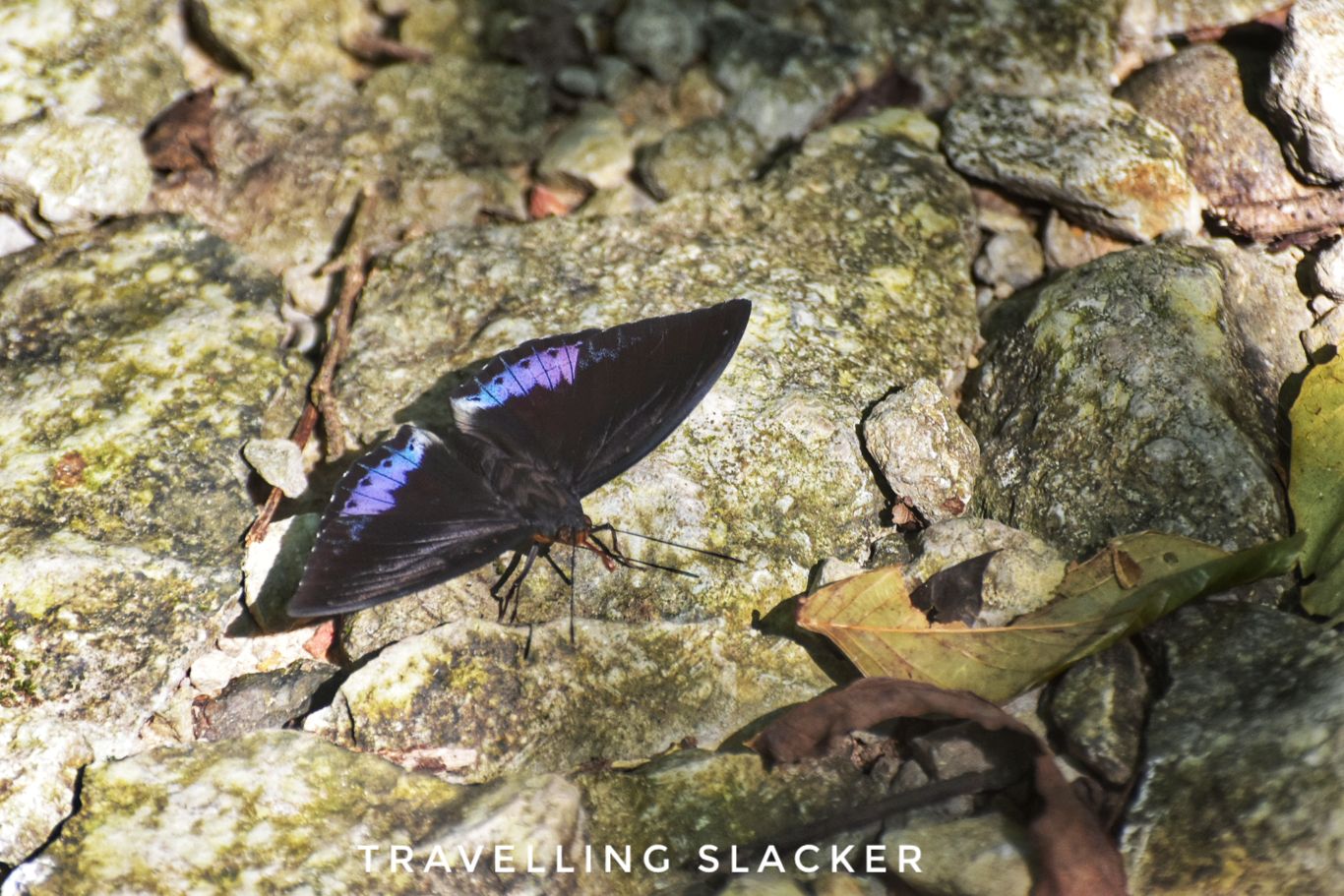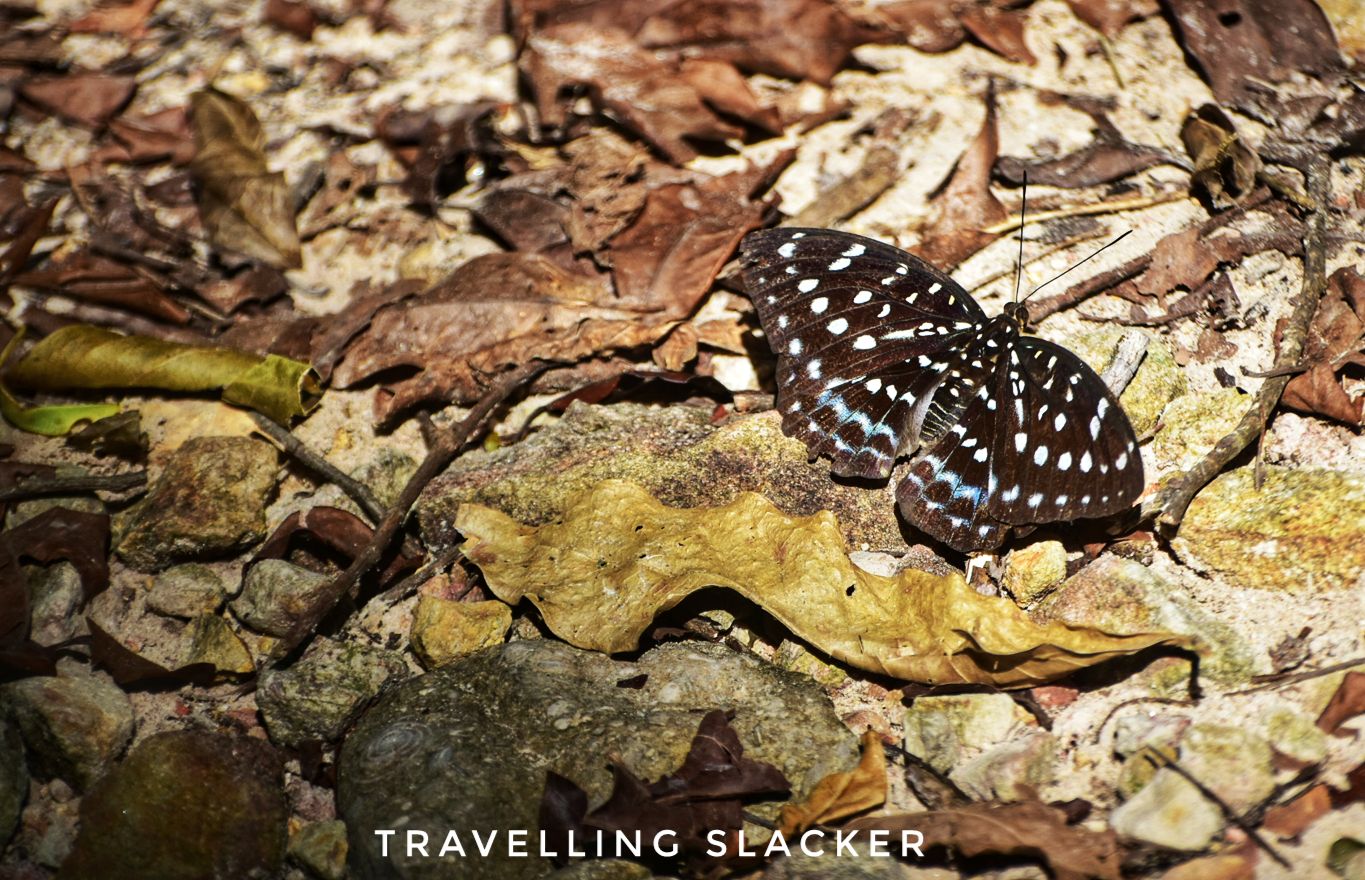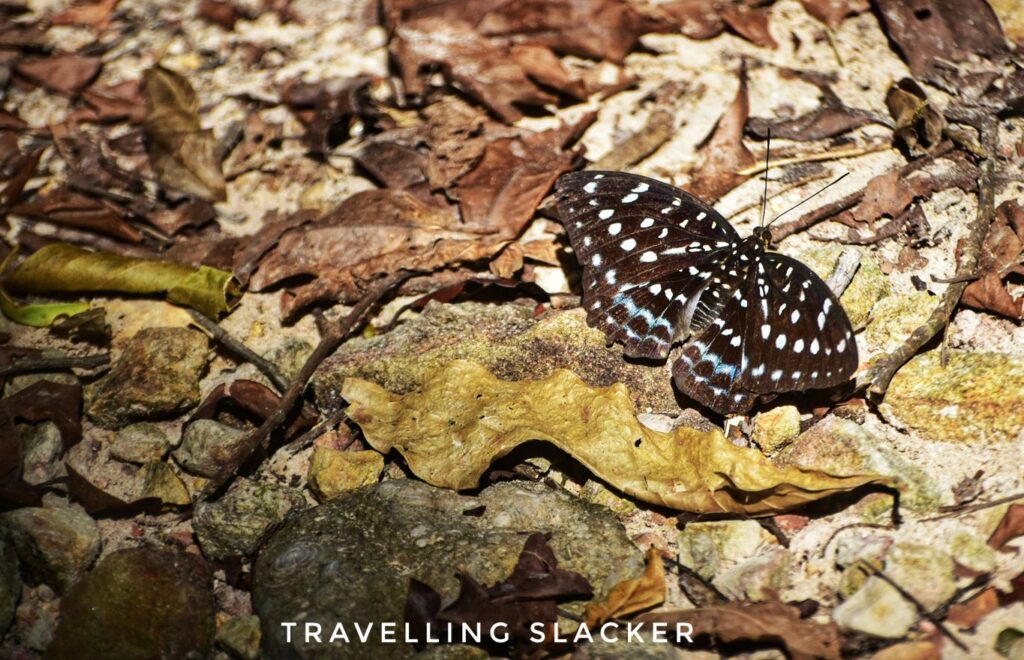 After around two hours, we reached close to the top of the Balpakram. This also meant that the large trees almost disappeared and we were on a plat rocky hilltop on a very sunny day. This is practically the heart of Balpakram, the place of perpetual winds and the resting place of the ancestors.
There's also a Hindu connect that believes that these hills were a part of Sanjeevani hill that Hanumat was taking with him. However, to be honest seems to be a later development.
Authorities have installed some stone slates on the rocky surface with descriptions of various local beliefs and stories. We enjoyed the views for a while and clicked photographs. The sun was too harsh so eventually we decided to return, which took another hour and a half. The staff was very enthusiastic at the FRH and they did prepare a good meal for us.
Anyway, this is what brings me to the somewhat more questionable part. The local guide, and practically everyone in this area recounts the story of Rajiv Gandhi, the then PM landing exactly at this spot and declaring Balpakram as a National Park.
It's good that the region got due recognition but should they have turned this sacred and ecologically sensitive place into a Helipad for a VIP? This is not only about this place alone but such things happen all over India. What do you think about it? Let me know in comments.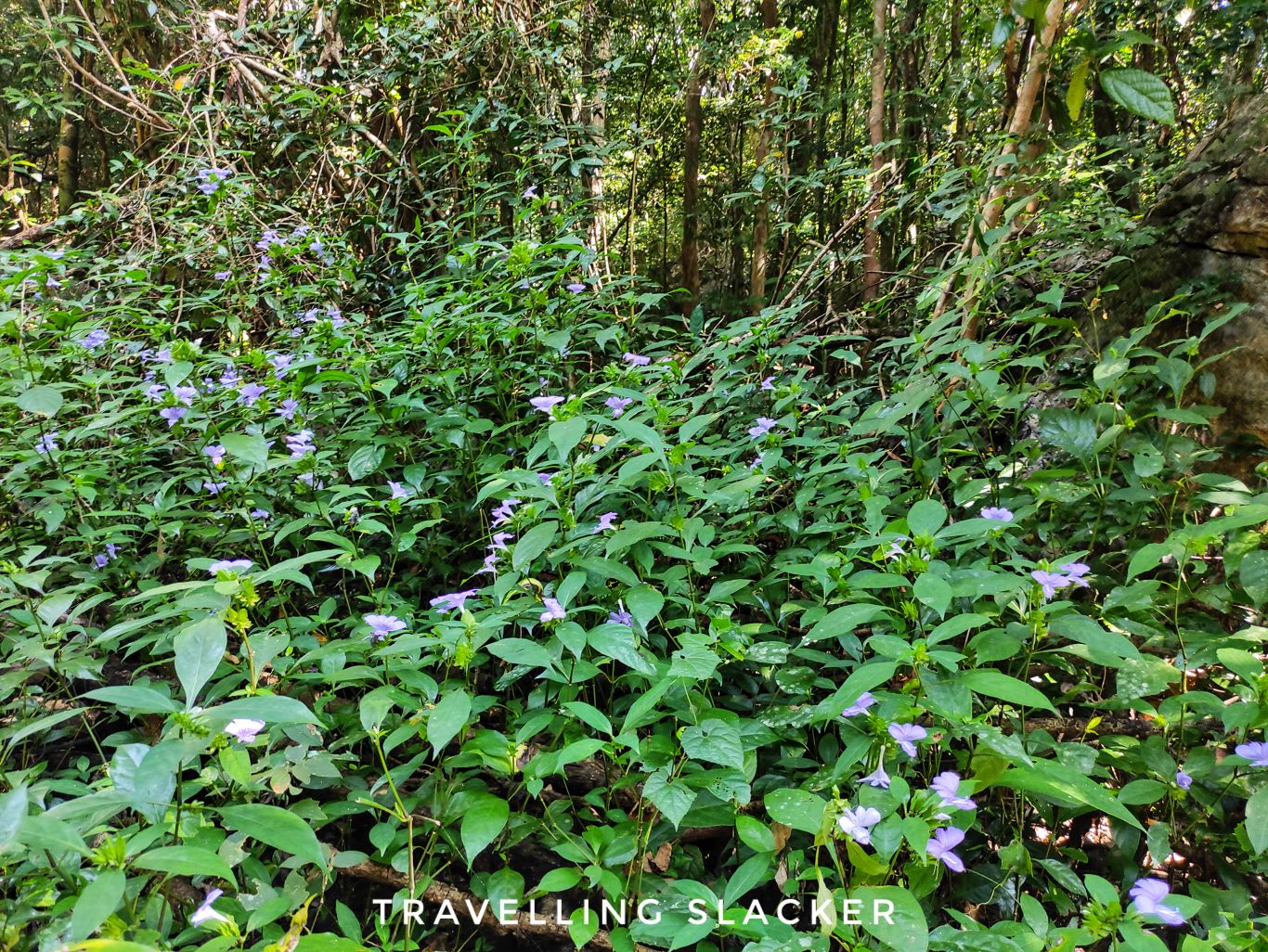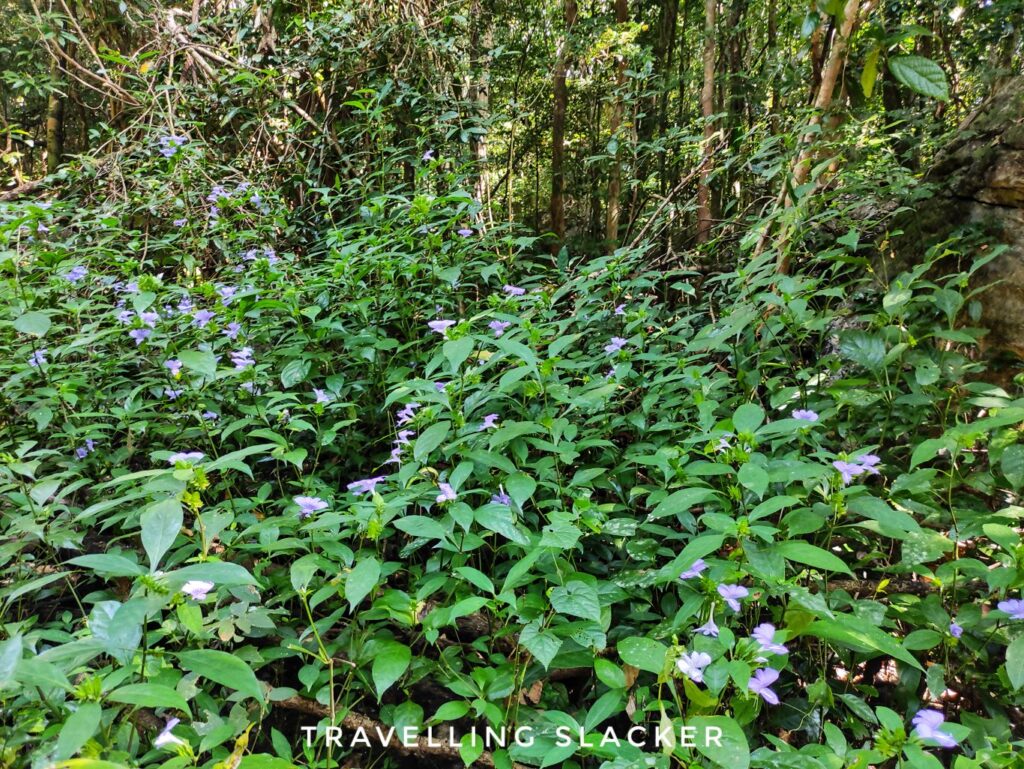 Balpakram Travel Guide
How to Reach Balpakram?
Balpakram National Park is located deep inside the jungle in South Garo Hills. It is actually not near to any major town and even from Baghmara, the headquarter to South Garo Hills, it'll take around five hours to get to the entry point through a dusty and bumpy road.
Trekking inside Balpakram?

Tourists generally do a standard trail through the jungle that starts from the forest office and resthouse. This area is located on the edge of the hill overlooking the plains of Bangladesh.
The trail is around 6-7 KMs with some moderate ascents in between. It takes around 3 hrs to reach the top, which is basically a cliff.
What to expect at Balpakram?
On hindsight, I think it was a good hike but you'll enjoy it more if you are observant enough. Small plants, insects, and rock formations are the highlight of Balpakram. Big animals exist but spotting them depends on luck. Also, make sure that you have enough days at hand because going and coming out of that area takes a lot of time even if you have a vehicle.
Do you need permits to visit Balpakram?

Yes, it is better to contact the officials beforehand to get permits and fix a stay at the FRH. Local operators can help you here. Summiters got it done for us with the help of local operators.
Where to stay in Balpakram?

Only option here is the FRH which has to be booked before.
What is the right season for Balpakram?

Generally people visit during winter and spring. I found November to be a bit colourless but it's good for butterflies. In the spring various flowers bloom and it becomes more enticing. However, it also gets crowded and limited space in the FRH gets filled. So, you need to plan ahead.
Phone and Data Connectivity
Don't expect much inside the national park.