So, finally I made it to Tirap (& Longding, which was also a part of Tirap but declared to be a new district recently).
This region usually does not feature in the usual tourist circuits and remains the least explored region in the state. I remember when I was writing my Arunachal guidebook, the official list of tourist circuits didn't even include this region. I did include a small chapter on Tirap in the book, but it lacked details.
The primary reason for the same was that this area bordered some politically unstable areas of Nagaland and the same had spillover effects here. However, times have changed and even the neighbouring Mon district of Nagaland is a major tourist attraction. So, the moment for Tirap has arrived!
We covered various spots in the region and I'll write seperate posts about some of these places soon. As of now, let me just quickly go through the trip that lasted 6 days and also provide a primer for Tirap and Longding regions.
The Flag Off at Itanagar
Although we were supposed to be going to Longding, we first had to reach Itanagar as the official flag off was from there. Everything was tied up with the backdrop of a G20 meet. This is one good trend we have been seeing of late is that such international meets are also happening in smaller cities of India instead of doing everything in Delhi, Mumbai, and Kolkata.
In general, I have always found the Arunachal Government to be the most proactive in terms of promoting tourism among all the NE states. This time also, they seemed pretty enthusiastic about launching a new circuit in the state and it was part of a bigger program. They were even organizing a campaign called Dekho Apna Pradesh, which is to encourage local youth to explore their own state.
This can be an eye opener for those who are not familiar with Arunachal. It is so diverse and there are so many ethnic groups and languages that people of one area may be completely oblivious of another. That's why this campaign can help improve awareness and strengthen the bonds, apart from giving more ideas to the youth. This is where we also met Khunwang, our guide for the trip.
A Drive Through the Top Attractions of Longding and Tirap Districts
Have a look at this map before we get into details. I have tried to show most of the major villages in the region. As usual, these are not exactly up to the scale but gives you a sense of direction. Actually the area has been divided into two parts, Dibrugarh – Deomali – Hukanjuri – Khonsa circuit and Longding district is Dibrugarh – Kanubari – Longding circuit.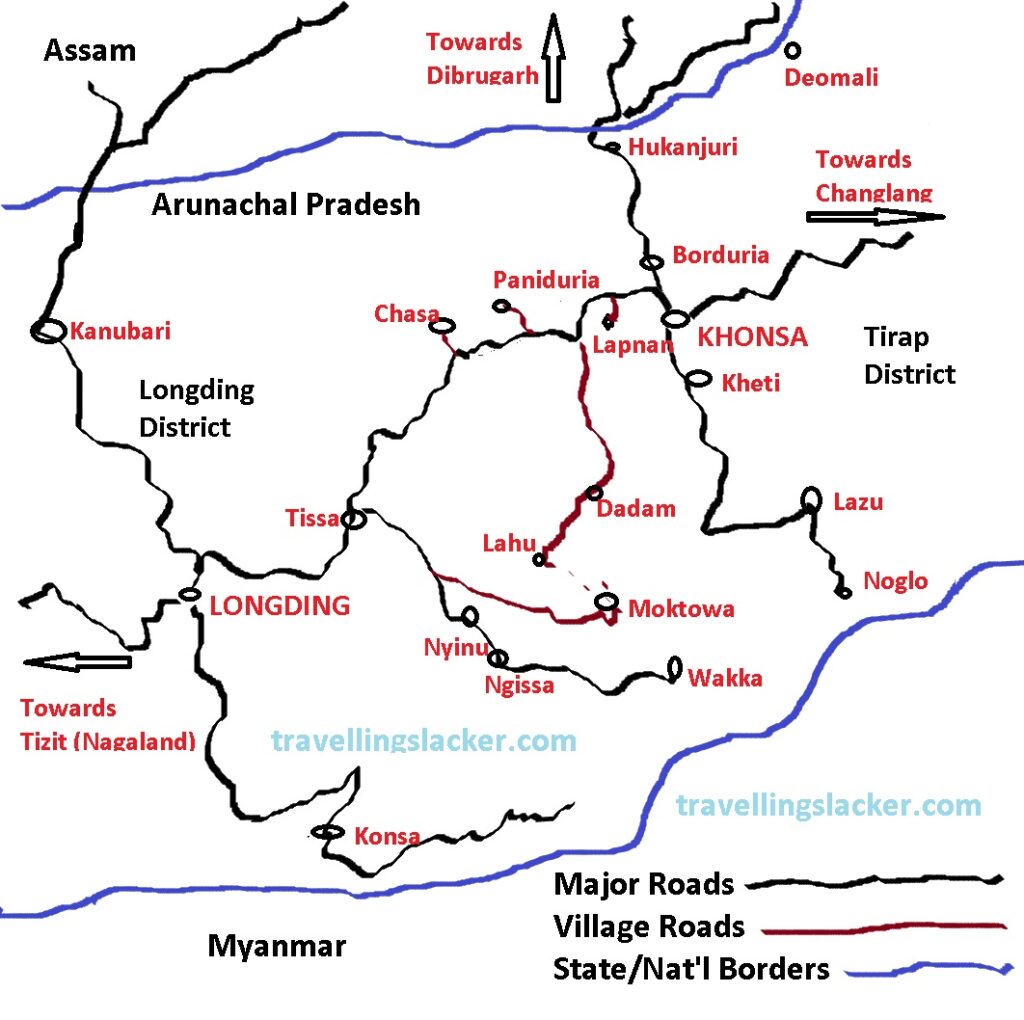 Longding (Dibrugarh -Kanubari-Longding Circuit)
The drive started around 11 am from Itanagar, we crossed the Bogibeel Bridge and reentered Arunachal to reach Longding via Kanubari in the evening.The road seemed newly developed. It was pretty smooth till we reached the town.  
Longding town is the headquarter of Longding district. It's a small town that is only beginning to develop. Even the hotel we ended up in was very new and partially under construction. Anyway, after a long day, we went to sleep quickly. The real adventure was planned for the next day.
Konsa: The Wancho Citadel
So, the first real target for us was the frontier village of Konsa (don't confuse it with the town of Khonsa, that we'll visit later). Konsa is an Wancho Village, one of the remotest ones at that. Even from the frontier town of Longding, it took us more than four hours to reach Konsa. It is located very near to the Myanmar border but I was glad to see that decent roads have been built to this remote village through a sparsely populated territory.
Konsa has the same vibe as Longwa in the neighbouring Mon district of Nagaland although the real border doesn't pass through the village here. As we reached the village, we were welcomed by a few well dressed village elders including the King. The Oriah festival at Konsa was scheduled for a few days later. This wasn't the festival day. So, they had dressed up only for us. It actually reminded me of Konyak village of Hongphoi, with a lot of well-dressed and well-tattooed elderly men sitting around a fireplace, sipping black tea, smoking up, and chatting in a laid back manner.
The thing with these remote areas like Longding, Tirap, and for that matter Mon, is that they adopted modern ways much later compared to others. That is why, we can have a better glimpse of their ancient traditions and culture and especially the village elders are the ones who have seen two different worlds. The same can't be said about a less remote region such as Kohima, where western influences reached a few generations earlier and there's no one who has memory of pre-Christian era.
The women of the King's household first performed a song that's accompanied with rhythmic pounding of corn with giant wooden pestles. It was followed by the men performing a warlike dance with spears, machetes, and guns.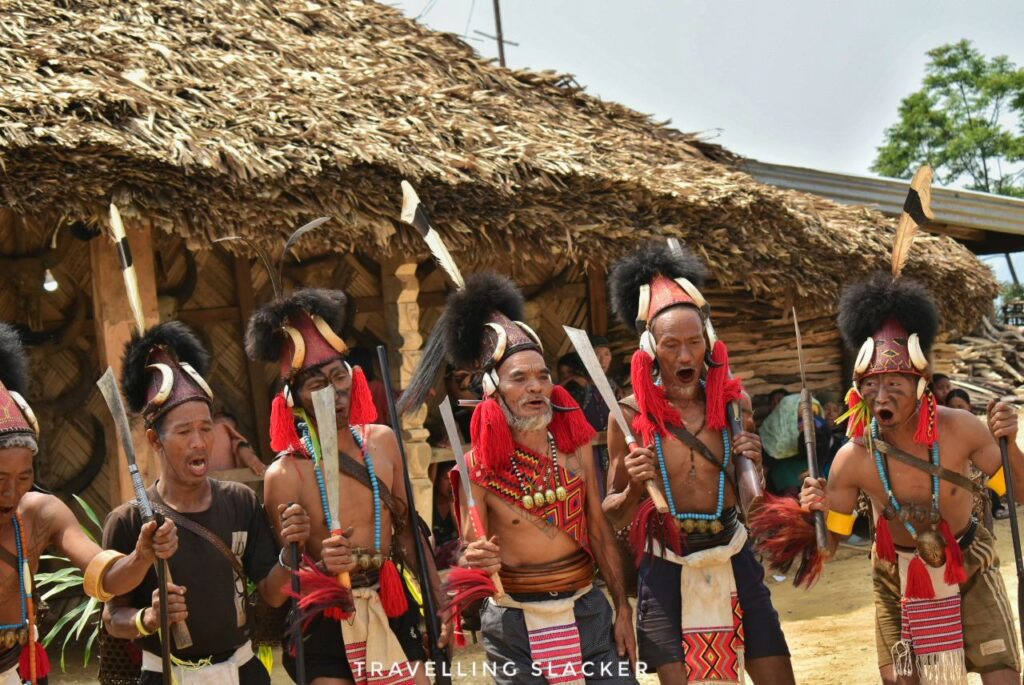 We were also offered food, and it was touching to see the effort they took to offer a platter that included red rice, various greens, mushroom, and potatoes.
We had a lot of conversations with the King Katwang Wangham and other locals about their lives and various issues they face. They'll be covered in a separate blog on Konsa.
Nyinu and Ngissa: Memories of a Massacre
The next day we left Longding and moved towards Wakka, yet another remote village but this one is somewhat more famous to tourists because I had already seen a few videos going viral from this place a few months ago.
However, there was more to the day. We decided to stop at a couple of small but interesting places. We stopped at Tissa, a busy roadside marketplace where multiple roads meet, and then took a diversion to Nyinu village.
Nyinu is yet another Wancho village with a morung. We rested there for a while and met a few locals including the queen. Assamese was always the lingua franca in the border areas of Arunachal. Especially in Tirap and Longding region everyone understands it. Before Hindi was officially introduced, many of them studied in Assamese medium schools. At the Nyinu, I came accross, Manyai, in his 70s, and one of the last people in the village who can still write Assamese and he proudly showcases it by writing his name in both Assamese and English.
It took me some time to get it but his handwriting is marginally better than mine (this is why I prefer digital medium). He spells his name in a complex manner, I couldn't make my Assamese keyboard type it! Anyway, I made him write it on the back of my visiting card.
However, we were here for something more important. This was the place of Nyinu Massacre of 1875, when a British party was obliterated by a group of Wancho warriors who had limited connection with the outside world and were suspicious of the motives of these new entrants. Nevertheless, the British sent a punitive expedition in retaliation and eventually many brave Wanchos were killed and some were incarcerated.
This story had almost got lost, only remembered as local folklore. However, with recent research, evidence has been found and now that incident is getting due recognition.
In order to understand more about the incident, we moved to nearby Ngissa village. This is where we met researcher and author Nepha Wangsa. He works in Itanagar but was home for the holidays and luckily we met him. He has been instrumental in tracing back the events and even published a book in Nyinu Massacre a few years ago. He even showed us photographs and documents from that era that he had sourced from the archives in London!
It was an illuminating discussion and I will soon write about it in more detail. We thanked the author and his family for all the information and also for the jaggery tea, and finally moved on towards Wakka.
Wakka: Hilltop High
Now, Wakka is yet another Wancho village but the charm of the village is in its location. It is located over a hill at a much higher altitude. The new motorable road is located at a higher altitude while the base of the village starts at a much lower level. However, it gradually climbs up to reach the top of a hillock, thus giving it a very unique look. To top it all, the main Village morung is located at the top of the hill.
First we met the Kiing of Wakka, L Wangham, who's traditional house was not far from the main road. This is again the traditional Naga house that we have come across earlier and we're going to see in the rest of the villages too. One thing I learnt here is that the tiger motif on the wooden pillars of such houses indicate that tigers are the totem animals for the chiefs.
After meeting the King, we also hiked up to the top of the village. It actually turned out to be a pretty steep 15 minute hike for us to reach the Morung at the top. It was already getting dark and enjoyed the mountain breeze and some of us (not all) shared a cigarette.
That night we stayed at a homestay in Wakka. It was not a traditional house but a new one built by the side of the road. More such homestays need to come up in this region.
Chasa Oriah: Electrifying Carnival
Attending a local festival is always the best way to catch a glimpse of the region's culture and traditions. We went to Konsa a few days before the actual Festival, and the same was going to happen at another place on the last day. This is why, this day was important as we were finally at the right place at the right time for a festival. So, we left our homestay at Wakka in the morning, retraced our way back to Tissa and then drove towards Chasa, which is not very far from Khonsa town.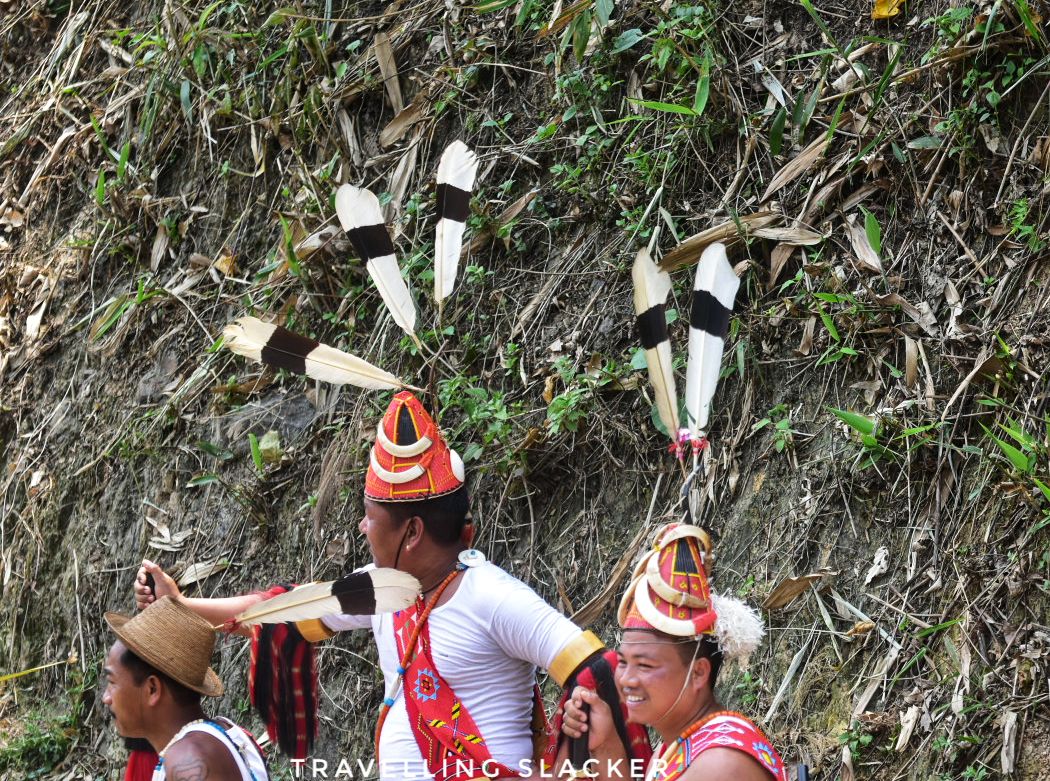 However, before getting further, let me just clarify a few things that can get confusing. We were attending the Oriah Festival, which is a major Festival of the Wanchos but Chasa is actually a Nocte village. They have cultural similarities although languages differ but in some areas where they live in close proximity, the Festival may also be shared.
Anyway, coming to the real festival, I'll of course make a longer story and I have a lot more photos and videos of the same. As of now, let me just say that it was an extravagant display of traditional costumes, music, dance… and guns!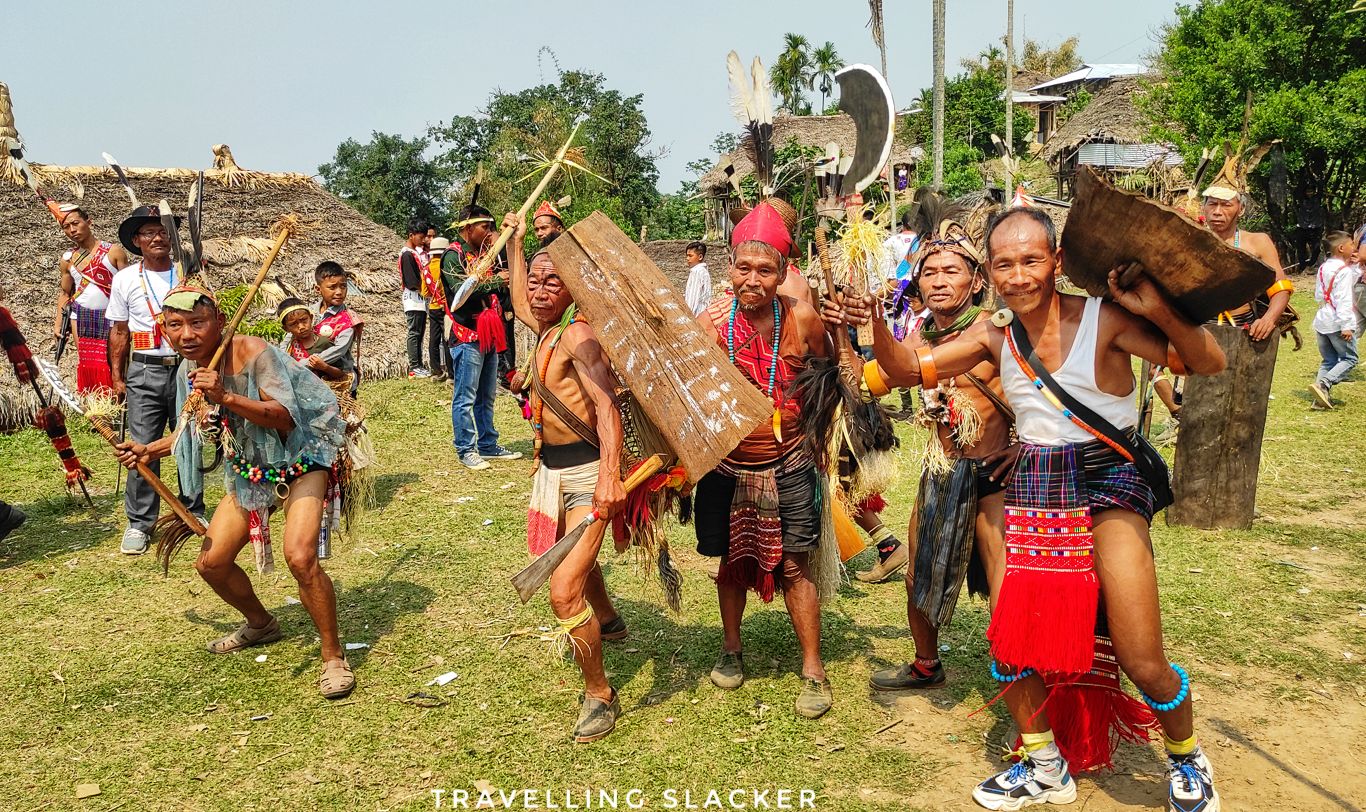 Yes, guns are an indispensable part of the culture here. Those who have read my aforementioned blog on Longwa (Mon), will remember the meeting with the gunsmith who makes these muzzle-loaded guns. The same practice can be found here. While you may not see them in the main towns, the deeper you go, you'll see more and more men carrying guns. Even the dance here consists of occasional celebratory gun fires (I have videos that I'll post later on to showcase the same).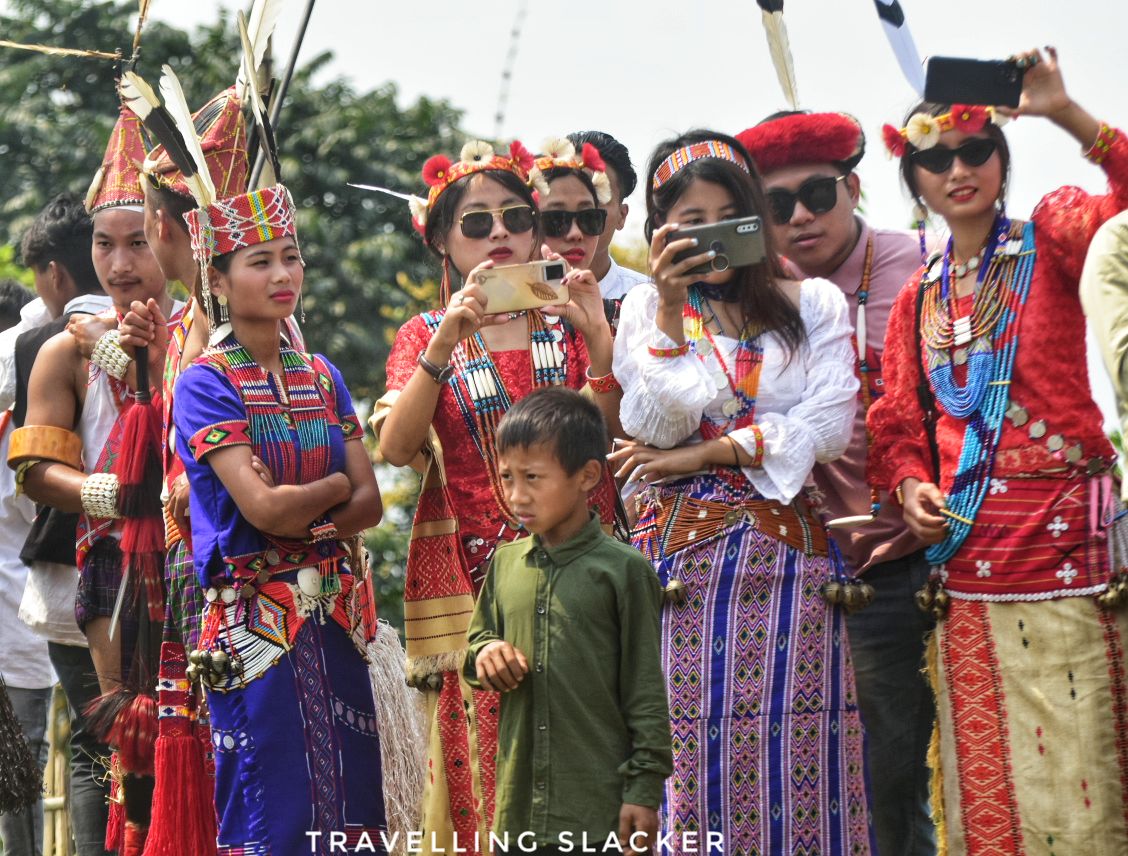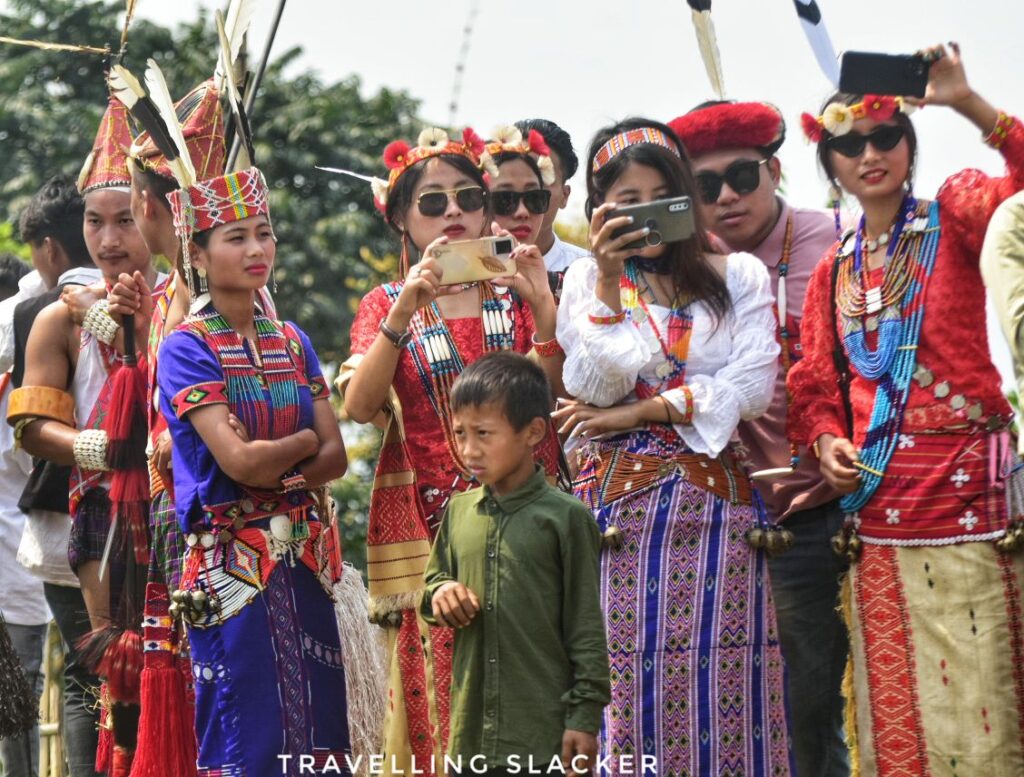 The dance continued for several hours and it was a very hot and sunny day. I saw chilled beer getting distributed among the dancers to keep them fresh but after a few hours everyone was tired and took a break for lunch. There was going to be another round of the same in the evening but we had already seen a lot and were tired too. So, we decided to move to Khonsa and check into our hotel. However, this was not before we were invited for lunch at the house of a prominent person in the village.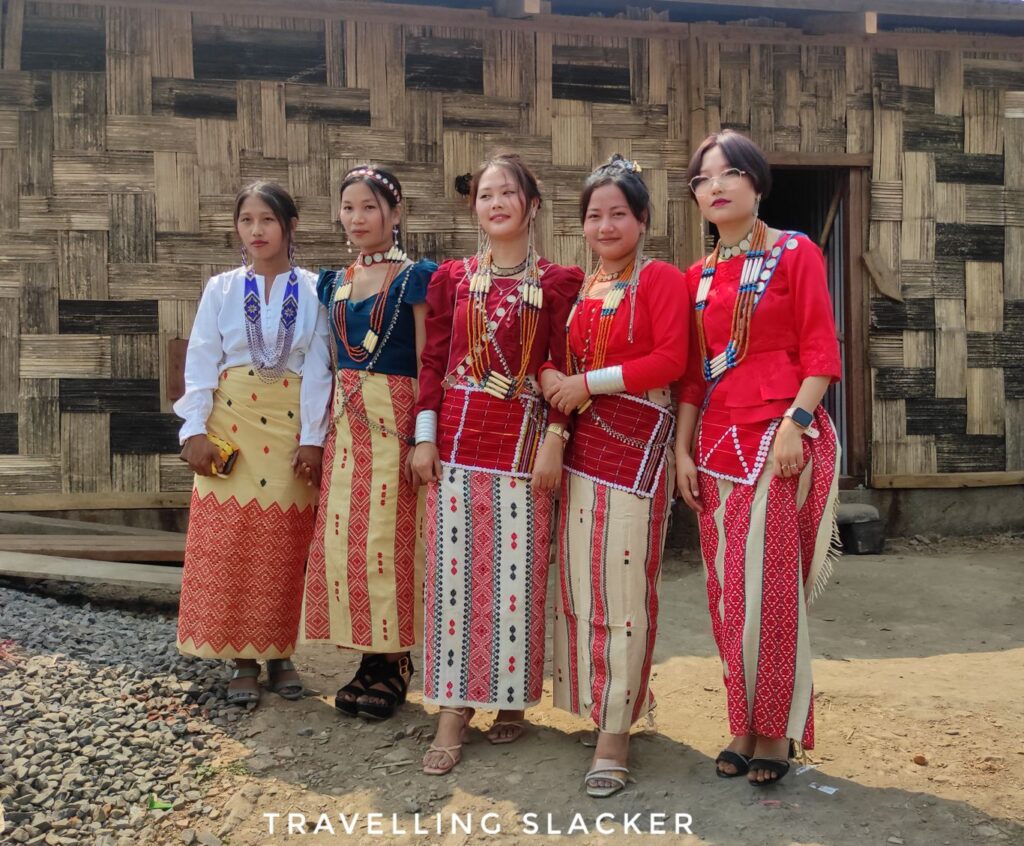 We were served jumin, the local rice wine at first, followed by food. We had the option of choosing millet instead of rice, which was a really interesting aspect of the lunch. The "year of millet" initiative by GOI seems to have been taken very seriously in Arunachal.
Khonsa (Dibrugarh – Deomali – Hukanjuri – Khonsa Circuit)
After a tiresome day at the festival, we drove to Khonsa town, which was the biggest place we had seen so far in this trip. I had heard of Khonsa many times before. I had read an old account of people from nearby areas of Assam who used to visit Khonsa to watch movies but that cinema hall no longer exists. 
Khonsa is the headquarters of Tirap district and a pleasant hill station. It was developed by the British to be the center of the entire Tirap region. It is a bowl shaped town surrounded by Patkai hills from all sides and you can expect intense and raw beauty in and around the town with rolling hills, lyrical streams, and dense forests. You can also visit the Khonsa Museum that houses some excellent artifacts, apparel, weapons, displaying the culture and history of various ethnic groups in this region although we never had the time for the same!
I learnt from the locals that the area used to be more prosperous due to timber trade although it was gradually stopped to protect the forests. Tourism can give it a second lease of life. At Khonsa we also got a much bigger and spacious hotel and had a relaxing evening, preparing for the next day.
Laho: Meeting the Upper Noctes
This was a comparatively lighter day. After some long days, we decided to take it easy and kept only one village visit for the day, followed by dinner at Khunwang's place.
So, first we drove to the village of Laho/Lahu. The last stretch of the road was somewhat dusty, going through some renovations. This is also a Nocte village but a bit remote and sometimes they are called Upper Noctes. We got inside the big house of the chieftain, where he was waiting along with his half brother and some other people including the Gaon Burha (official Village Head).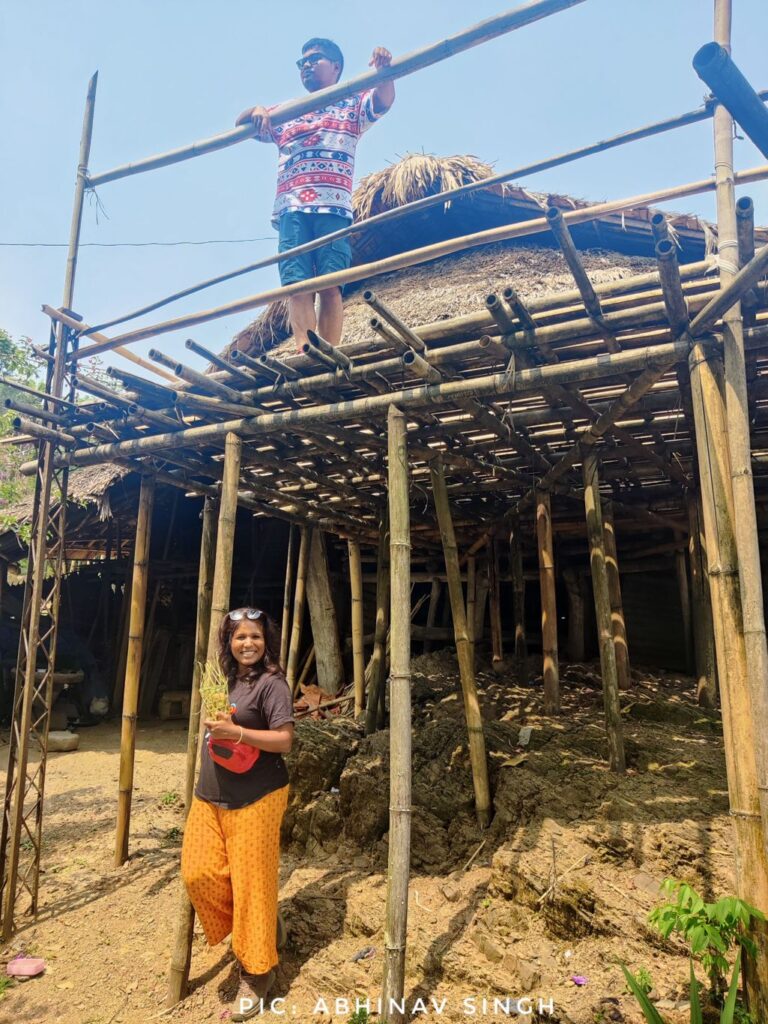 It was a very hot and sunny day and we mostly spent the next couple of hours chatting with them about their traditions and practices. They told us how the entire village folks gather to build the house of the chieftain, and how they have to be treated with a feast for the same.
The Upper Noctes are also known to be great craftsmen. We could see a lot of wooden artifacts scattered across the house apart from the ubiquitous chieftain carving with the tiger that I have described earlier.
It was also great to see these newly built traditional houses as modern constructions are coming up in the village too. Now, no one can blame them for aspiring to have modern facilities but at the same time, it will be good if traditional elements can be preserved.
We returned from Laho and visited Khunwang's place for dinner. It is slightly outside the Khonsa town, overlooking a tea garden. We found out that the ladies at his house are even more enterprising and they are creating their own tea blends and trying to market them. Have a look at some of these cool packets.
Kheti Village: Flashback to Headhunting Days
This day was reserved for the Ollo people of Lazu. However, en-route we stopped at Kheti village, one of the last major villages where headhunting was practiced apart from Lapnan (which we could not visit). People may have heard of headhunting in Nagaland but the same was prevalent in these areas. These were traditions of the past, when they used to be fearsome warriors secluded from the rest of the world. Usually the beheaded ones were enemies or anyone who attacked them. Various rituals were followed after beheading and the skulls were preserved. Very few places still maintain such skulls and Kheti is one of them.
In fact, the skulls are now kept in the village morung. I had seen the same in Ukhrul before while at Mon they usually don't display them nowadays. This morung has been renovated to preserve everything. The animal skulls have been painted in red, not sure why but they look cool. We were also shown a small spot near the Morung where we could see remains of a sacred spot for the locals, a remnant of their ancient religion. As of now a couple of stones are remaining and nothing much is visible but we were told that there is a budget for renovation and preservation of this spot, so next time I am expecting to see more of it.
Lazu Village: Meeting the Ollos
So, we moved on from Kheti towards Lazu, the last major stop for our visit. Lazu is inhabited by Ollo people who have a distinct identity although considered a subgroup of Noctes. It took ages to get there, the road was long and we were again not very far from the Myanmar border.
Lazu turned out to be a pretty big village somewhere in the middle of a transition. There are some new concrete houses, apparently many received housing grants from the government of late, but there were still plenty of traditional houses.
The Ollos are known because of the face tattoos on the face of women. In all other cases, it's the men who used to get face tattoos but here, still a lot of elderly women remain with such tattoos although younger generations no longer practice it.
Our guide had prior contact with one family that had nice traditional houses. So, that's where we went first to meet Mr Nepong Wangcha, and his elderly sister in law, who is one of those women with face tattoos. We interacted with them about their lives and traditions for a while and they also opened up their kitchen for us so that we could make tea and noodles for ourselves.
The village was gearing up for the annual Woraang Festival. That's why, most of the people were busy with preparations although we were again a bit too early for the festival and we should have arrived a few days later. Anyway, there should always be a reason to return some other time!
The Return via Borduria and Hukanjuri
It was the day of our return but it was still an exciting day. We had reached Khonsa from Longding and we had not witnessed the main road leading to Khonsa so far. While going out, we also crossed Borduria, one of the major villages here which is very near to the border. Here, we stopped for a while at the memorial of Hangpan Dada, a soldier who gave up his life fighting terrorists in Kashmir and won Ashok Chakra for that. He was from Borduria. He's been briefly mentioned in EPRs hip-hop version of Badluram ka Badan.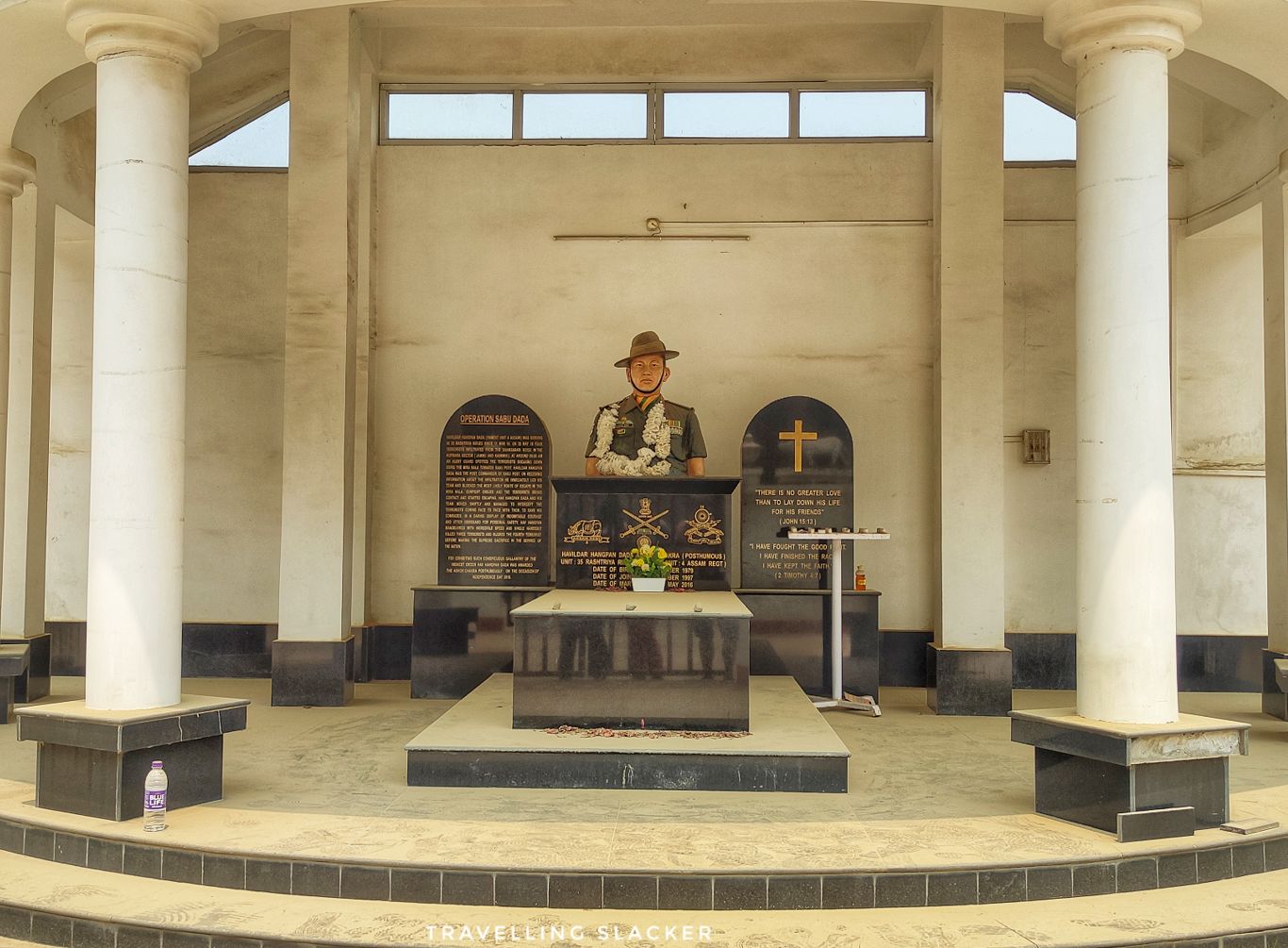 Eventually we entered Assam through Hukanjuri (I think it'll be pronounced as Xukanjuri in Assamese, good luck getting it right if you are not familiar with the language). There is a small jungle stretch from here to the towns of Assam as it touches the fascinating Dehing Patkai National Park. I'll explore it some other time.
The road is somewhat bumpy in this jungle stretch although it doesn't last long. En-route to Dibrugarh, we also stopped for a while at Namphake Buddhist Village. It is a fascinating place to witness a fascinating community. However, I have already written about it a couple of years ago. So, you can just check that old post on Namphake.
So , the trip ends here. There are a few other villages such as Moktowa, Paniduria, Lapnan, etc that elude me. us. I'm sure I'll return here for the remaining villages and festivals at some other time. As of now, let me wind up with a quick guide to the region.
Tirap and Longding Travel Guide
Understanding the Tirap and Longding Circuit
This entire region is historically known as Tirap. (Check the map I provided at the start). Later on, new districts called Changlang and Longding were carved out of it. Changlang is more touristy with the likes of Namdapha and Pangsau Pass and we have already discussed them as separate circuits. So, the remainder of this region includes two districts, Tirap and Longding. This region is surrounded by Assam in the north, Kachin region of Myanmar to the south, Changlang district of Arunachal to the East and Mon district of Nagaland to the West. 
This area is actually very easy to reach from the towns of Upper Assam, and even historically they have had very close connection with Assam. However, it also borders some sensitive areas of Myanmar and Nagaland and that is why some law and order issues have delayed its tourism drive. However, the same reason makes it a pristine and nearly untouched destination, may not be for regular tourists but for hardened travellers looking for an experience beyond the ordinary. There is no doubt that there are many other gems hiding in the interiors of this region that will eventually be discovered in the near future.  
As it is still a new circuit, roaming around on your own maybe difficult. You can contact a local guide or hire a bigger operator like Holiday Scout for the whole region as well as other parts of Northeast.
People & Culture of Longding and Tirap
Present day Tirap and Longding districts are primarily inhabited by the Wanchos, Noctes, and Tutsas. There are also groups like Ollo that is considered to be a sub-group of Nocte but has a distinct identity. Additionally, you can also come across Tangsas (who are more predominant in nearby Changlang district), Konyaks (who are predominant in the neighboring Mon district of Nagaland), and Singphos (A Buddhist community also prevalent in Upper Assam).
The Wanchos are practically similar to Naga groups such as neighboring Konyaks. The Wancho language belongs to the Tibeto-Burman family.Traditionally they follow animism and have two powerful deities, Rang and Baurang. However, Christianity has gained ground among of late while some living near Assam border may even be Hindus. Traditional Wancho men are identifiable by their tattoos on limbs and faces while the women prefer distinctive necklaces and bangles.
The Noctes also have some similarities but are also distinctive in terms of language and culture. They migrated from Hukong Valley in Myanmar several centuries ago. The traditional villages are dominated by local chieftains although modernity is changing these traditions gradually. Based on their interaction with neighboring communities, some Noctes have adopted Vashnavite traditions prevalent in Assam while some others have adopted Theravada Buddhism which is prevalent in eastern Arunachal, while Chirstianity has also spread in the region. Noctes are also expert traders who used to trade with Ahom Kingdom in Assam. They were mainly known for salt trade, which they produced from some ancient salt mines, especially around Paniduria. There is another interesting story about a Nocte chieftain called Lotha Khunbao getting influence by neo-Vaishnavite culture of Assam. In 1700s, this Chief of undivided Noctes, accepted tenets of Vaishnavism of the Bali Satra under the care of Sree Ram Dev. He was given the name Narottam and is considered as the first Nocte Saint. Read more about this story in Nocte Digest.
The Tutsas are another traditional ethnic group closely related to Tangsas of Changlang.
The chief of the Tutsas are called Lowang and their chieftainship system follows the law of primogeniture. The Tutsa area is hilly and densely forested, where they exercise shifting cultivation (Jhoom). In this trip we didn't have the occasion to visit any Tutsa Village. Hopefully we'll do it next time.
Festivals of Tirap and Longding 
Oriah
Oriah is the most important festival of Wanchos. It is celebrated at the onset of spring but the exact date is decided by the council of village elders every year. It is celebrated during the leisurely season after they clear the forests for shifting cultivation throughout the winter. 'O' refers to sacred offerings and prayers and Riah stands for leisure time and celebration. The people offer the indigenous rice beer 'Ju' to the almighty Jowan and pray for good harvest and wellbeing of humanity.
Chalo Loku
This is a major Nocte festival. "Loku" means to drive out the old season of the year. The dates are decided by the village elders and the timing may even vary from place to place. In some places it happens in July/August and some other villages in October/November post harvest. It is a very elaborate festival that may last as long as ten days and there are specific activities and rituals for each day..
Pongtu Kun
The "Pongtu Kun " is a festival of the Tutsa's which is celebrated every year in the month of April to get blessings for the tender millet plants in their Jhoom fields. The date for celebration of the festival is fixed by the village elders and the villagers start preparation of rice beer, collection of pigs, fawls, purchase of cows, buffalos etc to be used in the festival once the dates are announced. The festival continues for ten days.
Worang Juku
It's a festival of similar festivities that takes place around 19-20th April but it is celebrated by the Ollo folks at Lazu.
Hoju Kuhwa
It is usually celebrated in May by the Upper Noctes of Dadam circle, especially Laho village.
Trekking in Tirap
While trekking is not developed here as yet, we have been told that there is a trekking route from Paniduria to Namrup in Assam that ancient Nocte salt traders used to frequent. Someday I'll visit it.
How to Reach Tirap and Longding?
The nearest major airport here is Dibrugarh in Assam while the nearest major train station is Tinsukia, also in Assam.
From Dibrugarh or Tinsukia, buses of Arunachal Pradesh State Transport Service (APSTS) leave for Khonsa daily. Other private buses or shared cars can also be found. Khonsa also has a daily bus to and from the State capital Itanagar.
Reaching Longding is also a similar process. You will mostly find shared cars (Tata Sumo) from Tinsukia and Dibrugarh as well as buses.
However, internal transport to remote villages may be difficult. I didn't notice much public transport to the villages and you will be better off with a pre-booked vehicle unless you have your own. The cars and drivers we were provided by the tourism department are also actually from Jorhat, Assam.
Hotels and Homestays in Tirap and Longding
Stay options are limited here. Khonsa has some hotels and a circuit house. 
Longding also has a circuit house and a couple of basic hotels. You can explore remote villages by using these towns as bases.
There is also a homestay at Wakka village if you are looking to stay away from town. It's one the road and not inside the traditional village.
Phone & Data Connectivity
Phone and internet connectivity has vastly improved of late. I could find it even at the remotest villages although there may be occasional fluctuations.
Just before we wind up… If you are planning to explore Arunachal and have not been here before, you can buy my Arunachal Guidebook or just go through the Kindle Version.